The North Norfolk Coast is full of charming seaside towns and Cromer is definitely one of my favourites. It has a scenic coastline, historic pier, and plenty of entertainment. The mix of the architecture, independent small businesses, and natural beauty makes it feel a bit like you've gone back to Victorian time.
You may be wondering what makes it special and if it is worth a visit? Let me share more about the history of Cromer and the best things to do in Cromer. Then you will understand why I enjoy spending time here.
Be sure to sign up for our weekly newsletter here to get inspiration for more things to do in Norfolk.
Note: This post contains affiliate links.  As an Amazon Associate, we earn from qualifying purchases. Please see disclosure for more information.
About Cromer
Cromer is a town of about 10,000 people located about 23 miles north of the city of Norwich. It's traditionally been a fishing town, but now tourism is also an important part of the local economy.
In the early 19th century, some of Norwich's richest families began to make Cromer their summer home. It became a popular vacation destination that attracted some famous guests including the future King Edward VII, Oscar Wilde, and Winston Churchill. Cromer was also mentioned in Jane Austen's classic novel Emma.
It hasn't always been happy and carefree here though. Cromer has had its fair share of bad weather. There have been several storms that have caused significant damage, especially to the pier. Additionally, Cromer suffered several bombing raids during the Second World War.
14 Things to do in Cromer
Cromer is a family-friendly town, so there is something for all ages. It is also suitable for both couples and those traveling alone. Whether you choose to spend a day or a weekend in Cromer, there are plenty of things to see and do.
Many of the suggestions are free. In general, Cromer is a reasonably priced place to visit.  
#1 Go Crabbing
One of the most popular things to do in Cromer is to go crabbing. You will see people trying their luck from the pier. All the supplies you need can be purchased at the gift shop on the pier. We tried it a few times and it took a bit to perfect our technique and finally catch one.
Choose bait that the crabs will love.  When we bought our equipment, it came with mackerel.  Other popular bait options are smoked bacon or squid.  A mix of baits will work too. 
You will also need to borrow a decent-sized rock from the beach to use as a weight to make sure the net will rest on the seafloor.  Then once you put the net in the water, wait at least 10 minutes before pulling it back up. It's actually not that difficult, you just need to be patient. It's one of the best things to do in Norfolk with kids.
Any crabs caught on the pier should be returned to the sea.  It's best to take the crab back to the beach and release it there.  Watch out for the seagulls though as they will try to eat the crabs.  Luckily, ours buried itself quickly in the sand.
The best time to go crabbing is May or June, although the crabbing season now lasts from March through October. There is a slight decline during July and August, when the crabs breed, molt and grow new shells.
If you enjoy crabbing, consider also visiting Walberswick in Suffolk. That's where the world championships are held.
#2 Spot the Goats
From spring to fall, there are some Bagot goats living on the cliffs just west of the town. Whenever I am in Cromer, I try to spot them. Sometimes I have seen them close to the walkway and other times it has been more challenging to find them.
Bagot goats are one of the oldest breeds of goats in England and have survived since the 1300s. They enjoy eating brambles, stinging nettles, and other vegetation that grows on the cliffs.
Similar to the sheep we saw in Avebury, the goats are also used for conservation grazing by the National Trust and the Norfolk Wildlife Trust.
#3 Enjoy the Beach
Cromer's large beach is an essential part of any visit to the town. With its Blue Flag status, the beach is clean, safe for swimming, and is overseen by RNLI lifeguards during the summer months. Although the water can be chilly, especially during the early part of the summer, it's refreshing and invigorating on a hot day.
At low tide, the beach is transformed into a vast expanse of soft sand, which is perfect for sandcastles or a leisurely walk. At high tide, the beach transforms into shingle, which may not be as comfortable for barefoot walks, but the surfers love it.
If you're visiting Cromer with your family, the small fun fair along the promenade, which operates during the summer season, is sure to be a hit with the kids.
You might also enjoy reading about more of Norfolk's best beaches.
#4 Admire the Beach Huts
I have to admit I have a bit of an obsession with beach huts. The cute names make me smile, and they are perfect for photographing. The colourful beach huts in Cromer are located on the promenade at either end of the beach.
The Cromer beach huts are popular, so you will need to book in advance. They can be hired for the week through the North Norfolk District council here. Note that overnight stays are not allowed. Cromer also has chalets, which are not quite as cute but allow overnight stays, that can be hired through the same link.
#5 Hunt for Fossils
It may not be as iconic a location for fossil hunting as the Jurassic Coast, but you can still search for fossils on Cromer Beach. Unfortunately, I don't know about any fossil hunting tours so you would have to do it independently.
Please remember to wear safety goggles (like these) if you plan on hammering the rocks.
#6 Visit the Church
It is worth stepping inside to explore Cromer's Parish Church. This church, named St. Peter and St. Paul, was built in the 14th century to replace St. Paul's (which was on this site) and St. Peter's (not far away, closer to the sea).
Its tower is 160 feet high making it the tallest bell tower in Norfolk. At night, it is lit up beautifully. They used to let people climb the tower to take in the views, but now it is home to a pair of peregrine falcons.
Inside the church there are a few things you don't want to miss:
The organ. It was purchased in 1897 from Bath Abbey but has been overhauled and rebuilt several times.
The Ascension Window. This stained glass window on the west end of the church shows Jesus ascending into heaven and was a replacement for the previous window destroyed in World War II.
The Angel Roof. The roof has beautifully carved angels which were added as part of the Victorian restoration.
It's one of the best free things to do in Norfolk.
#7 Enjoy Afternoon Tea
Afternoon tea is one of the best British traditions in my opinion. I can never get enough clotted cream. Luckily Cromer has plenty of places offering afternoon tea like the Grove or Hatters Tea Shop. It's best to make a reservation as some places require 24-hour advance notice.
For more options, check out these recommendations from the locals.
#8 Eat Some Cromer Crab or Fish & Chips
Cromer is a seafood-lovers paradise. It is the home of Cromer crabs. These brown crabs are known for being particularly flavorful, tender, and fragrant because of the chalk shelf and nutrient-rich waters in the area. They also have a relatively high proportion of white to brown meat.
If you weren't able to catch any of your own, there are plenty of places around town that sell Cromer crabs. One of the local favourites is the Crab Pot.
In addition to the local crab, there is also plenty of delicious fish & chips in Cromer.
The most popular place for fish & chips in Cromer is No1 Cromer. It's owned by Galton Blackiston who also owns the nearby Michelin-starred Morston Hall. In 2013, it was named by The Times as the 6th best place to eat by the sea. They also have a more formal restaurant called Upstairs at No1 and an ice cream kiosk that is open during the summer.
Another popular chippy in the town centre is Mary Jane's. It's been owned and operated by the Zelos family for more than 40 years. You can enjoy their food in the restaurant or to takeway.
#9 Try Your Hand at Surfing (or Just Watch the Surfers)
If you're a fan of surfing or just like to watch, Cromer is arguably the best place in Norfolk. Most times when I have visited, there are surfers riding the waves, especially just east of the pier, where the waves tend to be at their most challenging.
If you're feeling inspired and want to give surfing a try yourself, there are plenty of opportunities to take lessons and improve your skills. The surf school located just east of the pier offers lessons for beginners and more experienced surfers, so you can get out on the water and learn from experienced instructors.
When the waves are calm, a stand up paddle board could be a practical alternative.
#10 Visit the Henry Blogg Museum
At the Henry Blogg Museum, you can learn the inspirational story of the most decorated lifeboatman in the history of the Royal National Lifeboat Institution (RNLI).
Coxswain Henry Blogg served on the lifeboat for 53 years and saved 873 lives from the North Sea. He became a national hero and was awarded the George Cross, the British Empire Medal, and seven medals from the RNLI medals for gallantry.
He was coxswain of the lifeboat H.F Bailey during World War II which is on display in the museum. There are also model lifeboats, Henry Blogg's medals, old videos, photographs, paintings, and some hands-on activities that kids will love.
The family-friendly museum also documents the history of lifeboats in Cromer. Over the last 215 years since the first lifeboat in Cromer, the incredible volunteers have won 64 medals.
Admission is free. The Henry Blogg Museum is located In the Rocket House on the east end of the Promenade. The operating hours vary throughout the year, so check here to confirm.
#11 Play Carnival Games or Mini-Golf
Can you have a British seaside town without carnival games?
Well, the kids will be relieved that while there aren't any on the pier, there is an arcade with carnival games in Cromer. Towards the west end of town, you will also find Crabstix adventure golf where a mini-boating lake used to be.
#12 See the Pier (and Show)
There has been a pier or jetty in Cromer for almost 600 years! The current pier is 500 feet long and dates back to 1901. At low tide, you can see how iron structure is starting to corrode and the marine life that has made the pier its home.
Unlike many other piers, the one in Cromer does not have any amusement arcades or other modern entertainment. Instead, you can pick up a tea, coffee, or some snacks at the café on the landward end and watch the world go by on a seat sheltered from the prevailing wind.
At the far end of the pier, there is the lifeboat station and the Pavilion Theatre, which is host to the last surviving "end of the pier" show in Europe. The show follows the traditional variety format with song, dance, music, and comedy which was hugely popular in the 60s and 70s.
If you want to visit the lifeboat station on Cromer Pier, the public gallery is usually open Monday to Friday from 9:00 to 16:30 and on Sunday mornings during crew training when you may see the all-weather lifeboat launched. The gallery is also open on Saturdays when the souvenir shop is open, weather and volunteer availability permitting.
#13 Go to the Pub
It almost goes without saying that a seaside town in England would have some lovely pubs, but I thought it was worth mentioning so that you would know which ones to check out.
The most popular pubs in Cromer are:
The Wellington also called the Welly. They have live music on the weekends and also the Smokehouse Restaurant.
Red Lion offers both a selection of local ales and fine wine. It is dog-friendly and has nice views of the sea.
#14 See Banksy's artwork
Banksy visited Cromer during his August 2021 spraycation in East Anglia. You can see a small mural of a group of Hermit Crabs holding a sign that says "Luxury Rentals Only."
Given that the painting is located right by the beach huts, he may be referring to how expensive they are or pointing out how second homes drive up housing prices. The hermit crabs, which are known for carrying their homes on their backs, could represent the local residents who are being pushed out by luxury vacation rentals.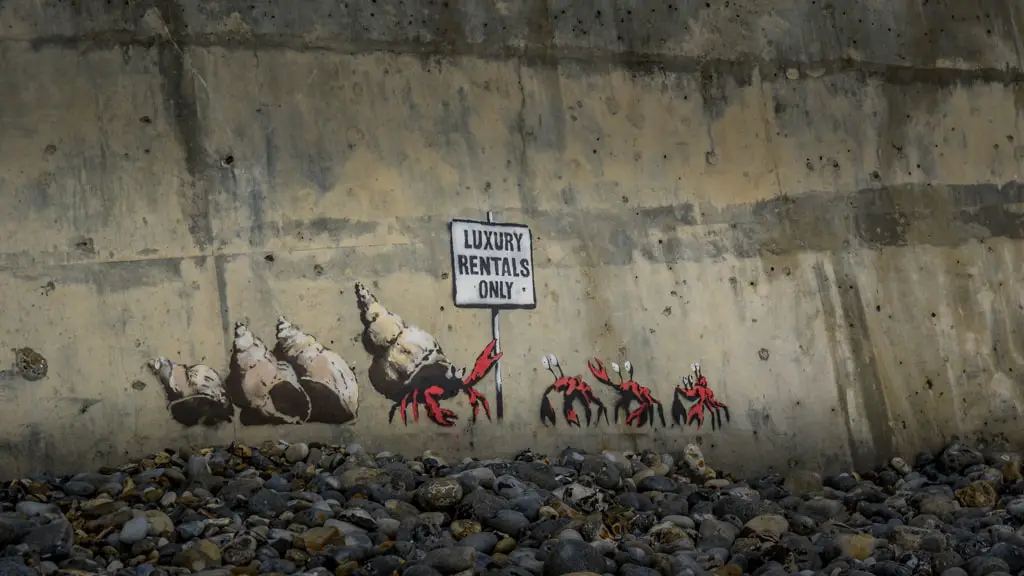 To get to the Banksy in Cromer you need to walk along the beach all the way east past the beach huts, go down the ramp and then turn around and you will see it on the sea wall that runs perpendicular to the water.
Special Events in Cromer
Of course, you can visit Cromer any day, but there are a few annual events that you won't want to miss. Keep in mind there will be crowds so try to arrive early if possible.
New Year's Day Fireworks
Cromer is the place to be in Norfolk for New Year's Day. For over 20 years, they have had a fireworks show over the pier that attracts over 10,000 people. In the past, they have also had a fun run and torchlight parade.
It's definitely one of the best New Year's events in Norfolk.
Crab And Lobster Festival
The crab and lobster festival is a joint celebration with nearby Sheringham typically held the third weekend in May. It kicks off with a traditional seaside variety concert at Cromer's Pier Pavilion Theatre on Friday evening and the festivities continue over the weekend on Evington Lawns in Cromer. It's a weekend full of local crab and lobster delicacies.
RELATED: Best Food Festivals in Norfolk
Cromer Carnival
The Cromer Carnival Week, held annually in mid-August, is packed with fun activities for all ages including a crabbing competition, adults' fancy dress competition, novelty dog show, a treasure hunt, a junior fun run, and more. The Carnival Day is always held on Wednesday of the third week in August and features a parade, live music, and a visit from the Red Arrows!
You might also like to check out other Carnivals in Norfolk.
Boxing Day Dip
Each year on the day after Christmas (Boxing Day), people gather to do a quick dip in the icy cold North Sea. People wear costumes, shorts, bikinis, mankinis, and Santa hats, but wetsuits or drysuits are frowned upon. If you want to join in on the craziness be sure to bring a robe or other warm clothing to put on after the swim.
How to Get to Cromer
Cromer is one of the few places on the North Norfolk coast that is well connected by public transportation.
Greater Anglia provides train service from Norwich to Cromer, which takes about an hour – get more information here. Alternatively, Sanders Coaches provides bus service from the Norwich bus station – check the fares and timetables here.
If you are coming from London, take the train from Liverpool Street Station to Norwich then transfer to the local train to Cromer. Be sure to book your train ticket in advance to get the best price. Check the schedule and book here.
Another option is to take the National Express bus from Victoria Station to the Norwich bus station and transfer to the Sanders Coach bus. Check price and schedule for the National Express bus here.
Typically, we drive from Norwich to Cromer. It takes a little less than an hour. We use the pay and display parking lot towards the west end of town by the mini-golf or further up the hill on crowded days.
Where to Stay in Cromer
Since we live close by, we usually do a day trip to Cromer, but if you are traveling from further away, consider staying longer as there are some excellent hotel options.
Hotel de Paris
The iconic Hotel de Paris is conveniently located right by the pier. It's almost 200 years old! This 3-star hotel retains many of its original features, including a grand staircase and stained glass windows, but also has modern conveniences like free Wi-Fi, flat-screen TVs, and tea/coffee making facilities.
They have 67 en suite rooms, many with a view of the beach and Cromer Pier. You can opt for a family room that sleeps three or one that is wheelchair accessible.
Read the reviews on Tripadvisor and check rates and availability here.
Cliftonville Hotel
If you're looking for a touch of luxury during your stay in Cromer, the Cliftonville Hotel is definitely worth checking out. While it's not right in the town centre, it's still within walking distance of all the main attractions, and it boasts stunning sea views from every room.
The hotel offers a range of different room types to suit various needs, including dog-friendly, family-friendly, and accessible rooms. The on site restaurant has a refined Edwardian era dining room and features a dynamic menu designed to showcase the best of North Norfolk's produce.
The Cliftonville Hotel also has free parking for its guests.
Read the reviews on Tripadvisor and check rates and availability here.
You can see more options in the area in the map below.
Places to Visit Near Cromer
The area around Cromer also has a lot to offer. Keep in mind Norwich is only about an hour away and it has lots to offer including a castle, cathedral, market, and more museums. If the weather is pleasant, it's hard to beat the Norwich Riverside Walk.  You should also check out the street art in Norwich.
If you want to get out and explore here are some suggestions:
Blickling Estate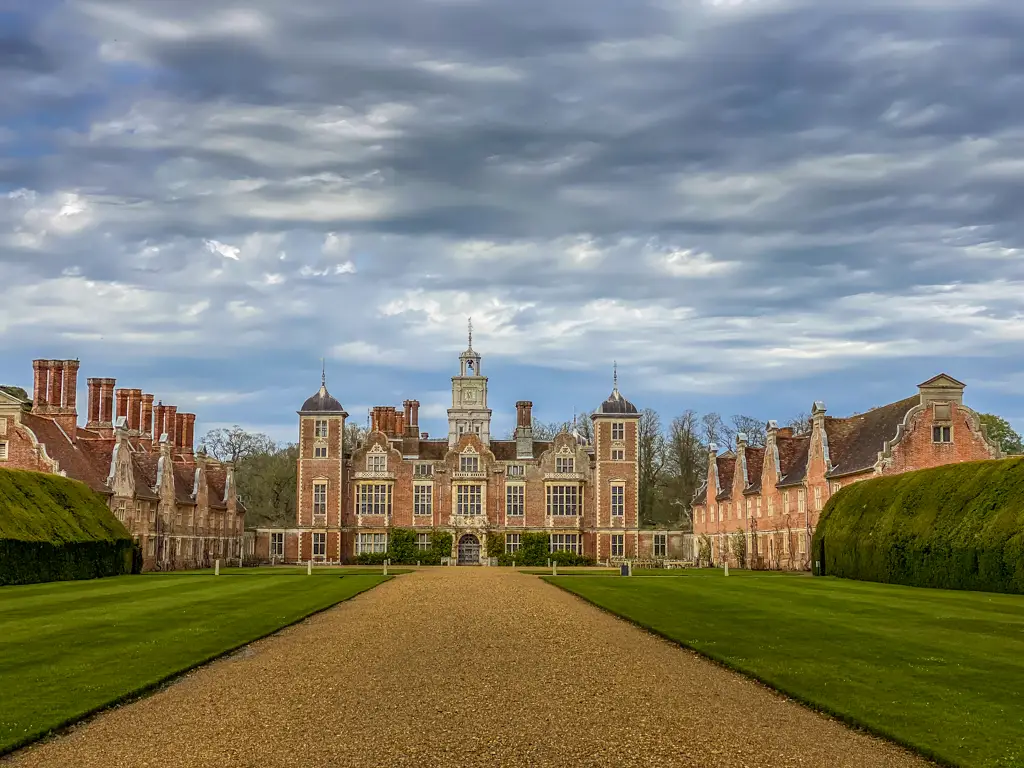 An impressive stately home and gardens best known as the birthplace of Anne Boleyn, second wife of Henry VIII. During the Christmas season, the decorations are spectacular. During the spring, it's one of the best places to see bluebells in Norfolk.
It is a National Trust property, so it's free for members to visit. Learn more about National Trust membership here.
Felbrigg Hall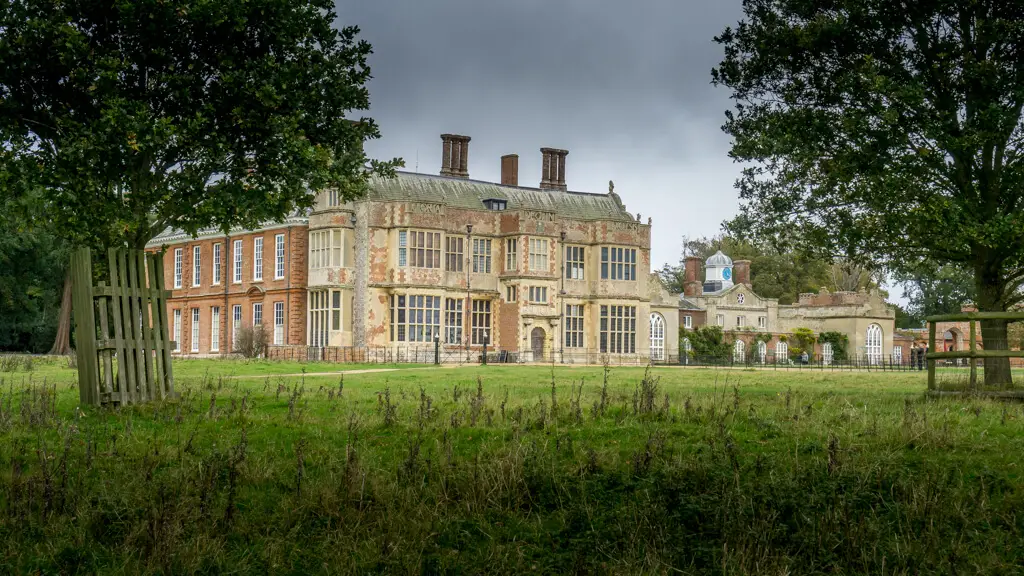 A 17th-century English country house that is noted for its Jacobean architecture and fine Georgian interior. Explore the ground to see the Victory V (two tree-lined avenues), ice house, lake, walled garden, and church.
The house and gardens are now owned by the National Trust, so members can explore for free. Learn more about National Trust membership here.
Sandringham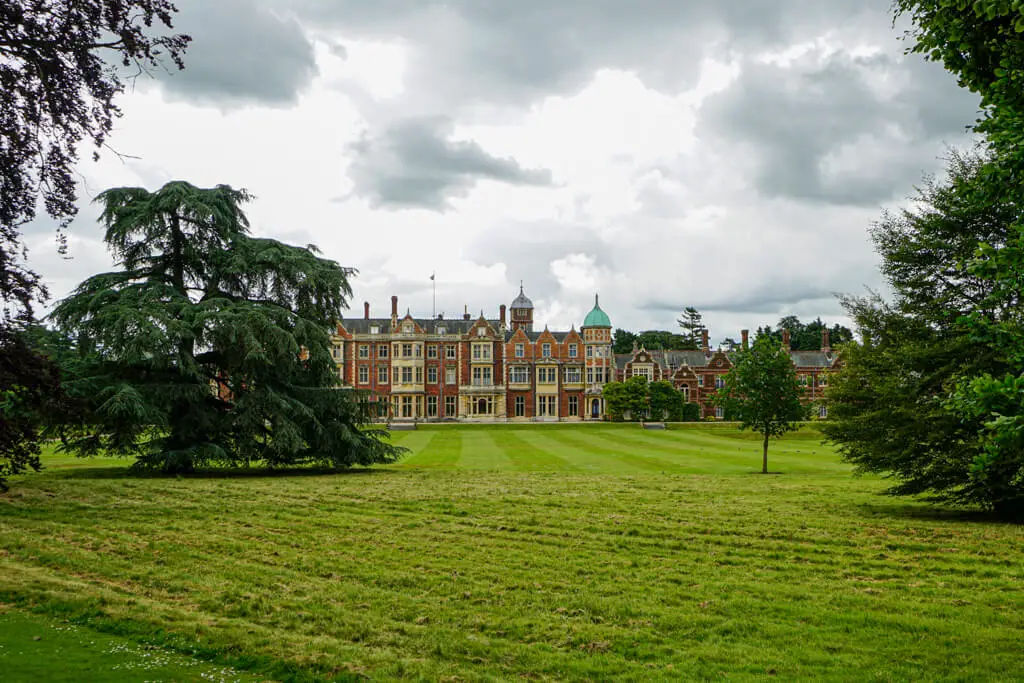 The much-loved country retreat of Her Queen Elizabeth II and the place where the Royal family celebrates Christmas. It has been the private home of four generations of British monarchs since 1862. When the Queen is not at Sandringham, it is open to the public for tours. During the holiday season, they host a magical light trail called Luminate.
Get more information about visiting Sandringham here.
Other Seaside Towns in East Anglia
Of course, Cromer is not the only seaside town in the area. If you liked Cromer and want to visit similar places, here are some options:
Sheringham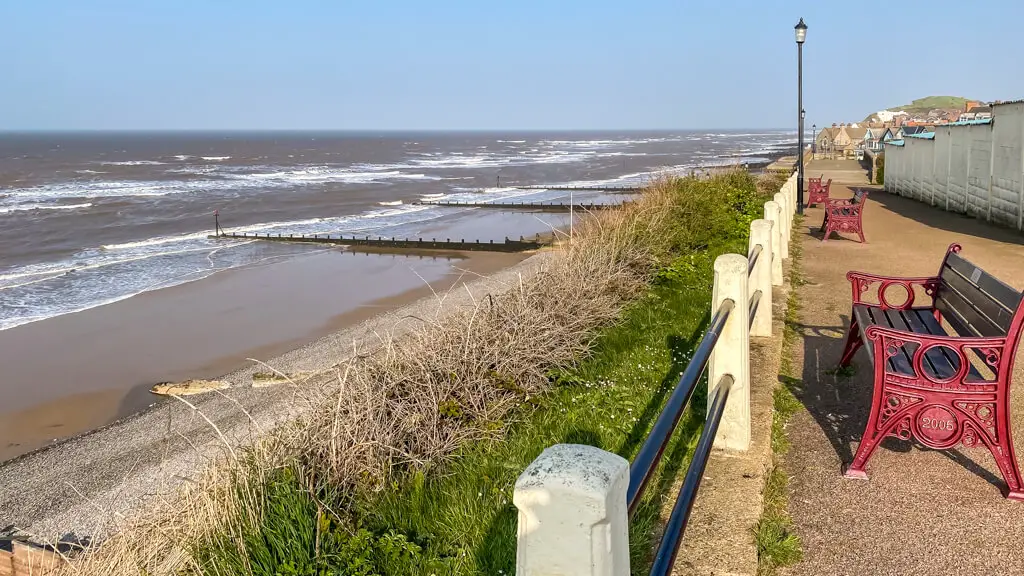 Just on the other side of the Beeston Bump, you will find the charming town of Sheringham. It also has a blue flag beach and some interesting museums too. You can also catch the North Norfolk Railway to Holt.
Read more about things to do in Sheringham.
Wells-Next-to-the-Sea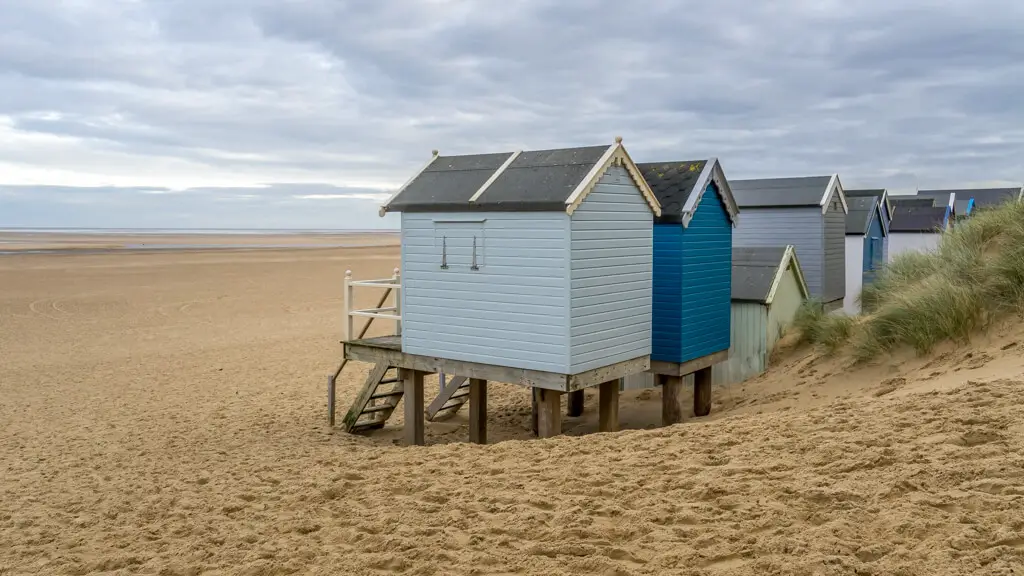 Like Cromer, Wells is a fishing town, with a lovely beach lined with beach huts. It doesn't have a pier, but it does have a lifeboat station. Don't miss the horse sculpture in the harbor (from May through September) which shows the dramatic tides.
Read our guide to Wells-Next-The-Sea.
Southwold
It's probably the most high-end town on the Suffolk Coast. Like Cromer, it has an iconic pier, but their pier does have an arcade and some shops.
Aldeburgh
Not too far from Southwold, Aldeburgh has the best fish & chips in Suffolk. When you visit, be sure to check out the controversial scallop sculpture. Read more about visiting Aldeburgh.
Is Cromer Worth Visiting?
Yes! Now you can see why Cromer is one of my favourite spots on the North Norfolk Coast. With vast sandy beaches, delicious food, and plenty of attractions, it has something for everyone.
Have you been to Cromer? If not, it's time to plan a visit.  I think it's one of the best day trips from Norwich. If you have been, I would love to hear about your experience.
---
Disclosure: This post contains affiliate links. This means we will receive a small commission for some purchases made using links in our blog with no additional cost to you.  Please be assured we would not promote any product unless we believe that our readers will also benefit.  The commission does not influence the editorial content of this site.