Gorleston (formally called Gorleston-on-Sea) may not be as well known as its neighbour, Great Yarmouth, but it's another seaside town in Norfolk that you will want to check out. It's home to one of the best beaches in Norfolk, but has more to offer visitors.
Let me share more about the best things to do in Gorleston.
History of Gorleston
Gorleston-on-Sea is a port town located at the mouth of the River Yare. The town's trade was focused around herring fishing until the fishing industry declined during Edwardian times and the town became a seaside resort.
In the Domesday Book, Gorleston is listed as Gorlestuna. In 1130, in the Pipe Rolls it appeared as Gurlestona. The first part of the name may be related to the word 'girl', and is probably a personal name. The second part presumably means town or settlement.
Originally Gorleston was part of the county of Suffolk. Then in 1832 it became a part of Great Yarmouth for electoral purposes and three years later it merged with the town and became part of Great Yarmouth in the county of Norfolk. 
There used to be three railway stations in Gorleston on the Yarmouth-Lowestoft Line. The Gorleston-on-Sea, Gorleston North and Gorleston Links stations were all closed by 1970.
Gorleston has been featured in recent books and films. Authors Henry Sutton and Philip Leslie use real road names and retail outlets in their novels – Gorleston and The History of Us. The Pier Hotel and Gorleston's beach can be seen in Danny Boyle's film Yesterday.
Things to Do in Gorleston
Gorleston offers a wide range of activities and attractions suitable for all ages and activity levels. These are our choices for the top things to do when you visit Gorleston-on-Sea.
#1 Enjoy the Beach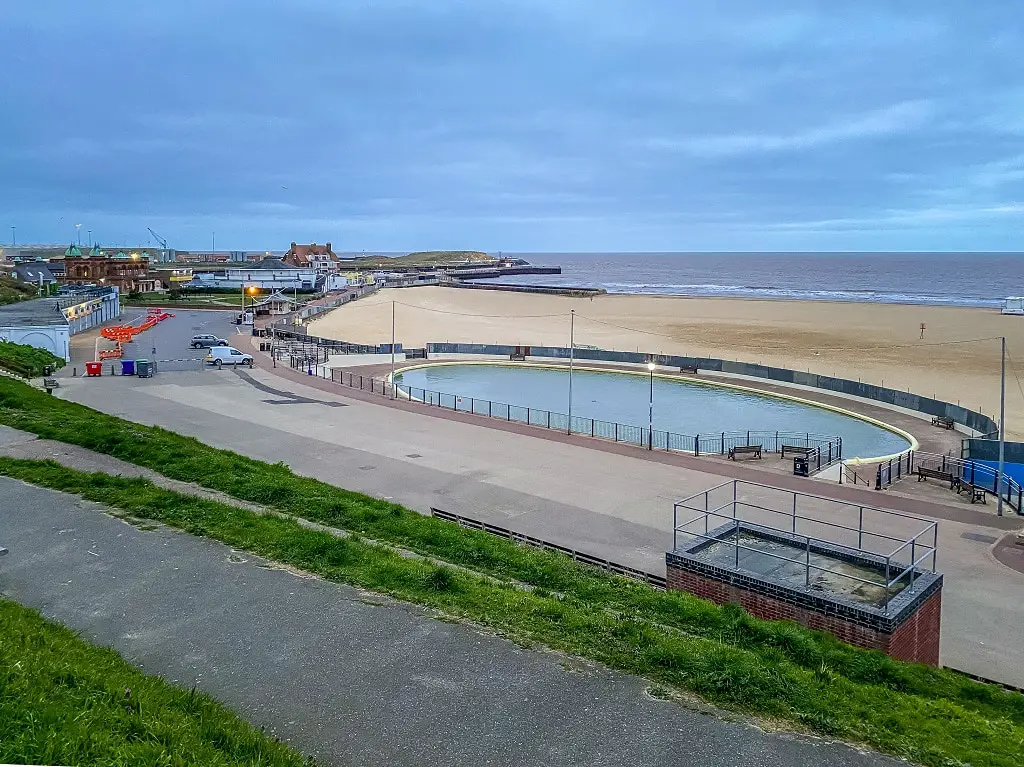 The main attraction that brings people to Gorleston is its lovely beach. You have a two mile stretch of clean, golden sand which curves around the bay. 
There is plenty of sand to make sandcastles, fly a kite, or have a picnic when the tide is out. Deckchairs and wind breakers are also available to hire.
The area is popular for fishing, sailing, swimming, bodyboarding, and surfing. It's a RNLI lifeguarded beach, they patrol daily from 1 May to 12 September from 10:00 to 18:00.
If you don't want to walk on the sand, there is a promenade that's almost a mile long. When you need a break, there are a number of benches along the way where you can enjoy the view.
Dogs are not allowed on the main section of the beach between 1 May and 30 September. During this time, dogs can still go on the beach south of the tennis courts. During the rest of the year, the beach has no restrictions for dogs, just be sure to clean up after them.
#2 See a Show at Pavilion Theatre
You can enjoy live entertainment including plays, pantomimes, musicals and concerts here all year long. The performances take place in the original Edwardian building (that seats 300 people) where the theatre opened in the summer of 1901.
Click here to check the calendar.
#3 Enjoy the Model Yacht Pond
The Gorleston Model Yacht Pond dates back to 1927. If you have a model boat, it's a great spot to get it out on the water. If you don't have your own boat, it's still fun to watch. There are sailing events Sunday mornings and Tuesday evenings run by the Gorleston Model Boat Club.
#4 See a Banksy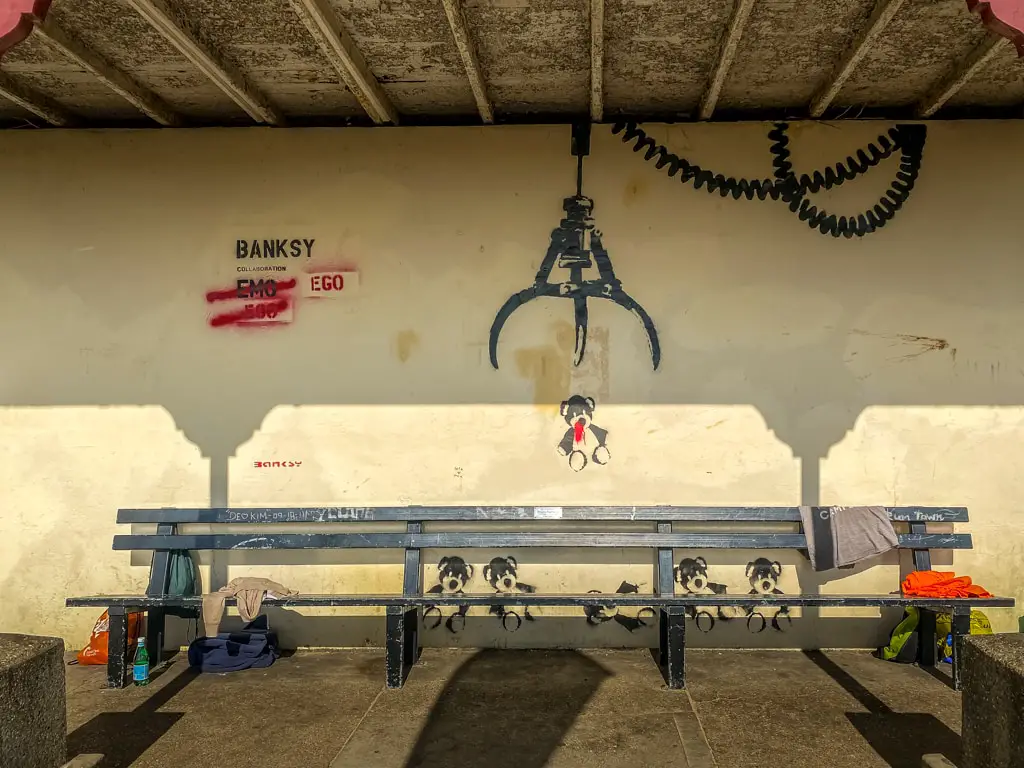 Gorleston was one of the places that the famous street artist, Banksy, visited during his spraycation in 2021. You can still see one of the murals behind a seating area close to the Model Boat pond.
Originally it was just an arcade-style claw above the bench. Later, six teddy bears were stencilled beneath it, along with the words "Banksy Collaboration Emo."
Emo (Emo Raphiel Astoria) is a well-known Great Yarmouth street artist who has also had street art in New Orleans, New York and Mauritius, to name but a few. He works mainly with paints, stencils, and printing, and likes to add gold leaf and diamond dust embellishments.
The work has since been defaced. You can see red paint covering up EMO and next to it the word EGO. There is also some red paint on one of the teddy bears. On 14 August 2021, workers were spotted putting clear material over the mural to protect it.
Read our full guide if you want to see more of Banksy's work in Norfolk and Suffolk.
#5 Let the Kids Play in the Splashpad
Kids will be in heaven at the Splashpad in Gorleston. It's a fun ocean-themed play area with fountain sprays, jet streams, and buckets of tipping water. They will get wet!
Admission to the Splashpad area is free. It is open everyday during the school holidays and on weekends mid-June to July and September, weather permitting. Dogs (other than guide dogs) are not allowed in the Splashpad.
Get more details here.
#6 Play Lawn Bowling or Tennis
On the top of the cliffs in Gorleston, there are two bowling greens and tennis courts available for public play from May until September. The attendant by the Bowling Green can help you book.
#7 Do the Trim Trail
The Trim Trail is a fun way to get in a workout and take in the views across the bay at the same time. This fitness circuit course is suitable for all ages.
#8 Visit St Peter's Roman Catholic Church
St Peter the Apostle Roman Catholic Church is a parish church built in 1938–39. While it may not have the history of many other churches in Norfolk, it is Grade II listed because it's the only complete architecture work by Eric Gill, a famous twentieth century sculptor.
The building is designed around a central altar which, at the time, was considered a radical departure from the Catholic practice of the altar being at the east end of a church. St Peter the Apostle is located on Lowestoft Road close to Clarkes Road.
#9 Play Golf
You can play a round of golf on the UK's most easterly golf course that overlooks the North Sea. The Gorleston Golf Club, founded in 1906, has a 6,341 yards par 71 course that is playable for many ability levels.
After your game, head to the clubhouse where you can relax with a drink while admiring the view across the course and out to sea. There is also the restaurant if you would like to grab a bite.
#10 Enjoy the Amusements
Like many other seaside towns, Gorleston has amusements. There is Ocean Bay which is by the Pavilion Theatre or Marine Amusements on the Lower Esplanade. With all the different games, you can keep kids (of all ages) entertained for hours. If you are lucky, you might even win a prize.
Things to Do Near Gorleston
Since you are in Gorleston, you might as well take advantage and visit some of the other popular attractions nearby. There is a lot to see nearby especially if you have a car, as public transport around Gorleston is limited.
Great Yarmouth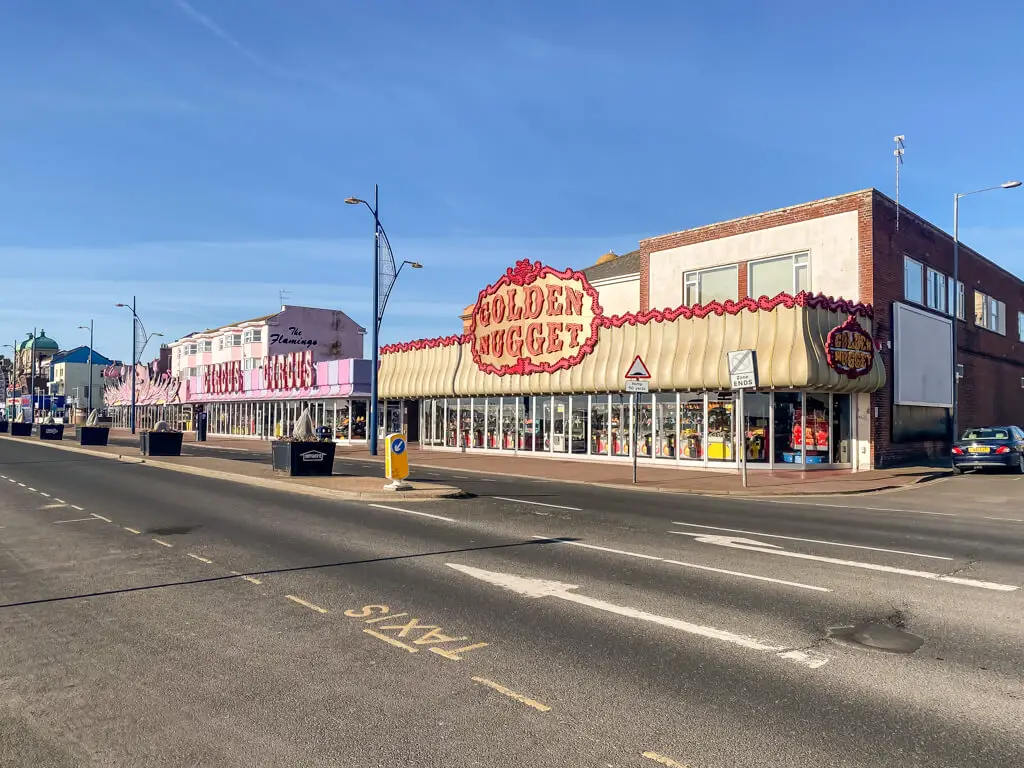 Great Yarmouth is one of the most popular destinations for families in Norfolk. In addition to a beach, there is the amusement park Pleasure Beach, a Sea Life Centre, circus at the Hippodrome, museums, and more. Read about the best things to do in Great Yarmouth.
Caister-on-Sea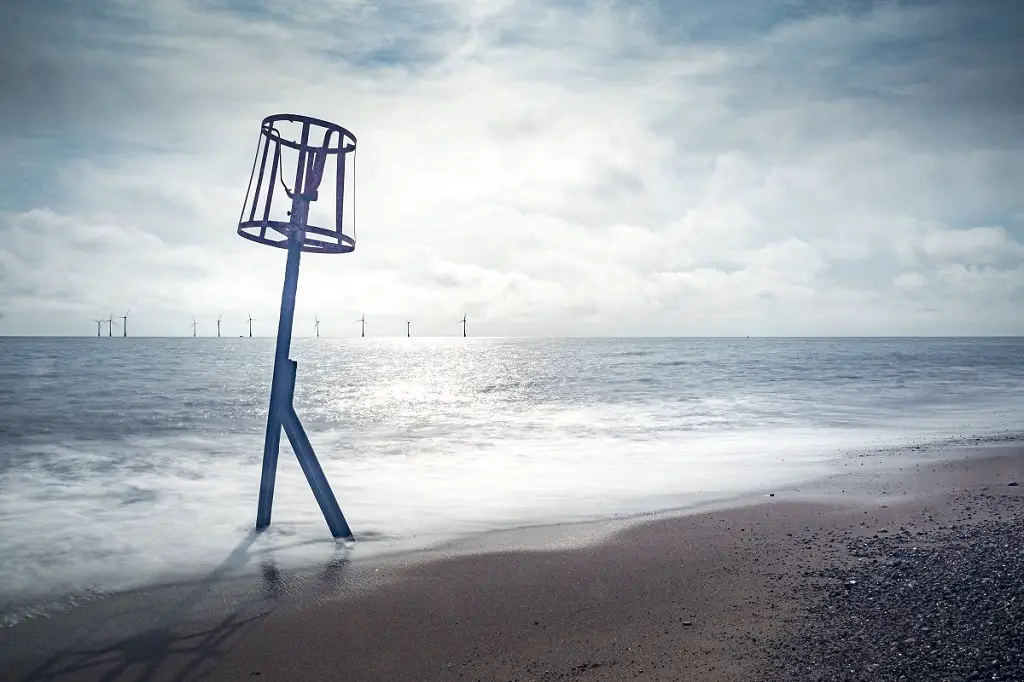 On the northern side of Great Yarmouth, there is the village of Caister-on-Sea. Caister has a large sandy beach that is less popular than Gorleston or Great Yarmouth, but definitely worth visiting. You can also see the ruins of the Caister Roman Town.
Read about more beaches near Great Yarmouth.
Norfolk Broads
In Gorleston, you are also close to the Broads National Park. It's a beautiful area where you can enjoy watersports, boating, walks, cycling, birdwatching, traditional pubs, and more. Find out about the best things to do in the Norfolk Broads.
Is Gorleston good for kids?
Yes, kids will love the beach and other family-friendly attractions. It's also close to Great Yarmouth which is one of the best places to take kids in Norfolk.
How Long Should You Spend in Gorleston?
You can see most of Gorleston-on-Sea in a day but you will want time to relax too. Consider staying for a weekend or more, as it could also make a good base to explore more of the area.
Where to Stay in Gorleston
While Gorleston may not have any big resorts, it does have several lovely boutique hotels and plenty of holiday homes. Here are our top picks.
The Cliff Hotel
The newly refurbished Cliff Hotel overlooks Gorleston's beach and features an elegant restaurant, bar, and garden terrace. All the rooms are individually decorated and have HD TV, tea and coffee making facilities, free WiFi, and an en suite bathroom. Many rooms have sea views.
Read reviews on Tripadvisor here.
Check price and availability here.
The Pier Hotel
The Pier Hotel is another property right by Gorleston Beach. It's a 3-star hotel that offers relaxed surroundings, home-cooked food, great wines and friendly service. The rooms are all en suite with hairdryers, TVs, telephones, tea/coffee making facilities, and free WiFi.
Read reviews on Tripadvisor here.
Check price and availability here.
How to Get to Gorleston
It's probably easiest to drive to Gorleston. It's located just off the A47. There is free parking available by the Gorleston Pavilion Theatre.  There is also some roadside parking available.
The nearest train station is Great Yarmouth, which is about three miles away. If you want to take public transport from Norwich to Gorleston the X11 Coastlink bus towards Great Yarmouth stops in the Gorleston town centre.
Is Gorleston Worth Visiting?
Yes. The beach alone will make it worth the visit! All the other attractions in this Norfolk town are a nice bonus.