If you haven't been to King's Lynn, you don't know what you are missing. It's a historic town that is well-preserved with no less than 481 listed buildings. For a town of its size, the medieval architecture is unmatched anywhere in the country.
Here are the best things to do in King's Lynn along with more information and helpful tips to help plan your visit.
Note: This post contains affiliate links.  As an Amazon Associate, we earn from qualifying purchases. Please see disclosure for more information.
If you plan on spending more than a day in King's Lynn, we recommend booking either the Bank House or Duke's Head Hotel. Both hotels provide an ideal base for exploring King's Lynn and the surrounding area, with plenty of amenities to make your stay comfortable and enjoyable. You can find more details about these hotels in the post below.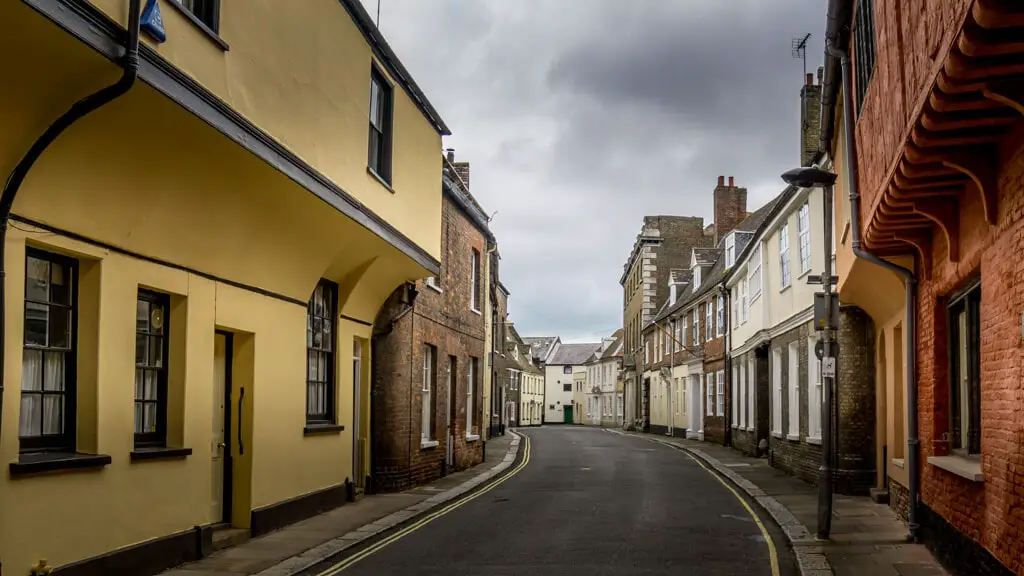 History of King's Lynn
King's Lynn has gone through a lot of changes over the years including with its name. Originally it was known as 'Lin', thought to have come from the Celtic word for a lake or pool since it has been recorded that there was a large tidal lake in the area.
The first medieval town began when Bishop Herbert de Losinga built St. Margaret's Church (now King's Lynn Minster) and established a market. The town became prosperous and in 1204, the Bishop John de Grey of Norwich named it Bishop's Lynn.
Trade flourished along the waterways as it was the easiest way to move for goods. As part of the Hanseatic League, a powerful German trading organisation made up of towns around the Baltic and the North Sea, Bishop's Lynn grew to be the most important port in England. You can get an idea of the town's prosperity from the merchant houses and other historic buildings.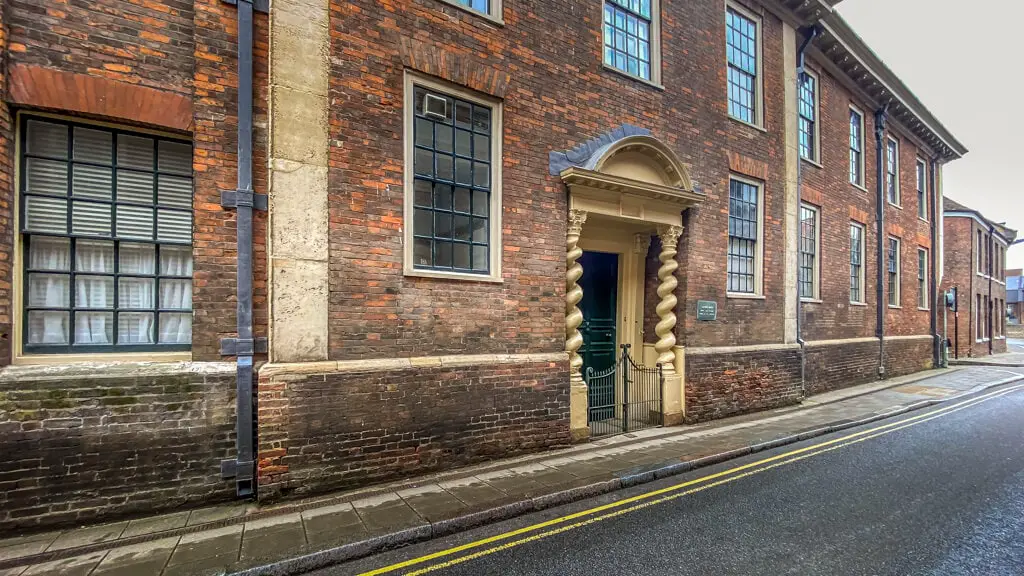 After the dissolution of the monasteries by Henry VIII, Bishop's Lynn had to change its name to Lynn Regis, which then became King's Lynn. While the official name today is still King's Lynn, many locals still refer to the town as Lynn.
The English Civil War was a turbulent time for King's Lynn. In the summer of 1643, there was a bloodless coup and the town become Royalist. A few weeks later, the Parliamentarians captured the town after blockading it by sea and besieging it by land. They refortified the town and made it the strongest fortress in East Anglia.
King's Lynn is no longer the powerful port it was during medieval times. It suffered from the discovery of the Americas, which benefited ports on England's west coast. The town was also affected by the growth of London and the invention of the railroads.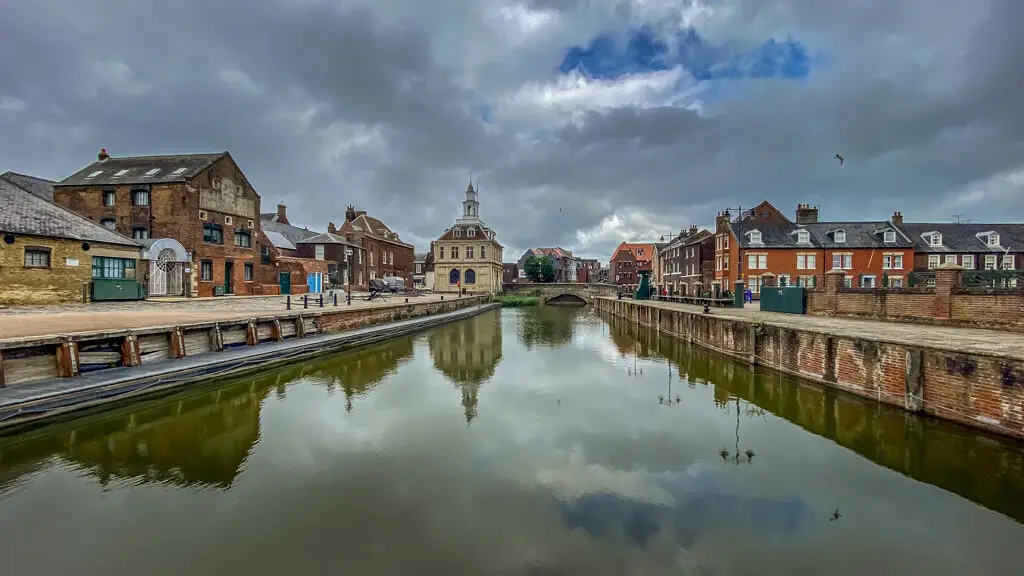 In more recent years, the King's Lynn Preservation Trust has done some excellent work to rescue many historic buildings. It's helped keep the legacy of the town's prosperous time still evident for today's visitors.
Famous People from King's Lynn
Given the size of King's Lynn, it is quite impressive to learn about several significant historical figures with strong ties to the town.
Margery Kempe
Margery Kempe (1373 – 1438) was a mystic who is known for writing (through dictation) the first autobiography in English. The Book of Margery Kempe details her life, travels, and experiences of divine revelation. If you are interested in learning more, there is a small exhibit inside King's Lynn Minster and more information in the Stories of Lynn Museum.
George Vancouver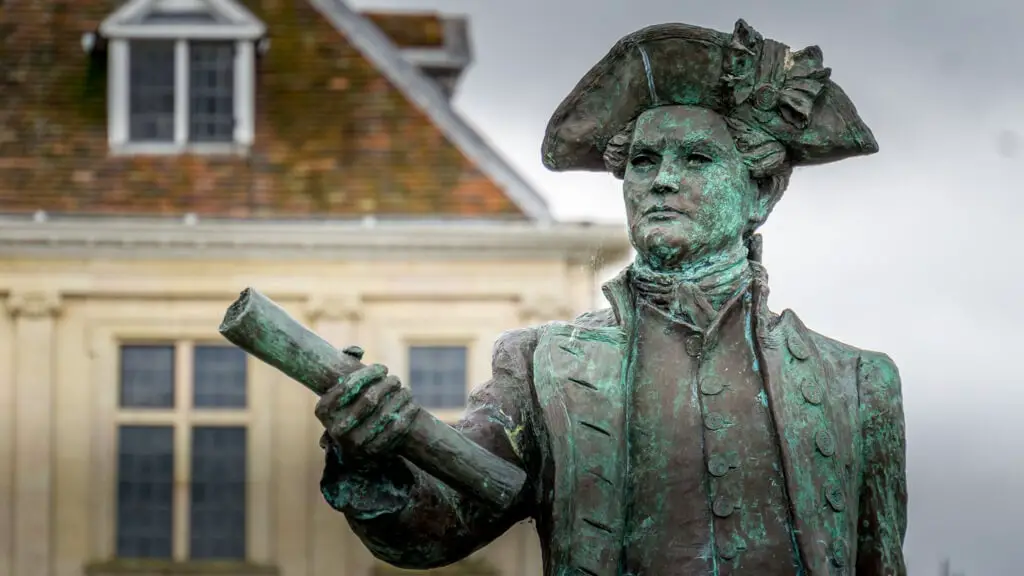 Captain George Vancouver (1757 – 1798) charted the northwestern coast of North America from Oregon up to Alaska. Before that, he sailed with Captain James Cook on his second and third voyages and was present during the exploration of Hawaii.
Vancouver Island, the city of Vancouver in British Columbia, as well as Vancouver, Washington in the United States, are all named after him. You will find a statue of Vancouver on Purfleet Quay by the Custom House where he worked.
Samuel Gurney Creswell
Samuel Creswell (1827 – 1867) went on a five-year expedition and became the first person to traverse the Northwest passage. He was born in King's Lynn and his family lived at Bank House on Staithe Square. Bank House is now an upmarket hotel and restaurant (read reviews here).
Frances Burney
Francis Burney (1752 – 1867) was a satirical novelist, diarist, and playwright who was born in King's Lynn. She wrote four novels, but Evelina was the most successful and remains the most highly regarded. Most of her plays were not performed in her lifetime.
Alexander Musgrave
Captain Alexander Musgrave was in charge of five ships against the Spanish Armada and brought them all back safely. He received a reward of £100 for his efforts. You can see the house where he lived on King Street.
15 Things to Do in King's Lynn
King's Lynn is steeped in history. I have a few suggestions of things to do while you're in the town so that you can learn more about the history and make the most of your time there.
All of these ideas are within walking distance, so you won't need a car. While some attractions are free, most are affordable. It's a budget-friendly place to visit.
Note: If you are on a budget, be sure to check out our suggestions for the best free things to do in Norfolk.
#1 Take a King's Lynn Town Walk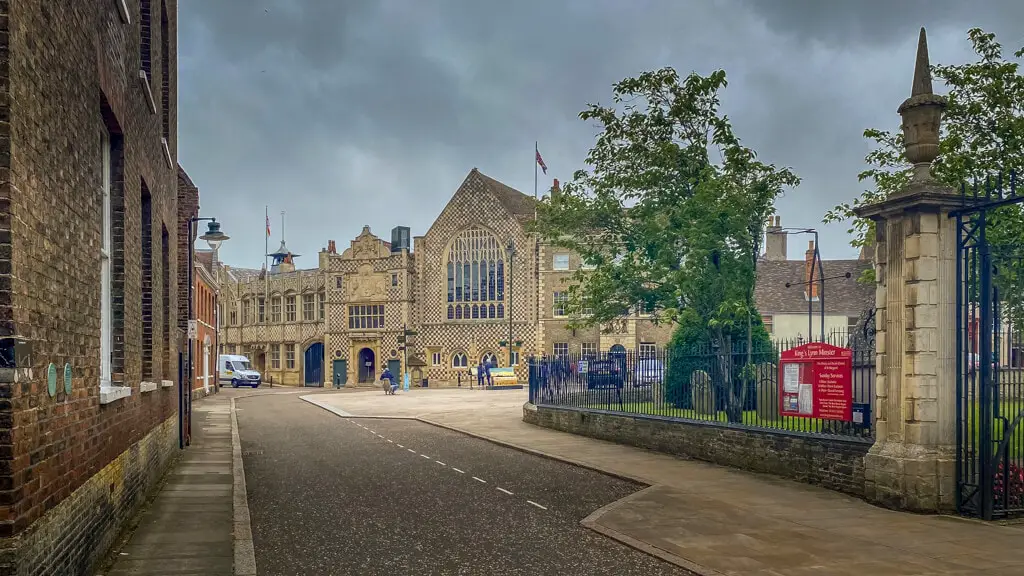 If you want to learn more about King's Lynn's history, the King's Lynn Town Guides provide tours from April to October. We took one of their regular walks and learned some interesting facts.
While it doesn't include going inside any buildings, the stories the guides tell make it worthwhile. At only £5 per adult, they are a bargain! The guides are volunteers so all the money collected for these tours goes to further the conservation and promotion of the town. Get more information here.
Those that prefer to do something self-paced can download the Stories of Lynn app (on the app store here or on google play here) which has walking tours.
There is also the King's Lynn Maritime Trail. It starts at True's Yard Fisherfolk Museum and ends at Marriott Warehouse. You can purchase a guide for 50p from the Tourist Information Centre or True's Yard Fisherfolk Museum.
#2 St. George's Guildhall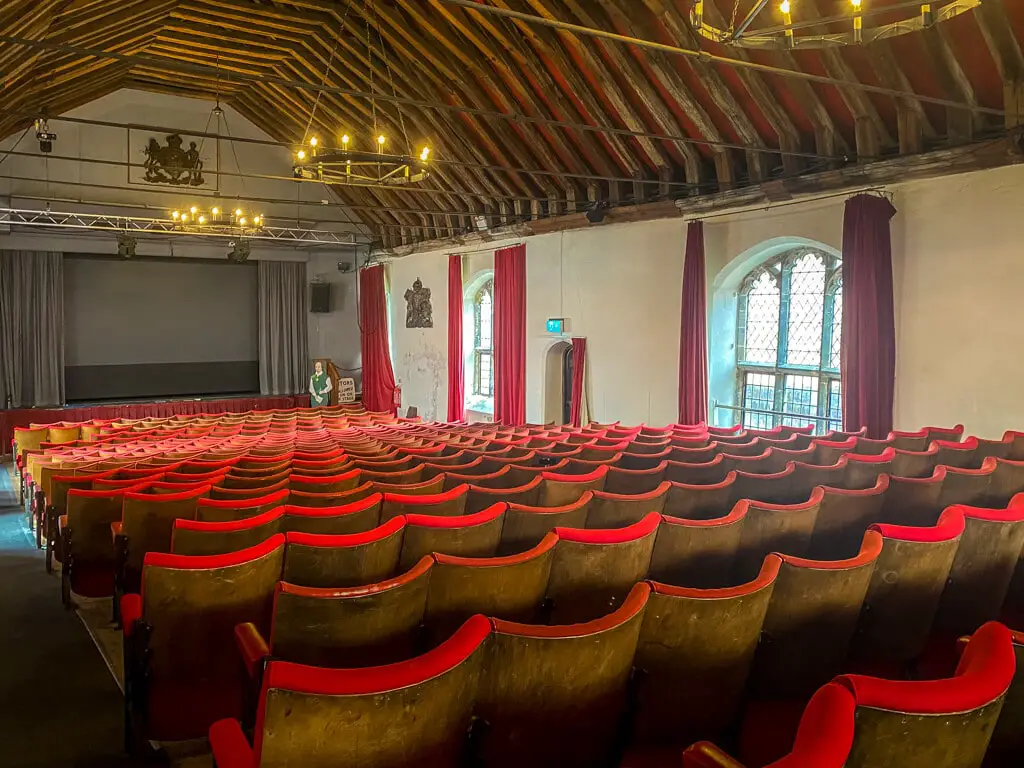 King's Lynn is home to England's largest surviving medieval Guildhall and Britain's oldest working theatre. If that's not enough to make it noteworthy, it is the only theatre in the world that can claim that Shakespeare performed there.
You can go inside the Guildhall, there is no admission charge. When we visited, we were greeted by a volunteer who took us into the theatre. The first thing I noticed was the ceiling which is heavy on the wood as given the area's history, it may have been done by a ship builder.
Although the vaulted ceiling of the theatre is beautiful, it is so overengineered with wooden rafters that it caused the walls to slant. Left to their own devices, the walls would have bowed out and the roof collapsed long ago, but they were shored up from the outside later by adding buttresses.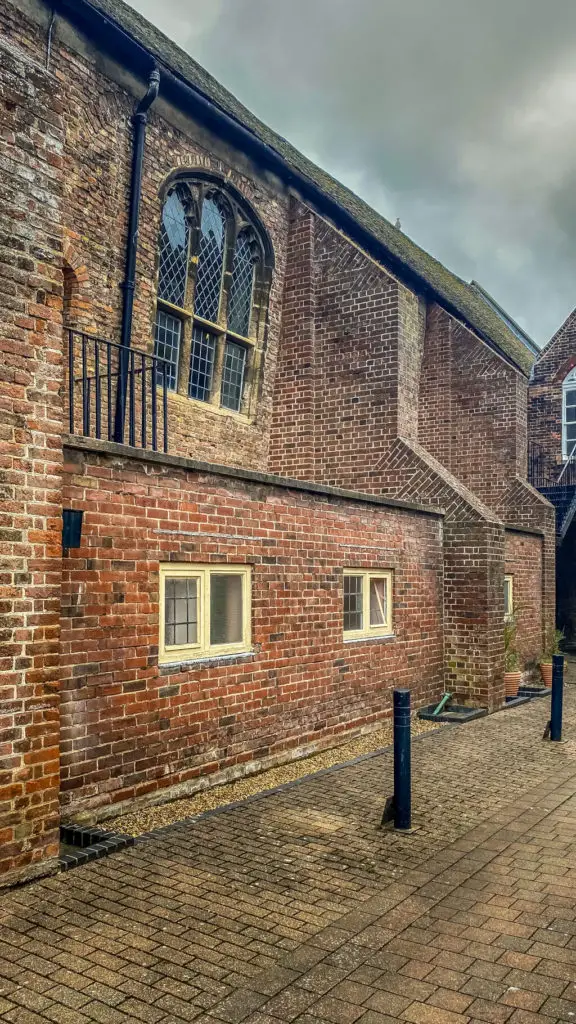 The huge roof has created a large open space with very good acoustics. Any budding stage actors can read a passage from Hamlet to test them out.
Our volunteer tour guide also told us about the history of the building. The first performance was a nativity in 1445. The Queen's Players used the theatre in 1585 and 1595. In 1593, the Earl of Pembroke's Men, which included Shakespeare, played at the Guildhall as theatres in London were closed due to the plague.
Robert Armin, the comedic actor that created the roles fool in King Lear, Feste in Twelfth Night, Porter in MacBeth, and more, was born in King's Lynn. He was very close to Shakespeare and may have convinced him to use St. George's Guildhall.
Throughout the years, the building has also been used as a gunpowder store (during the Civil War), courthouse, playhouse, and wool warehouse. In 1945, the building was saved from demolition by Alexander Penrose.
It's not cheap to restore and maintain a historic building like this so they sold seats to raise more money. At the back of the theatre, you can see the names of the people who purchased them. I was surprised to see several names that I recognized, including Queen Elizabeth II, Queen Mary (the Queen's grandmother), Viscount Althorpe (Princess Diana's father), and Benjamin Britten (a composer).
As of February 2022, St. George's Guildhall is open from 10:00 to 16:00, Monday to Friday.
Get more information here.
#3 Admire King's Lynn Minster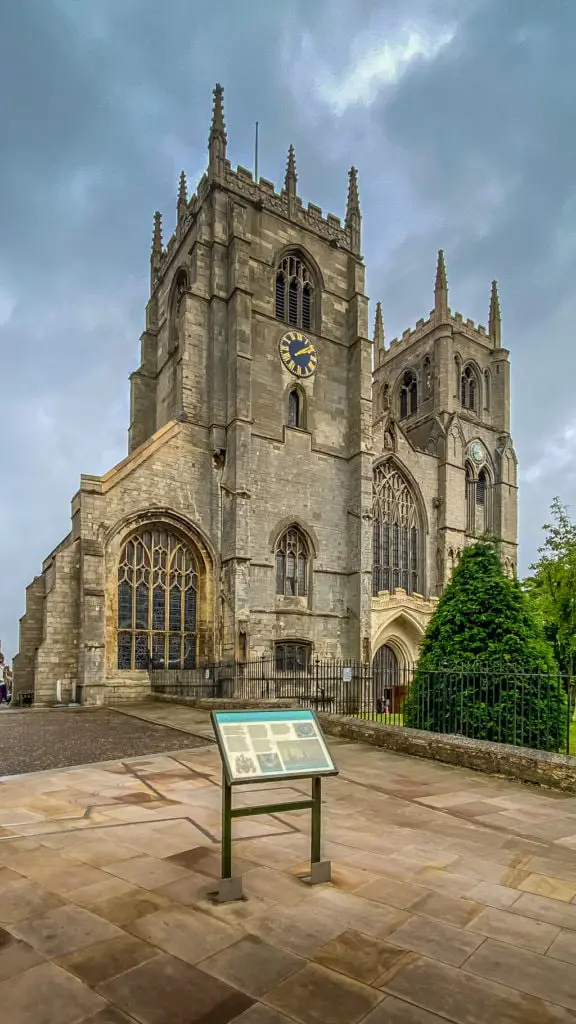 By the area called the Saturday Market Place in the heart of King's Lynn, you will find the Minster. It was founded by the first Bishop of Norwich, Herbert de Losinga, in 1101, as the Church of St Margaret of Antioch, St Mary Magdalene and all the Virgin Saints. He also founded Norwich Cathedral and the Church of St. Nicholas in Great Yarmouth.
For 400 years St. Margaret's was home to monks as well as the parish church for the town. You can still see traces of a small priory next to the church, where the four Benedictine monks "seconded" from Norwich Cathedral Priory lived in the cottages bordering the churchyard.
After the dissolution of the monasteries, it remained the parish church for King's Lynn. In 2011, the Bishop of Norwich designated this church a Minster Church, so don't be surprised to hear locals still call it St. Margaret's.
Not much remains of the original church. It has been rebuilt and restored several times over the years so you will see several architectural styles including 14th century Decorated Gothic and 15th century Perpendicular Gothic. You may notice that the Minster does not have a spire. It fell off during a storm in 1741.
On the tower opposite the clock, there is a Moon Dial which shows the phases of the moon and the tide times. The tide was important to a town that was a Hanseatic port and made its money on trade. While the clock and the moon phases looked to be accurate, the tide times seemed to be a bit off, which isn't surprising given it dates to 1683.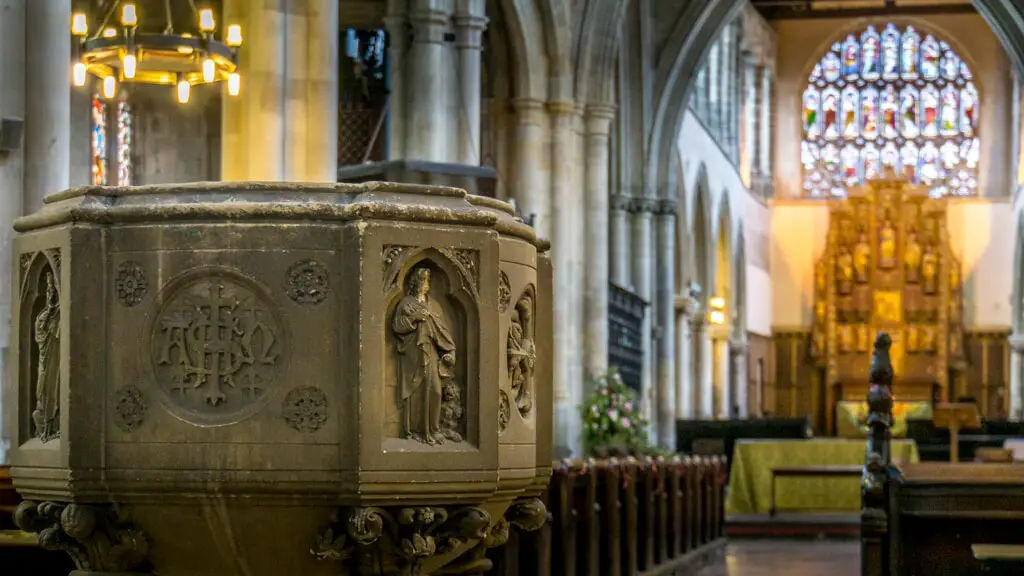 Inside the Minster, you can see why it's not just a parish church. I was in awe of the reredos behind the altar as it seemed to be glowing. They also have sixteen late 14th century misericords and a large collection of brasses. It's also worth taking a look at the font to see the damage done by Puritans during the Civil War.
The Minster is open for visitors and private prayer from 8:30 to 18:00 daily. If you can't make it to King's Lynn Minster, you can take a virtual tour here.
#4 Visit the Lynn Museum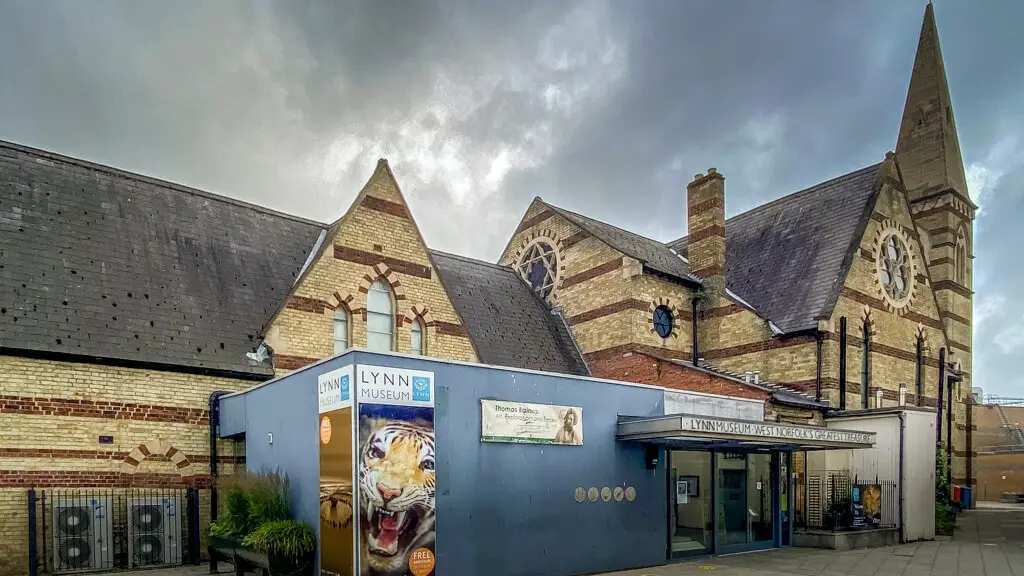 Inside the Lynn Museum, you will find many diverse artifacts, artwork from prominent local artists, and interactive features to entertain the whole family. It may be best known for its Seahenge display where you can see the remains of a unique timber circle dating back over 4,000 years to the Early Bronze Age. The henge was discovered at Holme Beach in 1998.
The museum is located next to the King's Lynn bus station inside the former Union Baptist Chapel. They offer free admission from October to March.
You can find the current hours and admission prices (April through September) here.
#5 See St. Nicholas Chapel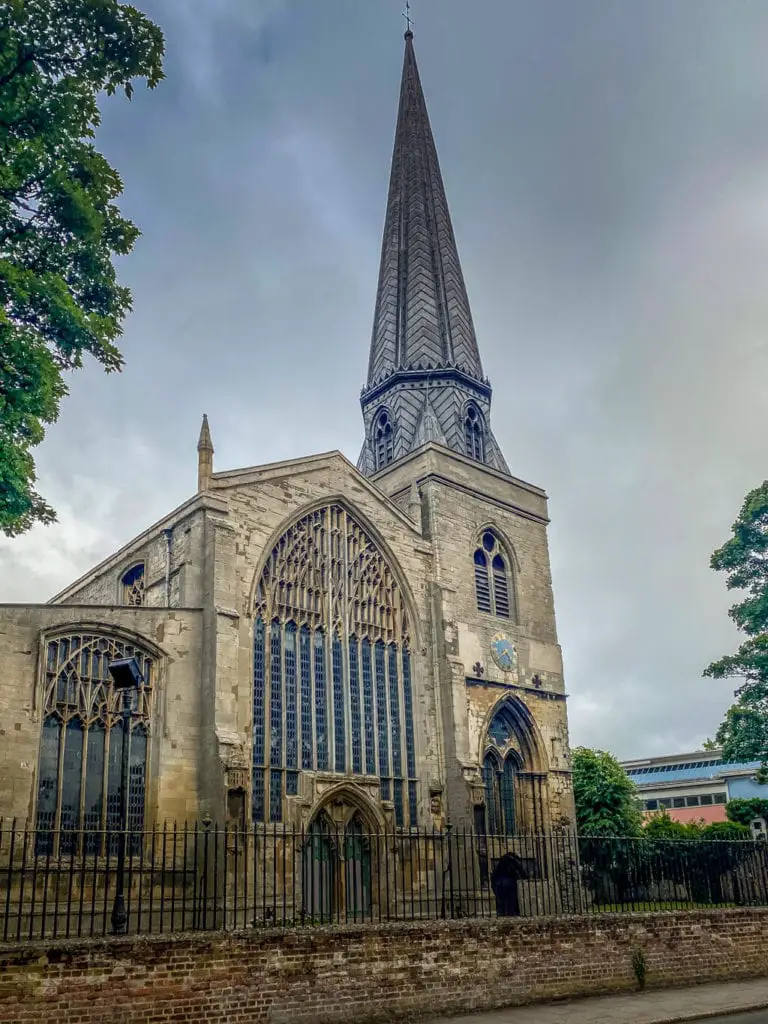 St. Nicholas Chapel is the largest Chapel of Ease in England. This means that St Nicholas does not serve its own Parish, instead it is subject to the Parish Church at St Margaret's Priory (aka King's Lynn Minster), and has the same legal status as a side chapel inside that building.
The building's grand scale reflects the significance of King's Lynn as one of the main port towns of medieval England. It was built in the early perpendicular style in the late 14th to early 15th centuries incorporating the stone tower (dating around 1225) from earlier churches on the site.
The spire blew down during a storm in 1741 and was replaced by a wooden octagon the next year. The spire you see today was designed by George Gilbert Scott and installed in 1870.
The church is best known for its angel roof. Twenty-four oak angels fly from the wooden beams above each window. Some are playing musical instruments, while the rest are holding religious symbols. In the sanctuary, you will find the only painted roof timbers and two wingless angels who are acting as assistants to a Mass service.
Also, inside St. Nicholas Chapel you can see the spread eagle brass lectern, which is one of only 45 in England dating from before the English Reformation. They also have a large collection of 17th and 18th century monuments for merchants, officials and tradesmen.
While St Nicholas had the largest congregation in King's Lynn in 1868, by 1989 the congregation was very small and the church was declared redundant. Since 1992 the Churches Conservation Trust has been caring for the chapel.
During our visit in June 2021, St. Nicholas Chapel was not open. We could only admire the chapel from outside. Hopefully, they will be able to find volunteers to be able to open soon. Check the latest status here.
#6 Visit the Stories of Lynn Museum
Learn more about the history of King's Lynn at the fun and interactive Stories of Lynn Museum. One of their most prized artefacts on display is the famous King John Cup, a 14th-century chalice, extravagantly decorated in gilt and enamel. It also has some elaborate mayoral regalia and the 18th-century goal house.
It's a popular attraction for children as they can dress up in mayoral robes and see place settings of meals that Lynn's mayors would have enjoyed over the years. In the goal house, they can explore the dark dungeons, dress up as gaolers and prisoners, and see a ducking stool. They will also get to know some of King Lynn's most celebrated characters like Frances (Fanny) Burney and Margery Kempe who come to life on the walls to share their stories.
If you visit on a Tuesday or Sunday, you can also tour some historic rooms in the King's Lynn Town Hall complex including the 15th-century Trinity Guildhall, Georgian Assembly Room, and Court Room. Admission to the Stories of Lynn Museum is £3.95 for adults and £1.95 for children.
Get more information here.
#7 See the Custom House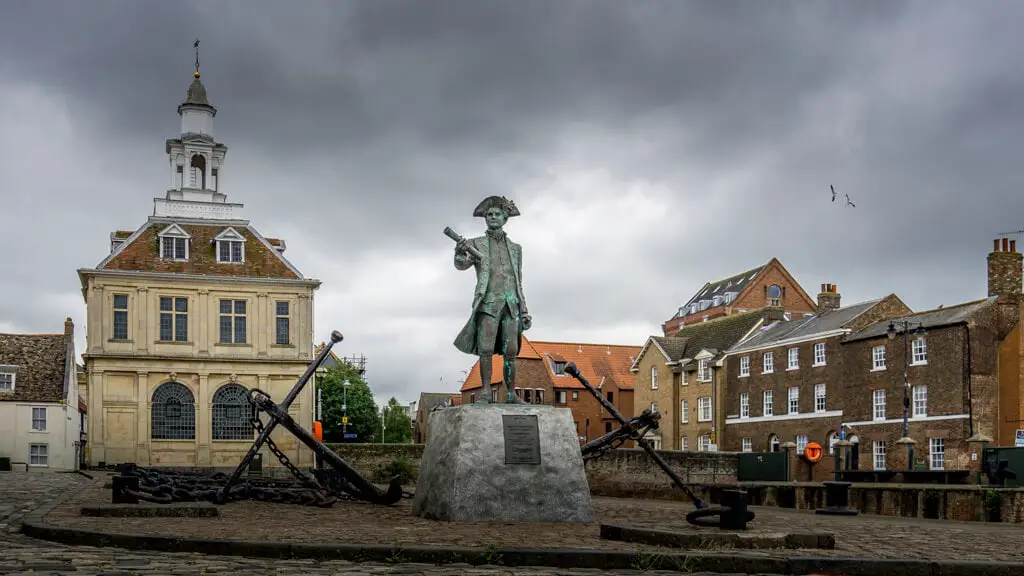 The Custom House is the architectural symbol of King's Lynn. It was commissioned in 1683 by Sir John Turner, a local wine merchant, and built to be a merchant's exchange. The building was designed by Henry Bell. The ground floor was the exchange and the first floor was the customs office.
The top of the Custom House used to have a bell. Around the outside you see several different stone carvings including Charles II, Cyrus the god of corn, Bacchus the god of wine, Sir John Turner's wife, and the Turner family coat of arms.
The Custom House was occupied by HM Customs and Excise until 1989 when it passed into private ownership. It is leased by the Council and used to have a Tourist Information Centre and small museum inside, but the Tourist Information Centre is now located by the Saturday Market.
Update: As of February 2023, the Greyfriars Art Space group still holds exhibitions at the Custom House from Wednesdays to Saturdays. Please check their Facebook page here to confirm before heading out.
#8 Go to True's Yard Fisherfolk Museum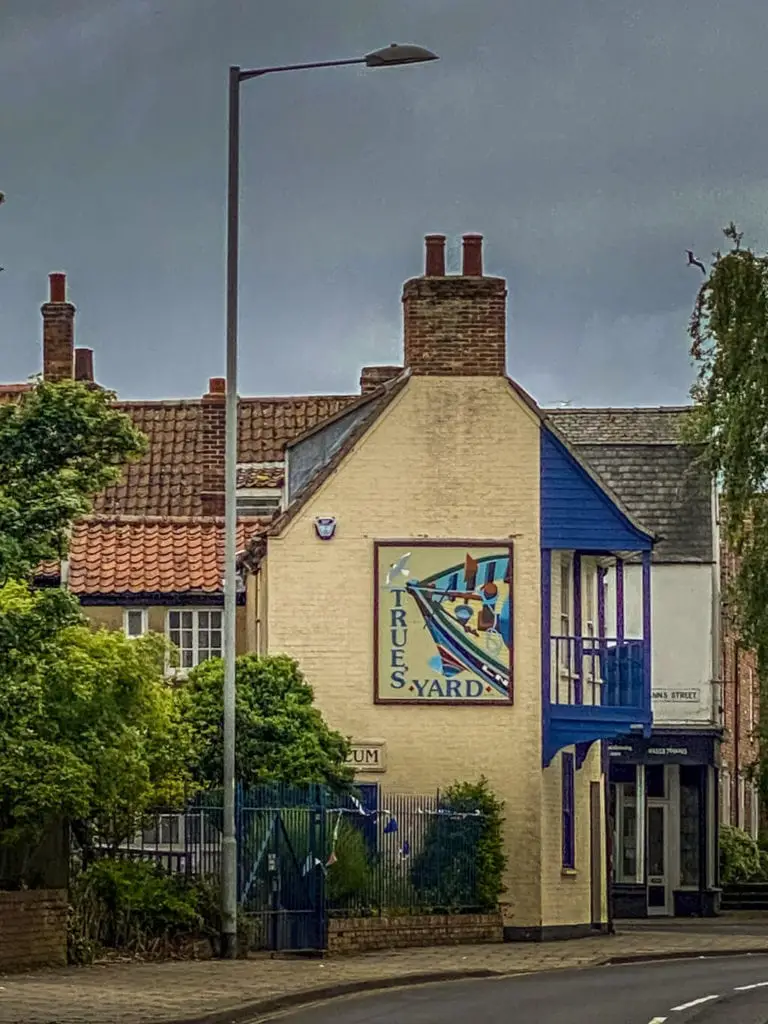 The home of King's Lynn's fishing community was the North Ward, where you can now find True's Yard Fishing Heritage Museum. It is named for William True, who purchased the property in 1818.
Here you can learn about the stories of the families that lived and worked in the old fishing quarter. You can explore the last two surviving fisherfolk cottages, an original Victorian smokehouse, a fully restored and rigged 1904 Lynn fishing smack called Activity, and a blacksmith's forge called the Old Smithy.
The museum also has a tearoom and gift shop. Admission to True's Yard Fishing Heritage Museum is £3 for adults and 1.50 for children (correct as of June 2021). Guided tours of the Museum and the North End are available on Wednesdays from June to September.
Get more information here.
#9 Enjoy a Performance at the Corn Exchange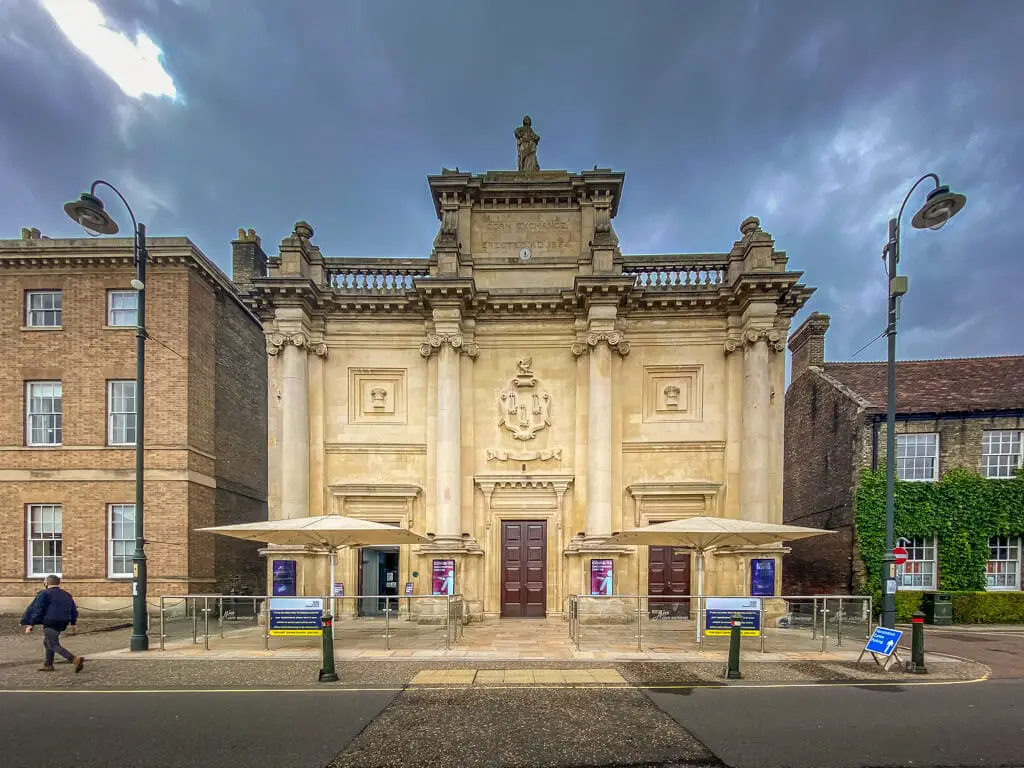 The Corn Exchange built in 1854 has been converted into a concert hall. This versatile modern venue hosts theatre, comedy, touring musicals, and concerts. There is also an onsite coffee shop.
Click here to check the calendar.
#10 Learn more about Gin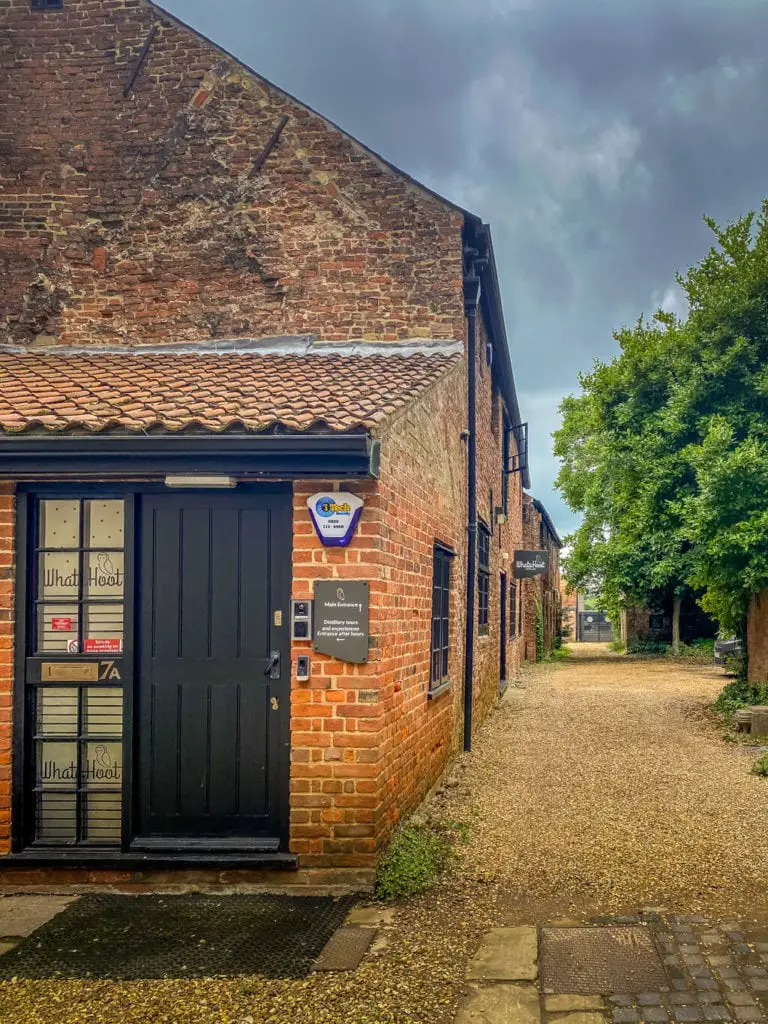 King's Lynn has an award-winning distillery in a historic building in it's town centre. At WhataHoot, they make gin (and vodka) in small batches as every bottle is hand-distilled. You can get your supplies of WhataHoot products as well as a range of local artisan produce at their ground floor 'Pantry' shop.
They also offer special experiences for gin enthusiasts including tastings, masterclasses in their Gin School and Spirit Lounge, and distillery tours. You can even make your own personally branded bottle of gin.
#11 Visit Marriott's Warehouse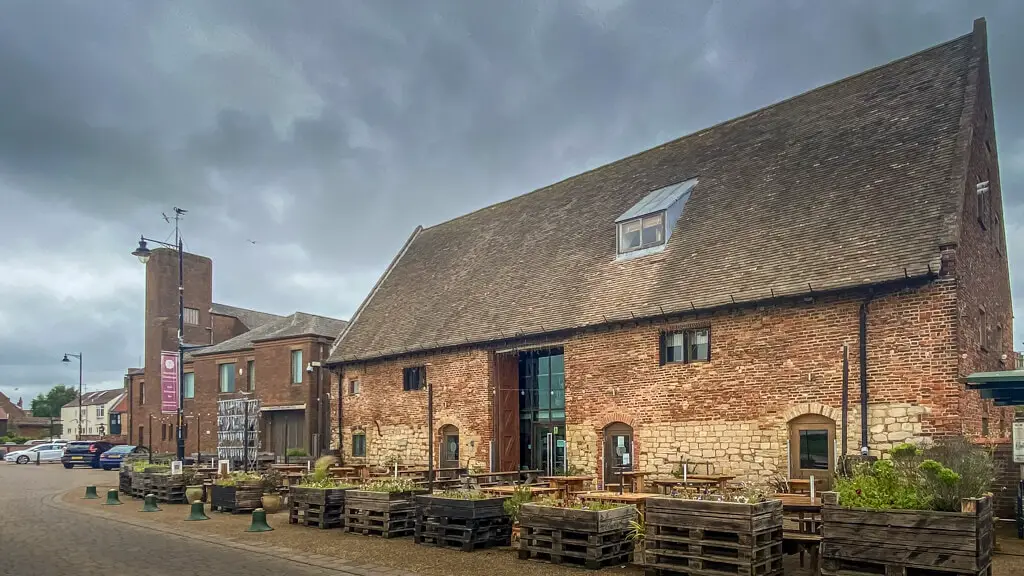 This Grade II Listed Building dates from the 1580s. The lower story was built in stone to give it protection from the tides. Now the ground level is a restaurant, but upstairs there is a display about how King's Lynn was built and rebuilt over the last 900 years including a miniature model of the town.
#12 Admire the Art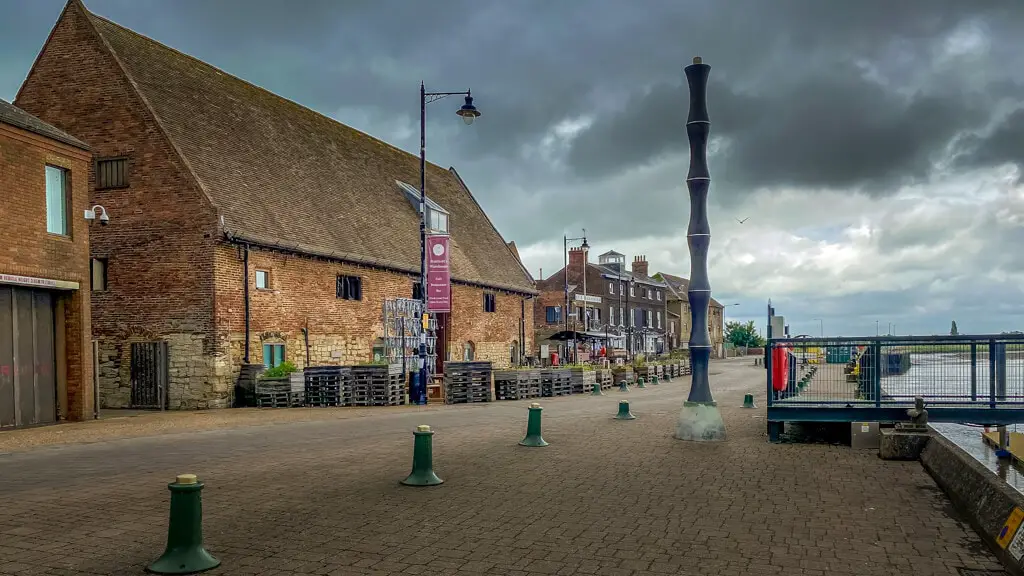 As you walk around King's Lynn you will notice that there are some interesting pieces of art in some places. It's not just the classic art (like the statue of George Vancouver) that you might expect to see in a historic town, there are several modern installations.
Half Fathom Column – This bronze column (pictured above) by Andrew Schumann has ripples that represent the surface movements on the River Great Ouse and a flashing light on top blinking like warning buoys afloat on the Wash. The height of the column shows the distance between high and low tides. You can find this piece in the South Quay area.
Globe – The Globe by William Jolly was cast to celebrate the centenary of the South Lynn company Cooper Roller Bearings. It symbolizes George Vancouver's historic voyages and King's Lynn's aspirations to 'regenerate' by engaging in the global economy. You can find this work by the Vancouver Shopping Centre.
Archilenses – By the edge of the River Great Ouse there is a glass panel with inlaid magnifying lenses which distort and change the view of the river. Thibault Zambeaux developed the panel from an earlier, 2013 installation in Paris.
Note: In August 2021, Banksy added a tongue and an ice cream made from part of a traffic cone and some expanding foam filler to the statue of Frederick Savage. Before Banksy confirmed that it was his, people complained and the council had it removed. Read more about Banksy's artwork in Norfolk here.
#12 See Greyfriar's Tower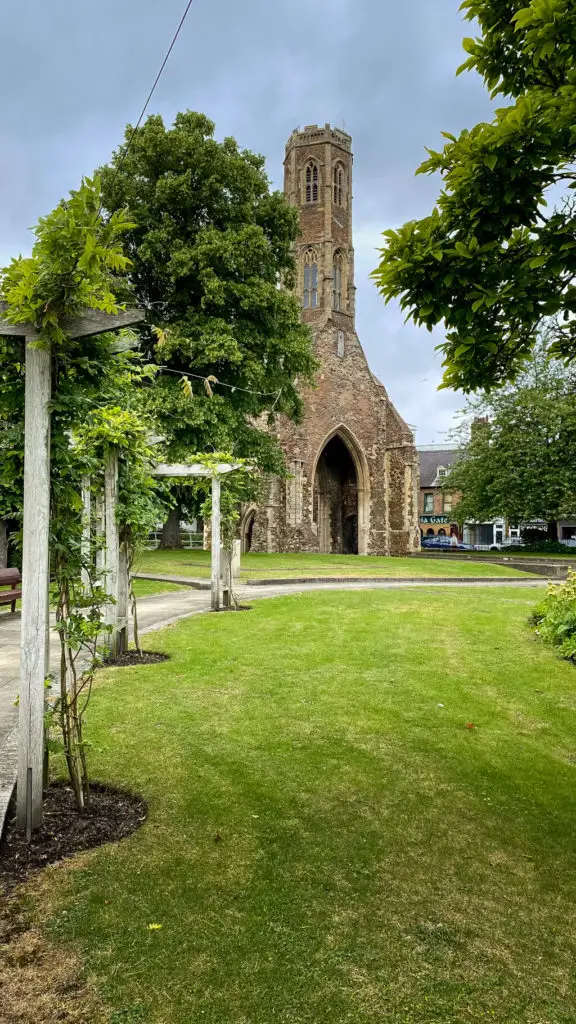 This striking bell tower is the only above ground remains of the medieval Franciscan friary which was closed in 1538 by Henry VIII. There are only two other Franciscan bell towers left in England – one in Coventry and one in Richmond – but this one in King's Lynn is the finest and it's free to visit.
Greyfriar's Tower stands 28 metres tall and was built (and altered) from the 13th to 15th centuries. For centuries, it helped guide sailors navigating the difficult waters nearby.
While you can't climb up the tower, it's worth walking under the arch. Here you can see the arched roof with some elaborate carved stone figures, including angels, a bishop's head, and a friar.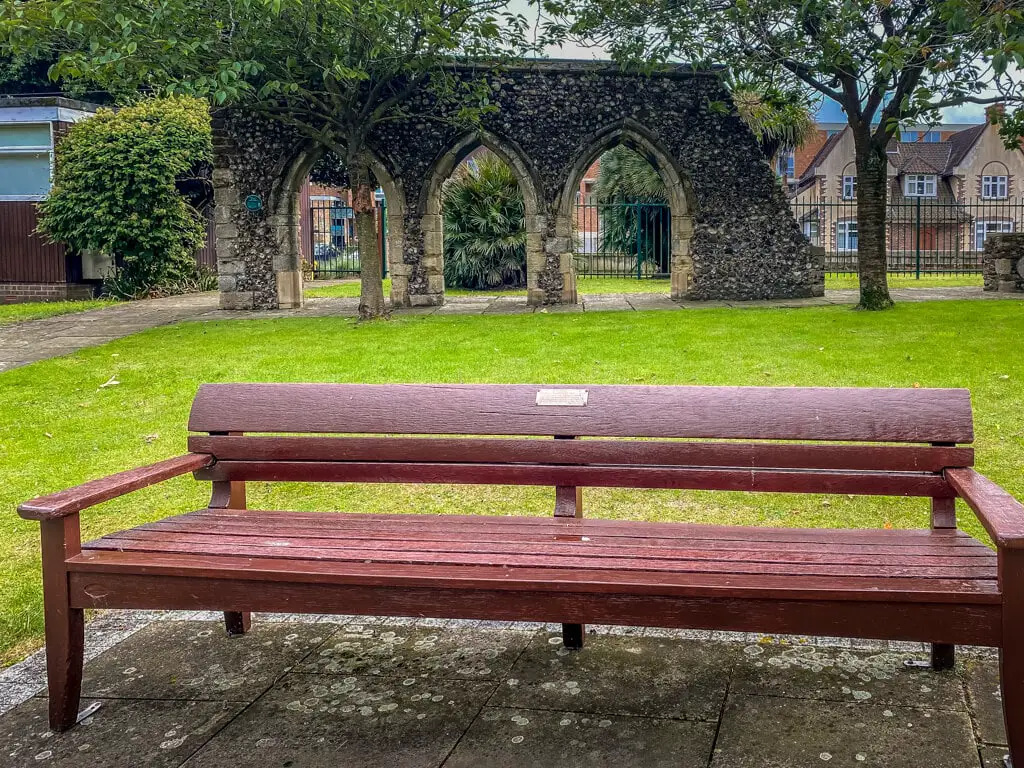 In the Tower Gardens, there are several information boards and a model of the friary so that you can get an idea of what it would have looked like in its prime. Close by, you will find the Bank Lane Arches Garden. The gardens were designed to mark the coronation of King George V in 1911 and the arches came from a building on Bank Lane/Ferry Street that was demolished in 1910.
#13 Enjoy The Walks
The Walks is an historic urban park in the heart of King's Lynn. It was first conceived as a single promenade that would allow citizens to get away from the smell, grime and bustle of the town centre but has grown into much more. As Norfolk's only surviving 18th century town walk, it was designated a Grade II historic park by English Heritage in 1998.
When you visit the Walks, be sure to check out these features:
Broad Walk – This avenue runs from London Road to Tennyson Road. It has lime, horse chestnut, and plane trees along both sides. The last section was laid out in 1843.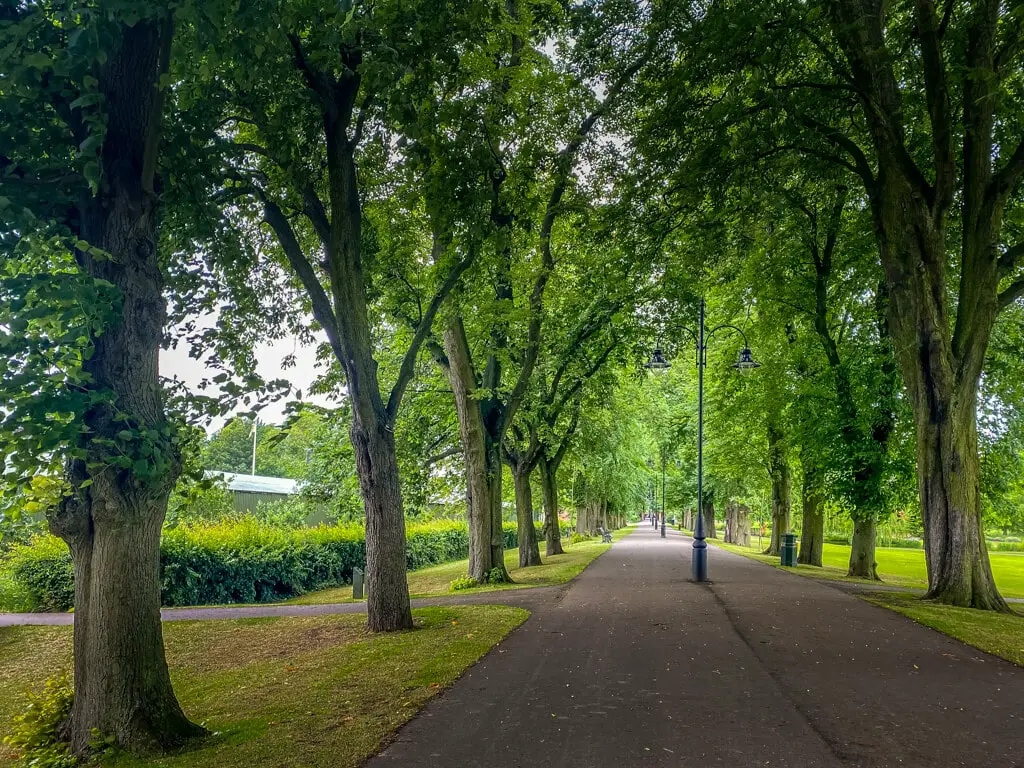 Red Mount Chapel – The late 15th century Red Mount Chapel was a wayside chapel for pilgrims heading to Walsingham and is a Scheduled Ancient monument/Grade I listed building. It is open each year from May until Heritage day in September, on Wednesday, Saturday and Sunday from 13:00 to 16:00. Entry is free.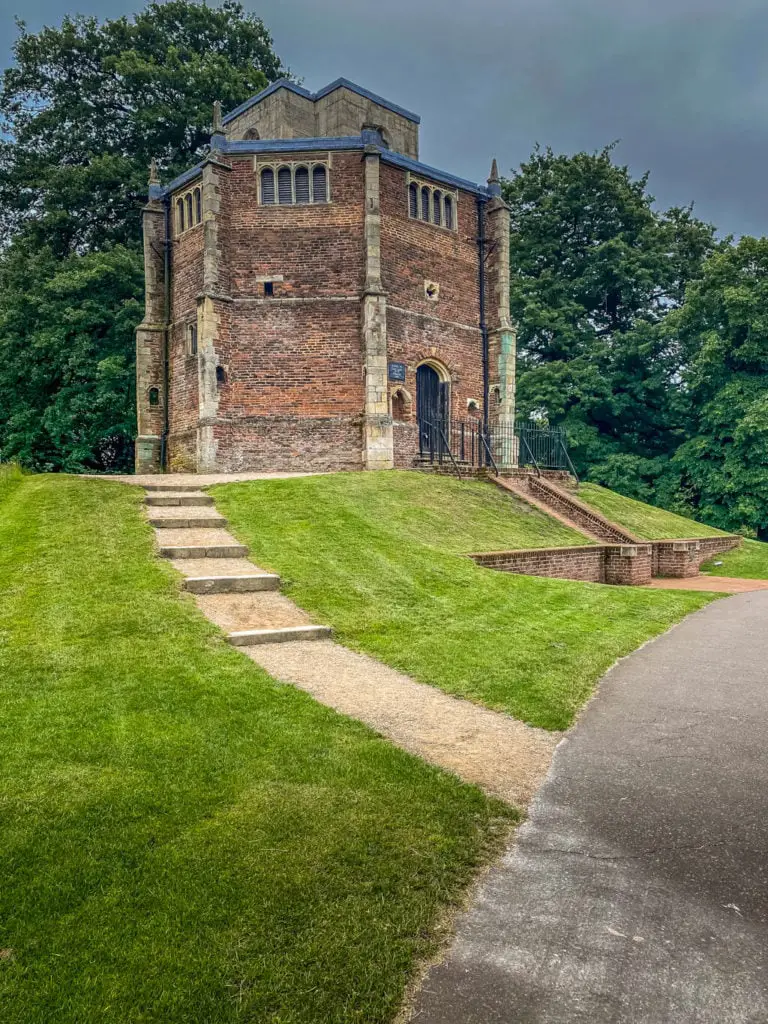 Bandstand – In the 1920s a new ornamental garden, named after Captain George Vancouver, was added. It included this octagonal bandstand. On Sundays during the summer months, there are concerts between 14:00 and 16:00.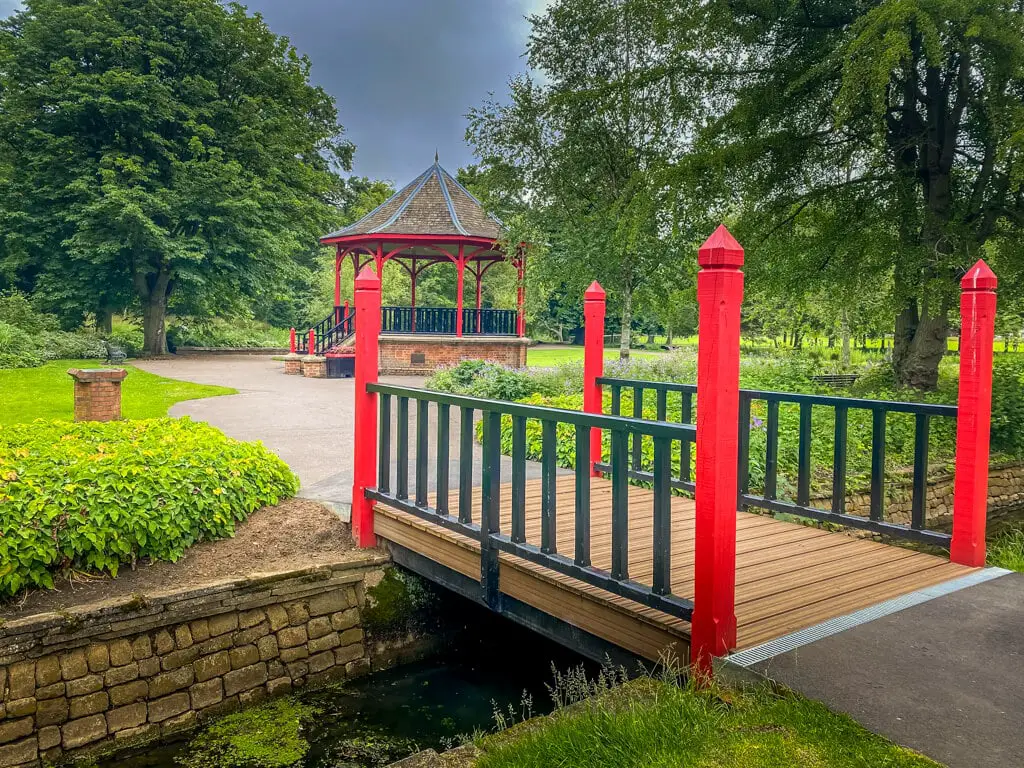 Guannock Gate – Originally part of the town's defences, which included banks, ditches, walls, this gate was demolished in 1803 and re-erected as a landscape feature in 1816.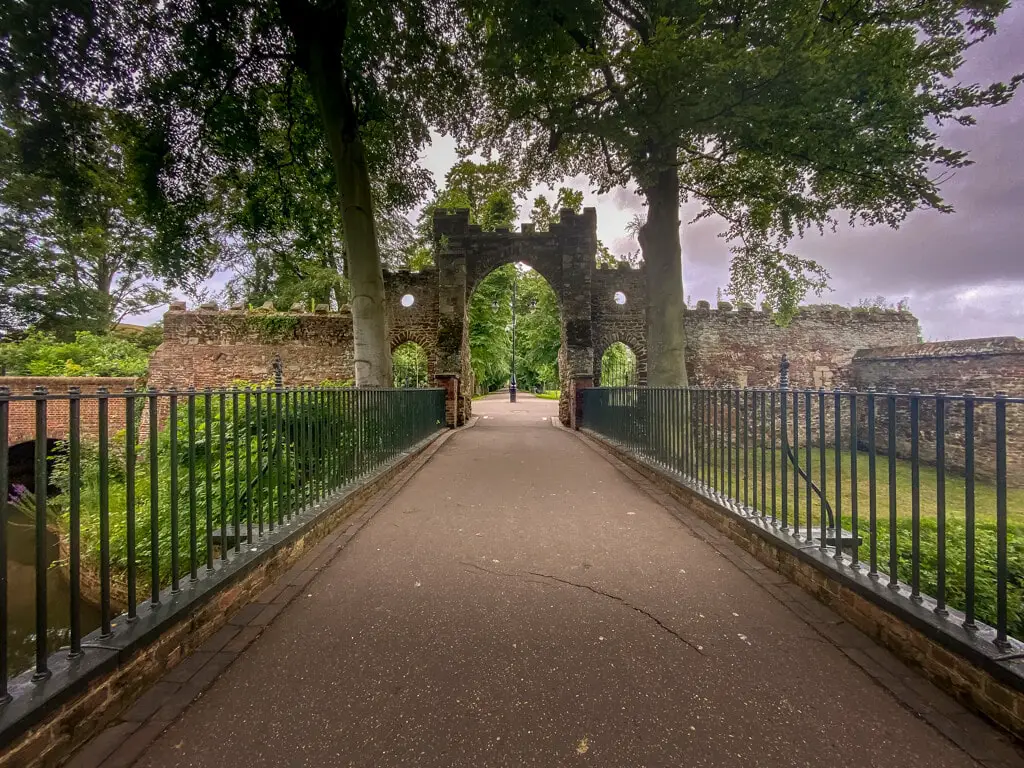 The Walks is also home to King's Lynn's football team known as the Linnets. The club has played at this ground (capacity 6,000) since 1879. In its early years, it was one of the strongest teams in the country, but now they are members of the National League, the fifth tier of English football.
#14 Take the Ferry
You can take a ferry across the River Great Ouse between the historic centre of King's Lynn and West Lynn to get a different view of the quayside area. The first recorded service of this Lynn ferry dates back to 1285, making it one of the oldest recorded services in England.
The ferry could be a convenient way to get to the town centre without having to drive or park there. Get fare and schedule information here.
#15 Admire the Clifton House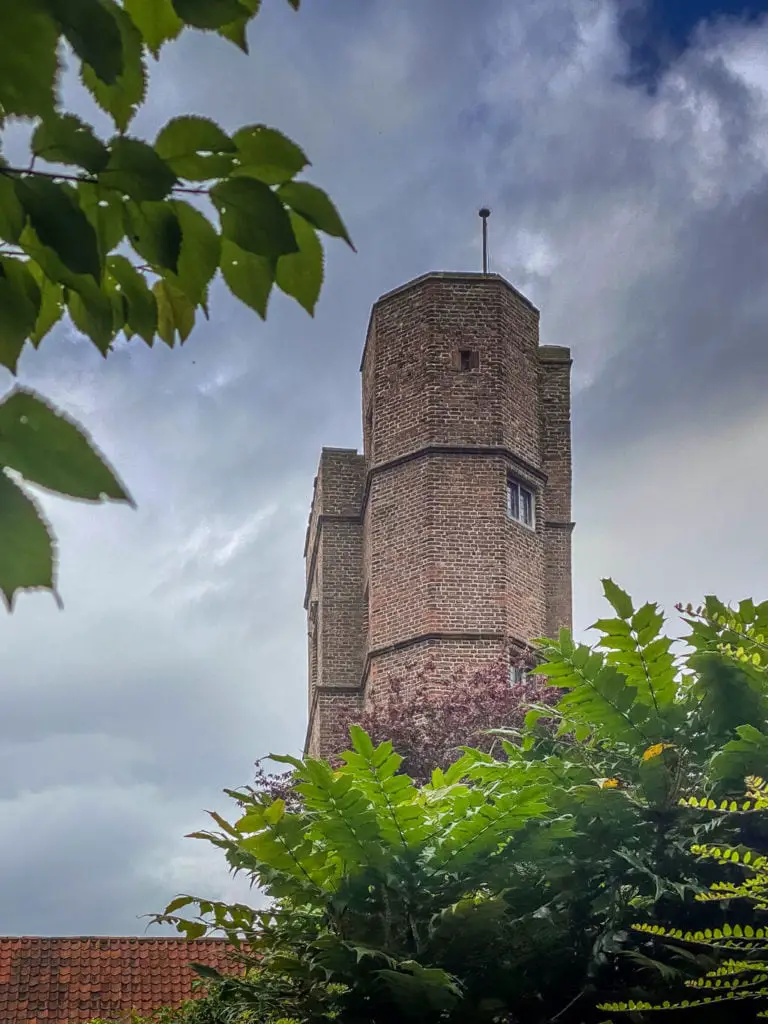 Clifton House is a Grade I listed building and the most important merchant house in King's Lynn. It's located right in the heart of the town and has well-maintained historic interiors dating from the 13th to the 18th centuries. Some highlights include two tiled floors from the 13th century, the 14th-century vaulted undercroft, the five-storey Elizabethan tower, and a series of rooms created by the architect Henry Bell in 1700.
The house is a privately owned family home, so unless you are lucky enough to be visiting on the select days when they offer tours, you will have to admire it from the outside.
Get more information here.
Festivals in King's Lynn
Throughout the year, there are several popular festivals held in King's Lynn. Time your visit right and you can treat yourself to a special experience.
King's Lynn Festival – Now in its 70th year, this festival offers classical music, recitals, choral performances, jazz music, talks, walks, exhibitions and films during late July.
Hanse Festival – For two days in May, the Hanse Festival celebrates the town's maritime heritage and its links with the German International Hanse League. Some of the special events include a Parade of Flags' showcasing all of the Hanseatic countries, King's Lynn Hanse Regatta, Discover Hanseatic Lynn walks, and lectures at Marriott's Warehouse.
The Mart – For a period of two weeks each year, starting on (or around) Valentine's Day, the Tuesday Market Place, one of England's grandest squares, turns into a funfair. The Mart is a tribute to the great work of Frederick Savage, who worked with the Showmen's Guild to develop new fairground rides.
Things to Do Near King's Lynn
King's Lynn could be a good place to base yourself to explore more of the North Norfolk Coast and West Norfolk. Here are ideas for a few castles, beaches, and more that you can visit within a 30 minute drive. (Note: This is not a comprehensive list of places near King's Lynn!)
Castle Rising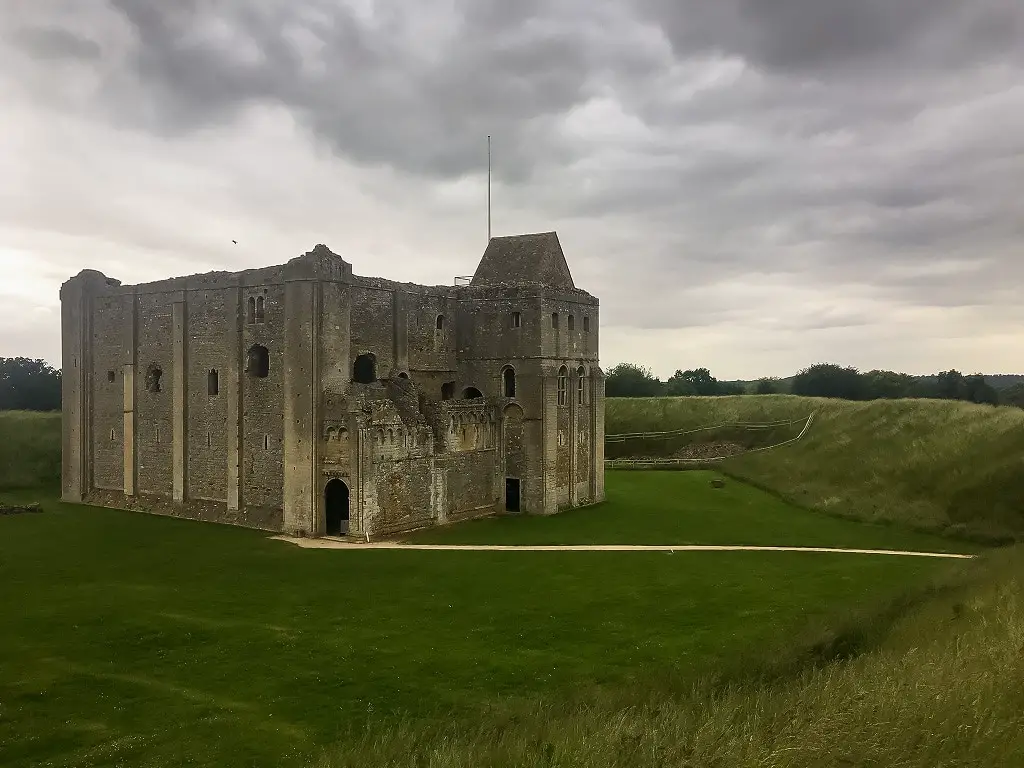 Castle Rising Castle is one of the most famous 12th-century castles in England because the stone keep is mostly intact and it is surrounded by massive earthworks. In the 14th century, Queen Isabella, widow (and alleged murderess) of Edward II lived here. English Heritage members can visit for free. 
Get more information about English Heritage membership here.
Get more information about visiting Castle Rising here.
Sandringham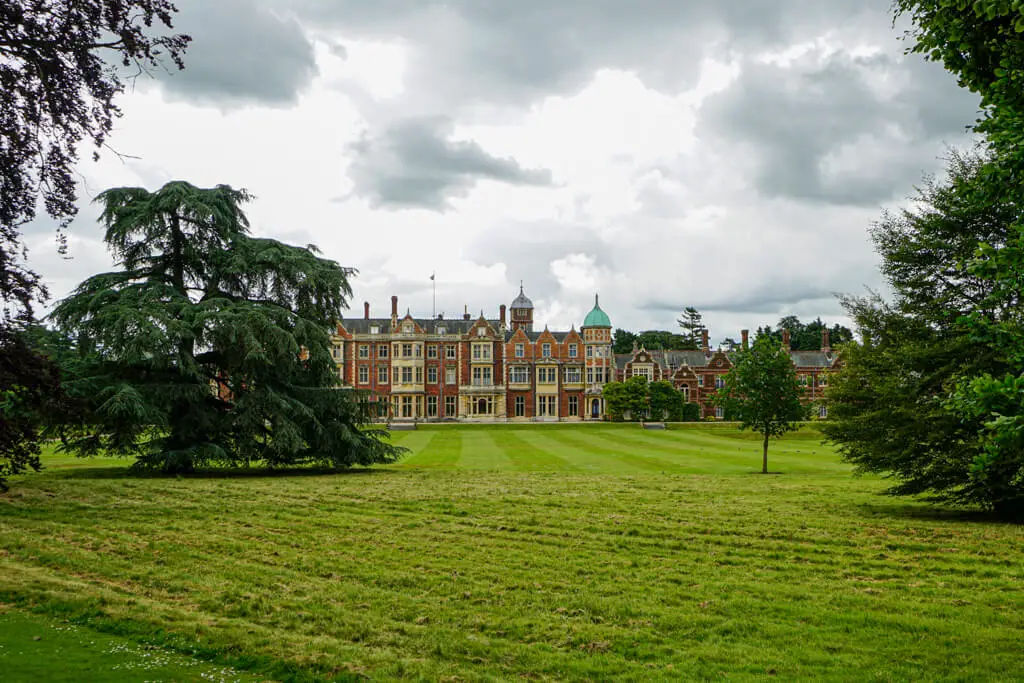 Sandringham is the beloved country retreat for Queen Elizabeth II. During the spring, summer, and autumn, you can tour the house and visit the gardens. The Royal Park includes almost 243 hectares with some well-marked walking trails. There is also a new Children's Adventure Play Area inspired by the Duchess of Cambridge's 2019 Chelsea Flower Show garden.
Get more information here.
Castle Acre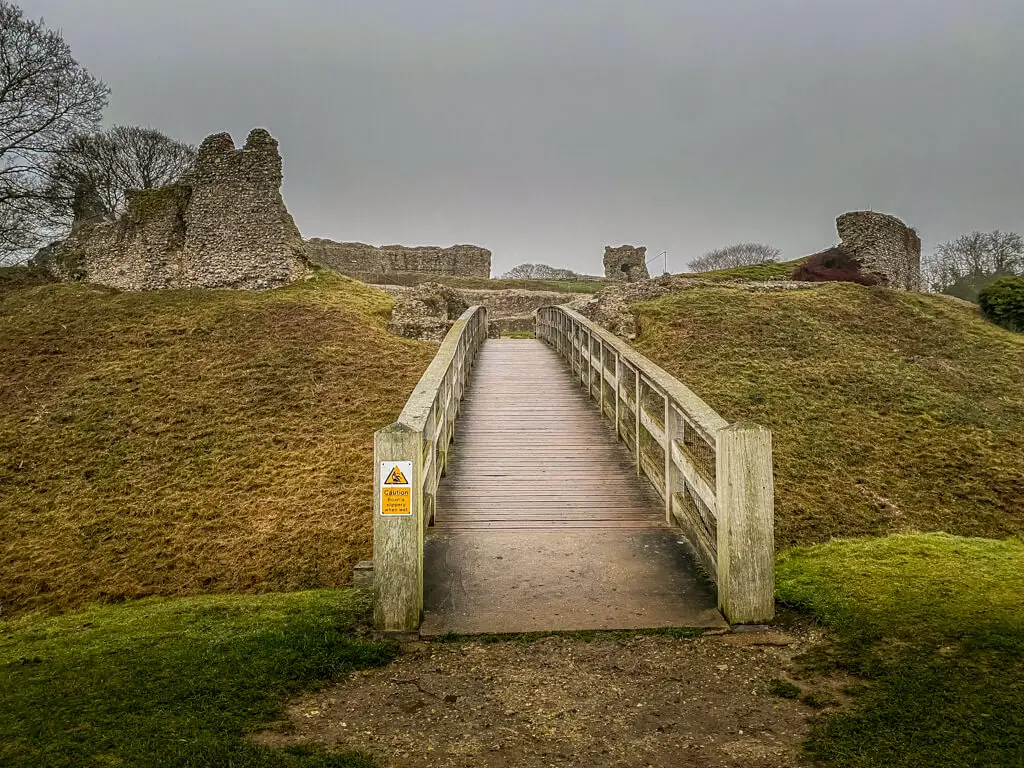 Castle Acre is a small village home to ruins of a castle and priory. The main road into the village still runs through the Bailey Gate, which is one of two stone gatehouses added to the massive earthwork defences around 1200.
The motte and bailey castle was founded in the 11th century by William de Warenne, a close associate of William the Conqueror. The Castle Acre Priory was the home of England's first Cluniac order of monks.
Both the Castle and Priory are English Heritage sites so free for members. Non-members can visit the Castle for free but will need to pay for parking and admission to the Priory. Get more information about English Heritage membership here.
Get more information about visiting Castle Acre Castle and Priory here.
Houghton Hall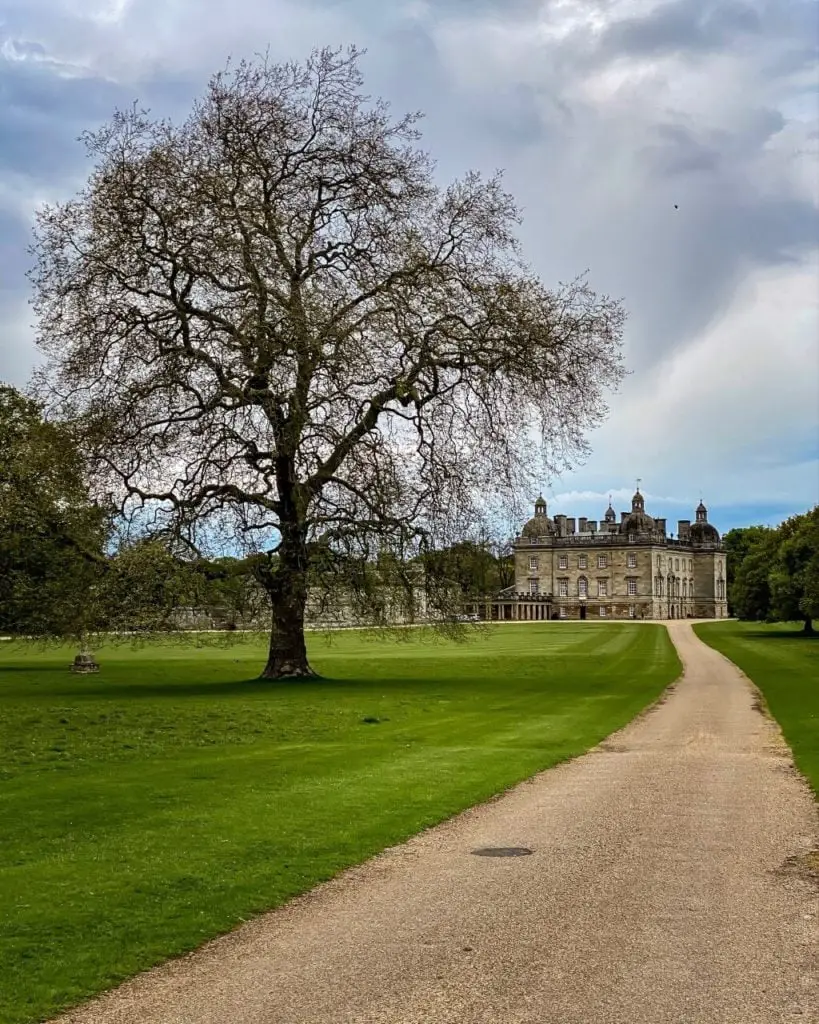 Houghton Hall was built in the early 18th century for Great Britain's first Prime Minister, Sir Robert Walpole. It's one of the finest examples of Palladian architecture in the country and was designed by prominent Georgian architects Colen Campbell and James Gibbs. The estate passed to the Cholmondeley family at the end of the 18th Century and remains a family home.
It has been open to the public since 1976. The grounds are lovely to walk around and you don't want to miss the fantastic five-acre walled garden. In recent years, they have hosted contemporary art exhibits, like Tony Cragg at Houghton Hall and Chris Levine in 2021.
Watatunga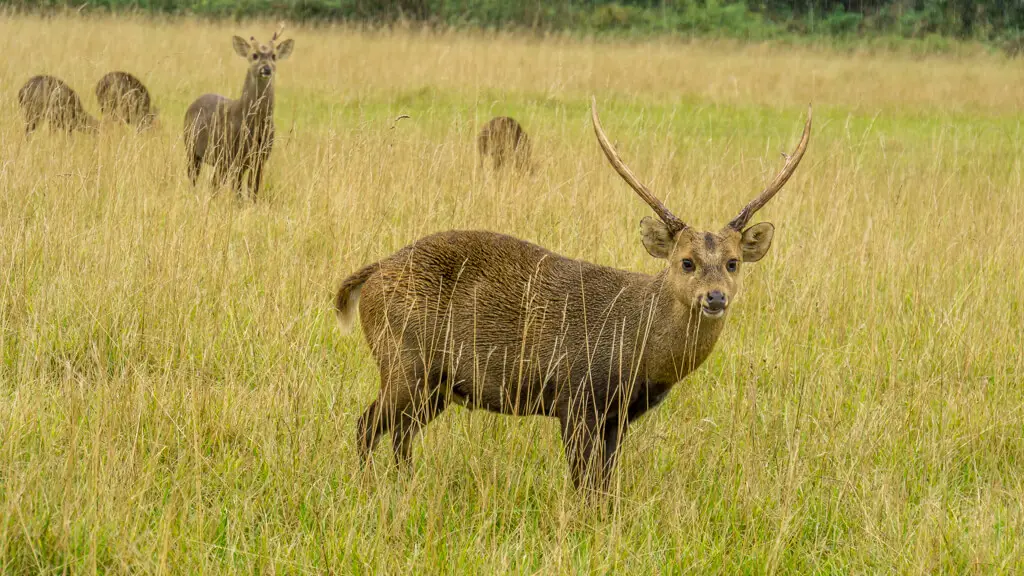 You don't have to travel to Africa to go on a safari, there is Watatunga, less than 6 miles from King's Lynn. Here you can drive a golf cart (with the rest of your party onboard) as part of a 90-minute tour through the wildlife reserve.
The landscape feels like somewhere exotic with 170 acres of woodland, grassland, and lakes. You will be able to see many different types of deer and birds. It's also interesting to learn about all the conservation work taking place at Watatunga.
They offer 4 and 6-person carts, but you will need to book in advance. Read reviews of Watatunga on Tripadvisor here and book your safari here.
North Norfolk Coast Beaches
There are several beaches within a 30-minute drive from King's Lynn. The most popular is Hunstanton which also has a promenade and many family-friendly attractions. Heacham is another option, that is a bit closer to King's Lynn. The north beach there has an amusement arcade, café and fish bar, and beach huts for hire.
Read more about the best beaches in Norfolk.
How Long Should You Spend in King's Lynn?
You can see most of King's Lynn in a day but it will be rushed. Consider staying for a weekend or more, as it could also make a good base to explore more of the North Norfolk coast.
How to Get to King's Lynn
King's Lynn has good public transportation links, but if you want to see more of the area around King's Lynn you might want to consider driving so you will have more flexibility.
From London or Cambridge, it's easiest to take the train. The line runs from King's Cross to King's Lynn, so there is no need to change trains. Be sure to book your ticket in advance here to get the best price.
From Norwich there is no direct train, so you will have to switch in Ely or you can take a direct bus from the Norwich Bus Station. Either option will take about two hours.
You can also drive to King's Lynn. From Norwich, you go on the A47 which takes about an hour. It takes about the same amount of time from Cambridge, you just go on the A10.
You can park in the Tuesday Market Place or the Church Street NCP car park. They are both pay and display.
Where to Stay in King's Lynn
King's Lynn has some lovely historic hotels conveniently located in the heart of the town centre. Whether you're looking for a touch of luxury or a comfortable and convenient base from which to explore the town, we have a few recommendations for a memorable stay.
Bank House Hotel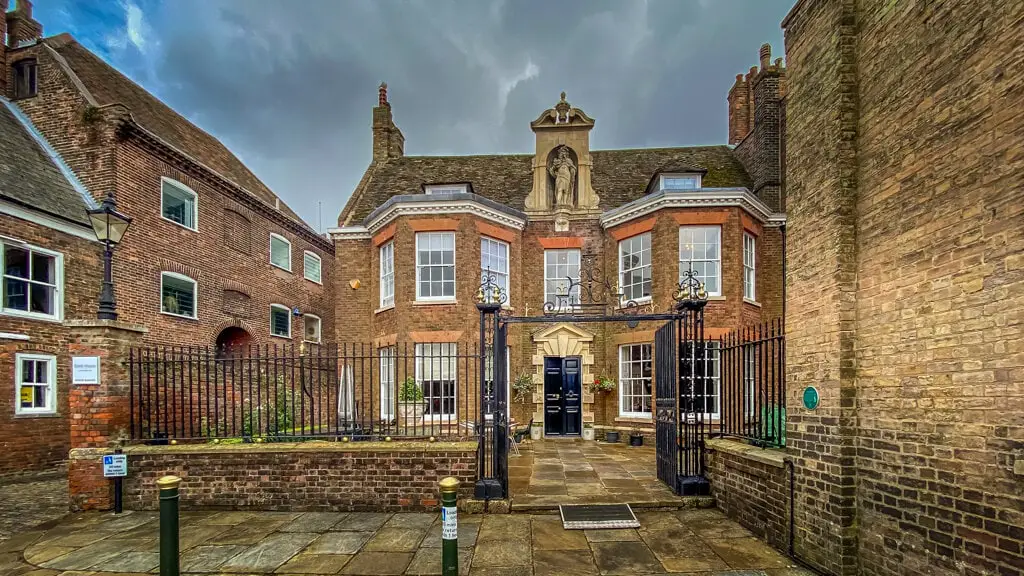 This stunning Grade II listed Georgian townhouse was described by Sir Nikolaus Pevsner as one of the finest houses in King's Lynn. In the 1780s Joseph Gurney set up his first bank here, which via mergers and acquisitions became Barclays Bank. Bank House was also home to the explorer, Samuel Gurney Creswell.
They have 12 stylish bedrooms with modern amenities. Many of these have river views. The hotel is just a short walk from the town's historic waterfront and offers easy access to the town's many shops, restaurants, and attractions.
Check prices and availability here.
Duke's Head Hotel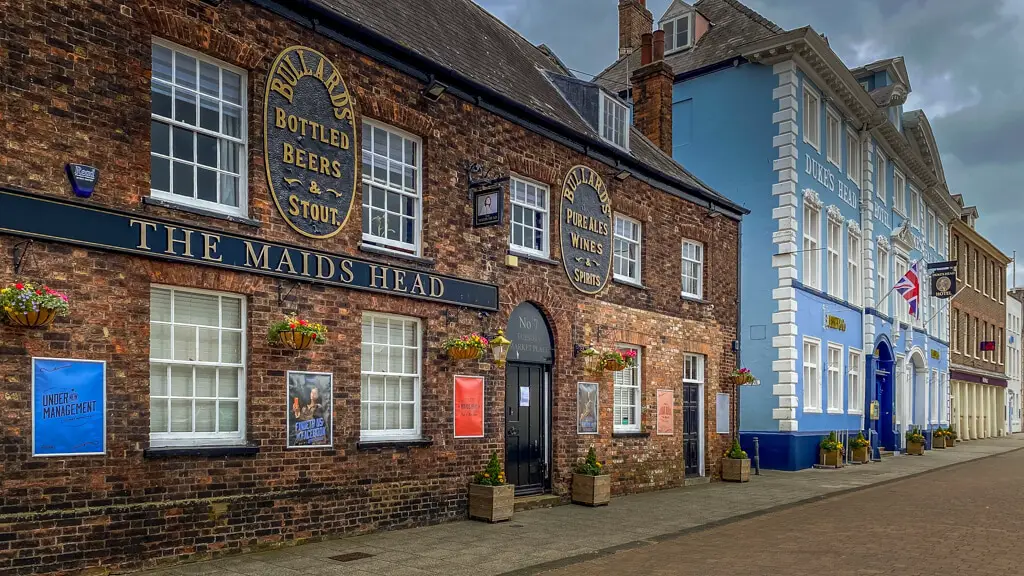 You can't miss the striking powder-blue façade in the Tuesday Market Place. Like the Custom House, it was designed by Henry Bell in 1683. The classical Grade II listed building has been restored and restyled for today's travellers. Since Georgian times, this 4-star hotel has welcomed visitors like Sir Robert Walpole, Britain's first Prime Minister.
The hotel is just a stone's throw away from the historic King's Lynn Corn Exchange, so it's ideal when you have tickets to a show.
Check prices and availability here.
Is King's Lynn a good place to take the kids?
Yes. The town has several kid-friendly attractions. Children will enjoy the interactive exhibits at the museums. The Walks offer plenty of space for the little ones to run around. Get more ideas for things to do with kids in Norfolk here.
Is King's Lynn Worth Visiting?
Yes. The town will surprise you with many charming historic buildings and interesting stories. There are plenty of memorable things to do in the town centre. It's also a convenient location to use as your base to see more of Norfolk.
Disclosure: This post contains affiliate links. This means we will receive a small commission for some purchases made using links in our blog with no additional cost to you.  Please be assured we would not promote any product unless we believe that our readers will also benefit.  The commission does not influence the editorial content of this site.
Thanks to Visit West Norfolk and the King's Lynn Town Guides for inviting us to join a guided walk.