In the Fine City of Norwich, the performing arts have thrived for centuries. What makes this city truly exceptional is the wealth of theatrical options right here on our doorstep. You don't need to trek all the way to London for top-notch theatre. We're fortunate to have a flourishing theatre scene right here in Norwich.
From grand historic playhouses with stories that span generations to cutting-edge modern venues that redefine creativity, the theatres in Norwich embody the city's cultural vibrancy. These theatres, each with a unique story, provide an array of experiences that cater to all.
Join us as we embark on a journey through Norwich's theatres. We'll uncover the stories, venues, and people that make Norwich's performing arts venues a true treasure. Then you can choose the place you want to visit on your next theatre night out in Norwich.
Be sure to sign up for our email newsletter here to find out more about what's happening in Norfolk.
Note: This post contains affiliate links.  As an Amazon Associate, we earn from qualifying purchases. Please see disclosure for more information.
Theatres in Norwich
Whether you're drawn to classic theatre, the intimacy of puppetry, the innovation of digital stages, or the immersive world of site-specific performances, Norwich offers it all. It's time to learn more about the theatres in Norwich, how they have thrived and adapted over the years.
Note: There are also some excellent theatres in Norfolk outside of Norwich. Stay tuned for a post on that soon.
Norwich Theatre Royal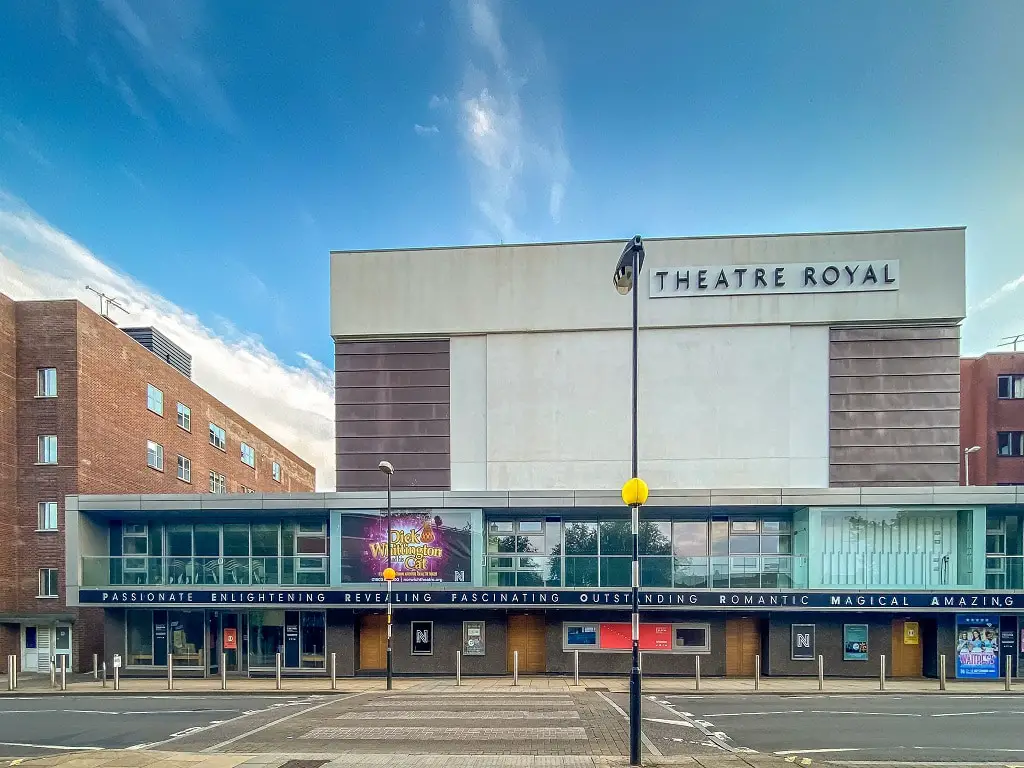 Established in 1758, the Theatre Royal proudly stands as the largest in Norwich. This grand institution, now in its third incarnation at its current location, has gracefully endured the passage of time.
Yet, its storied history has not been without its challenges; a devastating fire in 1934 forced its closure for a daunting 15 months, and more recently, the grip of the Covid-19 pandemic also led to a temporary shutdown.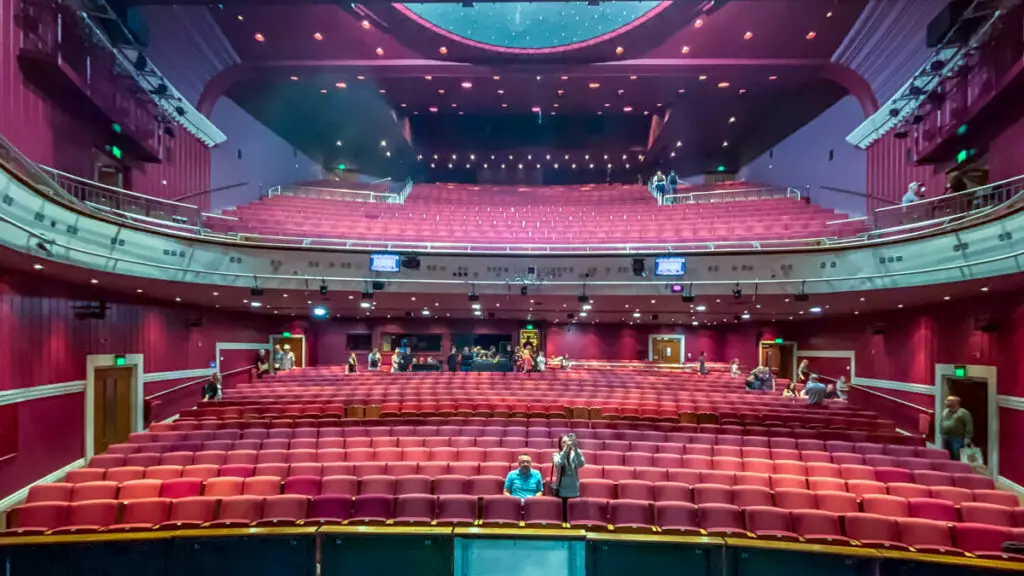 With a generous seating capacity of 1308, this lavish venue has welcomed some of the most renowned names and touring theatre productions. In addition to these, it has showcased a handful of original productions, with the most prominent being their beloved annual pantomime.
It's also home to the Prelude Restaurant where you can enjoy a nice meal before the performance. They serve fresh, seasonal ingredients that are locally sourced whenever possible.
Read about our experience on the behind-the-scenes tour during Theatre Royal's Open Day.
See what's on at Theatre Royal here.
Norwich Playhouse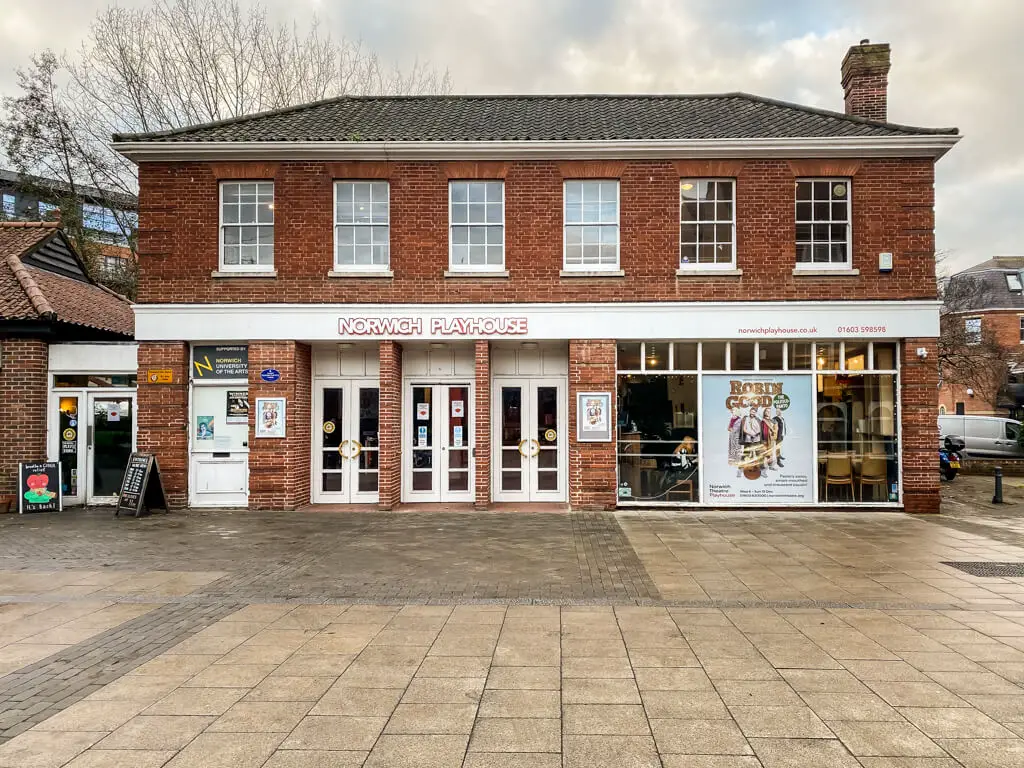 Back in 2020, Norwich Playhouse hit a fantastic milestone, celebrating its 25th birthday as a theatre. Before it became a theatre in 1995, this place was a maltings building dating back to the 19th century. You'll find this relaxed, intimate spot right along the River Wensum.
Now, it's gained quite the reputation as one of the country's top-notch fringe venues. It's also home to the popular Playhouse Bar, where you can kick back with a range of real ales from local breweries, fresh German lagers on tap, tasty wines, exotic teas and coffees, and some seriously scrumptious snacks.
You don't have to have a show ticket to visit the Playhouse Bar. Sometimes, you'll also find art exhibitions or live music here, adding a touch of culture to your night out.
See what's on at Norwich Playhouse here.
Maddermarket Theatre
The Maddermarket Theatre, affectionately known as 'The people's theatre' by BBC Norfolk, has been a haven for creativity and camaraderie since its inception in 1921. Located in the heart of historic Norwich Lanes, this cherished establishment resides in a character-rich listed building, exuding charm and charisma.
Its rich tapestry of productions is a testament to its commitment to fostering local talent. The theatre serves as the creative playground for The Norwich Players and collaborates with various local arts organizations, community groups, and educational institutions to bring diverse and engaging performances to life.
But the Maddermarket Theatre isn't confined to just one genre; it's a stage for all forms of entertainment. From side-splitting stand-up comedy to electrifying rock concerts and everything in between, the Maddermarket is a versatile venue that welcomes all forms of artistic expression.
Steeped in history, the Maddermarket's grade II listed building has worn many hats over the years, from a Roman Catholic chapel to a warehouse, Salvation Army hall, and general store. The theatre stands on the location of what was a medieval market that sold scarlet dye called 'madder' which was called Maddermarket.
In 1921, it opened its doors to the public as the permanent home of the Guild of Norwich Players, a company of amateur actors brought together by theatre director Nugent Monck. Over the years, the theatre has seen various modifications, including an extension to the rear in 1953 to accommodate more patrons and enhance its facilities. Thanks to the retention of the original chapel's barrel-vaulted ceiling, the acoustics have always been outstanding.
Expanding its horizons once again, the Maddermarket Theatre underwent a significant transformation, embracing a modernist style in the late 1960s. This redesign introduced a fresh aesthetic to the venue, characterized by white-rendered walls, ample glazing, striking black timber panels, and sleek mono-pitch roofs. These architectural enhancements provided additional space and amenities such as an expanded bar, a welcoming entrance foyer, an exhibition area, and improved backstage facilities.
Given the history as a chapel, it's not surprising that there have been stories of a ghostly but well-meaning monk in the theatre. He has helped locate props and missing wigs, and even saved a life by pushing an actress out of the way of a light that fell right by her.
See what's on at the Maddermarket Theatre here.
Norwich Puppet Theatre
Based inside the venerable walls of St. James' Whitefriars, Norwich Puppet Theatre is a remarkable cultural gem with a history as rich and diverse as the puppetry it showcases. This Grade I listed building has stood the test of time, tracing its origins back to the era of William the Conqueror.
Over the centuries, St. James' Whitefriars has witnessed a fascinating evolution. During the middle ages, it served as a home to two influential guilds. However, as time rolled on, the area experienced a decline in wealth, becoming a humble abode for Norwich's less fortunate weavers in the 17th century. The 18th and 19th centuries brought further challenges, transforming the vicinity into a notorious slum.
The church itself has weathered numerous phases of reconstruction and renovation. Notably, in the mid to late 16th century, a significant addition was made with the construction of the south aisle. The upper octagonal tower was built in 1743.
In 1969, the church was declared redundant and briefly served as a homeless shelter. However, in 1978-1980, it underwent a transformative metamorphosis, emerging as the unique Norwich Puppet Theatre. It proudly stands as one of only three building-based puppet theatres in all of England.
At Norwich Puppet Theatre, the magic of theatre comes to life in the most enchanting way. The venue's family-oriented program offers an exceptional introduction to the world of puppetry and the performing arts. Their repertoire includes original shows, engaging activities, and workshops designed to captivate audiences of all ages.
Within the cosy auditorium, approximately 150 people can gather to share in the wonder and imagination that puppetry evokes, making Norwich Puppet Theatre a cherished cultural institution and a place where the magic of puppetry continues to thrive.
See what's on at the Norwich Puppet Theatre here.
Norwich Arts Centre
Situated in the heart of Norwich's lively independent community, Norwich Arts Centre (NAC) calls a Grade I listed flint building home—St Swithins Church, a structure that has stood tall since 1349. What began as a redundant church has blossomed into an iconic cultural arts venue.
Since its birth in 1980, NAC has been a haven for artistic expression, offering an eclectic mix of new music, theatre, comedy, live art, and dance. With a rich history that includes hosting legendary acts like Nirvana, Oasis, and Muse during the '80s and '90s, NAC has earned its reputation as a nurturing ground for emerging talents. Ed Sheeran also played at NAC before he made it big.
Thanks to a National Lottery grant in 1999 significant improvements were made to upgrade the facilities. In 2014, NAC's musical heritage earned it the prestigious NME Britain's Best Small Venue award. Its place in Norwich's musical history was cemented with a BBC Music Day blue plaque unveiled in June 2017.
In October 2018, NAC secured a substantial £499,000 grant from Arts Council England. The funds were earmarked for a regeneration project aimed at enhancing accessibility and reducing the venue's carbon footprint, ensuring a sustainable future.
See what's on at Norwich Arts Centre here.
The Garage
The Garage is a lively, welcoming hub for the performing arts located near Chapelfield Gardens. Here, everyone, from newcomers taking their first artistic steps to seasoned professionals, finds a place to explore their creativity.
In collaboration with local and national partners, The Garage is dedicated to delivering high-quality performing arts experiences, encompassing programming, participation, education, and training opportunities suitable for all ages. While it extends its warm embrace to everyone, The Garage has a particular focus on empowering young people from diverse backgrounds.
Throughout the year, The Garage offers a diverse and dynamic range of activities spanning theatre, dance, music, and fitness. This multifaceted program includes weekly classes catering to a variety of interests, outreach initiatives, and holiday activities designed to ignite creativity. Moreover, the organization fosters participant-led performance companies, offers accredited education courses, and provides a nurturing environment through its Artist Development Programme. It also serves as a home for incubated and associate professional performance companies, supporting emerging talents on their artistic journey.
Beyond its role as an educational and developmental institution, The Garage is a platform for presenting small-scale theatre and dance performances, contributing to the cultural vibrancy of the region. Furthermore, it takes pride in its role as a producer and co-producer of exciting new performance pieces tailored for young audiences, offering fresh and innovative artistic experiences.
In addition to its Norwich location, The Garage also has a location in King's Lynn, ensuring that its mission to engage, empower, and inspire through the performing arts reaches a broader audience.
See what's on at The Garage here.
Stage Two
Stage Two burst onto the scene in 2016 as part of the Norwich Theatre lineup. It's a place that's all about sparking creativity in folks of every age and walk of life. Here, both audiences and artists can come together to dive into the world of imagination, experiment, and find inspiration.
This vibrant venue packs a punch with its fully-equipped 120-seat studio theatre, ready to host performances that push boundaries. But it's not just about the spotlight; Stage Two also provides top-notch rehearsal studios and training spaces where budding talent can hone their skills and bring their artistic visions to life.
Stage Two is conveniently tucked right behind the Theatre Royal, making it a natural extension of Norwich's rich artistic scene. So, if you're up for some creative exploration and want to be part of a thriving community of artists and enthusiasts, Stage Two is where the magic happens.
See what's on at Stage Two here.
Sewell Barn Theatre
The Sewell Barn Theatre, a hidden gem in the heart of Norwich's cultural landscape, boasts a history as rich and diverse as the performances that grace its stage. Originally, this historic site served as the barn of Clare House, owned by the benevolent Philip Sewell, from 1864 to 1906.
Interestingly, Anna Sewell, renowned for penning the beloved children's tale "Black Beauty," was Philip's sister and resided in the White House on Spixworth Road. Philip's mare, the aptly named Black Bess, famously pulled his carriage along Spixworth Road. It's not too far-fetched to imagine that Bess might have been the muse behind Black Beauty, with the barn itself possibly serving as inspiration for the novel's eponymous stable. "Black Beauty" found its way into the world in 1877 when it was published by Jarrold's.
In 1906, the passing of Philip Sewell saw his house and estate bequeathed to the city of Norwich. Clare House transitioned into an Open Air School, offering respite for city children struggling with respiratory issues. The barn underwent transformation, becoming their washroom, restroom, and handicraft centre.
Throughout its history, this venerable hay barn has taken on numerous roles. During World War I, it even played the part of a theatre, hosting a concert put on by Catton residents for the troops stationed in the vicinity. Later, it served as a bicycle shed for the girls of the newly-constructed Blyth School in 1929, nestled within Clare House's grounds.
However, it was in 1974, when the local government underwent reorganization, that the true transformation of the barn began. Norfolk County Councillors, during a visit to their newly acquired school, saw potential in the barn as an intimate theatre space. Though the vision seemed far-fetched given the barn's state at the time—filled with debris and dilapidated furniture—Mrs. Valerie Glauert, the Headmistress at the time, embraced the idea with enthusiasm and embarked on the journey to bring this vision to life.
Today, the Sewell Barn Theatre stands as a testament to the power of imagination and determination. The Sewell Barn Company, the "in-house" drama troupe of the Friends of the Sewell Barn, has honed its unique style over the years. It blends youthful energy with the expertise of seasoned amateur actors, directors, and theatre technicians.
The result is an intimate and truthful acting style that thrives in the close confines of the Sewell Barn. This achievement owes much to the collaboration between its first Artistic Director, Henry Burke, and John Dane, a drama teacher at the nearby Blyth Jex school and a distinguished Norwich actor.
See what's on the Sewell Barn Theatre here.
Norwich Digital Theatre
Norwich Theatre's Digital Stage is your virtual ticket to the world of theatre, delivered right to your doorstep. This innovative streaming platform provides access to a curated selection of pre-recorded and live performances, all available for you to enjoy from the comfort of your home.
You get access to a diverse range of artists and remarkable performances that you might not have the opportunity to see otherwise. Whether you're a theatre aficionado or just looking for an engaging and entertaining experience, there's something for everyone to enjoy.
Accessing the Digital Stage is a breeze. Simply head online, select the performance that piques your interest, and complete your booking. Once you've secured your spot, your performance ticket will land in your email inbox, complete with a direct link to the show. You will be able to enjoy the theatre right from the comfort of your own digital device.
See what's on the Norwich Digital Stage here.
Norwich Theatre Beyond
In 2022, Norwich Theatre introduced an exciting and innovative initiative known as "Theatre Beyond." This visionary project marks a departure from the traditional theatre experience, as it ventures beyond the confines of their Norwich venues to bring captivating performances to a wider regional audience.
The essence of Theatre Beyond lies in its mission to take shows that Norwich Theatre has supported, produced, or enabled and transport them into the heart of the broader community. It's a bold step towards making theatre more accessible and immersive, breaking down the boundaries between the stage and the audience.
The grand unveiling of Theatre Beyond featured Rebel Rabble, an immersive event that unfolded at Mousehold Heath. Experiencing the performance in the same place where many rebels camped during Kett's Rebellion was powerful. This production was a testament to the creativity and innovation that Theatre Beyond promises to deliver.
Audiences can look forward to more fantastic and enthralling productions, all set in unusual locations and community-owned spaces. This initiative is not just about bringing theatre to the people but also about creating a vibrant hub for local theatre, nurturing and supporting local artists, and weaving stories that resonate with the surrounding community.
See what's on Norwich Theatre Beyond here.
Visiting Norwich to Go to the Theatre
If you're visiting Norwich and looking for a place to stay, be sure to check out our post about hotels in the Norwich city centre for some excellent accommodation options. And for more ideas on things to do while you're here, don't miss our post about the best things to do in Norwich, where you'll find a treasure trove of activities to make the most of your time in this vibrant city. Enjoy your theatre adventure in Norwich!
Disclosure: This post contains affiliate links. This means we will receive a small commission for some purchases made using links in our blog with no additional cost to you.  Please be assured we would not promote any product unless we believe that our readers will also benefit.  The commission does not influence the editorial content of this site.