The Norfolk Coast Path runs 84 miles from Hunstanton to Hopton-on-Sea. You don't have the walk the whole length to enjoy it. If you are looking for a short section that's not too difficult but still has the spectacular views why not try the Beeston Bump walk. It starts from the town of Sheringham and takes you up to the Y Station on top of Beeston Bump.
Let me share our experience on the walk so that you can enjoy this special section of trail too.
Be sure to sign up for our email list here so that you don't miss out on our weekly newsletters with more ideas for things to do in Norfolk.
Note: This post contains affiliate links.  As an Amazon Associate, we earn from qualifying purchases. Please see disclosure for more information.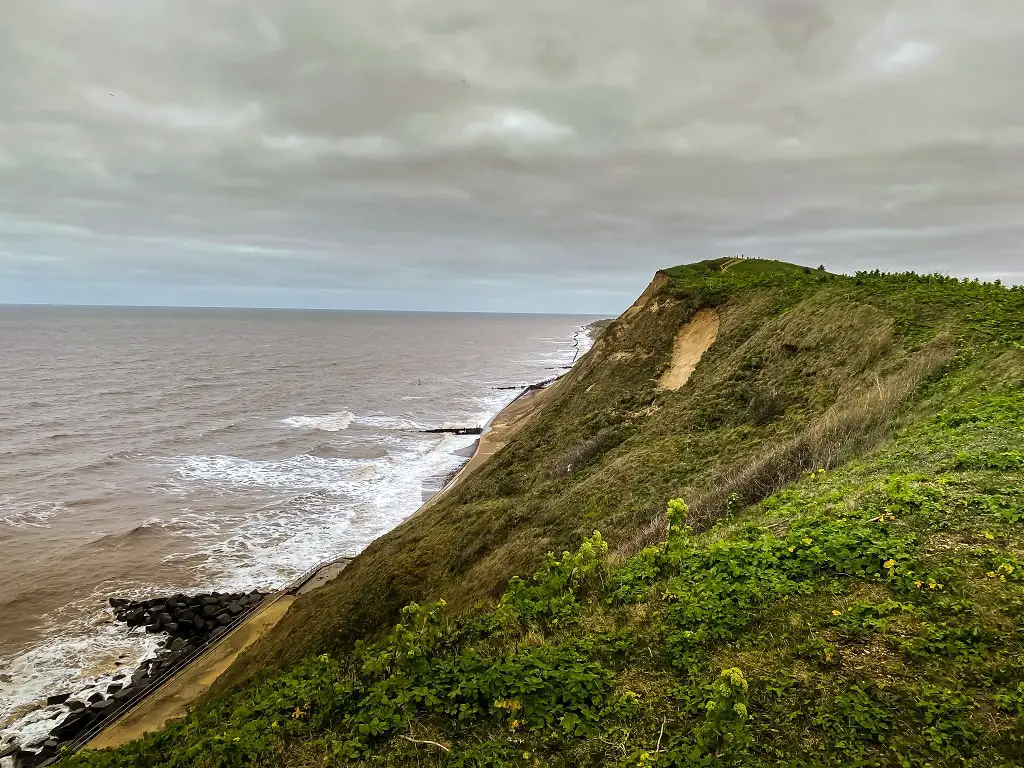 What is the Beeston Bump?
The Beeston Bump, sometimes also called Beeston Hill, is a mound of sand, gravel, and some large stones that stands 63 metres above sea level. Originally the "Bump" was two symmetrically round flat hills that were formed by the glaciers from the last ice age 10,000-15,000 years ago. Today only part of one hill remains as over the years the soft material has been eroded by the tide and weather.
The eastern part of Beeston Hill is a Site of Special Scientific Interest because it has interesting geology from the Pleistocene period. If you visit in June or July, you might be able to spot some rare wildflowers like the Purple Broomrape.
The Beeston Bump is also known as the lair of Black Shuck, the legendary devil dog that is an omen of death. When Arthur Conan Doyle walked here in 1901, while recovering from Typhoid fever, he got the inspiration for The Hound Of The Baskervilles, a Sherlock Holmes short story.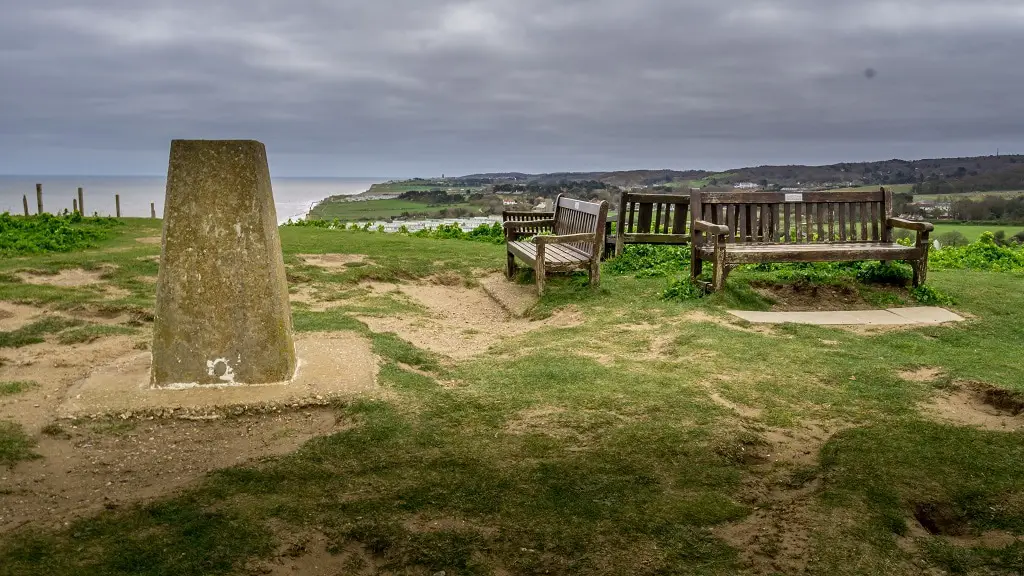 What to See at the Top of the Beeston Bump
A trig pillar marks the peak of Beeston Hill. From the top of Beeston Bump, you have panoramic views over the area. To the east, you can see West Runton, East Runton, and Cromer in the distance. Try to pinpoint the tower from the Cromer Parish Church.
To the south and west, you get an aerial view of Sheringham. At the edge of your field of vision, you may be able to see the spur of land near Blakeney Point. Of course to the north, you can see the North Sea.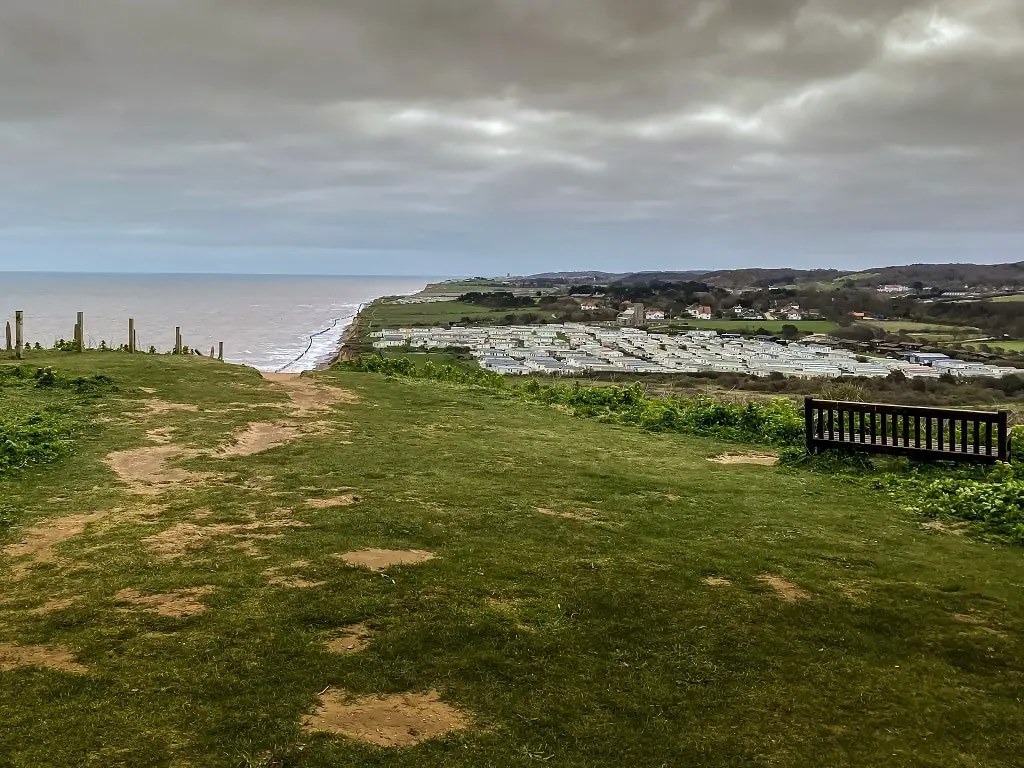 After you take in the views over the area, look at the ground around you. There are the remains of the Beeston Hill Y Station used during World War II. The octagonal concrete base where the operator's tower would have been measures almost 4 metres across, with a channel running through the middle.
The Beeston Hill Y station was part of a series of station around the English coast that worked to intercept radio signals from German E-boats. The name Y station is actually an abbreviation of "WI" station which was the short name for wireless intercept station.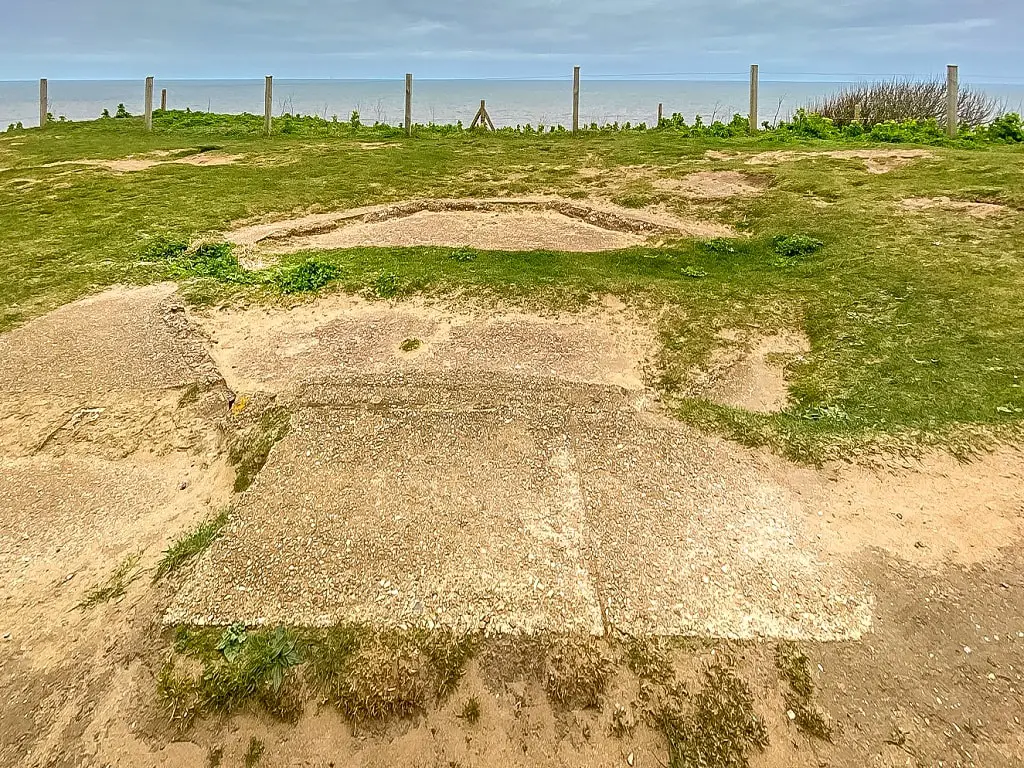 Our Experience Walking up the Beeston Bump
It was a cold and windy day spring day. We were in Sheringham and had planned to walk up Beeston Bump but I was tempted to postpone and do it another time. After all the walking we had already done and the cold wind would we be able to enjoy the hike?
Yes, and I want to go back and do it again once the weather is nice!
We walked up from the beach towards the starting point of the Beeston Bump hike. My heart was already going before I even started. That probably made the slight incline at the start feel more intense than it actually was, but before I knew it the path leveled off. It was a relaxing stroll for the next bit.
Then the stairs going up to the top came into view. It looked a bit intimidating but it wasn't as bad as I had expected. There is a bench about halfway up where you can take a break if you need to, but we continued up. A few steps were a bit steep but it was nice there was a handrail to help.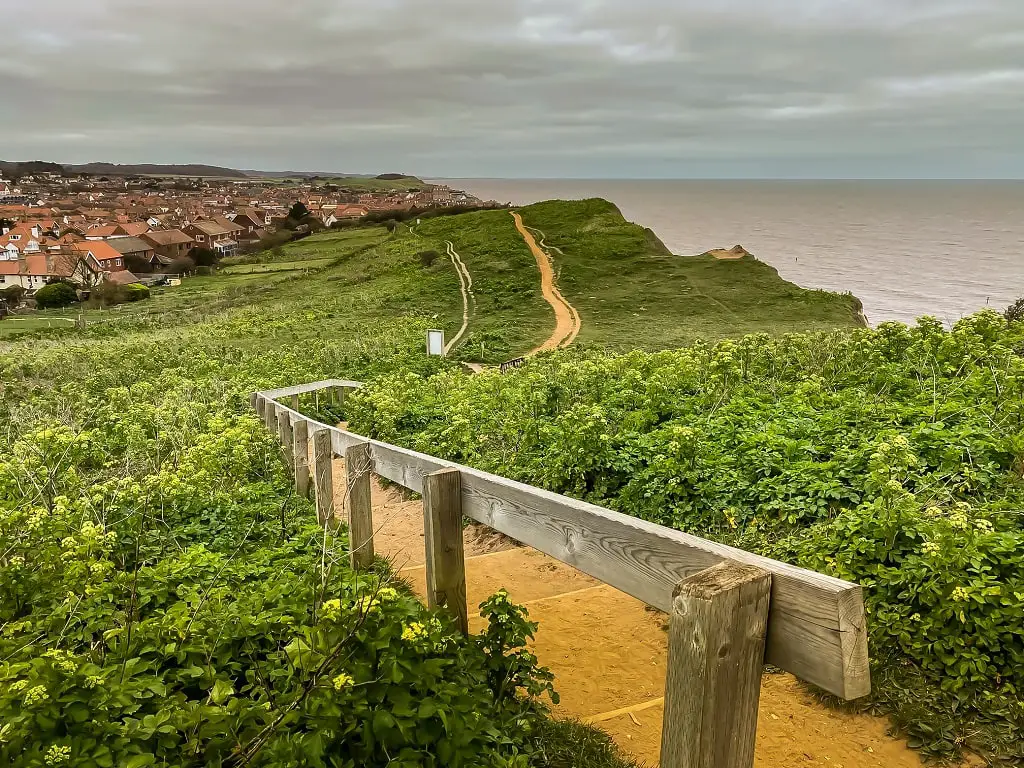 We made it to the top and were rewarded with spectacular views of the area. After taking it all in and snapping a few photos, we headed back down.
What to Bring for the Beeston Bump Walk
You don't need any special equipment to do this walk. I wouldn't recommend wearing sandals, but trainers should be fine.
To ensure proper hydration during the walk, bring along a reusable water bottle. Staying hydrated is important, especially on sunny days. Also keep in mind this path does not have any shade, so sun cream is probably a good idea.
Be sure to bring along your smartphone or camera so that you can capture the beautiful views during the walk and enjoy them forever.
There are no bathrooms or other facilities along the path, the closest are by the Sheringham beach which is not far from the start of the walk.
How to Get to the Beeston Bump Walk
The start of the walk up to the Beeston Bump is on the east side of Sheringham right next to the Beeston Hills Putting Green. You will see signage that it is part of an England National Trail (an acorn), not anything specific about the Beeston Bump.
It's just a short walk from the Sheringham Railway Station. If you drove, the closest place to park is the East Cliff NNDC Car Park.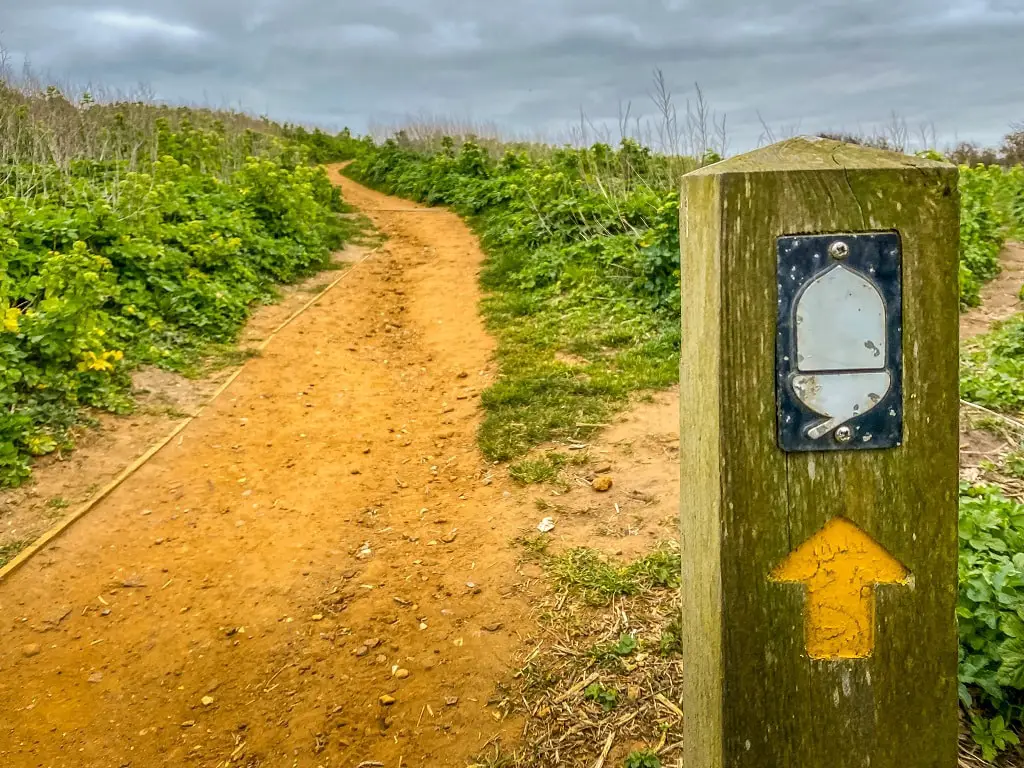 How Difficult is the Beeston Bump Walk?
I would classify this walk as easy to moderate. It is only 1 kilometre long (up and down), but the section at the beginning has a little bit of an incline and there is a section of stair steps to get to the peak. A few steps are a bit tall but there is a handrail to help. The total elevation gain is a little more than 30 metres.
If you are able to do stairs you should not have a problem with this walk. You can always take a break if you need to catch your breath. There are a couple of benches (with some nice views) along the path.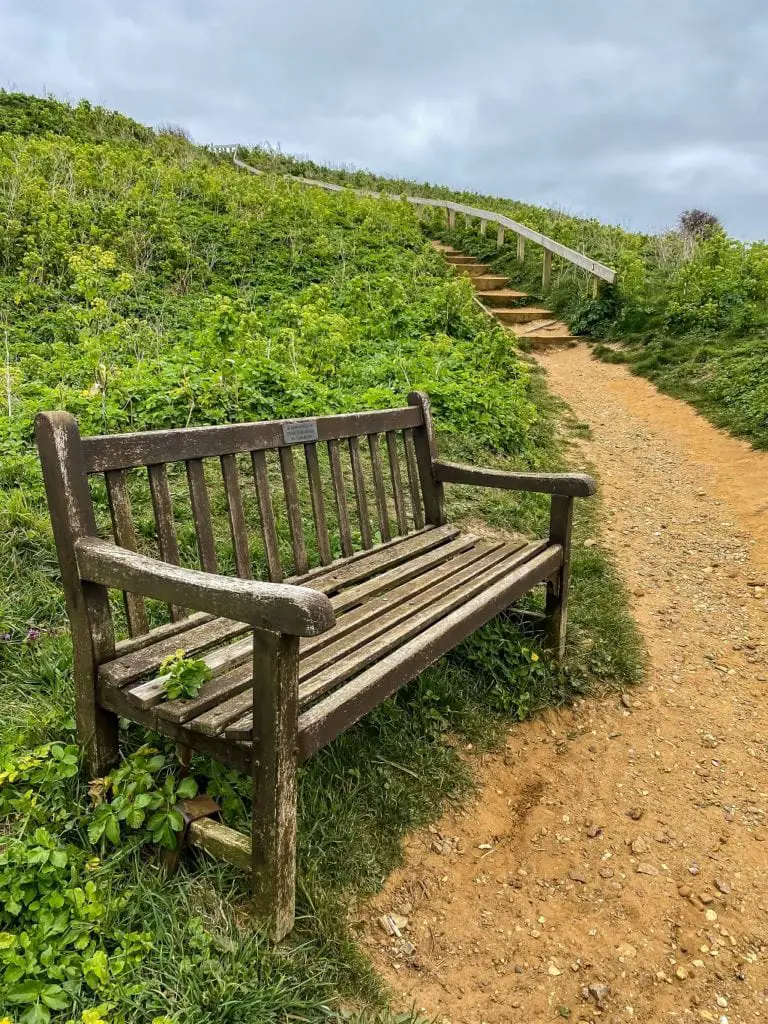 Is Beeston Bump a Good Place for Kids?
Yes. It a short walk that is not too difficult. The path does not go close to any cliff edges. If they can handle stairs, they should be fine on this walk. There are a few steps that are a bit steep, but you can help with those if they need it.
Be sure to also check out our post about the best things to do in Norfolk with kids for more ideas.
Are Dogs Allowed on the Beeston Bump?
Yes, but please be sure to clean up after your dog.
How Long is the Beeston Bump Walk?
If you walk from the starting point to the top of Beeston Bump and back it is about 1 kilometre long. If that's not enough, you can continue to walk to Cromer (about 4 miles). Once in Cromer, you can either hike (for a total of 9 miles) or take the train or bus back.
Check out our guide from the Sheringham to Cromer walk. You can get more information about the entire Norfolk Coast Path from OS Maps here or in this comprehensive guidebook.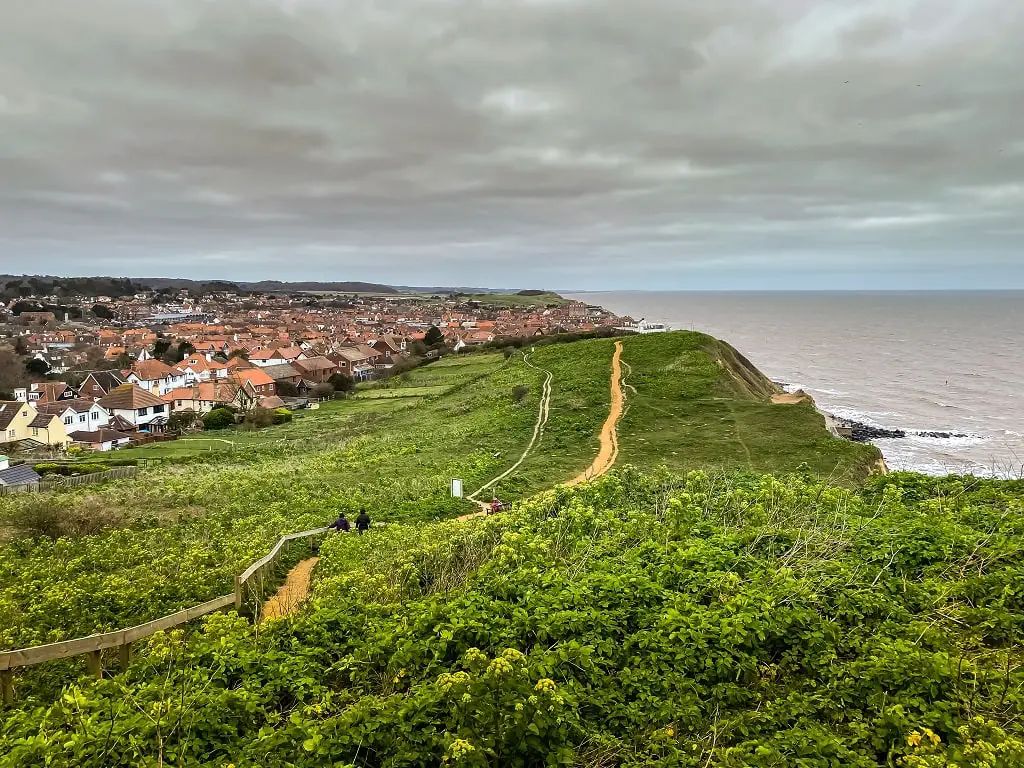 Do You Need Any Special Gear to Climb the Beeston Bump?
No. We did this hike in trainers. Like any walk, it's a good idea to bring water and wear sunscreen.
How Much Does it Cost to do the Beeston Bump Walk?
It is free to do the Beeston Bump walk, you will just need to pay for parking or transportation to get to Sheringham. You can get more ideas for other places to go walking for free in our post about free things to do in Norfolk.
What are Other Things to Do Near Beeston Hill?
Sheringham has lots to offer visitors including a blue flag beach, which is one of the best beaches in Norfolk. Check out our guide to Sheringham for more ideas.
Disclosure: This post contains affiliate links. This means we will receive a small commission for some purchases made using links in our blog with no additional cost to you.  Please be assured we would not promote any product unless we believe that our readers will also benefit.  The commission does not influence the editorial content of this site.