Sheringham is one of the most popular spots to visit on the North Norfolk Coast because it has so much to offer visitors. Of course it has a beautiful beach, but there are museums, restaurants, a theatre, a classic steam train, and more too.
In this guide, we will share the best things to do in Sheringham and more information to help you plan your visit.
Be sure to join our email newsletter here to find out more about things to do around Norfolk.
Note: This post contains affiliate links.  As an Amazon Associate, we earn from qualifying purchases. Please see disclosure for more information.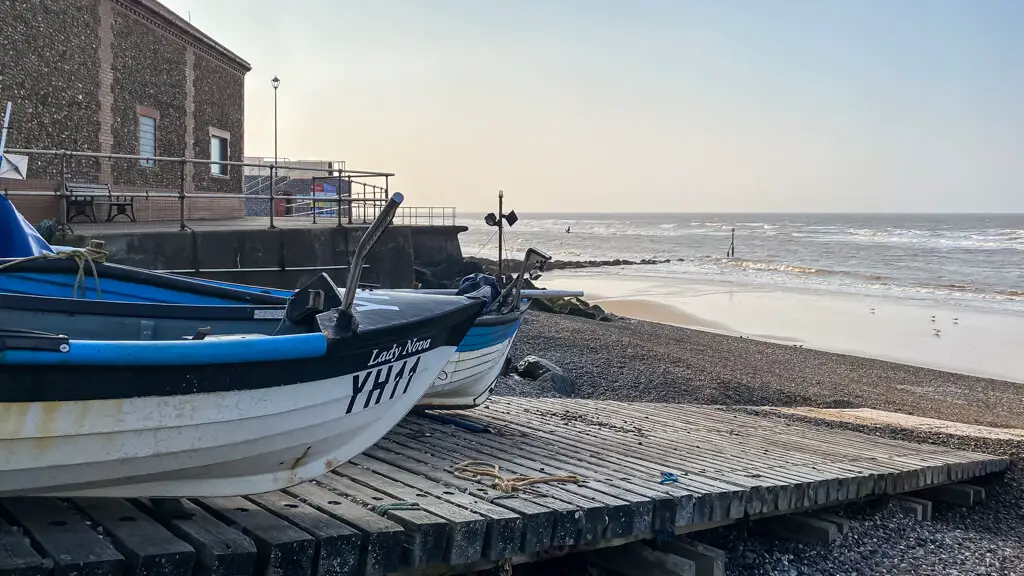 History of Sheringham
Sheringham was first noted in the Domesday Book in 1086 (called Silingeham at the time), but its history goes back even further than that. Local historians believe that Scira, a Viking warlord, and his people settled this area around 900. In 1956, evidence of the possibility of an early Roman settlement was discovered at the Upper Sheringham Council Depot.
In 1887, when the railroad came to Sheringham, it quickly changed from a small fishing village to a thriving seaside town. There was a direct line to London which helped the development of what had been arable land. The Upcher family has also played a huge role in Sheringham's advancement, so you will see many references throughout the town.
Best Things to Do in Sheringham
Sheringham may be best known for it's beach, but there are plenty of other things to do when you visit.
#1 Enjoy the Beach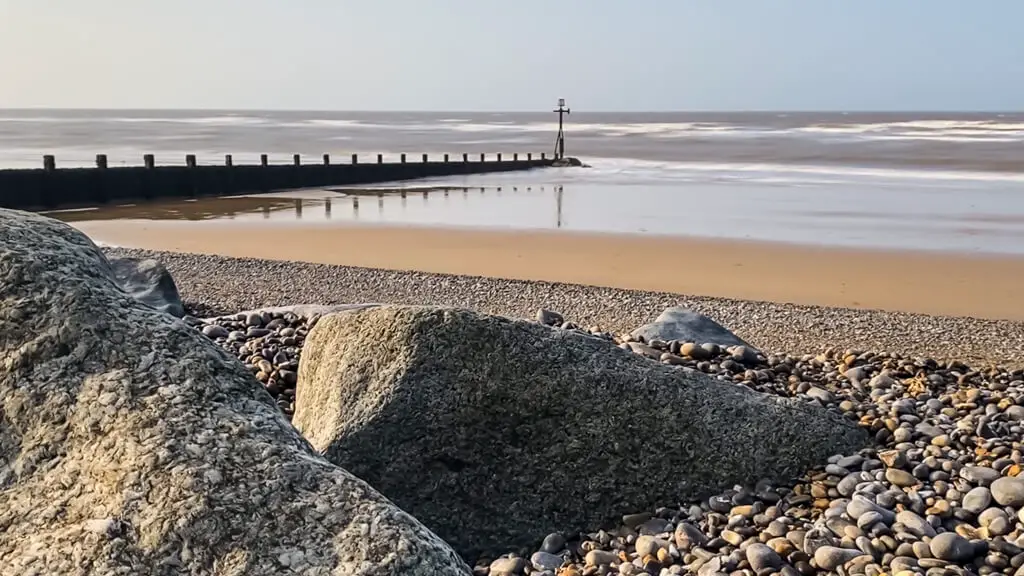 Sheringham is home to one of the six blue flag beaches on the Norfolk Coast. It is made up of sand, shingle and cobbles and can look quite different depending on tides and currents.
When the tide is in the beach is a bit rocky, with lots of pebbles, but when the tide is out, there is plenty of sand to build sand castles. You can also do rock pooling by the boulders.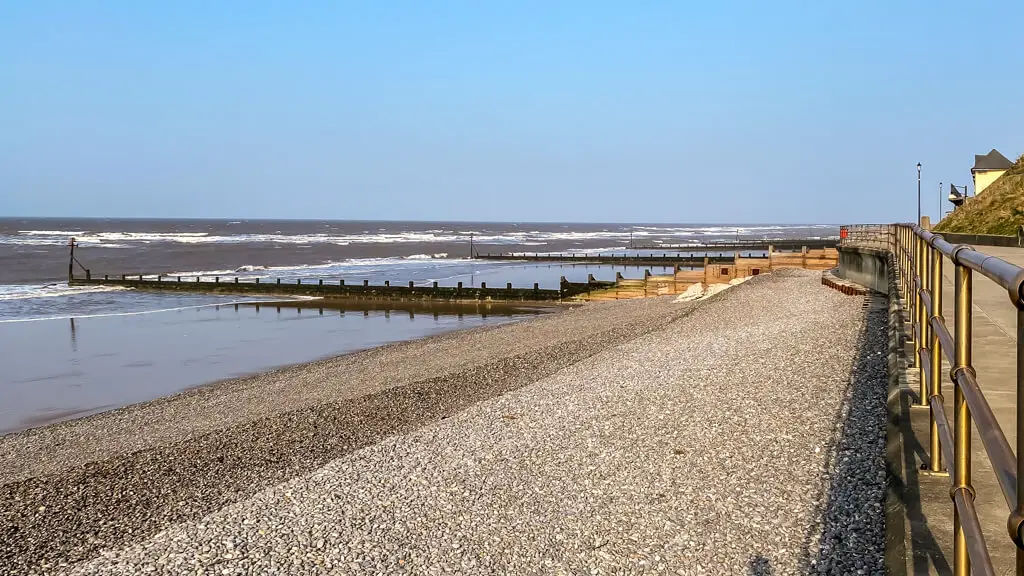 During high season, from May to September, there are two teams of RNLI Lifeguards that watch over the beach from 10:00 – 18:00 daily on the East and West promenade.
There is a also a designated dog free zone area that is is clearly marked on the map on the Beach Information Board at the entrance to the beach. If you walk your dog on the promenade, they must be on a lead.
Even without a dog, it's nice to walk along the promenade and admire the views. You have the sea on one side and in some places, urban art on the other.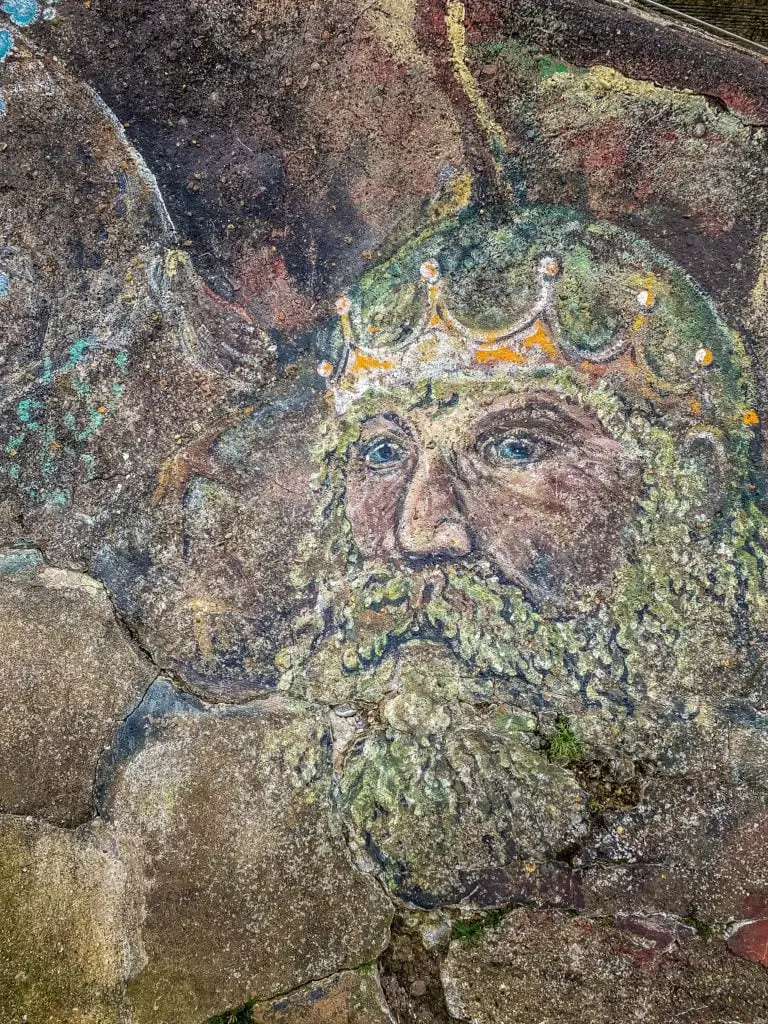 The beach has public toilers and showers. There is a ramp to access the beach at the end of Beach Road.
Check the Sheringham Beach tide times here. You can read about more of Norfolk's best beaches here.
#2 Admire the Beach Huts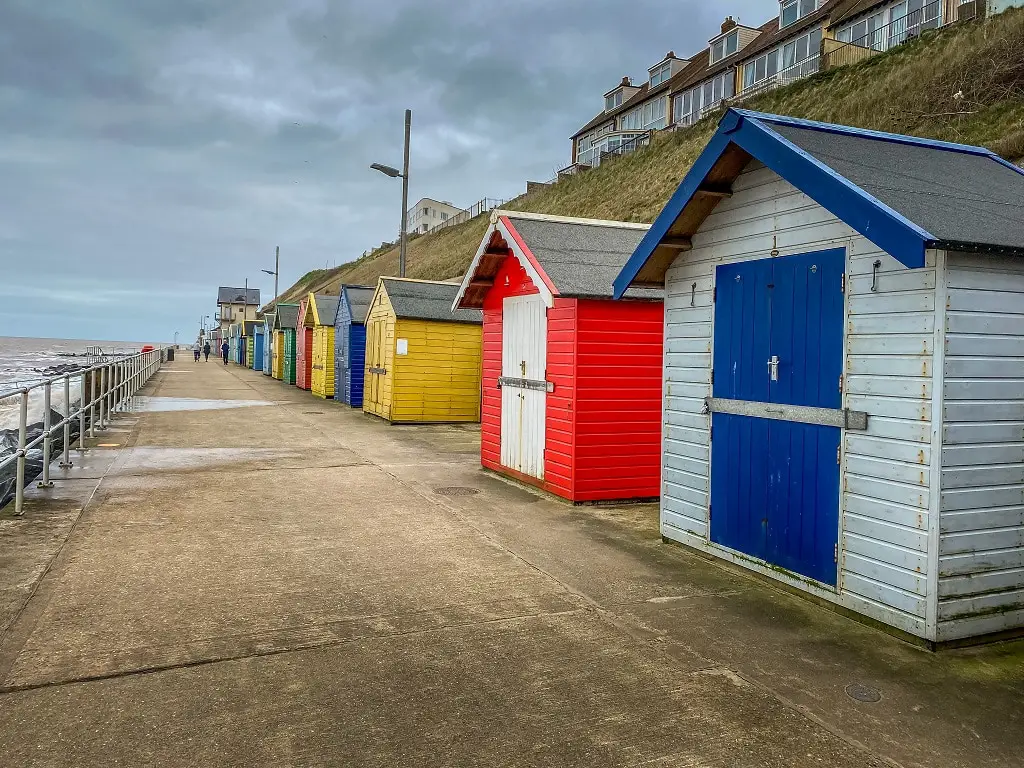 Behind the Sheringham beach on the promenade you can't miss the row of colourful beach huts. It's the perfect spot for a photo.
They can be hired for the week from end of May to the end of September through the North Norfolk District Council here. Please note that you can not stay overnight in the beach huts.
Sheringham also has chalets, which are not quite as cute but allow overnight stays, that can be hired through the same link.
#3 Ride a Historic Train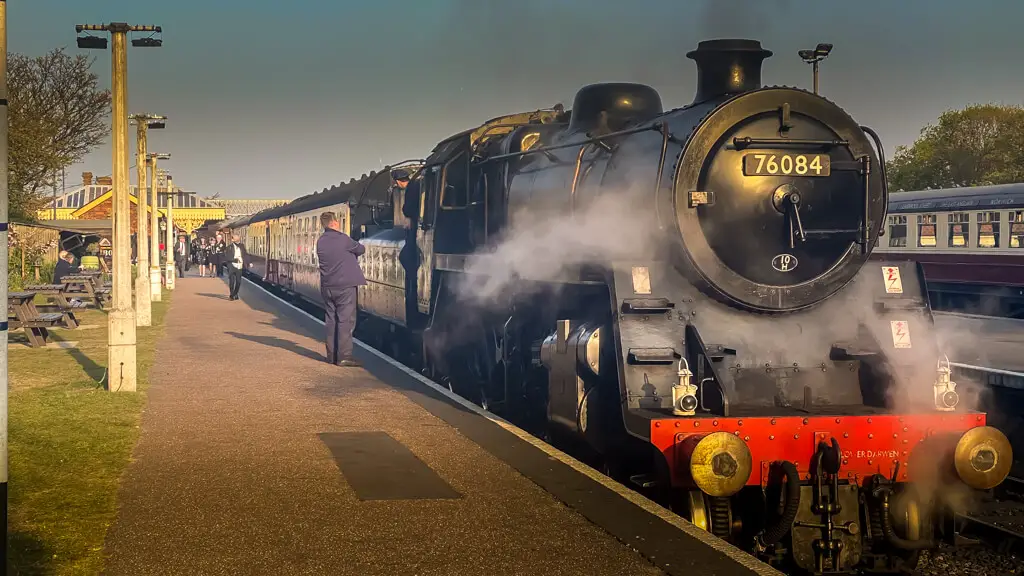 The North Norfolk Railway runs a heritage trainline from Sheringham to Holt via Weybourne. It's like a trip back in time. The 5.25 mile-long route has some pretty nice views of the landscape too. It's one of the best things to do with kids in Norfolk.
The Poppy Line as it is affectionately known has been running since 1976. The track was originally part of the Midland and Great Northern Joint Railway's Melton Constable to Cromer Beach branch line.
The Midland & Great Northern Joint Railways Preservation Society formed in April 1959, initially hoping to other longer sections of railway, but when that proved impossible, they focused their attention on the 3 miles between Sheringham and Weybourne. In 1963 the Society formed the North Norfolk Railways Limited, to preserve, restore, and operate the line.
The North Norfolk Railways provides daily steam and diesel train service during February half term and from April to October. They also have some special events like the Norfolk Lights Express, dining trains, behind the scenes tours, signalling experience days, and more. Get more information about the schedule and special events here.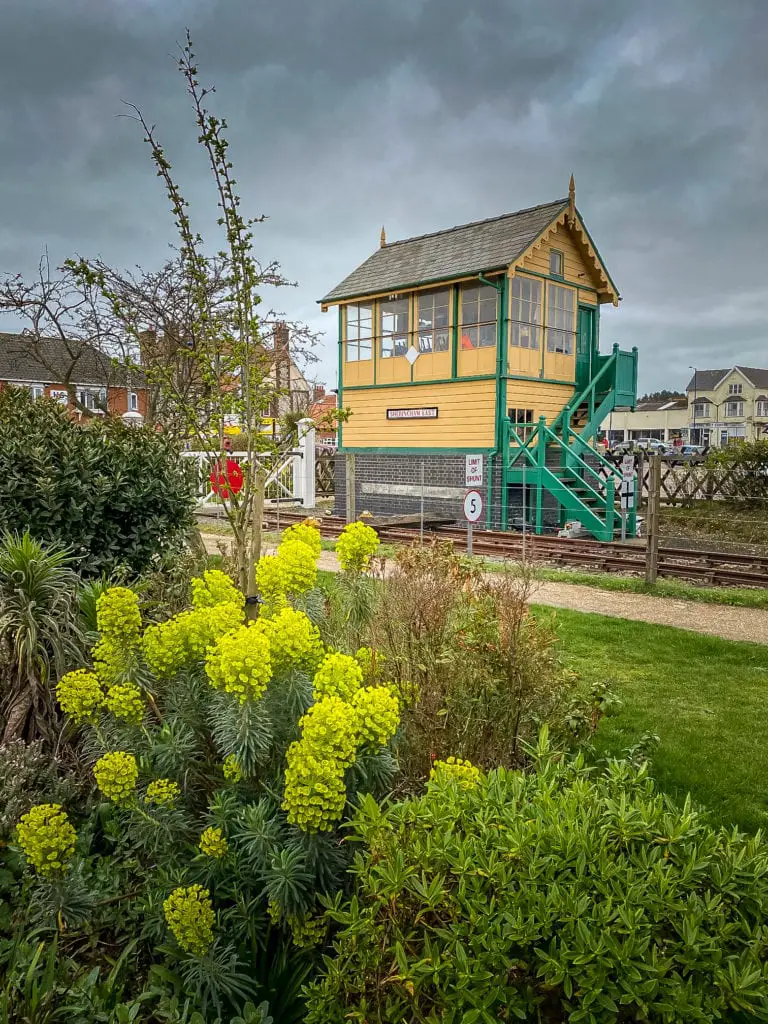 The Sheringham North Norfolk Railway Station has three platforms, a tea room/cafe, a shop, and a ticket hall. The station in Holt has a small museum and there is a shop and buffet selling souvenirs and light refreshments nearby. There is also an extensive miniature railway, run by North Norfolk Model Engineers, which is open for rides at certain times during the season.
Keep in mind that while the train goes to Holt, the station is about 1.5 miles from the town. It's walkable or you can catch a bus from the stop about a 5 minute walk away on Cromer Road.
#4 Visit the Sheringham Museum at the Mo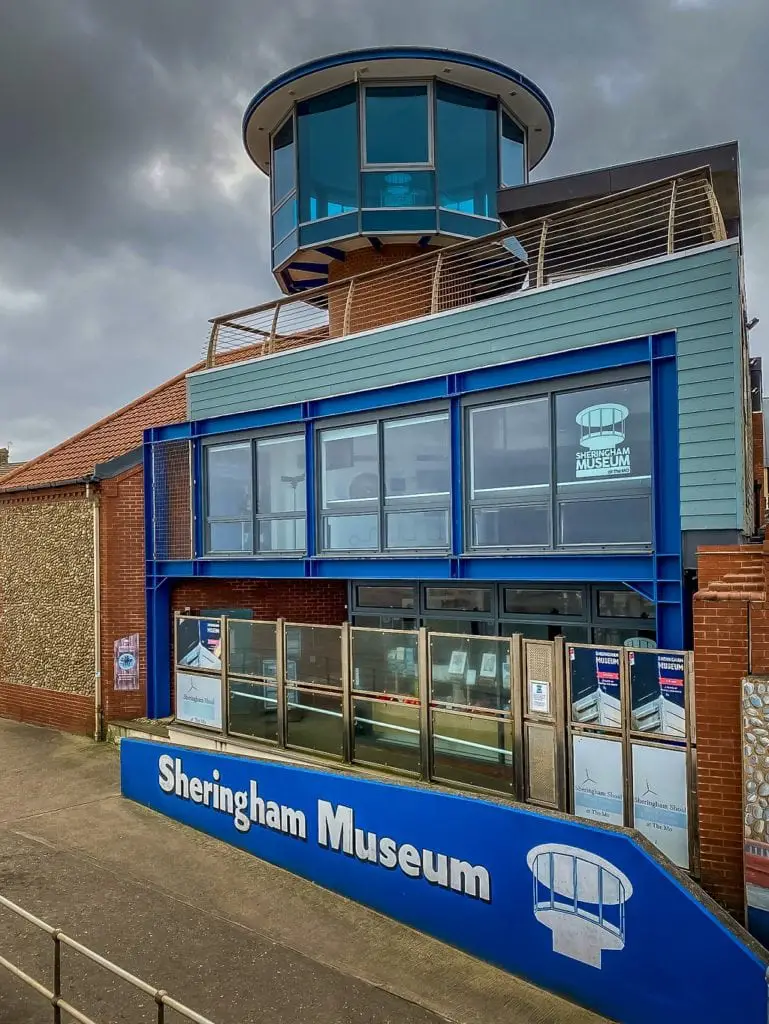 The best place to learn more about the town's history is the Sheringham Museum at the Mo. The collection was originally held in converted fisherman's cottages but was moved to the current museum building on the Promenade in 2010.
The name Mo comes from a little girl, Morag, who lived in Sheringham over 130 years ago. She was the daughter of Sir Thomas Digby Pigott a member of the prominent Upcher family.
At the museum, you can see a few lifeboats, re-created shops, and several interesting displays.  It also houses the Sheringham Shoal Windfarm Visitor Centre. You won't want to miss the viewing gallery where you can look out over the town, sea, and countryside.
You can see some of their collection online here.
#5 Catch a Show at Sheringham Little Theatre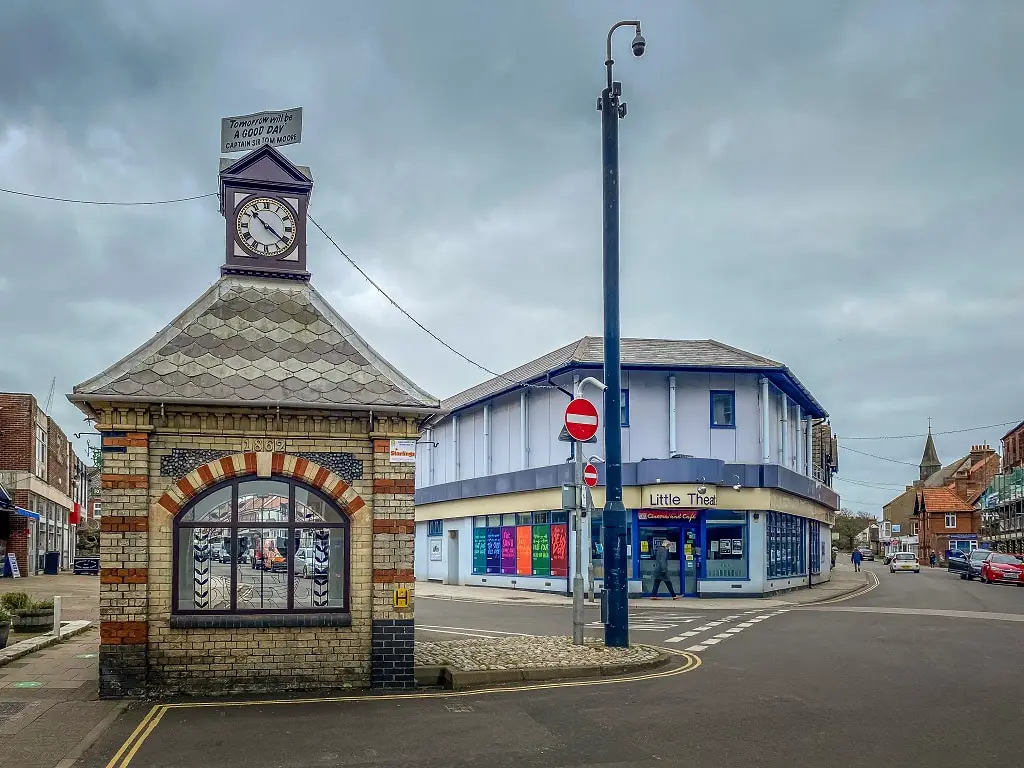 Opposite the Town Clock on the High Street is The Little Theatre which hosts plays, film screenings, cultural events, art exhibitions, and children's activities. While the Little Theatre was established in 1960, the building has been a local arts centre since 1896.
Inside you will also find the Hub, a cafe/bar, which serves coffee, scones, cakes, snacks, and sandwiches during the day and drinks and pre-theatre meals in the evenings.
Check the calendar for the Little Theatre here.
#6 Check out the Peter Coke Shell Gallery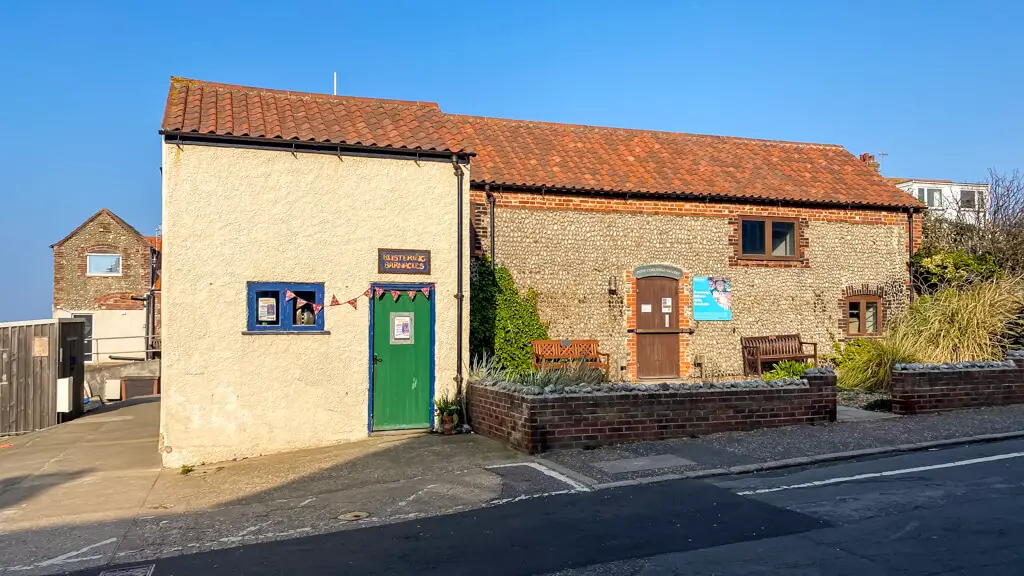 Peter Coke was an actor, playwright, Army officer, antique dealer, and later in life a shell artist. In 1976, he moved to North Norfolk where he re-established his antiques business at Sharrington Hall, near Holt. He was an avid shell collector who casually experimented with ways of using them decoratively and then became quite a prolific shell artist later in life. Members of the royal family have even purchased his work.
Peter Coke donated a collection of over 100 of his shell-art creations to the Preservation Society in 2006, on condition that it is displayed in perpetuity. When he died two year later, he bequeathed more of his work. Almost 200 pieces are now permanently on display, with some variation from year to year.
Admission is free, but donations are appreciated to help maintain the building and cover other costs. They also have a selection of colourful shells for sale. The gallery is staffed by volunteers and is closed during the winter months. Opening hours vary when it is open and are posted on the door.
#7 Visit the Fisherman's Lifeboat Museum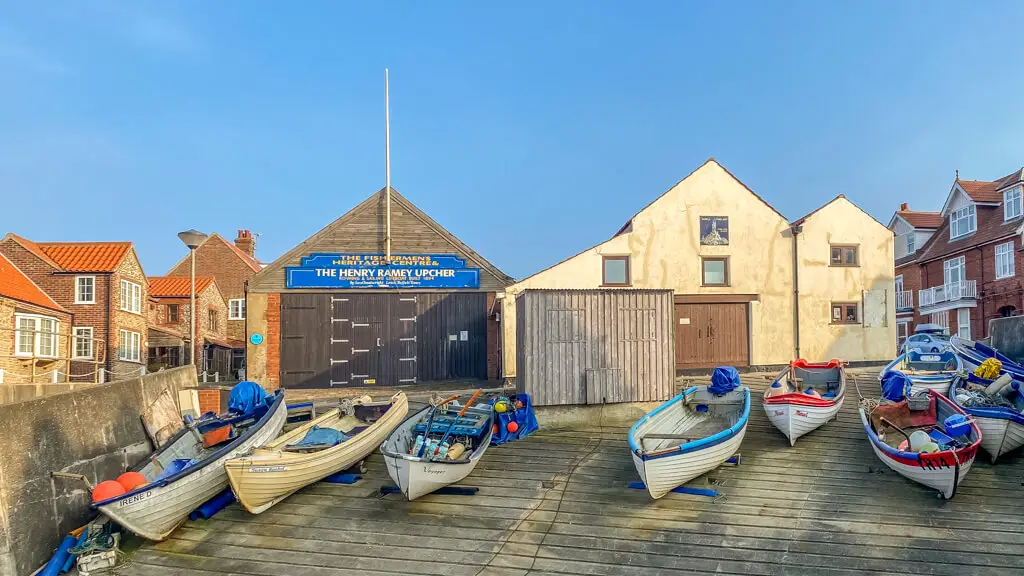 This small museum shares the history of the fishermen's lifeboats provided by the Upcher family for lifesaving purposes, the family itself, and the fishermen who crewed these boats. It is housed in the shed containing the Henry Ramey Upcher lifeboat (HRU) and also in part of the attached historic Fishing Sheds on Sheringham's West Cliff.
Admission is free, but voluntary contributions are appreciated to cover the costs of the buildings and their contents. It is closed during the winter months.
You can also pick up a booklet about the Sheringham Heritage Trail for £1. It includes 36 sites to visit to learn about Sheringham's history (some are marked with a blue plaque).
Note: The Fisherman's Lifeboat Museum used to be known as the Fisherman's Heritage Museum.
#8 Look Inside the Sheringham Life Boat Station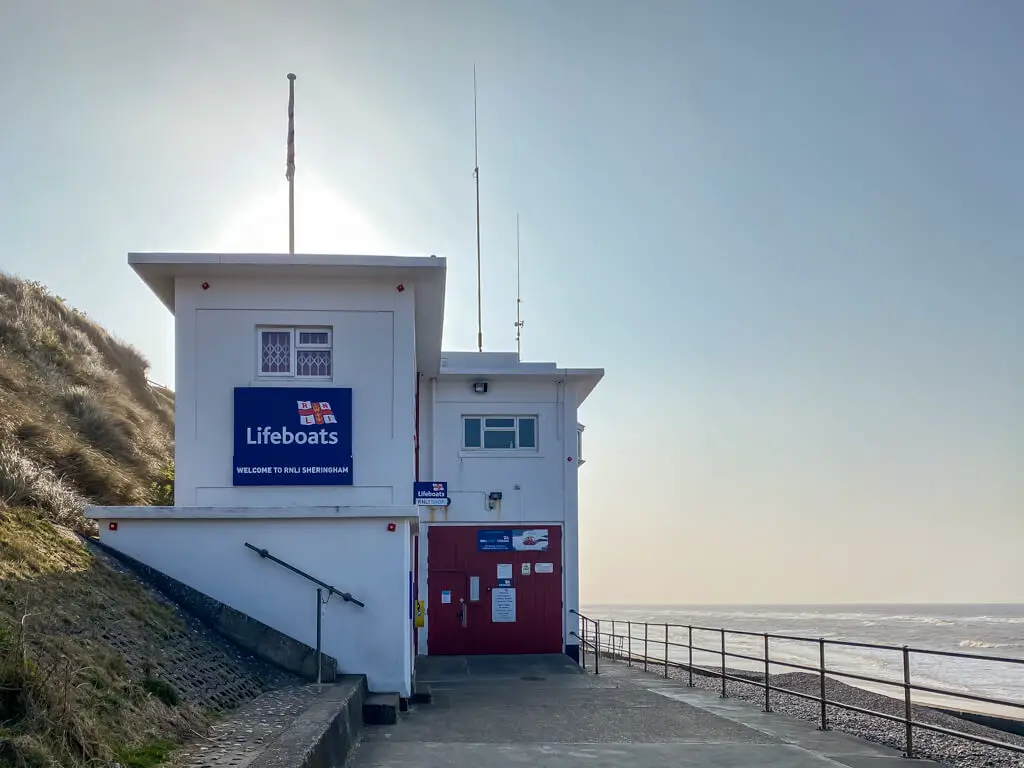 While it is an RNLI operational lifeboat station, you are welcome to go inside to learn more about the station and see our Atlantic Class Lifeboat The Oddfellows. It is free and they are open all year (subject to operational requirements).
The best time to visit is Sunday mornings between 10:00 am and noon when you can see the lifeboat launch as a training exercise and speak with the crew. There is also an RNLI gift shop on site and another in the town.
For more budget friendly ideas, be sure to check out our list of the best free attractions in Norfolk.
#9 Climb the Beeston Bump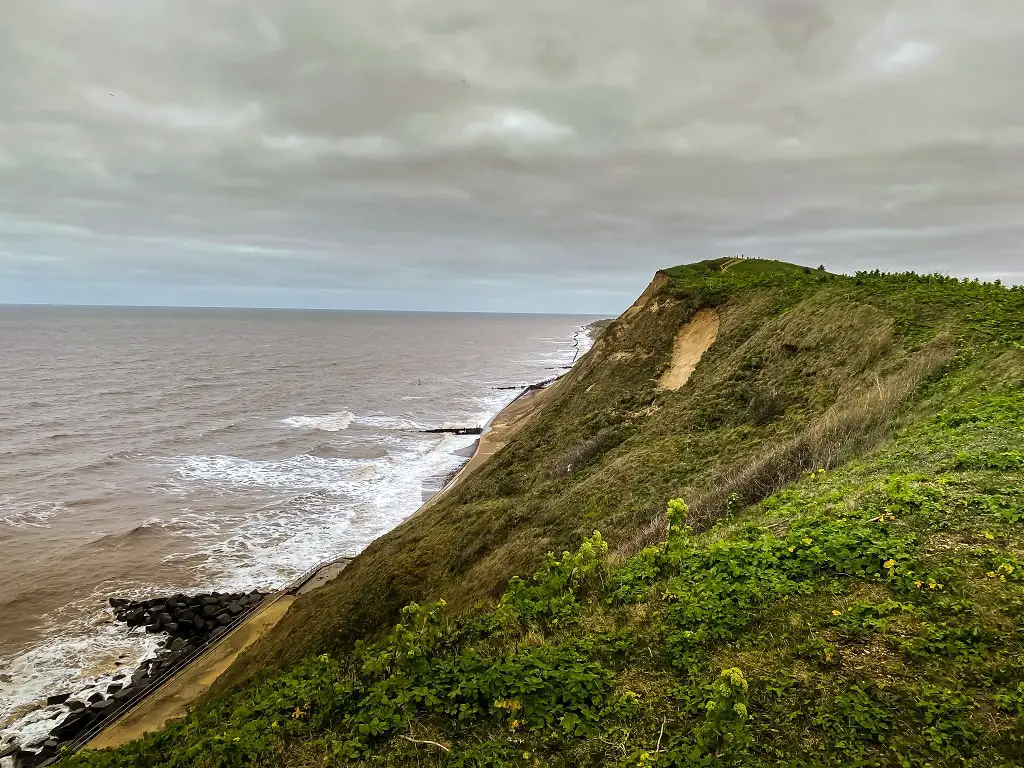 It's about a 15-minute walk along the Norfolk Coast Path up to the top of the Beeston Bump where you have amazing views of the North Sea, Sheringham, and West Runton. You can see East Runton and Cromer in the distance. There are also the ruins of a Y station.
The trail starts by the Beeston Hills Putting Green. While there are sections that are steep and some stairs, it will be worth the climb! Read more about the Beeston Bump walk here.
If you are looking to go a bit further, you could do the Sheringham to Cromer walk. It's also a lovely walk heading west from Sheringham on the Norfolk Coast Path. You can get more information about hiking the Norfolk Coast Path in this comprehensive guidebook.
#10 Sail a Model Boat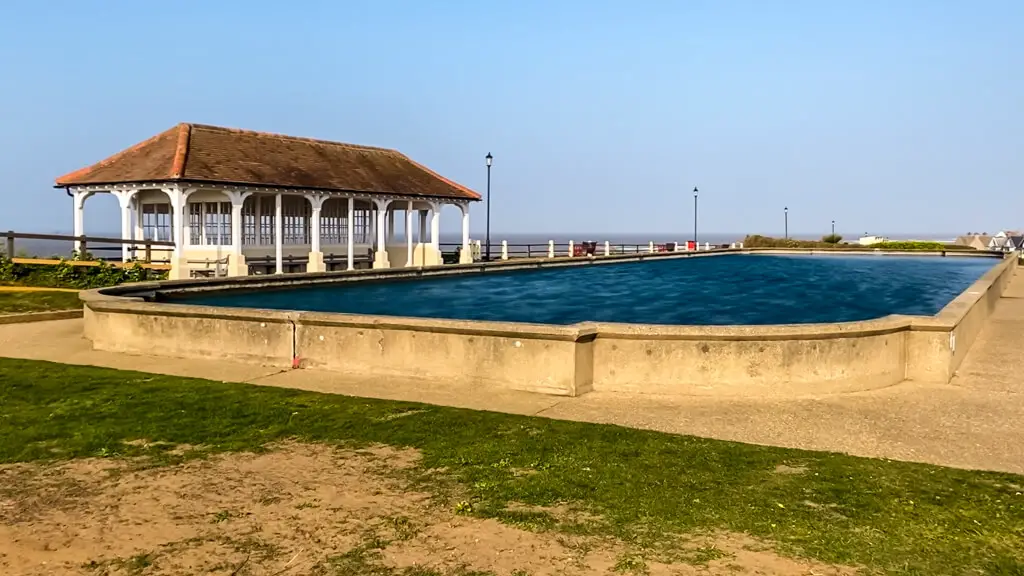 You can sail your model boat or just watch the action in the Sheringham Model Boat Lake from the beautiful Victorian shelter. In the summer, it is quite popular with both kids and professionals as the water is clean and a pretty blue colour.
The Sheringham Model Boat Lake is located just above the West Promenade. Next to the lake, there is a public garden perfect for picnicking.
#11 Hire a Paddleboard
If the weather cooperates, you can a standup paddleboard (SUP) from the SUP Shack on the West Promenade. They have standard sized boards and a Mammouth board that can hold up to 8 people. You can hire them by the hour or a full-day. Get more information here.
Paddleboarding can be a great activity for kids too. Keep in mind that anyone under 18 needs a parent or guardian to sign the waiver and those under 16 should be accompanied by an adult.
#12 Visit St. Peter's Church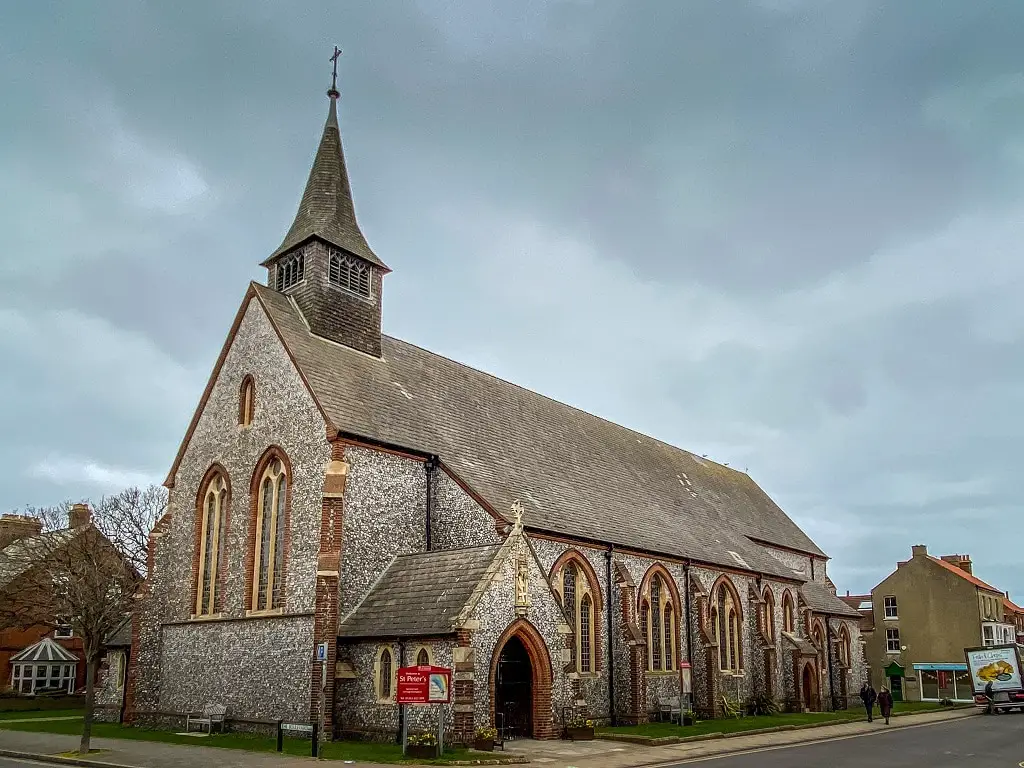 Sheringham's Parish Church is actually one of the newer ones in Norfolk. St. Peter's was constructed during Victorian times. The Upcher family donated the land where the church has been built and contributed generously to the building cost too.
Since the organ was completely rebuilt in 1986 and the church has excellent acoustics, it's one of the most sought after concert venues in North Norfolk.
#13 Eat Some Fish & Chips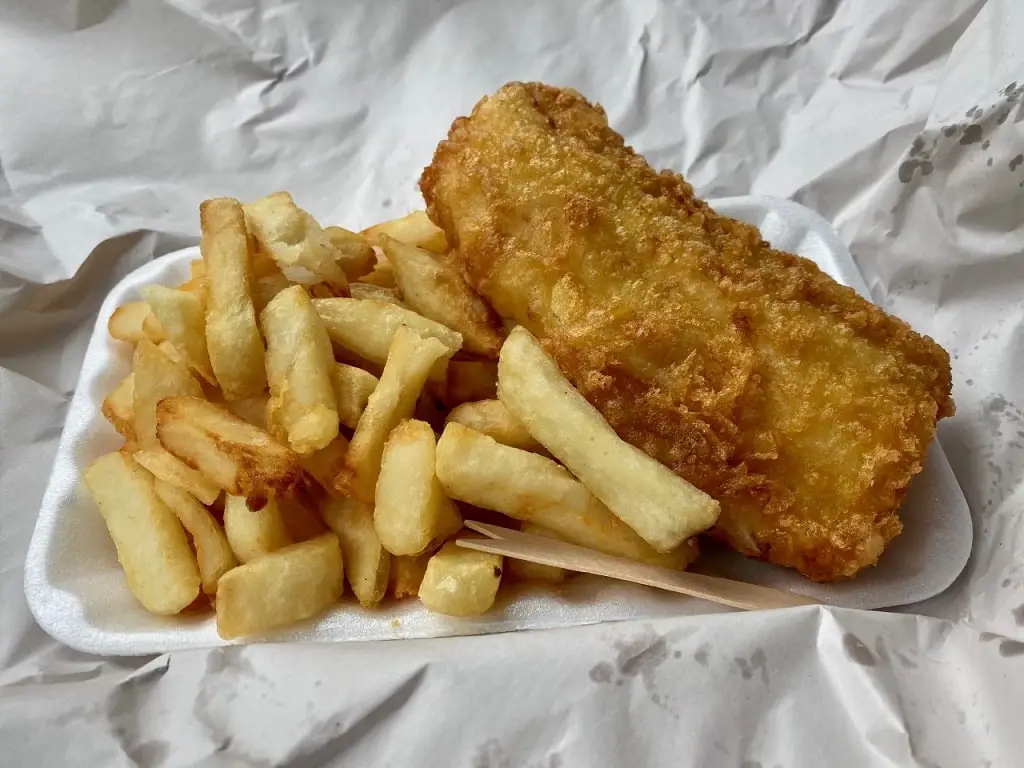 When you are by the sea, fish & chips is a must. You have a couple choices to get your fix in Sheringham. There is the Sheringham Trawler, Dave's Fish Bar, and Stevenson's Café and Fish Bar. All three have indoor seating if the weather isn't ideal. Both the Sheringham Trawler and Dave's Fish Bar have gluten-free options.
#14 Play Golf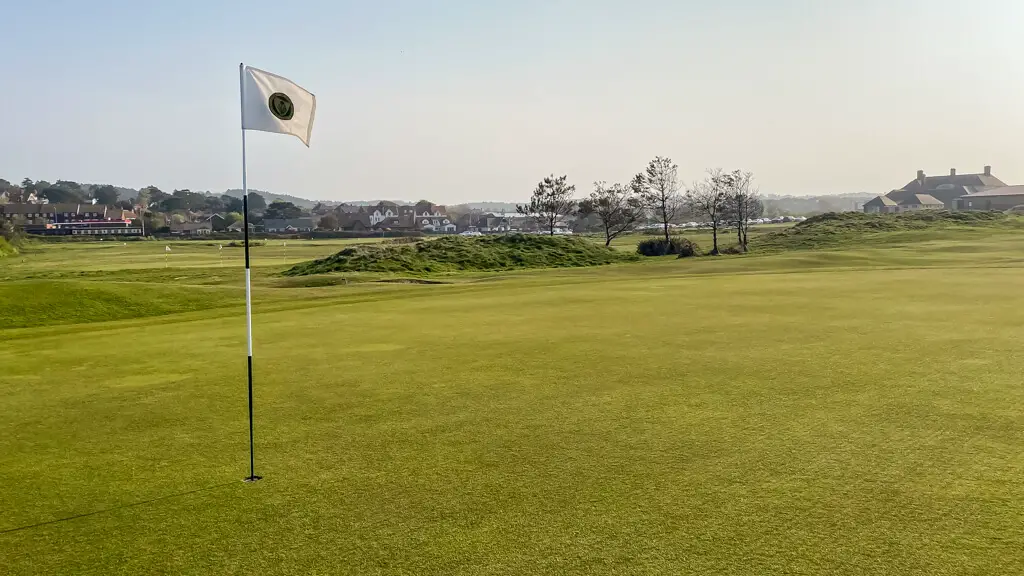 Sheringham Golf Club is ranked 75th in the 2022 National Club Golfer Top 100 Courses in England. The 18-hole course offers spectacular views right next to the Norfolk Coast Path. Non-members are welcome but should book in advance here.
#15 Have Fun in the Amusements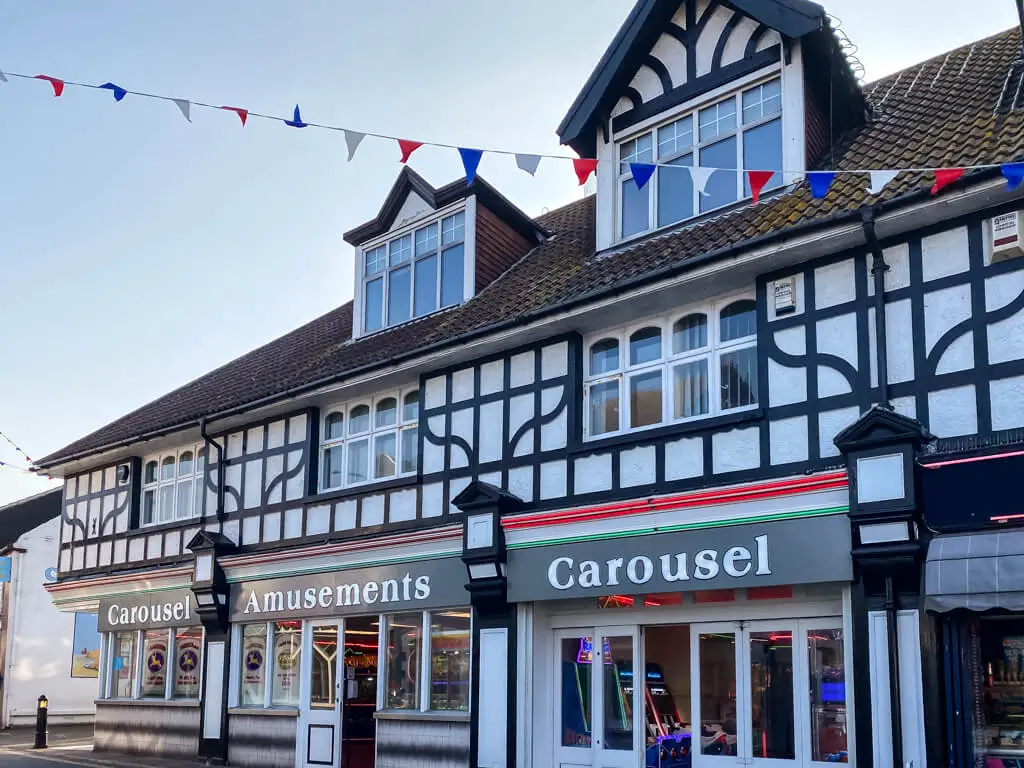 Like many other seaside towns, Sheringham has amusements which you can find on High Street close to the end near the beach. With all the different games, you can keep kids (of all ages) entertained for hours. If you are lucky, you might even win a prize.
#16 Treat Yourself to Ice Cream
Ice cream and beaches go together well (especially in the summer) and there are several places when you can get some tasty ice cream in Sheringham.
Head to Aloha Ices, a family run ice cream shop on the High Street that sells over 40 different flavours like Bakewell Tart, Turkish Delight, Orange & Brandy, Peach Melba, and more. They also have gluten free and vegan options.
#17 Enjoy a Pint (and a meal) at a Local Pub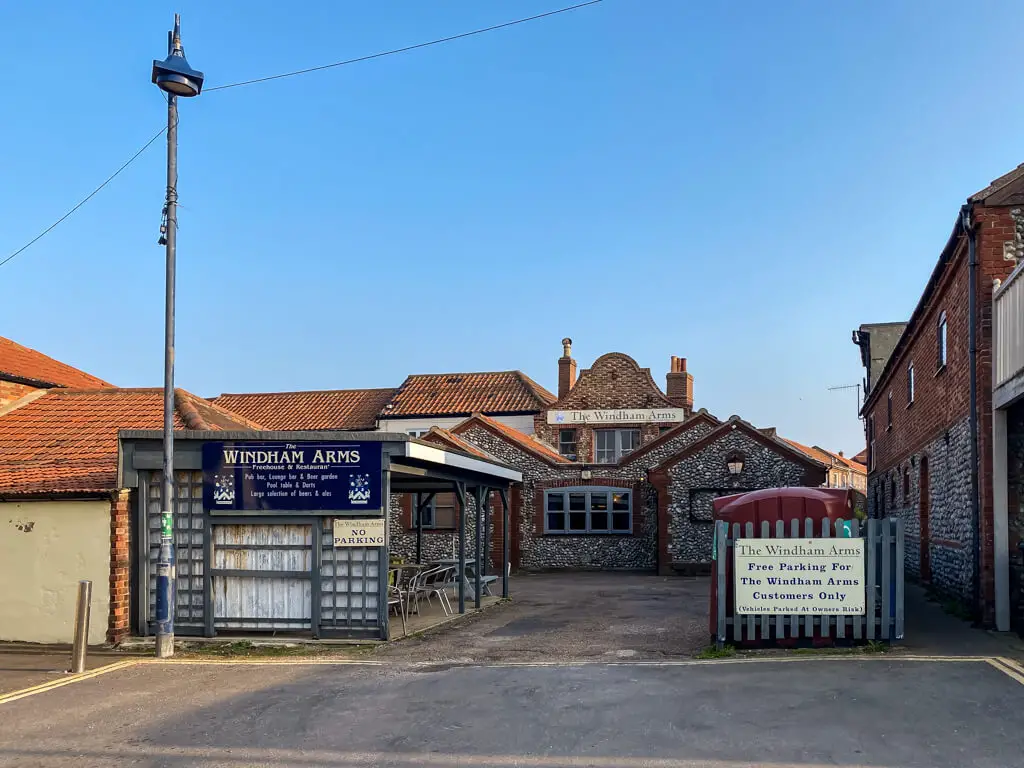 Sheringham has several charming pubs that will welcome you for a pint and/or meal. The most popular options include Windham Arms, The Robin Hood, The Lobster, and The Crown.
#18 Browse the Sheringham Market
Sheringham has a popular market from April to November on Saturdays and Wednesdays (9:00 to 16:00). The Market has a wide array of stalls with fresh produce, delicious local seafood, fresh meat, flowers, jewellery, household items, sweets, shoes, and more.
You can find the market in the Town Centre near the Railway station.
Special Events in Sheringham
Sheringham is a popular place to visit especially during the warmer months, but there are a few annual events that draw even bigger crowds.
40s Weekend
The 40s weekend celebrates the wartime efforts of Allied forces and the resilience shown by those on the home front. The event takes place over a weekend in mid-September in both Sheringham and Holt. You will feel like you have gone back in time – so many people dress up in 40s-style fashion. Get more information here.
Sheringham Carnival
Carnival itself takes place in August, but there are also a few events organized by the Carnival Association throughout the year. Some of the highlights include street races, sand sculpture competition, raft race, and the parade. Get more information here.
Viking Festival
Enjoy a week of Viking themed activities typically in late February. There are reenactments, a torch lit parade following the Scira Viking ship, and a ceremonial boat burning on the beach.
Crab and Lobster Festival
Sheringham and Cromer come together to celebrate their shared fishing heritage. It's a festival (usually the third weekend in May) full of local crab and lobster delicacies.
Things to Do Near Sheringham
While there are plenty of things to do in the Sheringham town centre, there are a few more places in the area worth visiting if you have time.
Sheringham Park
Sheringham Park is the grounds around Sheringham Hall. While the Hall is privately owned and occupied, the park is managed by the National Trust and open to the public.
Start your visit at the Wood Farm Barn at the southern end of the park, where there is a visitor centre, exhibition area, and refreshment kiosk. Grab a map and check out the exhibition area to learn more about the history of Sheringham Park including the Upcher family who owned it, the life and work of the landscape architect Humphrey Repton, and wildlife in the park.
The park has several walking paths that vary in difficulty and length. The main hard stoned path which goes right through the centre of the park is ideal for pushchairs. If you're looking for more of a challenge head up to the Gazebo, a viewing platform hidden away in the middle of a wood.  It's an exhilarating spot to take in the scenery of the North Norfolk coast. Then take a stroll down the gentle path to the temple which stands above Sheringham Hall. 
The park is open year round, but the best time to visit is in May and June. The 80 or so species of rhododendrons and azaleas are in full bloom at this time of year, and the colours are breathtaking. In May, it's one of the best places to see bluebells in Norfolk.
It's free to visit Sheringham Park, but there is a £6.50 charge for parking if you are not a National Trust member. It can be a popular destination, so it's best to book in advance to avoid disappointment.
Get more information on National Trust membership here.
Read more about visiting Sheringham Park here.
Priory Gardens and Maze
The Priory Gardens and Maze is located near the ruins of the Beeston Priory. It's 10 acres of various themed gardens and a hedge maze.
You can explore the different areas to admire the scenery and look for wildlife. The gardens have several exotic trees that are more than 100 years old, a few ponds, numerous small waterfalls, and more.
They also have the Foxgloves Tearoom that serves a full breakfast, lunch, snacks, and afternoon tea. You can purchase plants and get gardening advice at the Plant Centre and Gift Cabin. The gardens are closed during the winter months.
Check opening hours and admission charges here.
Felbrigg Hall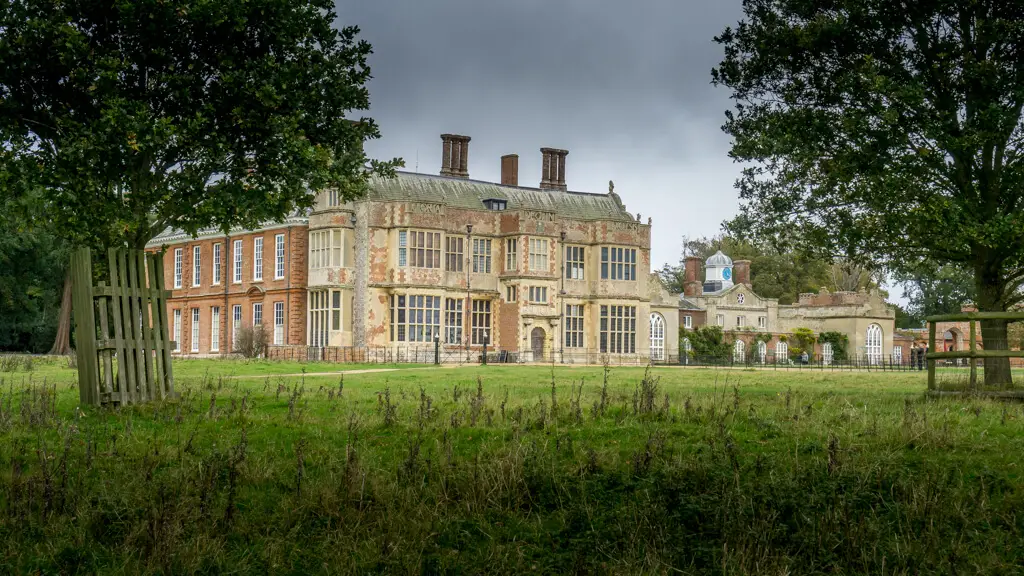 Felbrigg estate has 520 acres of woods, with rolling parkland, a lake, walking paths, and a grand hall. During the autumn, the woodland is a great spot to appreciate the leaves changing colours. You can tour the stately home and go inside the walled garden. It's a nice day out for nature and art lovers.
It's a National Trust property so members can visit for free. Get more information on National Trust membership here or admission to Felbrigg Hall here.
Cromer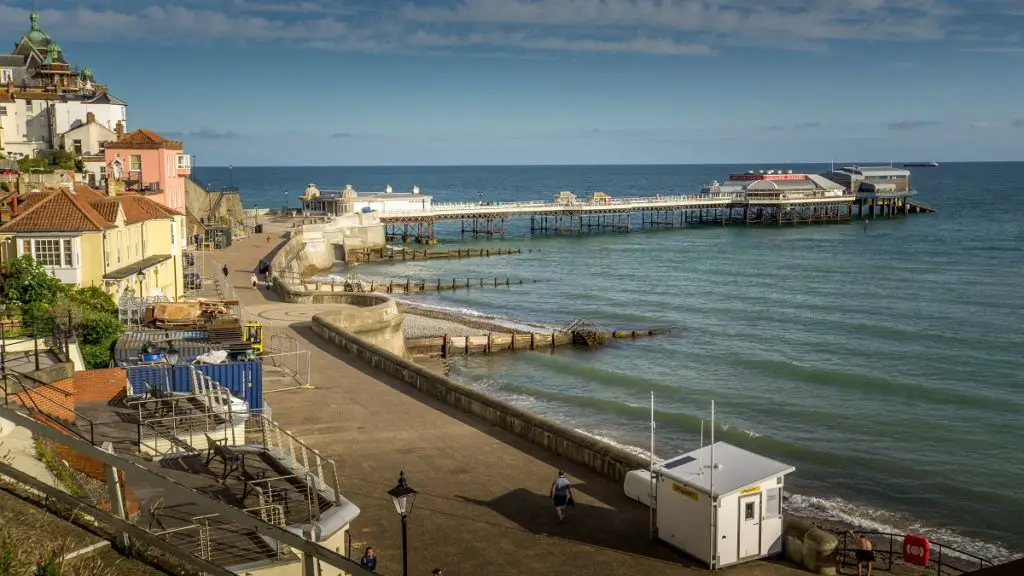 About four miles to the east, you will find Cromer, another popular seaside town on the North Norfolk Coast. It's famous for its crabs and pier, but has much more to offer. Check out our post about the best things to do in Cromer.
Pretty Corner Woods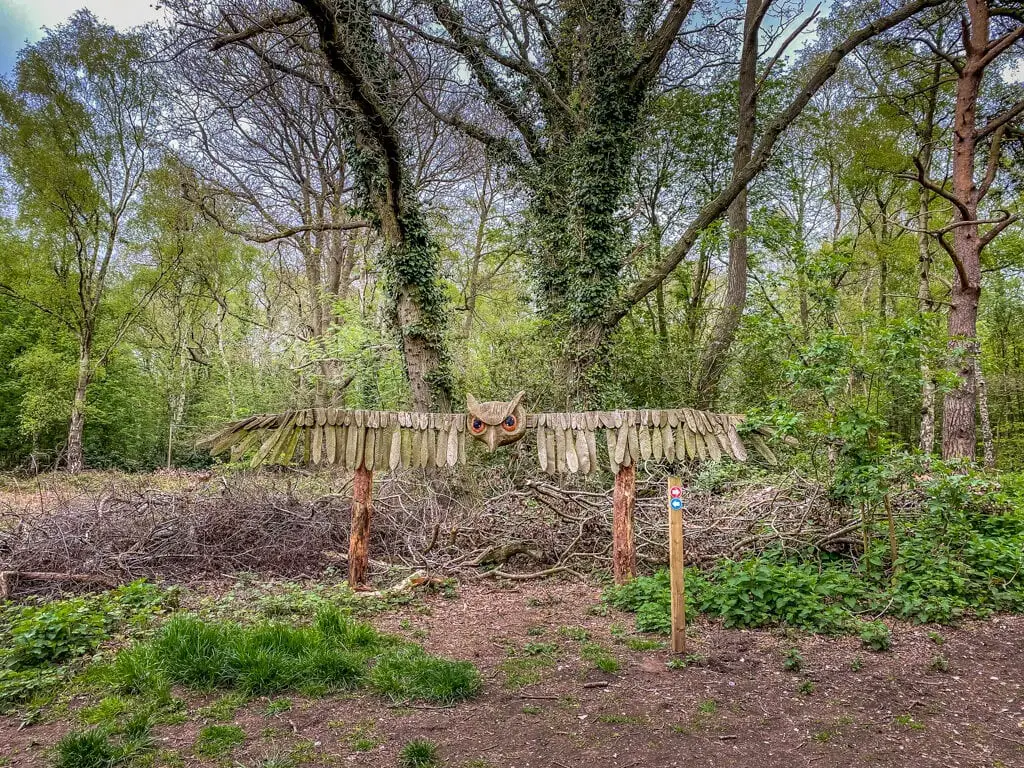 Pretty Corner Woods is a peaceful 165-acre area with both woodland and heathland. You can walk up to one of the highest points in Norfolk (96 metres above sea level) where you can look out over Sheringham and the North Sea.
Be on the lookout for wildlife like bats, bullfinches, kingfishers, butterflies, owls, woodpeckers, and more. After your walk, check out the Pretty Corner Tea Room or bring your own food to enjoy in the picnic field.
There are two car parks, which are both free. They don't have any public toilets, but there are some in the Sheringham town centre. It's about a 15 minute walk or you can catch a bus at the stop next to the woods.
Get more information about Pretty Corner Woods here.
Muckleburgh Military Collection
Those interested in military history must visit the Muckleburgh Military Collection at the former Royal Artillery Anti-Aircraft training camp in Weybourne less than a 10 minute drive from Sheringham. It was opened to the public in 1988 and is one of the largest privately owned military museums in the country.
You can see an extensive range of tanks and armoured cars that have been maintained in working condition along with the Suffolk and Norfolk Yeomanry collection of uniforms, weapons, photographs and documents. Their exhibitions cover artillery, machine guns, missiles, ships, land warfare models and more.
Hilltop Outdoor Centre
If you enjoy adventure activities, you need to visit the Hilltop Outdoor Centre. They have climbing walls, high ropes courses, zip wires, archery, and an air jump tower. The air jump tower is 16 metres tall various height platforms for people to jump off, before free-falling into a giant air bag – it's the first of its kind in England.
Get more information about the Hilltop Outdoor Centre here.
How to Get to Sheringham
Sheringham is easy to get to from Norwich. You can drive yourself or take the train or bus.
If you drive yourself, it will give you more flexibility and make it easier to explore areas nearby. Driving from Norwich to Sheringham takes a little less than an hour.
There are several car parks in the town. The largest one is by the North Norfolk Railway Station (use NR26 8RG for the sat nav). While you can pay for parking using a debit card, the minimum charge is £3.00. If you plan on staying for an hour or less, bring some cash (£1.50).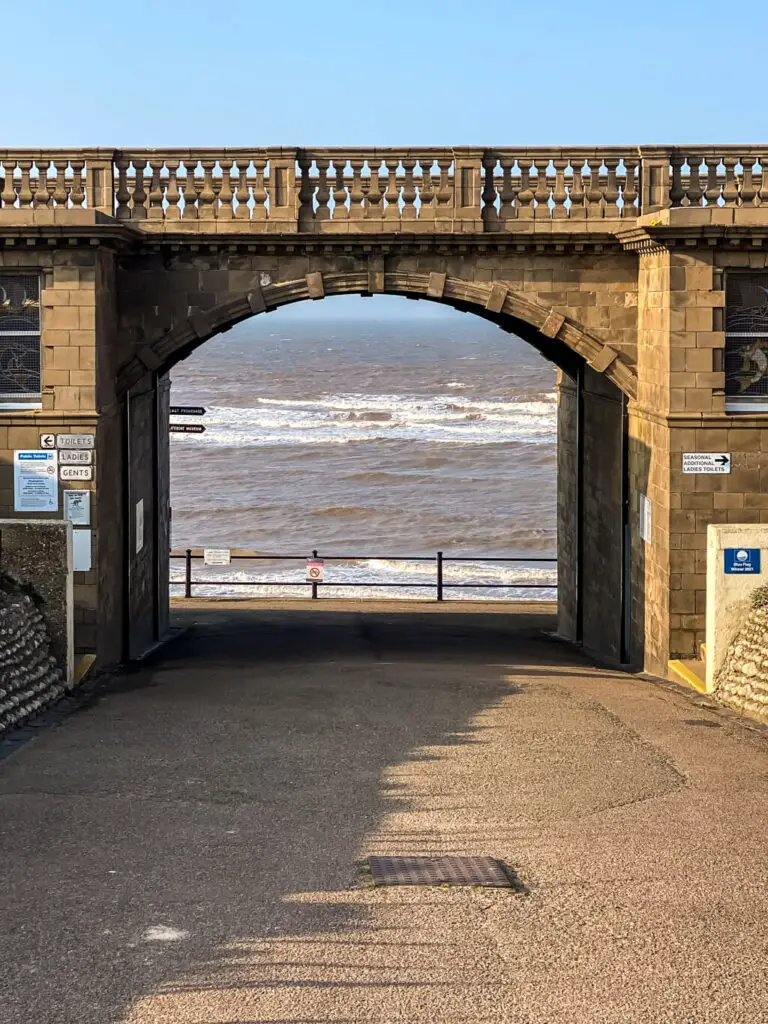 While there is no longer a direct train from London, you can take the train from Norwich Station to Sheringham. It takes around an hour. Check train schedules and prices here.
The bus will take a little longer at about an hour and a half. You can catch the bus from the Norwich Bus Station. Get information about the timetables and fares here.
Where to Stay in Sheringham
As you can see Sheringham is a lovely place to base yourself when you visit the North Norfolk Coast. When it comes to choosing the specific accommodation, here are a few suggestions close to the town centre and beach:
Burlington Berties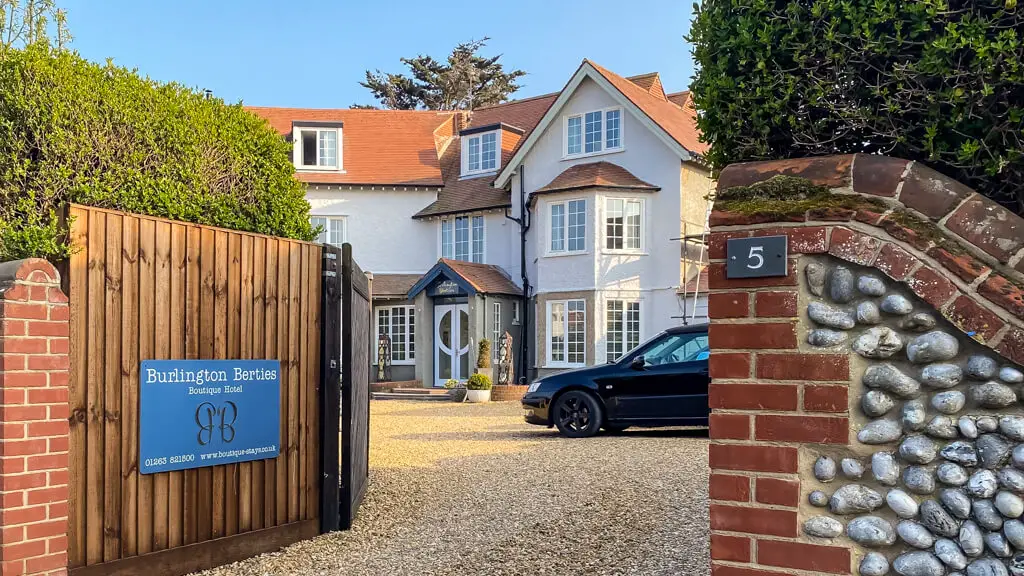 This boutique hotel was built in the Edwardian period as a gentleman's residence. It has five rooms and three suites all named after musical hall theatres of 1900's. Don't miss out on their delicious breakfast.
Check reviews, prices, and availability here.
The Lobster Inn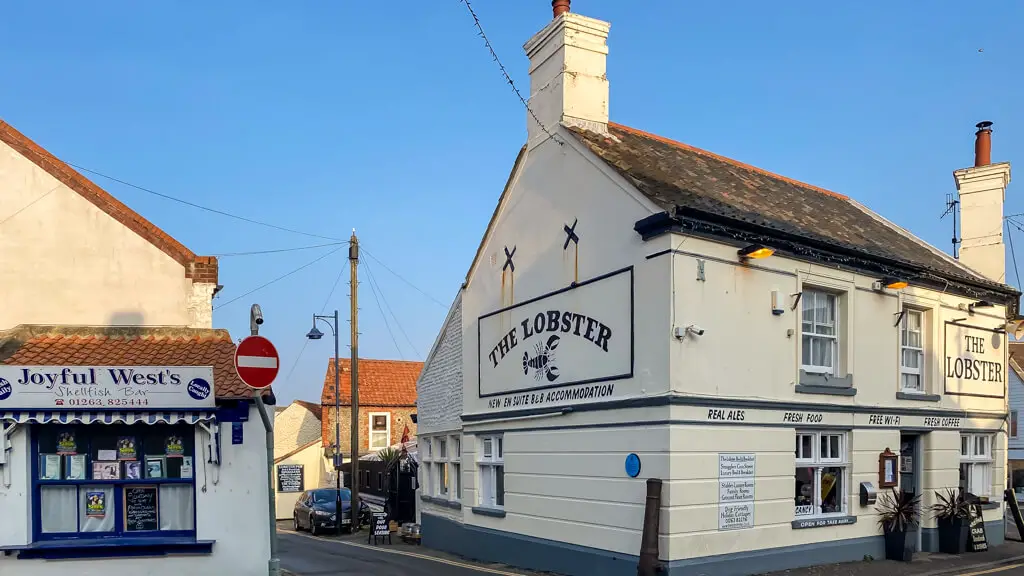 This is a great option right only 100 metres from the beach. All their rooms are furnished to a high standard and include free wifi, a flat screen TV, and tea and coffee making facilities. You can choose self-catering or B&B lodging. They also have a beer garden in the back, where you can relax and enjoy a pint of beer or a glass of wine.
Check reviews, prices, and availability here.
Holway House
Holway House is a charming B&B located just outside the town centre, but within walking distance of the train station and the beach. The Edwardian house is owned and operated by John and Lucy Olsen, who are known for their warm hospitality and attention to detail.
All of the rooms at Holway House are spacious and comfortable, and each one is decorated with its own unique style. The bathrooms are modern and well-appointed, and there is free Wi-Fi throughout the property.
Holway House is a great place to stay if you're looking for a relaxing and enjoyable vacation. The Olsens are happy to provide recommendations for local attractions and activities, and they can also help you arrange transportation or other services.
Check reviews, prices, and availability here.
Keep in mind, there are no huge hotels or resorts in Sheringham. During the peak months, the best places to stay may be booked well in advance. If possible, don't leave booking your accommodation to the last minute. Check the map below for more options.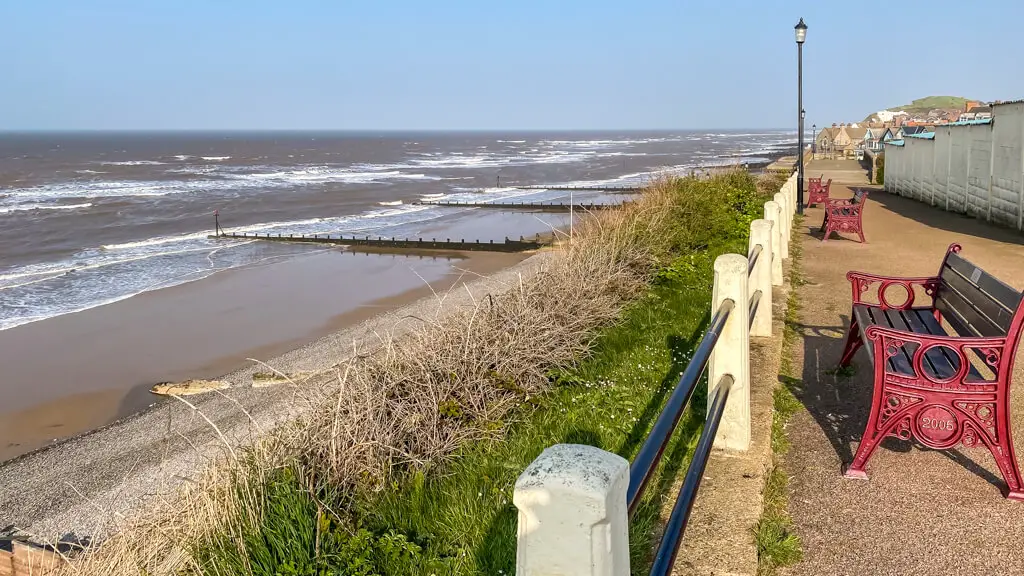 Is Sheringham Worth Visiting?
Yes. This seaside town is one of my favourite spots on the North Norfolk Coast. It has a lovely beach, heritage railway, museums, and so much more to offer. Plus, there are many more things to do nearby. You won't be bored!
---
Disclosure: This post contains affiliate links. This means we will receive a small commission for some purchases made using links in our blog with no additional cost to you.  Please be assured we would not promote any product unless we believe that our readers will also benefit.  The commission does not influence the editorial content of this site.