Walking up Kett's Hill road, you will pass an unassuming gate where there is a path leading up. This clandestine garden is called Kett's Heights name for it's role in Kett's Rebellion. It's worth checking out because you can see some historical ruins and one of the best views of Norwich.
Let me share more about the history of Kett's Heights and what to see when you visit.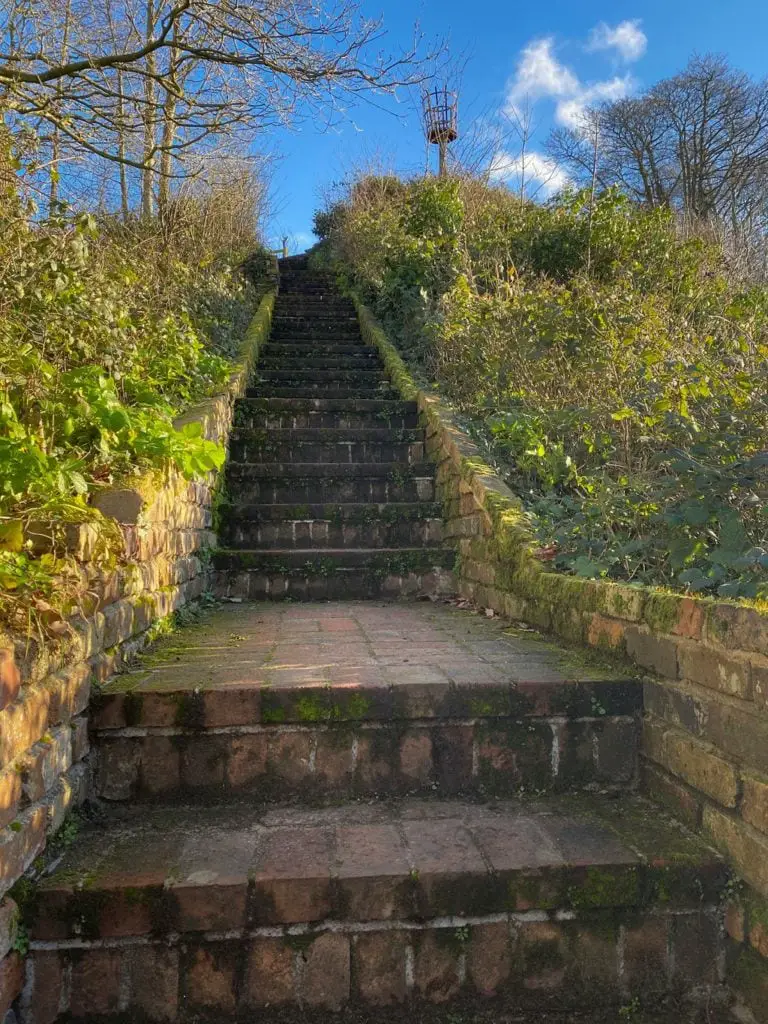 About Kett's Rebellion
In 1549, Robert Kett (along with his brother William) led a group of over 10,000 rebels in a fight against the enclosed fences that the rich had put up. They made their headquarters in a church located in what is now called Kett's Heights.
Before long, the city was in the hands of the rebels. Then, the Earl of Warwick brought in an army of 14,000 that quashed the rebellion. It is estimated 3,000 people died.
Robert and William were arrested and charged with treason. Both were executed – Robert at Norwich Castle and William at Wymondham Abbey's West Tower.
Now Robert is a local hero for taking a moral stand and supporting a cause to help those less fortunate. There is a plaque that plays tribute to him on Norwich Castle that reads:
"In 1549 AD Robert Kett yeoman farmer of Wymondham was executed by hanging in this castle after the defeat of the Norfolk Rebellion of which he was the leader. In 1949 AD – four hundred years later – this memorial was placed here by the citizens of Norwich in reparation and honour to a notable and courageous leader in the long struggle of the common people of England to escape from a servile life into the freedom of just conditions."
What to See When You Visit Kett's Heights
Kett's Height is not a large park so it's easy to see in one visit if you know what to look for. Here are five things that you must see when you go to Kett's Heights.
#1 Piggery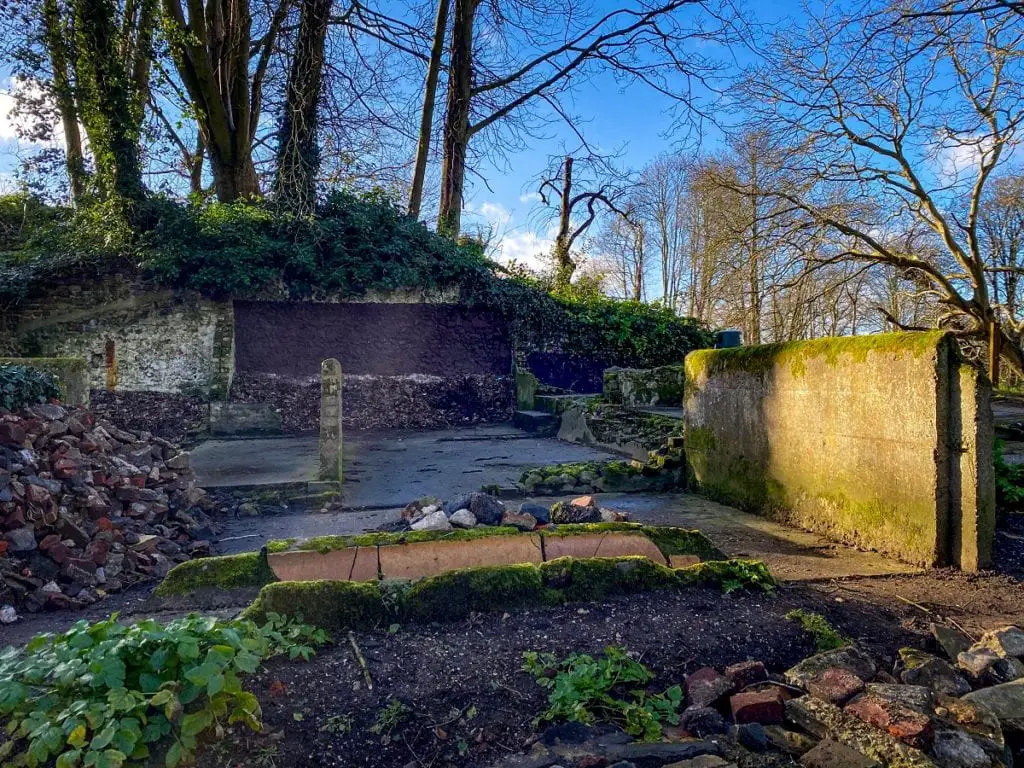 Walk up the sloped path from the entrance and on the left you will see the the remains of a stable block. It was used a a piggery during World War II. During this time, food was rationed so the pigs were fed scraps and leftovers. Half the pig would be sold to the government to help with rationing and the other half shared among neighbours.
#2 Pond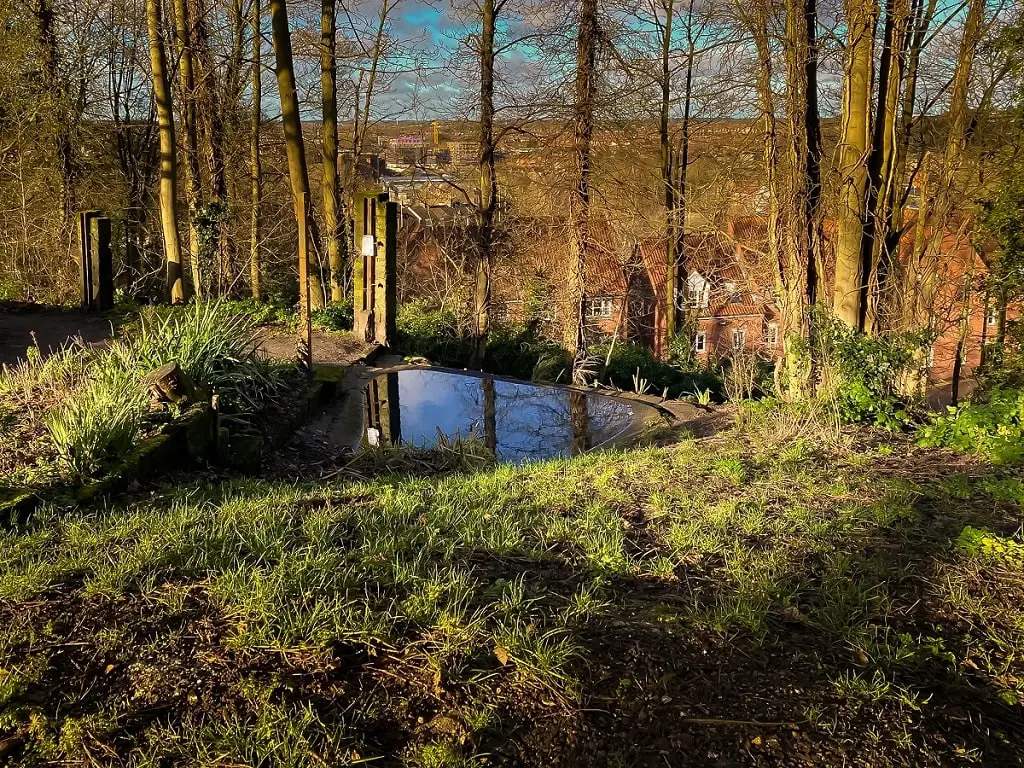 The pond was originally part of the piggery. Now it is as a source of water for the plants and a home for wildlife. Since the water is still, there are beautiful reflections of the surrounding trees. You may be able to spot some tadpoles in the spring. In the summer, the water may turn green as the concrete liner heats up the water.
#3 St. Michael's Church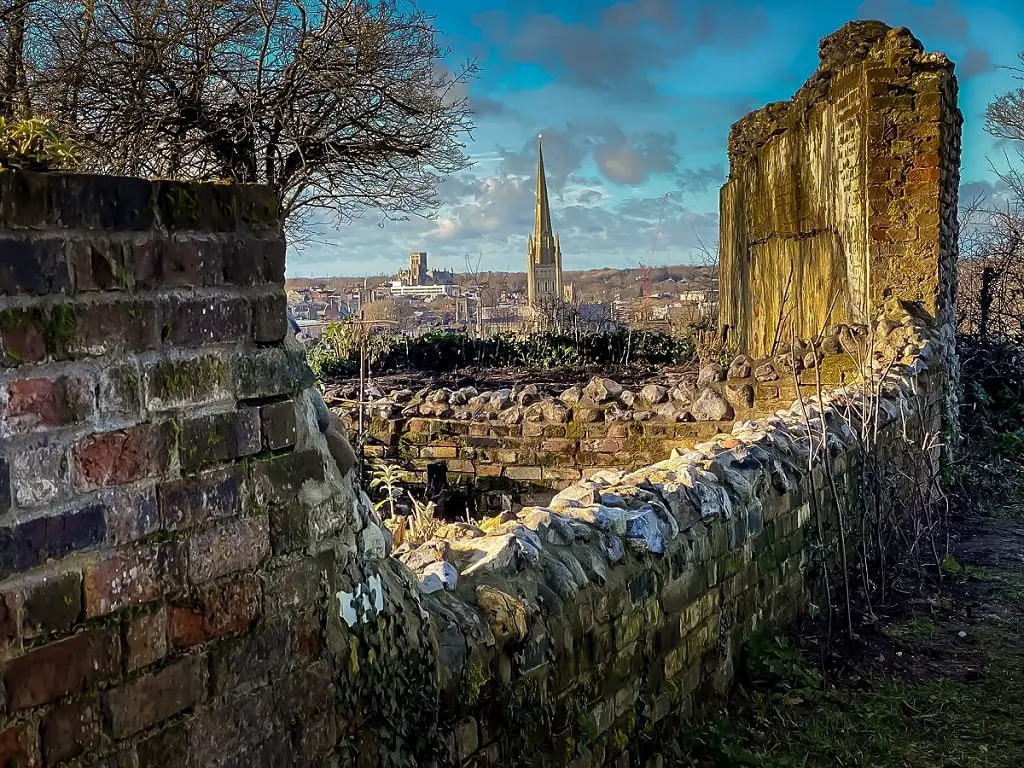 A church in the Tombland area of Norwich was destroyed to make room for Norwich Cathedral in the 12th century. A replacement was needed, so St. Michael's Church was built on what is now Kett's Heights.
This church was the headquarters for Robert Kett and his men, so it was given the nickname "Kett's Castle." All that remains now are some stone walls that are in ruins.
#4 Herb Garden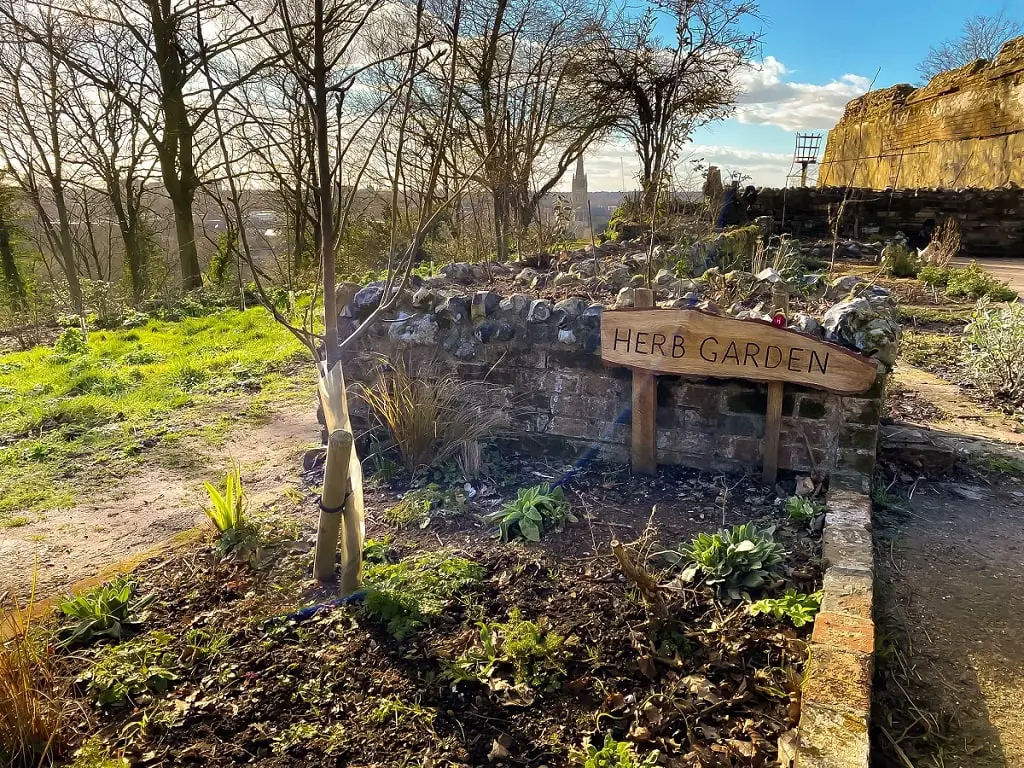 Among the ruins of St. Michael's Church, there is now an herb garden. It is maintained by volunteers. You can sit on the stone bench and enjoy the smells of fresh herbs.
#5 Viewpoint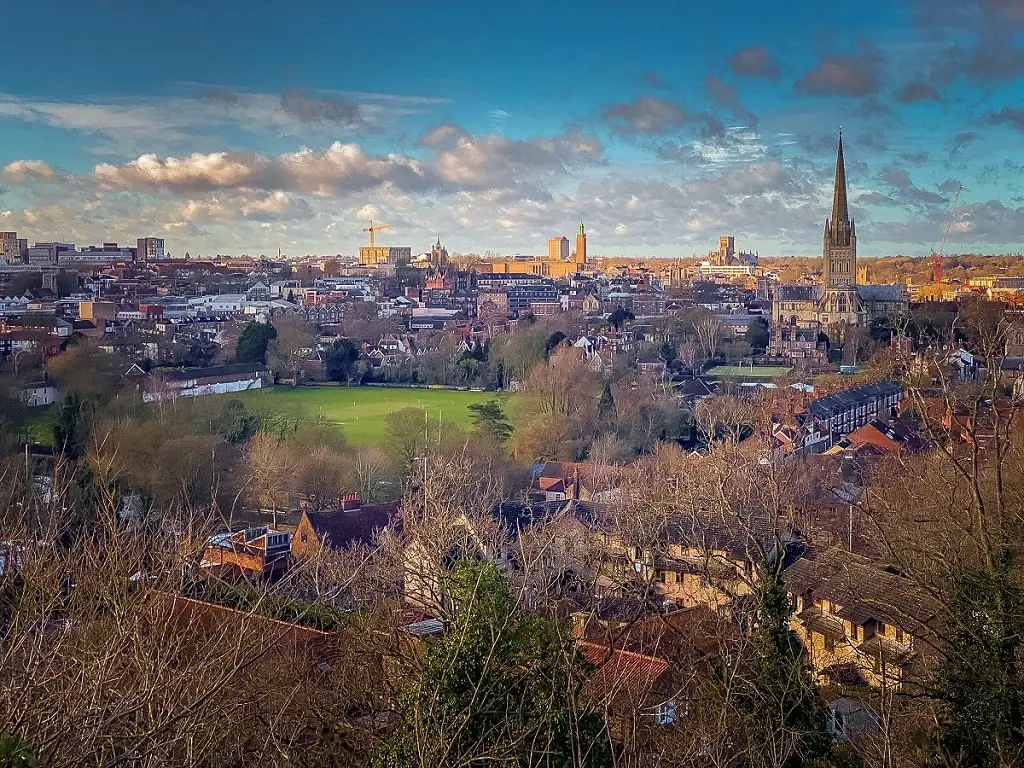 Make sure you bring your camera when you visit Kett's Heights as you will get one of the best panoramic views of Norwich. It looks west over the city centre.
There is a bench so that you can sit and take it all in. From here you can see some of Norwich's most iconic sites including the Anglican Cathedral, the Catholic Cathedral, the Castle, City Hall, the Ethelbert Gate, and 18 other medieval churches.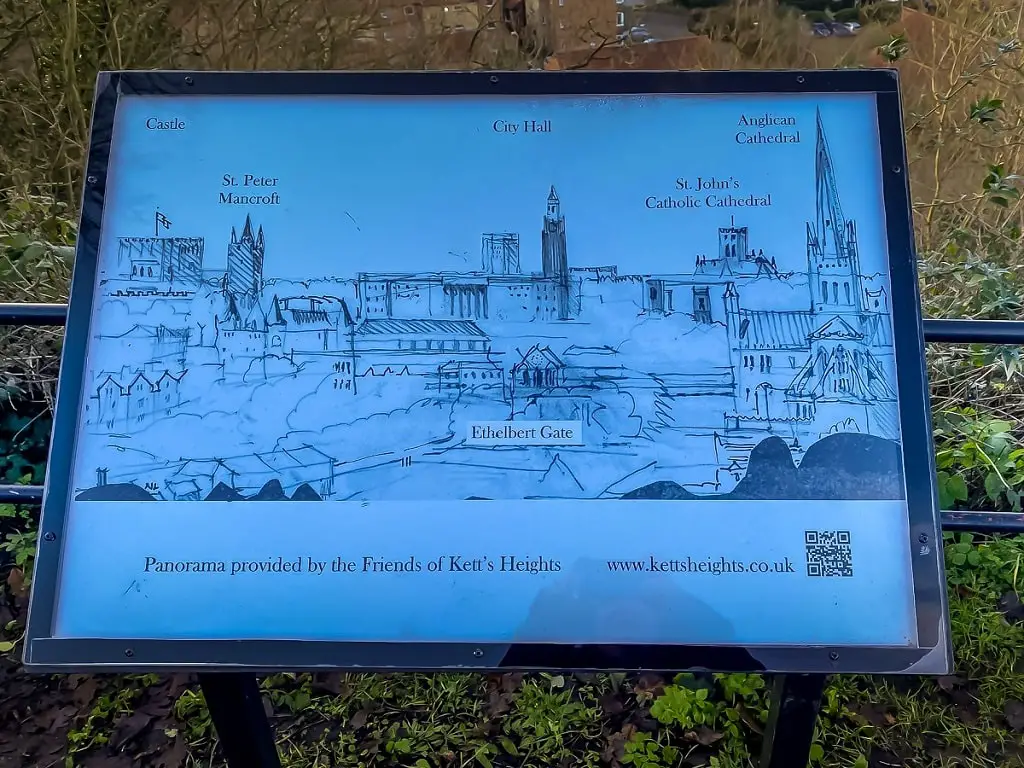 Is Kett's Heights Good for Kids?
Yes, but they should be supervised. There are some very steep slopes on Kett's Heights, so you need to keep a close eye on young children. While you won't find any playground equipment, there is the Upper Green if they want to run around.
Print out the family trail here before you go, so that kids can learn more about the site. Also, check out our recommendations for the best things to do with kids in Norwich.
When is the Best Time to Visit Kett's Heights?
You can visit Kett's Heights all year around. Since it is all outside, try to plan your visit for a day when it's nice weather.
Keep in mind the scenery changes with the seasons. It's actually a good place to see snowdrops in the late winter months. During the spring, you will find daffodils, forget-me-nots, and even a few bluebells. (There are better places to see bluebells, check out our list of the best places to see bluebells in Norfolk.)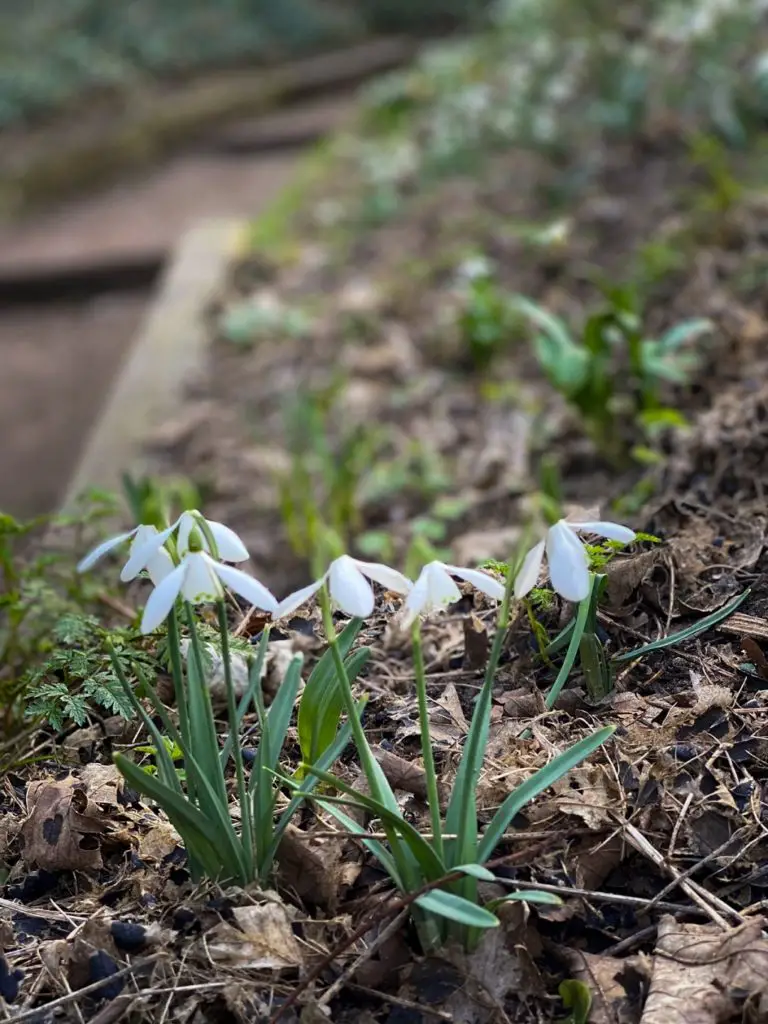 Is Kett's Heights Accessible?
Unfortunately, the site is not wheelchair accessible due to the naturally steep incline. The entrance path has steps and it is not possible to reach any of the points of interests without a bit of a climb.
Are Dogs Allowed in Kett's Heights?
Yes, but they must be kept under control. Any mess dogs leave must be cleaned up.
Is it Free to Visit Kett's Heights?
Yes! There is no entrance charge for Kett's Heights. If you want to support this lovely site, you can become a friend of Kett's Heights here for just £5 a year.
If you are looking for more budget-friendly ideas, chech out our list of the best things to do in Norwich for free.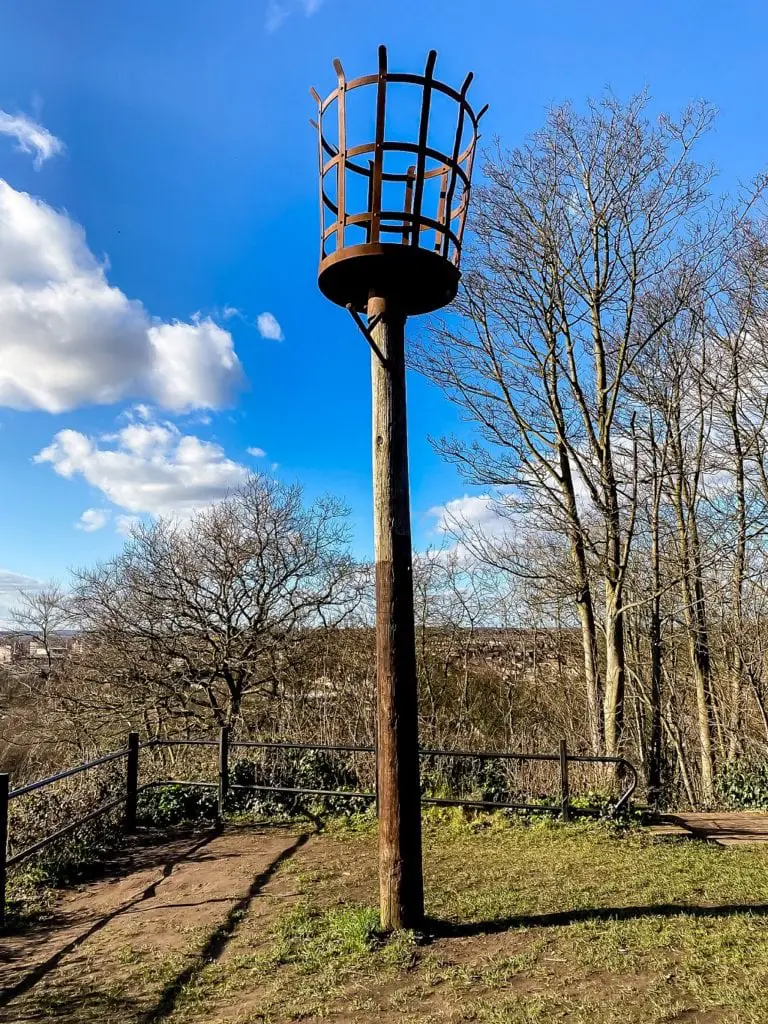 What are the Opening Hours for Kett's Heights?
Kett's Heights is always open. 24 hours a day, seven days a week.
How Do You Get to Kett's Heights?
​The entrance to Kett's Heights is about half way up Kett's Hill on the southside of the street. Look for metail gates with a notice board. The postcode is NR1 4EX.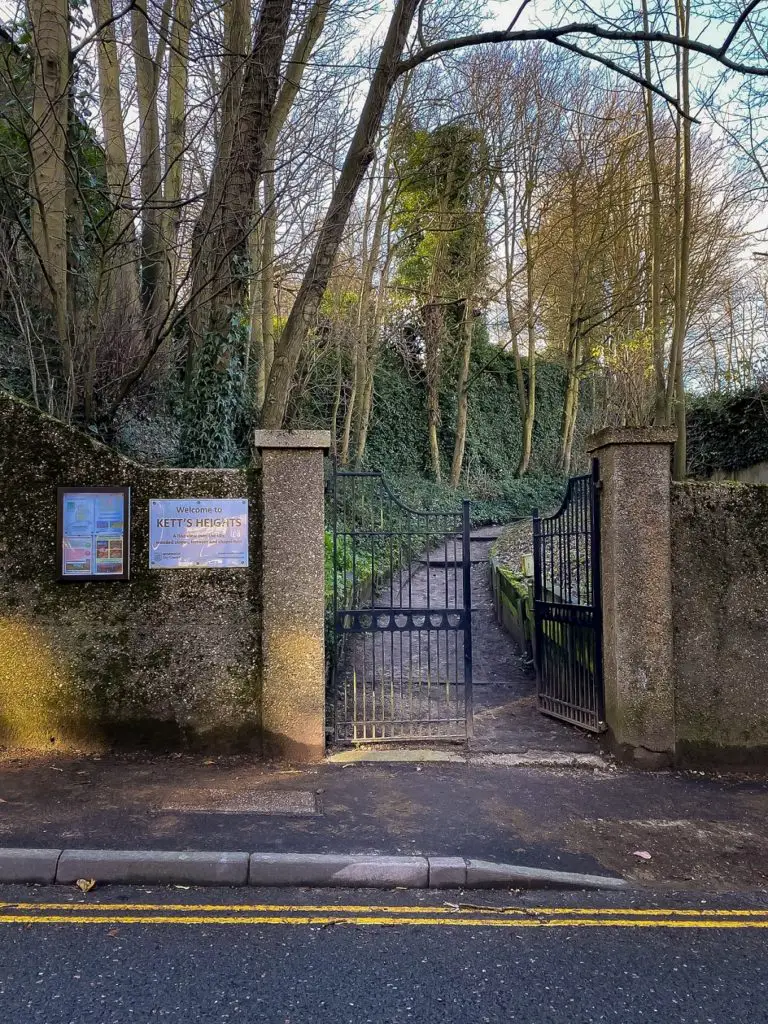 If you want to take the train, Kett's Heights is about a 10 minute walk from Norwich Train Station. If you want to take the bus, take #23, 23a, or 24 and get off at the Vincent Road stop and walk down the hill.
Where Do You Park for Kett's Heights?
There is no designated car park for Kett's Heights. The nearest free car park is a 6-minute walk away on Britannia Road across from the old cavalry buildings.
While there are a few free 2 hour spaces near the entrance to Kett's Hieghts, most of the parking on Kett's Hill itself is for residents only between 8.00 – 18.30 Monday to Saturday. After 18.30 and all day Sunday parking is allowed except on the double yellow lines.
Are there toilets at Kett's Heights?
No, you would have to go to an establishment in the city centre which is only a short walk away.
Who Owns and Maintains Kett's Heights?
Kett's Heights is owned by Norwich City Council, much of the maintenance is done by the Friends of Kett's Heights.
More Things to Do Near Kett's Heights
Kett's Heights is close to the Norwich City Centre so there is lots to do nearby. It's only a short walk to the historic Norwich Cathedral, Cow Tower, and Pull's Ferry. Check out our guide to the best things to do in Norwich for more ideas.