Sometimes as an adult, you need to let loose and have some fun. After all that hard work, you deserve it. The big question is what can you do for entertainment in Norwich?
Don't worry, I have a few ideas for fun things to do in Norwich for adults.
If you want to find out more about events happening around Norfolk, be sure to sign up for our email newsletter here.
Fun Things to Do for Adults in Norwich
Everyone defines fun differently, but whether you are looking for something casual or sophisticated, indoor or outdoor, involving alcohol or not you can find it in Norwich. It's a great city for nightlife, but there are also plenty of things to do during the day. These activities for grownups will put a smile on your face.
*While some of these ideas are family-friendly, check out our list of the best things to do with kids in Norwich for more suggestions when you have the little ones.
#1 Head to a Pub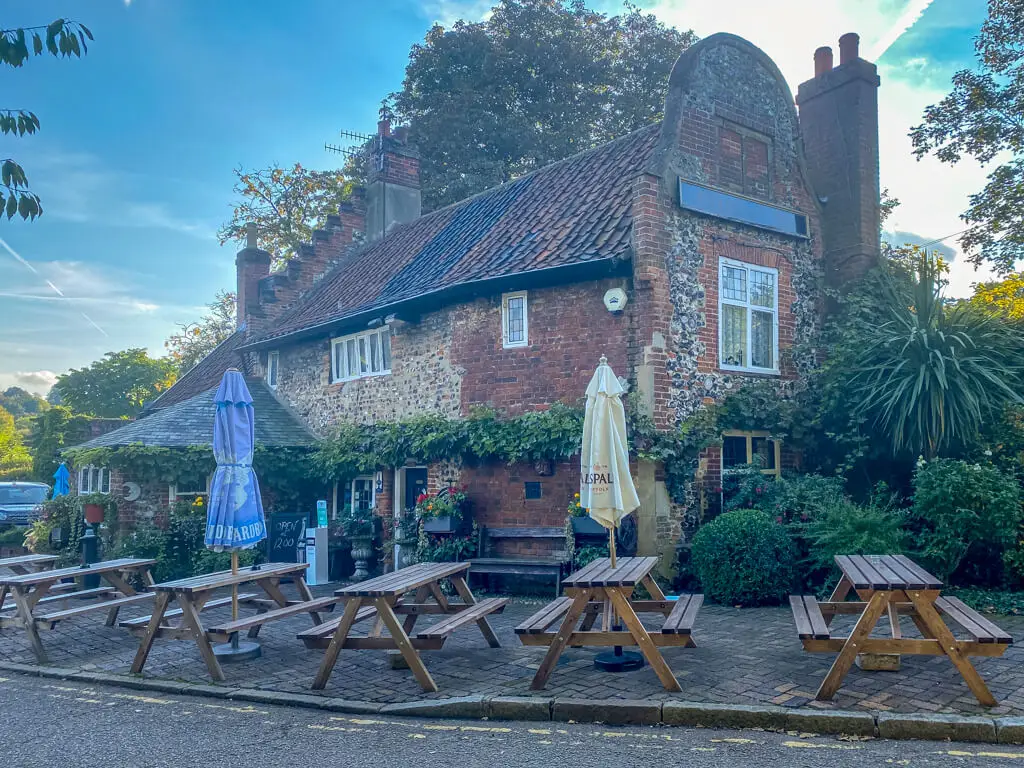 If you want to socialize, relax, and have a drink, you should head to the pub. While Norwich may not have as many pubs as it once did, there are still plenty to choose from. Some serve some pretty tasty food as well.
Our favourite pubs in the city centre are the Murderer's, Lamb Inn, and Adam & Eve. The Lamb Inn has a good-sized outdoor seating area. We also love going to the riverside pubs in Norwich especially when the weather is nice.
Note: The Adam & Eve is one of the most haunted places in Norwich.
#2 Sip Cocktails
If you are more of a cocktail than beer person, there are several places you should check out in Norwich. If the weather is nice, how about enjoying cocktails on the roof at Gonzo's Tea Room or the Rooftop Gardens? It's one of the best things to do in Norwich at night. Other popular cocktail bars in the city centre include Mr Postles' Apothecary, Frank's Bar, and Tipsy Jar.
#3 See Live Music
Music lovers are a bit spoilt for choice in Norwich as there are several places where you can enjoy live music. You don't have to wait for a big concert at Carrow Road, you can find live music most nights if you know where to go. Some of the top live music venues in Norwich are the Waterfront, LCR on the University of East Anglia campus, Epic Studios, and the Brickmakers (just a £5-£7 taxi ride from the city centre).
Additionally, during the Norfolk & Norwich Festival (held annually in May) and the Lord Mayor's Weekend (held annually in July), there are even more options.
#4 Catch a Theatre Show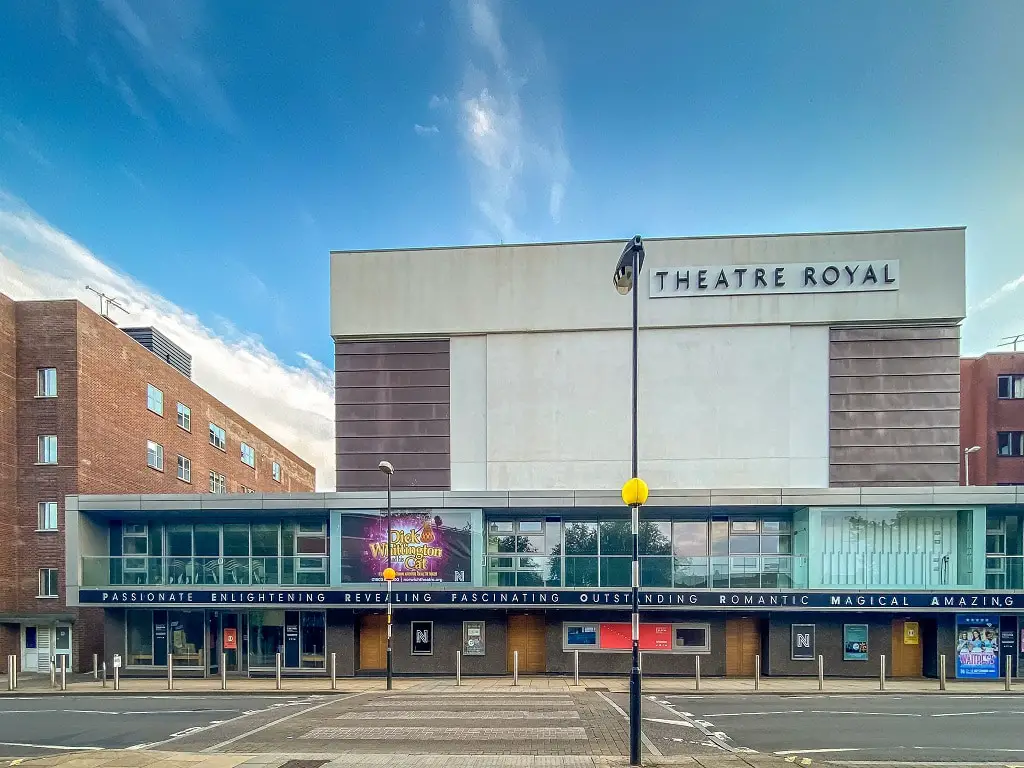 Norwich has several live theatre options, so you can always find something for any taste. If you want something light-hearted, go for a comedy.
The biggest theatre in the city is Norwich Theatre Royal. Now more than 250 years old, it's one of the oldest in the country. While the current building dates back to 1935, it was refurbished in 2007 so it feels quite modern. Now they have expanded to include the new 200-seat Stage Two and the Norwich Playhouse. Check out the calendar for Norwich Theatre Royal here.
You might also like to check out the offerings at the Maddermarket Theatre, which has been described by BBC Norfolk as the people's theatre. Find a listing of their upcoming shows here.
Read about all the Norwich theatres here.
#5 Go Wine Tasting
Wine tasting can be a relaxing and fun experience especially when it's in a self-service environment. At the Wallow Wine Bar, they have over 50 different wines in special machines so you can help yourself. You can choose the wines and control the pace. If you need some food, their Wallow board is excellent with a variety of cheeses, meats, fish, antipasti, and more. Read our full review of the Wallow Wine Bar.
If you would like a more traditional wine bar, you can try the Wine Cellar or the Last Wine Bar. You may also enjoy an event with Norfolk Wine School.
Whichever you choose, it's definitely one of the most romantic things to do in Norwich.
#6 Do Some Shopping
Norwich is a paradise for shoppers with all the choices. Of course, you can find all the typical high street stores like M&S and John Lewis, but the true treasures are the local shops.
You must go to Norwich Market which is one of the oldest and largest outdoor markets in the country. Today, there are 189 individual stalls offering a diverse array of food, crafts, flowers, services, and more at very reasonable prices. It's also fun to just browse around to see what the different merchants have to offer and also admire the street art.
Not far from the market there are lots of independent boutiques in the Norwich Lanes, a local department store (Jarrolds), and two shopping malls (Chantry Place and Castle Mall). When you go to Jarrolds be sure to go down to the basement where you will find some local food (and drink) specialities.
#7 Paddling Down the Wensum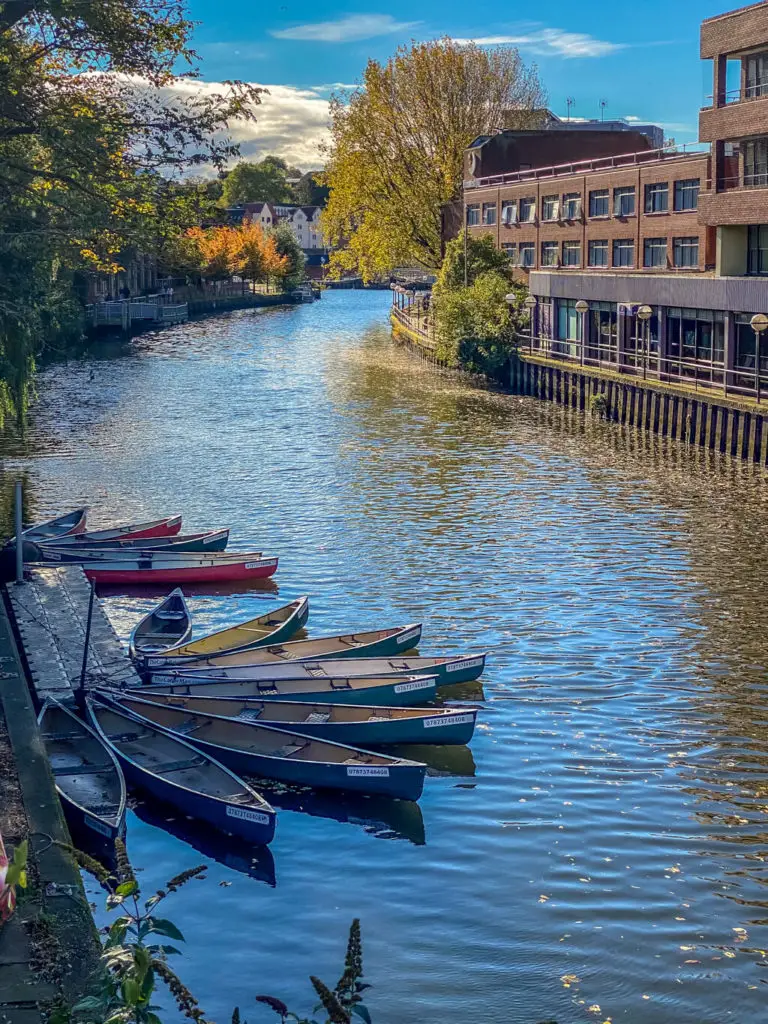 You don't have to venture to the Norfolk Broads or the North Norfolk Coast to go paddling. The River Wensum, which snakes around the Norwich City Centre, is perfect for kayaking, canoeing, or even stand up paddling boarding.
The water is typically very calm so while you don't need to be very experienced, you still need to take proper safety precautions like wearing a life vest. It's a fantastic way to enjoy the scenery and burn some calories too.
You can bring your own gear or there are a few places where you can hire boats including Pub and Paddle and the Canoe Man.
*Nearby Whitlingham Country Park is another popular spot for watersports.
#8 Try an Escape Room
An escape room is part adventure, part intriguing storyline with a mix of puzzles and riddles. Your group needs to work together to solve them to escape. It will be challenging and fun at the same time.
If you want to do an escape room in Norwich check out Escape Hunt at Chantry Place or Cryptic Escape (two locations – Tombland or Rose Lane). For a futuristic twist, try the Norwich VR (virtual reality) Escape Room or Vector VR at Castle Quarter.
#9 Try Skiing, Snowboarding, or Tubing
It doesn't have to snow to be able to do winter sports in Norwich. You can ski, snowboard, or go tubing all year long at the Norfolk Snowsports Club (previously called the Norfolk Ski Club). It was founded back in 1968 and has become one of the largest member run ski and snowboard clubs in the country.
You don't need to have any prior experience to try skiing, snowboarding, or tubing as all sessions are conducted under the supervision of experienced instructors and helpers. They do offer lessons too if you want to learn more.
When you need a break, head to their fully licensed bar (Alm Bar) where you can grab a drink and bite to eat. You can watch all the action or just relax.
Get more information about Norfolk Snowsports here.
#10 Go Dancing
You can definitely let your hair down and boogie in Norwich. Just make your way to Prince of Wales Road where there are plenty of nightclubs to choose from including: Mercy Nightclub, Mantra Club & Lounge, Mojo's Bar & Nightclub and Loft NR1 Gay Nightclub. The University of East Anglia students keep things lively.
#11 Enjoy Afternoon Tea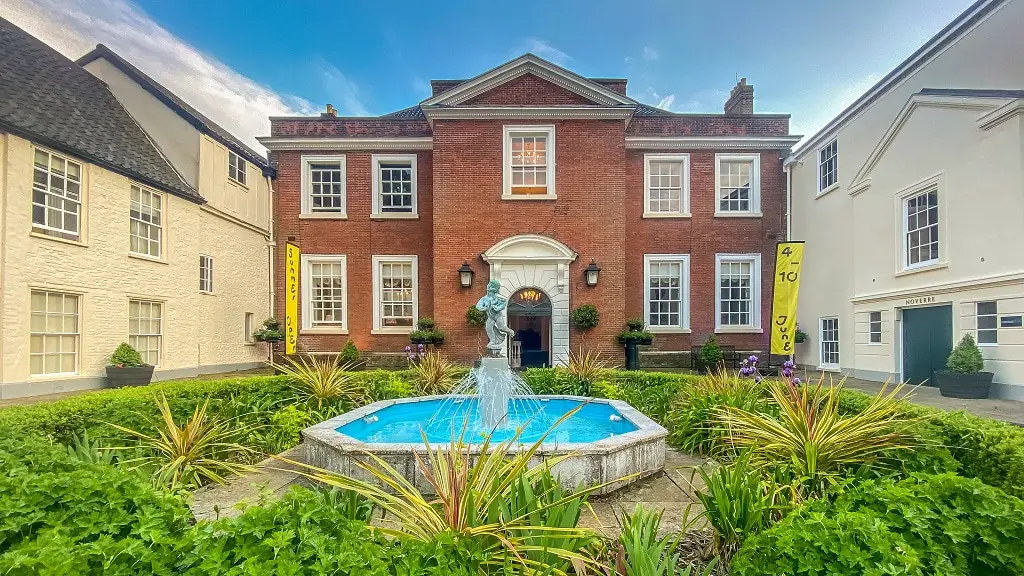 Afternoon tea is always a treat, but the best place to go in Norwich is the Assembly House. They typically offer special themed afternoon teas and also a Beforenoon Tea. Previously, they've done Rainbow Unicorn Afternoon Tea, Halloween Frightful Fancies Tea, the Great British Garden Party Tea, the School of Magic Afternoon Tea, and more. During the holiday season, they serve a new Festive Afternoon Tea each year.
The Grade I-listed Assembly House its name because it was the place for the elite to come together for musical events, lectures, dances, theatre shows, and games. In 1805, it even hosted a Grand Ball to celebrate Lord Nelson's victory at the Cape of Trafalgar.
Some parts of the building date back to the 13th century, but the main halls were designed by Georgian architect Thomas Ivory in 1754. He made sure the Assembly House would impress even the most prestigious guests with a sweeping driveway, high ceilings, elaborate crystal chandeliers, and grand fireplaces.
#12 Play Laser Tag
When you play laser tag, it's like you've been transported into a video game. Players use infrared-emitting light guns to shoot at designated targets in the arena and on opposing players. You will be having such a good time playing you won't even realize you got a bit of a workout too. Like a video game, a score is calculated and a winner is crowned.
Laser tag is great for groups, but if there are only one or two of you, they will put you with others to make a team. It could be a fun activity for hen and stag parties or an ideal way to spend a rainy afternoon in Norwich.
You can play Laser Tag in Norwich at Quasar.
#13 Go Bowling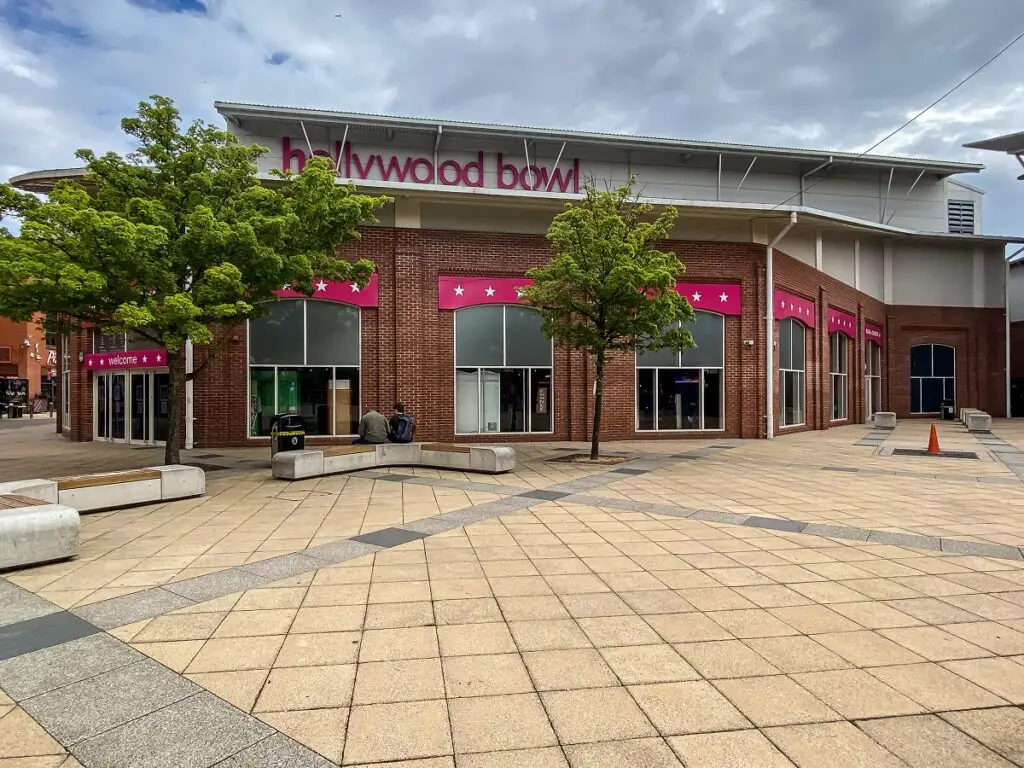 Bowling is a fun activity that pretty much anyone can play. It's an easy game to learn. You don't even have to be a skilled bowler to have a good time. When you get tired of bowling, some bowling alleys also have arcade games to keep everyone entertained.
It's a social game that can be played at a laid-back pace. If anyone gets hungry or thirsty, they will bring the food and drinks to your lane. You could also make it a competitive evening as the machine will calculate the scores for you.
There are three bowling alleys in Norwich – Superbowl UK, Hollywood Bowl, or Bowling House. The Bowling House offers a membership program that provides excellent value, but it's important to note that their lanes are shorter than those found in other bowling establishments.
It's best to book bowling in advance so that you don't have to wait for a lane. Check the websites before you go as they sometimes offer online only specials.
#14 Have some Street Food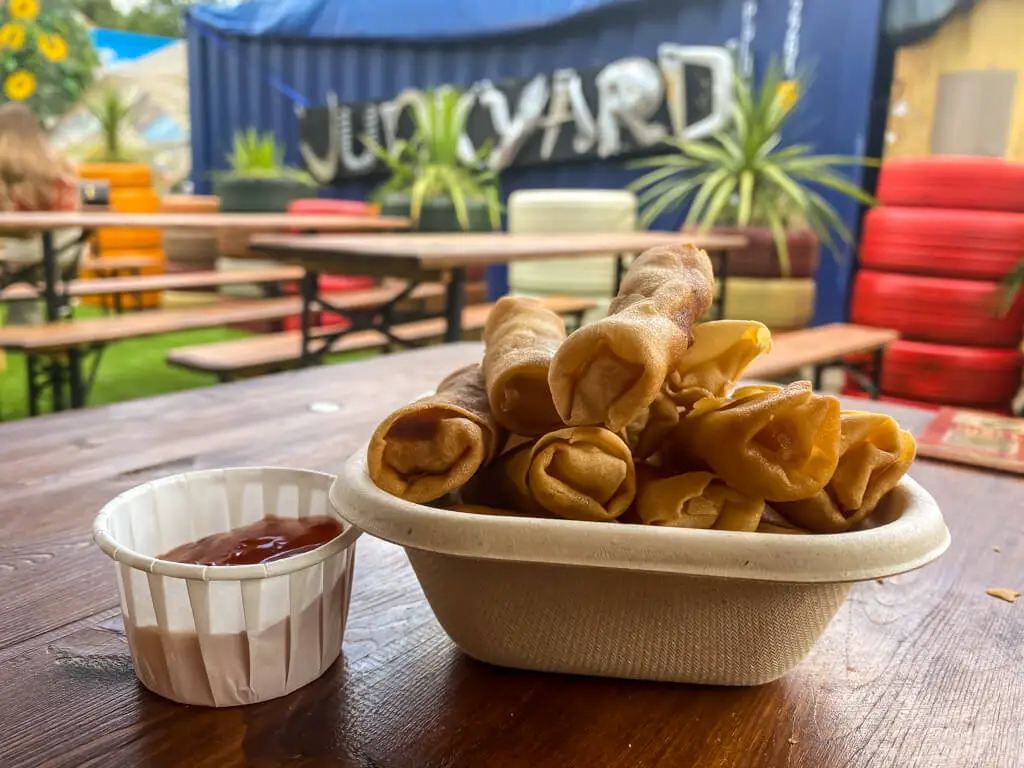 If you enjoy street food, Norwich now has several street food markets. It can be a fun option for a group because everyone will be able to find something they like.
Junkyard Market has been around for a while. There vendors change each week, so it's different experience every time you go. Read our Junkyard Market review to learn more.
In 2022, Castle Social opened in the food court area at Castle Quarter (formerly known as Castle Mall) and Yalm! Food Hall opened in the Royal Arcade. You can also find some street food options at Norwich Market.
#15 Enjoy a Bottomless Brunch
Bottomless brunch is a great opportunity to relax and socialize with friends or family over a leisurely meal. The unlimited drinks, often including cocktails or prosecco, add an element of celebration and make the experience more enjoyable.
Norwich offers a wide range of bottomless brunch options to cater to different tastes and preferences. Whether you're craving classic breakfast dishes, international flavours, or vegetarian/vegan choices, there's a brunch spot for you.
Check out our list of bottomless brunches in Norwich to find the perfect spot for you.
#16 Catch Some Football at Carrow Road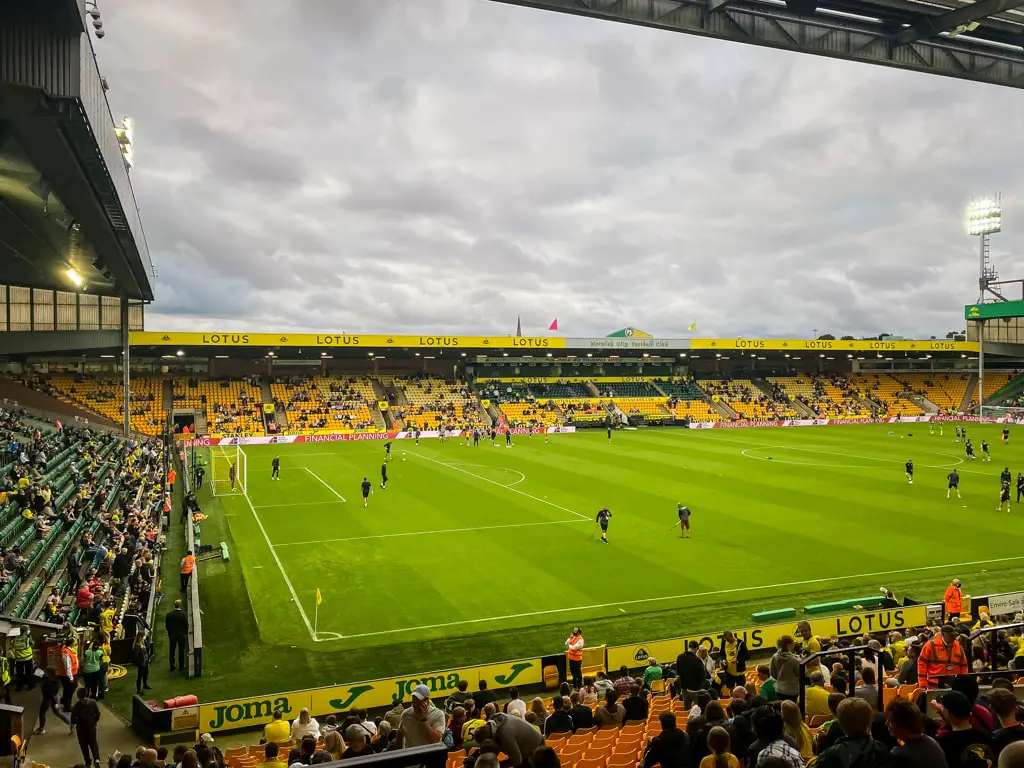 The Norwich City Football Club, nicknamed the Canaries, play their home games at Carrow Road. The majority of seats belong to season ticket holders so casual fans aren't guaranteed a seat. If you want to see a game at the stadium, it is advised to buy your tickets as soon as they are available.
On certain days, you can take a tour of Carrow Road Stadium. You will get to see the pitch, tunnel, changing rooms, trophy room, dugouts, and more. Additionally, Delia Smith's, owner of NCFC and famous chef, has two restaurants at Carrow Road. There is the more casual Yellow's or the upscale Delia's Restaurant and Bar which are open on select days.
What to Do in Norwich for Adults
As you can see, Norwich can be a fun place to visit. Whatever you decide to do, I am sure you will enjoy yourself.
If you would like more ideas, check out our lists for the best things to do in Norwich and free things to do in Norwich.