If you have already made your way through our list of the best things to do in Norwich and want to do something different, we have some ideas. We have put together a list of unusual things to do in Norwich.
Be sure to sign up for our email list here to keep up to date with what's happening in Norfolk.
Note: This post contains affiliate links.  As an Amazon Associate, we earn from qualifying purchases. Please see disclosure for more information.
Unusual Things to Do in Norwich
Norwich may be well-known for its Cathedral, Castle, and Market, but there are also some unique attractions you should check out. If you are looking for something a bit unconventional, here are some things to do off-the-beaten path in Norwich that might surpise you.
#1 Go Skiing
Even though Norwich doesn't get much snow, you don't have to plan a winter vacation to go skiing. Just head to the Norfolk Snowsports Club (previously called the Norfolk Ski Club) where you can ski, snowboard, or go tubing all year long.
Founded back in 1968, it has become one of the largest member run ski and snowboard clubs in the country. The whole family can try (or practice) skiing, snowboarding, or tubing in a fun and safe environment.
All sessions are conducted under the supervision of experienced instructors and helpers so no prior experience is necessary. Kids need to be 5 to ski, 6 to go tubing, and 8 for snowboarding. They do offer lessons too if you want to learn more.
When you need a break, check out their fully licensed bar (Alm Bar) where you can grab a drink and bite to eat. You can watch all the action or just relax.
Get more information about Norfolk Snowsports here.
#2 Do a Self-Service Wine Tasting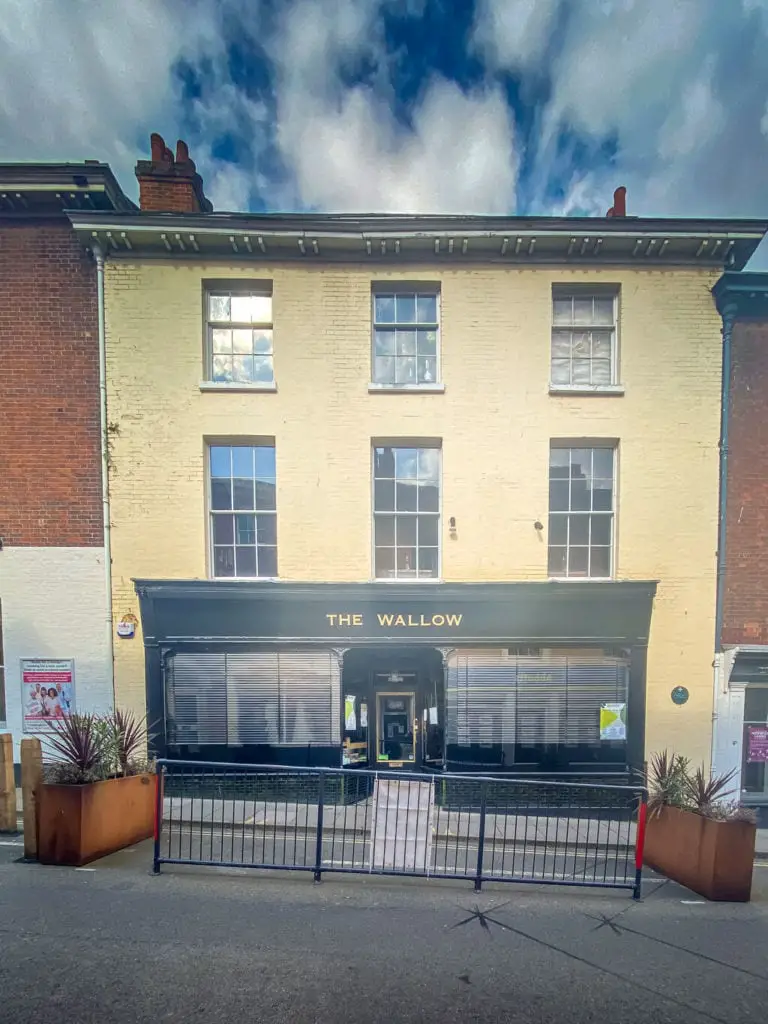 Wine-tasting is one of my favourite date night activities. At the Wallow Wine Bar, it's a bit of a different experience though because it's self service.
They have over 50 wines in six special dispensing machines so you can choose which one and how much to have. It's a fun way to learn more about wine and discover new favourites.
You won't want to have wine on an empty stomach so be sure to get one of their Wallow boards too.
#3 Go on a Ghost Tour
Given its storied history, you shouldn't be surprised to hear that there have been many ghosts sightings in Norwich. Popular attractions like Norwich Castle, Norwich Cathedral, Elm Hill, and more are all haunted.
Since 1998 Norwich Ghost Walks have been running special tours that take you to places known for their strange events. You will hear tales of the lost spirits and ghosts who are still seen and heard all the time.
They offer a few different walks on Tuesdays and Thursdays at 19:30 starting from the Adam & Eve Pub. The two-hour long tours are £12 per person and you need to book in advance here.
Read Tripadvisor reviews here.
#4 Take a Hidden Street Tour
Yes there is actually a hidden street under buildings on Castle Meadow between the market and the Norman Keep. To see it you can take a fascinating tour led by a local storyteller, history enthusiast and performer.
You will learn about the history of Norwich and its trades, houses, and people. Your guide will also share stories about the eerie prison cells, hidden streets and curious tunnels.
Journey down two flights of stairs to explore the layers of architecture dating from the 15th century. You can walk on the historic hidden street and explore the undercroft lying beneath The Shoebox Community Hub.
Note: Unfortunately, the Hidden Street tour is not wheelchair accessible as it involves two flights of steep stairs and uneven flooring.
Get more details about the Hidden Street tour here.
#5 Find the Fossilised Keyboard
One of the lesser-known facts about Norwich is that there is a fossilised keyboard on one of its most historic streets. It was created as an art project in 1999 by Molly Sole who was a student at the Norwich School of Art and Design.
It's easy to walk right over the fossilised keyboard and not even notice. Look down around the corner of Princes Street and Elm Hill, two of the most beautiful streets in Norwich.
#6 Let Loose in the Rage Room
If you want to release your anger or stress in a safe environment or just want to break things without consequences, a Rage Room might be just what you are looking for. You can destroy a range of household objects, from old china to flat screen TVs or computers, with safety gear, cleanup, and supervison provided.
You get to select your 'weapon of choice' from a selection of baseball bats, sledgehammers and crowbars along with a soundtrack. Then you are set loose in the room for 20 minutes to break as much as you want. Once your time is up, they will sweep all the shrapnel left behind is swept away and recycle it.
Please note you must be over 18 to take part in a regular Rage Room session, but they have introduced soft smashables for children aged 12 and over.
Find out more about the Rage Room here.
#7 Try a VR Escape Room
An escape room is part adventure, part intriguing storyline with a mix of puzzles and riddles. Your group needs to work together to solve them to escape. It will be challenging and fun at the same time.
While you can find escape rooms everywhere, there is one in Norwich that is a bit different. Norwich VR runs virtual reality escape rooms that use the latest cutting edge technology.
The HTC VIVE Pro headsets provide true-to-life precise tracking, ultra-vibrant colours and uber-realistic sounds so it's like you can be transported to what feels like a realistic scene in seconds. The adapters are wireless so you don't have to wear a backpacks or worry about wires.
The virtual reality escape room is recommended for ages 12 and up. Get more information and book here.
#8 Walk around Rosary Cemetery
Rosary Cemetery was the first non-denominational burial ground in the United Kingdom and in 2010 was granted Grade II listed status. It was established in 1819 by Thomas Drummond, a retired non-conformist minister, who wanted a cemetery where anybody could be buried with the service and minister of their choice.
The first burial in the cemetery took place in November 1821. Ann, the wife of the founder Thomas Drummond who had died in 1819 and had been buried at the The Octagon Chapel was reinterred in the Rosary Cemetery. When Thomes died in 1852, he was buried in the same plot as his wife.
The Rosary Cemetery is quite large at about 13 acres and more than 18,000 people are believed to have been buried there. Some of the notable burials including members of the Colman family, surgeon Emanuel Cooper, and painter Leslie Davenport.
On select days they offer guided tours (confirm dates here) or you can just walk through the cemetery on your own. I like to read the gravestones and admire the wildflowers (if its the right time of year). It's a peaceful place to explore.
Rosary Cemetery is also one of the most haunted places in Norwich. Some visitors have reported meeting a friendly and helpful gardener who has introduced himself as Joe Torris. While the cemetery does not have anyone working for it with that name, there is a gravestone for him. He died in 1849.
#9 Read a book on a building
If you are not looking closely, you might not even notice that the old Eastern Electricity building on Westwick Street has words written all over it. The more than 40,000 words are Sir Thomas More's entire 100-page-long book, Utopia.
First published in 1516, the book was written as a socio-political satire about a perfect, fictional society. More gives us a traveller's account of a newly-discovered island where there is social order based on natural reason and justice, and human fulfilment is open to all. The contrast between this rational society and the practices of Europe is highlighted.
The words from the book were painted on the exterior walls of the building with lime whitewash in 2006 for the EASTinternational contemporary exhibition. The artist Rory Macbeth got permission from the property developer Targetfollow and with the help from his team and a cherry-picker, the art was completed across several weeks.
At the time the artwork was done, it was assumed that the building would be demolished the next year. Today, more than a decade later, the building remains standing with Macbeth's work is still in tact.
If you enjoyed the Utopia Building, you might also want to check out our Norwich street art guide.
More Ideas for What to Do in Norwich
Be sure to check out our other posts about Norwich for more suggestions:
Things to Do in Norwich with Kids
Things to Do in Norwich when it Rains
Fun Things to Do in Norwich for Adults
Romantic Things to Do in Norwich
Things to Do in Norwich for Free
Things to Do in Norwich at Night
Disclosure: This post contains affiliate links. This means we will receive a small commission for some purchases made using links in our blog with no additional cost to you.  Please be assured we would not promote any product unless we believe that our readers will also benefit.  The commission does not influence the editorial content of this site.