Holkham Beach is a place that you need to see to believe. You don't realize how far the sand stretches until you walk across it. It's one of the places you must go when you visit Norfolk.
In this guide, I will share everything you need to know to enjoy Holkham Beach and make the most of your time there.
Be sure to sign up here to receive email updates on what's happening in Norfolk.
Photos coming soon.
Note: This post contains affiliate links.  As an Amazon Associate, we earn from qualifying purchases. Please see disclosure for more information.
About Holkham Beach
Holkham Beach is a large sandy beach between Wells-next-the-sea and Burnham Overy Staith. It is part of the Holkham Estate and the Holkham National Nature Reserve.
The Norfolk Coast Path runs along the beach which also has some large sand dunes which formed on old shingle ridges. Behind the beach you will find the pinewoods.
Every list of the best beaches in Norfolk includes Holkham. It has also made many best beaches in the United Kingdom and Europe lists.
Holkham makes for a lovely day trip from Norwich especially in the summer.
Important Things to Know Before Visiting Holkham Beach
Check the tide times: Holkham Beach will be very different depending on the tide level. During low tide, you will find one the largest sandy beaches anywhere. At high tide, most of the beach disappears. Check the tide times here before you visit and aim to go to the beach around low tide if possible.
Don't forget the sun cream: There won't be only shade on Holkham beach, unless you bring your own. The skies can change quickly, so even if you think it will be a cloudy Norfolk beach day, it's best to be prepared. (Check out some reef safe options here.)
Things to Do at Holkham Beach
Holkham Beach is a peaceful place but it is definitely not boring. Of course, you can just relax if you want to, but there are also a few things to do.
Relax in the Sand
At low tide, the sand on Holkham Beach seems to go on forever and there is plenty of space for everyone to spread out. Find your spot, sit down and just listen to nature. If you want to be more active, then you can build a sandcastle, have a picnic, or play beach games.
Spot the Wildlife
Holkham Beach is part of Holkham National Nature Reserve, so it's not surprising that it is a good spot to look for wildlife and do some birdwatching. You might see seals, lizards, birds, butterflies, crabs, and more.
It is an important site for breeding Little Terns, Ringed Plover and Oystercatcher. There are two bird hides west of the car park.
Go for a Dip
The water at Holkham Beach is clean and the waves are huge so it's not unusual to see people wading in the sea. Keep in mind there are no lifeguards so you will need to be careful. For small children, it may be better if they splash around in the little stream that remains when the tide is out.
Grab a bite to eat
When you get hungry, you have two options. There is the cafe at The Lookout by the car park or you could bring your own picnic. You can enjoy your food on the beach.
Go for a walk
The landscape around Holkham makes it ideal for walks. There aren't any steep hills and the area is scenic. Here are a few options for walks.
Holkham to Wells-Next-The-Sea (3 miles one-way)
Holkham Circular Walk (6.75 miles) Download a free map here.
It is also nice just to walk on Holkham Beach or you could also do a circular walk in Holkham Park.
Ride Your Horse
Holkham Beach is one of the few places on the Norfolk Coast where you can ride your horse (although there are some restrictions). They even have parking for horse boxes.
Please be sure to read the most up to date restrictions for horses on Holkham Beach here.
Note: You can't pay for a horse ride or hire a horse at Holkham. You must bring your own horse.
Watch the Household Cavalry Practice
The Household Cavalry Mounted Regiment head to Norfolk for their Summer Camp, usually late June or early July. This is not a holiday, but it gives the troopers and the horses the opportunity to practice in a more relaxed setting
The public can watch the Household Cavalry ride on Holkham Beach. Find out the dates and get more details here.
Facilities at Holkham Beach
You can't miss the striking round building as you walk from the car park to the beach. It's the newish visitor centre called the Lookout, which opened in 2018.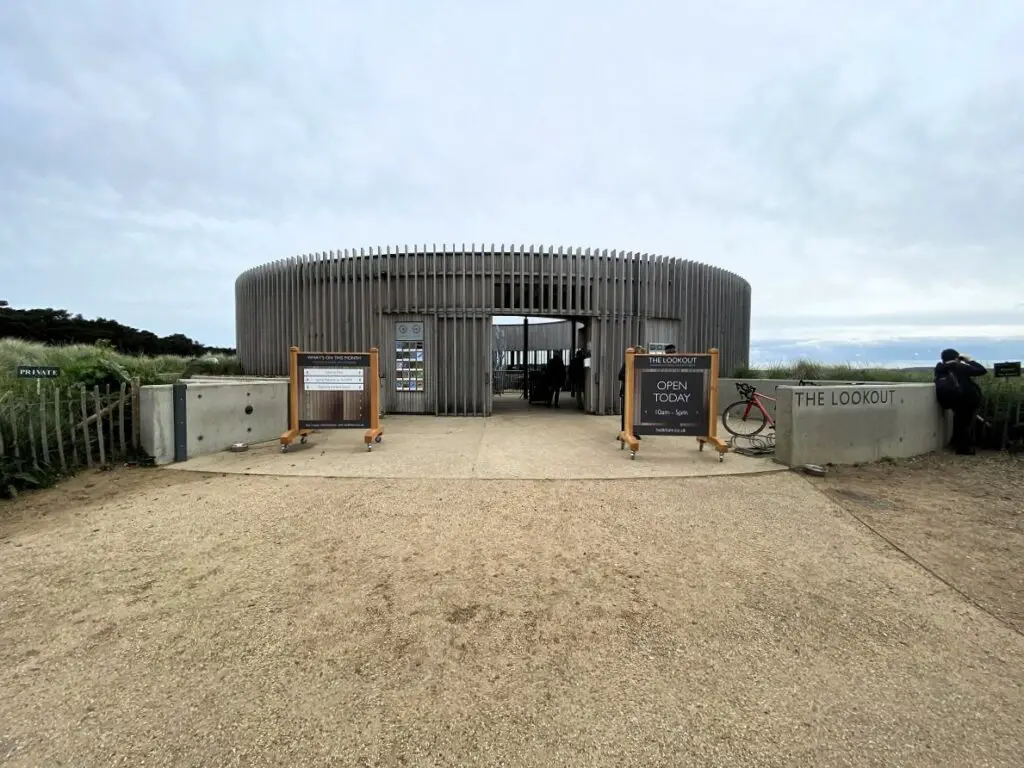 Inside there is a café with seating, toilets, baby changing facilities, and informational boards (including recent wildlife sightings). They also have a few tables outside with lovely views over the landscape.
What to Bring to Holkham Beach
Since Holkham Beach is relatively untouched with only a few facilities it's a good idea to come prepared. Here are a few things you might want to consider bringing with you when you visit. Just keep in mind it is at least a 10 minute walk from the car park to the beach, so don't bring more than you can carry easily.
Chairs – If you don't want to sit on the sand, you could bring a portable chair. Check out some compact foldable options here.
Towels – The water is cold, so you will need towels if you plan on going in.
Picnic Blanket – If you don't want to eat at the Lookout, you can spread your picnic blanket on the beach.
Windbreak – Like many British beaches, it can get windy at Holkham. Check out some colourful windbreak options here.
Sun cream – There is no shade on Holkham Beach, so don't forget your sun cream. Check out some reef safe options here.
Beach games – With all the space, it's the perfect place to play some beach games.
Water shoes – There are some shell fragments lying around, so water shoes are not a bad idea, especially for kids.
Parking at Holkham Beach
Pay and display parking is available on Lady Anne's Drive north of the A149. From there, it's a little bit of a walk (about 10 minutes) through the woods on a wooden boardwalk to the sand.
On busy days, there is also an overflow car park off of the main parking area on Lady Anne's Drive. Another alternative would be to also park at Holkham Hall and walk to the beach.
You can pay by cash or card. It costs £3.50 for up to 2 hours, £6.50 for up to 4 hours, or £10 for all day. When you purchase an all-day ticket you get free parking in Holkham Park on the same day.
They also have 2 electric vehicle chargers available at 50p per KW with a maximum of four hours.
Things to Do Near Holkham Beach
While you can easily spend a full day just enjoying Holkham Beach, there are a few other points of interest worth checking out nearby.
Holkham Park & Holkham Hall
Holkham Park is home to several attractions that are worth visiting and the grounds are scenic and peaceful. You can easily spend a whole day here and not see everything.
Depending on the day that you visit, you may be able to tour Holkham Hall, a stately home where the Earl of Leicester and his family live.  The Palladian-style building you see today was built between 1734 and 1764 by Thomas Coke, the first Earl of Leicester based on designs by William Kent.
Around Holkham Hall, the land is a mix of parkland, farmland, and woodland. It's the perfect place for families because there is so much to do including cycling, a nature walk, woodland play area, ropes course, boating, and more.
There is a cafe, gift shop, and the Holkham Stories exhibition in the Courtyard. Get more information here.
Scolt Head Island
Discover the untouched beauty of Scolt Head Island, a pristine nature reserve just off the coast from Burnham Overy Staithe. Reach this hidden gem by kayak, paddleboard, or stroll during low tide. Alternatively, hop on a ferry during the tourist season around high tide. While there are no facilities, you'll be enchanted by the clear waters, sandy dunes, salt marsh, and abundant birdlife. Keep your eyes peeled for seals too.
Read our guide for Scolt Head Island.
Wells-Next-The-Sea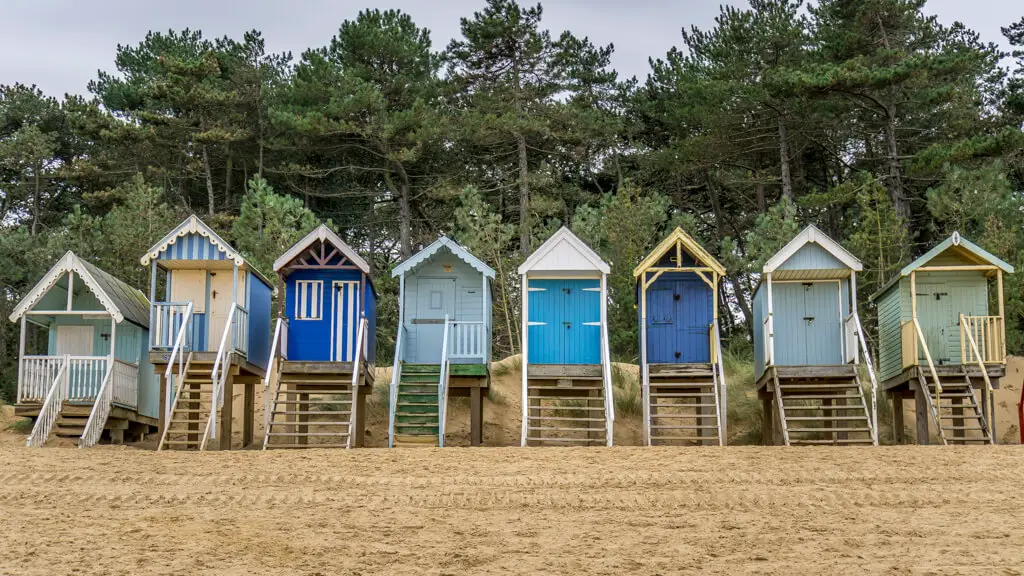 Wells is a charming seaside town, best known for its long row of beach huts on stilts on its huge sandy beach. Like Holkham, there is plenty of space on the sand when the tide is out. Wells does have calmer water too.
The town of Wells-Next-the-Sea is actually about a mile from the beach by the harbour. The quayside area has several historic buildings including the iconic granary building.
During the summer months, you can see the striking sculpture called The Lifeboat Horse in the harbour. There are boat and SUP tours if you want to see the area from the water.
Wells-Next-the-Sea is also a hotspot for the arts in North Norfolk. The town has several art galleries and the relatively new Wells Maltings, an arts, heritage and community centre inside a Grade-II listed Maltings building.
Read about more things to do in Wells-Next-The-Sea.
Where to Stay Near Holkham Beach
Holkham Beach is all about nature so you are not going to find any beachfront hotels here. You can stay a short walk away at The Victoria. It's the closest hotel to Holkham Beach.
Affectionately known as 'The Vic', this classic English hotel and restaurant is located in Holkham village between the beach and Holkham Park. You can choose from 20 rooms (some are actually family suites) in two buildings. Dogs can stay in the 10 rooms in the main building too.
The restaurant at the Victoria focuses on locally sourced food, much of it comes from the Holkham Estate. You can enjoy views over the nature reserve in a stylish setting when you dine at the Vic.
Read reviews of The Victoria Inn on Tripadvisor here.
Check price and availability for The Victoria Inn here.
Alternatively, there are more accommodation options in Wells-next-the-Sea which is only a few miles away. Check out the options here.
Is Holkham Beach Worth Visiting?
Yes. It is a special place because it is peaceful and beautiful. You can enjoy the vast stretches of sand, shallow water, huge skies, dunes and wildlife. After you visit, it is easy to see why Holkham makes so many top beach lists.
FAQs about Holkham Beach
Are there lifeguards at Holkham Beach?
Holkham Beach does not have any lifeguards.
Is Holkham a blue flag beach?
Holkham is not a blue flag beach, but that doesn't mean you shouldn't visit. It's arguably the best beach in Norfolk, but without lifeguards it can't be awarded a blue flag.
What is Holkham Beach famous for?
Holkham Beach is known for its huge sand shore, the ending scene from Shakespeare in Love, and being the spot where the Household Cavalry practice for a short time in the summer.
Is Holkham Beach free?
Yes, but you do have to pay for parking.
Does Holkham Beach have beach huts?
No, but Wells-Next-the-Sea beach (which is the next beach to the east) does.
Is there parking at Holkham Beach?
Yes, there is pay and display parking on Lady Anne Drive.
What was filmed at Holkham Beach?
The most famous movie filmed at Holkham was Shakespeare in Love. You might recognize it from the closing scenes.
Is it safe to swim at Holkham Beach?
There is no lifeguard at Holkham so it's best to use the buddy system even if you are a confident swimmer. For the most part the water is clean and calm but the current can be strong at times so be careful.
Does Holkham Beach get busy?
The car park can get quite busy but the beach is so big you can always find some space.
Are dogs allowed at Holkham Beach?
Holkham Beach is dog-friendly, although from 1st April to 31st August, dogs must be kept on leads in a large area of the beach. Additionally, at times, parts of the beach and dunes may be cordoned off to protect nesting birds.
Is Holkham Beach sandy?
Yes. There is plenty of sand at Holkham Beach especially when the tide is out.
Is Holkham Beach safe for kids?
Yes, but you will need to keep a close eye on them as there are no lifeguards on duty. Also, it might be a good idea for the kids to wear water shoes like these as there will be shell fragments in the sand.
Get more ideas for things to do in Norfolk with kids.
Is Holkham beach a Naturist beach?
In 2013 naturism was banned on the beach at Holkham, but soon after they decided to allow it on a small and remote area. The Holkham nudist beach area is about 1.5 miles west of the main beach entrance from Lady Anne's Drive. You'll see signs requesting that naturists use this beach area only and not the dunes.
Disclosure: This post contains affiliate links. This means we will receive a small commission for some purchases made using links in our blog with no additional cost to you.  Please be assured we would not promote any product unless we believe that our readers will also benefit.  The commission does not influence the editorial content of this site.