While you could simply grab a pumpkin from the supermarket, there's something truly enchanting about venturing to a pumpkin patch. For our family, it has blossomed into a cherished tradition, infusing our seasonal festivities with joy, laughter, and a touch of adventure.
If you want to pick your own (PYO) pumpkin, here are the best pumpkin patches in Norfolk.
Be sure to sign up for our email newsletter here to keep up to date with what's on in Norfolk.
Note: This post contains affiliate links.  As an Amazon Associate, we earn from qualifying purchases. Please see disclosure for more information.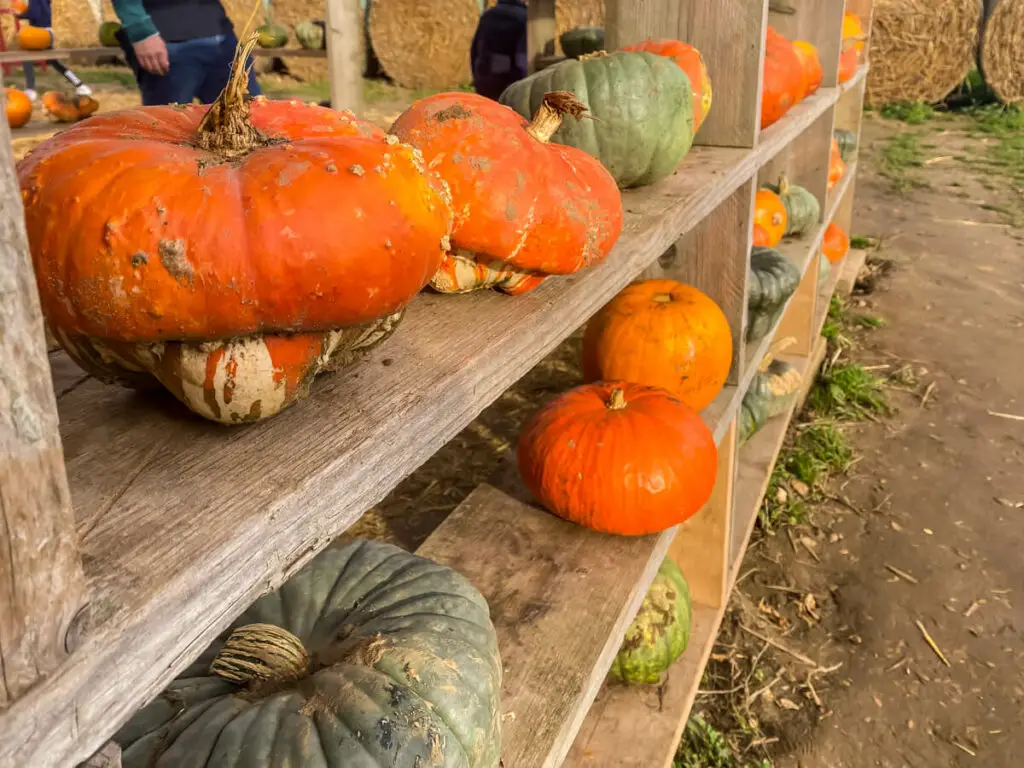 Tips for Pumpkin Picking
Before we get into where to go pumpkin picking in Norfolk, I thought I should share a few tips that will make your outing more enjoyable:
Keep an eye on the weather. If it has rained recently, you will want to wear wellies since the pumpkin patch may be muddy.
Some farms charge based on the size or weight of the pumpkins. Larger ones are usually more expensive.
Most of the PYO pumpkins are not ideal for eating. If you need a pumpkin for a recipe, it's best to ask for a cooking pumpkin. Sweet potatoes or butternut squash can be used as a substitute if needed.
Use the wheelbarrows at the pumpkin patches to transport your pumpkins. If there don't have any, be sure to carry the pumpkin from the bottom and not by the stalk (as it is easy to break the stalk).
Don't leave your pumpkin picking to the last minute, the best pumpkins will be gone!
If you plan on carving the pumpkin, you might find a kit like this helpful.
Check with that the pumpkin patch is open before setting off. Open dates can change due to weather or availability of pumpkins.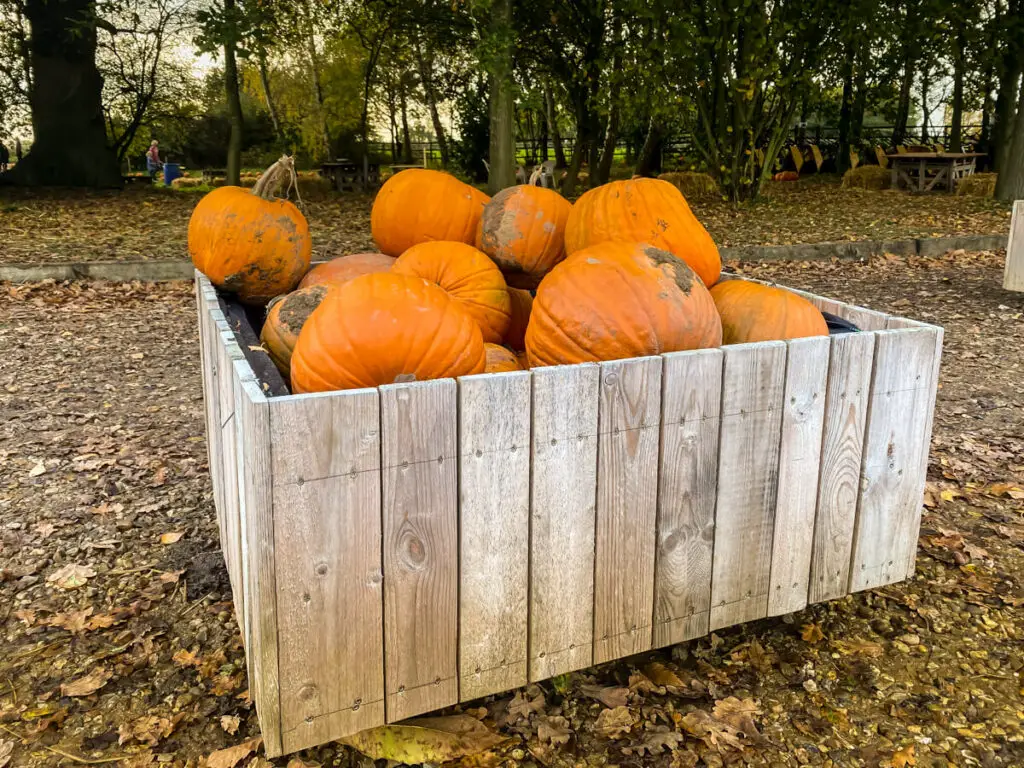 Best Pumpkin Patches in Norfolk
You have quite a few pumpkin patches to choose from in Norfolk. As long as you don't wait until the last minute, you are pretty much guaranteed to find a nice pumpkin at any of these. Just be sure to check with the venue to make sure they are still open, as there can be last minute changes due to weather or pumpkin stock.
Some Norfolk pumpkin patches require you to book tickets in advance, while others are free and you just have to pay for the pumpkin. All are family-friendly, so you definitely want to bring the kids.
When trying to decide which pumpkin farm to choose, consider the location and any other Halloween or autumn themed activities they offer.
You might also want to read about the best Halloweens events in Norfolk.
#1 Pumpkin House in Thursford
Postcode: NR21 0BD
2023 Open Dates: 14 – 15 & 21 – 29 October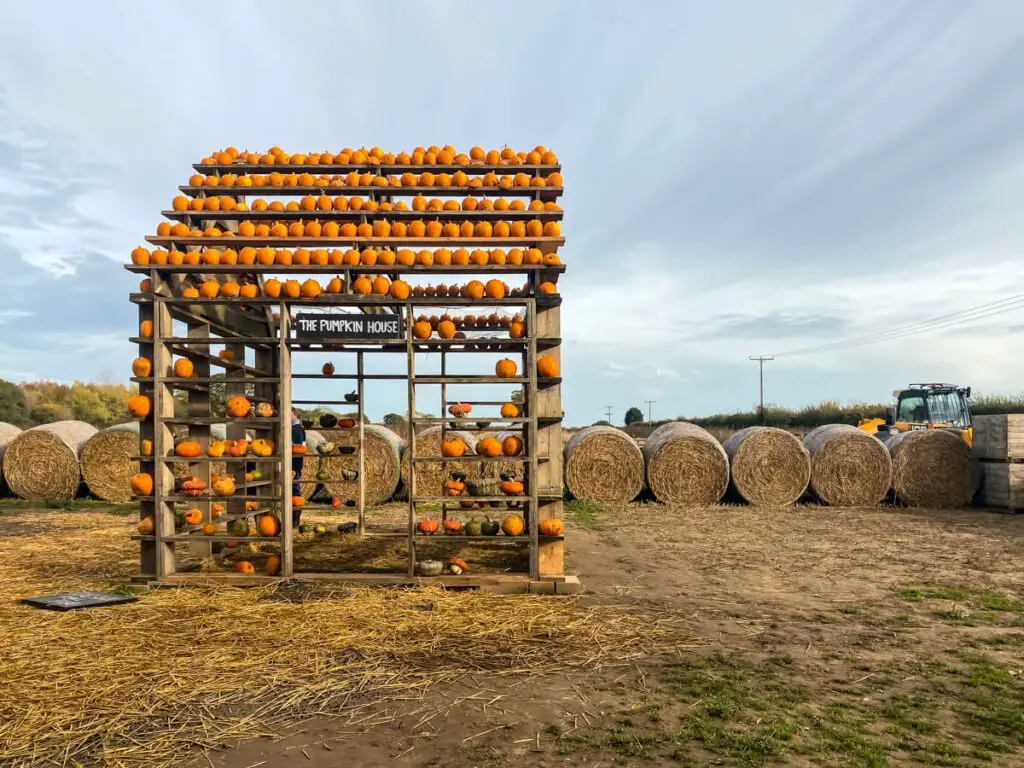 The Pumpkin House is not your typical pumpkin patch. It is handmade out of wood and decorated with over 1,000 pumpkins which are all for sale. Husband and wife team Henry and Victoria Cushing created the instagrammable structure on their family farm in North Norfolk.
While at the farm for this Halloween event, you can also enjoy haybale towers and hay play. They will also be selling a range of Halloween decorations along with pumpkins. Additionally, there will be a pop up cafe site selling hot drinks, homemade cakes, and pumpkin soup.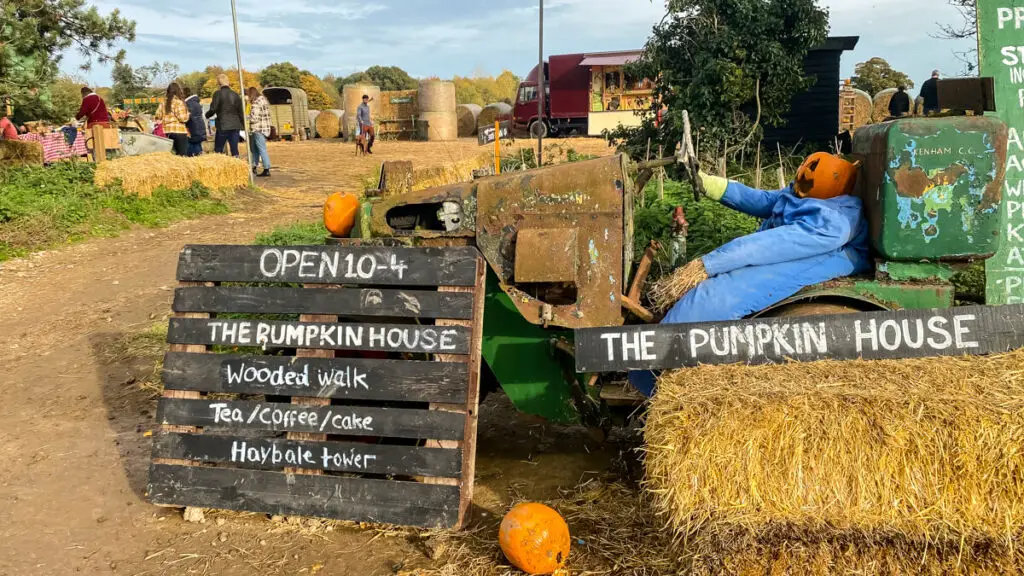 It is free to visit the Pumpkin House and see the vintage farm machinery. There are charges for the pumpkins, select other activities (i.e. wooded walk is £1), and cafe.
You don't need to book in advance and there is plenty of free parking. Get more details here.
#2 Wroxham Barns
Postcode: NR12 8QU
2023 Open Dates: 21 – 29 October
During their Pumpkin Festival, kids can pick a pumpkin from their pumpkin patch and can carve it in their barn. There is also Wilma The Witch's potion school and enjoy all the fun of the Junior Farm and the Fun Park at Wroxham Barns near Wroxham and Hoveton. They also have an after hour pumpkin picking experience on select nights.
In the Junior Farm, you can meet friendly animals including chickens, donkeys, pigs, ponies, turkeys, ducks, alpacas, goats, lambs, and more. There is also a den building area, tree platform walkway, and guinea pig village.
At the Fun Park, you will find an 18 hole mini golf, Wroxham Barns train, pirate ship, toyset ride, go-karts, water wars, sand play, jumping frogs, and more. It's all included with unlimited play! The maize maze is also back.
You should book your ticket in advance. Get details here.
#3 Hirsty's Family Fun Park
Postcode: NR29 4NL
2023 Open Dates: 14 – 15 & 21 – 29 October
Pick your own pumpkin from their pumpkin patch, navigate the maze, see the other crops and livestock, and enjoy their play equipment. They have a barrel train, bale mountain, zipwire, soft play, bouncy castles, go-karting, rope pyramid, trampolines, climbing frames, jumping pillows, and more!
This is a working farm, so it's not open all year round, but there are only select dates for the Halloween Hoot. Entry price for children includes one pumpkin that can be carved onsite.
It's best to book your tickets online in advance as the event does sell out. Get more information here.
#4 Algy's Farm Shop
Postcode: NR20 5PW
2023 Open Dates: 30 September – 31 October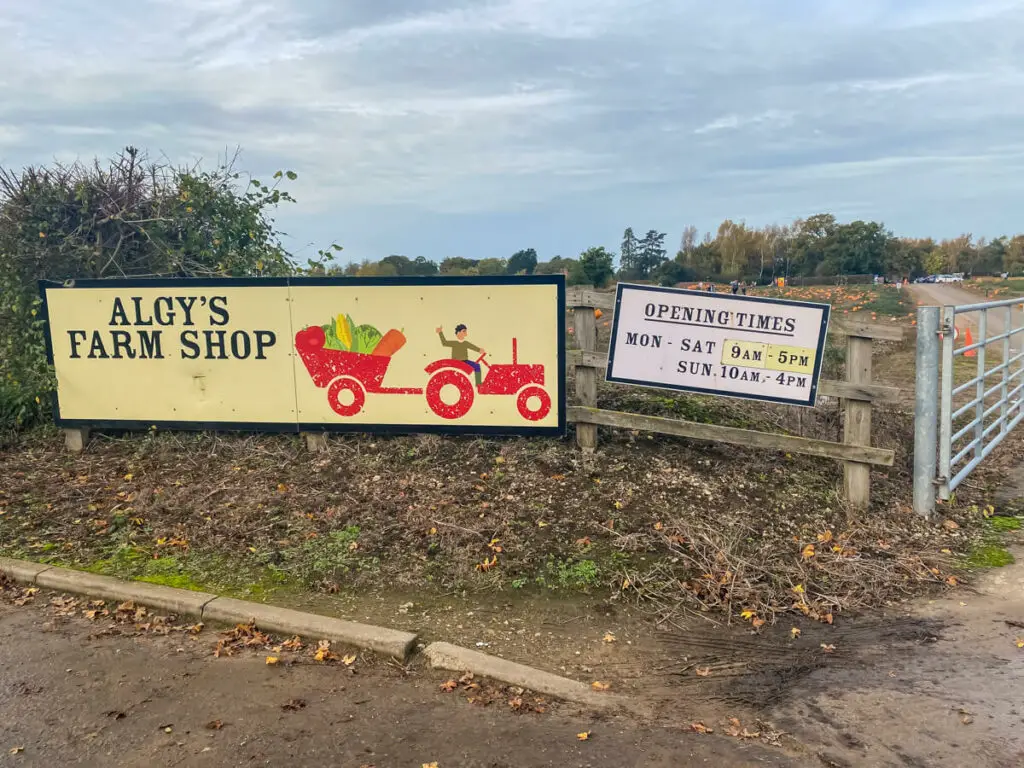 Algy's pumpkin patch has pumpkins of all sizes (which are priced from £2 – £14) and will also be serving hot and cold drinks, Halloween goodies, and their famous popcorn. They will have hot food (pizza, pulled pork, hog roast, hot dogs and bacon rolls) at certain times towards the end of October.
Dogs are welcome and they accept cash and card payments.
Get more details here.
#5 Alby Farms
Postcode: NR11 7HF
2023 Open Dates: 14 – 15, 21 – 27, and 28 – 29 October
At Alby Farms, you can choose from thousands of pumpkins and squash. They will also have local food and drink vendors serving tasty treats.
Unfortunately, due to unreliable WiFi, they cannot accept credit cards, so you will need to bring cash.
Find more information here.
#6 Hill Farm
Postcode: NR12 7BA
2023 Open Dates: 11 – 29 October
At Hill Farm just south of Horstead, they have a large pumpkin patch and on certain days they also have a professional photographer to help capture those special memories.
Keep in mind that in some years they have sold out of pumpkins early. Note that dogs are not allowed in the field and they ask that you park in the field on the left.
You can find out more through their Facebook page here.
#7 Haha Farm
Postcode: NR13 4AH
2023 Open Dates: 14-31 October
The magnificent Pumpkin Patch at Ha Ha Farm is back for another year. Farmer Tom has planted 15 different pumpkin varieties and there is a board by the patch that gives more information about the types. Pumpkins are priced from £2 to £10 and they accept cash or card.
You can also enjoy delicious treats (i.e. scary cakes, biscuits, brownies and witches potions) and this year they will also have boozy hot chocolate.
Their Ghostly Woodland Scavenger Hunt will include spooky characters. They will also have pumpkin carving, face painting, cookie decorating, storytelling, and crafting in the barn for an additional charge.
When we visited they even had a live band.
Get more information here.
#8 Pettitts Adventure Park
Postcode: NR13 3UA
2023 Open Dates: 21 – 29 October
During the October half-term, children can pick their own pumpkin from the pumpkin patch, put it in a wheelbarrow, and then carve a scary face. It's all included (one pumpkin per child) with your admission to Pettitts.
You can save money booking your tickets in advance online here.
#9 Rookery Meadows
Postcode: NR17 1LB
2023 Open Dates: 14 – 15 and 21 – 29 October
Rookery Meadows has a variety of activities for you to enjoy along with pumpkin picking and carving. Tickets are £5.00 per person (free children aged 3 and under) and include parking. Each paid ticket will receive a pumpkin token which can be used against the purchase of pumpkins.
There will also be delicious food and drinks, several Halloween themed craft and gift stalls, and face painting. In addition to their own farm shop, several local businesses will be showcasing their fabulous goods including candles, hair accessories, decorations, bath products, cakes, sweets and more.
Get more information and purchase tickets here.
#10 The Tacons
Postcode: NR29 5AJ
2023 Open Dates: Weekends in October, plus daily during October half-term
The Tacons is a popular farm shop with a PYO pumpkin field. In previous years, they have had pizza and a pumpkin trail.
Check their Facebook page here for the latest information.
#11 Hirsty's Halloween Hoot
2023 Dates: 14 – 15 & 21 – 29 October
Pick your own pumpkin from the Hirsty pumpkin patch, navigate the maze, see the other crops and livestock, and enjoy their play equipment. They have a barrel train, bale mountain, zipwire, soft play, bouncy castles, go-karting, rope pyramid, trampolines, climbing frames, jumping pillows (which were new for 2022) and more!
Children ages 1-2 are £7 and ages 3-16 are £15. Adults are £9. Entry price for children includes one pumpkin that can be carved onsite. It's best to book your tickets online in advance as the event does sell out.
Get more information here.
#12 Delamore's
Postcode: PE34 4PN
2023 Open Dates: Plan to be open every Friday, Saturday and Sunday in October & the 23 – 29 October
Get into the Halloween spirit at Delamore's Pumpkin Patch where you can pick your own pumpkins. They have pumpkins available at various price points. Don't forget your camera, because there are plenty of photo ops there too.
You can also bring your well-behaved fur babies, but please keep them on leads. Parking is free, but be sure to wear appropriate footwear because the ground will be uneven in places.
Get more information here.
#13 Mrs G's Pumpkin Patch in Garboldisham near Diss
Postcode: IP22 2SJ
2023 Open Dates: 21 – 29 October
This pumpkin patch is back for its third year. In addition to the pumpkins, they will have refreshments from local vendors and many activities for the kids including straw pyramids and mini tractors.
You won't need to book in advance but there is a small admission charge that can be paid by cash or card for those over 18. Parking is free.
Please note that dogs are not allowed in the pumpkin field.
Get more information here.
#14 Hillfield Nursery
Postcode: NR14 6PA
2023 Open Dates: 6 Oct until they sell out
Hillfield Nursery has a delightful array of pumpkins and assorted edible squash varieties, waiting for you to discover. For your convenience, wheelbarrows are readily available, making the pumpkin-picking experience an absolute breeze. And the best part? Prices for these vibrant pumpkins start at just £1.99, ensuring that you can take home your ideal pumpkin without straining your budget.
Be it a petite decorative pumpkin or a grand one for carving, Hillfield Nursery offers a remarkable pumpkin-picking adventure. Surrounded by the picturesque Norfolk countryside, this experience is perfect for families and pumpkin enthusiasts alike. Come and enjoy the satisfaction of hand-selecting your pumpkins at pocket-friendly prices in the heart of the Norfolk countryside.
Get more information here.
#15 Banham Pumpkin Patch & Maize Maze
Postcode: NR16 2HE
2023 Open Dates: 14 -15 & 21 – 31 October
Venturing to the Banham Pumpkin Patch & Maize Maze is a breeze – just enter the Banham Zoo car park and follow the inviting pumpkin signs. No prior booking is necessary for this delightful autumn adventure.
Please keep in mind that, while all are welcome, dogs are not permitted on the pumpkin patch, except for guide and assistant dogs. For your convenience, you'll find well-maintained toilet facilities, including options for disabled visitors and baby changing.
The excitement doesn't end with pumpkin picking – there are numerous engaging activities to enjoy. The captivating maize maze will be open for the event, so be sure to wear sensible footwear as it's an outdoor field experience. The small entry fee of £2.50 grants you access to the pumpkin patch, the maize maze, and a host of other thrilling activities, with under-16s enjoying free entry.
Pumpkins are available in various sizes, ranging from just £1 to £5, and if you're in the mood for a pumpkin "whopper," £5 will secure one for you. Payment options are flexible, with both cash and card accepted.
Don't forget to refuel during your visit – a variety of refreshments are available from their fantastic food vendors. To make your experience even more convenient, there are plenty of wheelbarrows and ample parking available.
Get more information here.
#16 Church Farm in Heacham
Postcode: PE31 7JA
2023 Open Dates: 14 – 31 October
Experience the inaugural pumpkin patch event at Church Farm in Heacham, where a vast array of pumpkins awaits your selection. These pumpkins are individually priced according to their size, and you can make your payment using either cash or card. Wheelbarrows are thoughtfully provided for visitors to transport their chosen pumpkins from the field, with the stalks pre-cut for your convenience, or you can handpick one from a crate.
In addition to the pumpkin picking, you'll find numerous opportunities for seasonal photos and an enticing array of items available for purchase. This includes unicorn and carving pumpkin kits, giant tea lights, autumnal wreaths, and dog chews. Feel free to bring your four-legged friends on leads as they are warmly welcomed.
While you're enjoying the pumpkin patch, don't miss out on the culinary delights available. The Nest horsebox café is open daily, serving up tempting treats such as bacon rolls, bubble waffles, and autumn favourites like pumpkin-spiced lattes and toffee apples. For more delectable options, keep an eye out for The Crafty Burger Company, which will be present on most days, and Bordoli Pizzas, who will be serving up their delicious pies on weekends.
Entry and parking are free. Get more information here.
#17 Crown Point Estate
Postcode: NR14 8RX
2023 Open Dates: 14 -15, 21 – 29 October
Embrace the spirit of the season at Crown Point Estate's inaugural pumpkin-picking event! This is their very first year, and they're offering an exciting pumpkin-picking experience that you won't want to miss. The best part? Entry is absolutely free, but booking in advance is essential to secure your spot.
Crown Point Estate is offering free parking, making your visit hassle-free from the start. Once you're there, you can explore the fields to pick and purchase your favourite pumpkins. And for the little ones eager to get creative, children's carving kits are available for purchase.
To make the experience even more enjoyable, wheelbarrows are provided, allowing you to effortlessly transport your chosen pumpkins. As you bask in the autumn atmosphere, you can also indulge in hot drinks and sweet treats available for purchase from Baby Bean Coffee Co. Plus, there are convenient onsite toilet facilities for your comfort.
Crown Point Estate is conveniently located just a 10-minute drive from Norwich City Centre, making it a perfect outing for city dwellers and visitors alike. While you plan your visit, please note that dogs are not allowed on the farm.
Get more information here.
#18 Hockwold Pumpkins
Postcode: IP26 4JN
2023 Open Dates: 14, 15 ,20, 21, 22, 27, 28, 29 October
Introducing another new addition for 2023 – Hockwold Pumpkins! Discover a fantastic selection of pumpkins right from their family-friendly, enchanting spooky barn.
Select your very own farm-grown pumpkins amidst the rustic charm of our barn. They offer a variety of traditional pumpkins and squashes to choose from.
Satisfy your cravings with delicious hot food and beverages, available at selected times courtesy of The Hungry Filly. And don't forget to indulge in some spine-tingling sweet treats from Baker 39.
Admission is free!
Get more information here.
#19 Wizard Maze in Metton
Postcode: NR11 8QU
2023 Open Dates: 21 – 29 October
Get ready for an enchanting pumpkin-picking adventure at the Wizard Maze in Metton, where a bountiful selection of pumpkins await weather permitting. You'll find a splendid array of pumpkin varieties in all shapes and sizes, from colossal gourds to adorable minis plus activities like naming the scarecrows, apple bobbing (with a twist), and exploring the spooky maze. And if the weather cooperates, you might even catch a ride on a compact tractor decked out for spine-tingling train journeys.
This year, due to the remarkable pumpkin harvest, there's a nominal £2 entrance fee for any pumpkin size, with a requirement of two pumpkins per family or group.
While you're busy picking your pumpkins and carving your designs, their welcoming café awaits, offering delightful treats to warm you up. From hot chocolate and pizzas to Frankfurter rolls and other spooky delights, it's the perfect way to refuel after an afternoon of pumpkin-filled fun.
Get more information here.
#20 The Acorn Hut Farm Shop & Plant Centre
Postcode: NR20 3RJ
2023 Open Dates: Tuesday – Sundays in October
Nestled in the serene village of Mattishall, The Acorn Hut Farm Shop has been a thriving part of the community since its establishment in 2019. Rooted in over 30 years of horticultural expertise, this farm shop is a haven for fresh, locally sourced produce, with an impressive 80% of its stock originating from its own shelves or neighbouring food producers.
New for 2023, The Acorn Hut Farm Shop proudly presents a delightful addition to their offerings – the enchanting pumpkin patch. Throughout October, visitors can immerse themselves in the quintessential autumn tradition of picking their own pumpkins. Whether you're searching for the perfect pumpkin for carving or decoration, you're sure to find the ideal gourd amidst their patch.
But the festivities don't end there. From the 26th to the 29th of October, The Acorn Hut Farm Shop hosts a Halloween Event that promises thrills and chills for all ages. With an admission fee of £12.50, you gain access to a multitude of spooky delights, including the opportunity to pick your own pumpkin, partake in pumpkin carving, follow a spooky Halloween trail, visit the witch in the haunted hallows, and enjoy a cupcake and a delightful goody bag.
Get more information here.
Pumpkin Patches Near Norfolk
With all the pumpkin patches in Norfolk, you definitely don't have to leave the county to find your pumpkin, but in case you wanted more options I thought I would share a couple of ideas of places that are not too far.
Undley Farms Pumpkin Patch near Bury St. Edmunds
Postcode: IP28 8BX
UPDATE: The Undley Farm Pumpkin Patch will not be open for 2023. Hopefully it will be back in 2024.
Typically Undley Farms has the largest pumpkin patch in the area along with a huge maize maze and other family friendly activities. They also have a good selection of food including some autumn-themed options.
It is free to visit Undley Farms but you will need to book in advance. There is a fee to do the maize and of course buy pumpkins.
Get more information here.
Wrentham Pumpkins
Postcode: NR34 7NB
Just a few miles south of the Norfolk border, you will find Wrentham Pumpkins. They have lots of different varieties and sizes available and can accept cash or card payment.
You don't need to book in advance.
Find out more here.
Rusty's Pumpkin Patch at Worzal's in Wisbech
Postcode: PE14 7DA
Back for it's third year, Rusty's Great Pumpkin Patch at Worzals Farm Shop is completely undercover which makes it the ideal when the weather is not cooperating. It is also accessible for prams and wheelchairs.
You will find 40,000 homegrown pumpkins of all varieties and sizes plus lots of Autumnal gifts and homeware. There are also sets inspired by TV and Film favourites for fun autumnal family photos.
This is a FREE event and no tickets are required. Get more information here.
Other PYO Opportunities in Norfolk
If you're a fan of these pumpkin patches, don't miss out on other pick-your-own opportunities in Norfolk. Consider visiting one of the apple orchards where you can hand-pick your very own crisp, succulent apples. During the summer months, you will want to try picking your own strawberries and sunflowers.
Disclosure: This post contains affiliate links. This means we will receive a small commission for some purchases made using links in our blog with no additional cost to you.  Please be assured we would not promote any product unless we believe that our readers will also benefit.  The commission does not influence the editorial content of this site.