Wroxham is affectionately known as the 'Capital of the Norfolk Broads' and Hoveton sits just on the other side of the River Bure. Together they make for a fun family day out where you can take a walk along the river, watch the boats go by (or hire your own), and check out other popular attractions.
I'm excited to share with you some of the best things to do in Wroxham and Hoveton. Get ready for a fantastic time exploring these charming destinations!
Be sure to sign up for our email newsletter here to keep up to date with what's happening in Norfolk.
Note: This post contains affiliate links.  As an Amazon Associate, we earn from qualifying purchases. Please see disclosure for more information.
Where are Wroxham and Hoveton?
Wroxham and Hoveton are located along the River Bure just north of Salhouse and Rackheath in the Norfolk Broads. Wroxham is on the south side of the river with Hoveton on the north, but it feels like the two villages have merged together into one. They do share a train station – Hoveton & Wroxham (HXM).
Best Things to Do in Wroxham and Hoveton
The Hoveton and Wroxham area offers a wide range of activities and attractions suitable for all ages and activity levels. These are our choices for the top things to do when you visit Wroxham and Hoveton.
#1 Hire a Boat and Explore
With the calm water of the Broads, it's easy to go boating or do paddlesports – no experience is required. After a short lesson, you will be ready to explore the scenic waterways.
Wroxham is one of the best places to hire a boat, kayak, canoe, or paddleboard. You can choose from one of several companies including Richardson's, Norfolk Broads Boat Hire, TheCanoeMan, Barnes Brinkcraft, and Wroxham Boat Hire. Most offer day boats as well as cruisers that you can sleep in.
#2 Take a Broads Boat Tour
From Woxham, you can get on a Broads Tours boat to explore the Norfolk Broads. Your skipper will provide full commentary explaining the origins of the Broads, showing points of interest along the way, and pointing out local water birds. They also have a licensed bar on board each boat for light refreshments.
Read about more Norfolk Broads boat tours here.
#3 Ride the Bure Valley Railway
The Bure Valley Railway is Norfolk's longest narrow gauge steam railway, so it is a must for train enthusiasts. It takes passengers on a nine-mile train ride through the Norfolk Broads.
This narrow gauge railway starts at Aylsham and takes you to Wroxham (or you can travel in the other direction too). It goes along the Bure Valley Path so if the weather is not too bad you could walk or cycle one-way and then take the train back.
Get more information here.
#4 Check out Miniature Worlds
Wroxham Miniature Worlds covers more than 10,000 square feet making it the largest indoor modelling attraction in the UK. It has some of the world's largest model railways on permanent public display.
The attraction is divided into different zones. You can see model railways in various scales, slot car displays, a city made from LegoTM bricks, a vintage penny arcade, interactive flight simulators, model boat displays, train simulators, and classic toys. They even have some new railway layouts that you can drive yourself.
There is also an onsite café, a small toy shop, and model shop.
#5 Have a Picnic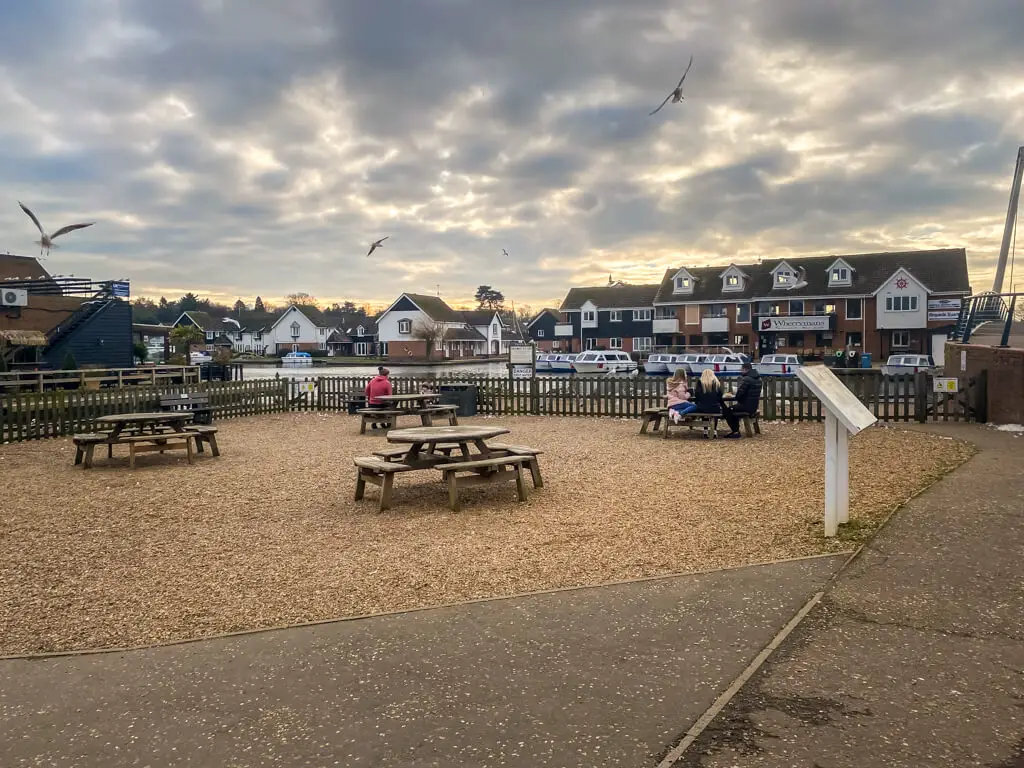 Next to Wroxham Bridge, there is a picnic area with tables. It's a great spot to have your lunch and watch the boats go by. If you don't want to bring your own food, there is Grey's Traditional Fish & Chips nearby.
Just don't leave any food unattended as there are lots of seagulls in addition to the swans.
#6 Mystleigh Indoor Scenic Model Railway
Wroxham Miniature Worlds is not the only model railway in the area, there is also the Mystleigh Indoor 00 Gauge Scenic Model Railway and Railway Art Gallery.
They ask for a donation of at least £5 per person to view for at least two people. This is not an attraction designed for kids but they do allow children over 10 if they are respectful and disciplined. Carried babies and well-behaved dogs are ok too.
You will want to allow 45 minutes to an hour for your visit. The last entry is 14:00 in the winter and 14:30 in the summer.
#7 Go Shopping at Roys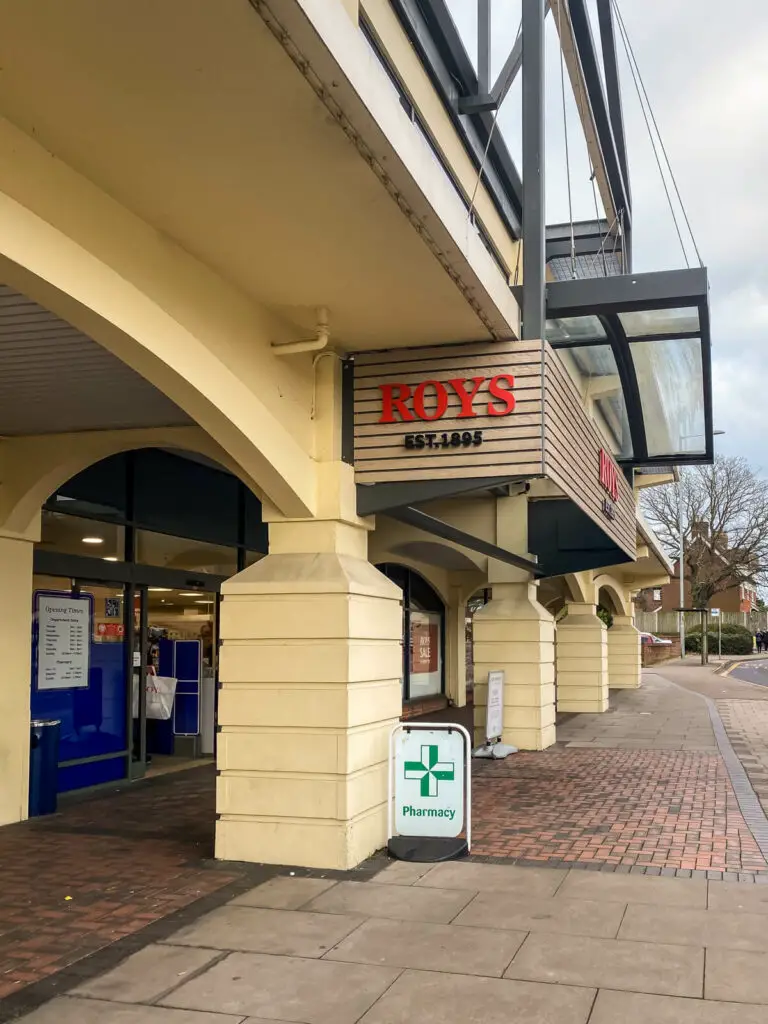 While you will find Roys departments stores around Norfolk and Suffolk, the family run (since 1895) business is based in Wroxham. It was founded by brothers, Alfred and Arnold Roy, in 1895 when they opened their first general store in nearby Coltishall.
In Wroxham, they have five stores – the flagship department store, food hall, garden centre, DIY Centre, and toy shop. It's a unique rural shopping experience where you can find almost everything you need in one place.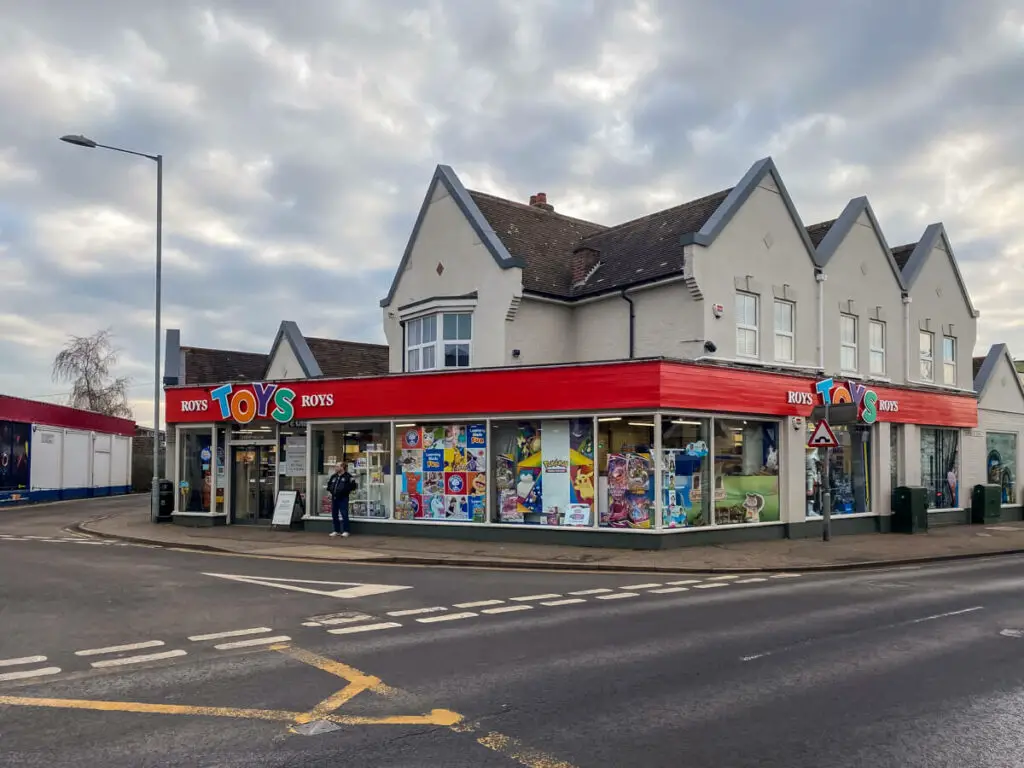 Roys shows their love for the area by stocking over 1,000 local products from over 100 local suppliers and regularly supporting community charities.
Learn more about Roys and what they have to offer on their website here.
#8 Enjoy Some Cheese & Bubbles
Cheese lovers and wine aficionados have to check out Fizz & Fromage. It's the perfect spot for a romantic meal.
Their menu includes dishes that feature ​specialty international and British cheeses that can be enjoyed along with their selection of handpicked wines, craft beers & spirits. Some pairings might surprise you, just try the Stilton with dark chocolate brownie.
Read TripAdvisor reviews here.
#9 Pint (and/or Grub) at a Pub
When you want to take a break and relax, you can head to one of the best pubs in the Norfolk Broads, the King's Head in Hoveton. You can't beat the location!
Along with the friendly atmosphere you would expect they also have a large reasonably-priced menu and garden with river views. They are dog-friendly and have Quiz Nights on Thursdays.
Note that this is also one of the best places to stay in Wroxham and Hoveton. Read more reviews here.
#10 Barton Miniature Railway
Travel alongside the River Bure and reminisce about the golden age of steam with the Barton House Railway. They have two miniature railways (The Midland Railway and The Riverside Railway) that you can ride on, a working full size signalling system, and authentic tickets.
You can watch the signalman at work and also visit their museum of railway artefacts with a Midland and Great Northern theme. If you get hungry, you can nibble on homemade cakes and light refreshments by the river.
This railway relies on volunteers so it does not run everyday. Check their Facebook page here to find out when the trains are running and also learn about their special events.
Things to Do Near Wroxham and Hoveton
Wroxham and Hoveton are conveniently located close to several other popular attractions. If you have extra time in the area, we have some ideas for you.
Wroxham Barns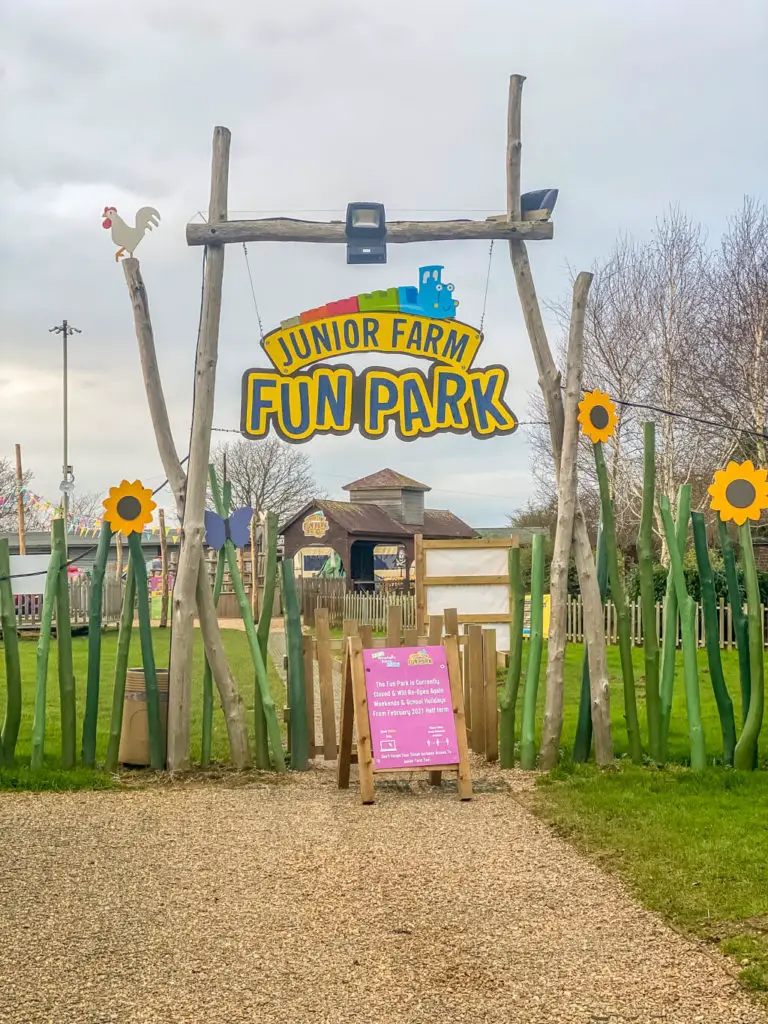 Located a few miles from Wroxham, this is much more than your typical farm with a little something for everyone in the family. While the shops and eating area at Wroxham Barns are open daily, the Junior Farm and Fun Park is only open weekends and school holidays from mid-February through October and in December for their famous Santa Experience.
Kids will love the Junior Farm and Fun Park where they can enjoy various activities, educational talks, a 18-hole mini golf course, and unlimited rides. The rides include the Wroxham Barns Train, Pirate Ship, Toyset ride, Go-Karts, Water Wars, Jumping Frogs, and more.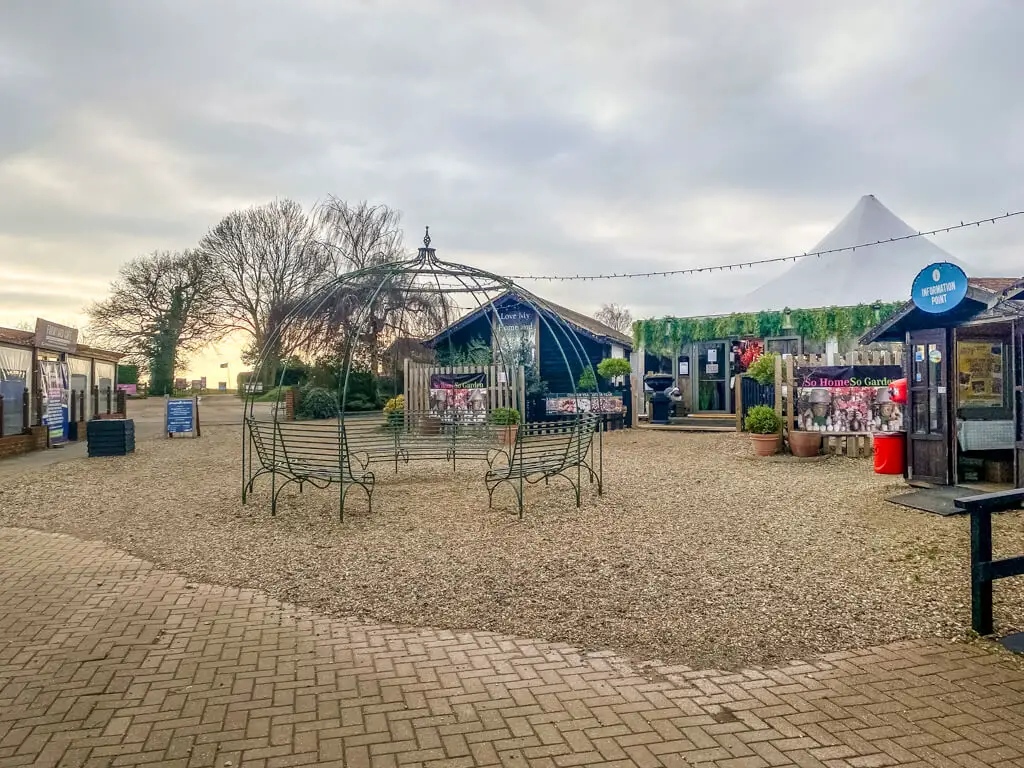 In the Craft Studios, you can watch as craftspeople work their magic. See fudge, stained glass, woodcrafts, photography, ceramics jewellery, and other artwork, food, and drink being made and talk to the experts. It's a good place to shop for unique gifts.
Besides the artisan food in the Craft Studio, there are also onsite cafes where you can get a light bite, including homemade scones, toasties, jacket potatoes and Afternoon Tea. They also have a campsite that is open during the summer holidays.
Wroxham Barns typically holds huge special events for Halloween, Bonfire Night, Christmas (when you can meet Father Christmas), and New Years Eve.
Bewilderwood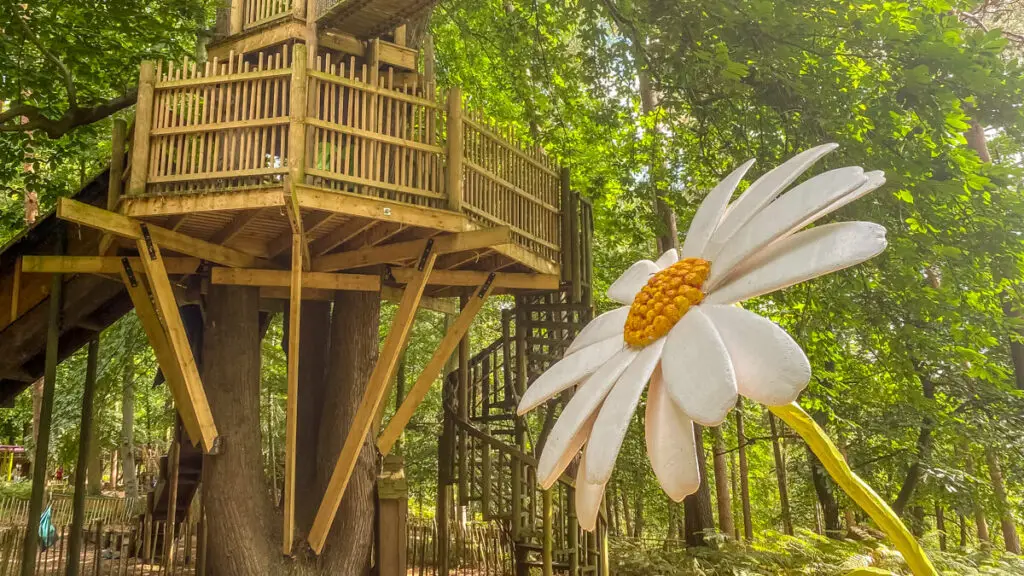 When you visit BeWILDerwood, you are stepping inside the magical and enchanting children's books by Tom Blofeld. Kids can go on a boat ride across Scaaaary Lake, play dress up, get their faces painted, cross Jungle Bridges, visit Treehouses, whiz down Wobbly Wires, solve the marvelous Muddle Maze, brave the slides, build dens, and more.
BeWILDerwood is not cheap, but kids age 2-12 will love it. Plan on spending a full day here.
Learn more in my BeWILDerwood review. You can get a discount for booking online in advance here.
Hoveton Hall Gardens
Just north of Hoveton, you will find the lovely Hoveton Hall Gardens which is open to the public from April to September each year. The 15-acre gardens are part of the Hoveton Hall Estate, home to the Buxton family since 1946.
Try to visit the gardens in May or June when it's in full bloom. There are also two lakes, woodland, formal walled gardens, parkland, and an onsite cafe for visitors to enjoy.
Please keep in mind dogs are not allowed in the gardens.
How long should you spend in Wroxham?
You can probably see most of the attractions in Wroxham and Hoveton in a day, but you will want to stay longer if you want to see more of the area. If you hire a boat to explore the Broads that will take a day by itself.
When is the best time to visit Wroxham?
Summer is the most popular time to visit Norfolk in general and the same applies to Wroxham. If you want to avoid the tourist crowds, you can visit in the spring or fall too.
During the winter, the area is quiet and it can be cold. If you don't mind the weather, it could be a lovely peaceful getaway.
How to Get to Wroxham and Hoveton
Wroxham and Hoveton is one of the few places in the Norfolk Broads that is easily accessible by train. The Bittern Line that runs from Norwich to Sheringham stops at the Hoveton and Wroxham station (HXM) which is a short walk from most attractions. You can catch a train from Norwich and be there in less than 20 minutes.
If you want to drive, it takes about 20 minutes from Norwich. Don't be surprised if there is traffic, the main road (A1151) seems to be a bit of a bottleneck.
There are several parking options In Wroxham and Hoveton. Roys has free parking for their customers and there are other pay and display lots.
Where to Stay in Wroxham
The Wroxham area can be a good place to use as a base for your Norfolk Broads holiday. While you won't find any 5-star resorts, here are a couple accommodation options you might enjoy.
Hotel Wroxham
Hotel Wroxham (formerly known as The Wroxham) wants to make guests feel at home. All their rooms are ensuite with a comfortable bed, flat screen tvs, and free wifi. Some rooms have river views.
They also have an on-site riverside restaurant or you can order room service. There is free parking for Hotel Wroxham guests.
Read Tripadvisor reviews here.
Check price and availability here.
The King's Head
We suggested that you stop in at the King's Head pub, but they also have ensuite accommodations if you want to spend the night. Each room comes with a flat-screen TV, tea and coffee making facilities, and a private bathroom.
The Kings Head by Greene King Inns has free WiFi and on-site private parking facilities. The hotel is planning a refurbishment later in 2022.
Read reviews here.
Check price and availability here.
Is Wroxham a good place to take the kids?
Yes. The area is definitely family-friendly with plenty of attractions aimed at kids.
Is Wroxham and Hoveton worth visiting?
Yes. Wroxham is a popular place to visit for good reason. It's a good base for exploring the Norfolk Broads and has other things to do too.
Disclosure: This post contains affiliate links. This means we will receive a small commission for some purchases made using links in our blog with no additional cost to you.  Please be assured we would not promote any product unless we believe that our readers will also benefit.  The commission does not influence the editorial content of this site.