We are not talking about a weather phenomenon in this post! Snowdrops are the first flowers to bloom each year. They get their name because of the white colour and drooping shape.
While you can see snowdrops all over Norfolk during the season, some places have more than others. When you see a lot of snowdrops together it can look almost like a snow covered area and it is breathtaking.
Let me share the best places to see snowdrops in Norfolk.
Be sure to join our email list here to stay up to date with what's on in Norfolk.
More photos coming soon.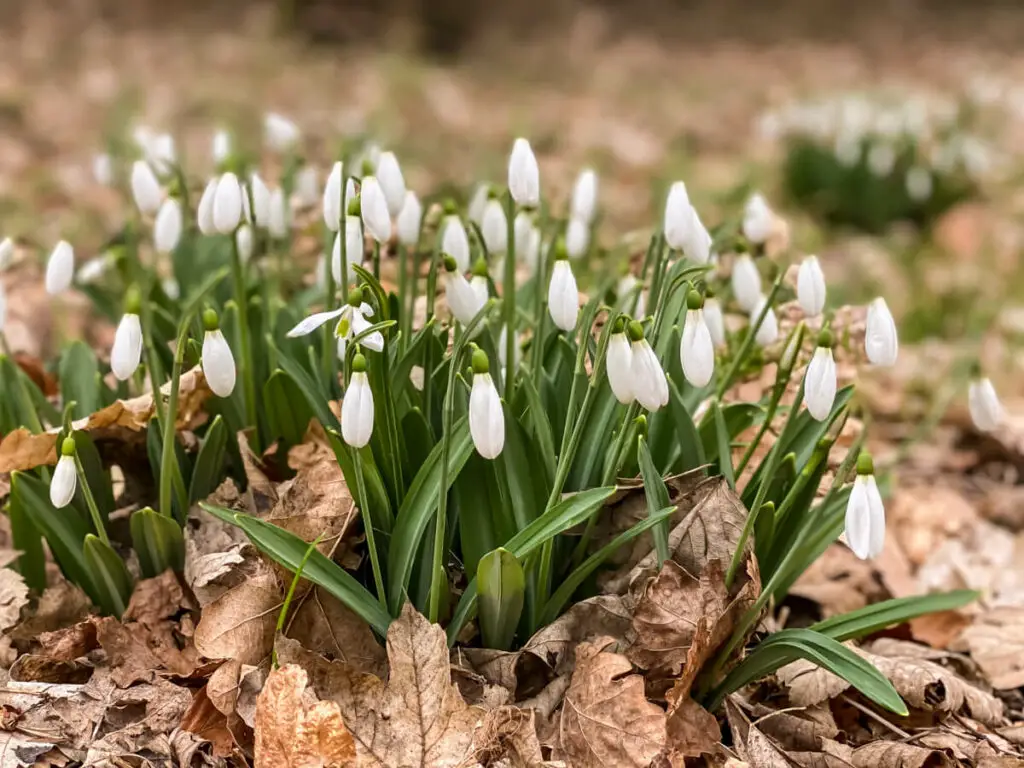 About Snowdrops
The official scientific name for English Snowdrops is Galanthus. They were brought to England from southern Europe and Turkey.
The snowdrop flowers thrive in shaded wooded areas and usually grow in clusters. Since these are the first flowers of spring, blooming when it seems still to be winter, they are symbolic of new life and renewal.
When Can You See Snowdrops in Norfolk?
These white flowers bloom January until mid-March. The best time to see them is usually in February.
Where to See Snowdrops in Norfolk
When you see a lot of snowdrops, it's almost like the ground is covered in snow. Then you look closer and see the individual flowers. Here are the best places to go to see snowdrops in Norfolk.
If you are a galanthophile (snowdrop enthusiast) like me you will want to visit more than one.
Walsingham Abbey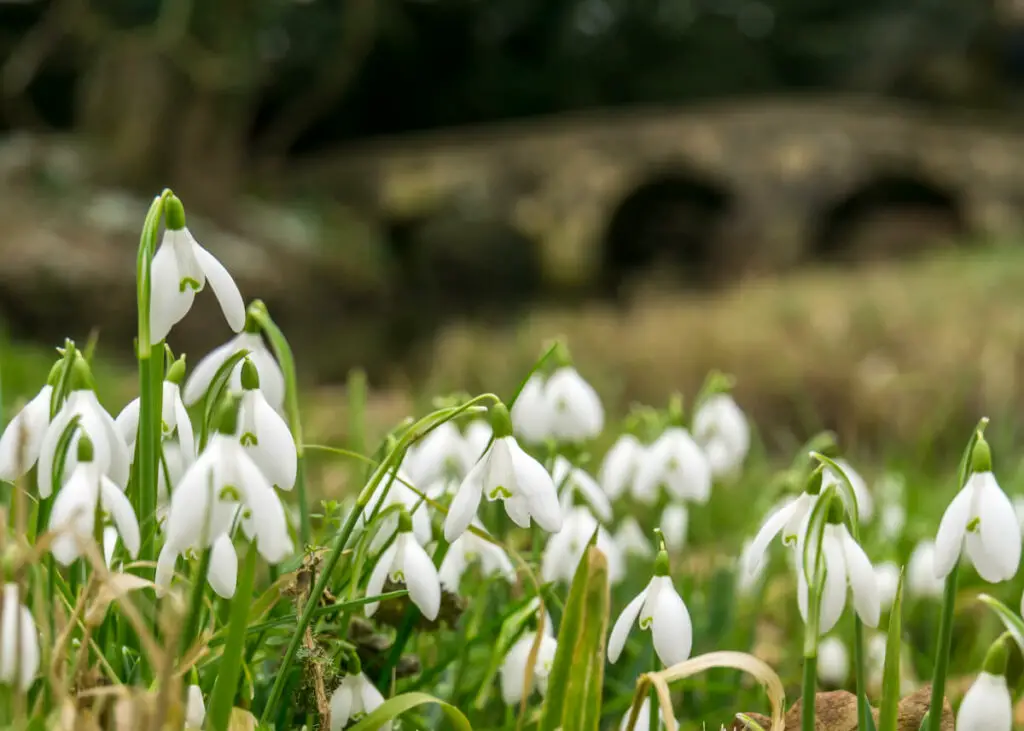 If you are only going to one place in Norfolk to see snowdrops, it should be Walsingham Abbey. It's open every day from approximately the end of January to about the end of February/early March.
You can walk around the grounds (20 acres!) and see the Walsingham Priory ruins in addition to all the flowers. Admission to the Shirehall Museum is also included.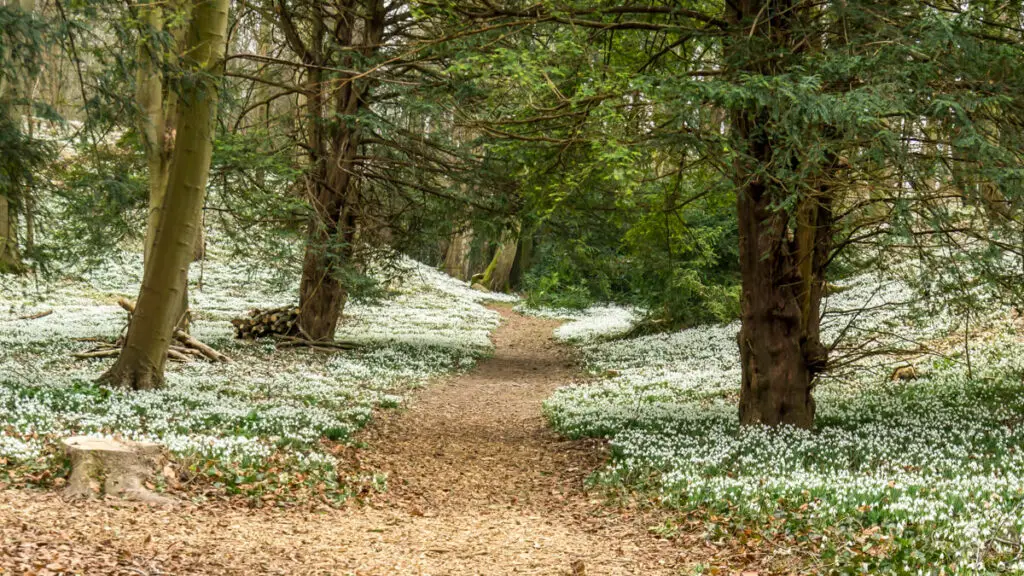 Advance booking is not needed, but there is an admission charge. Historic Houses members can visit for free.
Read our guide to seeing the Walsingham Abbey snowdrops.
Oxburgh Hall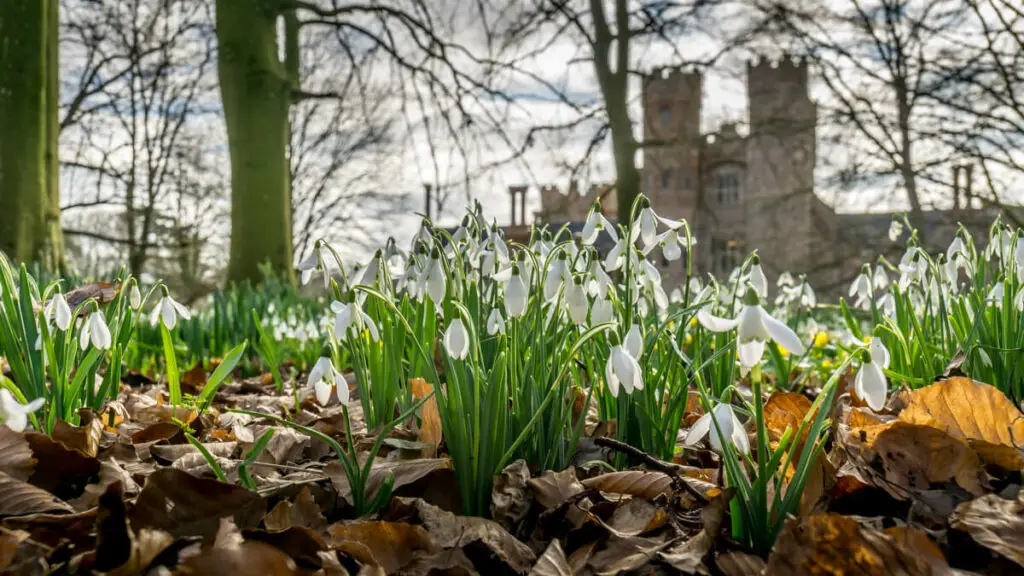 The Bedingham family built Oxburgh Hall in 1482 as a statement of power and it's been their home ever since (they still live in the private apartments). The imposing red brick manor house with a tranquil moat reveals the family's story of Catholic faith and endurance.
The grounds of Oxburgh Hall include formal gardens with a Parterre, kitchen garden, orchard, and herbaceous border and less developed areas like the Wilderness, My Lady's Wood, open meadows, and more.
In late winter and early spring, snowdrops and bright yellow aconites create quite the display in the uncultivated areas. You can also see some around the borders of the formal gardens.
After enjoying the snowdrops, be sure to go inside that Hall so you can learn more about the 6th Baronet. He created much of what you see today, from the Victorian Gothic interiors to the elaborate architectural additions that reveal a romantic view of Oxburgh's medieval past.
On some days, they will offer a special immersive tour that includes seeing the house's priest hole. You cannot book this in advance so please ask about it when you arrive, there is no additional charge.
Admission for non-members is £8.50 for adults and £4.25 for children. While dogs on a short lead are welcome in the gardens, parkland, bookshop and tea room, only assistance dogs are allowed in the Hall.
The Oxburgh Chapel Lodge on the grounds of Oxburgh Hall has been converted to a holiday home by the National Trust. When you stay there, you can visit any National Trust sites for free. Find out more about it here.
Learn more about visiting here.
Sheringham Park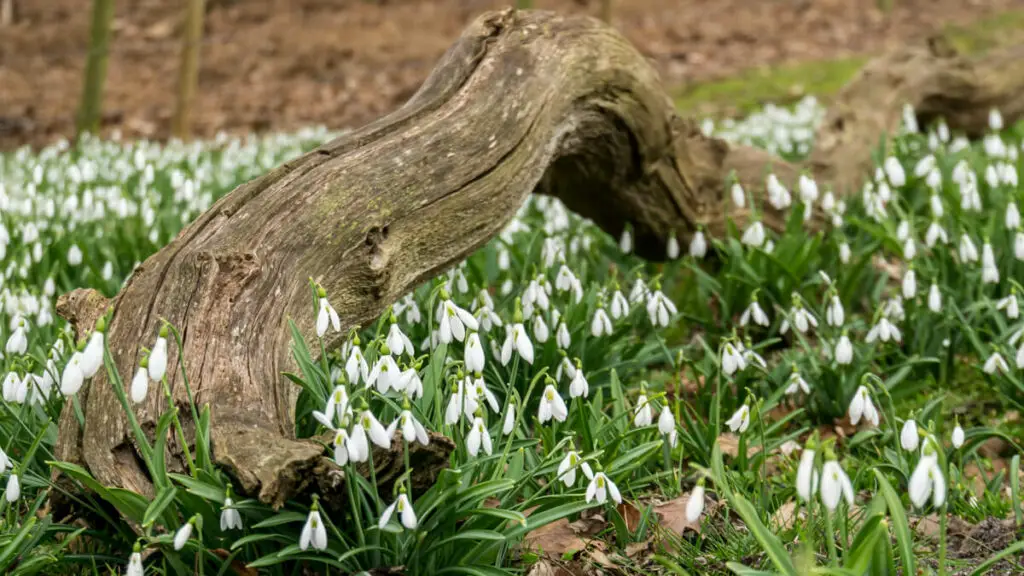 Sheringham Park is the grounds around Sheringham Hall, just south of the town of Sheringham. It was built by the Upcher family and then acquired by the National Trust. While the Hall is privately owned and occupied, the park is open to the public.
During late winter and early spring, Sheringham Park has beautiful displays of snowdrops. You can see the Galanthus plicatus 'Upcher' variety of snowdrops which was named after the Upcher family.
As you explore the park, keep an eye out for deer. It's also a good time of year for birdwatching since the trees are bare, you might be able to see Nuthatches, great spotted woodpeckers, jays, winter thrushes, chaffinches, and more.
You will also want to climb the 192 steps to the top of the gazebo viewing tower for unrivalled views of the North Norfolk coastline. Then take a stroll down the gentle path to the temple which stands above Sheringham Hall. 
Sheringham Park is one of those places you can visit all year. It's also popular during May and June, when the 80 or so species of rhododendrons and azaleas are in full bloom. In May, you will also be able to see bluebells.
While there is no admission charge, if you are not a National Trust member you will have to pay £6.50 for parking. Learn more about visiting here.
Burlingham Woods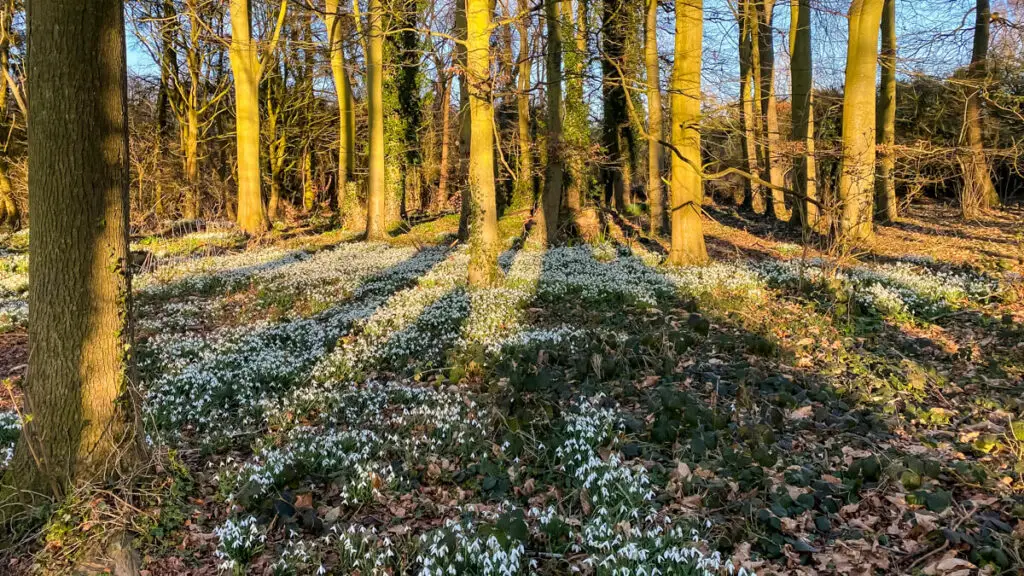 Burlingham Woods is a mixture of old and new woodland, orchards, farmland and hedgerows on land owned by Norfolk County Council. It has a network of footpaths that will take you by large patches of snowdrops and even a modern henge, some of these are suitable for wheelchairs and pushchairs.
To access the area, you can use the small car park by St. Andrew's Church in North Burlingham. There is no charge for parking and it is free to visit Burlingham Woods.
Blickling Estate
Blickling Estate encompasses a grand country house and extensive grounds that includes 500 acres of woodland, 450 acres of parkland, and 3,500 acres of farmland. Head to the Great Wood to see clusters of snowdrops from January through to March. Later in the year, it's the best place to see bluebells in Norfolk.
You can make a day out of it and visit Blickling Hall too. It's a National Trust site, so members can go for free. For non-members, the admission charge is £14 for adults and £7 for children, and they will also have to pay £5 (coin only) for parking in the main car park.
If you want to stay longer, there are also some historic buildings on the estate (like the Blickling Tower) that have been converted to holiday homes by the National Trust. During your stay at one of these properties, you can visit any National Trust sites for free. Check out the options here.
Learn more about visiting here.
Fairhaven Water Gardens
Fairhaven in South Walsham is 130 acres of cultivated, wild and natural plantings in the Norfolk Broads with a lovely display of snowdrops. They have almost 4 miles of woodland pathways and their own private broad. It's a lovely place to walk any time of year and they have some interesting special events.
For best ticket prices, book your visit online in advance. Read our guide to learn more before visiting Fairhaven Water Gardens.
Lexham Hall
The Garden at Lexham Hall is carpeted with both snowdrops and aconites (flower in the buttercup family) during the late winter and early spring months. You can find these flowers all over the woodland garden and the Groom's Wood which is adjacent to St Andrew's Church.
Lexham Hall is a family home and never open to the public, but the gardens are open 5 days a year for charity and also "by appointment". Check out the dates for their snowdrop walks here, the admission charge is £6 for adults, children are free.
Raveningham Gardens
The 5,500-acre Raveningham Estate in South Norfolk has been home to the Bacon family since 1735. They live in the Grade II listed Raveningham Hall which was built around 1750 for Sir Edmund Bacon the 8th and 9th Baronet.
You can see the snowdrops throughout the Raveningham Gardens when they are open in February (everyday except Saturday). You can see the Priscilla Bacon snowdrop named for Sir Nicholas Bacon's mother, among more than 150 other varieties of snowdrop.
Visitors will also be able to see the18th century walled kitchen garden with its large glasshouses, the new lake, and the contemporary sculpture in the gardens. They have a tearoom where you can enjoy light refreshments like soup, homemade cakes, and drinks.
Admission to Raveningham Garden is £5 for adults, £4.50 for concessions and free for children under 16. On Sundays, they raise money for the Priscilla Bacon Hospice.
On Saturday 25 February, you can go on a special tour led by Sir Nicolas Bacon, but you must prebook here.
Note: Raveningham Gardens is not the same place as the Raveningham Centre where the Raveningham Sculpture Trail and Raveningham Lumiere take place.
Horstead House
Horstead House, a picturesque privately-owned residence, opens its gardens to the public for a single day each year, offering visitors a chance to marvel at their snowdrop display. If you're unable to attend the designated open day, don't worry, you can still arrange to visit during February.
As you make your way along the drive towards the house, keep an eye out for the delicate snowdrops that line the path. Venture further into the woods, and you'll discover even more of these enchanting flowers.
Admission to the gardens is priced at just £5, making this a delightful and affordable day out for the whole family. Find more details here.
Disclosure: This post contains affiliate links. This means we will receive a small commission for some purchases made using links in our blog with no additional cost to you.  Please be assured we would not promote any product unless we believe that our readers will also benefit.  The commission does not influence the editorial content of this site.