After rave reviews from Time and Tide's 2020 run in London, you don't want to miss its tour around East Anglia. It's a charming tale based in Norfolk that will entertain you and make you think at the same time.
Keep reading for our review of Time and Tide, don't worry there won't be any spoilers.
Be sure to also sign up for our email newsletter here to keep up to date with what's on in Norfolk.
*We were invited to the press night to see the show so that we could share our experience with our readers. The photos below were provided by Norwich Theatre.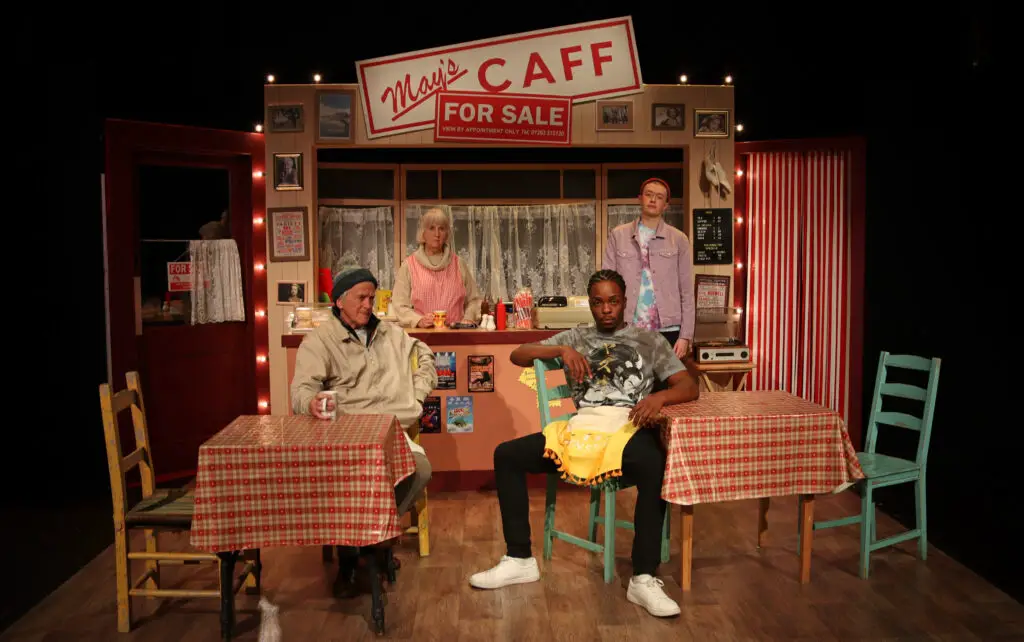 About Time and Tide
Time And Tide is an LGBT drama (with a few laughs) set in a caff in Cromer about dealing with change and unrequited love. You also get insight into rural community life.
There are only four characters in the play. Nemo was played by Josh Barrow, May by Erin Geraghty, Daz by Ishmel Bridgeman, and Ken by Paul Lavers.
It's written by James McDermott who also wrote The Birds and the Bees and Robin Good. We have become big fans of this East Anglia based writer.
Rob Ellis is the Director. He is the co-founder and current Artistic Director of Relish Theatre Company. The tour is produced by Relish Theatre and Norwich Theatre.
Note: There is no affiliation between this Time and Tide show and the Time and Tide Museum in Great Yarmouth.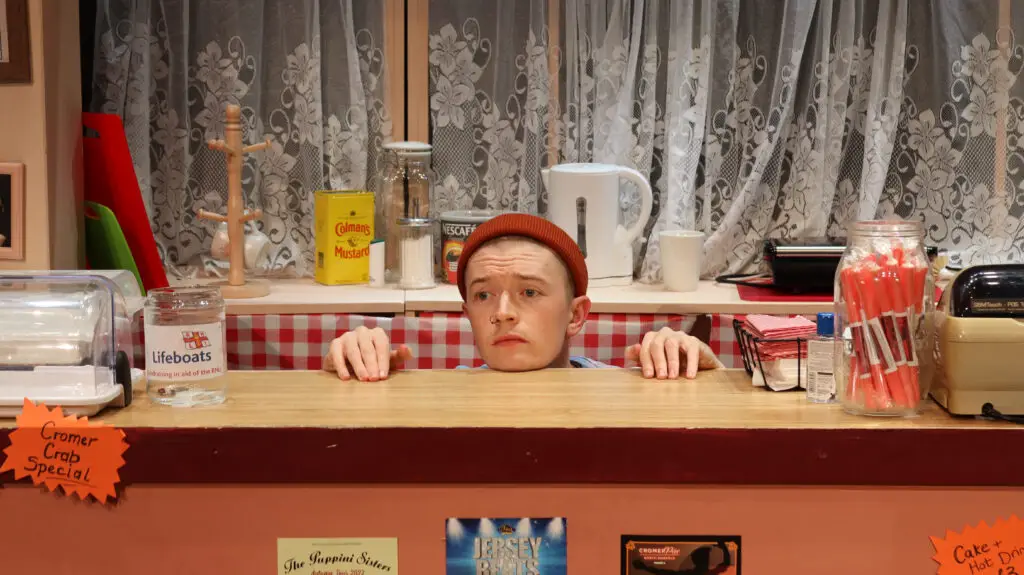 Time and Tide 2022 Tour
Time and Tide will open and close at Norwich Theatre's Stage Two in Norwich, one of the more intimate theatres in Norwich, situated behind the Theatre Royal. It will then go on tour around the region, here is the schedule for where you can catch the show.
29 – 30 September – Norwich Theatre Stage Two, 19:30
1  October – Mercury Colchester, 20:00
4 – 5 October – Theatre Royal Bury St Edmunds, 19:30
6 October – The Seagull, Lowestoft, 19:30
7 – 8 October – Sheringham Little Theatre, 19:30
10 October – Wells Maltings, Wells-Next-the-Sea 19:30
11 October – The Corn Hall, Diss, 19:30
12 October – St Georges Theatre, Great Yarmouth, 19:30
13 October – The Carnegie, Thetford, 19:30
14 October – Fisher Theatre, Bungay, 19:30
18 – 23 October – Norwich Theatre Stage Two, 14:30 & 19:30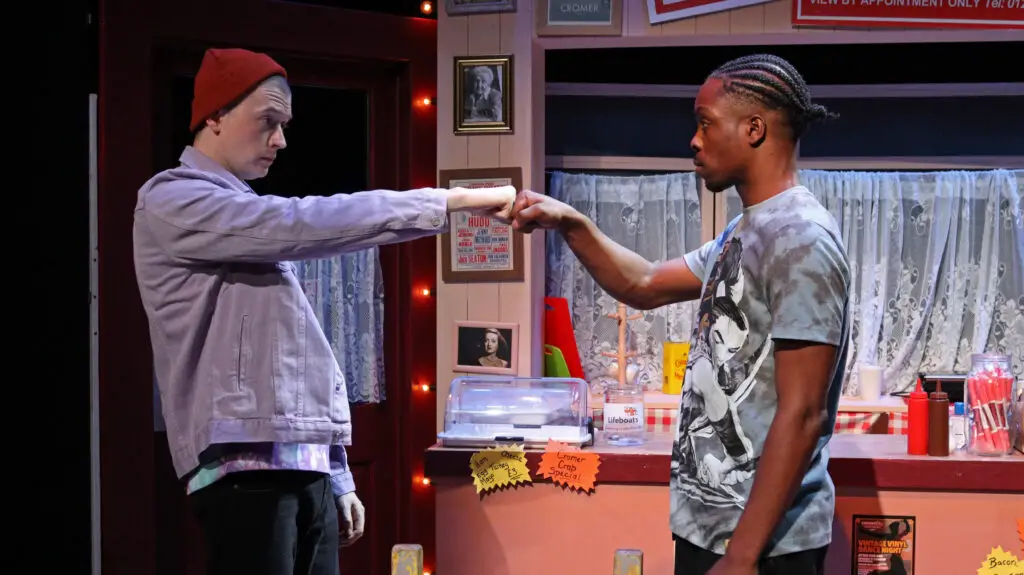 Time and Tide Review
The entire play is set inside May's caff at the end of the pier in Cromer. With the way the set was designed and the seating configuration inside Stage Two, we felt like we were right in the middle of all the action.
I liked that local places were incorporated into the show. They even sourced the vegetables used in the play from Norwich Market's CJ's Fruit & Veg.
The first character we meet is May, who is the friendly, caring, and motherly type. She's lived her whole life in Cromer and is a fixture in the town. Every small community has a May.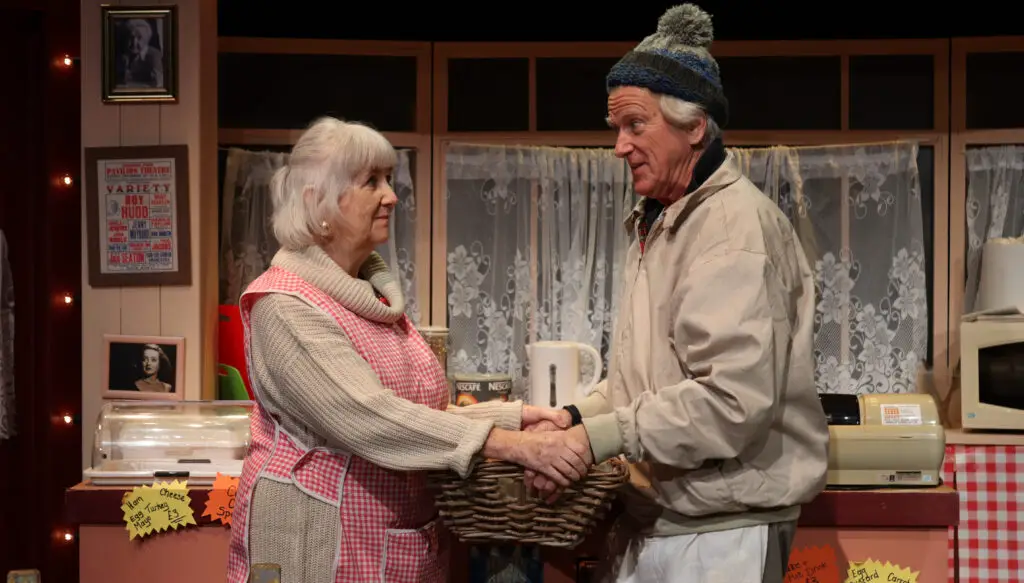 Nemo is May's protege. He has the chance to live his dream by moving to London to become an actor. You would think he would be all smiles as he prepares to move, but his friend Daz has upset him.
Daz is the tough guy who also works in May's caff. He is Nemo's best friend and doesn't want him to leave. The vulnerability he shows is brave and inspiring.
Ken delivers bread to the caff daily. He worries about the fate of small businesses and how they can compete in today's business environment.
The actors brought these characters to life. They worked well together and had their theatrical timing down. It was almost like they were family, and I applaud the diversity of the cast.
Each character has a difficult decision to make. You can see the pros and cons of both sides and are kept in suspense waiting to see what they will decide.
By the end of the play, you can see the growth of the characters. You know that they have made the right decisions for them, even if it wasn't easy. As the saying goes – tide and time wait for no man. Change is inevitable, you have to figure out how to ride the waves.
Many of life's big decisions are hard but deep down you know what you need to do. Sometimes though, you need the help and support of others around you to get you to take that first step – all it takes is a little push.
This entertaining show has depth. You will feel several different emotions throughout the show. While we definitely had a few laughs during Time and Tide, it is a drama that at times pulls at your heart.
You don't want to miss your chance to see Time and Tide in East Anglia.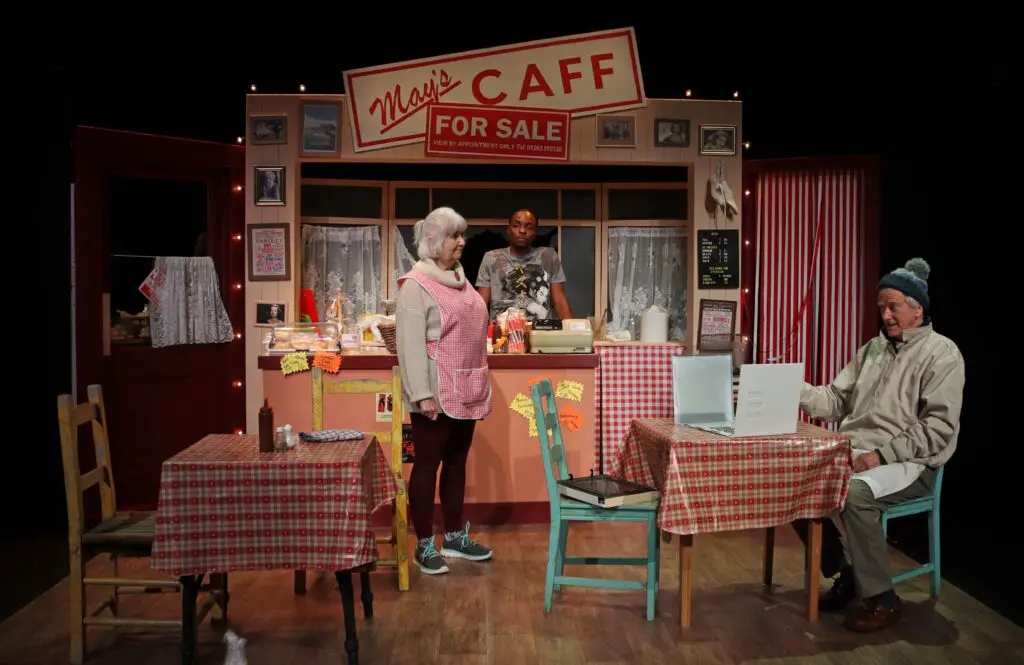 Time and Tide FAQs
How much are tickets for Time and Tide?
Ticket prices range from £10 to £15 depending on the venue.
How long is a performance of Time and Tide?
The show lasts 2 hours 15 minutes including the interval.
Is Time and Tide suitable for young kids?
It's recommended for ages 14 and up due to the adult themes and mild violence.