Anyone that dreams of living in a huge house or has an interest in history, architecture, or art will enjoy a visit to a stately home. In Norfolk, we are lucky to have several stately homes that are definitely worth visiting.
Let me share more about some of the best stately homes to see in Norfolk.
Be sure to join our email community here to find out more about what's happening in Norfolk.
Note: This post contains affiliate links.  As an Amazon Associate, we earn from qualifying purchases. Please see disclosure for more information.
What is a Stately Home?
A large impressive house where an aristocratic family lives or has lived in the past. Sometimes stately homes are referred to as country houses, manors, or halls.
Are Stately Homes Suitable for Kids?
It depends on the home and the children. Some houses will have expensive artefacts, furnishings, and artwork that kids won't really be interested in. In most cases, the gardens of the stately homes are perfect for kids to play around though.
Can You Bring Dogs to Stately Homes?
You should check the poIicy for the stately home you would like to visit. In most cases only assistance dogs are allowed inside houses. Dogs on leads may be allowed in some of the gardens.
How to Save Money When Visiting Stately Homes in Norfolk
Many of the stately homes on our list are part of either the National Trust or Historic Houses.
If you are a National Trust member, you can visit Blickling Hall, Felbrigg Estate, and Oxburgh Hall for free. Get more information about the membership here.
Historic Houses is another national membership program that includes free admission to several of the country houses on our list. Historic Houses members can get discounted or free admission to Houghton Hall, Holkham Hall, Hoveton Hall Gardens, Hindringham Hall, and Mannington Hall. Learn more about Historic Houses membership here.
Not that members of both programs may have to pay for special events.
Visiting Stately Homes in Norfolk
Norfolk is blessed with some truly extraordinary country houses. Each one is different and distinguished in its own way. When you go to a stately home, you have to keep in mind that it is (or in some cases was) the home of an elite family.
Some houses allow visitors to go inside the house while others only allow visitors to visit the gardens.
Norfolk Stately Homes That Allow Visitors Inside
It always feels special when you can go inside a stately home. You get a glimpse of how the family lives and the treasures that they own. Most of these houses also have lovely grounds that you can explore.
Sandringham House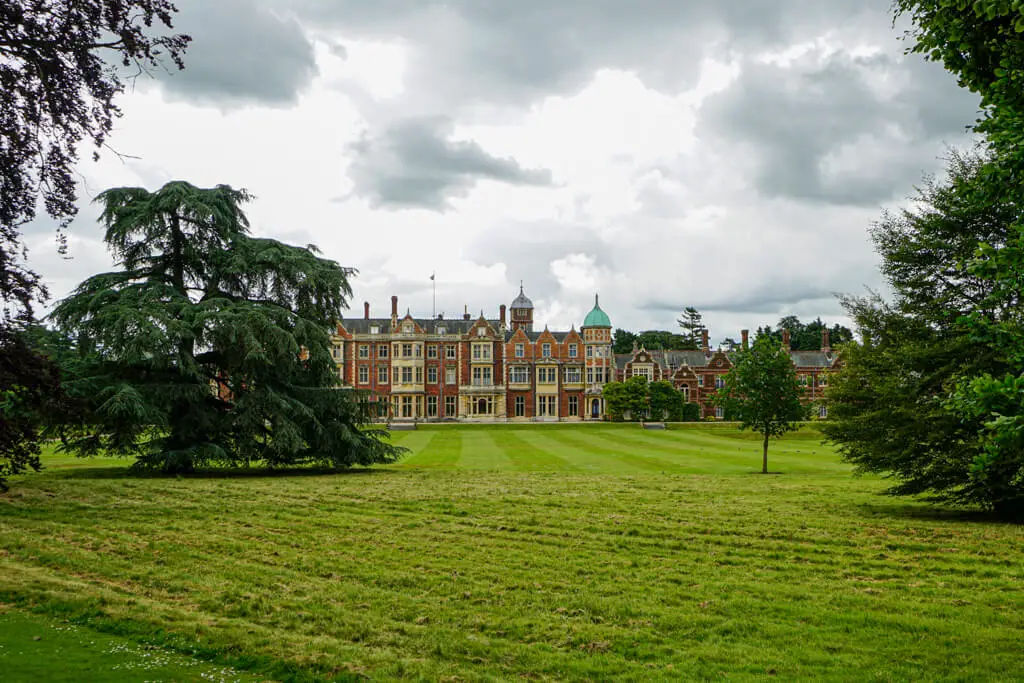 Sandringham House is one of the royal residences of Charles III. Unlike Buckingham Palace, Holyrood Palace, and Windsor Castle which are owned by the Crown, Sandringham (along with Balmoral Castle) is owned personally by the monarch.
The site has been occupied since Elizabethan times and was acquired by Albert Edward, Prince of Wales, later King Edward VII in 1862. It has been owned by the Royal Family ever since.
In the late 19th century, the house was almost completely rebuilt in a style described by Pevsner Architectural Guides as "frenetic Jacobean". George V described it as "the place I love better than anywhere else in the world." His son George VI felt the same.
Queen Elizabeth II would typically spend about two months each winter on the Sandringham Estate, including Christmas (where the Royal Family would join her) and the anniversary of her father's death and of her own accession in early February.
The Grade II listed house and grounds were opened to the public for the first time in 1977 to mark the Queen's Silver Jubilee. Today you can still tour the house and visit the gardens during the spring, summer, and autumn.
In addition to the house and gardens, there is the 243 hectares Royal Park on the estate. It has some well-marked walking trails through the wood and a new Children's Adventure Play Area inspired by the Duchess of Cambridge's 2019 Chelsea Flower Show garden. You can visit Sandringham Royal Park for free, but there is a charge for parking.
During the Christmas season, you don't want to miss their light trail – Luminate Sandringham.
Get more information here.
Blickling Hall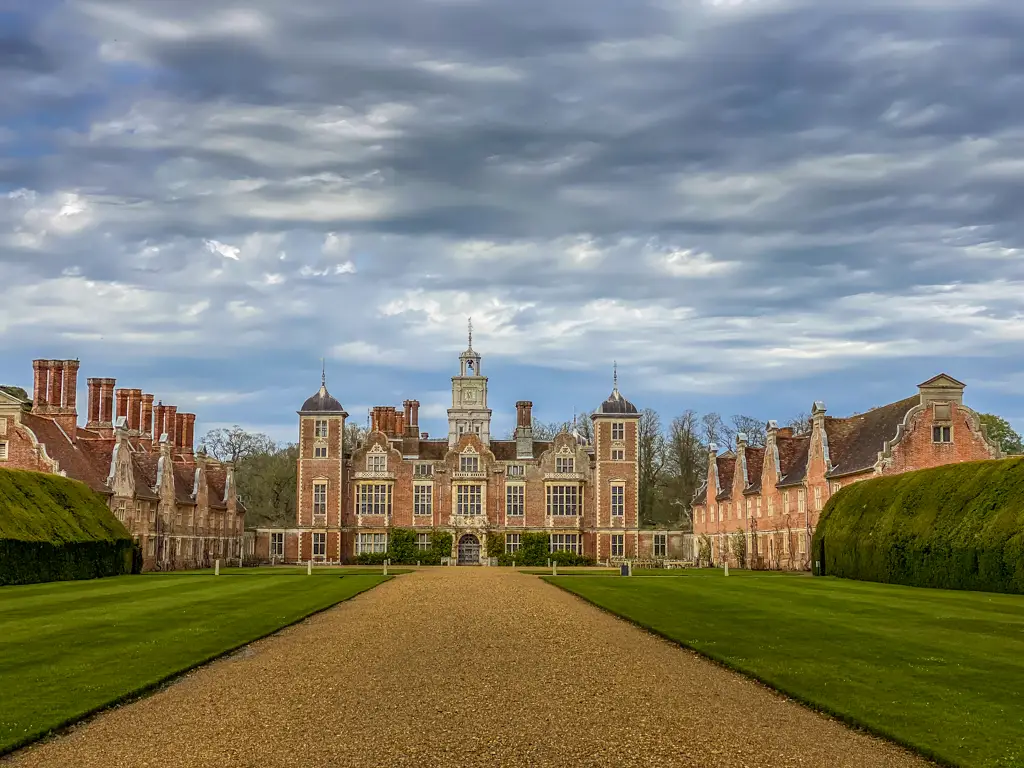 Best known for being the birthplace of Anne Boyeln, Blickling Estate, just outside of Aylsham, is one of the top attractions in Norfolk. While the Hall was built after Anne's time, there have been sightings of her ghost (and the ghost of her father) on May 19th, the anniversary of her execution.
The best time to go to Blickling is May when the bluebells are out or during the holiday season as they do an amazing job with the Christmas decorations. When you visit, you must go inside the Hall, appreciate the gardens, and go for a walk around the estate – there is over 4,600 acres to explore.
The library is the most memorable room inside Blickling Hall as it contains one of the most historically significant collections of manuscripts and books in England. In the formal gardens, you don't want to miss the Parterre, Orangery, Temple, and Walled Garden.
If you want to see some of the other highlights around the estate (like the Mausoleum and Tower), you could do this walk. Keep in mind that during bluebell season you should modify this walk to include more of the Great Wood.
It's a National Trust property so members can visit for free. For non-members, the admission charge is £14 for adults and £7 for children, and they also have to pay £5 (coin only) for parking. Learn more about National Trust membership here.
Note that during peak times the car parks can fill up. Also keep in mind that dogs, except assistance dogs, are not permitted in the house, East Wing or formal garden.
There are also some historic buildings on the estate (like the Blickling Tower) that have been converted to holiday homes by the National Trust. During your stay at one of these properties, you can visit any National Trust sites for free. Check out the options here.
Learn more about visiting here.
Houghton Hall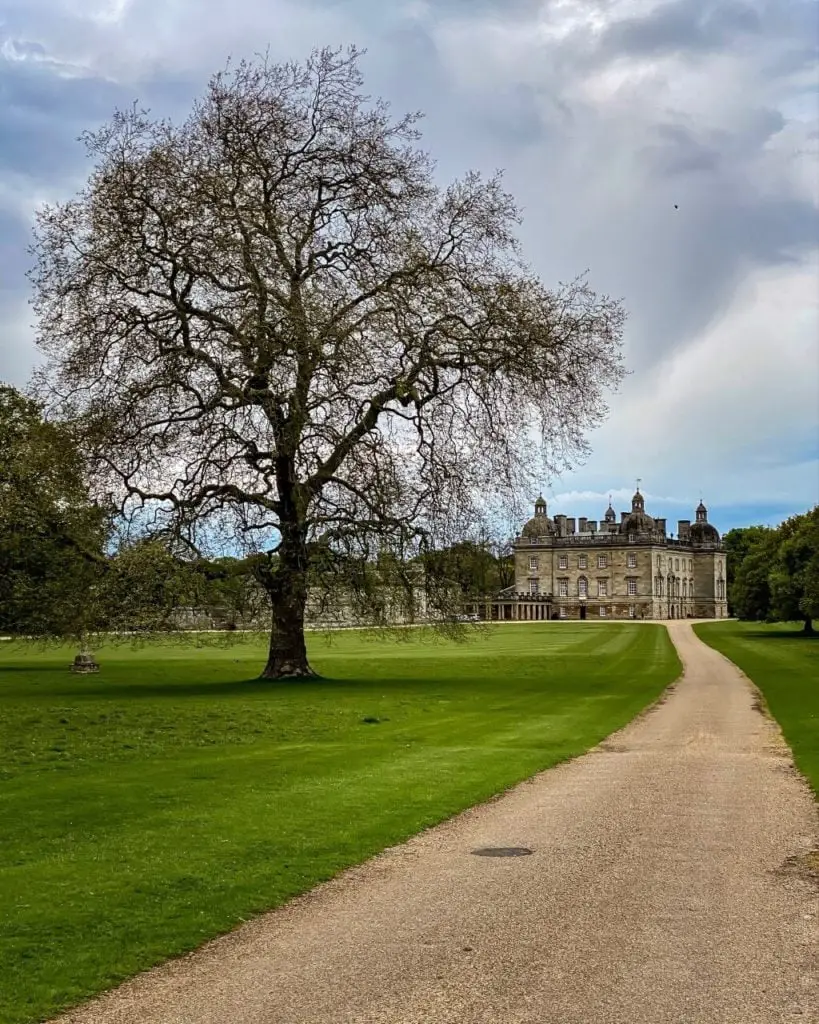 Houghton Hall is one of the finest examples of Palladian architecture in the country. The grounds are lovely to walk around and you don't want to miss the fantastic five-acre walled garden or the Sculpture Park.
The Hall was built in the early 18th century by Great Britain's first Prime Minister, Sir Robert Walpole, and designed by prominent Georgian architects Colen Campbell and James Gibbs. The estate passed to the Cholmondeley family at the end of the 18th Century and remains a family home. It has been open to the public since 1976.
Several well-known artists have held exhibitions at Houghton Hall in recent years, including Henry Moore, Chris Levine, Anish Kapoor, and Tony Cragg.
Houghton is open to the public select days May through September. It is £20 for adults to see the House, Park, and Walled Gardens, while children under 18 are free. You must book tickets in advance online here. Historic Houses members get discounted entry.
Holkham Hall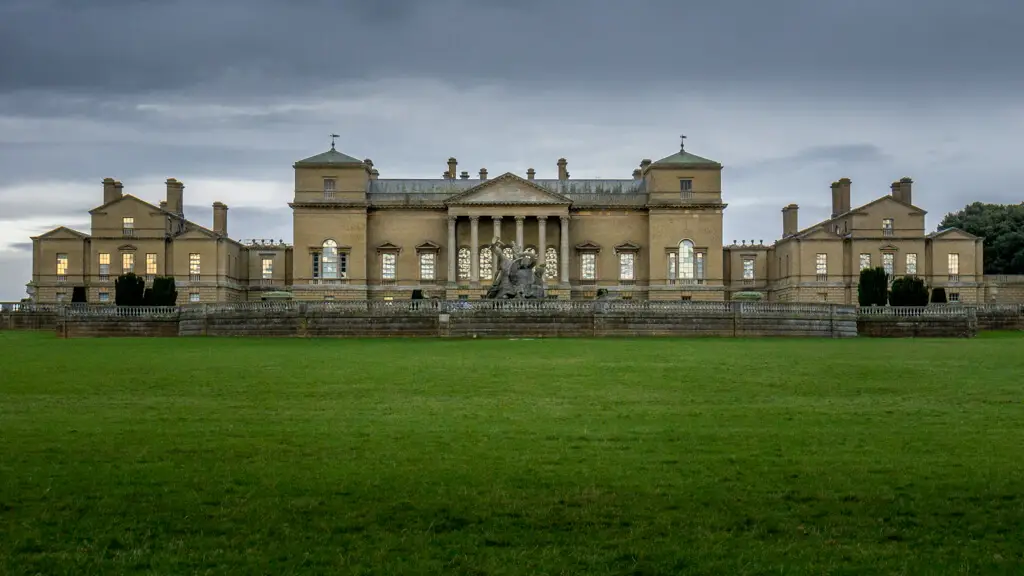 Holkham Hall, located inside Holkham Park in North Norfolk, has been the family home of the Earls of Leicester since the 1750s. The Palladian-style building you see today was built between 1734 and 1764 by Thomas Coke, the first Earl of Leicester based on designs by William Kent.
Not many changes have been made to the Hall from the first Earl's original ideal. During the 1850s, the second Earl installed central heating, added some additional buildings like the stables, and created the terraced gardens. His successor, the third Earl, installed electric light with a private generator and updated the bathrooms and heating.
You can still see some of the original furnishings and wall coverings in the state rooms. There is also an impressive collection of ancient statuary, manuscripts, books, and paintings by Rubens, Van Dyck, Claude, Gaspar Poussin, and Gainsborough.
When you visit Holkham Hall, you should also allow time to explore the park, visit the walled garden, and go to the shop. You can choose from several lovely walks. I love the nature trail around the lake. Additionally, you are right by Holkham Beach, one of the best beaches in Norfolk.
It's free to visit Holkham Park and it is open every day, but there is a £5 parking charge. The hall is only open on select days. If you want to go inside the hall, see the walled gardens, and check out their Holkham stories exhibition it is £50 for a family ticket, £23 for adults, and £8.50 for children. Historic Houses members are free.
Don't miss their special candlelight tours for the Christmas season.
Get more information here.
Note: Lady Glenconner, Princess Margaret's Lady-in-Waiting, who grew up at Holkham Hall claims that it is haunted. You can read more in her novel "A Haunting at Holkham."
Felbrigg Hall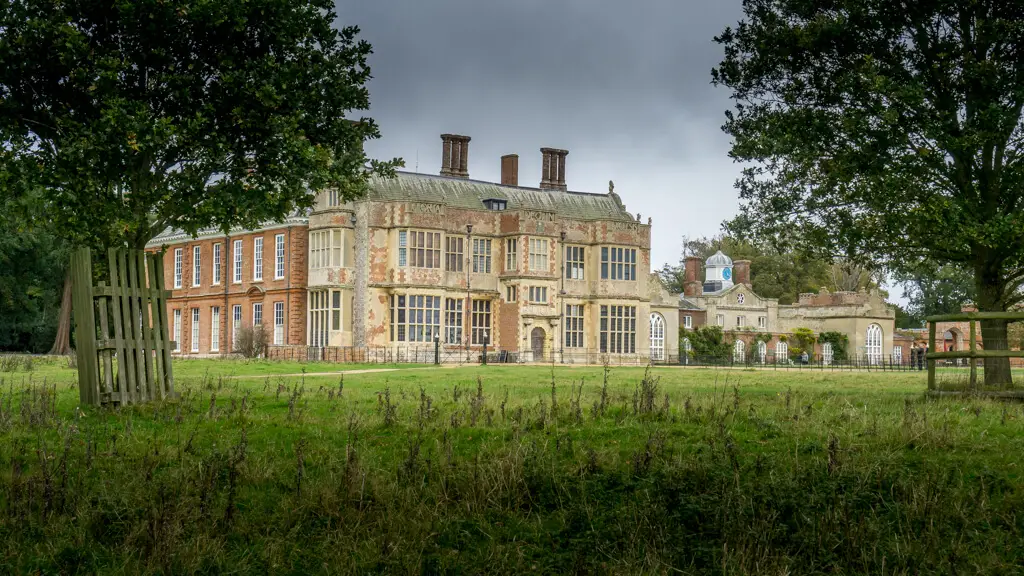 Felbrigg Estate has 520 acres of woods, rolling parkland, a lake, walking paths, and a grand hall. During the autumn, the woodland is a great spot to appreciate the leaves changing colours. You can tour the stately home and go inside the walled garden.
The hall at Felbrigg was built in stages over time starting in Tudor times and completed centuries later. It was owned by three main families before it was gifted to the National Trust in 1969 along with all of its contents.
National Trust members can visit Felbrigg for free. Admission for non-members is £12 for adults and £6 for children, which includes entrance to both the Hall and the Walled Gardens. The Hall is closed on Thursdays and Fridays. The Walled Garden is open seven days a week.
There are also some historic buildings on the estate (like the Game Keeper's Cottage and the Mustard Pot Cottage) that have been converted to holiday homes by the National Trust. During your stay at one of these properties, you can visit any National Trust sites for free. Check out the options here.
Learn more about visiting here.
Oxburgh Hall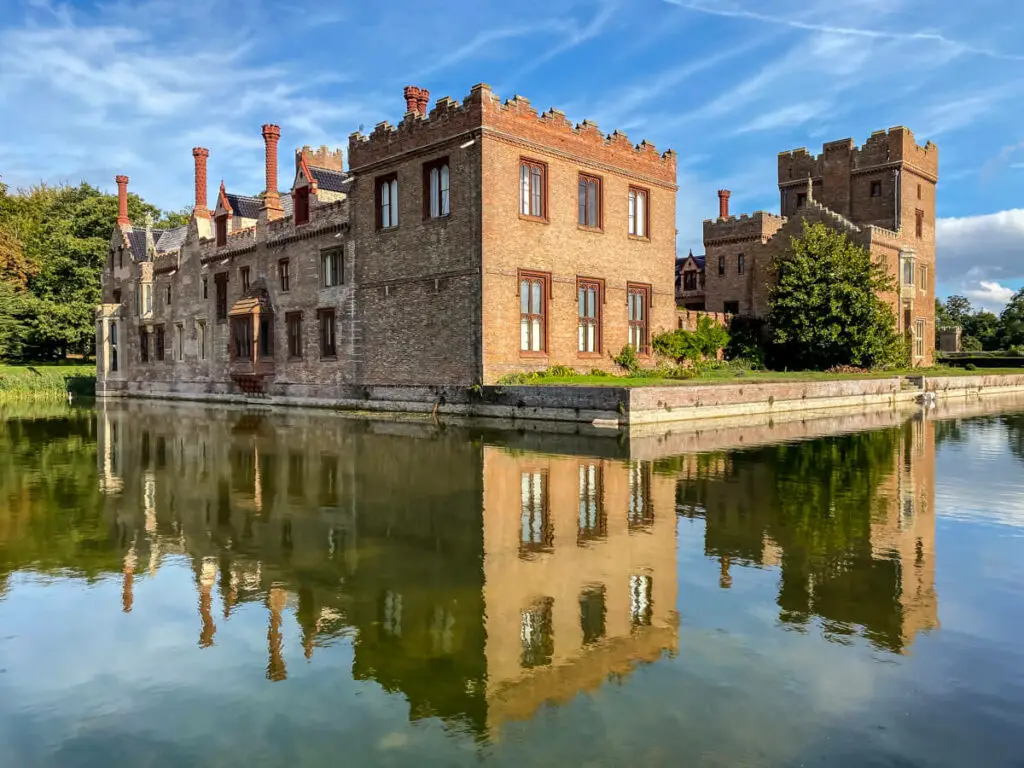 The Bedingham family built Oxburgh Hall in 1482 as a statement of power and it's been their home ever since (they still live in the private apartments). The imposing red brick manor house with a tranquil moat reveals the family's story of Catholic faith and endurance.
They are almost done with a huge £6 million conservation project and have found some interesting new artefacts (like a medieval prayer book) that are now on display. Inside that Hall you can learn more about the 6th Baronet who created much of what you see today, from the Victorian Gothic interiors to the elaborate architectural additions that reveal a romantic view of Oxburgh's medieval past.
You will also want to explore the gardens which include the Parterre, kitchen garden, orchard, herbaceous border, woodland, open meadows, and more. In late winter/early spring Oxburgh is a good spot to see snowdrops.
National Trust members can visit for free. Admission for non-members is £8.50 for adults and £4.25 for children. While dogs on a short lead are welcome in the gardens, parkland, bookshop and tea room, only assistance dogs are allowed in the Hall.
The Oxburgh Chapel Lodge on the grounds of Oxburgh Hall has been converted to a holiday home by the National Trust. When you stay there, you can visit any National Trust sites for free. Find out more about it here.
Learn more about visiting here.
Hindringham Hall
Hindringham Hall is a moated manor house straight out of a fairytale. It has a medieval moat, fishponds, a working walled vegetable garden, and a brick and flint Tudor Hall.
The house was built by Martin Hastings, a courtier to Henry Fitzroy, the illegitimate son of Henry VIII. They used stone from monasteries in the area (i.e. Binham Priory) which were then being dissolved.
The Hall is only open for tours a few days a year and the gardens are only open twice a week from April through September. While house tours must be pre-booked, entrance to the gardens (£9 for adults and £2.50 for kids) can be paid at the gate.
The tours of the house last two hours and include tea and cakes at the end. Mrs Lynda Tucker leads the tour inside the house and Mr Charles Tucker will conduct the tour outside showing the hall's architectural features. Tickets are £26.50 per person.
Get more information here.
Stately Homes in Norfolk Where You Can Visit the Gardens
Some of the stately homes where families still live do not allow visitors to tour the house. It can still be an enjoyable experience even if you can't go inside the house. In many cases, the gardens rival most parks and you can appreciate the beautiful halls from the outside (and take some nice photos).
Mannington Hall
Horatio Walpole, the diplomat brother of Great Britain's first Prime Minister, Sir Robert Walpole, of Houghton Hall, purchased Mannington Hall in the 18th century. It was built in the mid-15th century and is still the Walpole family home today.
Mannington Hall has a moat, gothic windows, and motif chimneys. The facade is made from snapped local flints and there are two turrets on the South side of the building.  It was extended in the 1860s by the 4th and 5th Earls of Orford.
The gardens around the medieval moated manor has roses, especially classic varieties, themed borders, a ruined church, Victorian follies, wildflower meadow, bird hide, a Sensory Garden, an arboretum, and more. Dogs on leads are welcome in the Mannington Hall Gardens.
The gardens are typically open June through September on Wednesdays, Thursdays, Fridays and Sundays. Note that September visits must be pre-booked. Families may want to plan their visit for one of their themed Nature Days. Tickets for adults are £10 and Historic Houses members are free.
Their tearoom offers scones, sandwiches, cakes along with drinks, but you should book in advance.
Get more information here.
Hoveton Hall
Just north of Hoveton, you will find the lovely Hoveton Hall Gardens which is open to the public from April to September each year. The 15-acre gardens are part of the Hoveton Hall Estate, home to the Buxton family since 1946.
The Hall you see today was built in 1809, after the old manor on the site was demolished. Christabell Burroughes commissioned Humphry Repton to construct the mansion after her father Henry Negus died and she became owner of Hoveton Hall. In 1828, she added the walled garden.
The Buxton family first owned Hoveton Hall when Geoffrey Fowell Buxton bought the property in 1920. Unfortunately, when he died in 1929 his wife Mary put it up for sale.
Hoveton Hall passed through a couple different owners before Desmond Buxton bought the Hall in 1946. It has remained in the Buxton family ever since.
Try to visit the gardens in May or June when it's in full bloom. There are also two lakes, woodland, formal walled gardens, parkland, and an onsite cafe for visitors to enjoy. Please keep in mind dogs are not allowed in the gardens.
During the open season, you can visit Sunday through Friday (they are closed on Saturdays). They have a cafe (Kitchen Garden) which serves breakfast, lunch, and afternoon tea.
Tickets for the Hoveton Hall Gardens can be purchased at the gate. Admission is £8 for adults and Historic Houses members can visit for free.
Get more information here.
Wiveton Hall
Wiveton Hall is a 17th century flint-faced, Dutch-gabled, Jacobean manor house located between Blakeney and Cley-next-the-Sea. The estate is home to a vibrant cafe, children's play area, shop, holiday cottages, and lovely gardens.
The Hall you see today was built in 1652 by a Mr. Gifford, the son of a merchant from Gloucester. There was an earlier building on the site dating back to 1280 when it was owned by the De Roos, a Norman family. There is no evidence to show what it looked like.
In 1907, a few years after the Lieutenant Colonel Thomas Francis Archibald Watson-Kennedy and his wife Ethel had purchased the hall and farm, the west wing was added using the architect Sir Guy Dawber. After Thomas and Ethel died, Richard Gurney Buxton purchased Wiveton Hall in 1944.
Today, Wiveton Hall is owned by Desmond MacCarthy, grandson of Richard Gurney Buxton, who is known for his role in two television series on BBC 2 called Normal for Norfolk about him, his home, family, farm and cafe.
If you want to visit Wiveton Hall the cafe is open daily for breakfast and lunch and you don't need a reservation. Dinner is served Friday and Saturdays and requires a reservation.
Tickets to see the garden are available in the shop. There are also holiday cottages in the grounds or you can stay in the West Wing of the Hall.
Get more information here.
Norfolk Stately Homes Not Open to the Public
Unfortunately there are some stately homes that are not open to the public, but you can visit by booking one of their holiday homes.
Wolterton Hall
Wolterton Park was built in 1741 by Horatio Walpole, who also built Mannington Hall. The Main Hall and estate have been restored in the last five years to include six holiday homes. Wolterton Hall is also available for exclusive use.
The hall overlooks the 500-acre park designed by Charles Bridgeman in the 18th century with its 10 acre lake, fields, and woodland. It was designed by Thomas Ripley and inspired by Andrea Palladio, the classical architect from Vicenza.
You can stay at one of their holiday properties. They are luxurious and outfitted with period furniture. They have a concierge service to help you plan your stay.
Get more information here.
Disclosure: This post contains affiliate links. This means we will receive a small commission for some purchases made using links in our blog with no additional cost to you.  Please be assured we would not promote any product unless we believe that our readers will also benefit.  The commission does not influence the editorial content of this site.