Great Yarmouth's long sandy beach attracts visitors from far and wide, but it can get crowded and doesn't allow dogs during peak season. If you are looking for alternatives, there are several other lesser-known beaches in the area that offer a more tranquil setting.
In this post, we'll explore the more beaches near Great Yarmouth, including secluded gems and family-friendly spots that you will want to check out.
Be sure to sign up here so that you don't miss out on our weekly newsletter about what's happening in Norfolk.
Note: This post contains affiliate links.  As an Amazon Associate, we earn from qualifying purchases. Please see disclosure for more information.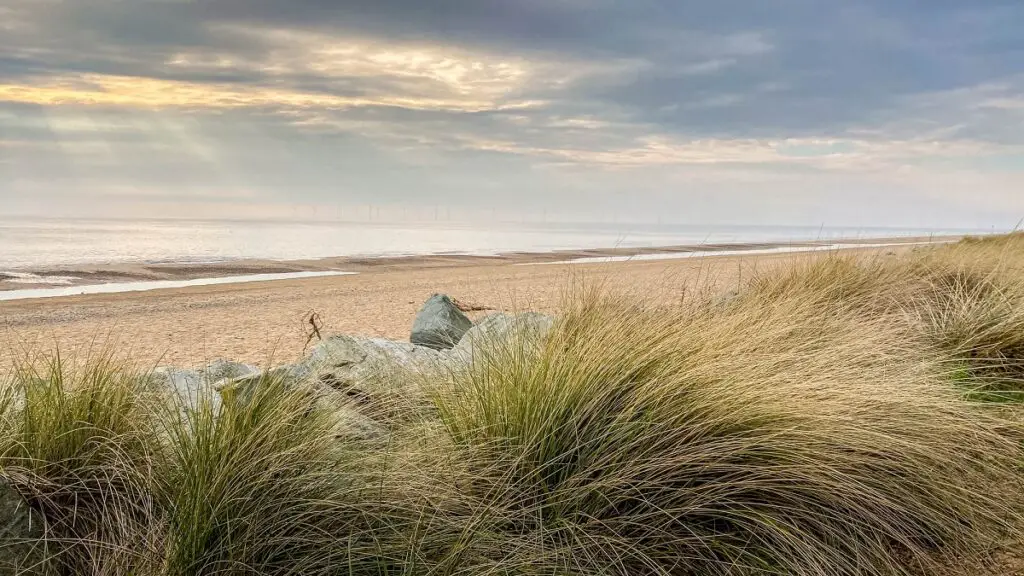 Things to Know Before Visiting Beaches Near Great Yarmouth
Before you head out for a day at the beach, there are a few things you should keep in mind.
Check the tide times. Norfolk is known for its huge beaches but they look quite different at high tide.
The coast is eroding. The county is doing what it can to prevent coastal erosion but it is happening. Don't try to climb the cliffs and stay away from the edge.
You may see seals. Remember they are wild animals so you need to keep your distance.
Best Beaches Near Great Yarmouth
If you're looking for sun, sea, and sand near Great Yarmouth, you're in for a treat. Within just a 30-minute drive, there are plenty of beaches to explore, each with its own unique charm. In this post, we'll take a closer look at each one.
Gorleston-On-Sea Beach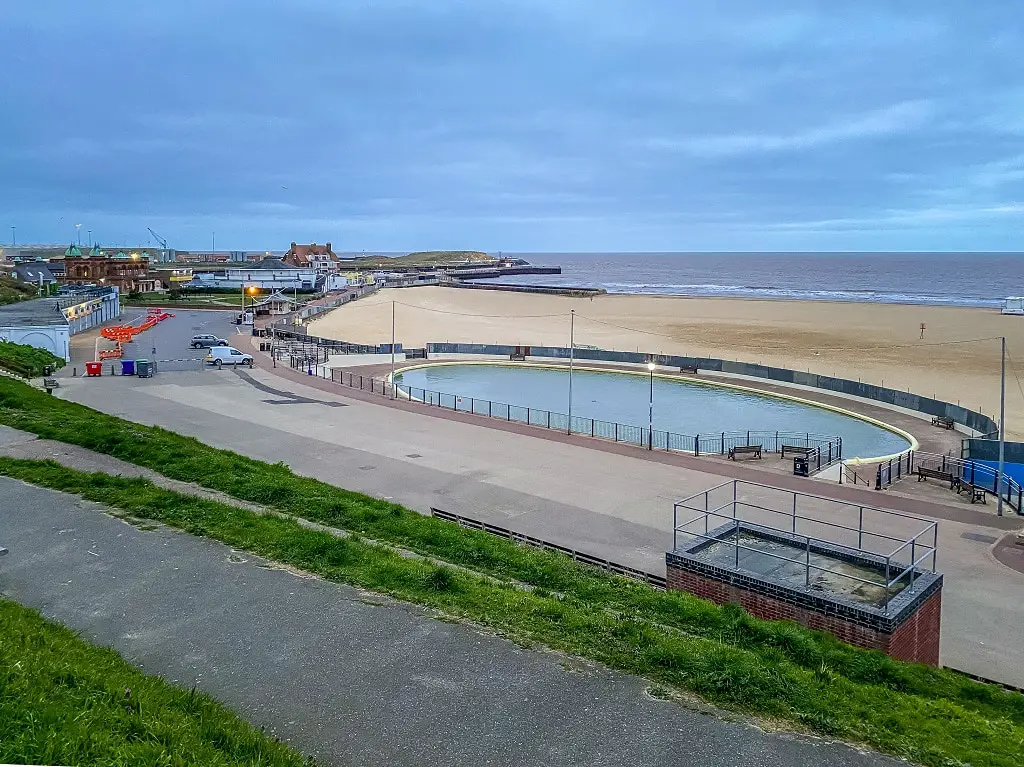 Just south of Great Yarmouth, you will find a quieter and less crowded alternative, Gorleston Beach. The sand and water at Gorleston may even be a bit nicer, plus a concert scene from the movie Yesterday was filmed here. It made our list of the best beaches in Norfolk.
This seaside town has a two mile stretch of clean, golden sand which curves around the bay.  There is plenty of sand to make sandcastles, fly a kite, or have a picnic when the tide is out. Deckchairs and wind breakers are also available to hire.
The area is also popular for fishing, sailing, swimming, bodyboarding, and surfing. It's a RNLI lifeguarded beach, they patrol daily from 1 May to 12 September from 10:00 to 18:00.
The promenade along the beach is almost a mile long. There are a number of benches along the way where you can take a break and enjoy the view.  Kids will enjoy the wet play area called the Splashpad and there is also a charming pond for sailing model boats, built in 1927.
Halfway along the promenade, there is a café, and at the town end there are cafes, bars, and a gift shop. During the summer, the bandstand plays host to a wide range of musical groups on Sunday afternoons.
Towards the southern end, you will find beach huts. Unfortunately, these beach huts are only offered for hire annually.
Dogs are not allowed on the main section of the beach between 1 May and 30 September. During this time, dogs can still go on the beach south of the tennis courts. During the rest of the year, the beach has no restrictions for dogs, just be sure to clean up after them.
Another nice feature of Gorleston is that there is free parking! You can park in the car park by the Gorleston Pavilion Theatre or the one halfway along the beach.  There is some roadside parking available too.
Gorleston Beach also has public and disabled toilets.
Read about more things to do in Gorleston.
Caister-On-Sea Beach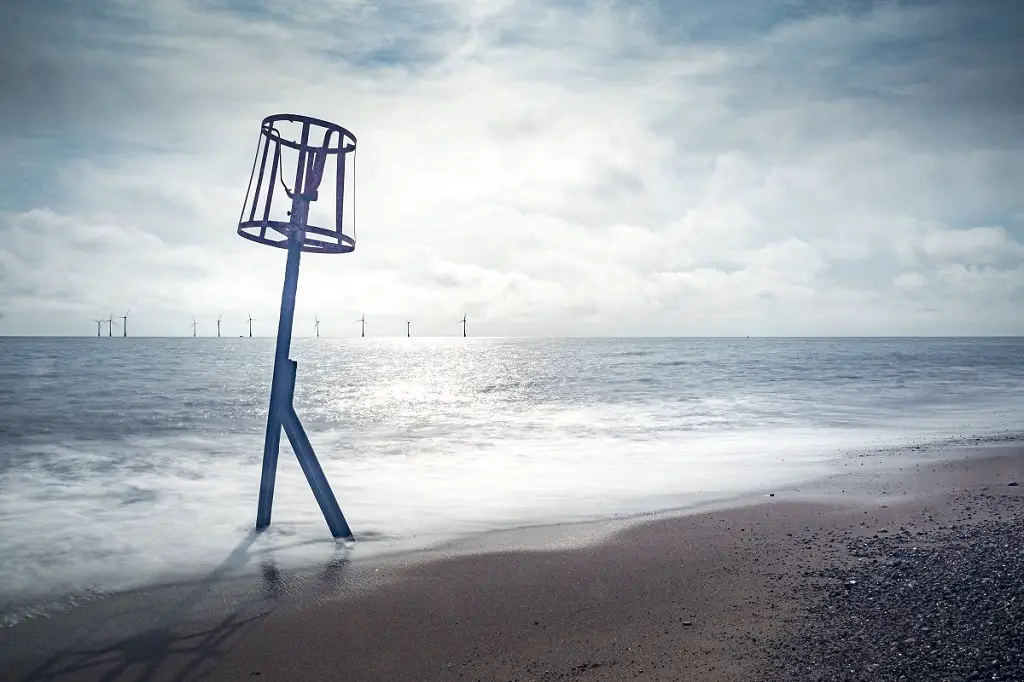 Caister on Sea Beach may not be as well-known as some of the other beaches in the area, but that doesn't mean it's not worth a visit. In fact, its lack of popularity is one of its greatest strengths. The beach is a peaceful and relaxing spot, perfect for those who want to escape the crowds and enjoy some tranquillity.
One of the highlights of Caister on Sea Beach is its picturesque dunes, which add to the natural beauty of the area. You also have a good view of the Scroby Sands Wind Farm, which is located just off the coast. The beach itself is mostly sandy, with some pebbles scattered here and there.
Another attraction by the beach is the Caister Lifeboat Experience. It's perfect for families. They let you climb aboard a vintage lifeboat, dress up in a lifeboat waterproof kit, and learn about some of the life saving rescues. Check current opening hours here.
Another reason Caister on Sea Beach is popular with visitors is that it's a dog-friendly beach. There are no restrictions on dogs even during the summer months, so it's a great spot for pet owners who want to enjoy a day out with their dog.
Caister on Sea has a pay and display car park by the beach. Just bear in mind that the car park only takes coins, so make sure you have some change on hand.
If you're visiting Caister Sea Beach, it's worth taking a walk to the nearby Caister Roman Fort. The fort is only about a 15-minute walk away, and it's free to explore these Roman ruins.
RELATED: Beaches Near Norwich
Hopton Beach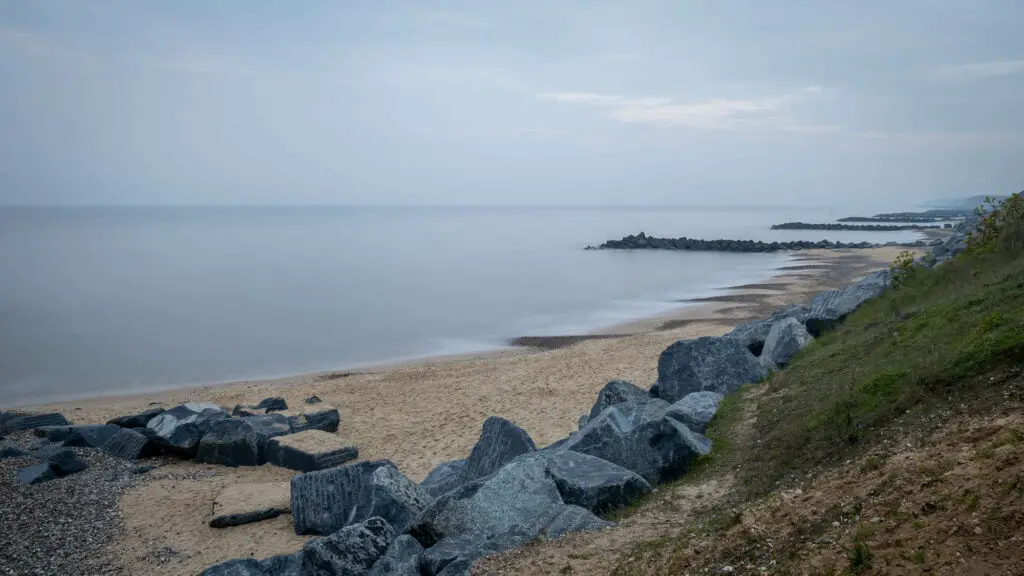 Hopton-on-Sea Beach, located near Great Yarmouth, is a wonderful sandy beach that stretches along the coast towards Suffolk. The sandy beach is divided by groynes and has significant sea defences.
It's important to note that Hopton Beach is suffering from coastal erosion, and sand levels have dropped significantly in recent years. In response, there is a project underway to replace the old wooden groynes with rock ones and to construct a seawall. These defences are expected to protect the area for up to a century.
Despite suffering from coastal erosion, Hopton Beach remains a popular destination with several holiday parks. Its natural beauty and dog-friendly policy make it a great choice for families, but the parking makes it inconvenient for a day out.
With no official parking for the beach, visitors must park further away and walk to access the beach either by the stairs towards the north end of the beach or the ramp off of Beach Road. However, if you're staying at Haven Hopton, you'll have direct access to the beach from your resort.
During low tide, visitors can enjoy plenty of space for sunbathing, playing beach games, and building sandcastles on the soft sand. Just remember to bring your own snacks and drinks, as there are no shops or cafes nearby.
Also, Hopton is home to the UK's only all-inclusive resort, Potter's, which hosts the World Bowls Championship each year. It's one of the few luxury hotels in Norfolk by the sea.
California Beach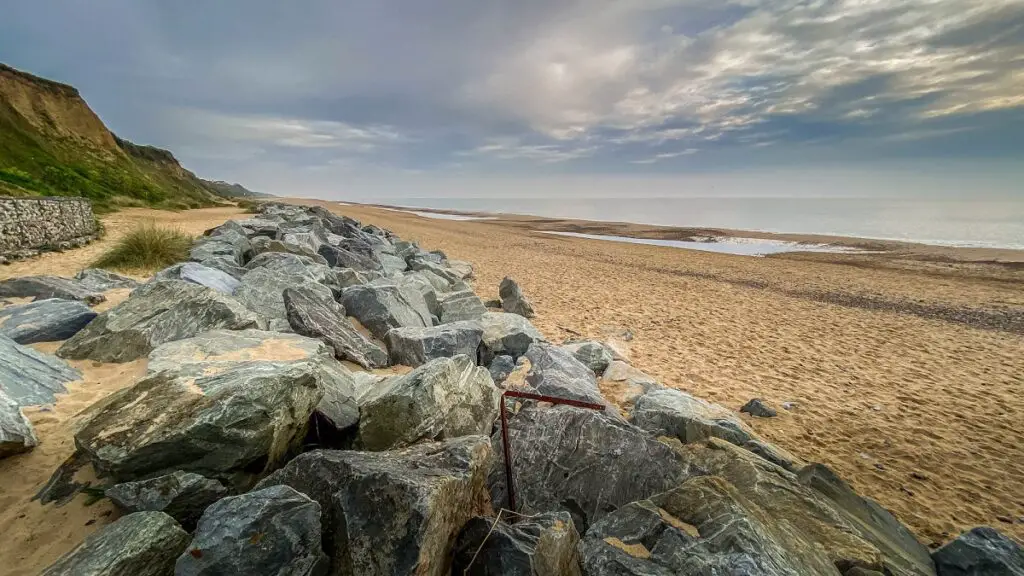 If you're looking for a picturesque coastal location with plenty of amenities, California Beach might be just what you're looking for. Located in between Caister and Scratby, California Beach is a lovely wide sand and shingle beach that stretches out towards the horizon.
One thing to note is that the beach is never quite as quiet as it might be due to the caravan parks located beyond the sloping cliffs. However, this also means there are some facilities including a pub and cafe. Unfortunately the fish & chips shop has closed.
Access to the beach is down a slope with steps at the bottom, which may not be suitable for everyone, especially those with mobility issues. If you want to avoid the steep entrance, you can walk to California from Caister or Scratby beach.
It's worth noting that public parking at California Beach is very limited, so it's best to arrive early or plan your visit during off-peak times. If you can't find parking here, you could park at Scratby and walk south to California.
Scratby Beach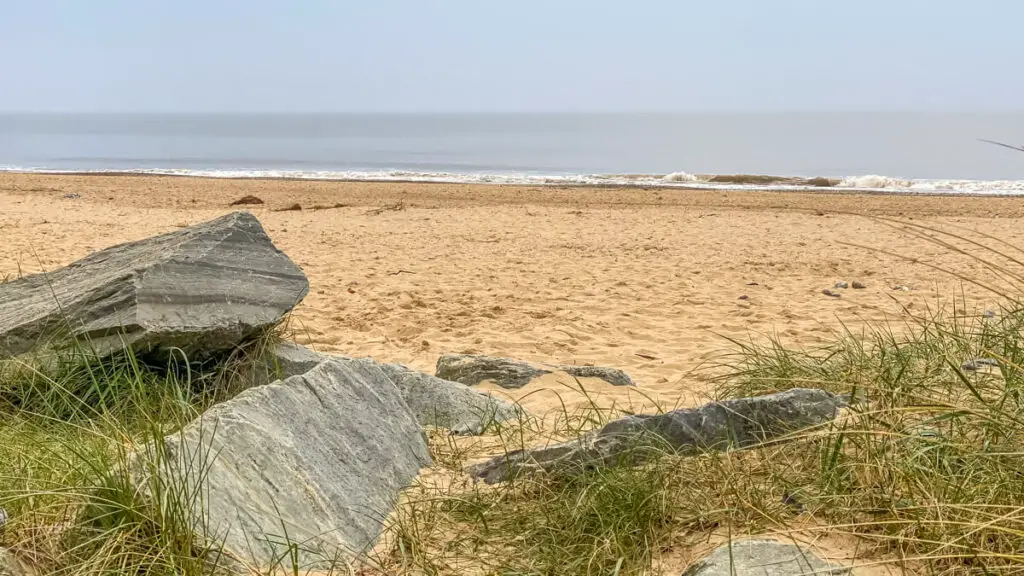 Scratby Beach is a good-sized stretch of sand and shingle set along low sandy cliffs. It's a popular spot for both fishing and swimming, although it's important to note that there are no lifeguards on duty. During the winter months, the beach can experience good waves, which makes it a popular destination for surfers.
One of the great things about Scratby Beach is that it's an ideal place for walkers. You can walk on the beach along the coast for many miles in either direction, providing visitors with ample opportunity to explore the surrounding area. In addition, dogs are allowed on the beach all year round, making it a perfect location for a walk with your furry friend.
Access to the beach is via a narrow sloped path, which may be difficult for those with mobility issues, despite the presence of disabled spaces in the small free car park along Rottenstone Lane.
Close to the car park, you can see a few beach huts. There used to be more, but some had to be moved due to coastal erosion. These are privately owned. Public toilets are located on the top of the cliff too.
In the village of Scratby, just a short walk from the beach, you can find a few small cafes, pubs, and shops. These are great places to grab a bite to eat or pick up any last-minute beach essentials.
Hemsby Beach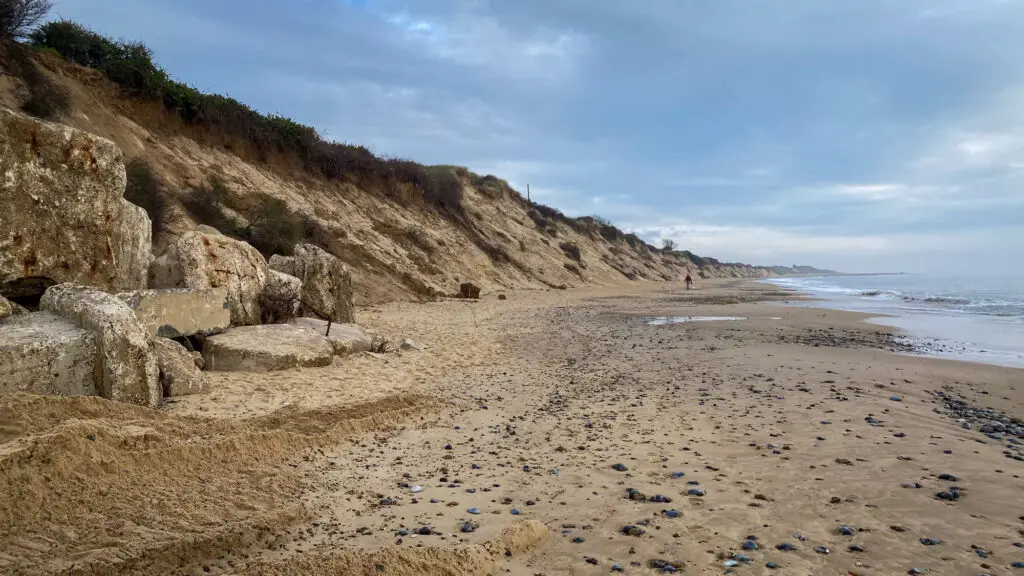 Hemsby is like a smaller version of Great Yarmouth. Visitors can enjoy the amusements, shops, entertainment, and restaurants lining Beach Road, but the main attraction remains the beach.
Large sand dunes create a natural barrier between the beach and the village, providing a picturesque backdrop for visitors. One unique feature of Hemsby Beach is the scattering of anti-tank blocks left over from the World War II coastline defenses, adding a touch of history to the area.
Hemsby has RNLI lifeguards on duty from July to September. Even with the lifeguards, you should not swim out to the sand bar because you could get caught up in the high tide or even a rip current.
Like many other popular Norfolk beaches, dogs are not permitted on the main beach between 1 May and 30 September. However, you just need to walk a bit north of the main beach entrance to reach an area where dogs are allowed.
There are several pay and display car parks close to Hemsby Beach. The closest option is by the Beach Cafe and costs £2 per hour or £6 for the day. You can pay by card.
Winterton-on-Sea Beach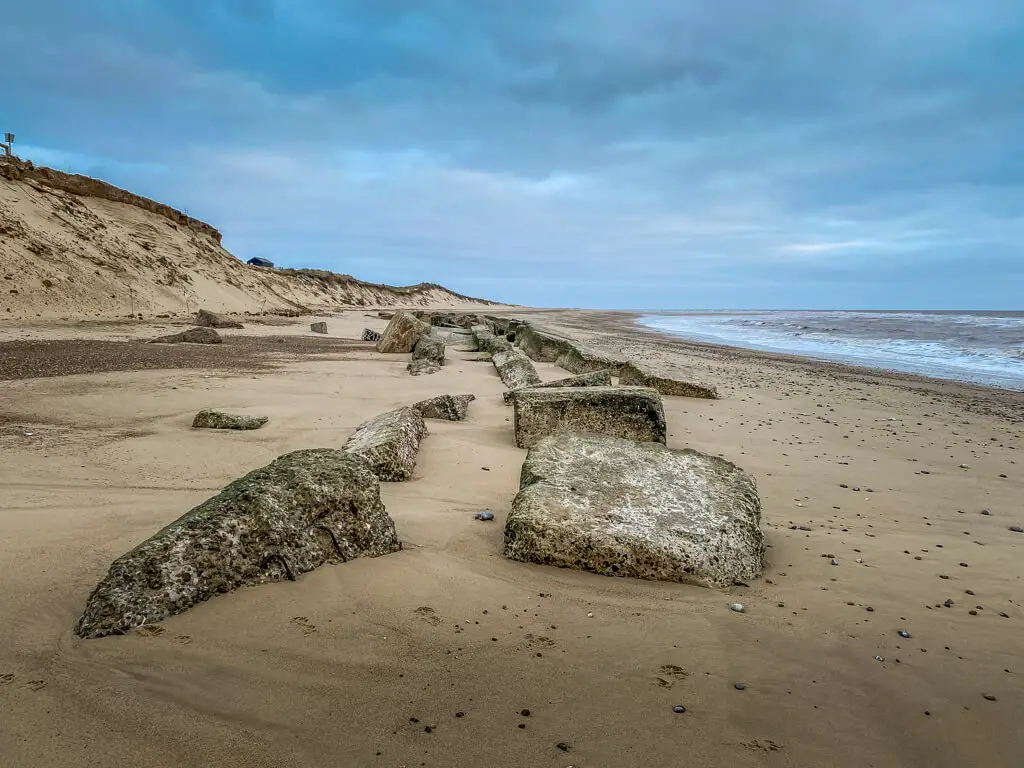 Winterton Beach is a popular destination due to its proximity to the village of Winterton on Sea, but unlike some of its neighbouring beaches, such as Hemsby and Great Yarmouth, it doesn't get overcrowded. During the summer months, there is still plenty of space for visitors to enjoy without feeling rushed to get to the beach early in the morning. Regardless of the tide, there is always an ample amount of soft sand.
The vast, wild stretches of dunes provide a sense of escape from the hustle and bustle of busier spots along Norfolk coast. These dunes are part of a Site of Special Scientific Interest and designated as an area of outstanding natural beauty. They are of international importance for the plants and animals they support.
If you don't want to just sit on the beach you can explore the dunes. There are plenty of paths and the dunes also extend as far as the eye can see, all the way to Horsey Beach. It's an ideal spot for dog walkers too as there are no restrictions.
The beach is easy to get to with a grassy car park at the top of the cliff and only a short walk to the sand. Unfortunately, Dunes Café which overlooked the beach had to be knocked down due to coastal erosion in December 2020. Sometimes you will find a food truck in the area, but it's probably best to come prepared with your own food and drink.
Winterton Beach has become a popular spot to view seals. During the winter months, the seal colony from Horsey has spread out to include Winterton. Visitors can spot the seals bobbing their heads in the water or sunbathing by the groynes, even in the summer months. It's possible to walk from Winterton to Horsey Beach for a chance to see even more seals basking on the sand or looking after their pups, which is a truly special sight.
Horsey Beach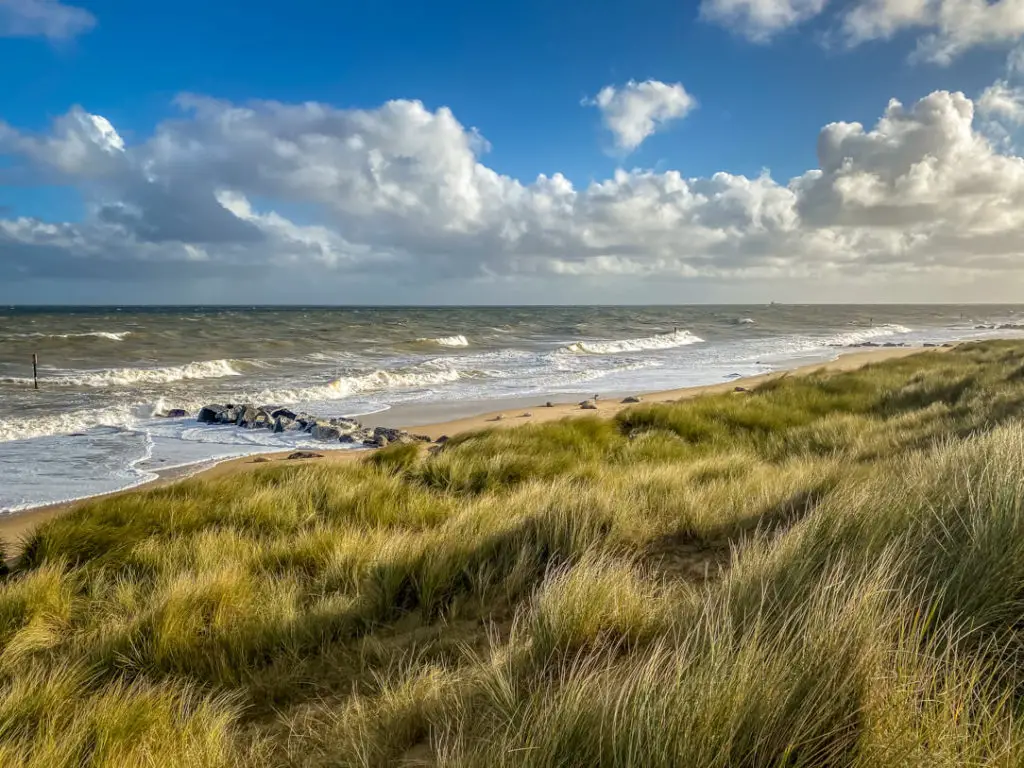 Horsey Beach offers a more rugged and secluded beach experience as it lacks any amenities. The beach is an untouched stretch of sand and boasts some of the largest sand dunes in East Anglia, which are a haven for varied wildlife throughout the year.
The primary attraction of Horsey is its resident seal population. Although seals can be spotted year-round, the best time to see the grey seals is between November and January when they come ashore to give birth. While walking to the viewing area, you are likely to see many of these adorable animals, but it's important to keep a safe distance of at least 10 meters as they are wild animals and protective of their young. Seals may bite if they feel threatened, so it's crucial to be cautious.
Dogs are technically allowed on the beach, but it's best to avoid bringing them (especially during the winter months) as they can disturb the seals. If you do decide to bring your dog, make sure to keep it on a short lead.
As there are no facilities on the beach, it's recommended to bring your own picnic. Alternatively, Poppylands Tea Room and Restaurant is located nearby on the main road.
Please note that the road leading to the pay and display car park may be bumpy, but the machine does accept credit cards. The parking gates lock at 20:00, so make sure to plan your visit accordingly.
*Read about more places to see seals in Norfolk.
Lowestoft Beach
Just south of the Norfolk border in Suffolk, Lowestoft is home to two lovely stretches of golden sandy beach: Lowestoft South Beach and Lowestoft North beach.
Lowestoft South Beach is a wide sandy stretch, located between Claremont Pier and Pakefield, with a promenade backed by beach huts and a cafe. It's popular with families and offers water sports such as paddle-boarding, surfing, jet skiing, wind surfing, and kite surfing. Dogs are not permitted on this beach between May and September.
Lowestoft North Beach is located between the two piers, Claremont Pier and South Pier, and offers a promenade with hotels, cafes, beach kiosks, public toilets, and a children's play area. Lifeguards patrol the beach from May to September. Unfortunately, dog's are not allowed on this beach.
The North Beach was home to one of Banksy's murals from his Great British Spraycation to East Anglia. Banksy painted a rat leaning back in a deckchair drinking a cocktail under a beach umbrella on the wall. It looks like the martini glass will be refilled by the pipe that drips waste water above it. Unfortunately, this Banksy was defaced and covered up with white spray paint.
Disclosure: This post contains affiliate links. This means we will receive a small commission for some purchases made using links in our blog with no additional cost to you.  Please be assured we would not promote any product unless we believe that our readers will also benefit.  The commission does not influence the editorial content of this site.