King's Lynn may not be a seaside town, but it is a lovely place to visit especially for those interested in history. It's not far from the coast so it's possible to make a trip to a beach at the same time.
Let me share the best beaches near King's Lynn that you can explore.
Be sure to sign up for our email newsletter here, to keep up to date with what's happening in Norfolk.
Note: This post contains affiliate links.  As an Amazon Associate, we earn from qualifying purchases. Please see disclosure for more information.
Best Beaches Near King's Lynn
There are a few lovely Norfolk beaches within a 30-minute drive of King's Lynn. They are all west-facing which means the sun will set over the water. The weather is also typically calmer than more exposed beaches that face north or east.
If you prefer to take public transportation, there is the Coasthopper bus which stops by some of the beaches on this list. There are also coastal paths that make it possible to walk from Snettisham to Old Hunstanton stopping at any of the beaches along the way.
Snettisham Beach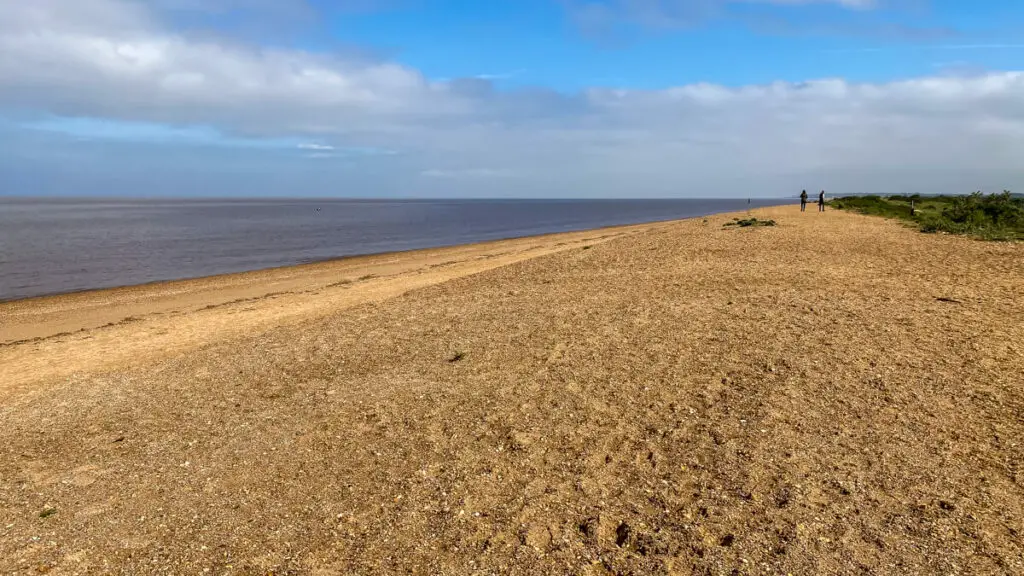 Snettisham is the closest beach to King's Lynn. It's best known for its wildlife as it is located next to the RSPB Snettisham Nature Reserve. You may even be able to get a tiny glimpse of the Snettisham Spectacular (on select days) from the beach if you don't want to walk to the reserve.
This beach is a mix of sand and shingle so it's more suited for walking than building sandcastles. It's wild, natural, and you won't usually find many other people. There are no toilets or lifeguards.
Come to Snettisham beach for birdwatching, walking with or without a dog, sea fishing, and catching the sunset. Note that dogs must be kept on a lead during nesting season which is from April to the end of August.  
When you get hungry, it's a short walk (about 6 minutes from the car park) to the Snettisham Beach Chip Shop. You can get some of the best fish & chips in Norfolk or even a burger if you prefer. They also have a small arcade to entertain the kids.
Keep in mind Snettisham Beach is not easily accessible by public transport. The closest stop for the 36 Coastliner Bus is at Station Road, then it's a 2.5 mile walk to the beach.
If you want to drive there is a reasonably sized pay-and-display car park. It accepts coins or you can pay using your phone.
Heacham South Beach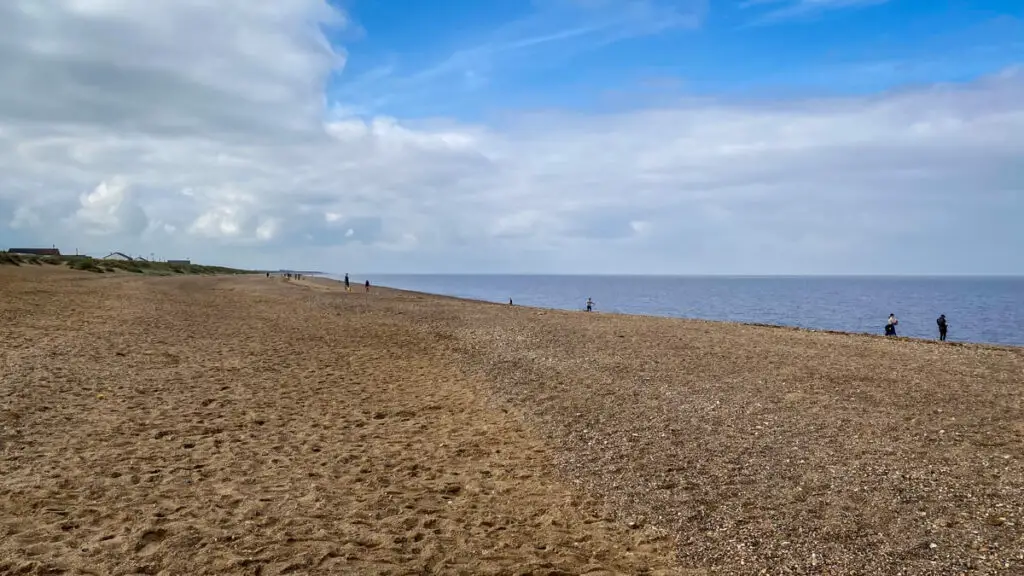 The next beach you come across is Heacham South Beach. Similar to Snettisham, this beach has a rugged feel and never too many people. Unlike Snettisham, it does have a cafe and toilets.
Heacham South Beach has sand mixed with some shingle and is backed by low dunes. From the top of the sand dunes, you can enjoy a view overlooking the marshes and landscapes of Norfolk.
The water here is relatively calm and shallow, but there are no lifeguards so exercise caution. When the tide is out, you will get stretches of fairly hard sand just below the line of the stones. 
Dogs are welcome on Heacham South Beach but must be kept on a lead during nesting season (April to the end of August).  
They have a pay and display car park. You can pay with coins or with your phone. Parking charges don't apply during the winter months (1 November – 28 February).
You can take the bus from King's Lynn to Heacham South Beach. The closest stop for the 36 Coasthopper bus is Jennings Close, then its a little more than a half mile walk to the beach.
RELATED: Things to do in Heacham
Heacham North Beach
Heacham North Beach has a promenade and more facilities, so expect it to be more popular than Heacham South Beach. There are plenty of choices when you get hungry and it's also dog-friendly as there are no restrictions.
With its wide, smooth surface, the promenade is popular with joggers, cyclists, buggy-pushers, dog walkers, and wheelchair users. Alternatively, you can sit along the rows of parallel steps leading down to the beach and take it all in or watch the sunset in the evening.
When the tide is out, there are expanses of sand. You can walk by the groynes, but you may get muddy sandy feet.
By the entrance to the beach, there is an information board with tide times and other helpful information. The Silver Sands pub, fish and chips shop, ice cream shop, and burger bar are within easy reach. There is also a public toilet block closeby.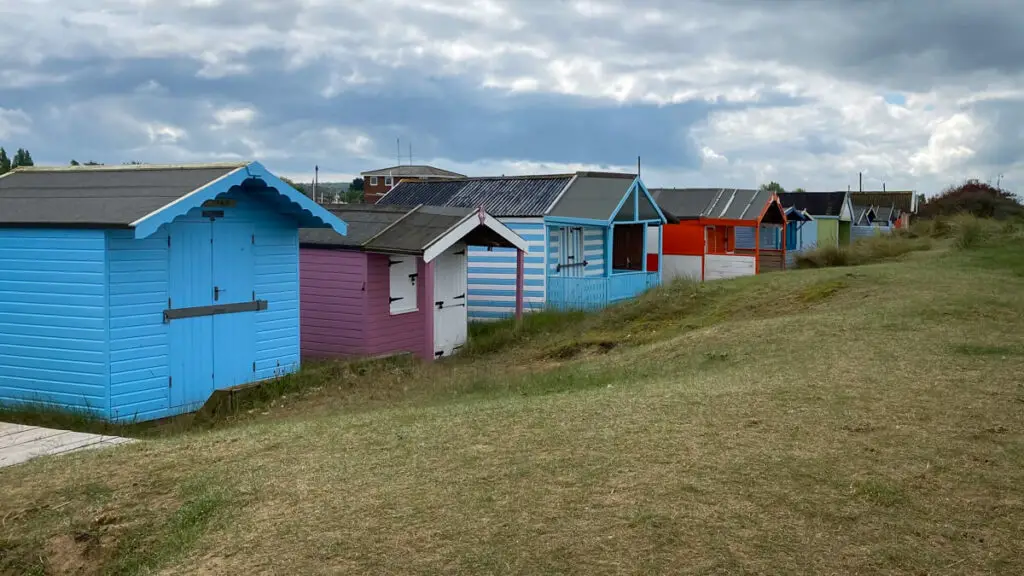 There is a large pay and display car park off North Beach road. Between the car park and the beach you will find a row of colourful beach huts. There are a number of sandy paths between the huts that lead to the concrete promenade.
The closest stop for the 36 Coasthopper bus is College Drive, then it's a 1.3 mile walk to the beach.
Hunstanton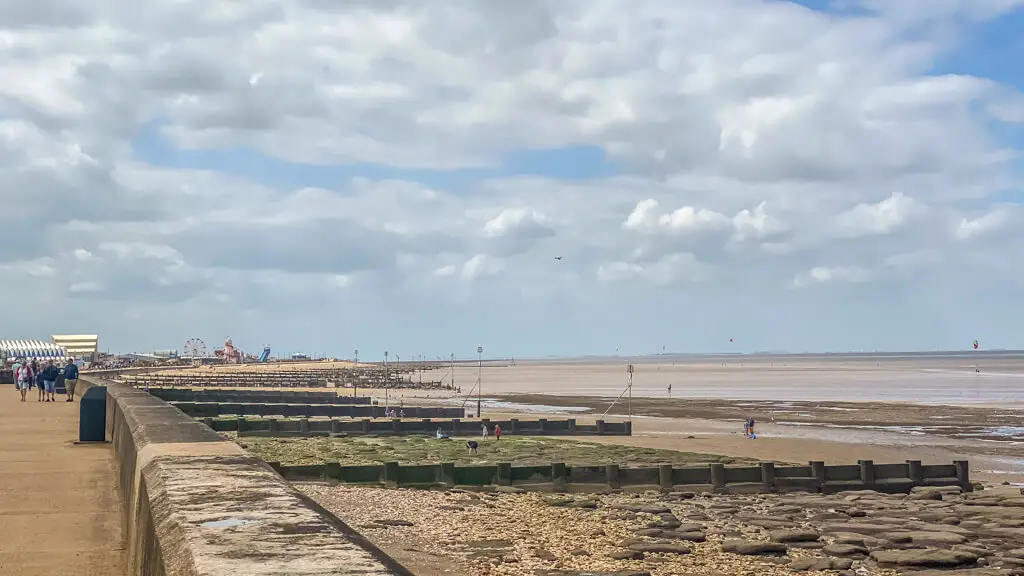 This is the most popular beach near King's Lynn, so be prepared for crowds especially in the summer months and on bank holiday weekends. With family-friendly attractions like the amusements, boat tours in the amphibious Wash Monsters, Sea Life Centre, and more lining the Promenade, Hunstanton (sometimes referred to as New Hunstanton) is one of the best places to take kids in Norfolk.
When the tide is out, you have a huge sandy beach that almost disappears when the tide is in. It's also an ideal place to learn kitesurfing and windsurfing because of the wide open beaches with shallow water and cross onshore winds.
Dogs are not permitted from the power boat ramp (near Searles) to the northern end of the Promenade from 10th April until 31st October. You need to keep dogs on a lead on the Promenade, the Green, and the Esplanade Gardens at all times.
For New Hunstanton, there are several places to park along the Promenade including the Southend Car Park and the North Promenade Car Park.  If you want to take the 36 Coastliner bus, there is a stop by the Tesco in Hunstanton, then it is only a 5-minute walk to the beach.
Read about more things to do in Hunstanton.
Old Hunstanton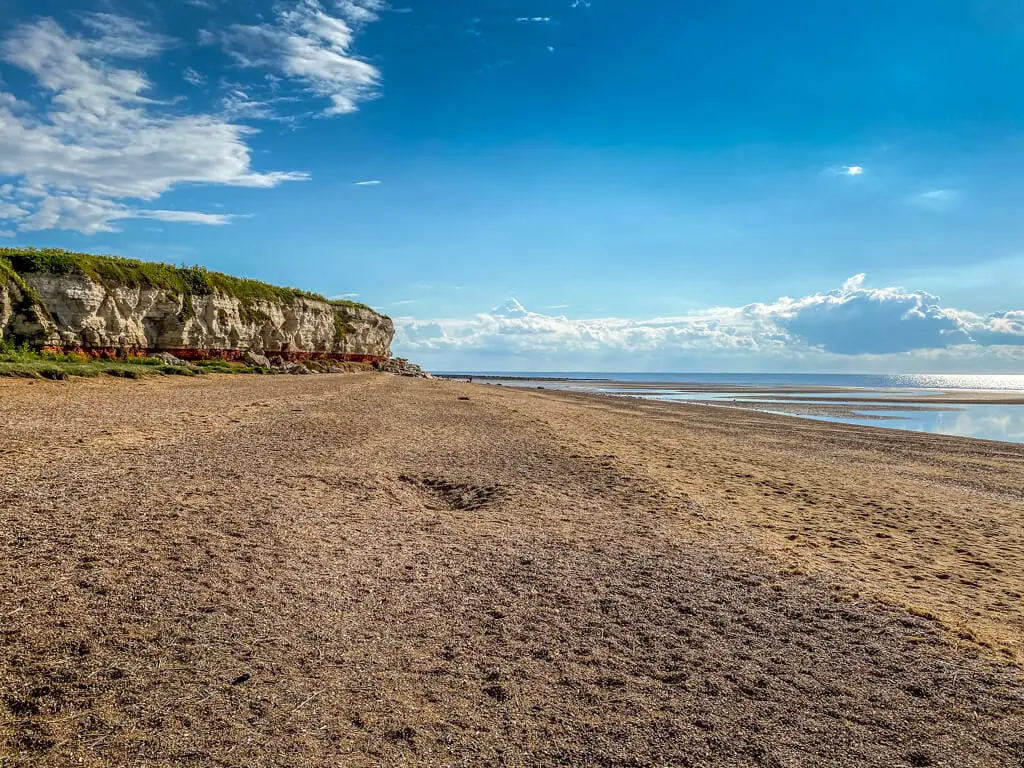 Old Hunstanton is known for its unique striped cliffs that add to the natural beauty of this beach. These cliffs were formed thousands of years ago and are rich in natural ammonites, so keep your eyes open for fossils that may get washed up on the beach.
While it's only about a mile from New Hunstanton (also referred to as just Hunstanton), it is much quieter. When the tide is out, you can see a shipwreck (S T Sheraton) below the lighthouse. Walk further north and there are dunes, colourful beach huts, and a cafe.
It's one of the most dog-friendly beaches in Norfolk. There are no dog restrictions and there is plenty of room for them to run around.
You have two parking options for Old Hunstanton Beach – the Clifftop Car Park (close to the lighthouse) or the Sea Lane Car Park (close to the Beach Café). The Clifftop Car Park is pay and display has a machine that accepts coins or you can pay through an app on your phone. The Sea Lane Car Park has an attendant to collect the fee.
To get to Old Hunstanton Beach on the 36 Coastliner, use the Lighthouse Close stop. Then walk along the Clifftop Car Park to the path leading down to the beach.
Disclosure: This post contains affiliate links. This means we will receive a small commission for some purchases made using links in our blog with no additional cost to you.  Please be assured we would not promote any product unless we believe that our readers will also benefit.  The commission does not influence the editorial content of this site.