Thanks to the Broadland District Council, there is a new country park in Norfolk, called Broadland Country Park. It's 140 acre of heath, woodland and marshy grassland.
I couldn't wait to check it out. Let me share my experience visiting Broadland Country Park and information that will be helpful if you want to plan your own visit.
Be sure to sign up for our email list here, so that we can tell you about all the exciting things happening in Norfolk.
History of Broadland Country Park
Broadland Country Park sits on land that used to be the Houghen Plantation. The Broadland District Council negotiated with the landowners of Houghen Plantation to buy the site for £700,000 in 2020. They wanted to create a park comparable to Whitlingham.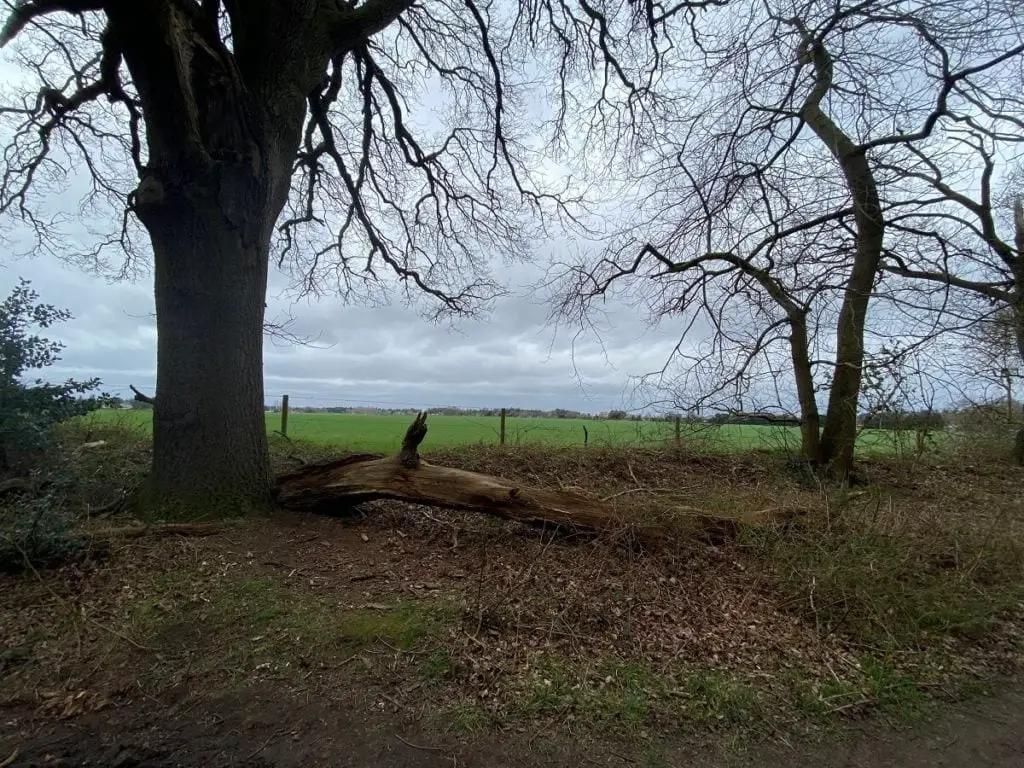 What to do at Broadland Country Park
Broadland Country Park is ideal for walking and cycling. Currently there are two circular routes around the park – the Pink Trail (.8 miles long) and the Purple Trail (1.6 miles long). The shorter route goes through a mix of broadleaf and conifer woodland, while the longer one goes by sweet chestnut trees and gives you views across the heath. Horse riders can also use these paths.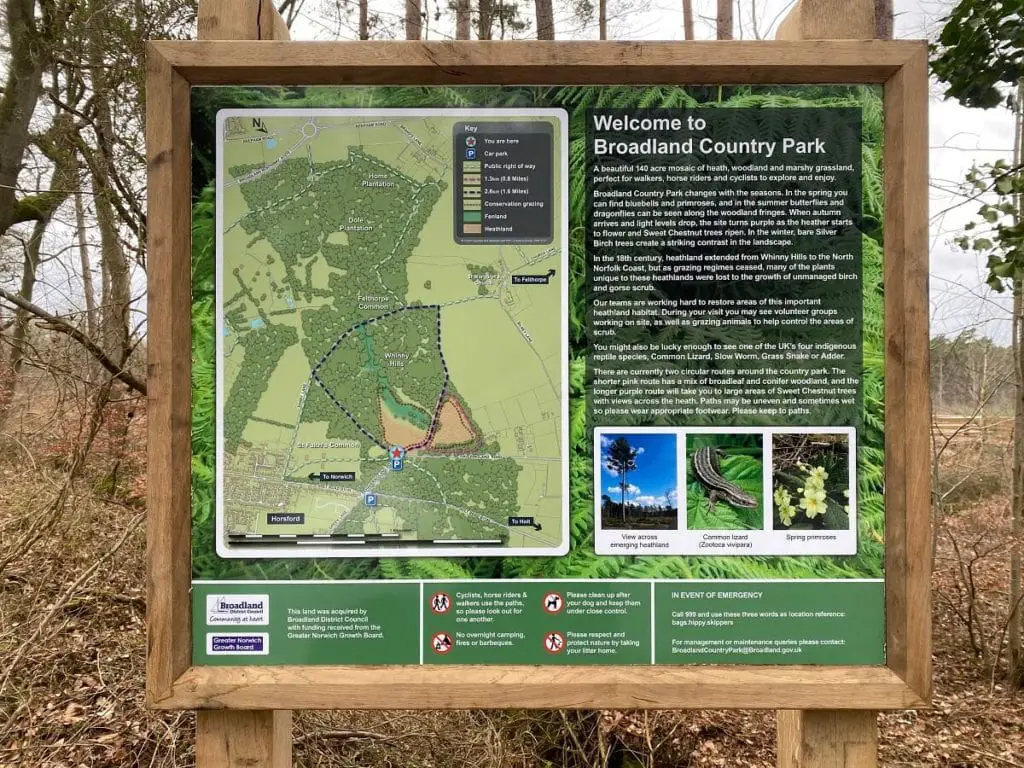 As you explore the park, keep you eyes open for wildlife. You might spot a lizard, slow worm, grass snake, or even adder. During the summer, you may see butterflies and dragonflies. There are also lots of local birds like mistle thrush, great tits, blue tits, and great spotted woodpeckers.
The Broadland Country is new and it will be exciting to see how it develops.
UPDATE AUGUST 2022: Three bicycle trails have been added to Broadland Country Park, two of these are accessible for disability and adapted bikes. Get more details here.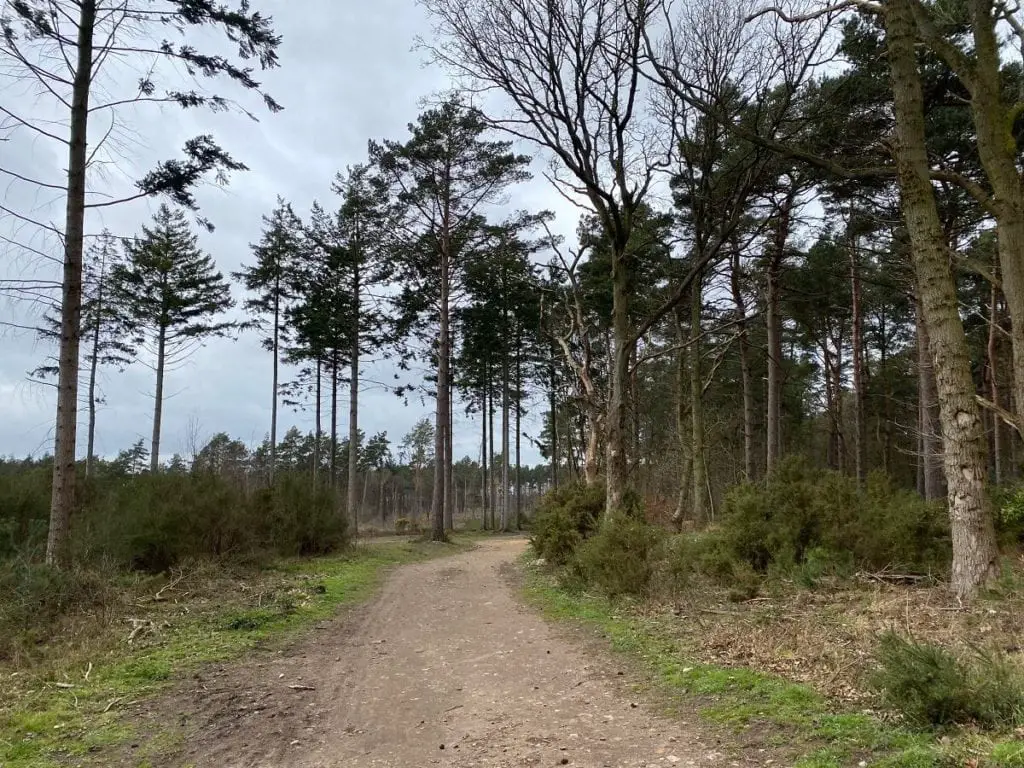 Our Visit to Broadland Country Park
As soon as I heard about Broadland Country Park opening, I decided to plan a visit. We went the end of March 2021.
I wasn't too surprised that the car park was pretty full when we arrived. It was the weekend and I knew there would be others wanting to check out the new park. We were lucky that someone once leaving and we could grab that spot.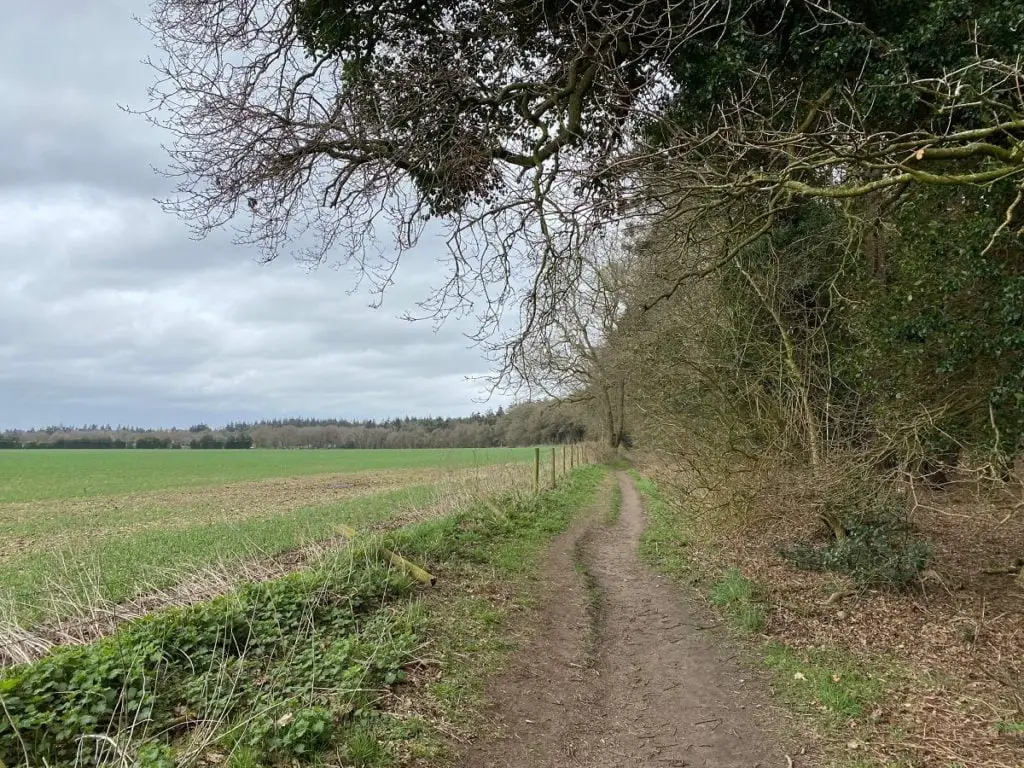 After looking at the map on the information board, we decided to do the longer walk. It looked like a simple circular route that would allow us to see the most of the park. While it wasn't challenging physically, I have to admit it wasn't easy to follow the route.
We didn't see any markings or signs after the initial board and there were many additional paths that weren't on the map. I think we turned too early, but in the end we still found our way back to the car park, so it was fine.
Tip: Take a photo of the information board so you can take a look back at the map when you need to.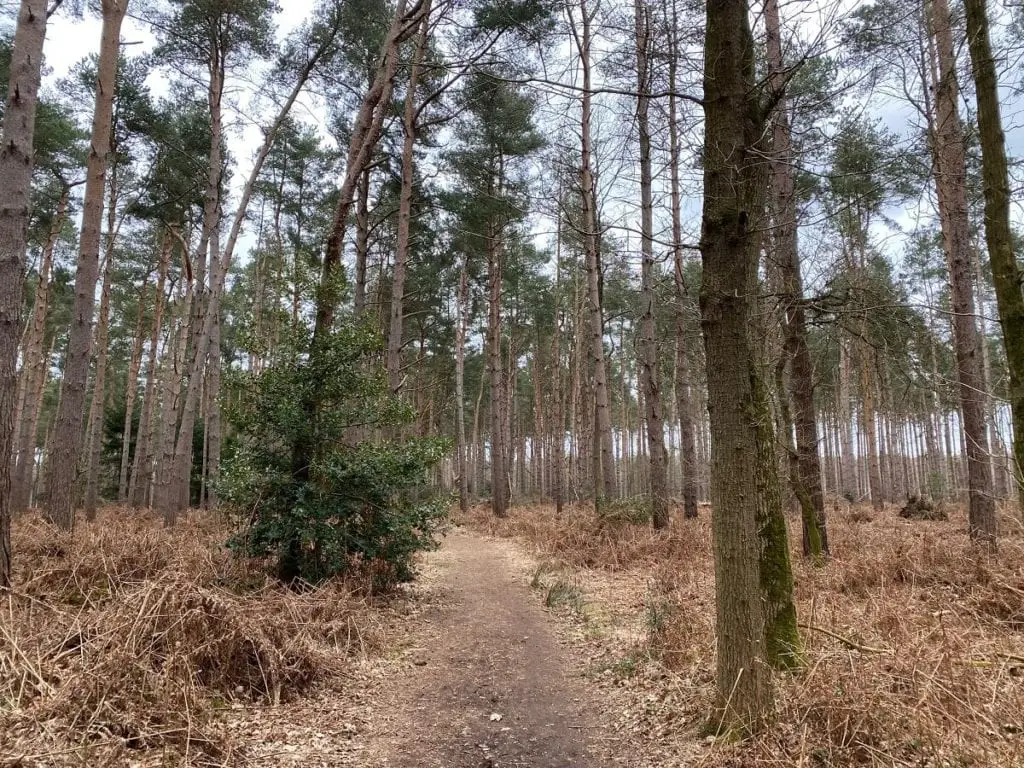 It was an enjoyable walk even if we felt a bit lost at times. Some sections of the path were muddy, but nothing was impassable. With all the trees, it felt peaceful. Even with all the cars, the trails did not feel crowded. While we didn't see any notable wildlife, we could hear birds. We also saw some daffodils which brought a nice pop of colour.
Things to do Near Broadland Country Park
While you are in the area, there are a few more places that you might want to visit.
St. Margaret's Church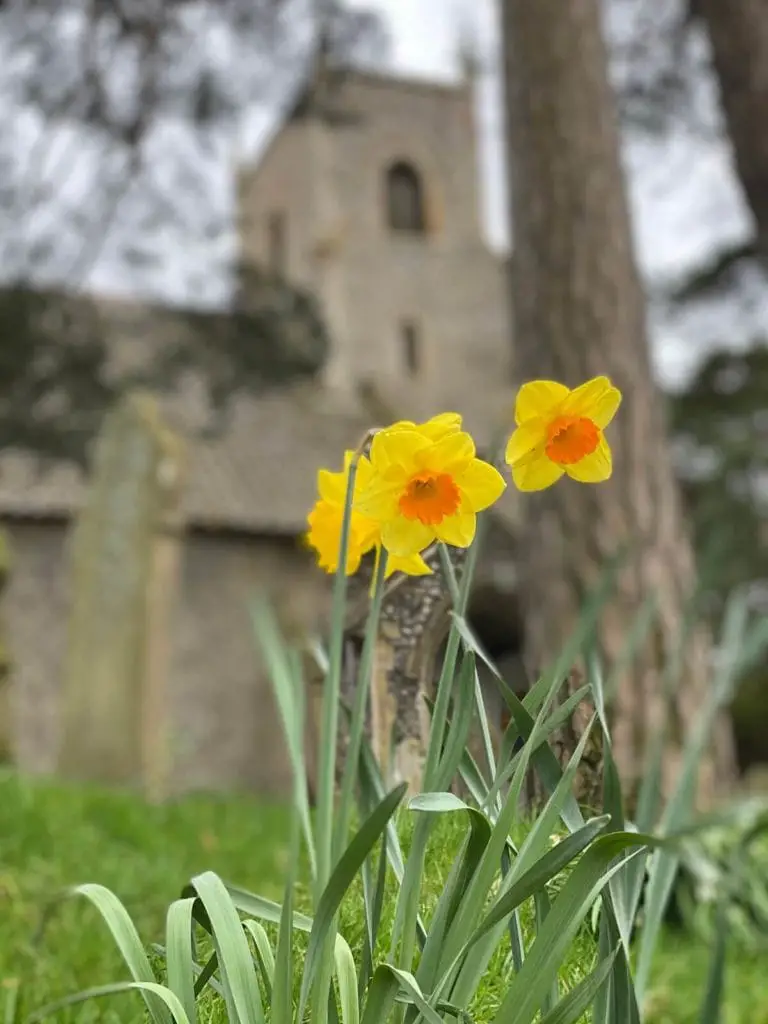 We made a little detour from our circular walk around Broadland Country Park to see St. Margaret's Church. This parish church dates back to the 14th century and was restored in the 19th-century. It's worth going inside to see the stained glass windows. It also has a large churchyard, which was full of daffodils when we visited.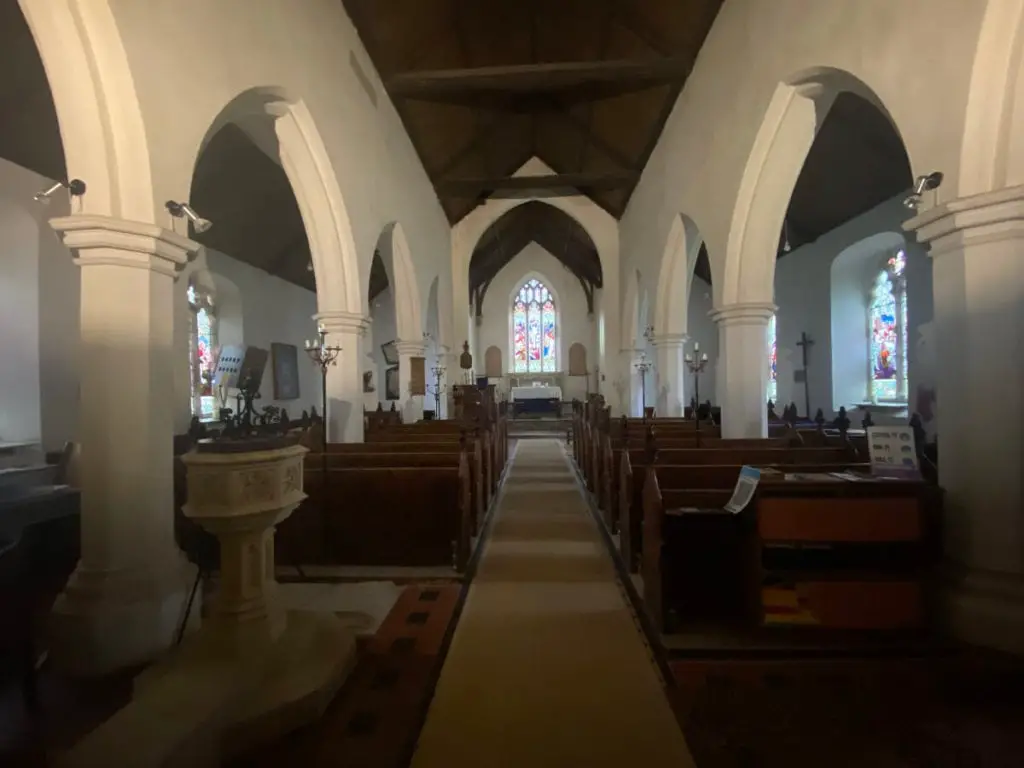 City of Norwich Aviation Museum
The City of Norwich Aviation museum (CNAM) was started by a group of aviation enthusiasts back in 1977. You can see a massive Vulcan bomber and some aircraft which have flown from Norfolk airfields. There are exhibits where you can learn more about the local presence of the American 8th Army Air Force, the RAF Bomber Command, the role of women in aviation, and more.
Get more information about the museum here.
When to Visit Broadland Country Park
You can visit Broadland Country Park all year round, but it will be different depending on the season. In the spring, you can see daffodils, bluebells, and primroses. In the fall, the heather will flower.
Note: If you like bluebells, be sure to read our post about the best spots to see bluebells in Norfolk.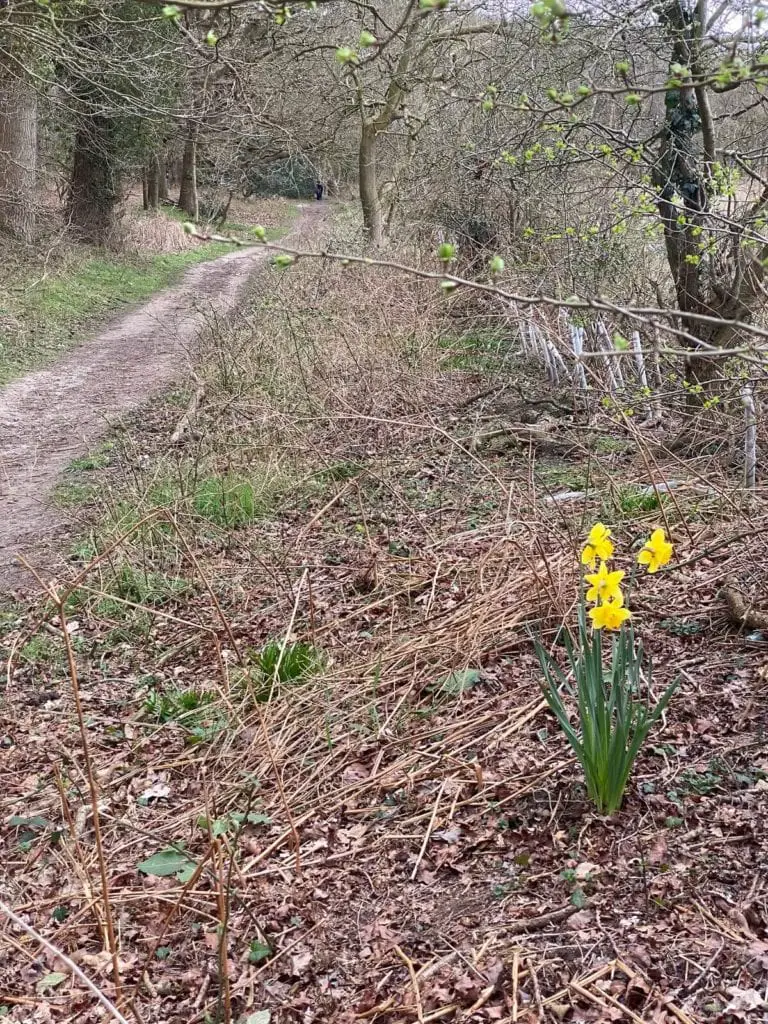 How Long to Spend at Broadland Country Park
You don't need long to explore Broadland Country Park. Even the longer trail can be done in less than an hour. You will want to take your time though and enjoy nature.
Is Broadland Country Park Good for Kids?
Yes. While it may not have a play area like some other parks, kids will enjoy the walk. The trail is easy, relatively flat, and not too long.
Be sure to also check out our suggestions for more things to do in Norfolk with kids and things to do in Norwich with kids.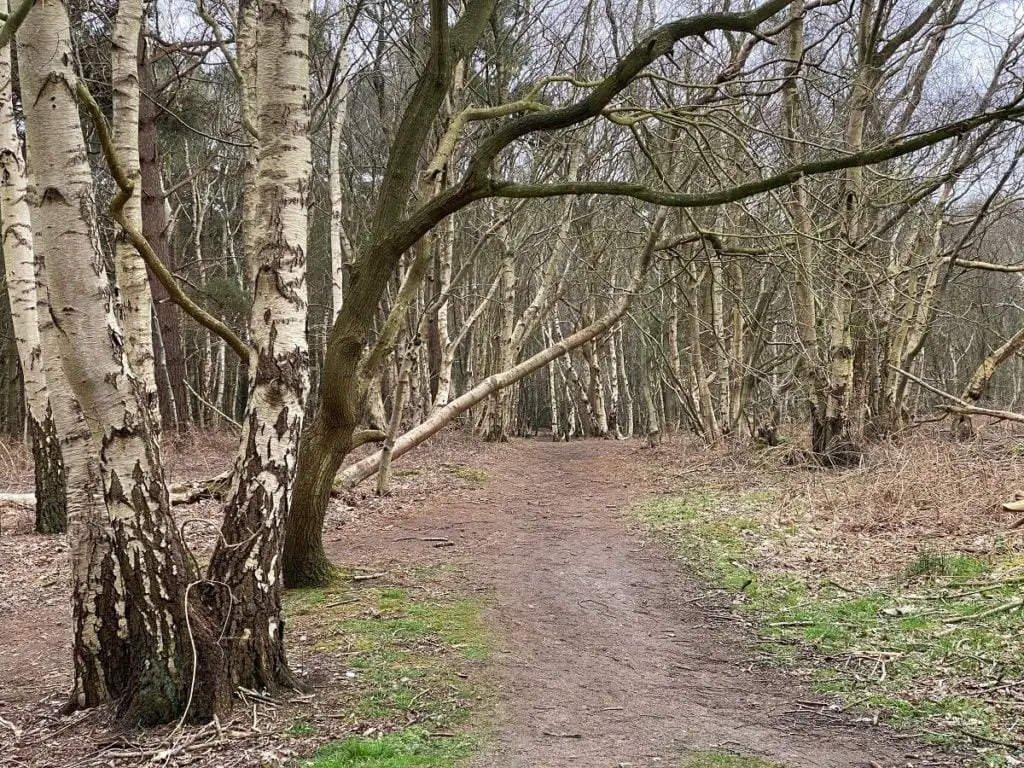 Are Dogs Welcome at Broadland Country Park?
Yes. They ask that you clean up after them and keep them under close control.
Can You Camp at Broadland Country Park?
Overnight camping is not allowed.
How Much Does it Cost to Visit Broadland Country Park?
There is no admission charge to visit Broadland Country Park. Parking is also free.
If you are looking for more budget-friendly ideas, check out our list of the best free things to do in Norfolk.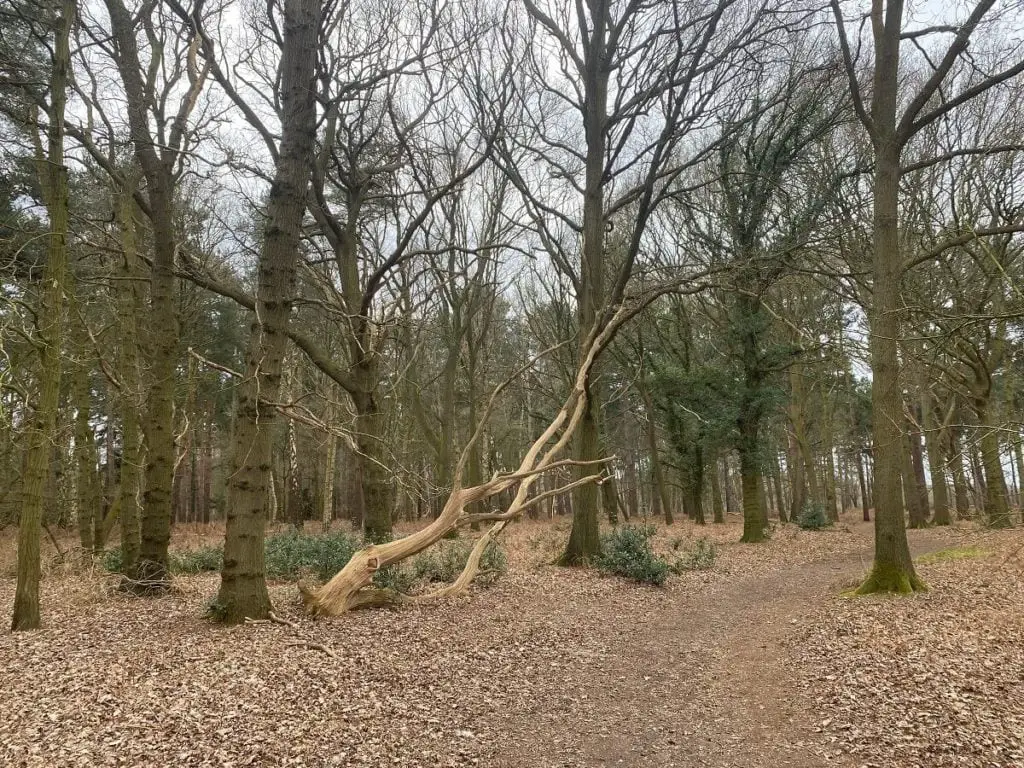 How to Get to Broadland Country Park
Broadland Country Park is located between the villages of Horsford and Felthorpe. It's about a 20 minute drive from the Norwich City centre. Use the postcode NR10 4DF for the sat nave and it will take you to the small parking area.
Alternatively, you can take a bus, but it will take close to an hour. Catch the #36 bus from Stop CE by Castle Meadow towards Horsford. Get off at the Pinelands Industrial Estate stop and walk about .6 miles to the park. You will need to be cautious on the walk as there won't always be pavement.
More Woodland Walks
If you enjoyed walking at Broadland Country park, be sure to check out more woodland walks in Norfolk.