Norfolk is known for its scenic countryside, stunning coastline, and charming towns. One of the best ways to explore Norfolk's natural beauty is by taking a circular walk. With a variety of landscapes to discover, including rolling hills, huge beaches, vast marshes, and ancient woodlands, there is something for every type of walker.
From leisurely strolls to more challenging hikes, Norfolk has it all. In this blog post, we will take a look at some of the best circular walks in Norfolk, and what makes them so special. Whether you're a local or a visitor, you will want to lace up your walking boots, grab a map, and hit the trails.
Be sure to sign up for our email newsletter here so we can send you more ideas of things to do in Norfolk each week.
Note: This post contains affiliate links.  As an Amazon Associate, we earn from qualifying purchases. Please see disclosure for more information.
Best Circular Walks in Norfolk
Circular walks are nice because you can start and end in the same place without retracing your steps. If you are looking for circular walks in Norfolk we have a few recommendations.
You can take your pick from a variety of landscapes depending on what you're in the mood for. The best part? These walks are mostly flat, so you won't have to worry about any challenging inclines. And the distances vary, so you can choose a shorter or longer walk depending on your preference.
So whether you're looking for a leisurely stroll or a more challenging hike, Norfolk has something to offer. Just pick your favourite landscape and you're ready to go!
Burgh Castle Circular Walk
The Burgh Castle Circular Walk is an easy one-mile route that begins in the car park and takes you on a journey through history. The highlight of the walk is undoubtedly the Burgh Castle ruins, which date back to the Roman era and offer a fascinating glimpse into the past.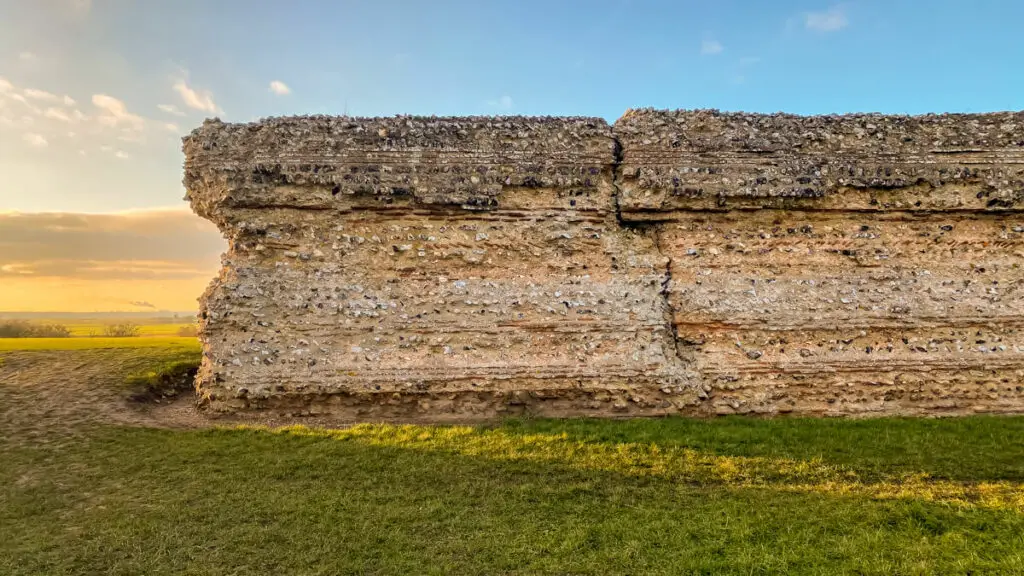 As you make your way along the route, you'll be treated to stunning views over Halvergate Marshes and Breydon Water, which are perfect for capturing some memorable photographs. Keep your eyes peeled for Berney Arms Mill, the tallest drainage mill in the country, which can be seen in the distance.
Although the walk is mostly flat, there are some stairs to navigate. If you want to follow the route with ease, check out our Burgh Castle Circular Walk Guide, which offers detailed step-by-step directions.
While you can probably complete the walk in 30 minutes, it's best to allow more time so you can explore the ruins and take in the views. Burgh Castle is free to visit but there is a charge for the car park.
Holkham Park Circular Walk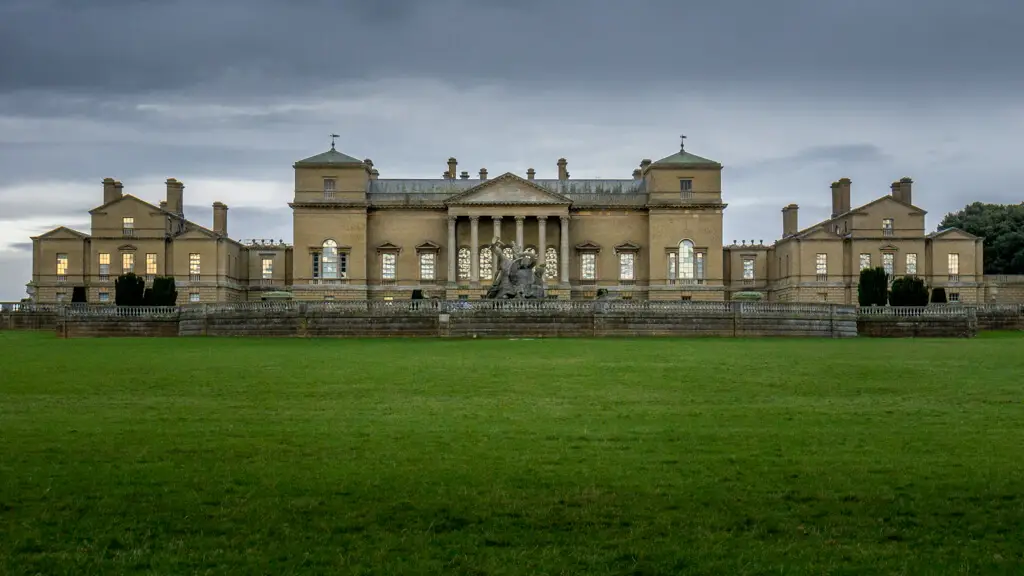 Holkham Park is an absolute gem, with tons of things to do and see. One of the highlights is definitely Holkham Hall, one of the grandest stately homes in Norfolk, but there's much more to explore. That's why you should do this 6.5 mile circular walk.
It includes sections of several of the different waymarked trails found in Holkham Park. Along the way, you'll get to check out the lake, St. Withburga's Church, the Ice House, the Obelisk, and of course, Holkham Hall itself. And don't forget to keep an eye out for the Coke Monument too!
To get started from the main car park, you want to take a leisurely stroll up Holkham Drive. You'll then need to keep an eye out for the red trail that will guide you toward the Coke Monument. From there, you can continue on to the lake and follow the yellow trail that will take you around the water and past St. Withburga's Church.
When you reach the bottom of the lake, take a left at the T-junction to visit the Ice House. After checking that out, head right on The Avenue, where you'll get to see the Obelisk. Finally, after just 300 meters, you can take the Park Walk (green trail) to make your way back to the car park.
It's free to visit Holkham Park, but you do have to pay for parking. If you want to go inside Holkham Hall, the Holkham Stories Exhibition, or the Walled Gardens you will need to pay admission. Historic Houses members can park and visit all of the Holkham attractions for free.
If you want to relax after your walk in Holkham Park, you can head to Holkham Beach.
Note: Lady Glenconner, Princess Margaret's Lady-in-Waiting, who grew up at Holkham Hall claims that it is haunted. You can read more in her novel "A Haunting at Holkham."
Castle Acre Circular Walk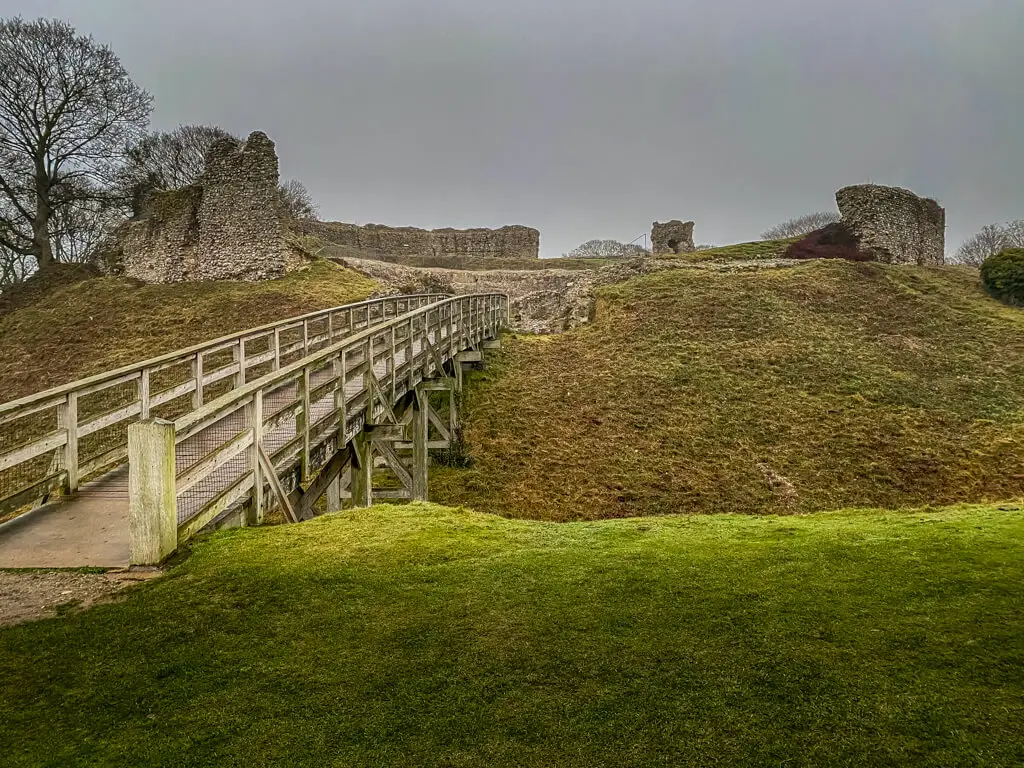 The Castle Acre circular walk is a six-mile route that takes you through the charming village of Castle Acre and its historic landmarks, including the Castle Acre Castle, Bailey Gate, and Castle Acre Priory. The walk starts at the Castle Acre Castle, where you can explore the ruins and well-preserved earthworks of the motte-and-bailey castle built by a close associate of William the Conqueror.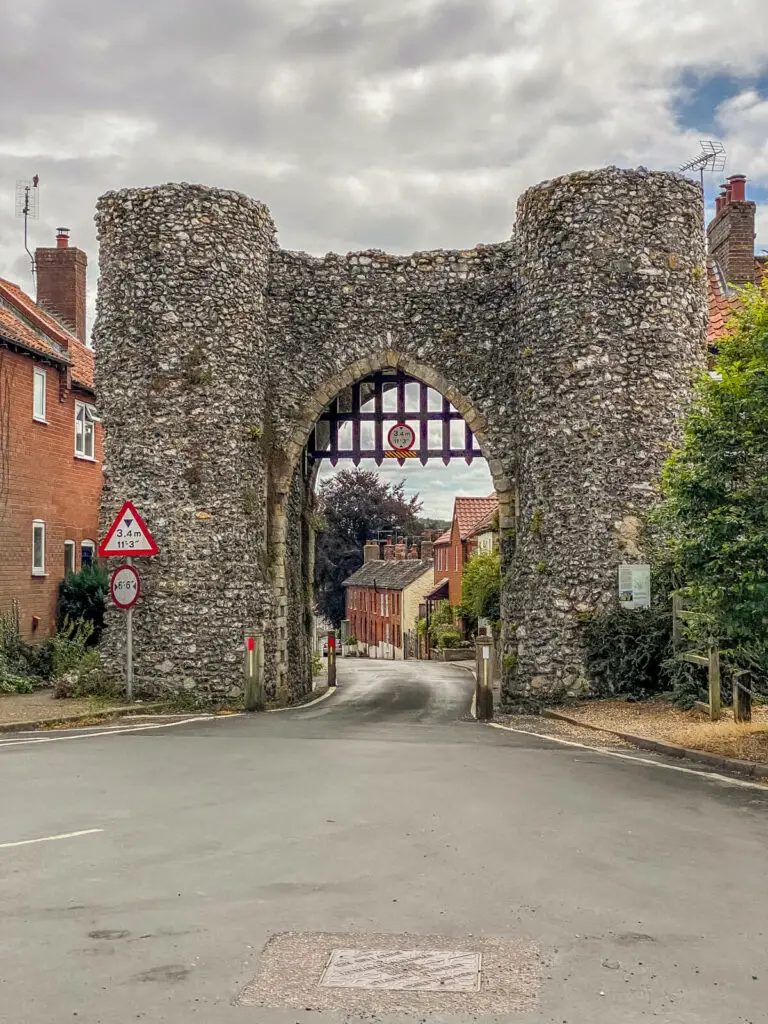 From there, you'll continue through the village, taking in the charming architecture, before arriving at the Castle Acre Priory, an English Heritage site that was founded in the 11th century. The Priory is accessible via smooth grass and tarmac paths and is free for English Heritage members. Check Priory opening hours and admission prices for non-members here.
The walk is mostly on established footpaths, taking you through a wooded river valley and open fields. Note that there are some steps to access Castle Acre Castle from the castle car park. Dogs on leads are welcome.
Find detailed directions here.
Blickling Estate Circular Walk
The Blickling Estate Circular Walk is a great opportunity to explore the parkland around Blickling Hall. Covering a distance of 4.5 miles, the walk takes around two hours to complete and is suitable for active families and individuals.
You will be able to visit several points of historical interest, including Long Plantation, the Tower, Brickyard, Mausoleum, and Great Wood. It's important to note that during bluebell season, you may want to modify the walk to include more of the Great Wood to fully experience the stunning display of bluebells in bloom.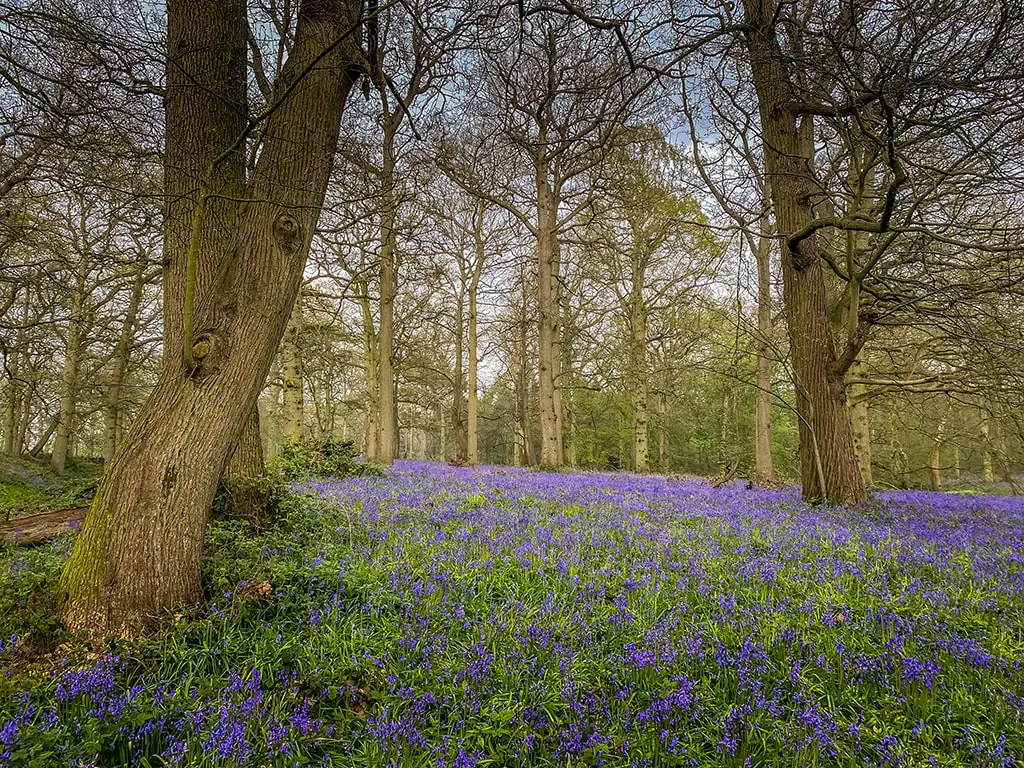 Most of the path is waymarked, with grass paths, seats, tree roots, gates, and stiles. Unfortunately it is not suitable for wheelchairs or pushchairs, but it is dog-friendly. You can find the detailed directions here.
The walk starts and ends at the main Blickling Car Park, which is free for National Trust members. Before or after your walk, you can visit the Buckinghamshire Arms for refreshments and a bite to eat.
If you have more time in the area, you should go inside Blickling Hall, which is a National Trust property, allowing members to visit for free. Alternatively, if you need more time at Blickling, there are also holiday homes you can stay at on the estate. During your stay at one of these properties, you can visit any National Trust sites for free. Check out the options here.
Walk Around Whitlingham Great Broad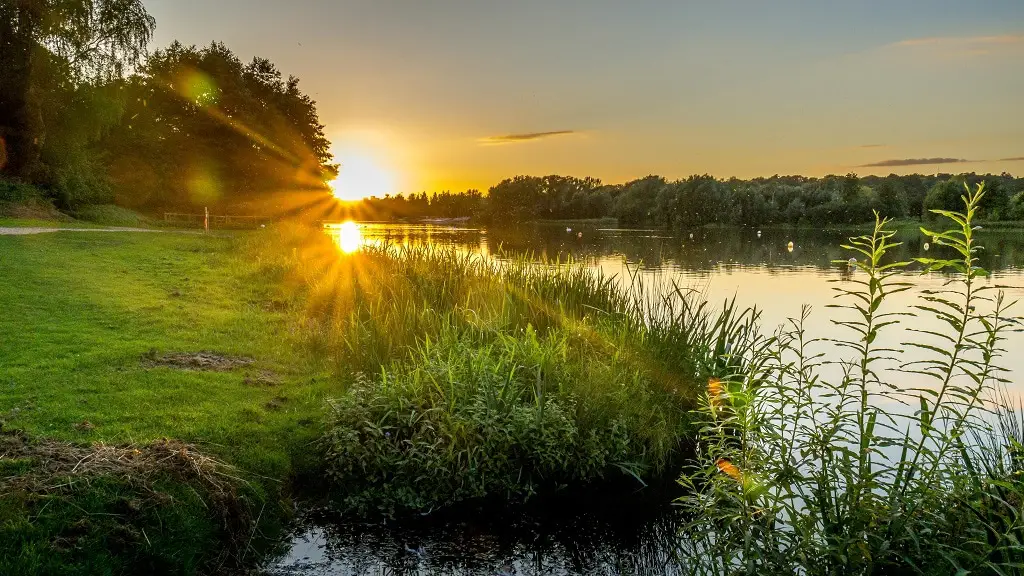 The circular walk around Whitlingham Great Broad is popular thanks to its accessibility and lovely views. The 2-mile path around the Broad is wheelchair accessible and mostly flat, making it suitable for people of all fitness levels and even kids. Runners and cyclists also frequent this trail, making it a bustling hub of activity especially when the weather is nice.
Even with all the people, it's a peaceful escape not far from Norwich city centre. If you time your visit right, you can witness the beautiful colours of either the sunset or sunrise across the water. While dogs are allowed on this walk, there is a section that goes through a nature area where they need to be kept on leads.
Read about more things to do at Whitlingham Country Park.
Horsey Circular Walk
The Horsey Circular walk will take you through some of Norfolk's most beautiful natural landscapes. The walk starts and ends at the Horsey Windpump car park, which is free for National Trust members and has toilet facilities available.
It's important to note that the path for this walk is uneven, and the tracks and grass can be muddy, especially during the winter or when the weather is wet, making it unsuitable for pushchairs. Care is needed when crossing the busy B1159 road. However, dogs are welcome on the route but must be kept on a lead due to livestock grazing along the way.
The circular route is approximately 3.6 miles and takes around 1.5 hours to complete. The walk takes you through the Norfolk Coast Area of Outstanding Natural Beauty and The Broads National Park, offering breathtaking coastal views and the opportunity to spot some of the local wildlife, including the famous seal colony at Horsey Beach.
As you pass through Horsey village, you'll be able to soak up the local history and architecture. You might want to take a few minutes to admire the thatched All Saints Church with its round Saxon tower before heading back to the Horsey Windpump.
Get more information about the Horsey Circular Walk here.
How Hill to St. Benets Abbey Circular Walk
The circular walk from How Hill to St. Benet's Abbey is a scenic route covering around 7.25 miles (get the map here). The walk offers picturesque views along the River Ant and River Bure, making it a great choice for nature enthusiasts. How Hill is the best starting point, offering ample parking facilities, and visitors can also opt for an Electric Eel boat tour from here.
Along the way, you can make a diversion to visit Ludham, a quaint village known for its charming thatched houses, tea rooms, and the magnificent 14th St. Catherine's Church. The village served as a film location for the 1954 movie Conflict of Wings.
The highlight of the walk is St. Benet's Abbey, the only monastery that remained open when King Henry VIII dissolved the other monasteries across England. There is no charge to visit St. Benet's Abbey is free, and you can find more information about it here.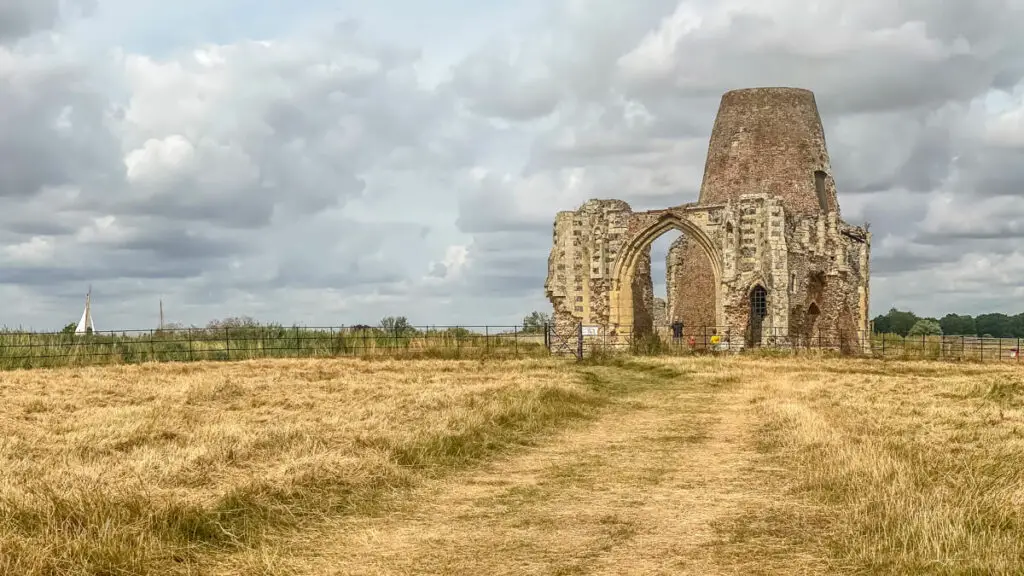 The gatehouse ruins are unique, with a mill built on them in the 1720s, and visitors can also walk to the modern wooden cross that marks the site of the altar. Although the last monks left in 1545, religious services are still held here on the first Sunday of August every year, making it a special place to visit.
After visiting St. Benet's Abbey, the return journey to How Hill mostly follows the rivers, but visitors can also take a detour and stop at The Dog at Ludham Bridge for a bite to eat and a pint.
Burnham Overy Staithe Circular Walk
Burnham Overy Staithe is a hamlet on the Norfolk Coast Path near Brancaster. This idyllic location is renowned for its opportunities for recreational sailing and walking. The National Trust has even established a 4-mile circular route for walkers which takes around two hours to complete.
The starting and ending point is The Hero Bar and Restaurant in Burnham Overy Staithe, and the walk takes you through Burnham Overy Town and past St. Clement church with its Norman tower. You'll also catch sight of the Tower Windmill (now a holiday home) along the way.
One of the highlights of this walk is the opportunity to wander through Holkham National Nature Reserve, which is home to an incredible array of wildlife. Whether you're a birdwatcher or simply enjoy taking in the natural beauty of the area, you're sure to be impressed by the sights and sounds of this stunning nature reserve.
You'll be walking along field paths, grass tracks, and stiles, so be sure to wear suitable footwear, particularly if the weather has been wet. This walk also goes by the Brancaster White Horse, one of our favourite places to eat in Norfolk. If you want to stop for lunch or dinner, it's best to book in advance.
It's worth noting that while dogs are welcome on this walk, they should be kept on leads or under close control. Additionally, the parking at Brancaster Staithe Quay car park is limited, and the area can flood on a big tide, so be sure to check the tide times and heights before you set off.
Get the detailed directions here.
Barton Broad Circular Walk
The Barton Broad Circular Walk is a picturesque route that takes you on a journey through the countryside and on the Barton Broad Boardwalk with a view of one of Norfolk's largest broads. Before 2003, the only way to access this nature reserve was by boat, but thanks to the boardwalk constructed by the Broads Authority as part of the Clear Water 2000 project, you can walk there.
As you make your way around the boardwalk, keep your eyes peeled for a variety of birds. You can take a break and do more birdwatching at the Barton Broad viewpoint. Once you've completed the boardwalk loop, you will head back to the car park via country lanes and through fields.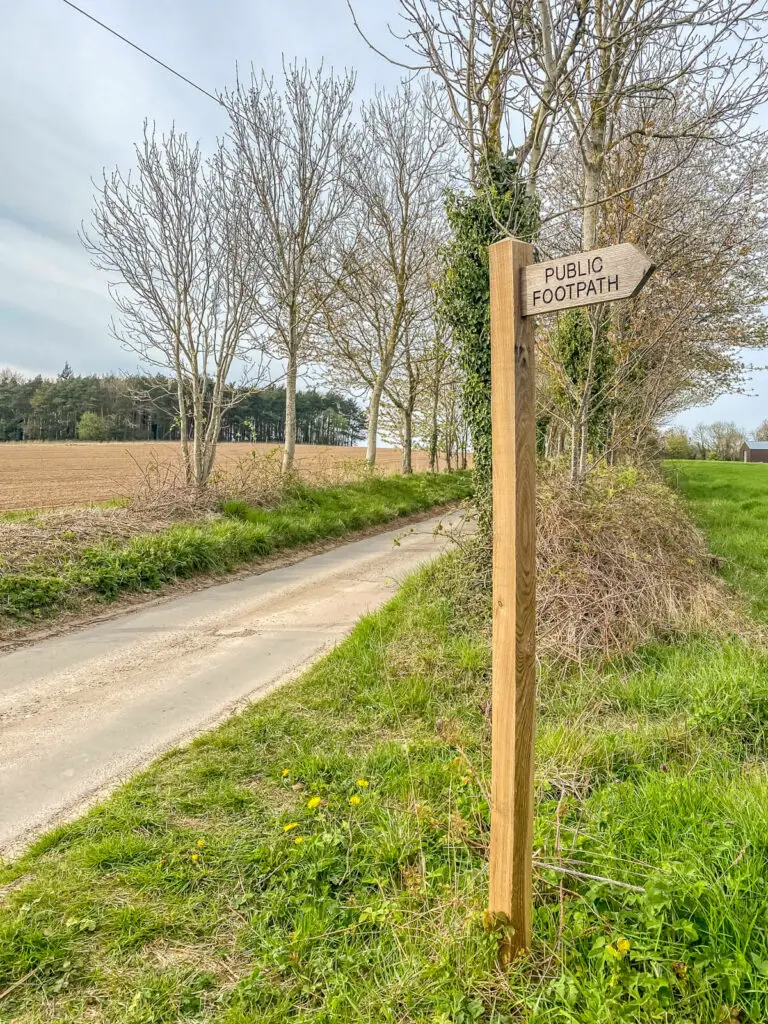 The walk is around 2.5 miles long and takes around an hour and a half to complete. You can download the map here, or follow our step-by-step instructions in our guide to the Barton Broad Circular Walk.
Norwich Riverside Walk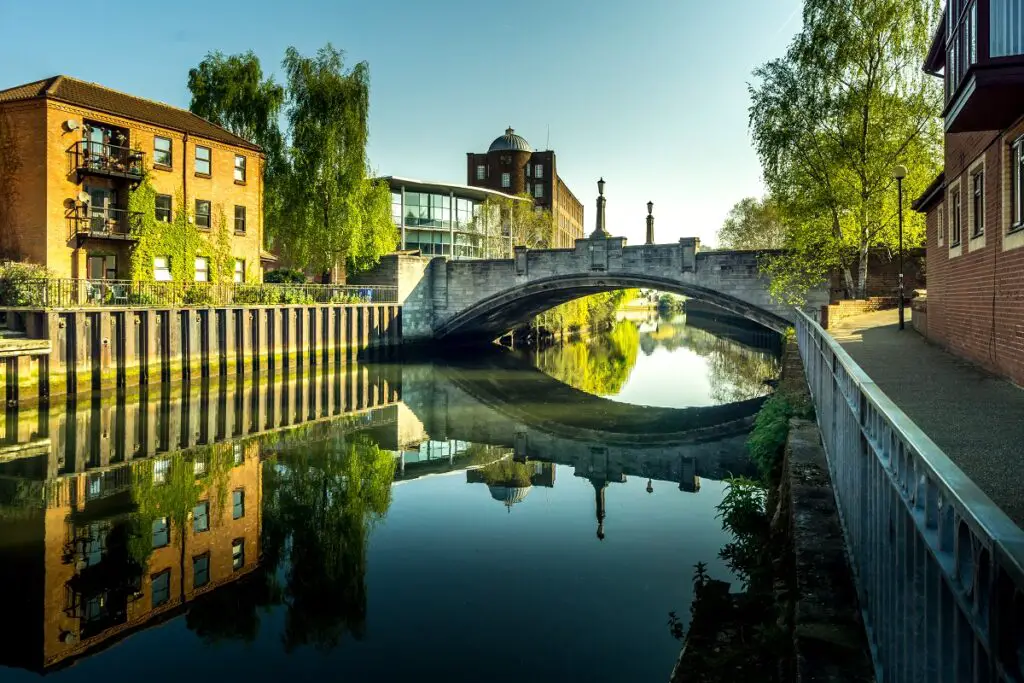 One of the best things to do in Norwich is the Riverside Walk. Starting from the Norwich railway station, this leisurely stroll takes around an hour, depending on how often you stop to take in the views.
As you walk, you'll follow the River Wensum, and you'll see some historic landmarks like Pull's Ferry and Cow Tower along the way. Trust me, you won't want to forget your camera for this one!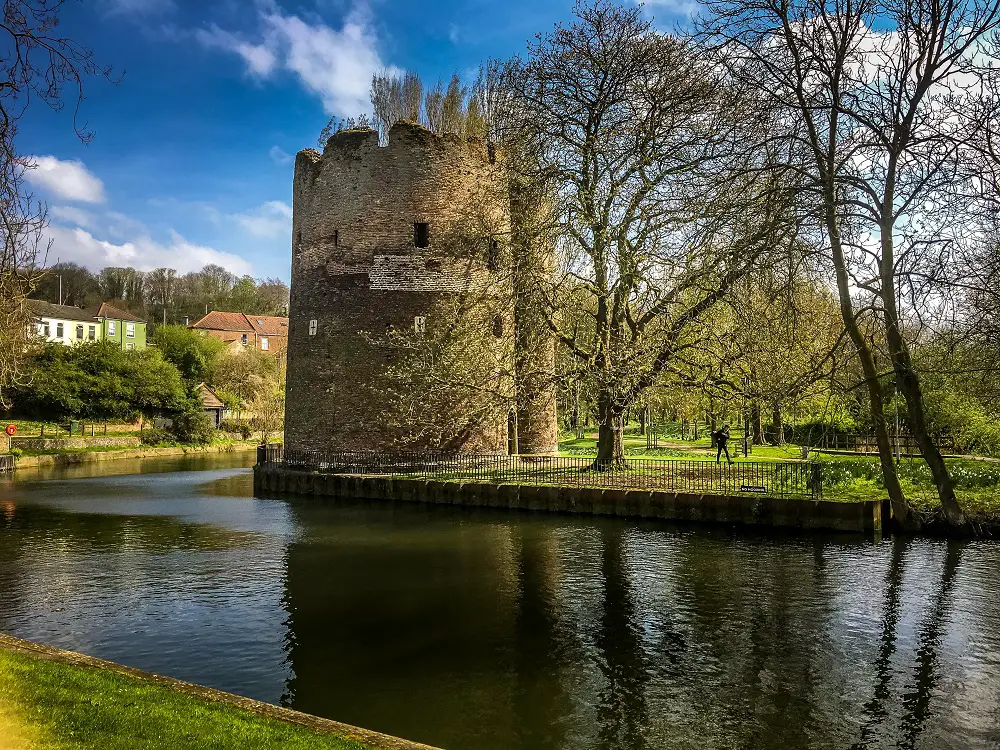 When you've reached the end of the Riverside Walk, don't worry, the adventure isn't over yet! You can make your way back to the starting point through the medieval streets of Norwich.
The path is perfect for all ages and is easily accessible. Plus, there are plans for future extensions, although we are not sure when that will happen. Get all the details on how to do the Norwich Riverside Walk.
What is the best circular walk in Norfolk?
Norfolk is a full of stunning landscapes and picturesque villages making it ideal for circular walks. With all the wonderful circular walks to choose from I think it is impossible to choose one circular walk in Norfolk that is the best. I love all the walks on this list.
Disclosure: This post contains affiliate links. This means we will receive a small commission for some purchases made using links in our blog with no additional cost to you.  Please be assured we would not promote any product unless we believe that our readers will also benefit.  The commission does not influence the editorial content of this site.