When you start seeing the bluebells in England, you know spring has arrived. It's one of my favourite times of year as the weather starts to get warmer and the sweet scent of bluebells is in the air.
It's worth making a trip (or two) to see the bluebells at their best, but you need to know where to go (and time it right). Let me tell you a bit more about these lovely flowers and share the best places to see bluebells in Norfolk.
More photos coming soon.
Note: This post contains affiliate links.  As an Amazon Associate, we earn from qualifying purchases. Please see disclosure for more information.
What are bluebells?
Bluebells (or Hyacinthoides non-scripta in scientific terms) are perennials with blooms that are usually deep purple and bell-shaped. They are typically found growing in droves in woodland areas, fields, or along hedgerows.
There are several types of bluebells:
English – The traditional bluebells droop to one side of the stem with the blooms.
Spanish – These bluebells grow upright, have flowers all around the stem, and do not have a scent.
Hybrid Mix – There are also bluebells that are a mix of the English and Spanish ones. It is hard to tell these from the native bluebells.
Both the Spanish and the Hybrid Mix bluebells are a threat to the native species.
You can try growing your own English bluebells at home with these seeds.
When is the best time to see bluebells in Norfolk?
Bluebell season is typically the end of April to the beginning of May in Norfolk. This can vary slightly each year so you may need to be flexible. Once they start blooming they only last a couple weeks, so you need to act fast.
The 10 Best Places to See Bluebells in Norfolk
When they peak, there are many places where you can find bluebells in Norfolk. This list includes my favourites and some of the most popular options. For the best views, you may need to walk a bit as these flowers thrive deep in the woods.
#1 Blickling Estate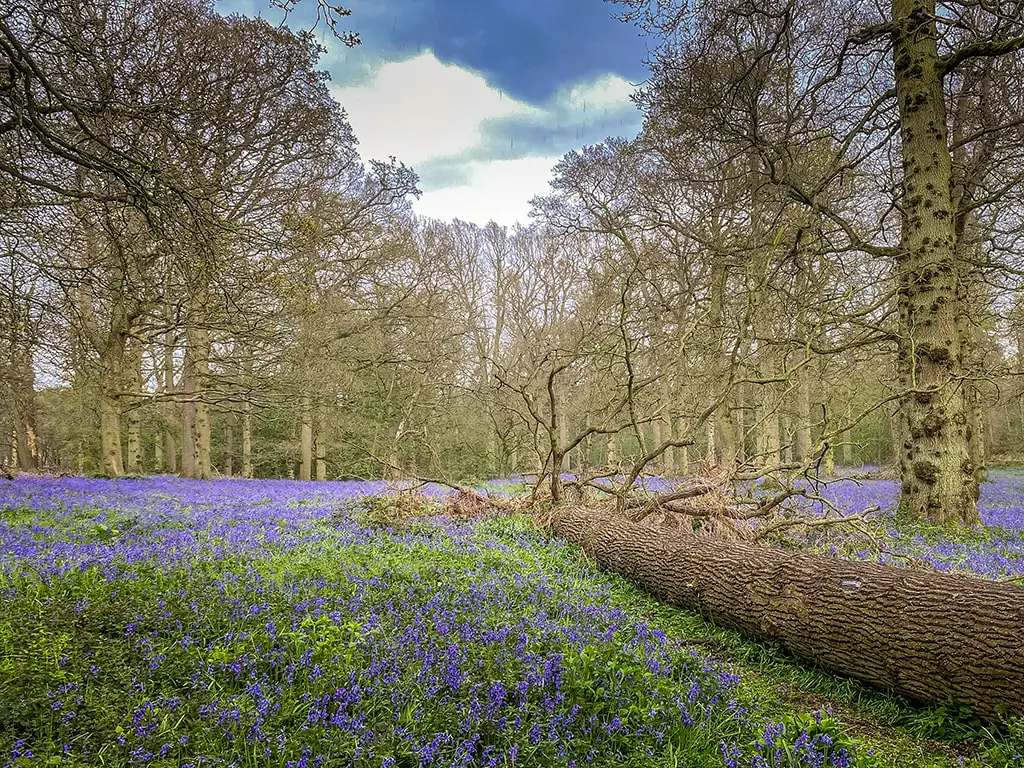 If you can only go to one place on this list, choose Blickling. While it is best known as the birthplace of Anne Boleyn, Blickling's bluebells are another reason to visit. The estate carefully manages its woodland to make sure as much light as possible reaches the forest floor so that the blue carpet will be magical. The colour of the flowers at Blickling seems to be more rich than other places.
The best areas to see the bluebells at the Blickling Estate are the Temple Walk, under the plane trees, and especially in the Great Wood. While the Great Wood is a bit of a walk from the Main Car Park, you do not want to miss the display of bluebells there. You can try to use Woodgate Car Park but it may be full during peak times.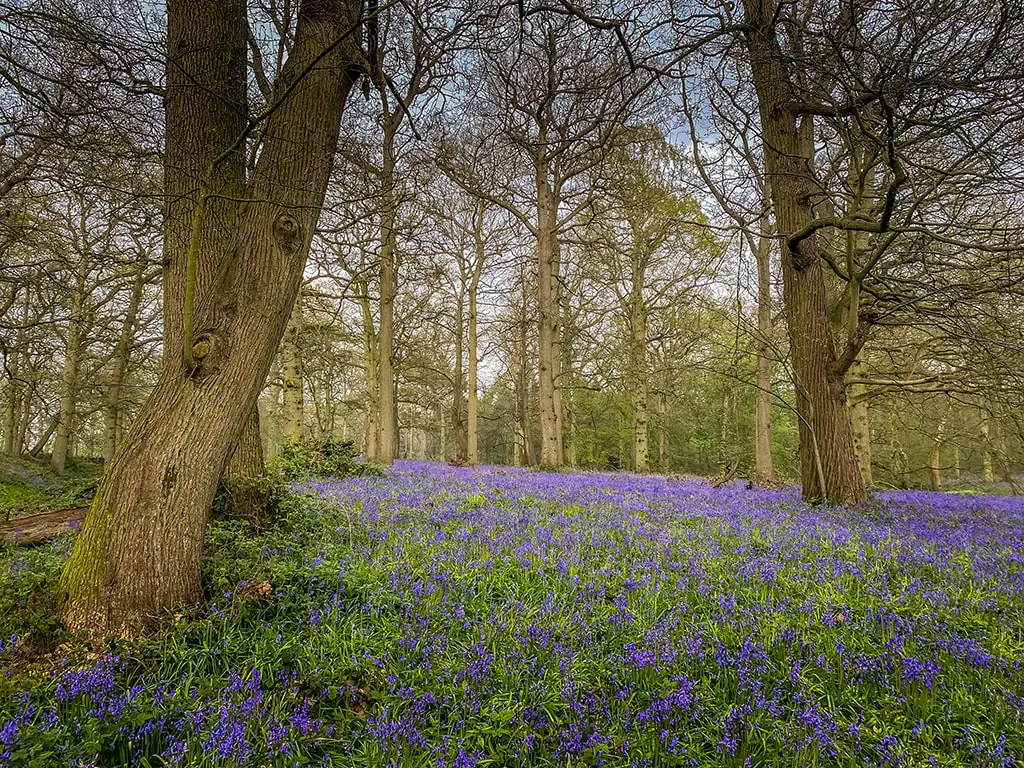 While you are at Blickling, it's also worthwhile to tour the historic Hall (if it is open). It's best to book in advance to avoid disappointment. Blickling is a National Trust Property so members can visit and park for free.
Get more information about National Trust Membership here.
There are also some unique holiday homes on the estate run by the National Trust. Check out the options here.
#2 Wayland Wood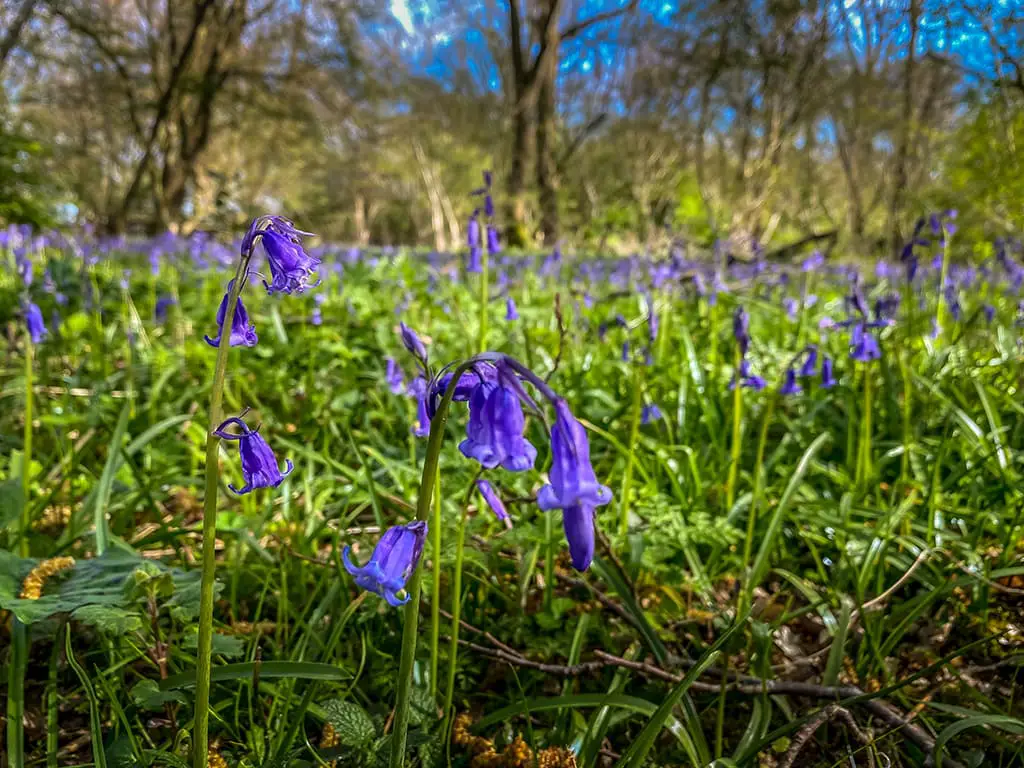 This wooded area may be best known as the location where "The Babes in the Wood" took place, but it's also wonderful for bluebells. You will need to walk on some of the smaller paths to see large patches of these flowers. Also keep an eye out for orchids which are in bloom at the same time.
Check out our guide to Wayland Wood for more information.
#3 Foxley Wood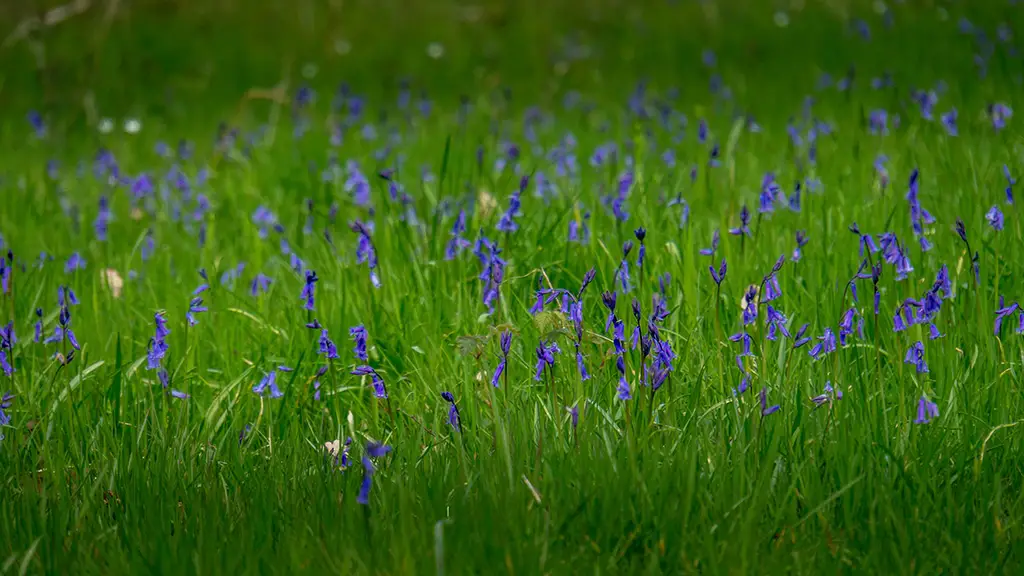 Foxley Wood is largest remaining ancient woodland in Norfolk. It is location about 25 km northwest of Norwich just a bit off the A1067 on a single track road. It is free to visit and to park.
They have a well-marked circular walk around the wood. In addition, to bluebells keep your eye open for wildlife. We saw a peacock butterfly and muntjac on our visit.
#4 Sheringham Park
Just outside Sheringham, this National Trust site offer both coastal views and bluebells. For the best bluebell spots in Sheringham Park head towards Weybourne Heath. If you have time (and energy), the 5-mile-long Ramblers Route would be lovely this time of year.
While it is free to visit Sheringham Park, there is a charge for parking if you are not a National Trust member. At this time of year, the park is very popular so be sure to book in advance to avoid disappointment.
Get more information about National Trust Membership here.
#5 Lion Wood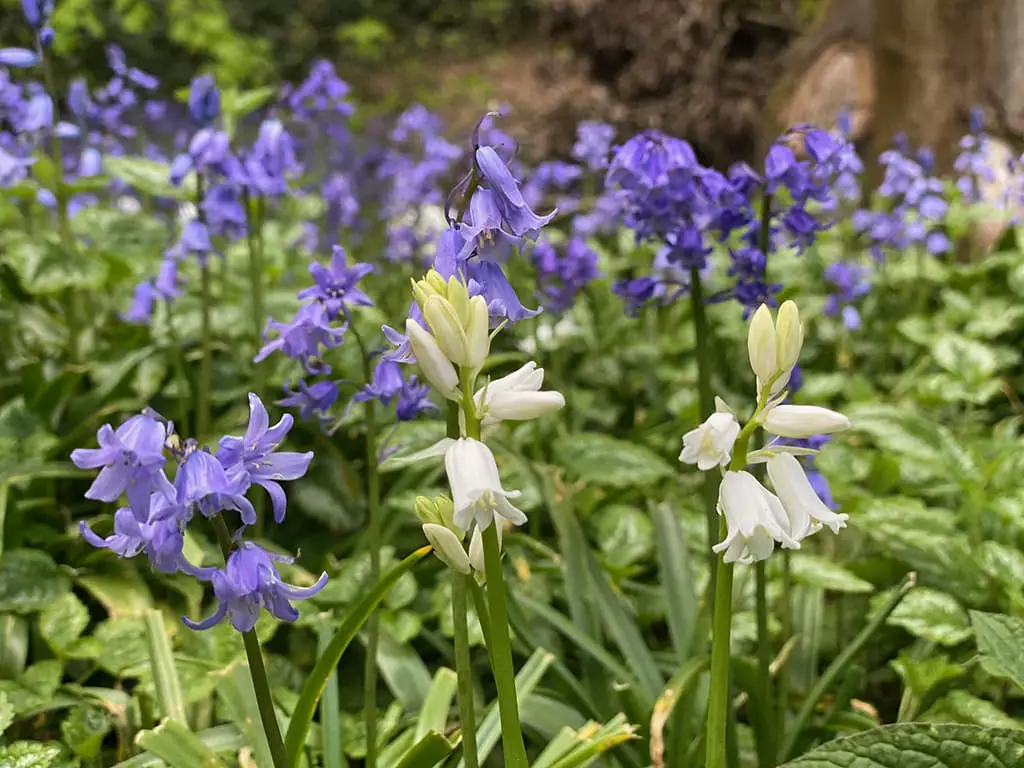 Lion Wood is thought to be part of the larger Thorpe Wood that is mentioned in the Domesday Book. It may not be as big as some of the other spots on this list, but Lion Wood still has an impressive display of bluebells and it's less than a mile from the Norwich city centre. If you drive, you can park by Woodrow Pilling Park.
The main path connects Wellesley Avenue North and South, but you will want to explore some of the informal paths for the best bluebell patches. I even saw a few white bluebells.
#6 Burlingham Woods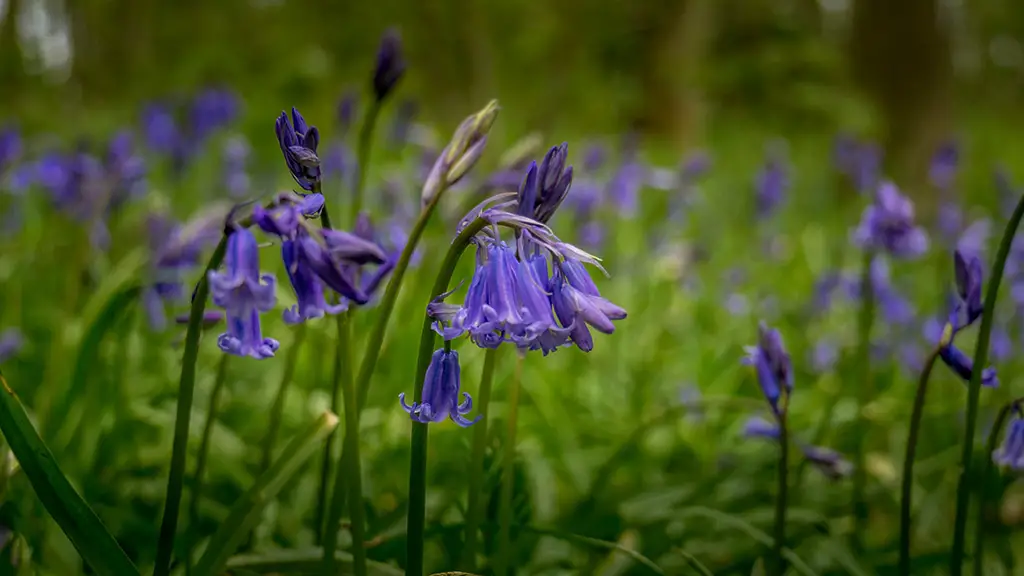 Located just off the A47, this woodland area has some art installations in addition to the bluebells. There are several paths to choose from but be sure to go through the Millennium Wood for the modern hedge and the Belt Plantation for the best bluebells. You might also see orchids. There is some space to park by the church, if that's full you can park on the road.
#7 Bacton Wood
Just a few miles northeast of North Walsham, you will find the 113-hectare Bacton Wood (sometimes called Witton Wood). It has three different walking routes ranging from 1.3 miles to 2.5 miles or you can explore some of the smaller trails.
In addition to the bluebells, you can see over 30 species of trees (including an old Sesssile oak tree) and a conifer plantation. There is also a bronze age burial ground, a pond, and an ancient pot boiling site in the woods. It's one of the best free places to visit in Norfolk.
#8 Fairhaven Water Gardens
Fairhaven in South Walsham is 130 acres of cultivated, wild and natural plantings in the Norfolk Broads. They have almost 4 miles of woodland pathways and their own private broad. It's a lovely place to walk any time of year and they have some interesting special events.
During the spring, you can see some bluebells in the beech walk area. It doesn't quite compare to the display you can see in a private section which is only open to the public (unfortunately not in 2021 or 2022 due to storm damage) for a short time when the bluebells are out. It's about a 4-mile round trip from the entrance to Fairhaven to the top of the woodland area where you can see the most bluebells.
#9 High Ash Farm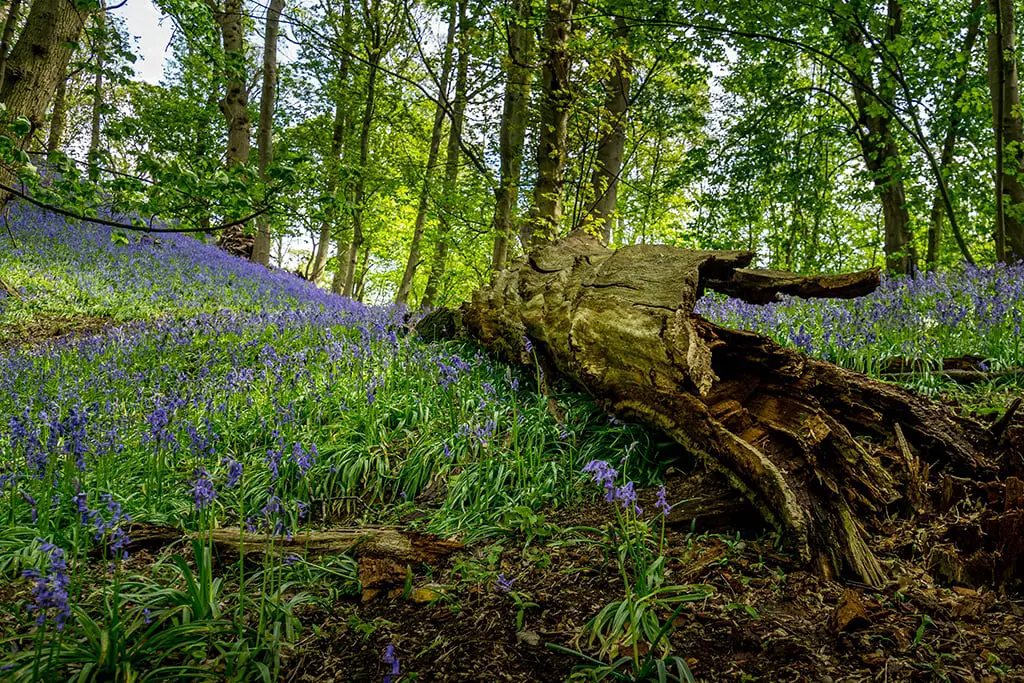 High Ash Farm offers a varied and peaceful landscape for walks. They do have a beautiful display of bluebells, but in areas where the public is typically not allowed. Look out for their open days (announced on their Facebook page), when they charge a small fee to see the bluebells in the private woodland areas.
While you are in the area, be sure to also check out Venta Icenorum, where you can see what is left of the Roman Town.
#10 Pensthorpe Natural Park
Pensthorpe is 700-acre nature reserve and woodland conservation park. It's one of the best places in Norfolk for kids because it has interactive trails and eco play areas. You will have to walk beyond the Wildflower Meadow towards the park's ancient woodlands to see the blanket of bluebells. When you need to refuel, stop into the Courtyard Cafe for some delicious home cooked food. They also have one of North Norfolk's largest shops.
---
Disclosure: This post contains affiliate links. This means we will receive a small commission for some purchases made using links in our blog with no additional cost to you.  Please be assured we would not promote any product unless we believe that our readers will also benefit.  The commission does not influence the editorial content of this site.