Imagine a place where the tranquillity of nature surrounds you, the fresh scent of the woods fills the air, and the only sounds you hear are the rustling of leaves underfoot and the chirping of birds above. That's the experience that awaits you on a woodland walk in Norfolk.
With ancient trees, rolling hills, wildlife, and hidden streams, Norfolk's woodlands are a haven for nature lovers and suitable for walkers of all ability levels. Join us as we take a journey through some of the best woodland walks in Norfolk.
Be sure to join our email list here so we can share more about all the fun things happening in Norfolk.
Note: This post contains affiliate links.  As an Amazon Associate, we earn from qualifying purchases. Please see disclosure for more information.
Woodland Walks in Norfolk
Norfolk may be well-known for its beautiful coastline and Broads, but its woodland walks are often overlooked. The fact that they are not as popular means you can expect a quieter setting where you can immerse yourself in nature.
During autumn, the colours of the leaves are stunning, while in spring, when the bluebells are in full bloom, you can enjoy a sea of vibrant purple. And if you're looking for some respite from the heat during summer, the trees provide some much-needed shade.
These woodland walks are also perfect for families with children, who can explore the surroundings and even engage in some fun activities like den building or birdwatching. As a bonus, most of these walks are free!
The only downside is that there aren't many long distance woodland walks available, but the shorter ones still provide plenty of opportunities to enjoy the beauty of nature. So, why not take a break from the coastal and Broads walks, and let me help you discover the tranquil woodland walks that Norfolk has to offer.
Burlingham Woods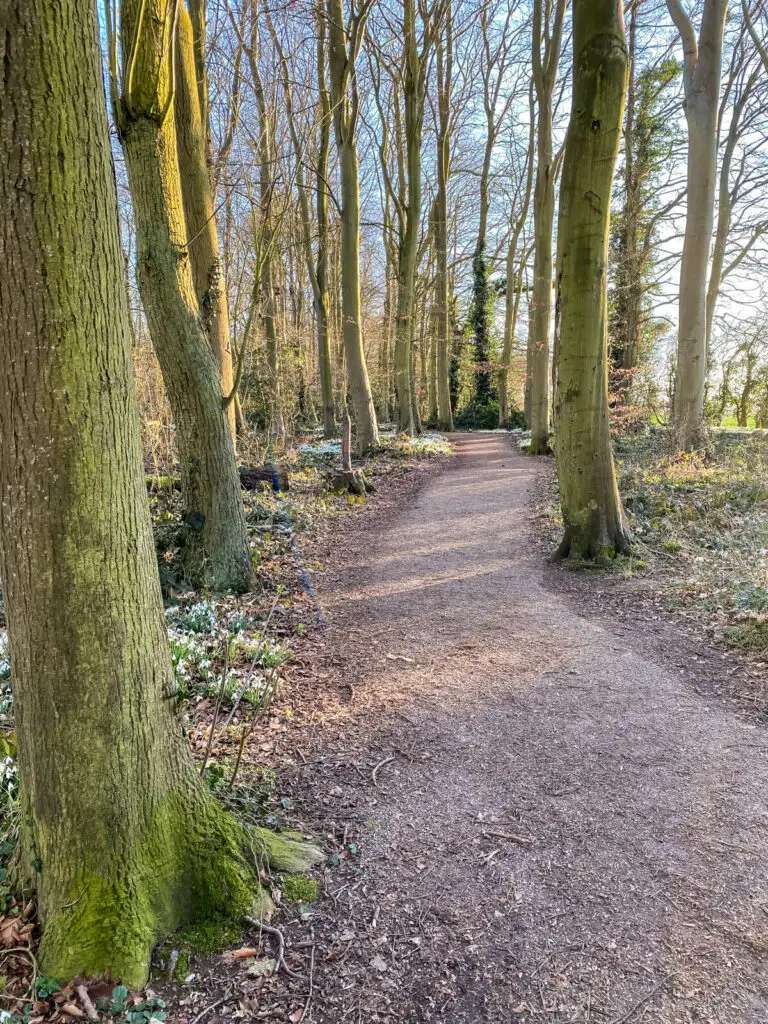 You can unwind in Burlingham Woods, a unique blend of old and new woodland, orchards, farmland, and hedgerows that sprawl across the land owned by Norfolk County Council. Explore the enchanting beauty of this woodland wonderland with a network of footpaths that lead you through the landscapes and diverse habitats.
Admire large patches of snowdrops in February, revel in the vibrant hues of bluebells in the spring, and discover the contemporary henge that adds a touch of modernity to the timeless beauty of this woodland escape. It's perfect for a peaceful stroll, as there are numerous footpaths that cater to all abilities, including wheelchair and pushchair-friendly options.
Park your vehicle at the small car park by St. Andrew's Church in North Burlingham, free of charge, and immerse yourself in the serenity of Burlingham Woods, without having to spend a penny.
Bacton Wood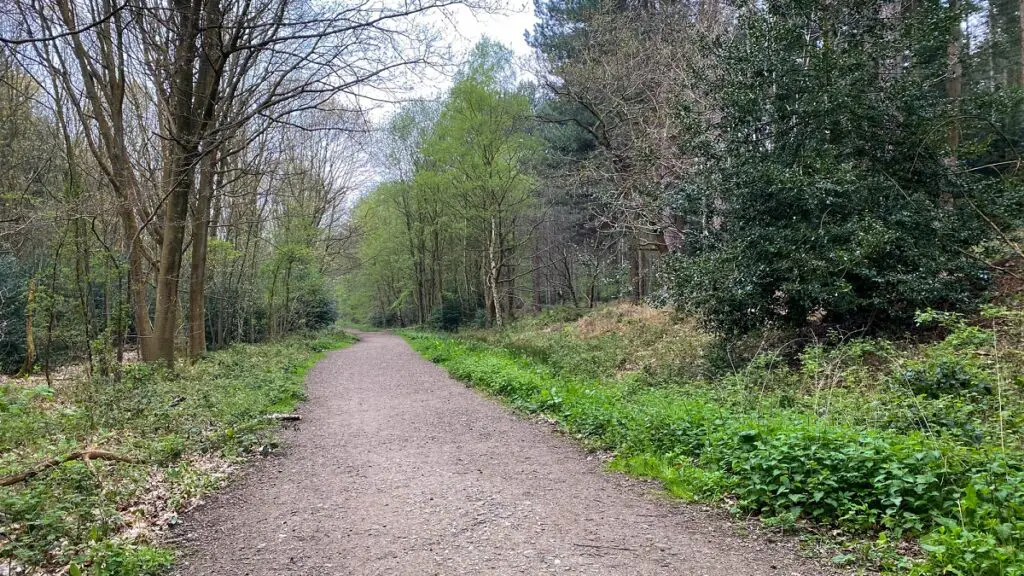 Take time to explore Bacton Wood, located just a few miles northeast of North Walsham. Covering a vast area of 113 hectares, this woodland is a haven for nature enthusiasts and offers three walking routes ranging from 1.3 to 2.5 miles. But why stop there? With numerous smaller trails, you can explore every nook and cranny of this magnificent woodland.
As you traverse the trails, you'll encounter a fascinating array of flora and fauna. Admire over 30 species of trees, including an ancient Sessile oak tree and a conifer plantation that creates a delightful contrast of greens. Take a moment to appreciate the rich history of the woodland, from the bronze age burial ground to the ancient pot boiling site. If you visit in spring, you'll be rewarded with the sight of bluebells.
Entry to Bacton Wood and parking are absolutely free, so there's no excuse not to explore this enchanting woodland. Bring a picnic, as there are plenty of tables close to the car park.
Wayland Wood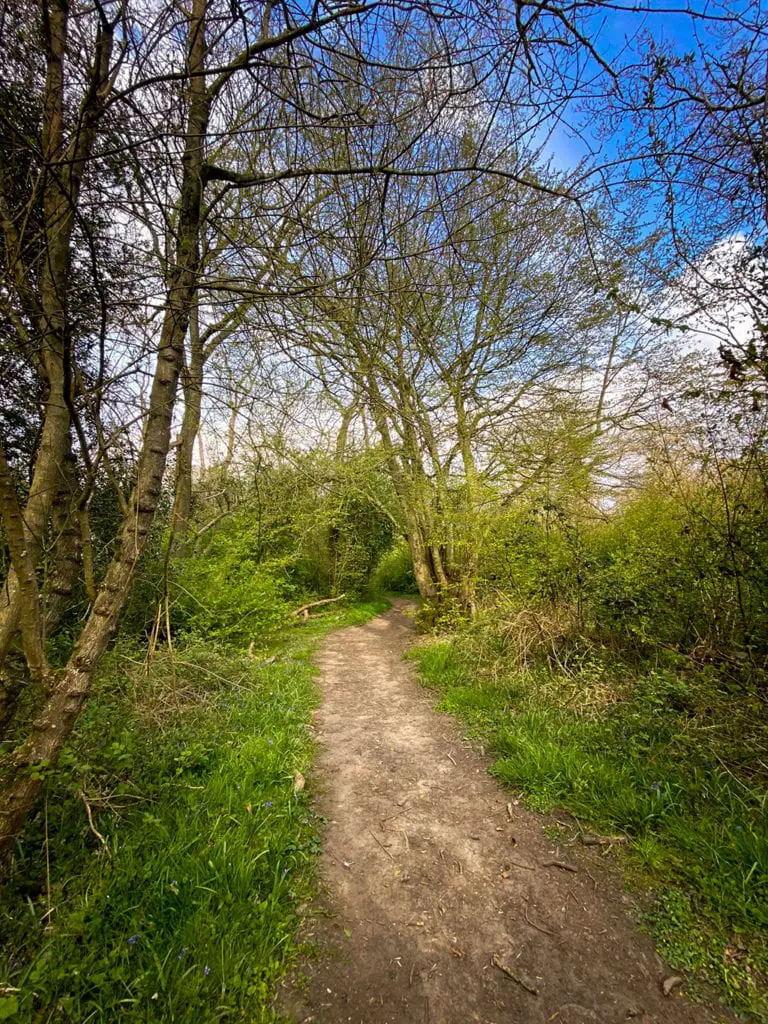 Wayland Wood is an 84-acre woodland and a designated Site of Special Scientific Interest, located in South Norfolk. This ancient woodland has a fascinating history of coppicing dating back to the 10th century and was mentioned in the Domesday Book.
Besides the natural scenery, you'll also notice some man-made earthworks. The boundary banks, some of which date back to medieval times, marked the edges of the wood as it expanded. At the southernmost part of the wood, you'll find a series of earthwork enclosures known as the Nab, which may have been formed from pre-existing features of the previously farmed landscape.
Legend has it that Wayland Wood is where the infamous Babes in the Wood story took place, earning it the nickname "Wailing Wood." Signs for the nearby villages of Watton and Griston include images of the children at the sword point of their abductor and lost and dying in the forest, respectively.
The area is steeped in history, with a grand Tudor farmhouse called Griston Hall believed to be the home of the story's wicked uncle. Unfortunately, the massive oak tree that locals believed was the one under which the children died was destroyed by lightning in 1879.
Despite the tragic tale associated with Wayland Wood, it is an excellent place to explore with many paths to take. Although there is no map of the trails available, a few markers guide the way.
The main circular path that goes around the wood is approximately two miles long and relatively flat, making it a perfect easy walk, but it can get muddy. If you prefer a shorter walk, there is a path that cuts the circle in half. Be sure to also explore the smaller paths leading off the main ones to see the bluebells during the spring.
Entry to Wayland Wood is free, and parking is available free of charge too. Read more in our Wayland Wood guide.
Pretty Corner Woods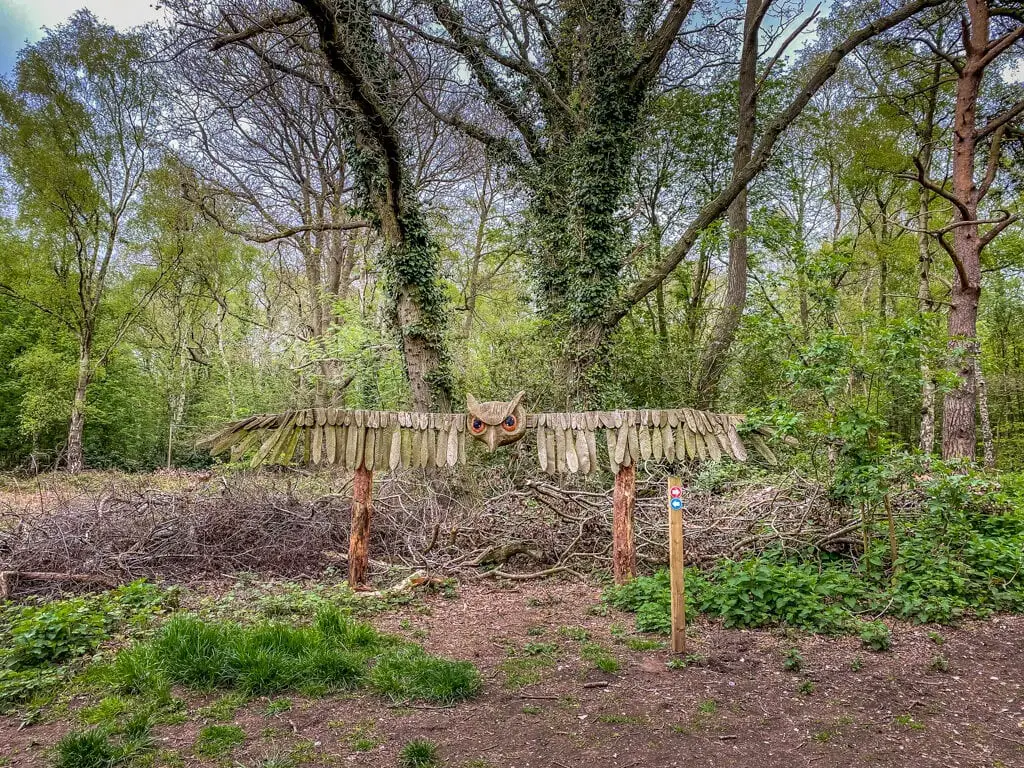 Pretty Corner Woods makes this list because it is more like hiking than most places in Norfolk. There are some steep climbs but you are rewarded with views (if the vegetation is not overgrown). You can choose from several different paths and there are plenty of picnic tables to relax after your walk.
It's free to visit and park at Pretty Corner Woods. Check out our guide to visiting Pretty Corner Woods for more information.
Foxley Woods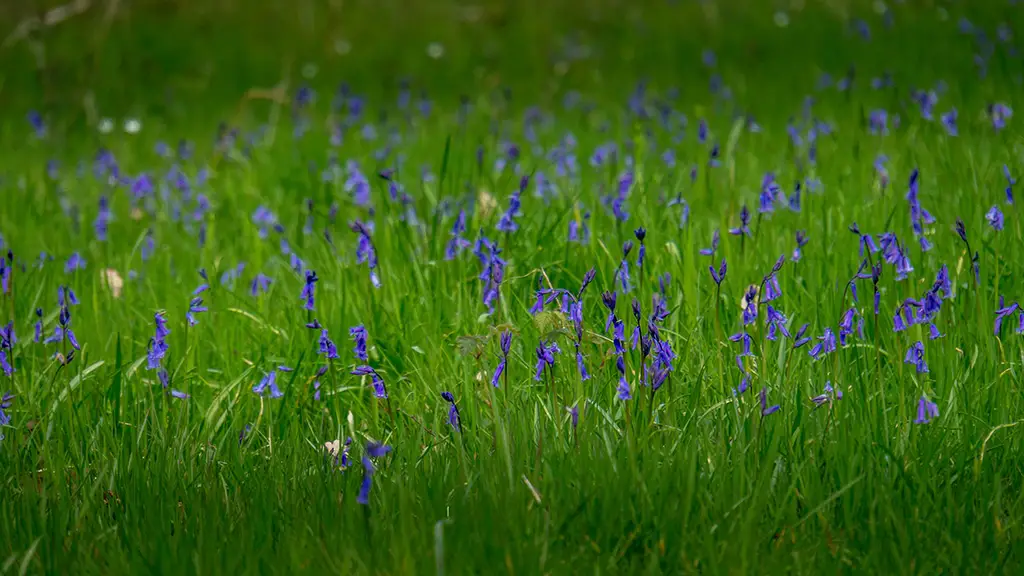 Foxley Wood, the largest remaining ancient woodland in Norfolk, is located about 25 km northwest of Norwich. The woodland offers a well-marked circular walk, where visitors can spot a variety of wildlife such as butterflies, birds, and even muntjac.
Spring is the best time to visit as you can see bluebells and white admiral butterflies, but visitors can also enjoy wildlife spectacles in other seasons. Foxley Wood is a haven for a variety of birds including tawny owls, sparrowhawks, and even rare visitors such as hobby and common buzzard.
You can visit and park for free at Foxley Wood.
Sandringham Royal Park
Open daily throughout the year, Sandringham Royal Park is a dog-friendly destination where you can enjoy a leisurely walk, invigorating run, or scenic bike ride. It's nearly 243 hectares planted with a mixture of evergreen and deciduous trees, mainly Corsican and Scots Pine along with Oak, Sweet Chestnut and Birch.
The Royal Park has two designated waymarked Nature Trails that visitors can follow, the blue trail, which spans a leisurely 1½ miles, and the yellow trail, which extends over 2½ miles and features a scenic viewpoint. Moreover, there are many additional woodland paths that visitors can explore to enjoy a casual stroll or a meandering trek. You can find the map here.
While visiting the Royal Park is free, there is a parking fee. The Courtyard at Sandringham, near the car park, offers plenty of dining and shopping options, including the Sandringham Shop, Sandringham Restaurant, Terrace Takeaway Cafe, and Ice Cream Kiosk, along with public toilets. For families with children, the new play area designed by the Princess of Wales is a must-visit.
During the Christmas season, the park is transformed into a winter wonderland with the Luminate light trail. This is a popular event and requires advance booking. When Luminate is running, parts of the Royal Park may be closed.
Note: Sandringham House & Gardens are located next to the Royal Park. You must purchase a ticket if you want to visit those attractions.
Mousehold Heath
Located to the north-east of Norwich city centre and train station, Mousehold Heath offers miles of heathland and woodland footpaths to explore. The area is home to a variety of trees such as oak, birch, beech, and lime, with gorse often dominating the landscape.
Kick off your walk at the free car park on Gurney Road and take your pick of the many trails that wind through the heath on either side of the road. It is a designated nature reserve, so keep your eyes peeled for a variety of flora and fauna on your walk. If you're lucky, you may spot muntjac and roe deer, red foxes, rabbits, and even frogs around the Vinegar Pond.
Since Mousehold Heath is elevated above the city, it offers some of the best views of the Norwich skyline. It is worth making the ascent to St James Hill, situated at the south-eastern corner of the heath, where you can see notable landmarks such as the cathedral, city hall, and castle. You can also drive if the climb is too much. It's a popular spot to watch the sunset.
Mousehold Heath is also a historic spot as many rebels used it as their base during Kett's Rebellion in 1549. The Rebellion was led by Robert Kett but quashed by the Earl of Warwick's army, resulting in 3,000 deaths. Robert was executed for treason, but is now a local hero with a plaque at Norwich Castle in his honour.
Mystical Woods
The Mystical Woods, also known as Drayton Drewery, offers a 3.4-km circular trail, though it may not always be clearly marked. Nevertheless, exploring the various paths can be a fun adventure.
It's a popular spot especially for dog walkers, cyclists, and equestrians. You might be lucky and see deer during your walk. If you visit in May, you can enjoy the rhododendrons.
You can find the car park entrance off the Reepham Road roundabout on the NDR near Norwich. Although there are no facilities, there is a free car park. It's a great place to disconnect from daily life and reconnect with nature.
Fairhaven Water Gardens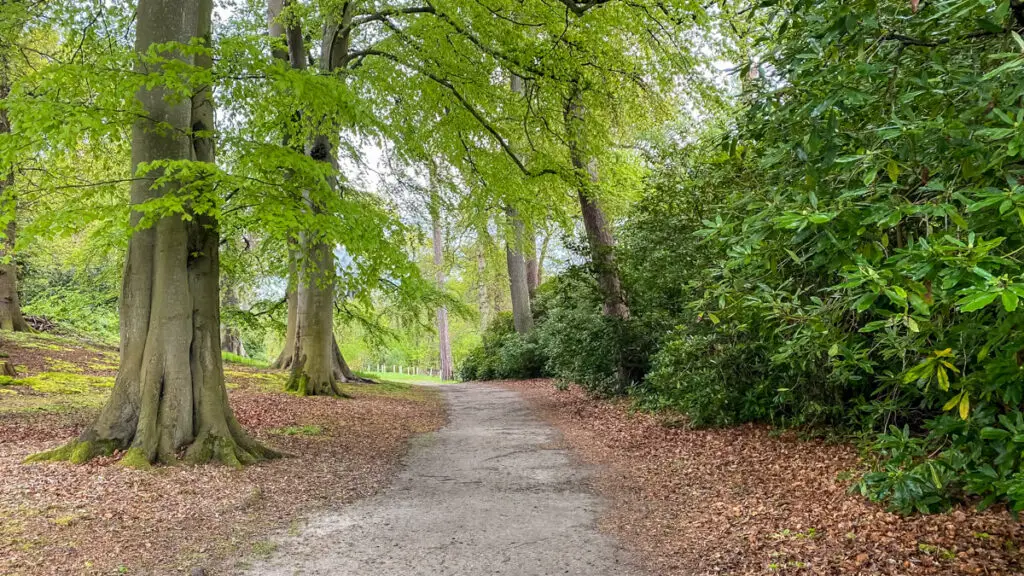 Fairhaven Water Gardens began as part of the South Walsham Estate, and after restoration, Major Henry Broughton designed the garden himself with the help of gardeners and woodmen. The garden opened to the public in 1975 and is now under the Fairhaven Garden Trust.
Inside the grounds, visitors can explore almost four miles of winding paths. You can choose to follow one of the three recommended routes or go your own way using the map provided.
Expect to see a variety of wildlife, including ducks, swans, and other waterfowl, and diverse plant life, including beautiful flowers, trees, and shrubs. Don't miss the two famous trees, the King and Queen oaks, with the King Oak believed to have been a sapling in 1066, making it over 900 years old!
You should purchase tickets online in advance to get the best price. Learn more in our guide to visiting Fairhaven Woodland and Water Gardens.
Broadland Country Park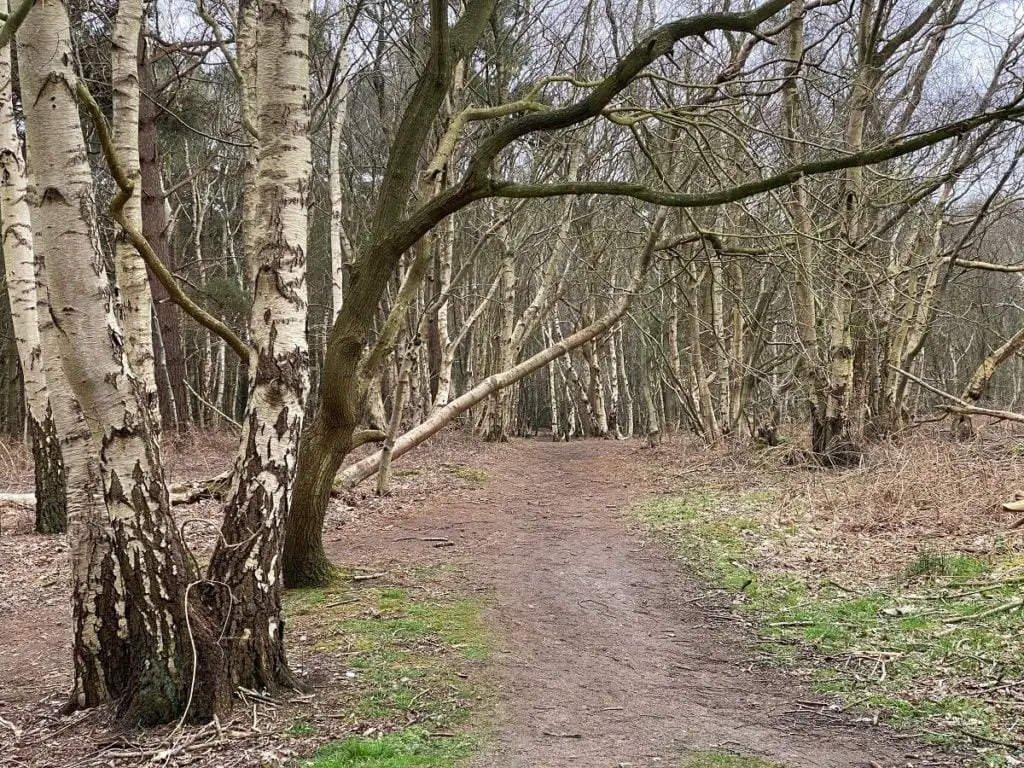 Broadland Country Park, located on the site of the former Houghen Plantation, is a 140-acre haven of heath, woodland, and marshy grassland. It's the perfect spot for outdoor enthusiasts who enjoy walking, cycling, or even horse riding.
With two circular trails, the Pink and Purple, offering stunning views across the heath, you'll have ample opportunity to explore the park's diverse landscapes, from broadleaf and conifer woodlands to sweet chestnut groves. And as you venture through the park, don't forget to keep your eyes peeled for wildlife, including lizards, slow worms, grass snakes, and even adders!
During the summer months, butterflies and dragonflies are a common sight, and you might spot some of the park's resident birds, such as mistle thrushes, blue tits, and great spotted woodpeckers.
Learn more in our guide to Broadland Country Park.
Holt Country Park
Holt Country Park, located just south of Holt, is a stunning 100-acre mixed woodland that is a must-visit destination for families, wildlife enthusiasts, and walkers. With six different trails to choose from, visitors can explore the park's beautiful scenery and spot a variety of wildlife such as butterflies, birds, and dragonflies along the way.
As you venture along the trail you will come across a few art installations. The park also boasts numerous picnic tables and a children's play area, making it an ideal place for a family outing. Parking is available at a small fee, but entry to Holt Country Park is free of charge.
Thetford Forest
Thetford Forest spans an enormous 18,730 hectares and is home to many exciting attractions, including the outdoor play facilities at High Lodge. There are a several woodland walks you can do in the area.
Our top pick would be the Fir Trail which begins at High Lodge and offers 5 km, 10 km or 12 km options. This route is perfect for those seeking a medium length walk that explores quieter areas of the forest. The 10 km and 12 km routes pass by Thetford Warren Lodge, built by the Prior of Thetford in the 1400's and rumoured to be haunted. You can find the map here.
You can easily spend a whole day at High Lodge with all the activities available like Go Ape and Thurston Leisure, archery, adventure and disc golf, and more. Alternatively, you can also explore more of Thetford Forest, the nearby town of Thetford or visit Grimes Graves, all of which are well worth a visit while in the area.
Disclosure: This post contains affiliate links. This means we will receive a small commission for some purchases made using links in our blog with no additional cost to you.  Please be assured we would not promote any product unless we believe that our readers will also benefit.  The commission does not influence the editorial content of this site.