While the name may suggest it's a burial site, Grime's Graves is not about death or ghosts. It is the only prehistoric flint mine in Britain that is open to visitors.
During your visit, you will be able to see an exhibition and descend into one of the mine shafts. Let me tell you more about Grime's Graves and why you need to check out this unique ancient site.
As of March 2023, Grimes Graves is closed for conservation work. Check here to see if it has reopened.
*Be sure to sign up for our email list here to get a list of the best events in Norfolk sent to your inbox each week.
Note: This post contains affiliate links.  As an Amazon Associate, we earn from qualifying purchases. Please see disclosure for more information.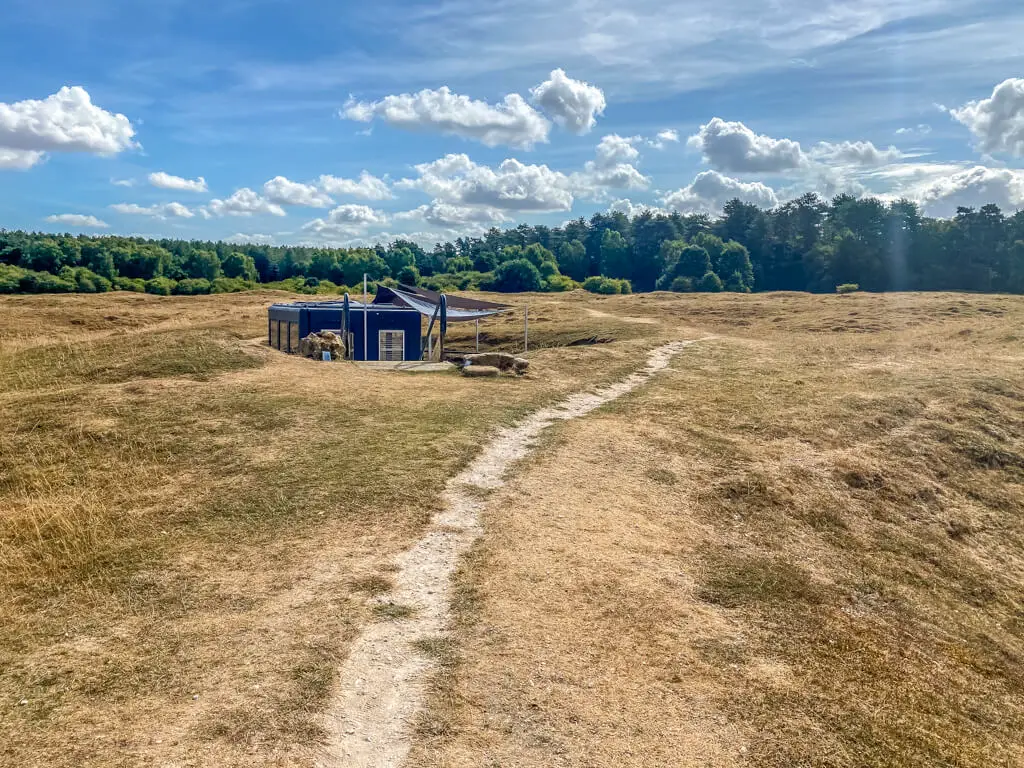 About Grime's Graves
Grime's Graves is the largest of only ten known prehistoric flint mines in England and also a Site of Special Scientific interest. The mining created an unusual chalk landscape in the sandy area which has become an important habitat for rare plants and fauna.
Around 2500 BC, at the same time stones were raised at Stonehenge and Avebury, miners dug more than 400 pits to get flint to make tools, weapons, and ceremonial objects.
The Anglo-Saxons named the site Grim's Graves. They associated the mysterious landscape with their god Grim and Graves meant mines or earthworks. Over time, it became Grime's Graves.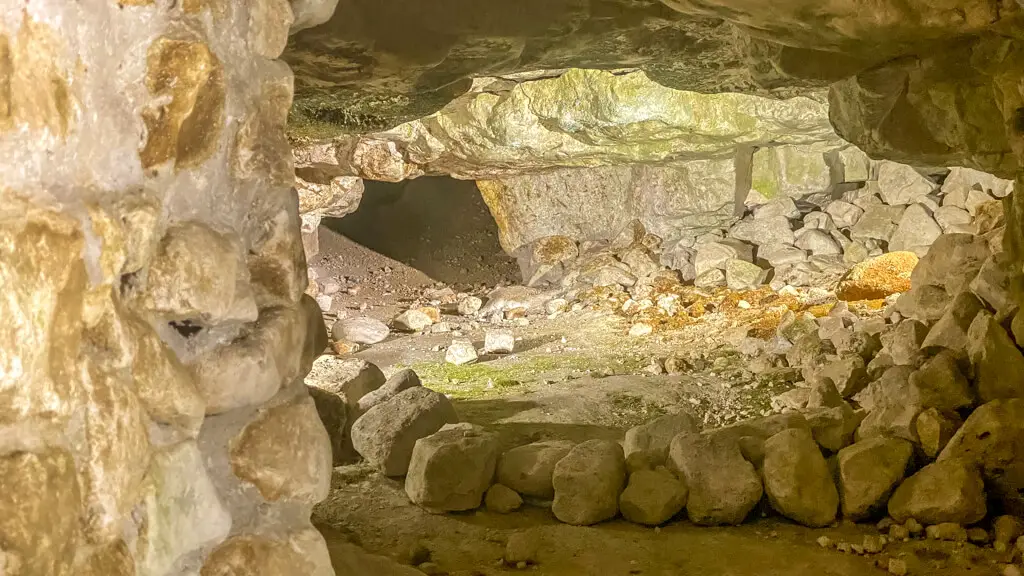 The History of Grime's Graves
Human life at the Grime's Graves site dates back 8,000 to 10,000 years, long before the first mines were dug. During the Mesolithic period, hunter-gatherers lived in the densely wooded landscape in the area. Evidence of their activity was found in two possible hearths and several flint tools.
Around 2600 BC, flint mining began at Grime's Graves. The miners dug shafts up to 13 metres deep to reach the best flint. It was easy to recognise because of its deep black colour (compared to grey or white of surface flint).
They used picks made from antlers to extract the flint and built timber platforms partway down the shaft as staging levels to make it easier to get the heavy rock out. The fine black flint mined from Grime's Graves would be traded over long distances through the extensive trade networks in operation at the time.
Excavations at Grime's Graves
The earliest excavations took place in 1852 and 1866, but not much is known about them. The most significant excavations were by Canon Greenwell in 1868 and 1870. They were the first to correctly establish the date and purpose of the site.
Later in 1914-1915, excavations were done on Pits 1 and 2 by A.E. Peake to investigate the possibility of flint mining before the Neolithic period. Then in 1939, Leslie Armstrong did an excavation of Pit 15 to try to find earlier origins and discovered the chalk goddess as part of a ritual group.
The chalk goddess is now part of the British Museum's collection. There is a debate as to whether the artefact is from the Neolithic period or a more modern forgery.
Further excavations were done in the early 1970s using the latest scientific techniques. They showed Middle Bronze Age activity at the site along with Iron Age burials in the upper fills of some shafts. Recent geophysical surveys suggest that the mines covered a much greater area than the earthworks that are visible today.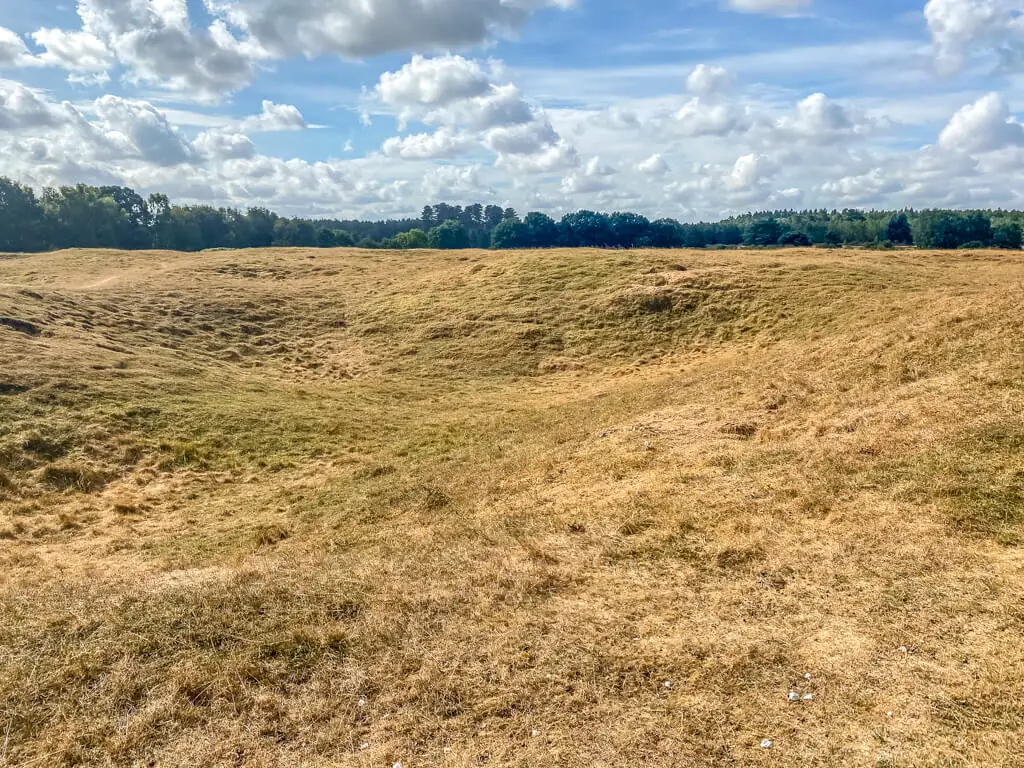 Visiting Grime's Graves
When you arrive at Grime's Graves, head to the visitor centre where you can check in or purchase your ticket. It has two rooms, a gift shop and exhibition.
The exhibition is a good introduction to the site and includes information about Neolithic mining, a virtual tour of the mines and landscape, and reproduction Neolithic tools that you can touch. You can also learn more about the discoveries that have taken place at Grimes Graves.
Once you have finished going through the exhibition, you can head to Pit 1 where you can go down inside the mine shaft. It's just a short walk from the visitor centre where you see another small building.
Before you are allowed to go down in the mine, you will need to put on a safety helmet and get briefed on safety procedures. The stairs are steep so they recommend that you go down backwards.
When we visited in 2022, I was pleasantly surprised by the improvement they made with the new stairs. The old stairs were more of a ladder and quite scary for me. The new stairs are metal with handrails on both sides and felt much safer.
Note: Even with the new stairs, kids need to be at least 7 years old to go down in the mine shaft.
Once you reach the bottom, take your time and look around. It was bigger than I expected. You can see the entrances to six horizontal galleries that would have linked to at least five adjacent shafts.
Down in the pit, it is noticeably colder than above ground. You should bring a jacket even when you visit in the summer.
When you are ready, make your way back up the stairs. You can walk through the site and appreciate the unique landscape. Alternatively, sit and relax at one of the picnic tables while the kids run around.
I should also mention that for a time there was another mine shaft that they would open on select days. According to my discussion with Grime's Graves staff in August 2022, unfortunately, they will not be able to reopen it anytime in the near future as there are safety issues that need to be addressed.
Learn more about visiting Grime's Graves here.
How to Get to Grime's Graves
Grime's Graves is located 7 miles northwest of Thetford off the A134. It is signposted, just look for the brown signs.
It's easiest to drive to Grime's Graves since the closest train station is Brandon 3.5 miles away. From there you would have to either walk or take a taxi.
Things to Do Near Grime's Graves
Since it doesn't take very long to see Grime's Graves, you could combine your visit with some other nearby attractions to make a day out of it.
Thetford
The town of Thetford was an important place from the late Iron Age through medieval times. Today, you can go to museums, a castle, a priory, and more. If you are interested in history, it's definitely worth visiting.
Find out more in our guide to the best things to do in Thetford.
Thetford Forest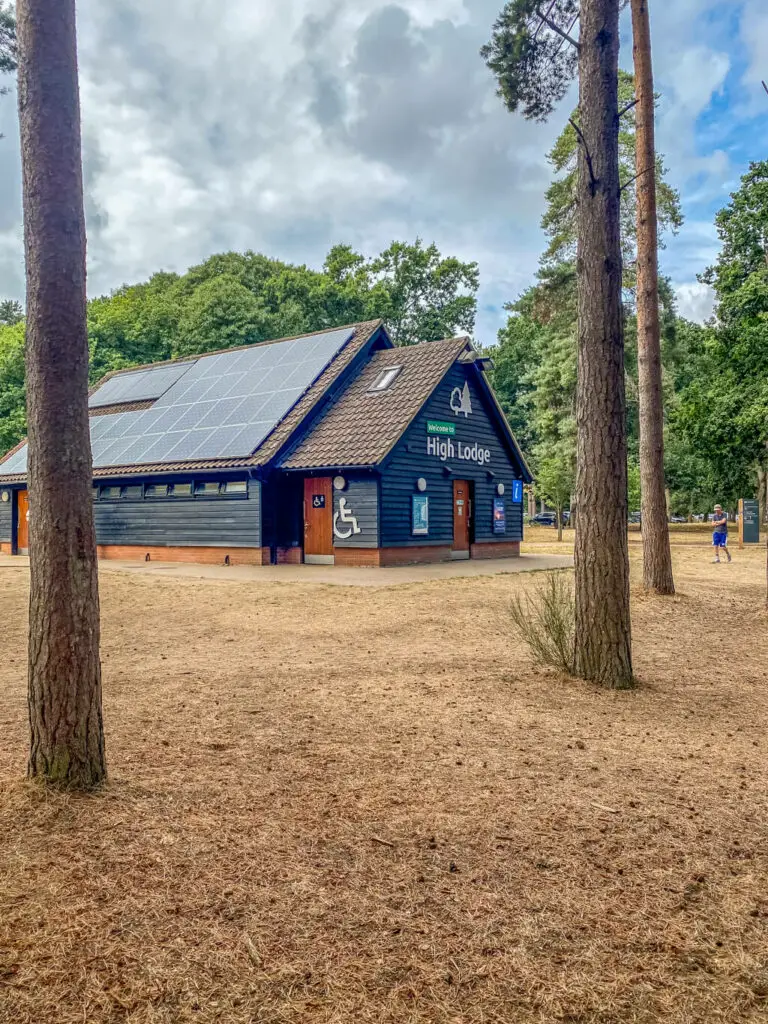 With 18,730 hectares of pines, heathland and broadleaves, Thetford Forest is the UK's largest man made lowland forest. You can easily spend a whole day here walking, cycling, picnicking, and visiting several popular attractions like Go Ape, High Lodge, and Lynford Arboretum.
Wayland Wood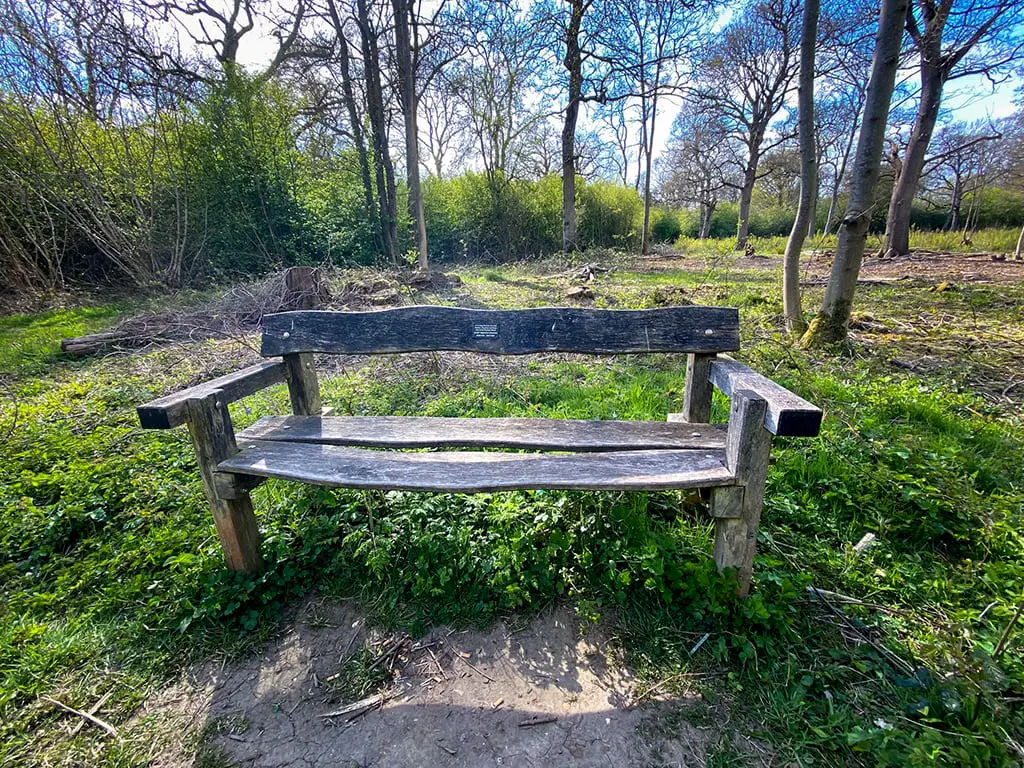 Wayland Wood may be best known as the setting for the Babes in the Wood children's tale, but don't let that scare you away. It is free to visit and there is a short circular walk through the woods. During the spring, it's one of the best places to see bluebells in Norfolk.
Read our guide to Wayland Wood here.
Grime's Graves FAQs
What are the opening hours for Grime's Graves?
Grime's Graves is only open Wednesdays through Sundays, March through October. The hours are 10:00 to 17:00 and the last entry is 30 minutes before closing.
How much does it cost to visit Grime's Graves?
Adults are £7.00 without gift aid. Children aged 5-17 are £4.20. They also have family ticket options.

Like other English Heritage sites, Grime's Graves is free for members. Learn more about English Heritage membership here.
Do you need to book tickets to Grime's Graves in advance?
It's best to book online in advance here to avoid disappointment, but most likely tickets will be available on site the day you visit. Note that sometimes as a remote site they have internet issues and are not able to accept credit cards.
Is Grime's Graves good for kids?
It is excellent for kids that are 7 or older. They need to be 7 to go down into the mine shaft.

The site has lots of space for kids to run around. They allow you to play ball games or even fly a kite.

If you need more suggestions for family-friendly attractions, check out our list of the best things to do in Norfolk with kids.
Where do you park for Grime's Graves?
They have a car park that will fit around 50 cars on site. There is no charge for parking.
Is there a cafe at Grime's Graves?
No, but they do have a vending machine which sells tea, coffee and hot chocolate. During the summer months, they have a small selection of snacks and ice cream available for purchase.

You are also welcome to bring your own food to enjoy on site. There are picnic tables by the visitor centre.
Is Grime's Grave accessible?
While there is a ramp to access the visitor centre that has the gift shop and exhibition, the mine shaft is not accessible for wheelchair users. The only way to go down in the mine shaft is the steep stairs.

How long does it take to visit Grime's Graves?
I would allow around an hour to see the exhibition and go down in the mine shaft.
Is Grime's Graves Worth Visiting?
Yes, it's a unique experience to be able to go into what was a prehistoric flint mine. The exhibition is also informative. Also, keep in mind, if you are an English Heritage member you can visit for free.
Disclosure: This post contains affiliate links. This means we will receive a small commission for some purchases made using links in our blog with no additional cost to you.  Please be assured we would not promote any product unless we believe that our readers will also benefit.  The commission does not influence the editorial content of this site.