Norfolk, a place brimming with history and mysteries that refuse to fade away. Beyond the hustle and bustle of Norwich, the haunting tales of Norfolk's past linger on. But beware, for not all apparitions are harmless.
Join us as we venture into the eerie world of haunted places in Norfolk, where history and the supernatural blend in tales that will send shivers down your spine.
Be sure to sign up for our email newsletter here to find out about more things happening in Norfolk.
Note: This post contains affiliate links.  As an Amazon Associate, we earn from qualifying purchases. Please see disclosure for more information.
Haunted Norfolk
We have already shared the most haunted places in Norwich, but there are even more places around the county with interesting stories. Unfortunately not all can be included in this list, there are just too many. For the list, we included what we consider to be the ones that are best documented.
The locations span most of the county, so I wouldn't recommend trying to see all these places in one day. You can choose to visit the ones that interest you the most or see each one over the course of a few days.
*Grab our free google map here to help you locate them.
#1 Blickling Hall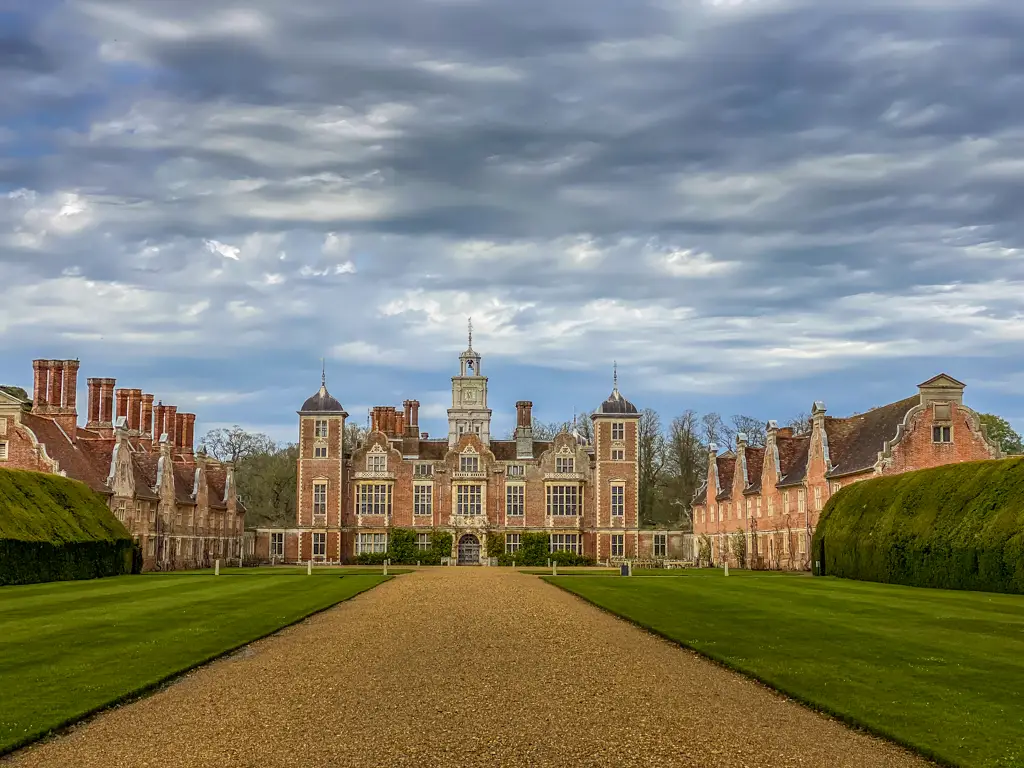 Blickling Estate is best known as the birthplace of Anne Boleyn, Henry VIII's second wife. After she "failed" to give Henry the son he wanted, he got tired of her and was ready for a new wife. Anne was charged with high treason and hanged at the Tower of London.
Annually when night falls on May 19th, the anniversary of her execution, Anne Boleyn's ghost rides up to the house dressed in white, in a coach drawn by a headless horseman, with her own head on her lap. As soon as the coach arrives in front of the house it vanishes into thin air.
The ghost of Sir Thomas Boleyn, Anne's father, also haunts the area. Legend has it that he has been cursed for failing to do something to prevent two of his children (Anne and her brother, George) from being executed by Henry VIII. Every year, his ghost has to try to cross 12 bridges before cockcrow, which takes him from Blickling to Aylsham and the nearby villages of Burgh, Buxton, Coltishall, Meyton, Oxnead, and Wroxham. 
The Boleyn family members are not the only ghostly residents of Blickling Hall:
Sir John Fastolfe, a 15th century knight who was the inspiration of Shakespeare's "Falstaff,"has been seen wearing a full suit of armor at Blickling, usually around the anniversary of Anne Boleyn's death.
Sir Henry Hobart, who died of his wounds in the house following a duel in 1698, has been heard groaning in the West Turret Bedroom on the anniversary of his death.
Even if you are not interested in these ghosts, it's worth spending time at Blickling. It's a National Trust site so members can visit for free (but there can be a charge for special events). Get more information about National Trust membership here.
Typically, it is open to visitors during the day, but they do have a special Christmas event where you can visit in the evening. Alternatively, you could stay at one of the holiday homes on the estate run by the National Trust. During your stay at one of these properties, you can visit any National Trust sites for free. Check out the options here.
#2 Raynham Hall
Sir Roger Townshend started building Raynham Hall near Fakenham in 1619 and has been the seat of the Townshend family ever since. Its most famous residents have been Charles Townshend, 2nd Viscount Townshend (1674–1738), leader in the House of Lords, and the mysterious Brown Lady.
According to legend, the woman in the brown brocade dress is Lady Dorothy Walpole, sister of Britain's first Prime Minister, Robert Walpole of Houghton Hall. She died at Raynham Hall, officially of smallpox, but many think something else might have happened.
Dorothy married Charles Townshend after his first wife died. The marriage had its troubles and Charles was not kind to her. He took her children away and had his mother take care of them. Dorothy was confined to her rooms at Raynham Hall and died shortly after at the age of 40.
Some believed that she was starved to death or that she fell or was pushed down the grand staircase. Whatever the truth was behind Mrs. Townshend's death, she had some unfinished business as her ghost was soon seen by servants, family and visitors.
George IV stayed in the State Bedroom of Raynham Hall when he was Prince Regent. He complained about being disturbed by a lady dressed in brown with dishevelled hair and a pale face. After that, he would not set foot in the house again as he was sure it was haunted.
You may have even seen the famous photograph of the Brown Lady which is in many books about ghosts. It was taken in the 1930s by Captain Provand for Country Life magazine.
He was photographing the staircase when his assistant, Indre Shira, noticed a misty figure. Shira asked Provand to take another photograph and when it was developed the infamous image of the 'Brown Lady' was revealed.
You can read more about the Brown Lady of Raynham Hall in this book.
Generally Raynham Hall is not open to the public, but the present Lord and Lady Townshend open the house every year to a series of wonderful Recitals in the Marble Hall and for several Open Days when you can take a tour of the house. Get more information here.
#3 Binham Priory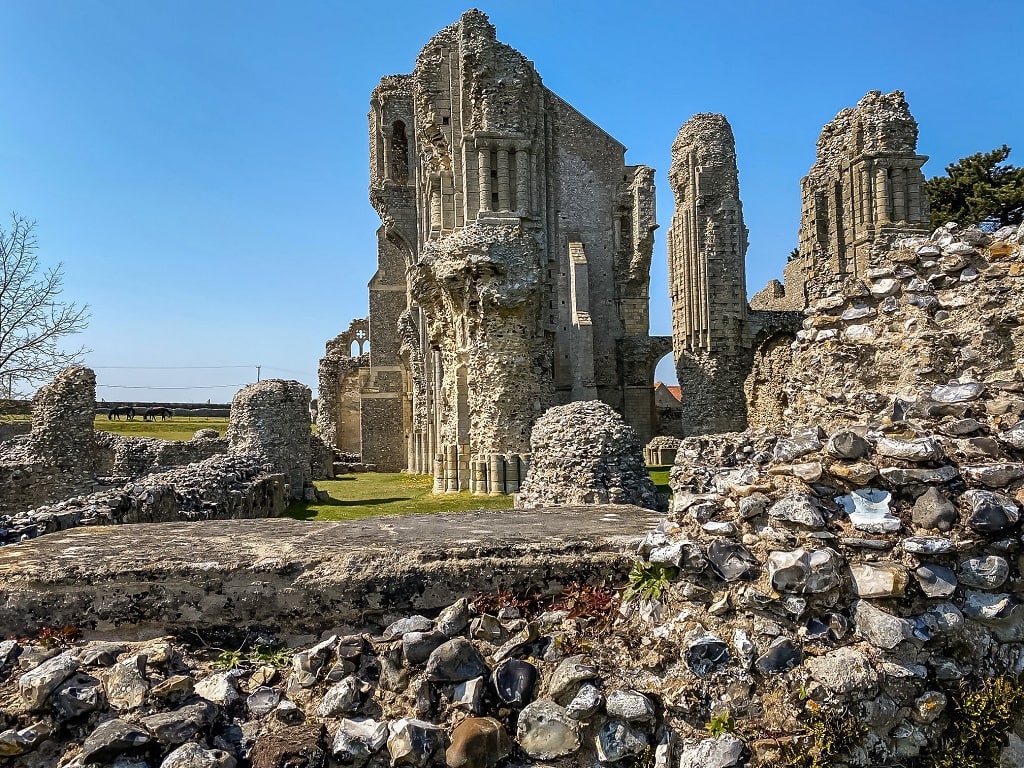 Binham Priory has been a place of continuous worship for over 800 years. The Priory was closed as part of the dissolution of the monasteries but a section was preserved and turned into a parish church which is still used today. Of course, there is also a graveyard, but the ghosts of Binham Priory are thought to come from the old underground tunnels.
At night, a black-hooded monk has been seen emerging from a tunnel that connects the priory to the shrine at Walsingham three miles away. There have also been sightings of him by the entrance to the priory and inside the church.
Sometimes around midnight, people have reported hearing mysterious music coming from the tunnels under the priory. It is believed to be Jimmy Griggs, a local fiddler, who became trapped in the tunnel with his dog Trap when a storm caused the tunnel to collapse.
You can explore the monastic ruins during any reasonable daytime hours. The church is open daily from 10:00 to 16:00 or 17:00 depending on the time of year.
Get more information about visiting in our Binham Priory guide.
#4 Castle Rising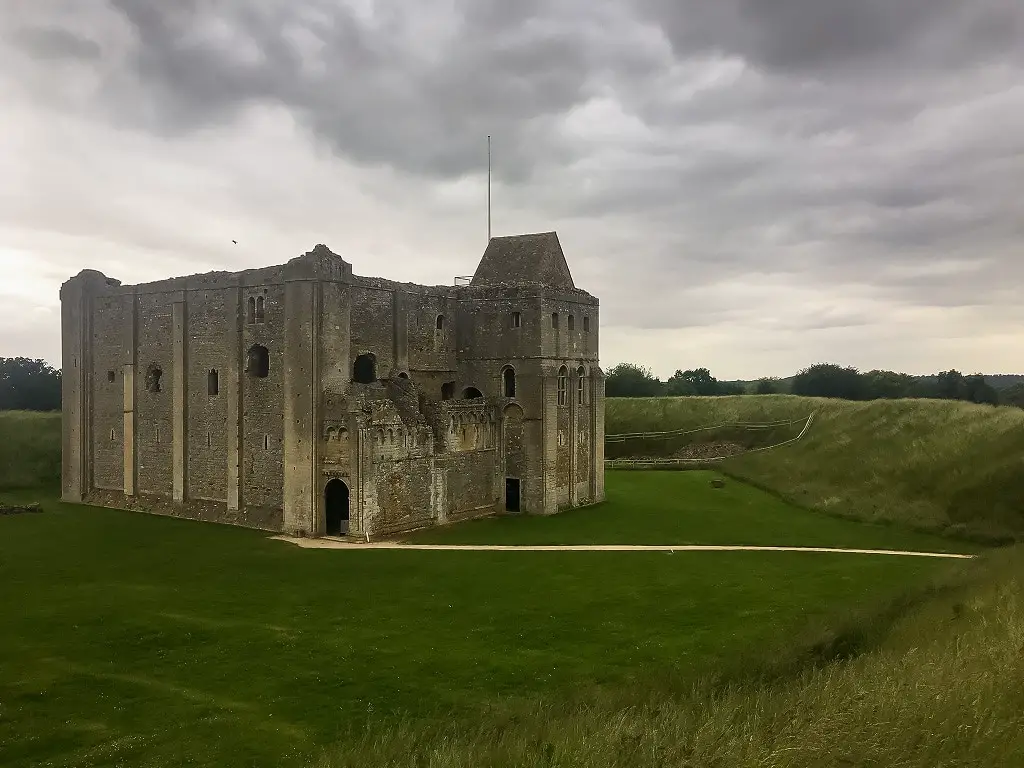 William d'Aubigny II built Castle Rising in the 12th-century as a fortress and palatial hunting lodge, but it's most famous resident was Queen Isabella, the She-Wolf of France. She lived there between 1330 and 1358 and she still haunts the upper rooms.
When Queen Isabella was living at Castle Rising, she was said to have suffered bouts of madness (possibly dementia). Since she died, some have reported seeing Isabella transform herself into a wolf.
Several visitors have been scared by the sound of hysterical cackling coming from the top floor of the ruins. Residents in the nearby village have also been bothered by ghostly screams and laughter heard in the early hours of the morning.
Some believe Isabella was responsible for her husband Edward II's death. After he died, Isabella and her lover Roger Mortimer ruled for four years as regents for her son, Edward III. She fell from power when Mortimer was tried for treason and executed.
She spent most of her last troubled years in the upper rooms of Castle Rising. Queen Isabella died at her castle in Hertford in 1358, and was buried in the monastery of the Greyfriars by Newgate in London.
After the dissolution of the monasteries, it became Christ Church Greyfriars, a parish church. Largely destroyed during the Second World War, it is now a public garden.
You can explore the Castle Rising ruins as it is open to visitors during the day. It's an English Heritage site, so members can see it for free. Get more information about English Heritage membership here.
Get more information about visiting Castle Rising here.
#5 Sheringham Coast
Sheringham used to be a small fishing village, but has grown quickly with the arrival of the railroad. Off the coast, you can sometimes hear a ghostly noise which is believed to be doomed mariners, now called the Yow Yows, who drowned in a storm after no one tried to save them.
Today on days when the sea is calm, fishermen have reported hearing cries for help. Unlike the past, they head to the spot where the voice is heard to try and help. When they get closer, the sound moves to another area of the sea. When they head there, the same thing happens again.
You can try to listen for the Yow Yows from the Sheringham Promenade or consider climbing the Beeston Bump, the views are worth it!
#6 Weybourne Beach
When the moon is full, a persistent whistling sound can be heard on Weybourne Beach. Some people have reported that once the whistling stopped, they saw the vague outline of a man, believed to be the ghost of smuggler John Smythe.
According to the legend, one night when the moon was full, Smythe and his crew came to Weybourne to smuggle goods. Smythe left his crew to meet up with the daughter of the local inn's landlord, but said he would be back at a certain time.
While he was away, the Customs men got word of the smugglers and headed to Weybourne to catch them. Smythe's crew found out about the Customs men and knew they needed leave. When Smythe didn't return on time, they assumed he had been captured so began to row back to the ship.
The Customs men didn't know the boat had left so they hid in the sand dunes and waited for the smugglers. Smythe, whose rendezvous with the young lady lasted a bit longer than expected, returned to the beach and saw the row boat heading out in the distance. He started to whistle to get the crew's attention.
Instead, the whistle caught the attention of the Customs men and they came after him. Smythe decided to try and swim for it rather than risk being captured. Unfortunately, he did not know how to swim and the tide was coming in fast. The Customs men couldn't swim either so they didn't go after him.
As the Custom's men watched, Smythe disappeared below the waves. His body was never recovered. Now when the moon is full, he returns to the beach at Weybourne, whistling to try and get the attention of his crew so that they will come back and rescue him, but they never have.
#7 Felbrigg Hall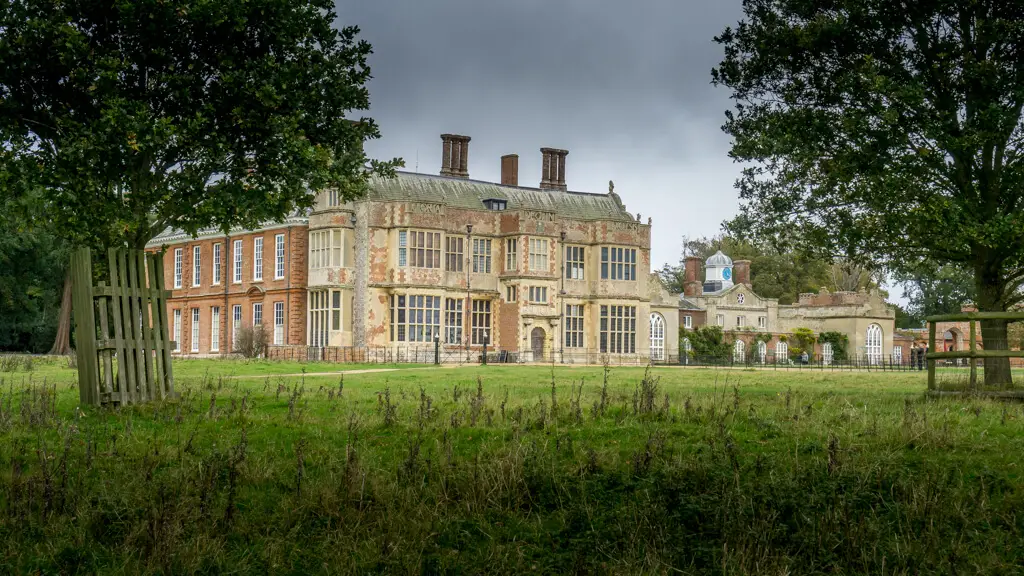 Felbrigg Hall is a 17th-century English country house that is admired for its Jacobean architecture and fine Georgian interior. The ghost of William Windham III has been seen in Felbrigg Hall's library when a particular combination of books is placed on the table. Don't worry he's just catching up on all the reading he didn't have time to do while he was alive.
William Windham III was the first son of William Windham II and Sarah Lukin. He was known as 'fighting Windham' after being sent home from Eton in 1766 for his role in a school rebellion against the unpopular new headmaster. William served as a Member of Parliament and was appointed Secretary for War and the Colonies in 1806.
When a fire broke out in a friend's library in London, William couldn't bear to see the books burn and risked his life to rescue them. He was badly injured by the flames and unfortunately died a few weeks later. It's not surprising his ghost likes the Felbrigg Hall library.
It's worth visiting Felbrigg Hall to tour the stately house and explore the grounds. It's a National Trust property so members can visit for free. Get more information here.
Alternatively there is a stable apartment that the National Trust has converted into a holiday home. If you are interested in staying at Felbrigg Hall, you can find out more information here.
Get more information about visiting Felbrigg Estate here.
#8 Stiffkey Salt Marshes
At the northern end of the village of Stiffkey (pronounced "Stewkey") there are salt marshes, which get flooded daily by the tide making it rich in wildlife. It is famous for its 'Stewky Blues' cockles, which get their blue hue from the mud they live in. If you can find the cockles, you can eat them.
One young girl called Nancy was cockling when the tide started turning and a thick fog rolled in. The villagers searched for her but despite hearing her cries, couldn't find her.
The next day, they found Nancy's body. She was buried in the local churchyard. Still on foggy nights, there have been lots of reports of screams and her ghost roaming the saltmarshes.
#9 St Mary's Church East Somerton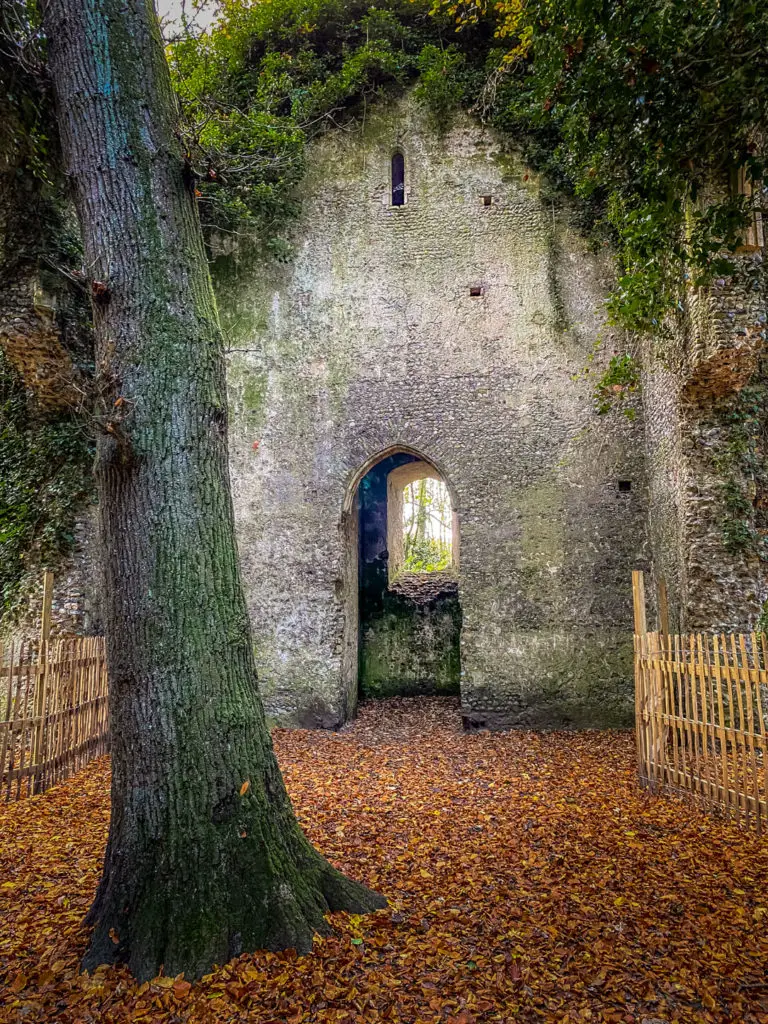 The picturesque ruins of the medieval church of St. Mary's in East Somerton are now hidden in the woods. It fell into disuse in the 17th-century after it became part of the larger West Somerton parish.
Only the 13th-century tower and the 15th-century nave still stand. The doorway is now just an arch and the church's windows no longer have any glass. You can look up and see the Norfolk sky. Nature has reclaimed the spot with vines wrapping around the church and a tree in the centre known as "The Witch's Leg."
This thin oak tree is said to be the work of a local witch, who was buried alive in the church during the height of England's witch trials. The buried witch cast a spell so that her wooden leg would sprout a tree to destroy the church above. If anyone walked around the tree three times, her spirit would be released. Ghostly monks haunt the church to make sure that no one releases the witch's spirit.
It's best to visit St. Mary's Church as part of the 5.3km signposted circular walk from nearby Winterton-on-Sea. When you've finished you can enjoy a coffee and if you're lucky maybe see a few seals.
#10 Thetford Priory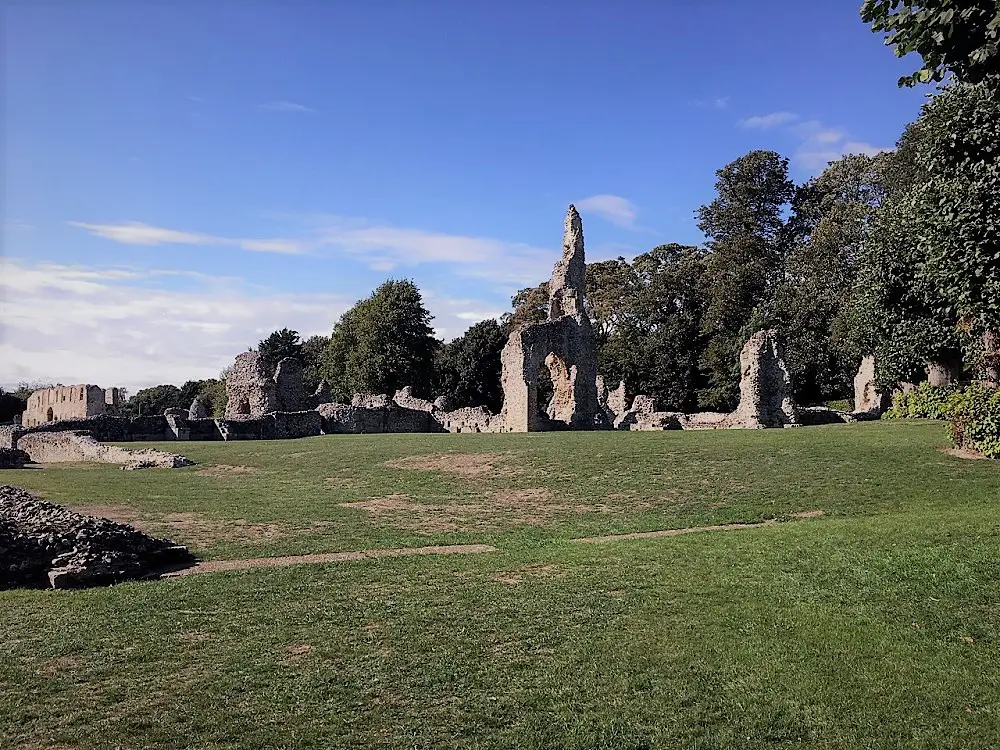 Founded in the early 12th century, the Priory of Our Lady of Thetford was one of the largest and most important monasteries in medieval East Anglia as it was the burial place of the Earls and Dukes of Norfolk. It was one of the last monasteries to be suppressed when it surrendered to Henry VIII's commissioners in 1540.
Just before the dissolution of the monasteries some tombs were removed. In more recent years, there have been several sightings of ghostly monks around the ruins. Maybe there is a connection? The television programme Ghosthunters featured the ruins in the first episode of its second series.
In 1937, witnesses reported monks reading, chanting and singing in Latin. Then in 1987, a group of friends watched through an archway as a monk came down some stairs. When they went closer, the monk and the stairs had disappeared. In 1992, teenagers heard the clinking of keys and then saw an apparition of a monk run straight past them.
There is no admission charge to visit Thetford Priory. It is open daily from 9:00 to 18:00 from April to September, and from 9:00 to 16:00 from October to March.
Also, check out our recommendations for the best things to do in Thetford.
#11 Thetford Warren Lodge
The Prior of Thetford built Thetford Warren Lodge around 1400 to protect gamekeepers and hunting parties against armed poachers. Much later the local warreners used it to harvest rabbits.
Now it is haunted by a huge white rabbit with flaming red eyes. It guards the doorway to the lodge and is an omen of death to anyone who sees it.
While you can't go inside the Warren Lodge building, you can visit the site during any reasonable daylight hours. It is possible to see the ground floor interior through a grille in the doorway. It is free to use the small car park on the track that leads to the site.
Get more information about visiting Thetford Warren Lodge here.
#12 Thetford Forest
Thetford Forest is the largest lowland pine forest in Britain covering more than 47,000 acres. It was created after the First World War so that the country would have a strategic reserve of timber, after it lost many oaks and other slow-growing trees due to the war.
This dense forest and unspoilt heathland is the perfect spot for creatures to hide and also be seen. There have been numerous weird sightings over the years including the Thetford Forest Park Bear (1979), the Elvedon Creature (2011) and the Thetford Walking Figure in the Dark (2017).
On one stretch of the A1075 between Thetford and Wretham a strange creature has been spotted by several witnesses. It's been described as a large, long-haired creature with a light grey shaggy coat. The Beast of the A1075 as it has been named normally stands on four feet like a dog but has been seen on just its hind legs like a human.
When you visit Thetford Forest there are many trails to explore plus picnic tables, archery, Go Ape, play areas, and a cafe. Parking is free except for the car park by High Lodge Forest Centre.
#13 Sandringham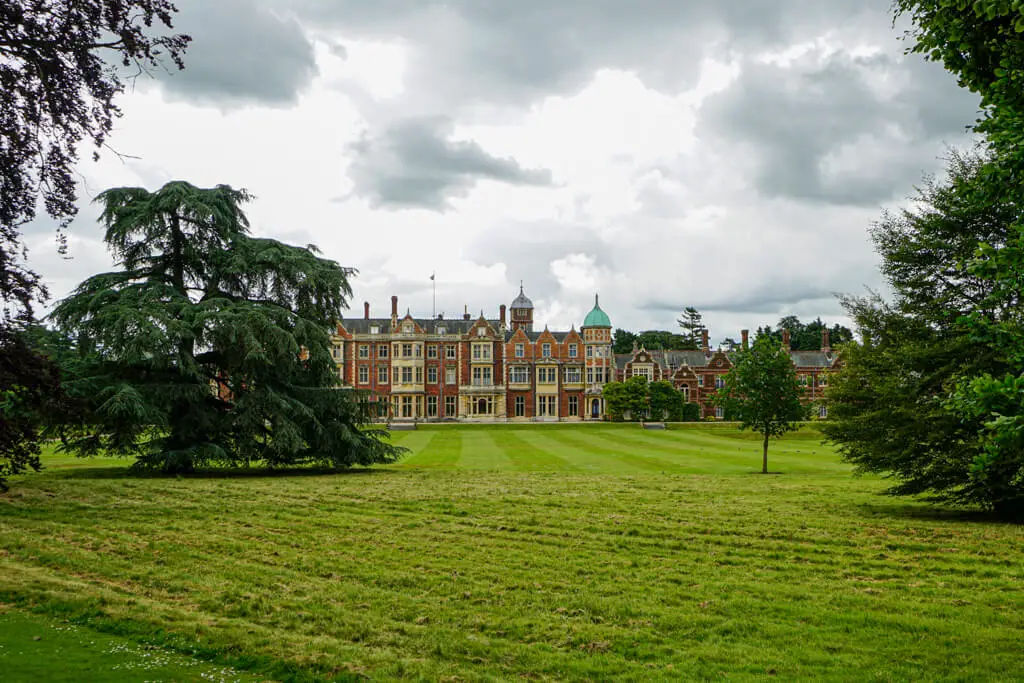 Sandringham is the Queen's country estate. It's where Prince Philip spent his retirement and the Royal Family gathers for Christmas. While there are no specific ghosts that haunt Sandringham, there have been several quite disturbing reports of unusual activity:
Sudden blasts of cold air
Hands of a clock moving freely
Books falling off shelves
Christmas cards flying around the room
Blankets coming off beds
Phantom footsteps along with wheezing sounds
Lights being switched on and off by themselves
During the spring and summer, you can tour Sandringham House. The Royal Park is open for visitors year round. During the holiday season, you can go to Luminate Sandringham.
#14 Cromer Pier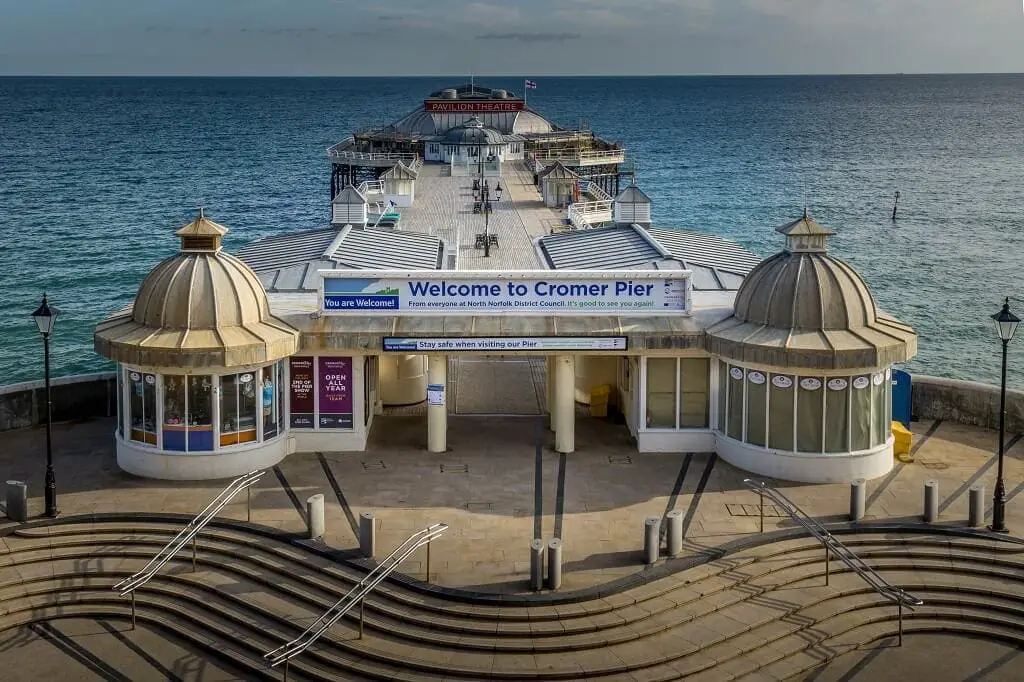 The Pavilion Theatre on the historic listed pier in Cromer is home to the Cromer Pier Show. It is also supposedly haunted as performers have seen ghosts appear next to them on stage. There have been sightings of a man with a tall black hat and poltergeist activity too.
#15 Holkham Hall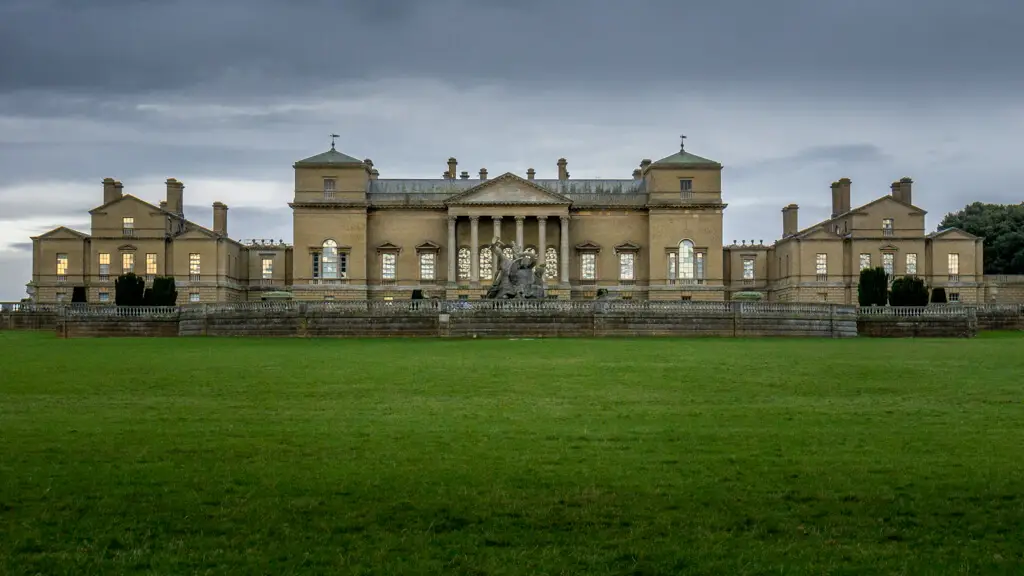 Holkham Hall is magnificent 18th-century Palladian style house, based on designs by William Kent and built by Thomas Coke, 1st Earl of Leicester. While it is still the family home of the Earl of Leicester, the Hall and the surrounding park area are open to the public.
Lady Glenconner, Princess Margaret's lady in waiting, who grew up at Holkham Hall, has just written a book called "A Haunting at Holkham." She believes the ghost of Lady Mary Campbell visits Holkham because she spent a year of her life unhappy and locked up there. Her sister used to see her at night dressed in old-fashioned clothes.
*You might want to check out the Holkham Hall by Candlelight tours offered during the Christmas season.
Various Places
A post about haunted Norfolk would not be complete without a mention of Black Shuck, a ghostly black dog which is said to roam the coastline and countryside of East Anglia. In some tales, this devil dog has two heads and in others he has one large fiery eye.
It's not a good idea to go looking for Black Shuck, as anyone who sees him is sure to die within a year. In Norfolk, there have been sightings of Black Shuck in Cromer, Sheringham, Blakeney, West Runton, and Overstrand.
Halloween in Norfolk
Yes, Norfolk is spooky all year long, but around Halloween there are special events designed to scare you and get you in the Halloween spirit. Be sure to check out our list of the best Halloween events in Norfolk.
Disclosure: This post contains affiliate links. This means we will receive a small commission for some purchases made using links in our blog with no additional cost to you.  Please be assured we would not promote any product unless we believe that our readers will also benefit.  The commission does not influence the editorial content of this site.