Arguably one of the greatest wildlife events that happens in the UK, the Snettisham Spectacular is something that you must experience for yourself. Pictures and videos don't quite do it justice.
In this post, I will share our experience watching the Snettisham Spectacular so that you will know what to expect and give you tips to make the most of the occasion.
Be sure to sign up for our email newsletter here to stay up to date with what's happening in Norfolk.
Note: This post contains affiliate links.  As an Amazon Associate, we earn from qualifying purchases. Please see disclosure for more information.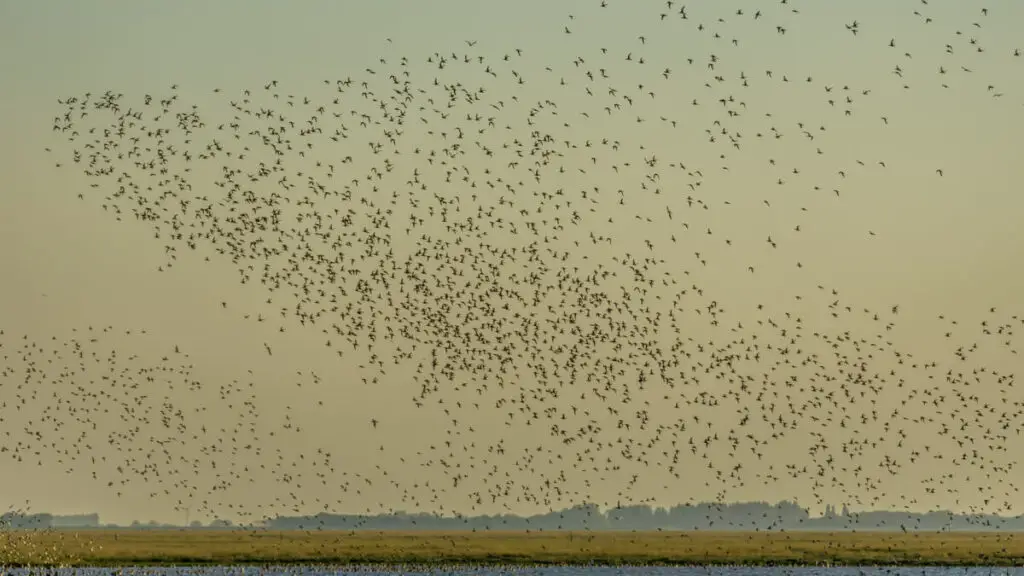 What is the Snettisham Spectacular?
During the biggest high tides, tens of thousands of wading birds (mostly knot, but also oyster catchers, terns, and more) take to the air as the incoming tide forces them from their feeding spot on the mudflats of the Wash to the lagoons. It only happens on certain days in spring, late summer, and autumn.
You can find a list of times for the 2023 Snettisham Spectaculars here.
In the winter months, you can see thousands of pink-footed geese leave their roost at sunrise at RSPB Snettisham.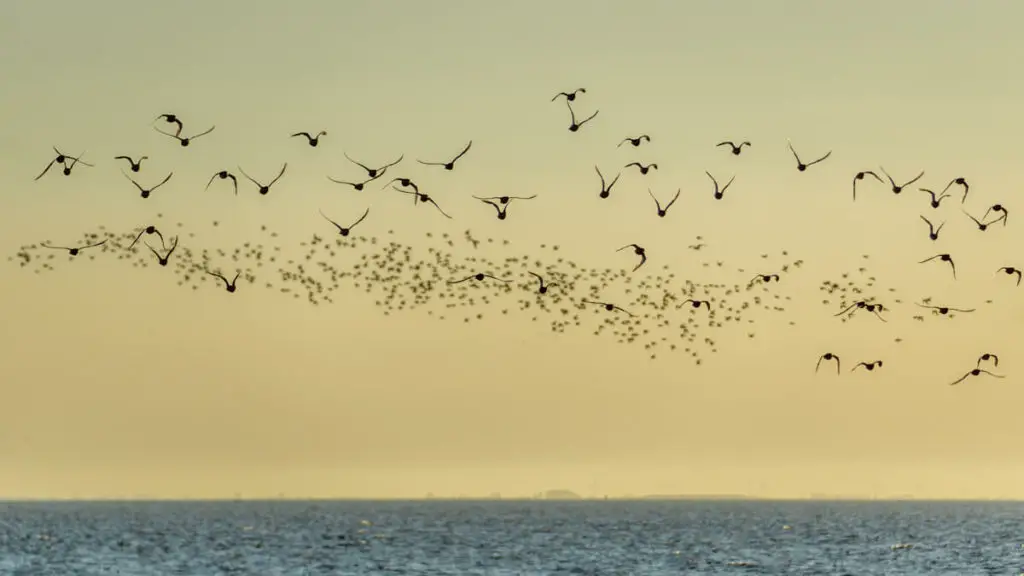 Our Experience at the Snettisham Spectacular
We arrived at RSPB Snettisham car park about 30 minutes before the suggested time because we wanted to make sure we didn't miss anything. Since we are RSPB members, we could just leave our membership card on the dashboard and not deal with the pay and display.
Volunteers were in the car park to greet us and point us in the right direction. We gathered our camera gear, water, and a few snacks and headed down the path.
The first section of the walk along the Access Trail was mostly flat and the view was blocked in a lot of places by the hedges. There were three flights on stairs (two up and one down, all with handrails) to navigate.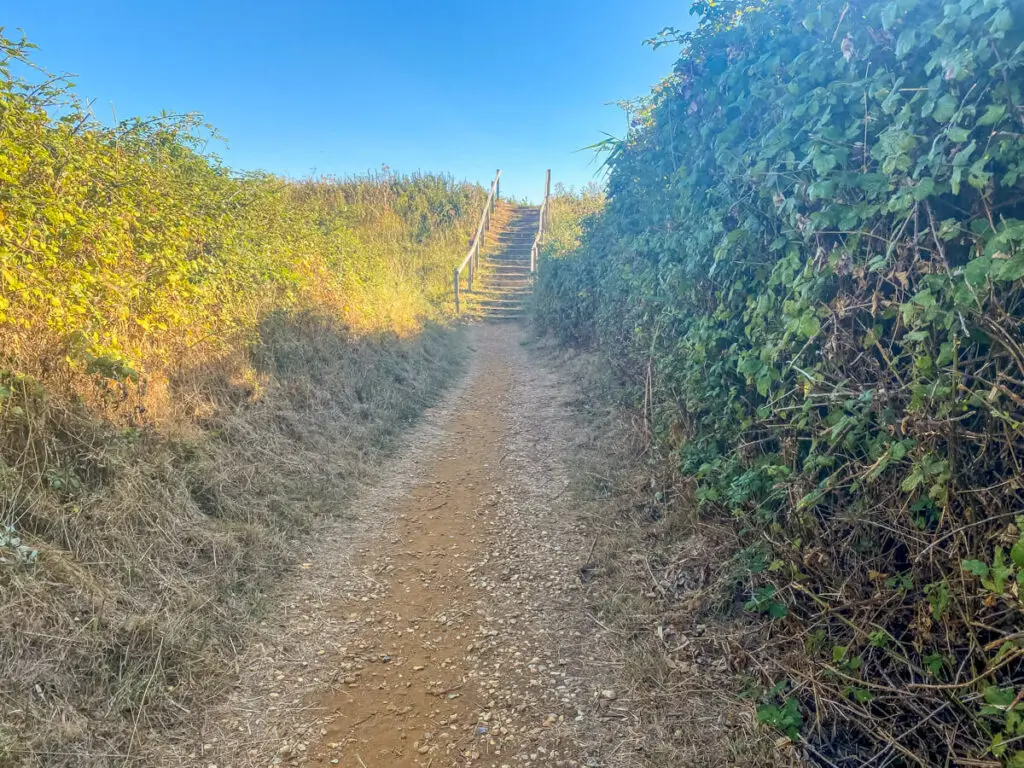 You pass by the second of four lagoons (also called pits) at RSPB Snettisham. They were created by excavation work in the 1930s and 1950s and filled naturally with a mixture of fresh and salt water. Saline lagoons are a rare habitat in Europe.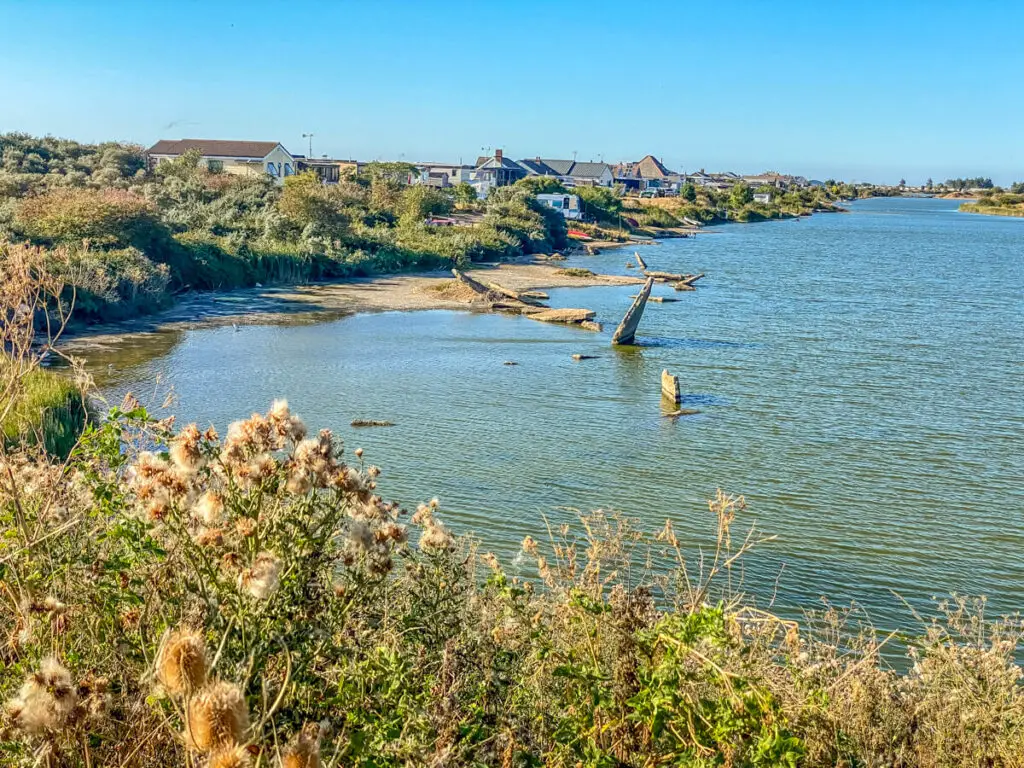 It wasn't long after we reached the Beach Trail on the sea wall that we saw our first murmuration. The birds flew so close over us that we could feel the air coming off their wings. It was amazing and the Spectacular hadn't even started.
There were more RSPB volunteers to explain where we needed to go and give more information about the event. We learned that there were currently about 37,000 knot at Snettisham and the number could grow to 120,000 later in the season.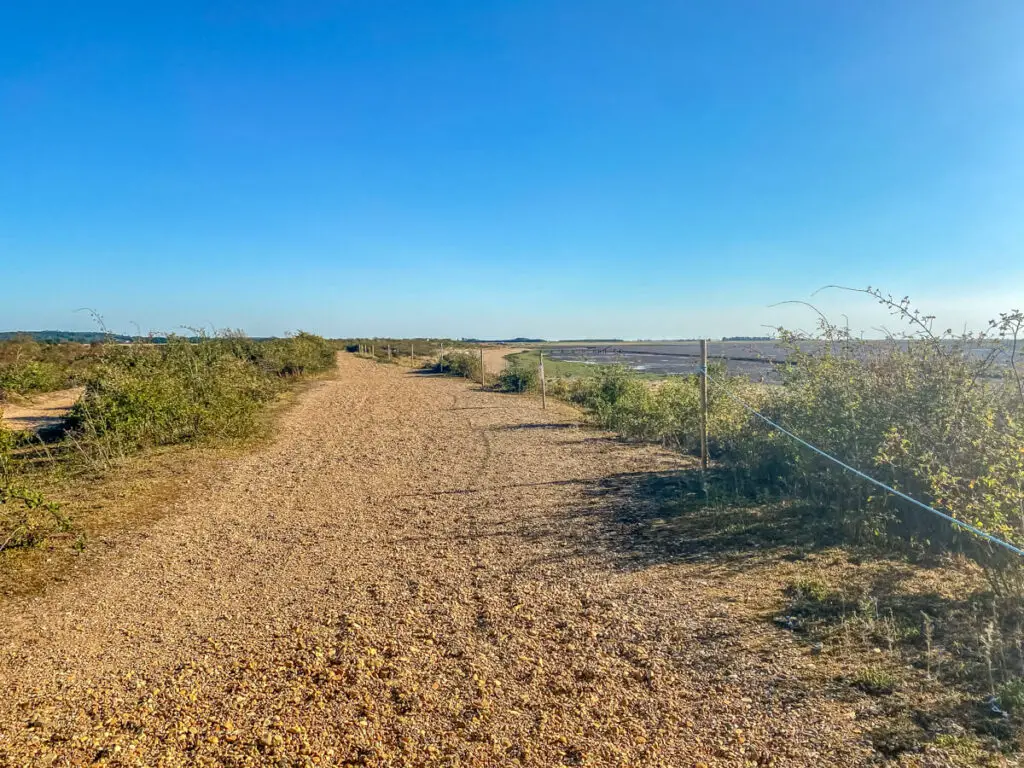 The Wader Watching spot seemed a bit farther away than I had anticipated, so I got a little worried about time. I wanted to make sure we got the best possible spot to see the spectacular.
We continued to walk along the Beach Trail on the sea wall, much of the beach was roped off to protect nesting birds. The first landmark we saw was the old Jetty which had been battered by the elements over the years. To the left there was the Rotary Hide, but we kept going.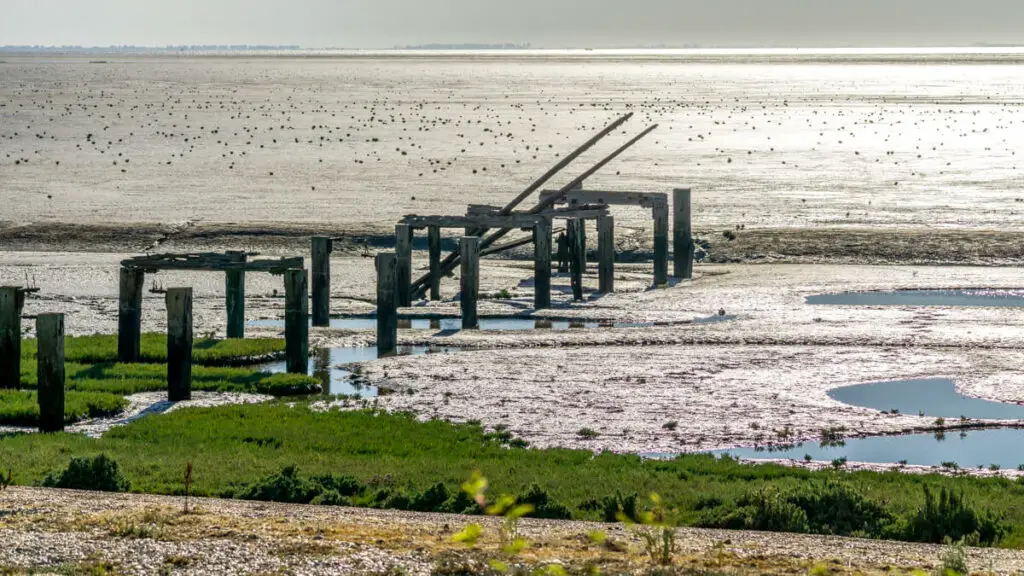 It wasn't too much longer until we reached a tent that the RSPB had set up where there were more staff and volunteers to guide us. They explained the tide was coming in slower than anticipated (due to wind) and the Spectacular might be delayed.
This meant we had time to go to the Shore hide which was close by and check out the activity there first. Inside the Shore hide we could see plenty of different types of birds including gulls, knot, geese, ducks, and more.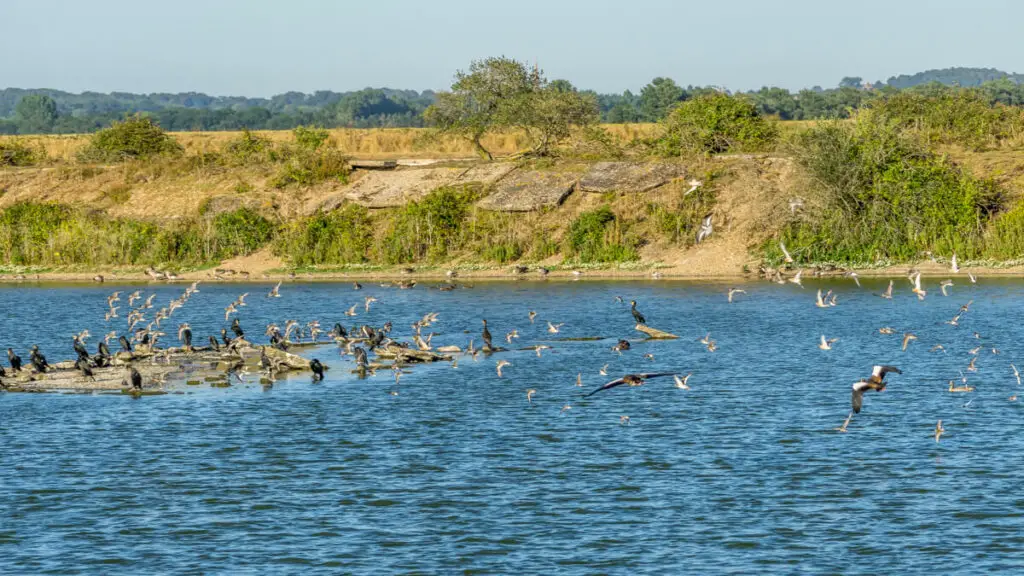 We didn't stay in the hide long because we wanted to make sure we got a good spot to watch the Spectacular. I didn't realize there are lots of good spots in the Wader Watching area.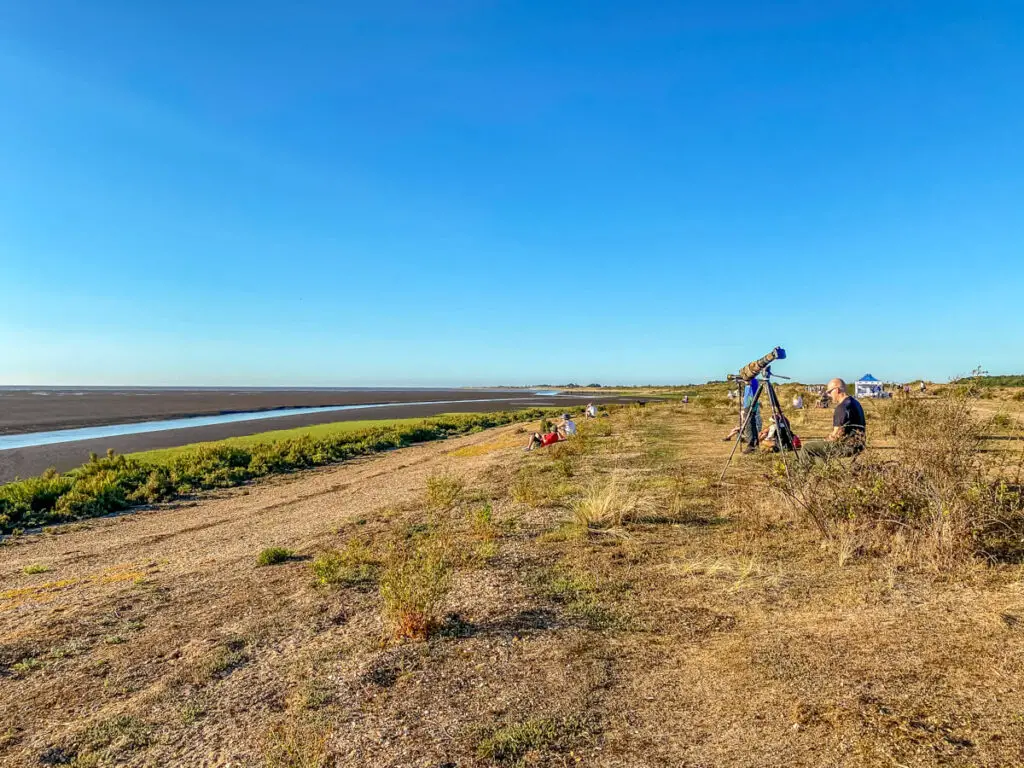 In hindsight, I wish we would have stayed in the hide a bit longer. From the Wader Watching Point, we could see there was a lot of activity in the pit before the Spectacular got going. When we tried to go back to the hide, it was too crowded.
We watched the tide come in through a channel and it was amazing to see how fast the water flowed and started to fill up the area. Small groups of birds started to take to the air, dance around a bit, and then head to the pit.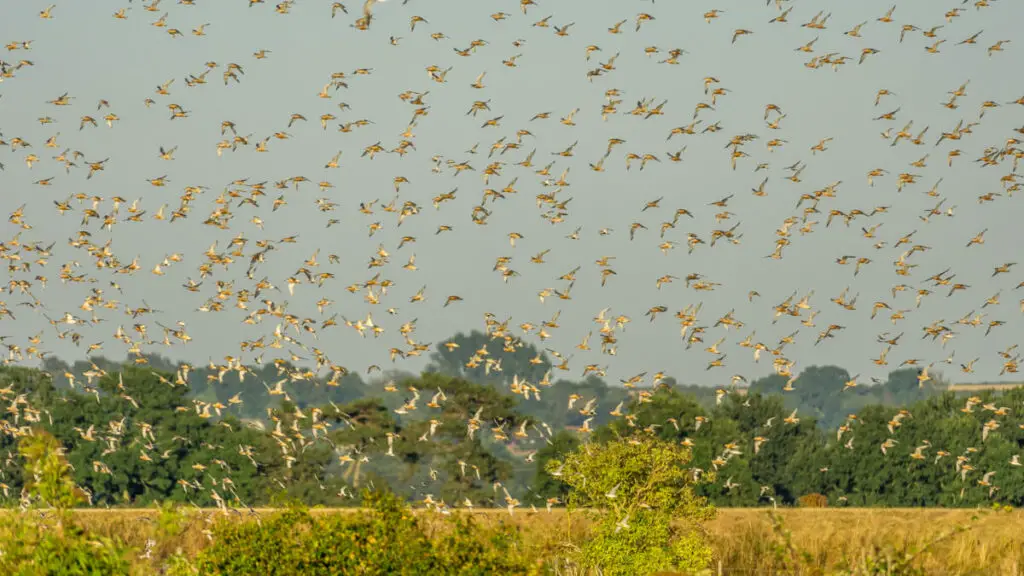 As the tide got higher, the groups of birds got larger. Off in the distance we would see groups of birds that would come together like magic and then continue their dance. As they came closer to us, it seemed like the groups broke up again.
While early on in the Spectacular it didn't seem like there were that many birds, that changed later on. At some points, it seemed like you could look in any direction and see groups of birds.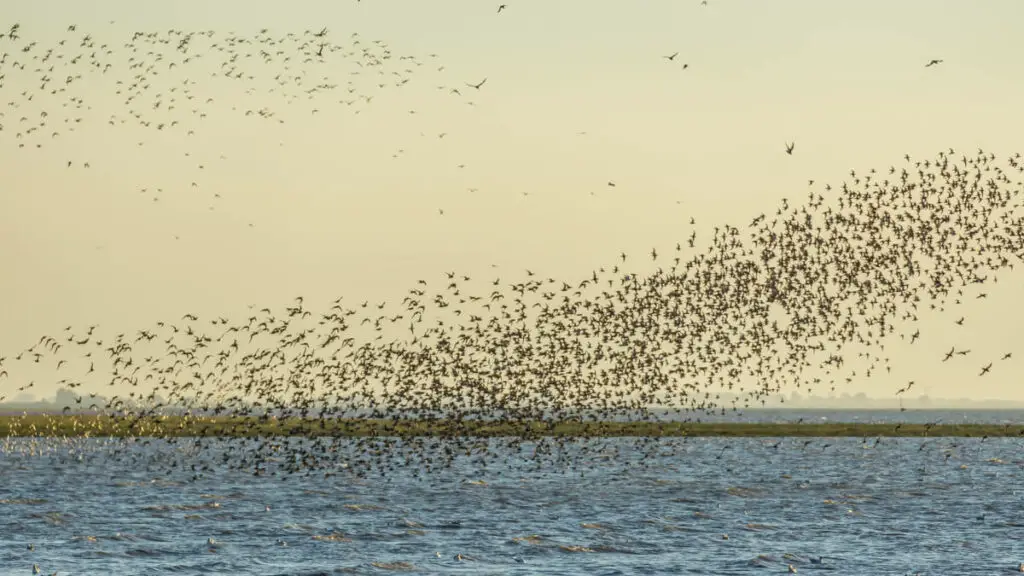 At the same time, we also got to enjoy a beautiful sunset. There weren't many clouds in the sky as the sun slowly went down over the water.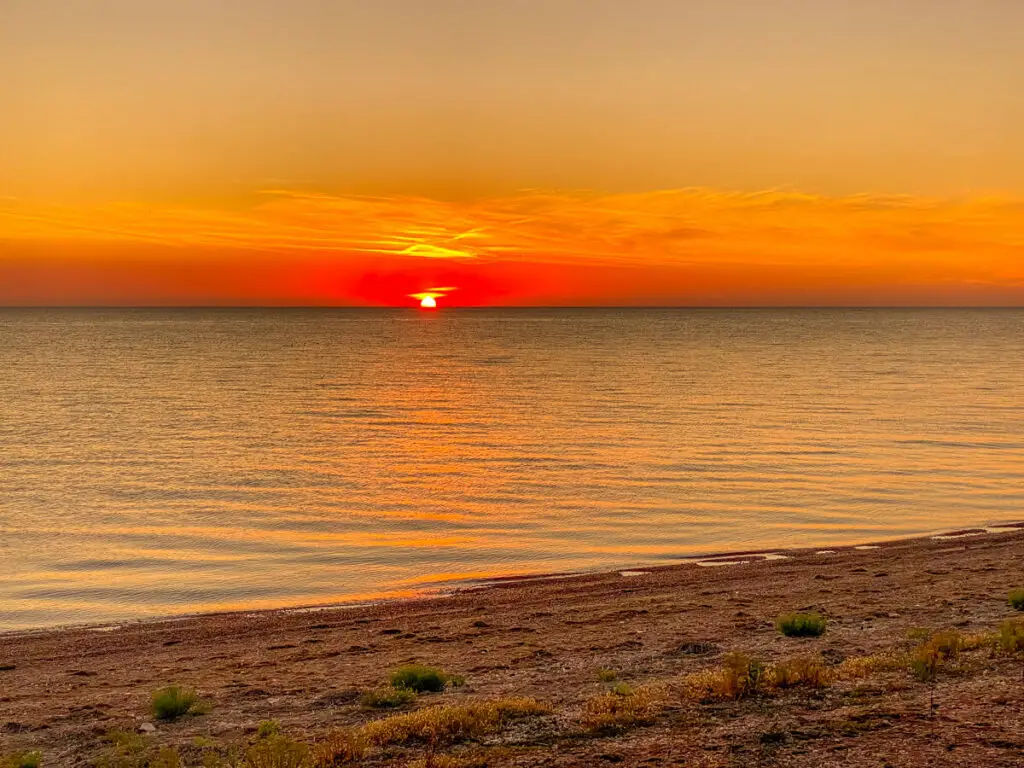 Once the sun went down we decided we should head back to the car. We probably could have stayed a bit longer and seen more but we knew we had the 30-minute walk back to the car plus the drive back to Norwich and didn't want to get home too late.
There was one other reason that we left when we did. We wanted to make it to Snettisham Beach Chip Shop before it closed. We walked as fast as we could, jumped in the car, and made it there with just a few minutes to spare.
It was a lovely way to end what had been an enjoyable evening. We can't wait to go to another Whirling Wader Spectacle!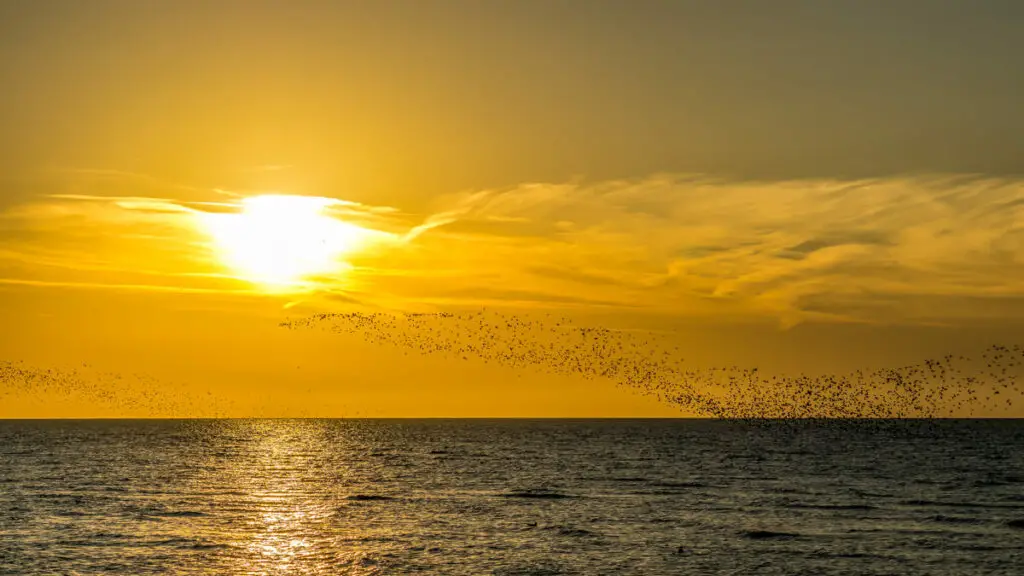 Tips for Watching the Snettisham Spectacular
If you plan on going to the bird spectacular at RSPB Snettisham, there are a few things you should know.
First, you need to be prepared to walk 2.2 kilometres to get to the best viewing spot. It's not a hard walk but it's important to wear appropriate shoes and think about how much you want to carry with you.
Plan on spending a couple hours at the reserve. It takes time for the tide to come in and the birds will be active for some time after that. You will also want to spend some time in the hides where you can watch the activity in the pit.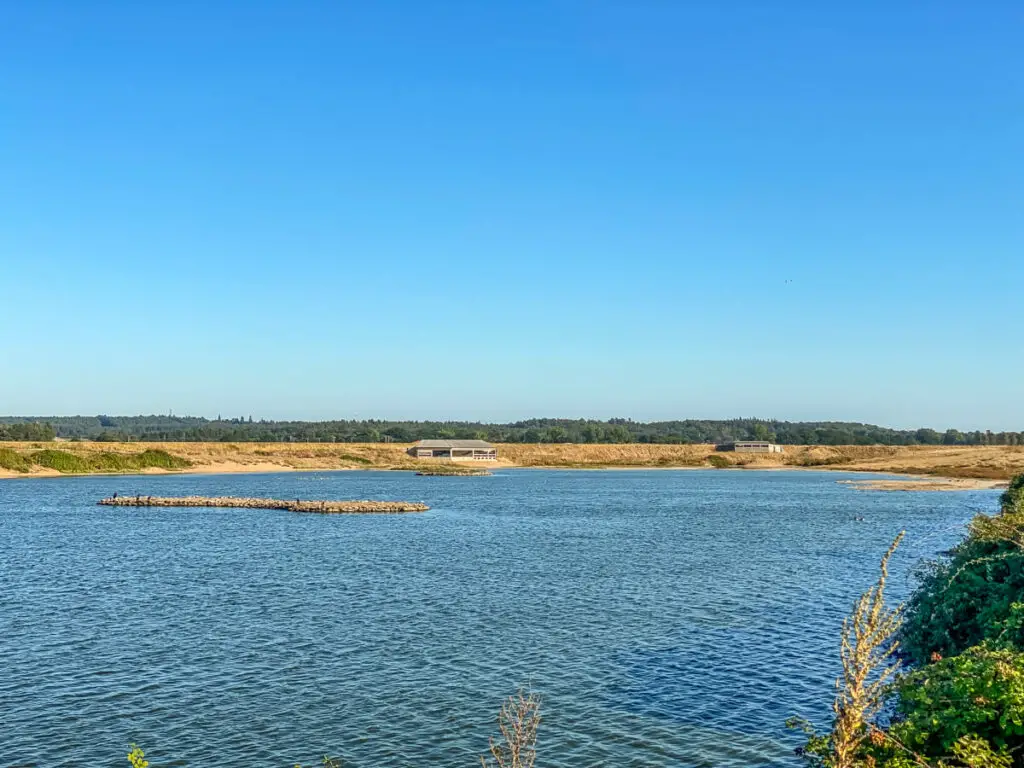 It is important to check the weather and be prepared. There was a nice breeze by the Wader Watching spot, so it may feel a little cooler than the actual temperature. Also, you should probably wear sun cream as there isn't much shade (except inside the hides) at the nature reserve.
Since RSPB Snettisham doesn't have any facilities, you should use the bathroom before you arrive and bring along water and snacks. There are a few benches but if you want somewhere to sit (other than the ground), you might want to bring chairs (like these).
If you want to get good pictures where you can see more details of the birds, you are going to need a zoom lens. We used a Sony 70-350 G OSS lens for our APS-C crop sensor camera (this is equivalent to a maximum zoom of 525 on a full-frame camera) for the photos in this blog post.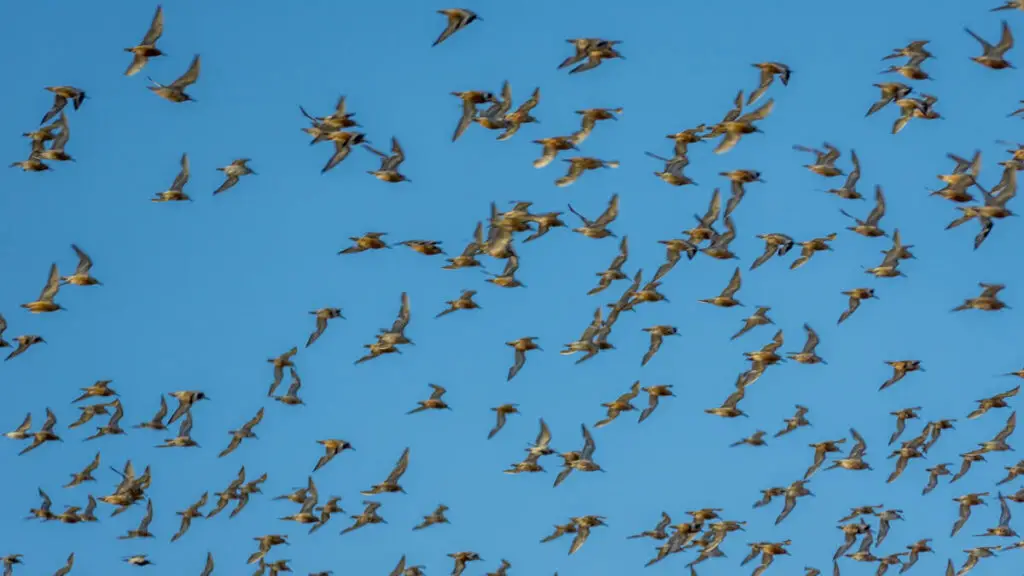 I did take some video using the 2x zoom option on my iPhone 11 Pro. It gives you an idea of the murmurations that the birds do but they are quite small.
We did bring our binoculars (these ones) with us, but I feel like I barely used them. Most of the time I was enjoying the large groups of birds and appreciating the dance-like movement. If you have binoculars, bring them, but if not, you will be fine without them.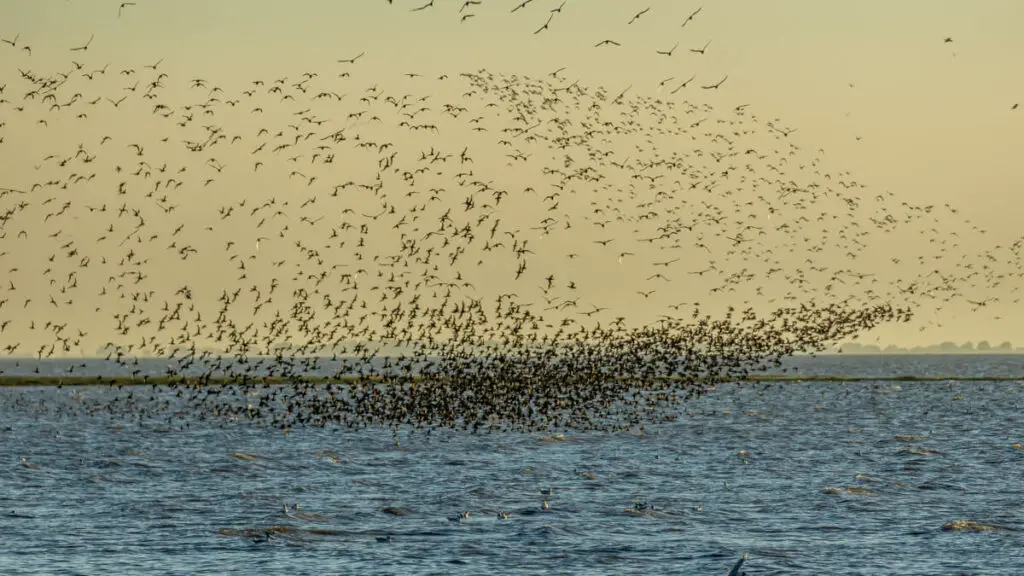 Where to Stay Near RSPB Snettisham
Since many of the spectaculars take place early in the morning, you might want to stay close by the reserve to save precious time. Here are our top picks for places to stay close to RSPB Snettisham.
The closest property to RSPB Snettisham is a holiday home called the Beach House. It's a two bedroom house with an enclosed garden. Read reviews and check the price and availability here.
Avocet Lodge is a newly converted annex with a private entrance just off the A149. It has one bedroom and a patio with garden views. Read reviews and check the price and availability here.
The Rose & Crown is a popular pub in Snettisham village. It has a restaurant, bar, and garden. All the rooms have their own private bathrooms. Read reviews and check the price and availability here.
Things to Do Near RSPB Snettisham
If you want to make a day out in the area, there are a few other attractions nearby that you might want to check out.
Snettisham Beach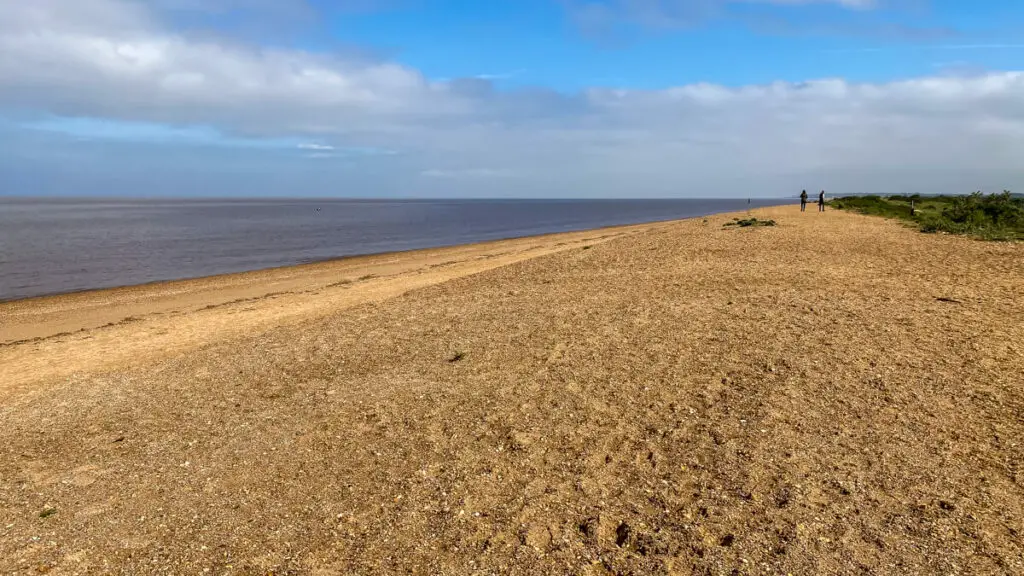 Head to Snettisham Beach if you want to do birdwatching, walking with or without a dog, sea fishing, and catching the sunset. It's a mix of sand and shingle so not ideal for building sandcastles.
Even though it's the closest beach to King's Lynn, you won't usually find many other people. There are no toilets or lifeguards.
Sandringham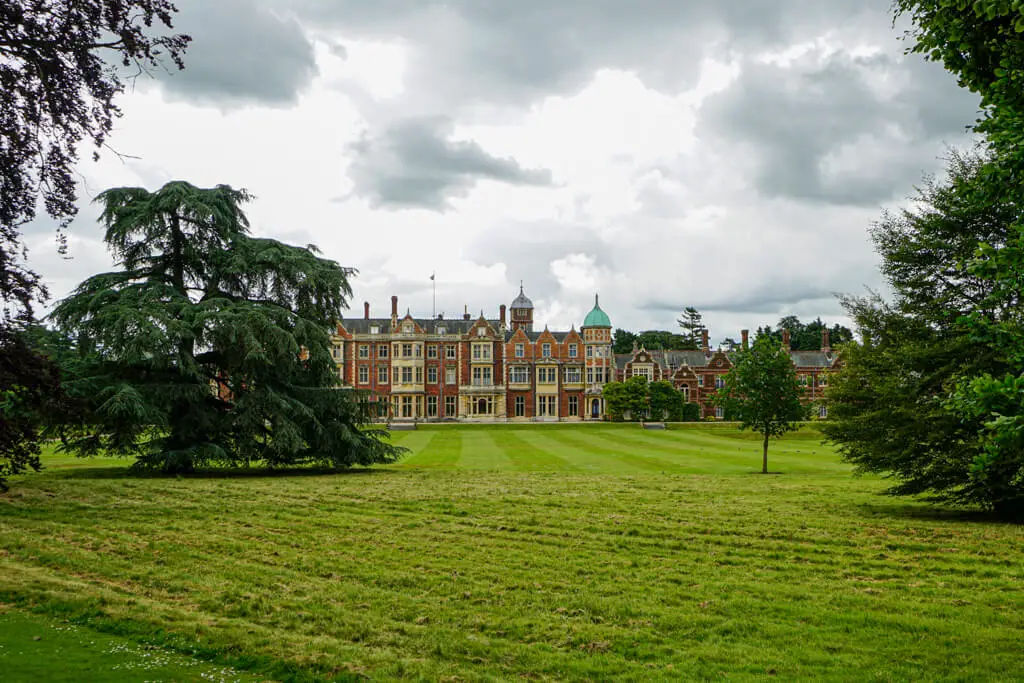 Sandringham is the beloved country retreat for Queen Elizabeth II. During the spring, summer, and autumn, you can tour the house and visit the gardens. The Royal Park includes almost 243 hectares with some well-marked walking trails. There is also a new Children's Adventure Play Area inspired by the Duchess of Cambridge's 2019 Chelsea Flower Show garden.
Get more information here.
Snettisham Park
Snettisham Park, incorporating Park Farm, is a 329-acre working farm that grows wheat for animal feed, malting barley, sugar beet, and grass. They also have a flock of 400 ewe, herd of red deer, and horses and ponies in the stables.
It first opened to the public in 1986 and now they have a lot to offer visitors. You can see lambs being born, do a 45 minute deer safari, collect fresh farm eggs, ride ponies, take a walk on one of three wonderful trails, and more.
Hunstanton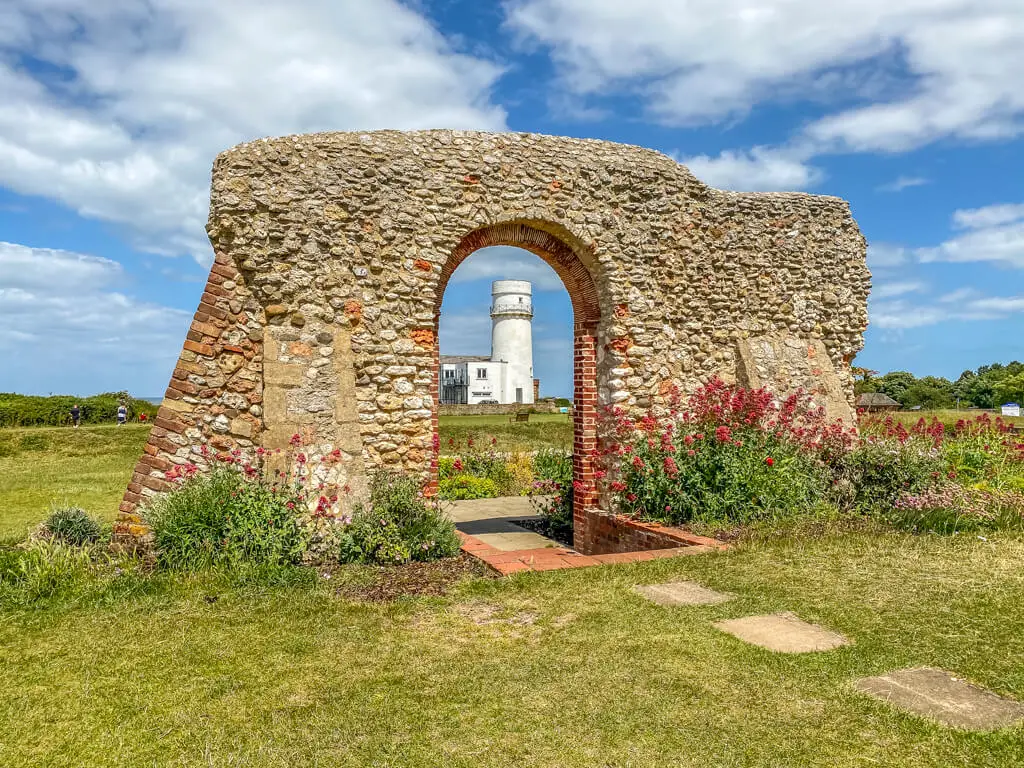 It's also only a 15 minute drive to Hunstanton, which has one of the best beaches in Norfolk. This popular seaside town has a lot to offer visitors, especially families. Check out our recommendations for things to do in Hunstanton.
Where to Eat Nearby RSPB Snettisham
Since they don't have a cafe or anyplace to buy food at RSPB Snettisham, it might be a good idea to grab a bite before or after. There may not be a lot of restaurants near RSPB Snettisham, but there are a few that are worth trying.
If you are looking for a quick bite, around the corner there is the Snettisham Beach Chip Shop, which offers some of the best fish & chips in Norfolk. In the village of Snettisham, there is the Rose & Crown and the Old Bank, which has been listed in the Michelin Guide since 2019.
Snettisham Spectacular FAQs
When does the Snettisham Spectacular take place?
When the biggest high tides take place during daylight. You can find a list of dates and times for the 2023 Snettisham Spectaculars here.
How long does the Snettisham Spectacular last?
It can vary based on the speed of the tide. I would allow a couple hours.
Are there any facilities at RSPB Snettisham?
No. There are no toilets or places selling food or drink.
Is the path to the wader watch point at RSPB Snettisham accessible?
No. You need to contact RSPB Snettisham to get a permit to drive to the Rotary hide.
Is the Snettisham Spectacular good for kids?
There weren't any kids at the Spectacular when we went, but I think it would be good for kids. Keep in mind they need to be able to walk to (and from) the watcher spot and be patient waiting for the show to start (maybe bring along some entertainment). Also note, there aren't any toilets and some of the morning Spectaculars will require an extra early start.

If you are looking for more family-friendly ideas, check out our list of the best things to do in Norfolk with kids.
Are dogs allowed at the Snettisham Spectacular?
Yes, but they must be kept on a short lead.
How long does it take to walk from the car park to the wader watching spot?
I would allow about 30 minutes (more or less depending on how fast you walk or how many times you stop to take photos).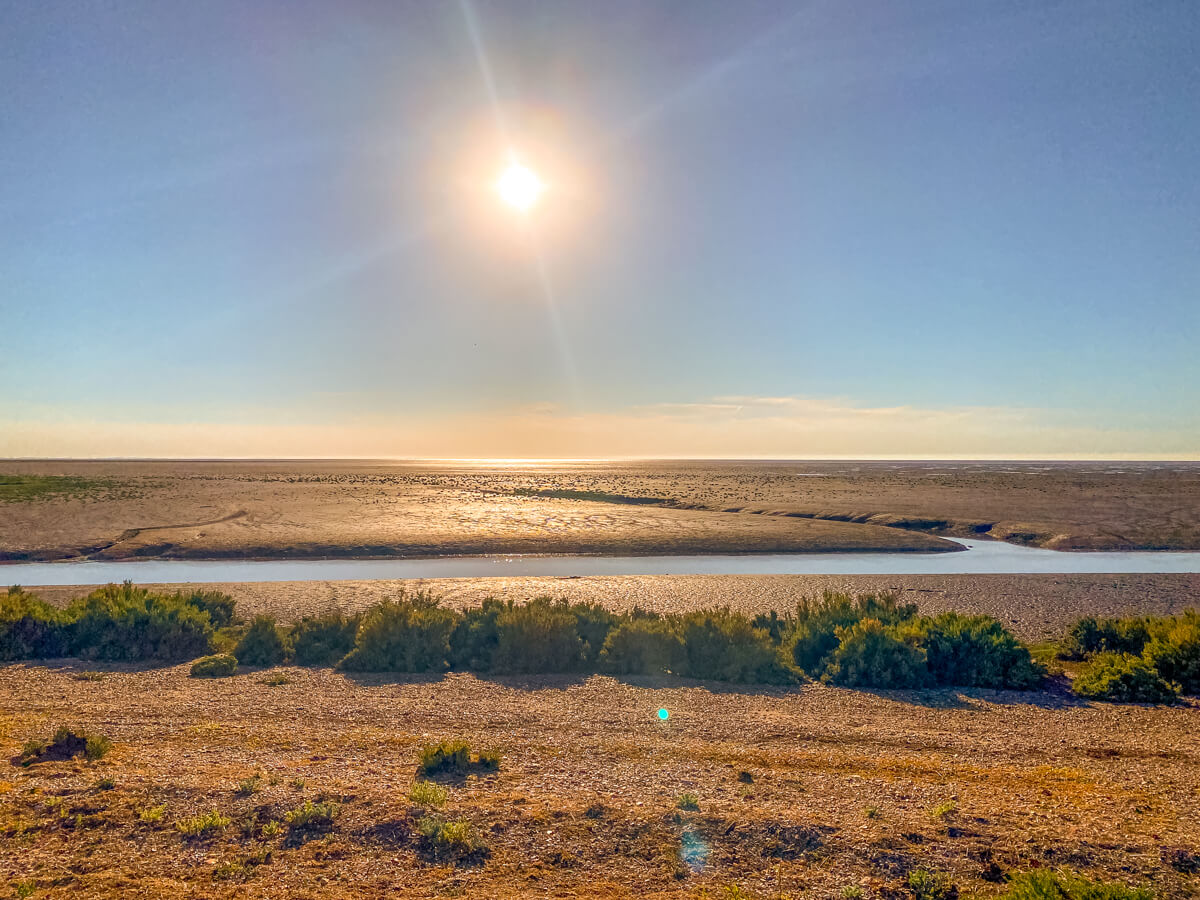 What happens if it is raining during the Spectacular?
Rain doesn't affect the birds, they will still fly to the pits.
Is the Snettisham Spectacular worth it?
Yes, it is one of nature's most impressive sights which you need to see in person to truly appreciate. It doesn't cost anything to go to the Spectacular (except £3 for parking if you are not a RSPB member), just your time. When you look back, I'm sure you will think it was time well spent.

It's one of the best free things to do in Norfolk.
Where do you park for RSPB Snettisham?
They have a small pay and display car park that holds 80 cars. It is free for RSPB members (just leave your membership card on your dash) and £3 for non-members.
How do you get to RSPB Snettisham?
Use postcode PE31 7RA in your sat nav and follow the brown signs from the A149. It is not easily accessible by public transportation.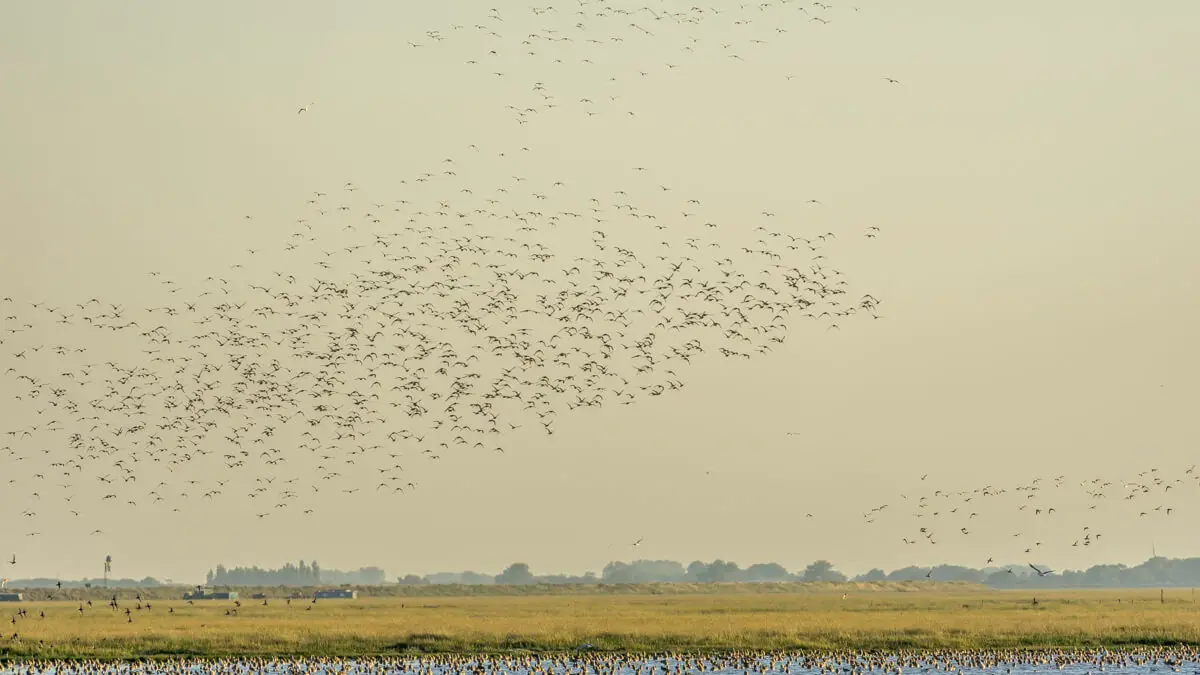 Disclosure: This post contains affiliate links. This means we will receive a small commission for some purchases made using links in our blog with no additional cost to you.  Please be assured we would not promote any product unless we believe that our readers will also benefit.  The commission does not influence the editorial content of this site.