The Norfolk Broads is known for its peaceful waterways, abundant wildlife, and charming villages, making it a popular choice for holidaymakers looking to escape the hustle and bustle of modern life. One of the most popular ways to experience the beauty of the Norfolk Broads is by taking a boat tour.
While there are other ways to explore this special area, a boat tour offers a unique perspective and a chance to see the region from a different angle. However, with so many boat tour options available, it can be overwhelming to decide which one is right for you.
So, let's dive in and take a look at the different boat tours available in the Norfolk Broads, so you can find the one that best suits your needs.
Be sure to sign up for our email newsletter here so that you can find out about more fun things happening in Norfolk.
Note: This post contains affiliate links.  As an Amazon Associate, we earn from qualifying purchases. Please see disclosure for more information.
Boat Tours in the Norfolk Broads
Boasting a plethora of options, boat tours in the Norfolk Broads cater to diverse preferences. With various styles and sizes of boats available, one can easily find something that suits their fancy. From a quick 20-minute ride to an extended 2-hour excursion, there's something for everyone. What's more, some tours even welcome well-behaved dogs, adding to the experience.
Regardless of the tour you choose, one thing is certain: the chance to behold stunning scenery and catch glimpses of wildlife. With an array of flora and fauna in the area, the Norfolk Broads provide a unique opportunity to get up close and personal with nature.
Let's take a look at the Norfolk Broads boat tour options in detail.
Broads Tours in Wroxham
Broads Tours in Wroxham offers the opportunity to discover the Norfolk Broads in style. You can sit back, relax, and take in the scenery while listening to commentary from a knowledgeable skipper. They will explain more about the history of the Broads, identify points of interest along the way, and show you all the local water birds as they come into view.
Take a look at their schedule here and you can see when the different boats – Cordon Rouge, Queen of the Broads, Vintage Broadsman, Belle of the Broads – are running. All the boats have toilets, two levels, and a licensed bar that offers light refreshments.
Once you board the boat you can choose your own seats and move around freely during the 90-minute trip. If you're traveling with a well-behaved dog, they are welcome on board for a small additional charge.
Both the Queen of the Broads and the Belle of the Broads can accommodate one wheelchair per trip. This space can be booked by purchasing a wheelchair user ticket (adult or child).
Daily river trips run from 1 April until the end of October, but they also have special tours for the February half-term and Mother's Day. During the summer months, they host Evening Music Cruises. In the winter, you can get out on the water with their popular Santa Cruises during December.
It's best to arrive early as all trips start to board 30 minutes prior to sailing. Keep in mind, all times are approximate and are subject to change without notice (like in bad weather). They do require a minimum passenger number to operate the tour.
You could also do a journey by steam train on the Bure Valley Railway the same day as your river trip with Broads Tours as both are in Wroxham.
Get more details and book here.
Southern Comfort in Horning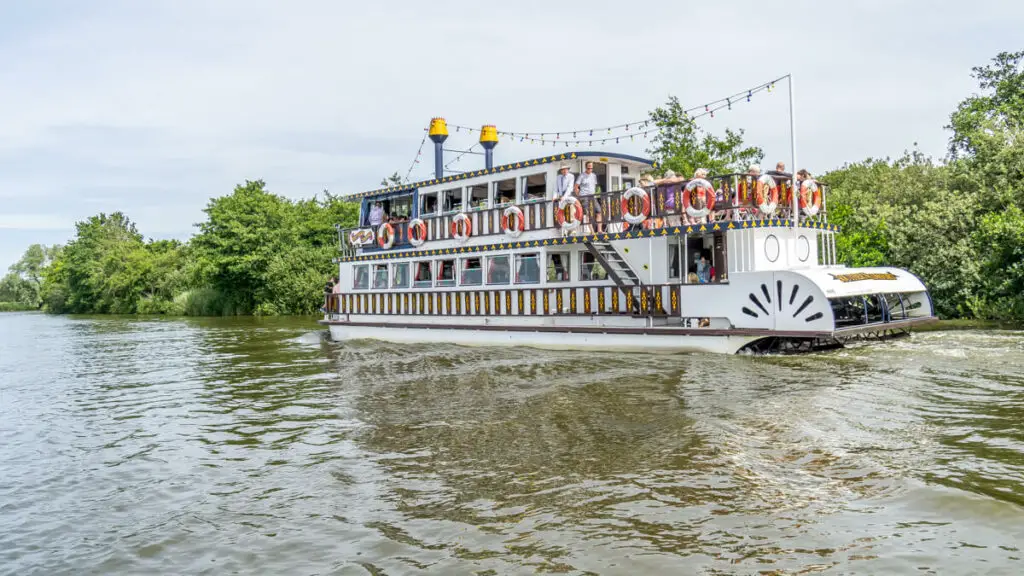 The Southern Comfort is a beautiful double-deck paddle boat purpose-built for the Broads. This luxury river cruiser runs regular trips from the village of Horning, taking you on a scenic journey along the River Bure through the village and out to Ranworth Broad, passing by lovely old thatched houses, windmills, and the Norfolk reed beds.
During your trip, you'll get expert commentary that will help you spot all the water birds around at the time. You'll also get views of the landscape from the upper deck.
On the lower deck, you'll find a plush lounge with a fully stocked bar, where you can sit back, relax and enjoy a drink while enjoying the ride. They also offer freshly made tea and coffee, snacks, and souvenirs for your convenience.
The Southern Comfort can accommodate up to 100 passengers for public trips or private hire and is fully equipped with toilets and wheelchair access. You can choose from a 1.5-hour daytime or 2-hour evening trip.
Get more information here. Bookings can be made by phone.
Electric Eel at How Hill
This 50-minute boat trip takes you along hidden dykes behind the How Hill Nature Reserve, where you can see an abundance of local wildlife. On a sunny summer's day, you're likely to see dragonflies and damselflies darting about, and in June and July, you might even spot the rare Swallowtail butterfly.
The Electric Eel boat is small and intimate, with a maximum capacity of just six passengers, so you can relax and enjoy the peace and quiet of the Broads. Your experienced guide will point out all the interesting sights and sounds along the way, and answer any questions you have. The tour also includes a birdwatching stop at a bird hide.
The boat tour is available select days from April to September, and departs from the Toad Hole Cottage Broads Information Centre in Ludham. Bookings are essential, so please call or email ahead to secure your place.
If you have more time in the area, you should consider doing the How Hill Nature Walk. This easy walk is a fun way to learn more about the wildlife and plants found in How Hill Nature Reserve. If you want something more challenging, you could do the How Hill to St. Benet's Abbey circular walk.
Find out more about the schedule, prices, and how to book here.
NWT Boat Tours at Ranworth
Discover the beauty of Ranworth Broad with three different boat tours organized by the Norfolk Wildlife Trust (NWT). These tours offer a fantastic way to explore the area's natural wonders. It is recommended to book your spot in advance, and NWT members can enjoy exclusive discounts.
You can embark on a 40-minute boat ride aboard the Damselfly, a 12-seater vessel. Journey through the broad and its intricate channels, while immersing yourself in the abundant wildlife. Along the way, you'll catch sight of the sunken wherries, remnants of World War II defences against German seaplanes.
If you have more time, you can experience the serene Cockshoot Broad Water Trail, a scenic trip along the River Bure within the Bure Marshes National Nature Reserve. Admire the secluded and tranquil Cockshoot Broad, where water lilies and fascinating damselflies and dragonflies await. Explore the boardwalk and visit the bird hide, where the elusive osprey occasionally makes an appearance. This boat tour offers a unique opportunity to access this hidden wildlife haven.
For a magical experience, join the Evening Water Trail to St Benet's Abbey. This guided two-hour journey from Ranworth to St Benet's Abbey showcases the stunning landscape as the setting sun casts its enchanting spell. Immerse yourself in the beauty and tranquility of this unique environment.
No matter which boat tour you choose, you'll have an unforgettable adventure, witnessing the remarkable natural beauty and wildlife of Ranworth Broad. Find out more included current prices and schedules here.
Ra in Hoveton
You can explore the Broads in the environmentally friendly Ra. This solar-powered boat takes you along a tranquil stretch of the River Bure, heading towards Coltishall and into Bridge Broad.
During your 60 or 90 minute tour, your experienced guide will point out all the interesting sights and sounds along the way, and answer any questions you have. You can expect to see a variety of birds, including swans, ducks, geese, and herons, as well as dragonflies and damselflies.
The boat trip is available on select days from April to September, and departs from Hoveton Riverside Park. Bookings are essential as the boat can only take up to nine passengers at the skipper's discretion, so please call or email ahead to secure your place.
Find out more about the schedule, prices, and how to book here.
Museum of the Broads Boat Tours in Stalham
The Museum of the Broads in Stalham also runs boat tours! Choose from a 50-minute or 30-minute ride on either Falcon, a unique Victorian steam boat, or Marsh Harrier, an Edwardian-style launch.
Falcon was built for Sir Edmund Lacon, owner of the Great Yarmouth Lacon's brewery, in 1894. She has quite the history starting as a pleasure boat, then part of the Royal Navy during World War One and later becoming a hire vessel at Cobholm before eventually being donated to the Museum in 1997. Thanks to the hard work of volunteers, Falcon and her steam engine have been beautifully restored.
If you're looking for a more modern option, you might enjoy the Marsh Harrier. She was designed by Broads boat designer Andrew Wolstenholme and built by the International Boat Building Training College at Oulton Broad. With a roof and wheelchair accessibility, Marsh Harrier is a great choice for visitors of all abilities. Plus, her batteries are charged by electricity produced by the Museum's own solar panels, making her a sustainable and environmentally-friendly option.
Don't forget to visit the Museum of the Broads while you're there! While you will need separate tickets for the museum and boat tour, it's a great way to learn more about the history and wildlife of the Broads. Under 4's and dogs can come along for free on all boat trips!
Find out more about the boat tours and book here.
Wherry Albion Sailing Days
On select days during the summer months, the Norfolk Wherry Trust offers day cruises on the Albion. Now, these cruises are no ordinary boat rides, my friend. They're a chance for individuals or small groups to hop on board and experience the magic of Albion with an experienced crew.
Now, here's the lowdown. Each trip can accommodate a maximum of 12 passengers, so it's gonna be a cosy affair. Passengers that want to get involved with sailing the wherry can take an active role, or if you just want to relax on the deck and soak in the beauty of the Broads, that's fine too.
You will get a full day to experience the serenity of the area. The route may vary depending on the tides, but which ever way you go there are plenty of opportunities to spot wildlife along the way.
Birds, fish, and all sorts of creatures will make an appearance, guaranteeing some fantastic photo opportunities. And since Albion is a true icon of the Broads, get ready to be treated like a celebrity. You'll be constantly waved at and snapped in pics by folks on the shore.
Now, let's talk about Albion herself. Brace yourself for a blast from the past because this beauty was built way back in 1898. She's what they call a "black sailed trader," and the folks at the Norfolk Wherry Trust take pride in keeping her as original as possible.
Don't expect luxurious amenities on board, but you can count on everything being clean, functional, and, well, basic. It has a toilet, bunks, and some cooking facilities, so think about bringing along some simply but tasty bites.
Since this boat trip is run by a charity, you will find it to be one of the most affordable options out there. Plus, if you are a member of the Norfolk Wherry Trust, you might be eligible for a discount.
Most sailings start from Womack Water at Ludham. Get more information here.
Boat Tour at Fairhaven Water Garden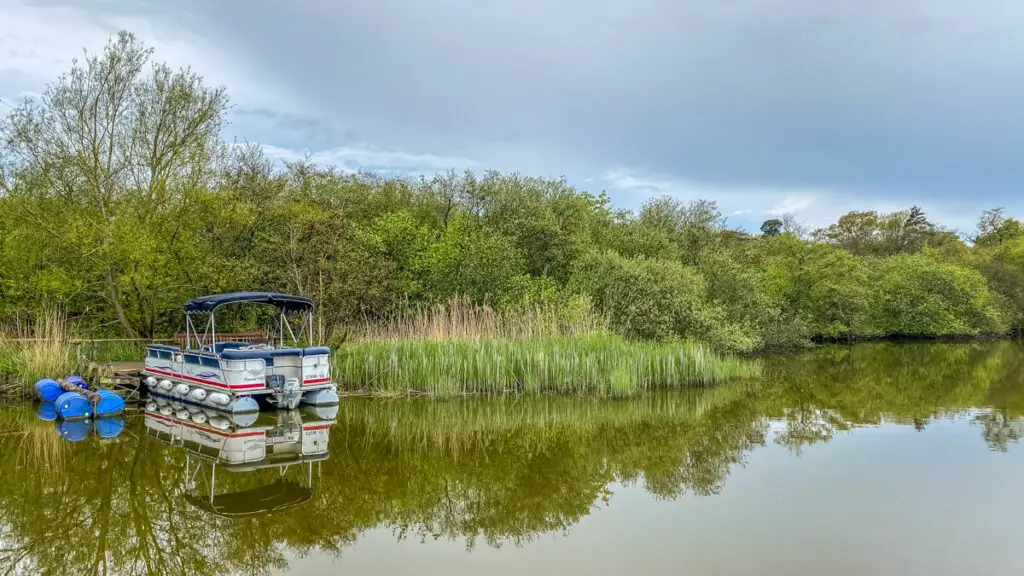 The Fairhaven Water Garden private broad offers the perfect setting for a peaceful and relaxing boat ride. During the summer, the 'Primrose', runs daily and offers both 20 and 50-minute trips. It is wheelchair accessible, so everyone can join in the fun.
The shorter trip gives you the opportunity to go around the private broad and check out the local wildlife. You can admire the swans, grebes, and even spot an otter, kingfisher or marsh harrier if you're lucky. If you opt for the longer boat ride, you will be able to journey down the river and see the historic ruins of St. Benet's Abbey.
Please note that boat trips are weather permitting, so it's best to check with Fairhaven Water Garden on the morning of your visit to confirm whether or not they are running.
Find out more here.
Ross Wildlife Boat Tour
Discover the "hidden" Norfolk Broads with Ross Wildlife Boat trips. Take a guided wildlife boat trip on Horsey Mere, and be amazed at the beauty of nature in this quiet corner of the Norfolk Broads. Our one-hour trips are friendly and informal.
You are pretty much guaranteed to see some interesting local wildlife, but what you will see will vary. On warm days in May, June, and July, the very rare swallowtail butterfly is likely to be on show. Late in the season, you may be able to see the pink-footed geese.
Wildlife River Trips are available seven days a week beginning in April until October (reduced service in October, call to confirm days and times). You can book a private tour for early morning and evening during the main season and throughout the off-season by arrangement.
The Lady Ann can carry up to 12 passengers, and well-behaved dogs are welcome. While it does not have bathroom facilities or food available for purchase there are options nearby.
To pre-book, you will need to text Ross before 9:30 on the day, with your surname, number of seats, day, and time required.
Get more information here.
Disclosure: This post contains affiliate links. This means we will receive a small commission for some purchases made using links in our blog with no additional cost to you.  Please be assured we would not promote any product unless we believe that our readers will also benefit.  The commission does not influence the editorial content of this site.