Have you been to Fairhaven Water Gardens, a beautiful and tranquil spot in the heart of the Norfolk Broads? If not, what are you waiting for?
With its natural landscapes, winding pathways, and an array of activities, Fairhaven Water Gardens offers a perfect escape from the hustle and bustle of everyday life. Whether you're a nature enthusiast, a family with young children, or simply someone looking for a peaceful day out, Fairhaven Water Gardens is a destination not to be missed.
This guide will provide all the information you need to make the most of your visit. So grab your walking shoes, pack a picnic, and get ready to explore Fairhaven Water Gardens.
Be sure to sign up for our email list here to find out about more things to do in Norfolk.
Note: This post contains affiliate links.  As an Amazon Associate, we earn from qualifying purchases. Please see disclosure for more information.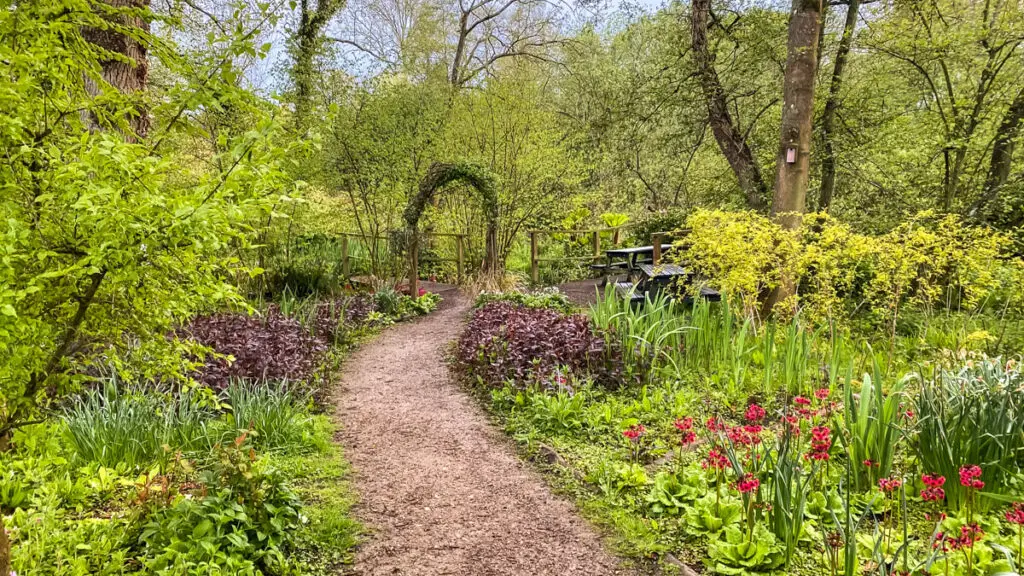 History of Fairhaven Water Gardens
Fairhaven Water Gardens began as part of the South Walsham Estate, which was purchased by Major Henry Broughton in 1946.
After restoring the house, which was used as a convalescence home during World War Two, Broughton designed the garden himself with the help of a team of gardeners and woodmen. Many trees were grown in a dedicated tree nursery, and over 90% of the plants were grown from seed in huge greenhouses.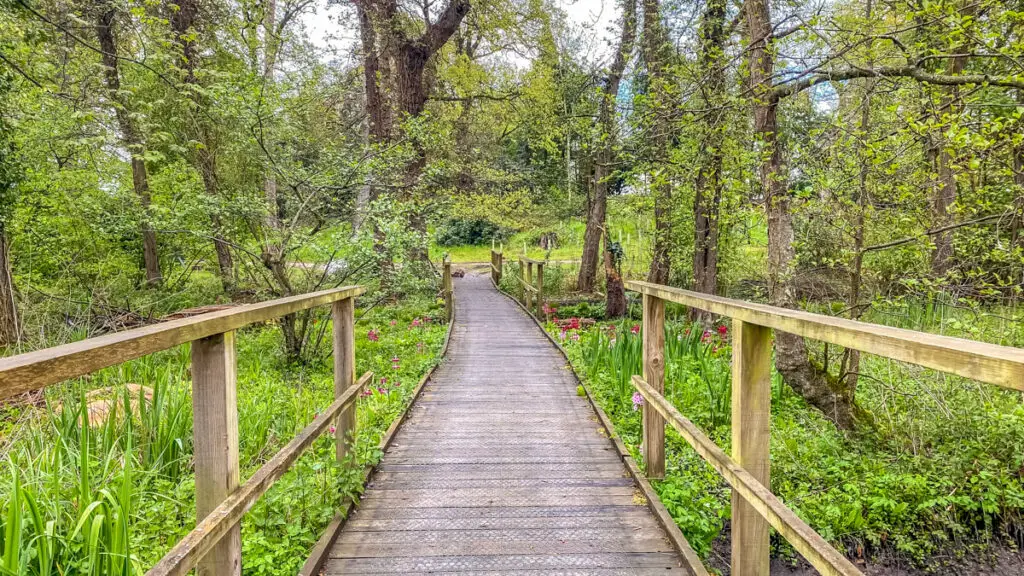 When Broughton passed away he requested that the garden be left in Trust for everyone to enjoy. The 130-acre garden opened to the public in 1975. His son Ailwyn, the 3rd Lord Fairhaven, is now Chairman of the Fairhaven Garden Trust.
Things to do at Fairhaven Water Gardens
When you visit Fairhaven Water Gardens you can just relax and enjoy the scenery, but it is more than just a pretty place. There are plenty of things to do at Fairhaven Water Gardens.
#1 Go for a Walk
Going for a walk at Fairhaven Water Gardens can be a peaceful and rejuvenating experience. As you wander along almost four miles of winding paths, you'll see a variety of wildlife, including ducks, swans, and other waterfowl.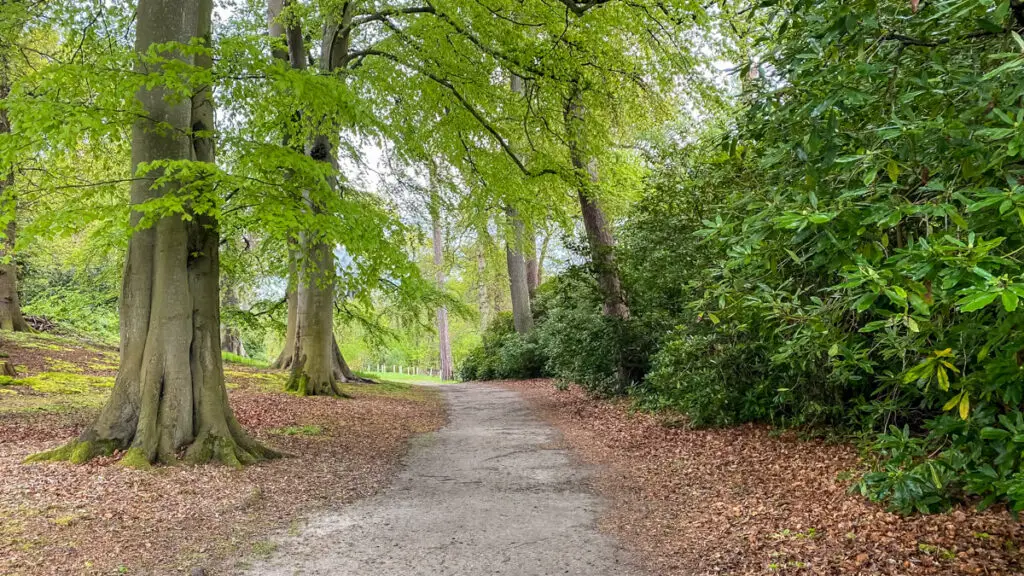 You can find a map so that you can plan your route here. Alternatively, you can just follow the signs for one (or more) of their three recommended routes.
The gardens are also home to a variety of plant life, including beautiful flowers, trees, and shrubs. Don't miss the King and Queen Oaks not too far from the entrance. The King Oak is believed to have been a sapling back in 1066, making it more than 900 years old!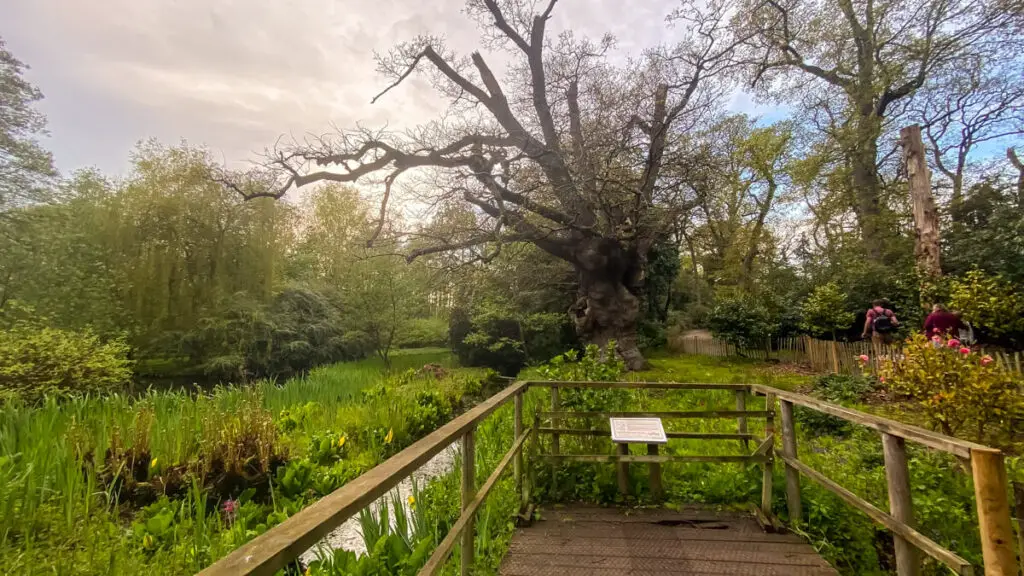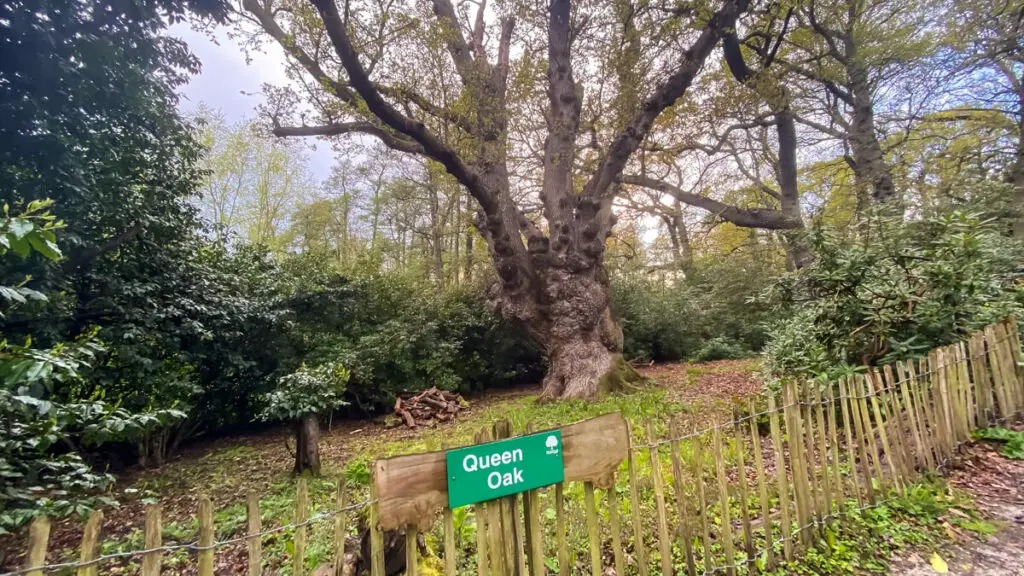 During the spring, you can see some bluebells in the beech walk area. It doesn't quite compare to the display you can see in a private section which is only open to the public (currently closed due to storm damage) for a short time when the bluebells are out. It's about a 4-mile round trip from the entrance to Fairhaven to the top of the woodland area where you can see the most bluebells.
You will also want to keep an eye out for artwork. They have recently added some sculptures along some of the paths which add further interest. Additionally, there are a few new picturesque bridges.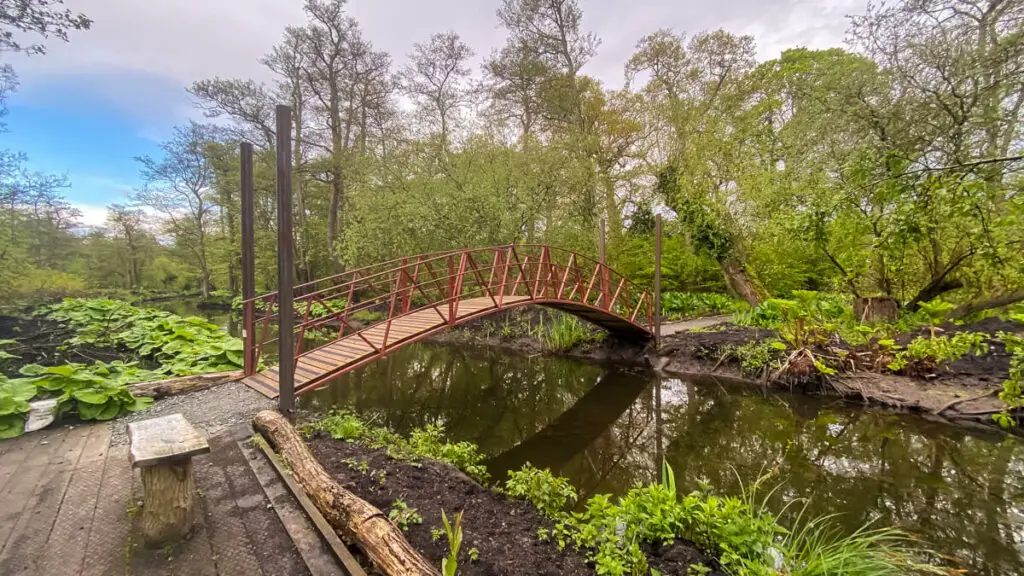 #2 Get out on the Water
Fairhaven Garden offers 20-minute-long boat trips on their private broad during the summer months, which is an excellent way to get on the water and observe the local wildlife. These trips are particularly popular because they provide an opportunity to see kingfishers, grebes, swans, and even otters.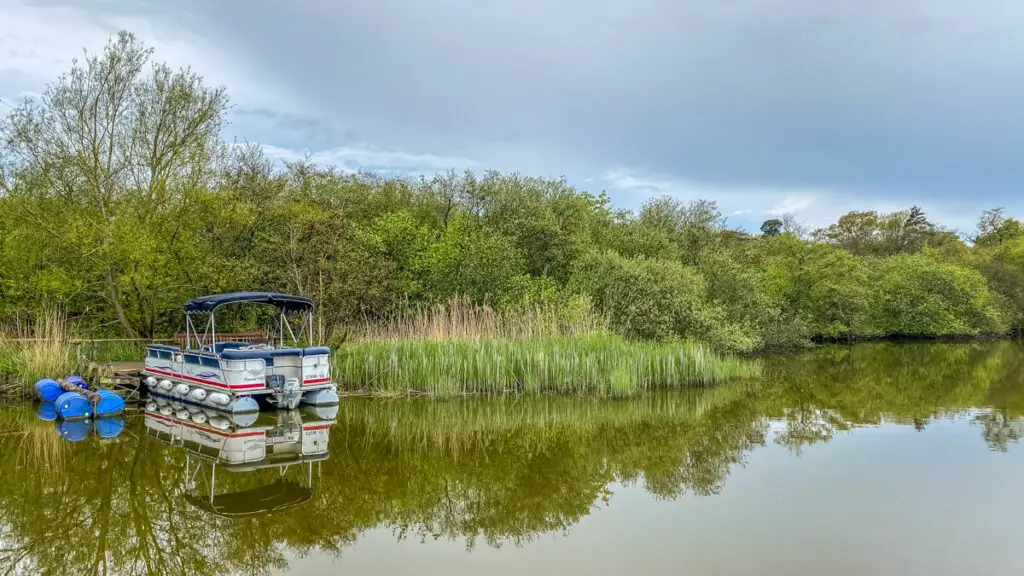 It's important to keep in mind that boat trips are weather permitting, and you are advised to call ahead to ensure the boat trips are running.
Alternatively, the calm water of the private broad is perfect for paddleboarding. You can sign up for a one hour session that is fun and safe for beginners (ages 8 and older).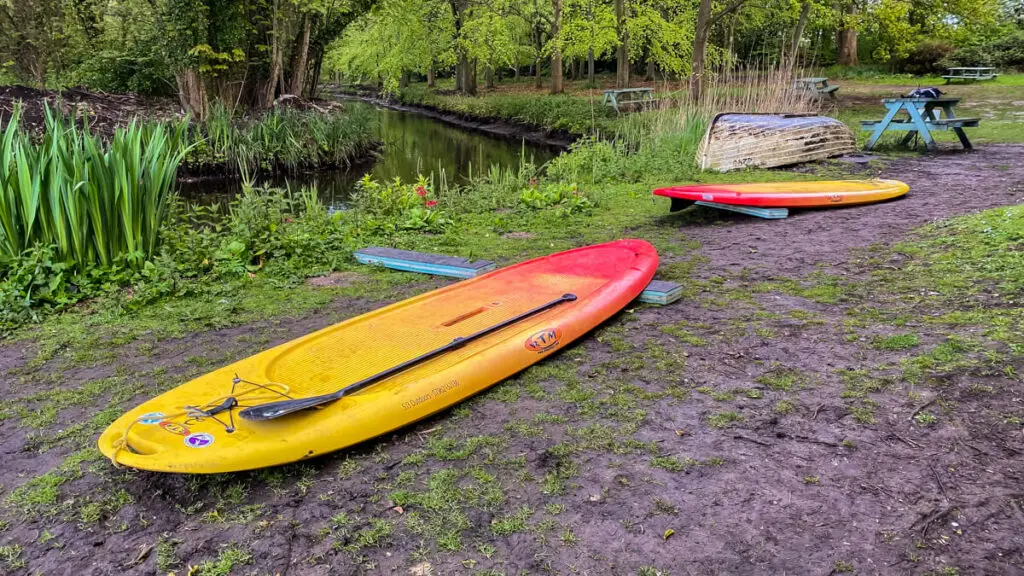 Another option is their family canoe trails. Their instructor Chris will take you out in his new family canoe to explore the broads and some water ways of Fairhaven. During the two hour session, you have will have the opportunity to see wildlife too.
You can also read about more boat tours on the Norfolk Broads here.
#3 Do Birdwatching
You will want to bring your binoculars, so that you can do birdwatching during your visit to Fairhaven Gardens. There are two bird hides that provide excellent vantage points for observing the many bird species that call the area home.
With over 95 species of birds, including many rare breeds only found in the Broads, you never know what you might see. There are bird feeders on trees throughout the site. From the elusive bittern to the elegant marsh harrier, visitors to Fairhaven Gardens are treated to a diverse range of birds in their natural habitat.
#4 Build a Den
Den building is a fun and educational activity that is popular with families visiting Fairhaven Water Gardens. It encourages creativity, problem-solving, and an appreciation for nature. Plus, it's a perfect opportunity for families to bond and create lasting memories together.
To get to the den building area, take either the Broads Walk or Acer Walk. Once there, children can let their imaginations run wild as they work hard to construct their own dens using natural materials.
#5 Have a Picnic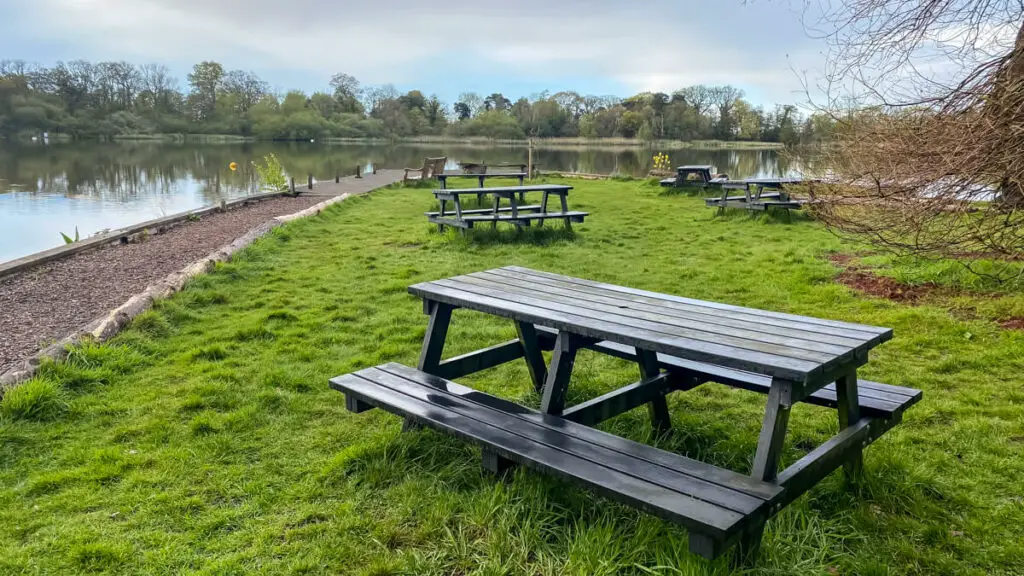 Fairhaven Water Gardens has two designated picnic areas with views of the water, so you can relax and enjoy a meal surrounded by nature. Whether you bring your own food or purchase something from the tearoom, a picnic at Fairhaven is a great way to take a break from exploring the gardens and soak up the peaceful surroundings.
#6 See the Tree Planted for Charles III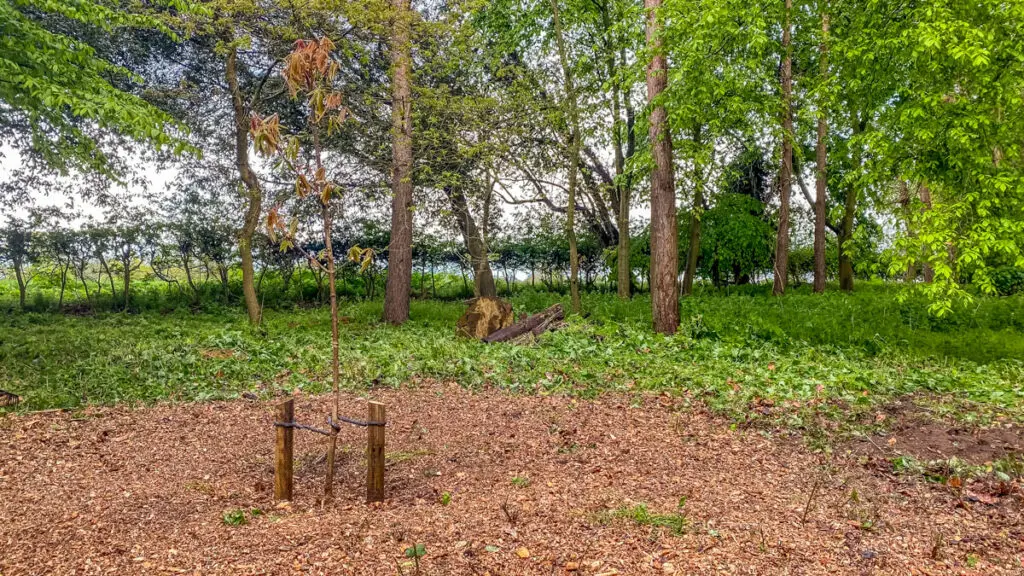 As part of the Coronation celebrations, Fairhaven Water Gardens planted an Indian chestnut tree to make the occasion. It is located along the High Path and replaces an oak tree that had to be removed a few years ago. The Indian chestnut tree will flower and once it gets a bit taller, you should be able to see it from other paths and even the broad.
#7 Visit the Tearoom
The tearoom at Fairhaven Water Gardens is a charming and welcoming spot that serves a variety of hot and cold drinks, homemade cakes, scones, sandwiches, and light lunches. On select days, they even do a Sunday roast.
They try to make much of their menu from locally sourced foods and can cater for most dietary requirements, including coeliacs.
You can enjoy your food at the indoor or outdoor tables. They also offer a takeaway service and a gift shop.
The tearoom is located at the entrance to Fairhaven Water Gardens, so you can visit without paying admission to the gardens.
Fairhaven Water Gardens Special Events
Throughout the year, Fairhaven Water Gardens put on special events that are usually quite popular. I have found their events to be very reasonably priced (or in some cases under-priced). Be sure to book in advance to avoid disappointment.
In the past, they have hosted outdoor film screenings, photography workshops, outdoor theatre, fun trails for kids, special interest tours, and craft workshops. Their Christmas Light trail always sells out quickly.
Fairhaven Water Gardens FAQs
When is the best time to visit Fairhaven Water Gardens?
There isn't a bad time to visit Fairhaven Water Gardens, but some of the highlights during the year are the summer months when they have the boat trips, February for the snowdrops, May when the private bluebell area is open, autumn when you can see the colours, and Christmas with their special events.
What are the opening hours for Fairhaven Water Gardens?
The Gardens are open all year, but the days and hours can vary. Please check their website here for the most up to date information.
How much is admission to Fairhaven Water Gardens?
To get the best price, you should book online in advance here. Admission is £7.95 for adults, £6.95 for concessions, and £4.15 for children ages 4 – 16 including gift aid. Children under 4 are free. If you plan on visiting frequently, you might want to consider their membership program.
Is food available for purchase at Fairhaven Water Gardens?
Yes. They have a tearoom by the entrance and a snack shack close to the private broad.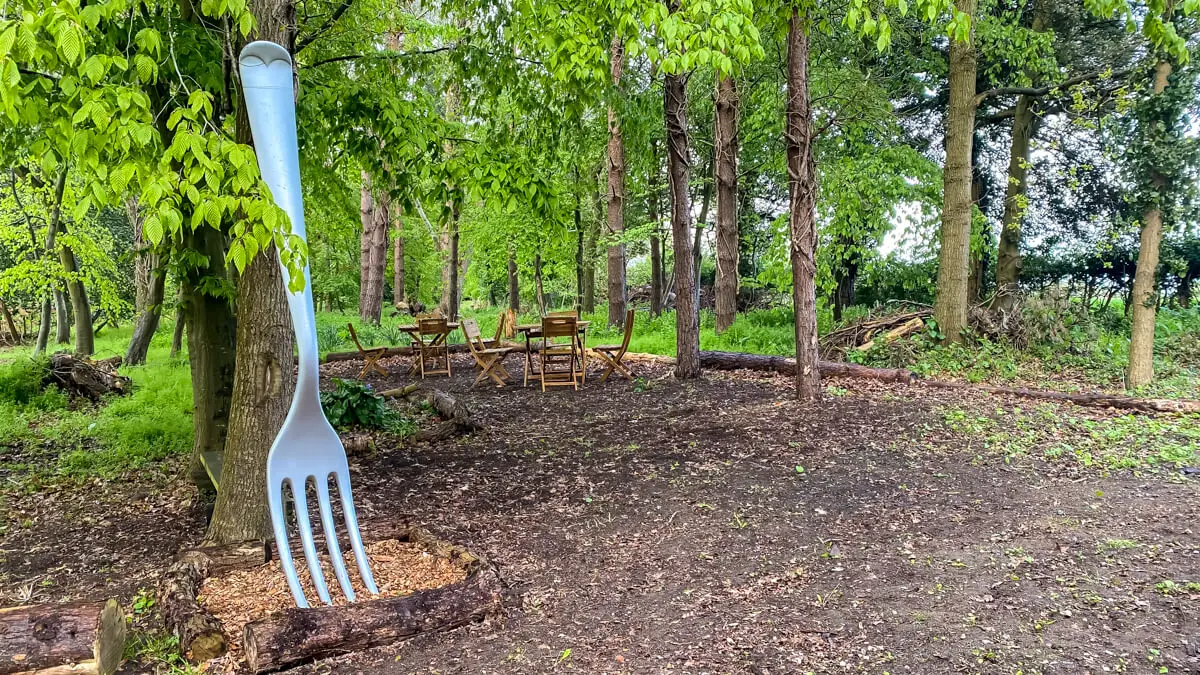 Can you bring your own food and drinks into Fairhaven Water Gardens?
Yes, you can bring their own food and drink and to enjoy in one of the designated picnic areas.
Is Fairhaven Water Gardens accessible?
Yes, the gardens are wheelchair accessible, and the staff is happy to assist visitors with disabilities in any way possible. Mobility scooters are available for hire for £5, but you should book it in advance.

Is Fairhaven Water Gardens good for kids?
Yes, they will enjoy the boat rides, den building, and just being out in nature. If you need more family-friendly ideas, check out our list of the best things to do in Norfolk with kids.
Are dogs allowed at Fairhaven Water Gardens?
Yes, dogs are allowed in the gardens (30p charge) as long as they are kept on a lead and under control at all times. However, they are not allowed in the tearoom.
How do you get to Fairhaven Water Gardens?
Fairhaven Water Gardens is located in South Walsham about 9 miles east of Norwich.
If you are driving take the A47 to B1140 and it is signposted from there.
If you are travelling by boat, you can moor at the South Walsham outer broad and then follow the footpath signs to the village.
If you would like to take public transport, there is a Fairhaven stop on the number 71 Our Hire connection service from Martham to Wroxham.

Where do you park for Fairhaven Water Gardens?
There is ample free on site parking.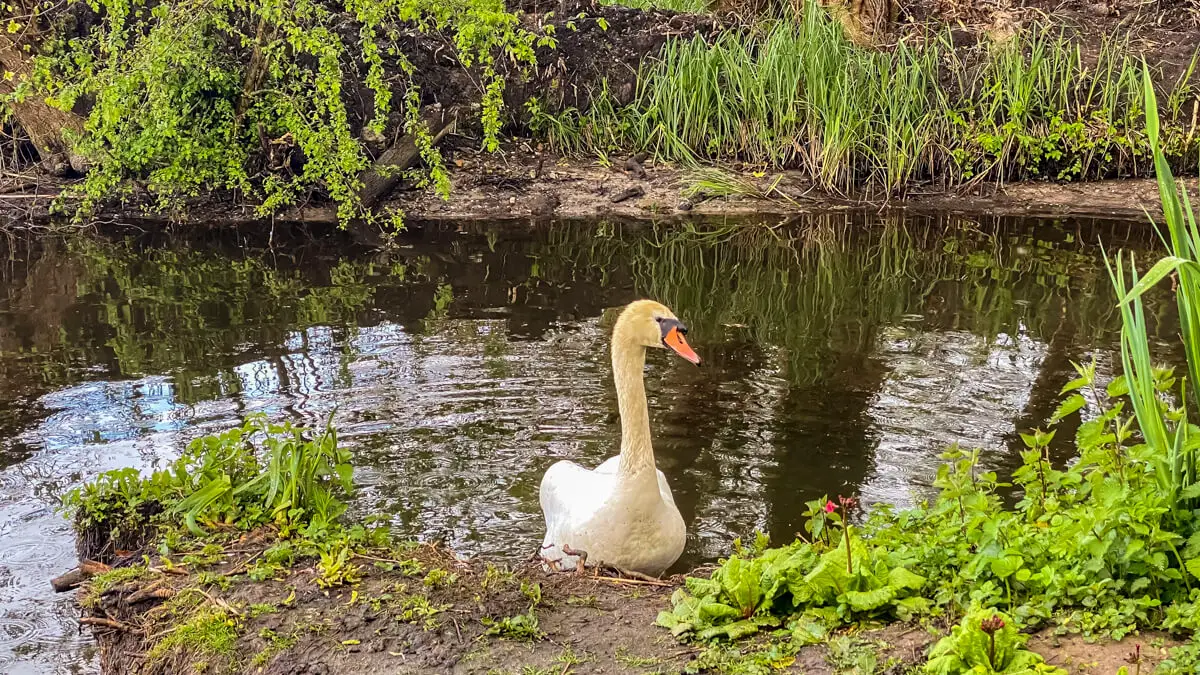 Is Fairhaven Water Gardens Worth Visiting?
Yes, Fairhaven Water Gardens is definitely worth visiting. The gardens are well-maintained and you get to see a variety of natural landscapes. It is a beautiful and tranquil destination that offers a variety of activities for visitors of all ages.
Disclosure: This post contains affiliate links. This means we will receive a small commission for some purchases made using links in our blog with no additional cost to you.  Please be assured we would not promote any product unless we believe that our readers will also benefit.  The commission does not influence the editorial content of this site.