Known as the "Jewel of the Broads", Horning is a popular place to visit because of its riverside location, pretty thatched houses, and traditional pubs. It may be a small village, but don't worry you won't be bored.
We have plenty of suggestions for things to do in Horning and the surrounding area.
If you want more Norfolk content delivered to your inbox, sign up for our email newsletter here.
Note: This post contains affiliate links.  As an Amazon Associate, we earn from qualifying purchases. Please see disclosure for more information.
Things to Do in Horning
Horning is more than just a pretty place, there are things worth seeing. Let me share more about what to do when you visit Horning.
#1 Go on a Boat Tour on the Broads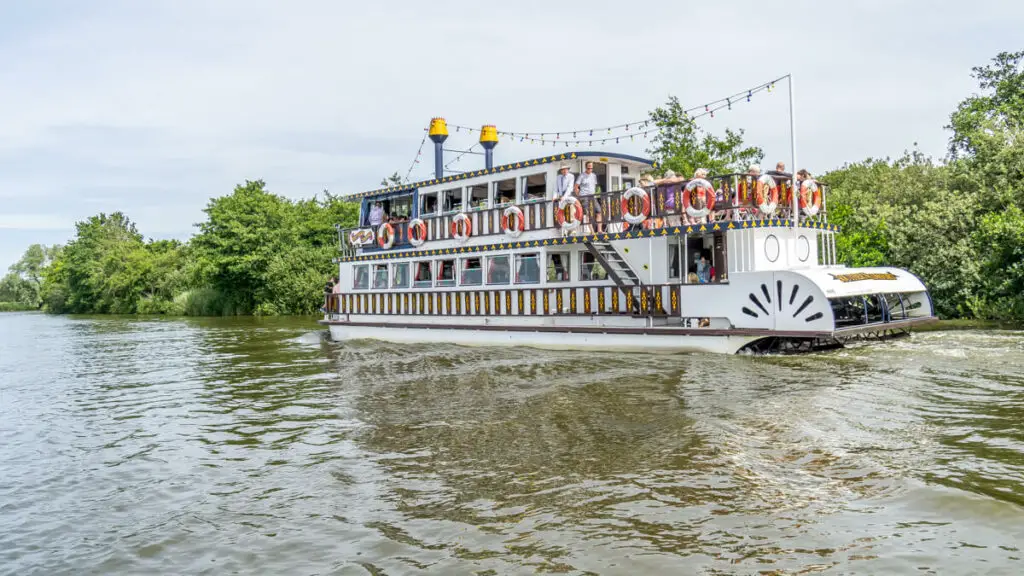 From Horning you can catch a ride on a luxury river cruiser, named the Southern Comfort, along the River Bure to Ranworth Broad and back. This double-deck paddle boat purpose built for the Broads can hold up to 100 passengers. Narration will provide more information as you pass by old thatched houses, windmills, and Norfolk reed beds.
Read about more boat tours on the Norfolk Broads here.
#2 Visit a Pub
Horning is home to some of the best pubs in the Norfolk Broads. You can relax with a pint and some delicious pub fare and watch the boats on the River Bure.
Both the Swan Inn and the New Inn have lovely outdoor areas next to the water. On a nice day, I could sit at either spot for hours as the boats provide plenty of entertainment.
A little further from the village centre, you will find the Ferry Inn. I am excited to see what it looks like after its refurbishment in early 2023.
#3 Go For a Walk
Horning is a lovely place for a walk. The area is mostly flat and there are several public footpaths.
We recently did a circular walk that went by the Radar Museum and St. Benedict's Church. You could also do a walk to St. Benet's Abbey or even to Wroxham along the Three Rivers Way.
Read about more walks in the Norfolk Broads.
#4 Have a Picnic
Bring your picnic blanket and relax right by the River Bure. There is a nice grassy area right by the Swan Inn where you can watch the boats go by. Alternatively, if you have little kids, there is a play area by the Village Hall.
RELATED READ: Best Things to Do in Norfolk with Kids
#5 Visit the Parish Church
Just on the outskirts of the village, you will find the church of St Benedict which dates to the early 13th century. It originally belonged to St. Benet's Abbey.
Inside the church you will find a model of St. Benet's Abbey in 1500, a 14th century lead lined Baptismal font, and intricate carvings on the stalls. The earliest parts of the building are the priest's door in the Chancel and the pillars in the wall on the north side of the Nave.
There is a path from the church leading to the staithe on the River Bure. Here you will find a bench perfectly situated to enjoy the scenery.
Things to do Near Horning
If you are visiting Horning, you might also want to take advantage and see some of the other attractions that are nearby. All the ideas listed here are only a 15 minute drive or less away.
Bewilderwood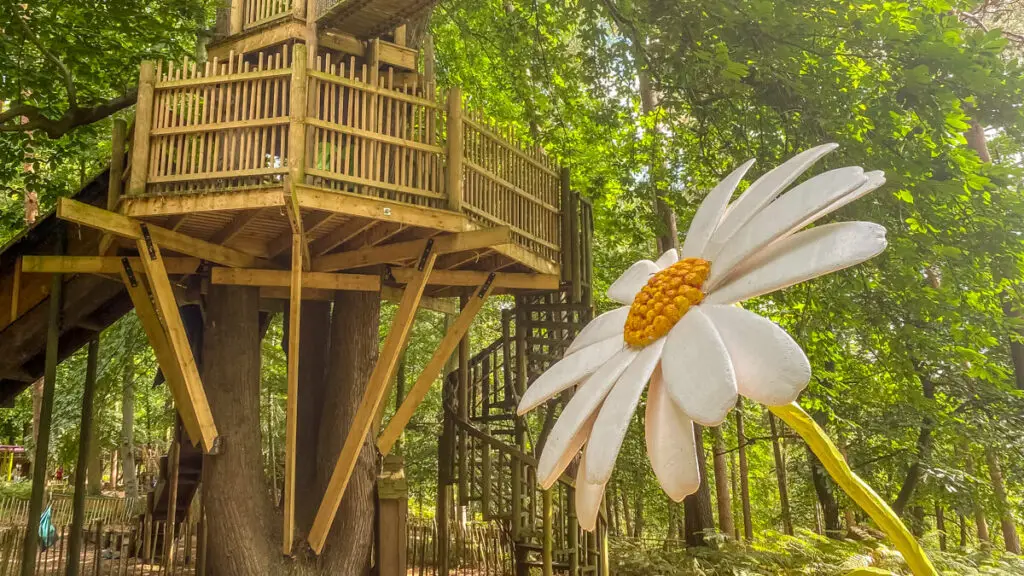 When you visit BeWILDerwood, it's like you have stepped inside the magical and enchanting children's books by Tom Blofeld. Kids can go on a boat ride across Scaaaary Lake, play dress up, get their faces painted, cross Jungle Bridges, visit Treehouses, whiz down Wobbly Wires, solve the marvelous Muddle Maze, brave the slides, build dens, and more.
BeWILDerwood is not cheap, but kids aged 2-12 will love it. Plan on spending a full day here, they won't want to leave.
Learn more in my BeWILDerwood review. You can get a discount for booking online in advance here.
Radar Museum
RAF Neatishead has been turned into the Radar Museum which tells the history of radar from the Second World War to the Cold War. You will want to allow 2-4 hours to see it as it is one of the largest museums in North Norfolk with 23 exhibition rooms and over 10,000 display items.
It's just a short walk from Horning. Get more information here.
Wroxham & Hoveton
Wroxham has earned the nickname the 'Capital of the Norfolk Broads' and Hoveton sits just on the other side of the River Bure. Together they make for a fun family day out where you can take a stroll along the river, watch the boats go by (or hire your own), and check out other popular attractions.
Get more information about things to do in Hoveton and Wroxham here.
Wroxham Barns
Wroxham Barns is much more than your typical farm with a little something for everyone in the family. While the shops and eating area at Wroxham Barns are open daily, the Junior Farm and Fun Park is only open weekends and school holidays from mid-February through October and in December for their famous Santa Experience.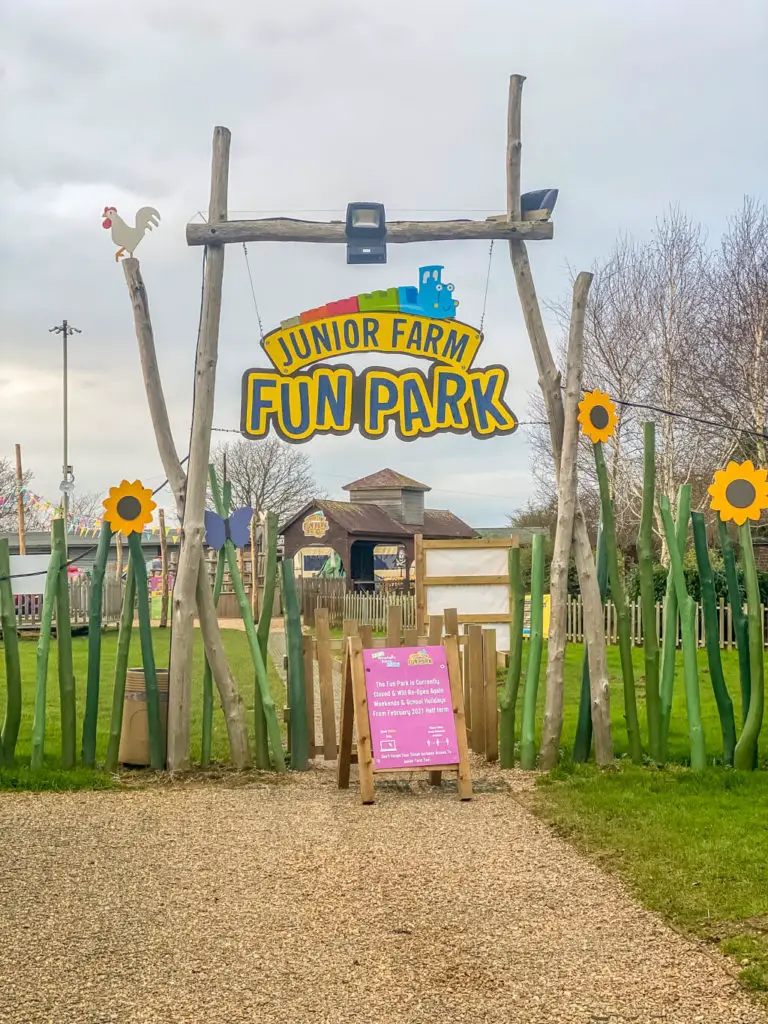 Kids will love the Junior Farm and Fun Park where they can enjoy various activities and educational talks. It also has a 18-hole mini golf course and unlimited rides including the Wroxham Barns Train, Pirate Ship, Toyset ride, Go-Karts, Water Wars, Jumping Frogs, and more.
In the Craft Studios, you can watch as craftspeople work their magic. See fudge, stained glass, woodcrafts, photography, ceramics jewellery, and other artwork, food, and drink being made and talk to the experts. It's a good place to shop for unique gifts.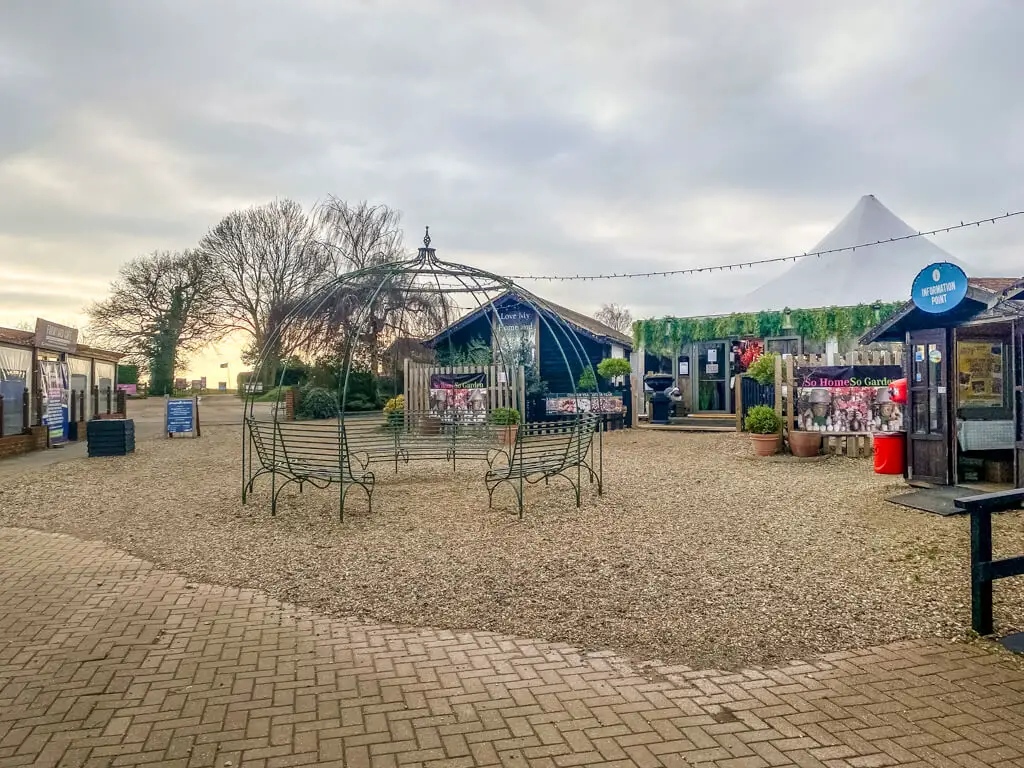 They also have onsite cafes where you can get a light bite, including homemade scones, toasties, jacket potatoes and Afternoon Tea.
Wroxham Barns typically holds huge special events for Halloween, Bonfire Night, Christmas (when you can meet Father Christmas), and New Years Eve.
Get more information here.
Hoveton Hall Gardens
Hoveton Hall Gardens is open to the public from April to September each year. The 15-acre gardens are part of the Hoveton Hall Estate, home to the Buxton family since 1946.
Try to visit the gardens in May or June when it's in full bloom. There are also two lakes, woodland, formal walled gardens, parkland, and an onsite cafe for visitors to enjoy.
Please keep in mind dogs are not allowed in the gardens.
St. Benet's Abbey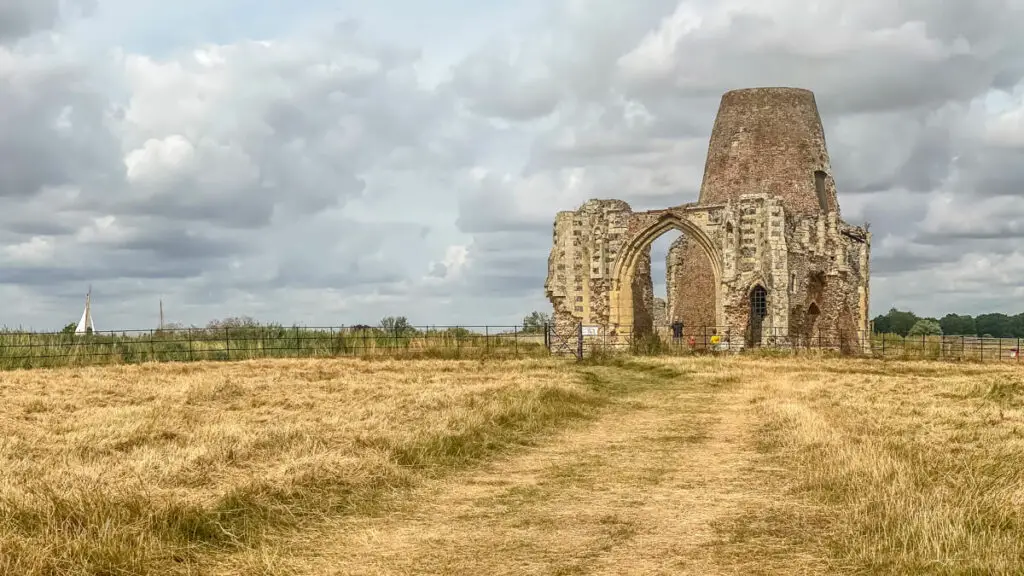 You can see the remains of the only monastery not officially closed when Henry VIII shut down monasteries across England. The last monks left by 1545, but there are still religious services held here the first Sunday of August every year.
The gatehouse ruins are unique because a mill was built on it in the 1720s. You can also walk to the modern wooden cross that has been placed in the field where the altar would have stood.
It is free to visit St. Benet's Abbey. Get more information about it here.
How to Get to Horning
The best way to get to Horning is to drive. There is a car park by Swan Green and another one by the village hall.
The closest train station is Hoveton & Wroxham which is about three miles away from Horning.
The 5B bus will take you from Norwich Train Station to Horning from Norwich in about 40 minutes, but it does not run very frequently. Check the schedule here.
If you want to arrive by boat there are moorings but they do fill up especially in the summer.
Where to Stay in Horning
You are not going to find any hotels in Horning but that doesn't mean it isn't a fabulous place to base yourself when you visit the Norfolk Broads. Wait until you see how lovely some of the self-catering holiday cottages are in Horning.
Check out the options here.
Is Horning worth visiting?
Yes! It is one of the prettiest villages in Norfolk. On a nice day it's hard to beat spending an afternoon at one of the pubs next to the water. There is also a lot to do in the surrounding area.
Disclosure: This post contains affiliate links. This means we will receive a small commission for some purchases made using links in our blog with no additional cost to you.  Please be assured we would not promote any product unless we believe that our readers will also benefit.  The commission does not influence the editorial content of this site.