When I heard about a place called Pretty Corner Woods in Norfolk, I knew it would be worth checking out. We enjoy walking in woodland areas because it is usually peaceful and scenic. Pretty Corner Woods was a bit different than other woods in Norfolk.
Let me tell you more about why I think Pretty Corner Woods is one of the best places for a woodland walk in Norfolk.
Be sure to sign up for our email list here so you don't miss our weekly updates about what's on in Norfolk.
Note: This post contains affiliate links.  As an Amazon Associate, we earn from qualifying purchases. Please see disclosure for more information.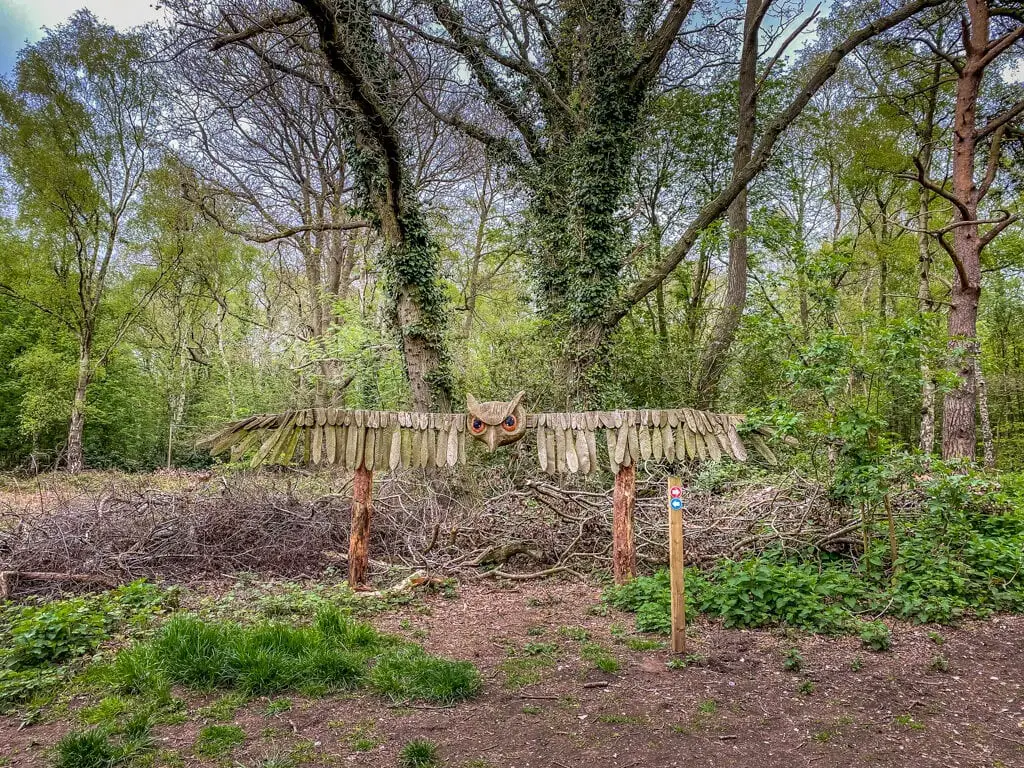 About Pretty Corner Woods
Located close to Sheringham, Pretty Corner Woods is 165-acre park made up of woodland, grassland, and heaths. The western part of Pretty Corner Woods is owned by the North Norfolk District Council and the rest is owned by the Woodland Trust.
The area is more hilly than many parts of Norfolk, so the walks are a bit more strenuous than you might be expecting. With one of the highest points in Norfolk (reaching 96 metres above sea level), it one of the best places to go hiking in the county. It's also a popular area for wildlife.
Pretty Corner Woods is free to visit and to park. Read about more things to do for free in Norfolk.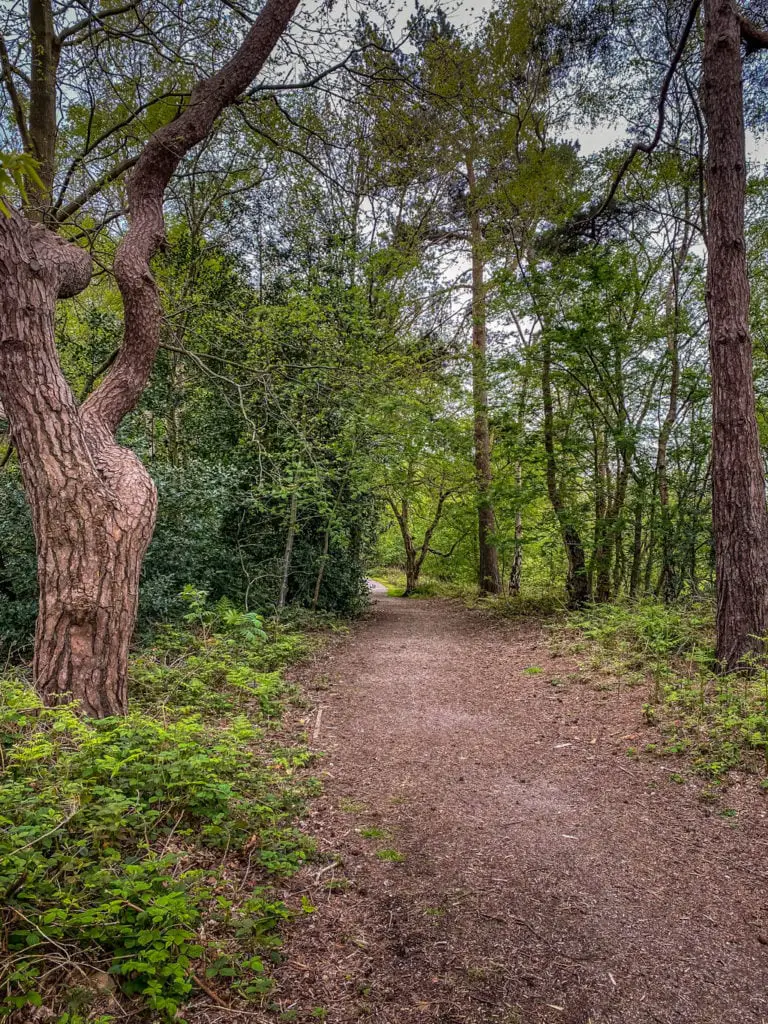 Pretty Corner Woods Walks
If you would like to do a walk at Pretty Corner Woods, there are a few different options. There is a family trail, sensory (blue) trail, red trail, and yellow trail. Additionally there are permissive footpaths, tracks, and a public right of way.
We used a combination of the trails to see more of Pretty Corner Woods including all the viewpoints. While we were a bit disappointed that the views were limited because of all the tree cover, we still enjoyed our walk in Pretty Corner Woods. At times the terrain made it feel like we were hiking somewhere far from Norfolk.
To help conserve the woodland, please stay on the official paths. Also note that the area has suffered wind damage in recent storms and when we visited (May 2021) the path from the picnic area car park to the blue trail was closed.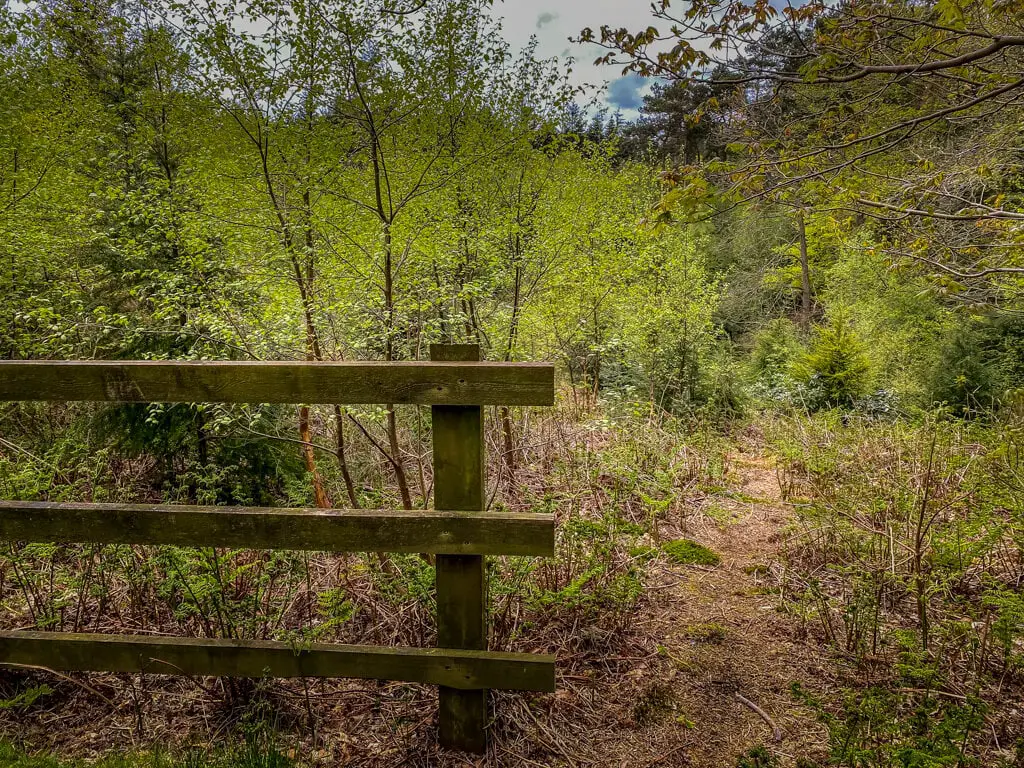 Vegetation in Pretty Corner Woods
In an area that has woodland, heathland, and grassland, you are going to be able to see some diverse vegetation. There are both broadleaf and coniferous trees, including oak, beech, and sweet chestnuts that are hundreds of years old.
If you time your visit right, you will be able to see some woodland flowers like red campion and wood sorrel. We did see a few bluebells when we visited, but there are definitely better places to see bluebells in Norfolk.
Wildlife at Pretty Corner Woods
While you are exploring Pretty Corner Woods, keep an eye out for wildlife as it is home to a wide range of animals, birds, insects, and more. You might be able to see butterflies, bats, bullfinches, kingfishers, owls, woodpeckers, deer, muntjac, voles, moles, mice, and even foxes.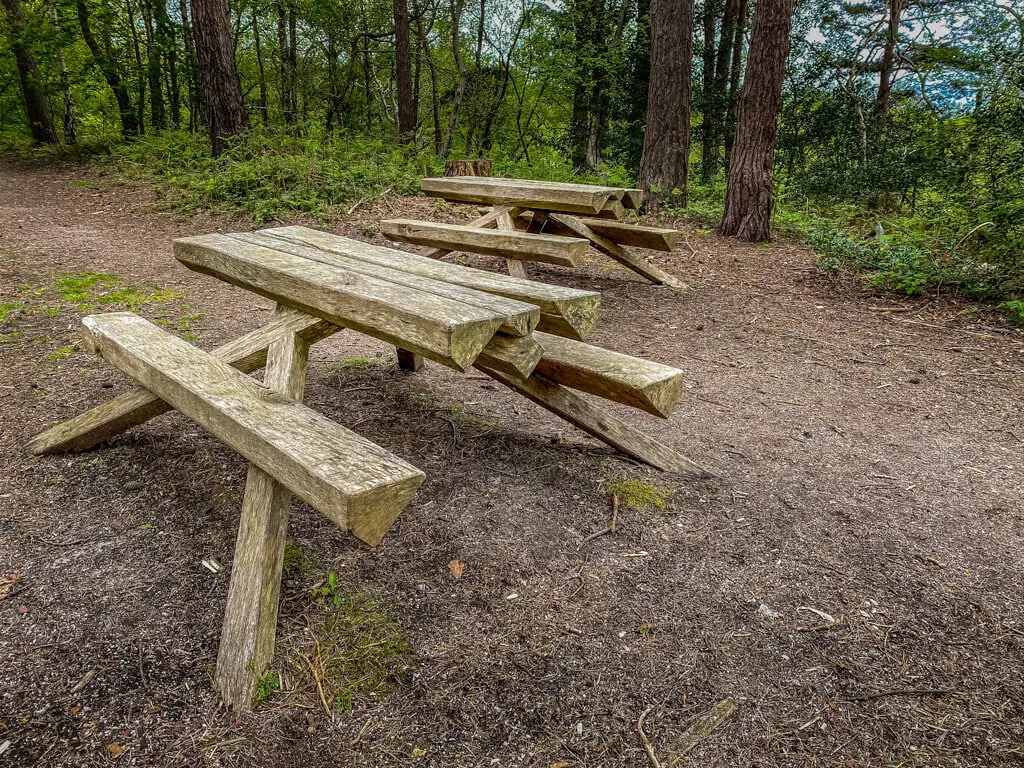 Things to Do Near Pretty Corner Woods
Since you probably won't spend a full day at Pretty Corner Woods, you could use the opportunity to see some of the other attractions in the area.
Sheringham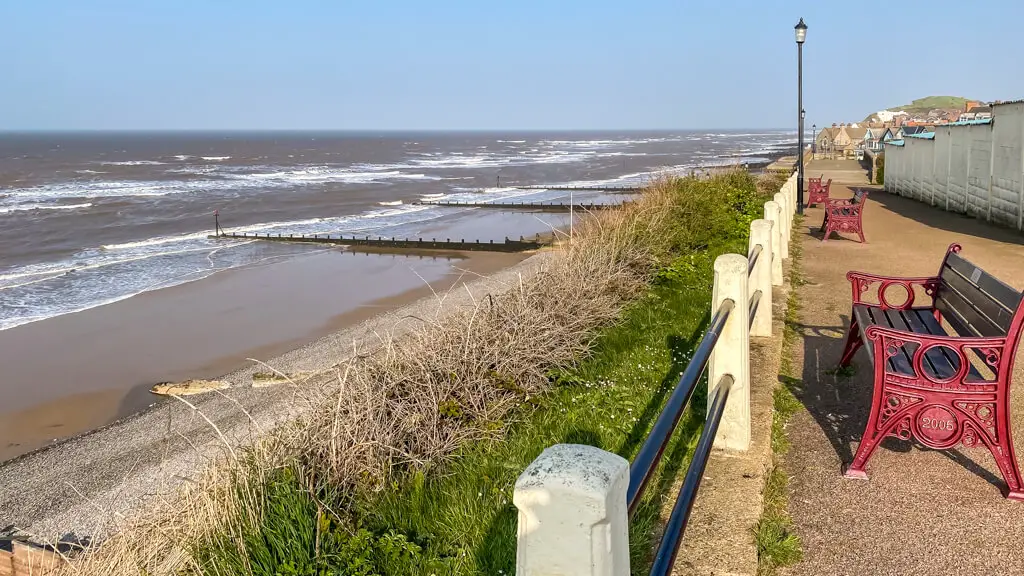 The charming town of Sheringham is definitely worth a visit. It has a blue flag beach, interesting museums, a heritage railway, and more. If you have any energy left after wandering around Pretty Corner Woods, you should also do the Beeston Bump walk or even the Sheringham to Cromer walk.
For more ideas, check out our post about the things to do in Sheringham.
Sheringham Park
Just on the other side of the A1082, you will find the National Trust site, Sheringham Park. It's probably best known for it's rhododendrons in late May, but it's a lovely place to visit any season. There are some nice walking trails with coastal views.
While it's free to visit Sheringham Park, if you are not a National Trust member you do have to pay for parking. It's a popular spot, so everyone should book in advance to avoid disappointment.
Get more information about visiting Sheringham Park here and National Trust membership here.
Cromer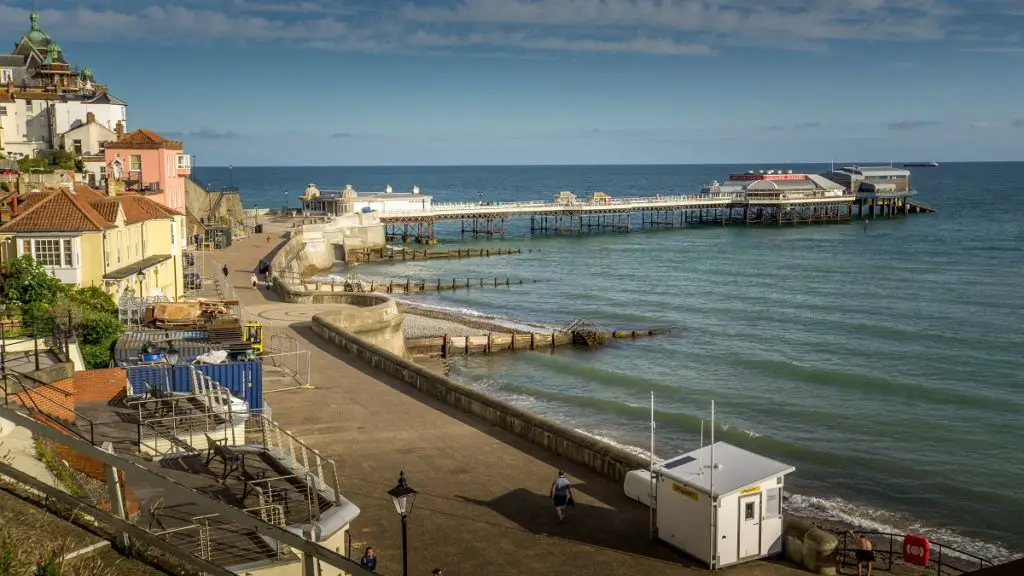 Known for its pier and famous crabs, Cromer is another popular spot on the North Norfolk Coast and it's only a few miles away from Pretty Corner Woods. You can check enjoy the blue flag beach, check out the museums, go inside the historic church, see a Banksy mural, and more.
Get more ideas for things to do in Cromer here.
More Woodland Walks
If you enjoyed your visit to Pretty Corner Wood, you should check out some of the other places that made our list for the best woodland walks in Norfolk.
Pretty Corner Wood FAQs
How do you get to Pretty Corner Woods?
Pretty Corner Woods is located about a mile from Sheringham. You can take the train or bus to Sheringham and then walk from there.
If you are driving, it's just off the A1082 just north of Holt Road. Allow about an hour to drive to Pretty Corner Woods from Norwich.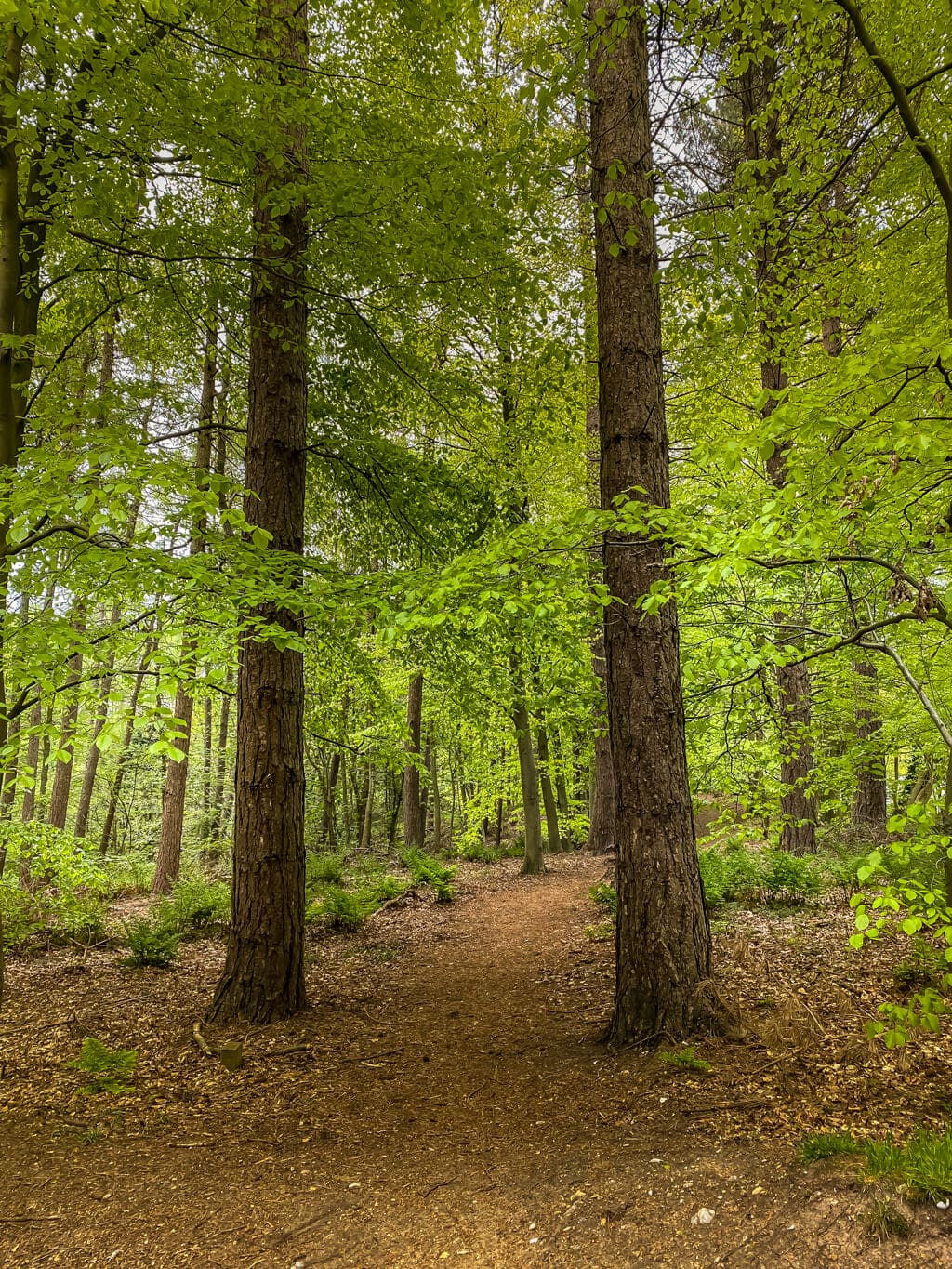 Where do you park for Pretty Corner Woods?
Pretty Corner Woods has a few car parks that are free to use. One is by the picnic fields, just off the A1082 (Holway Road). The larger one is off Pretty Corner Lane.
What are the opening hours for Pretty Corner Woods?
Any reasonable daylights hours.
Is there food available for purchase at Pretty Corner Woods?
Next to the woods, you will find Pretty Corner Tea Room, which is privately-owned. There are also picnic areas if you want to bring your own food.
Does Pretty Corner Woods have public toilets?
No. The nearest public toilets are in the Sheringham town centre, which is about a 20 minute walk away.
Can you camp at Pretty Corner Woods?
No. Overnight camping is not allowed.
Can you have a BBQ at Pretty Corner Woods?
No. BBQs and fires are not allowed.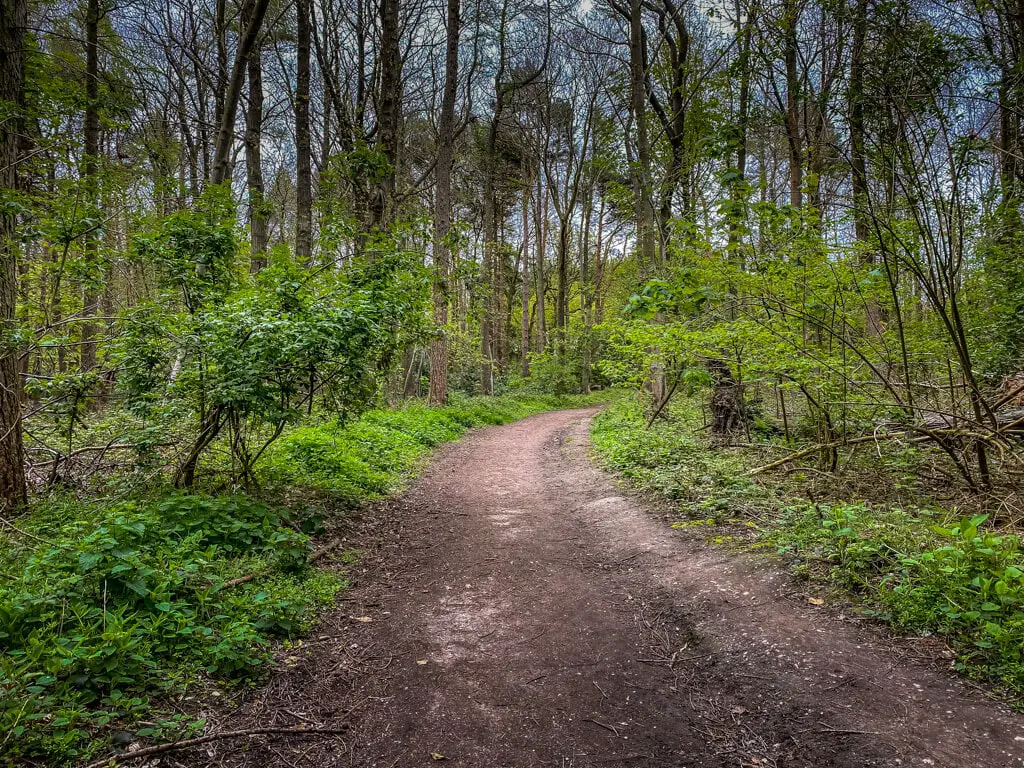 Are dogs allowed at Pretty Corner Woods?
Yes, we saw plenty of dogs when we visited Pretty Corner Woods. We did not see any signs (or information online) with rules restricting dogs in Pretty Corner Woods.
Disclosure: This post contains affiliate links. This means we will receive a small commission for some purchases made using links in our blog with no additional cost to you.  Please be assured we would not promote any product unless we believe that our readers will also benefit.  The commission does not influence the editorial content of this site.