A day at BeWILDerwood is like a dream come true for kids, while adults may initially hesitate due to the price tag. But let me assure you, every penny will be worth it.
Once you step foot into the enchanting woodlands of BeWILDerwood in the Norfolk Broads, you'll instantly feel like you've stepped into the pages of a storybook. It's a place where imagination knows no bounds and where the whole family can enjoy a full day of non-stop fun.
BeWILDerwood holds a special place in my heart, as I've had the pleasure of visiting multiple times. Now, it's high time for me to share my review, so you can decide if this extraordinary place is a must-visit for you. I'm also dishing out my handy tips that will help you make the absolute most of your day in this whimsical wonderland.
Sign up for our email newsletter here so that we can tell you about more fun things to do in Norfolk.
Note: This post contains affiliate links.  As an Amazon Associate, we earn from qualifying purchases. Please see disclosure for more information.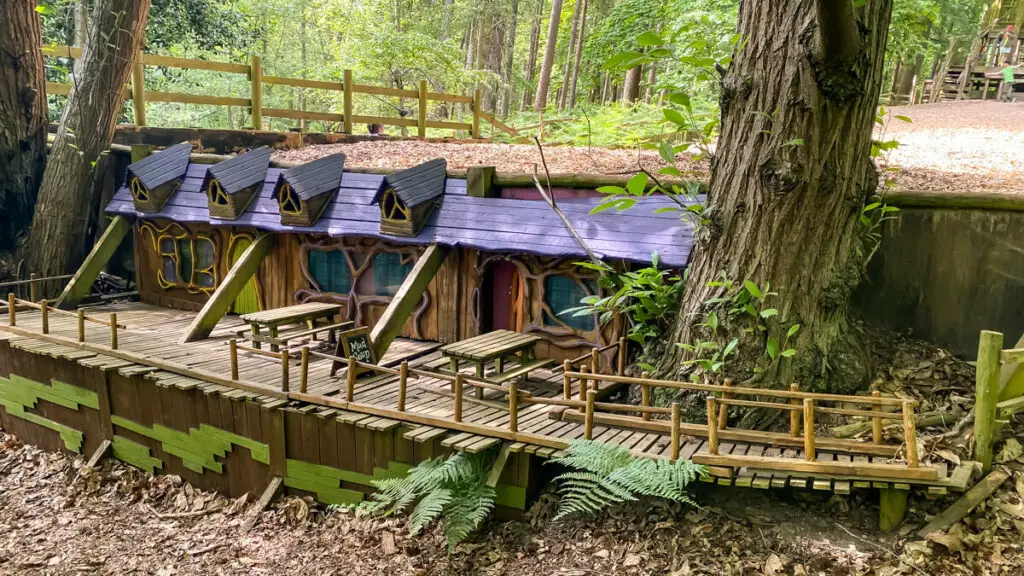 What is BeWILDerwood?
BeWILDerwood is a woodland theme park inspired by the captivating BeWILDerwood books penned by Norfolk's own Tom Blofeld. There are two locations: one in Norfolk, between Hoveton and Horning, and one in Cheshire.
It's a place where you will forge unforgettable family memories, embrace the great outdoors, and immerse yourselves in playful camaraderie. You can explore the whimsical world of eccentric treehouses, zoom down exhilarating slides, swing together on colossal swings, glide along extended zip wires, and unleash your creativity through various crafts and activities!
While BeWILDerwood is mainly designed for young children, there are attractions for all ages. You'll rarely find grown-ups merely spectating from the side lines. It's a fun day out for the whole family.
Things to Do at BeWILDerwood
BeWILDerwood has lots of fun in store for visitors of all ages. While you won't find any roller coasters, it will be a rip-roaring day packed with oodles of excitement and oodles of laughter. It's nice that all the attractions and activities are included with your price of admission.
Begin your day with a boat ride like no other, straight from the entrance of BeWILDerwood down the Dismal Dyke to the infamous Scaaaary Lake. You will pass by Boogle villages and Mildred the Crocklebog.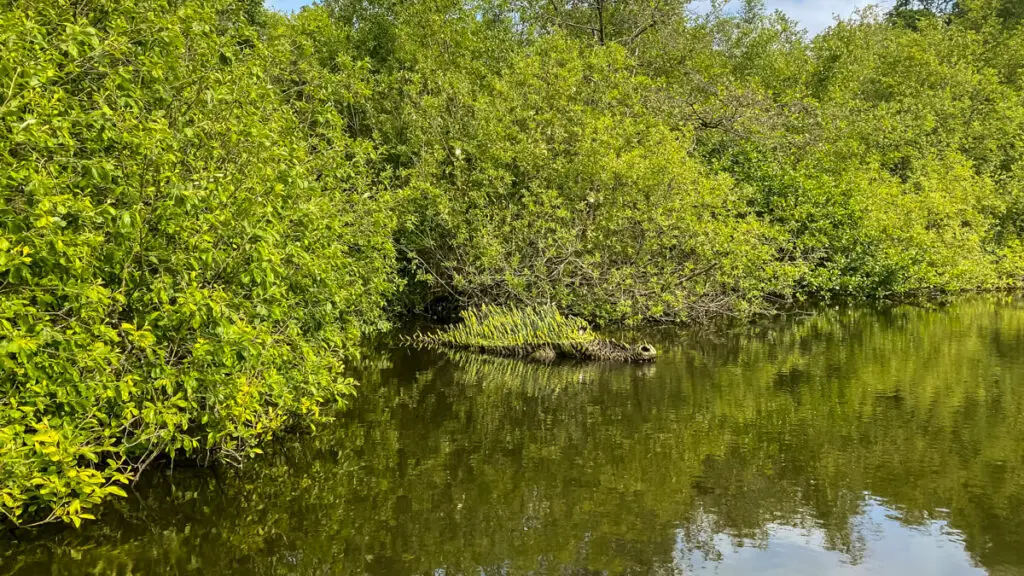 Step off the boat and to explore the magical wonderland filled with the quirkiest treehouses you've ever laid eyes on. Climb, crawl, and conquer your way through this fantastical forest of fun. And hold onto your hats (or should I say, hold onto your socks), because the super slides are here to whisk you away on a wild ride of epic proportions!
You can swing high into the sky on the oversized swings, feeling the wind in your hair as you soar through the air. And if that's not enough adrenaline for you, strap yourself onto the extra-long zip wires and zoom through the treetops like a true adventurer.
Get ready to navigate through our mind-boggling mazes that will put your puzzling prowess to the test. Twist and turn through twisting paths, encountering hidden surprises and secret shortcuts along the way. Can you find your way out, or will you be forever lost in the labyrinth? It's a challenge that's bound to keep you on your toes and your wits sharp!
And let's not forget den building, where you can unleash your inner architect and construct your very own hideaway. With an abundance of natural materials at your disposal, you can create a cosy retreat amidst the enchanting woodland.
When you need a little break, join one of the interactive storytelling sessions. Gather 'round as our captivating tales unfold, whisking you away to magical realms and far-off lands.
Be sure to take advantage of the face painting, where talented artists will turn faces into colourful works of art. And don't forget the arts and crafts activities. It's all about letting those imaginations soar!
Remember at BeWILDerwood, they don't believe in grown-ups just sitting around, so be prepared to play too! After all, who says kids get to have all the adventure?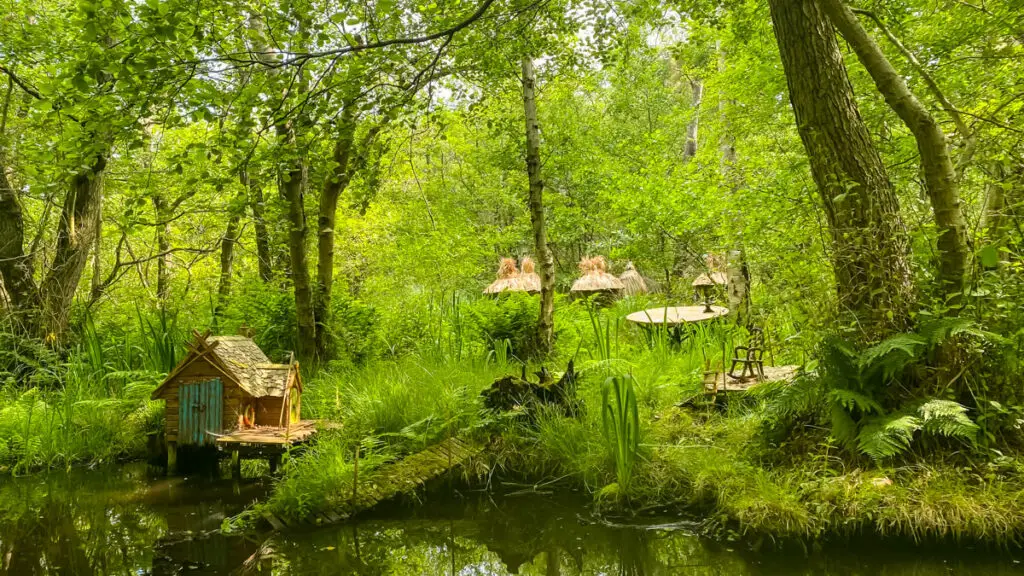 And keep those peepers peeled, because you never know when you might encounter our mischievous friends, the Boggles and Twiggles. They're hiding in the nooks and crannies of BeWILDerwood, just waiting to add an extra sprinkle of magic to your day.
Also, don't forget to keep an eye out for special events at BeWILDerwood. They often do something noteworthy for Halloween and Easter. In 2023, they are having their first Christmas event.
Tips for Your Visit to BeWILDerwood
When visiting BeWILDerwood, it's important to keep a few tips in mind to make the most of your adventure.
First and foremost, everyone should wear sensible shoes and clothes that are comfortable to run around and play. To prevent friction burns on the slides, it's a good idea to ensure skin is covered.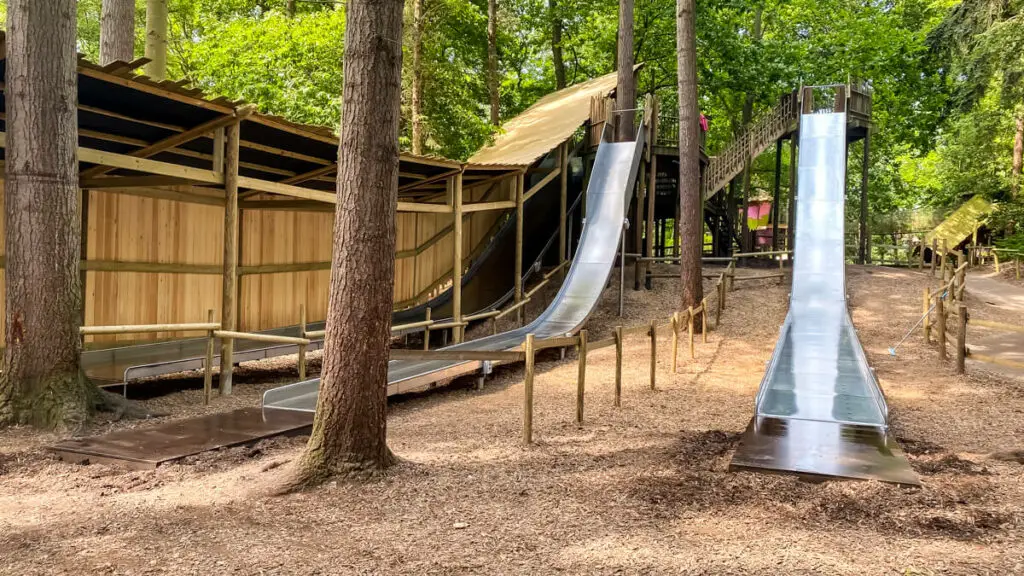 To save time and avoid long queues, it's highly recommended to purchase your tickets in advance and arrive when the park opens. Once inside, head straight to the boat ride, as that line grows quickly. Alternatively, if the boat line is already lengthy, you can walk along the Treacherous Trail and take a boat ride back when you're ready to leave.
Be sure to check the "plan your day" board near the entrance to stay informed about the schedule for storytelling sessions and other activities. This way, you can make the most of your time and catch the events that interest you and your little adventurers the most.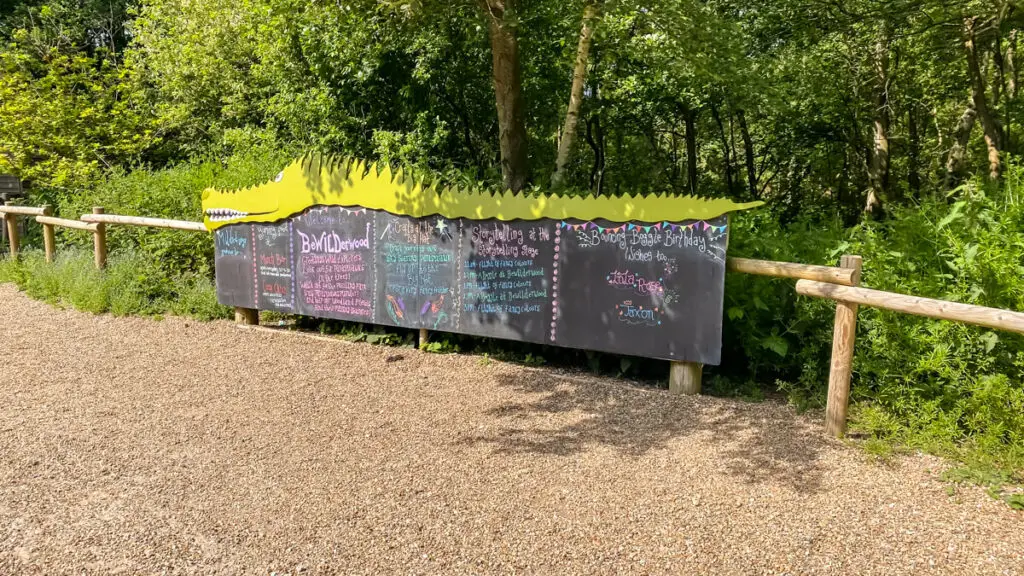 Bringing your own food and drinks can be a smart move to save money during your visit. Packing a picnic or some snacks will ensure you have sustenance throughout the day without having to rely solely on purchasing food from the park.
If your children are old enough, encourage them to read the BeWILDerwood books before their visit. This will help them immerse themselves in the world of BeWILDerwood and enhance their experience as they recognize familiar characters and settings.
Lastly, if you have the flexibility, consider planning your visit for a school day rather than a weekend or holiday. This way, you can enjoy a less crowded park, allowing for a more relaxed and enjoyable time exploring all the wonders BeWILDerwood has to offer.
RELATED: Best Things to Do in Norfolk with Kids
Our BeWILDerwood Review
BeWILDerwood is a truly enchanting place that offers a multitude of positive experiences for visitors of all ages. One of the standout aspects is its ability to get kids to have fun outdoors, away from technology.
With so much to do, boredom is a thing of the past. The park caters to a wide range of ages, ensuring that everyone, from the littlest adventurers to the grown-ups, can fully participate and enjoy themselves.
The magical setting of BeWILDerwood is another remarkable feature that sets it apart. From the moment you step foot inside, you feel as if you've walked right into the pages of the BeWILDerwood books. The attention to detail and the whimsical atmosphere make the entire experience feel truly special. It's a place where imagination takes flight and where you can create cherished memories that will last a lifetime.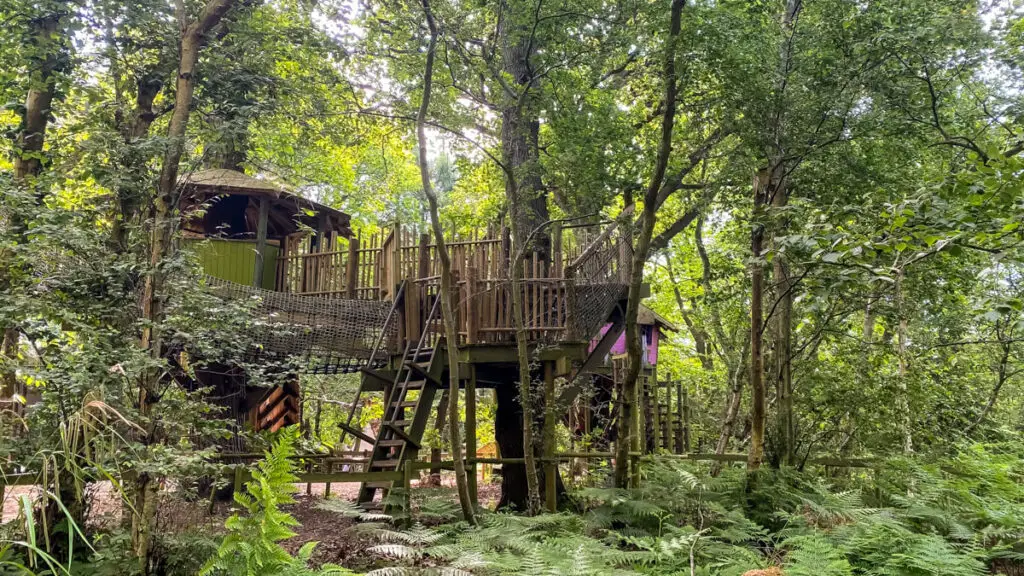 However, it's worth noting that BeWILDerwood may not be the most budget-friendly destination. Keep in mind that you get a full day of entertainment and all the attractions and activities are included (except food and souvenirs), so it's not as bad as it may seem.
Additionally, while the park offers plenty of activities for younger children, older kids may find themselves wanting more. As they grow, their interests and preferences change, and they may not be as captivated by the offerings at BeWILDerwood. It's something to consider if you have older children in your group.
Despite these potential drawbacks, the positives of BeWILDerwood far outweigh the negatives. It's a place where families can disconnect from technology, immerse themselves in a magical world, and have a blast together. So, gather your loved ones, embrace the adventure, and get ready to unleash your inner child at BeWILDerwood.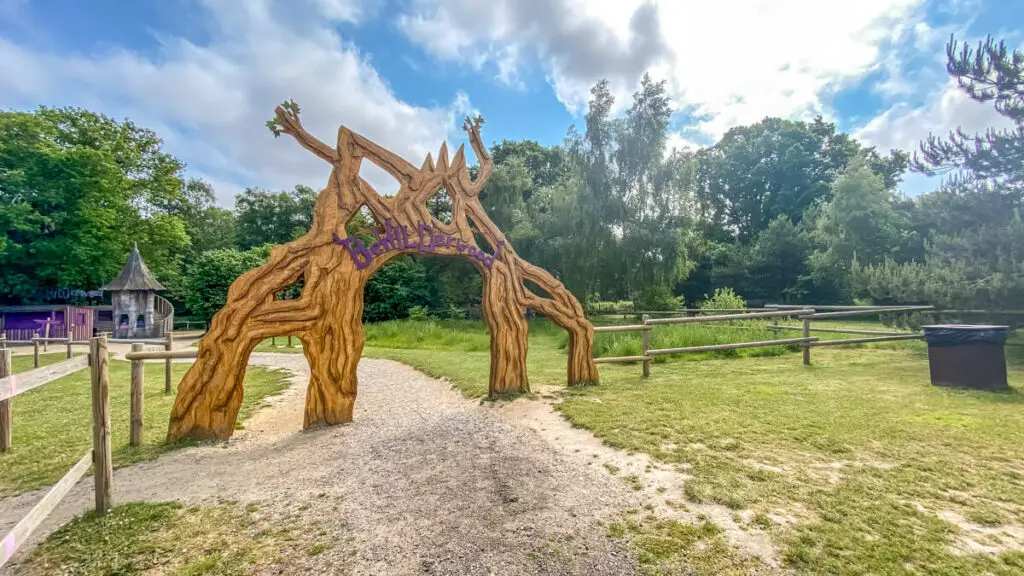 BeWILDerwood FAQs
What age is appropriate for BeWILDerwood?
BeWILDerwood is recommended for children ages 2-12. Keep in mind that all kids are different and some might grow out of BeWILDerwood faster than others.
Does BeWILDerwood have long queues?
Most of the lines at BeWILDerwood move very quickly with the exception of the line for the boats and face painting. Try to go to these attractions right when they open or come back to them later in the day.
Is BeWILDerwood good in the rain?
BeWILDerwood does not have any indoor areas. During a light rain, you probably won't even notice it because there is so much tree cover, but it might be a good idea to bring a change of clothes just in case. If you have booked tickets online and the weather looks bad, they will let you reschedule your tickets for another time within the next 12 months.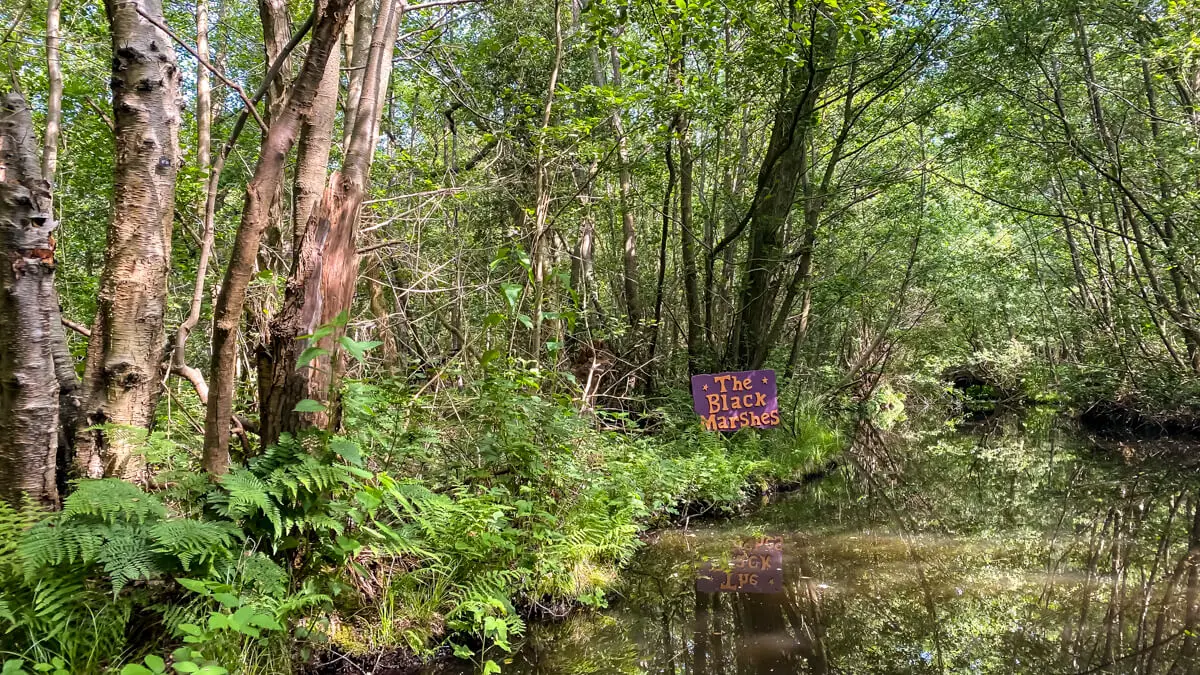 How much does it cost to go to BeWILDerwood?
Your admission price at BeWILDerwood depends on your height as there are some attractions with height restrictions. Those under 92 cm are free, from 92-105 cm are £19.50, and over 105 cm are £21.50. Guests are 65 years old are £13.50. (Prices accurate as of 2023)
Is BeWILDerwood worth the money?
BeWILDerwood is expensive but when you think about getting a full day of family-friendly entertainment. The smiles on the kid's faces will make it feel worth it.
Do I need to buy tickets to BeWILDerwood in advance?
No, but it will save time. You can book here.
When is BeWILDerwood open?
BeWILDerwood opens for the year during February half-term. Then it is open on weekends until April when it opens daily until early September. After that, it is open weekend and all every day during the October half term before it closes for the rest of the year.
On days when it is open the hours are 10:00 to 17:00.
Double check their opening times here.
Can you go to BeWILDerwood without kids?
It is allowed, but personally I think it wouldn't be as much fun.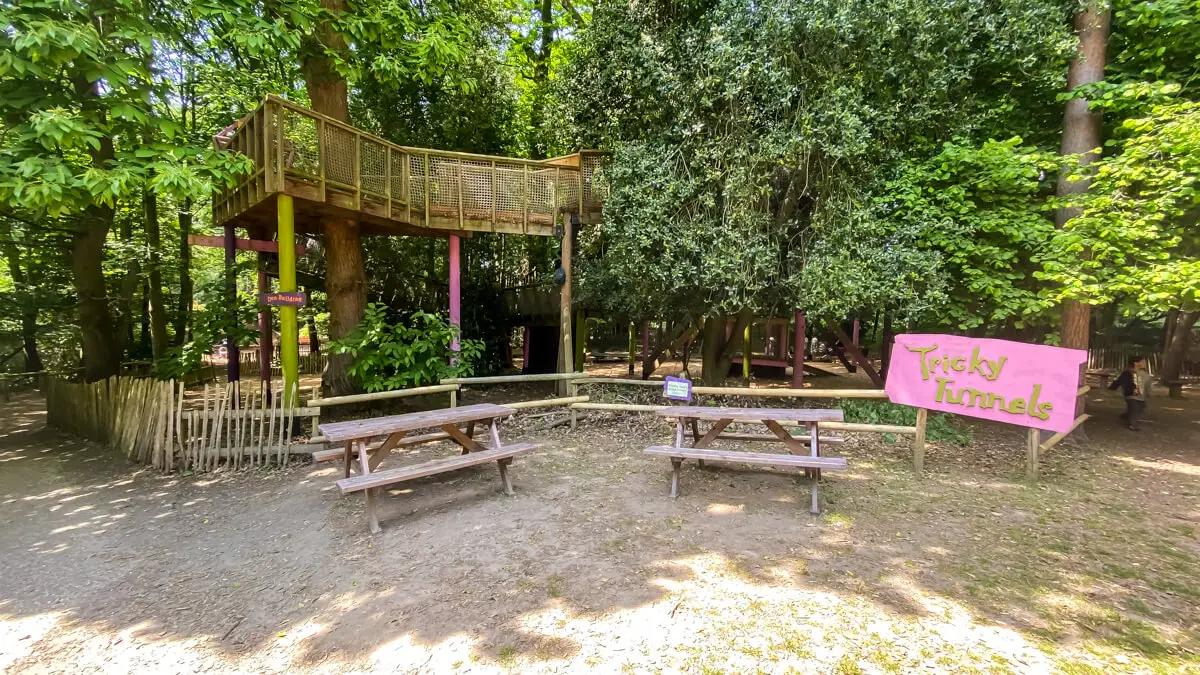 Is BeWILDerwood wheelchair accessible?
BeWILDerwood tries to be as accessible as possible but many of the attractions are not, so they allow wheelchair users to visit the park.
How long should we spend at BeWILDerwood?
There is enough to keep you busy all day at BeWILDerwood.
What kind of food do they have at BeWILDerwood?
They mostly have sandwiches, soup, and sausages. You can also get desserts and ice cream.
Can you bring dogs to BeWILDerwood?
Only assistance dogs are allowed at BeWILDerwood.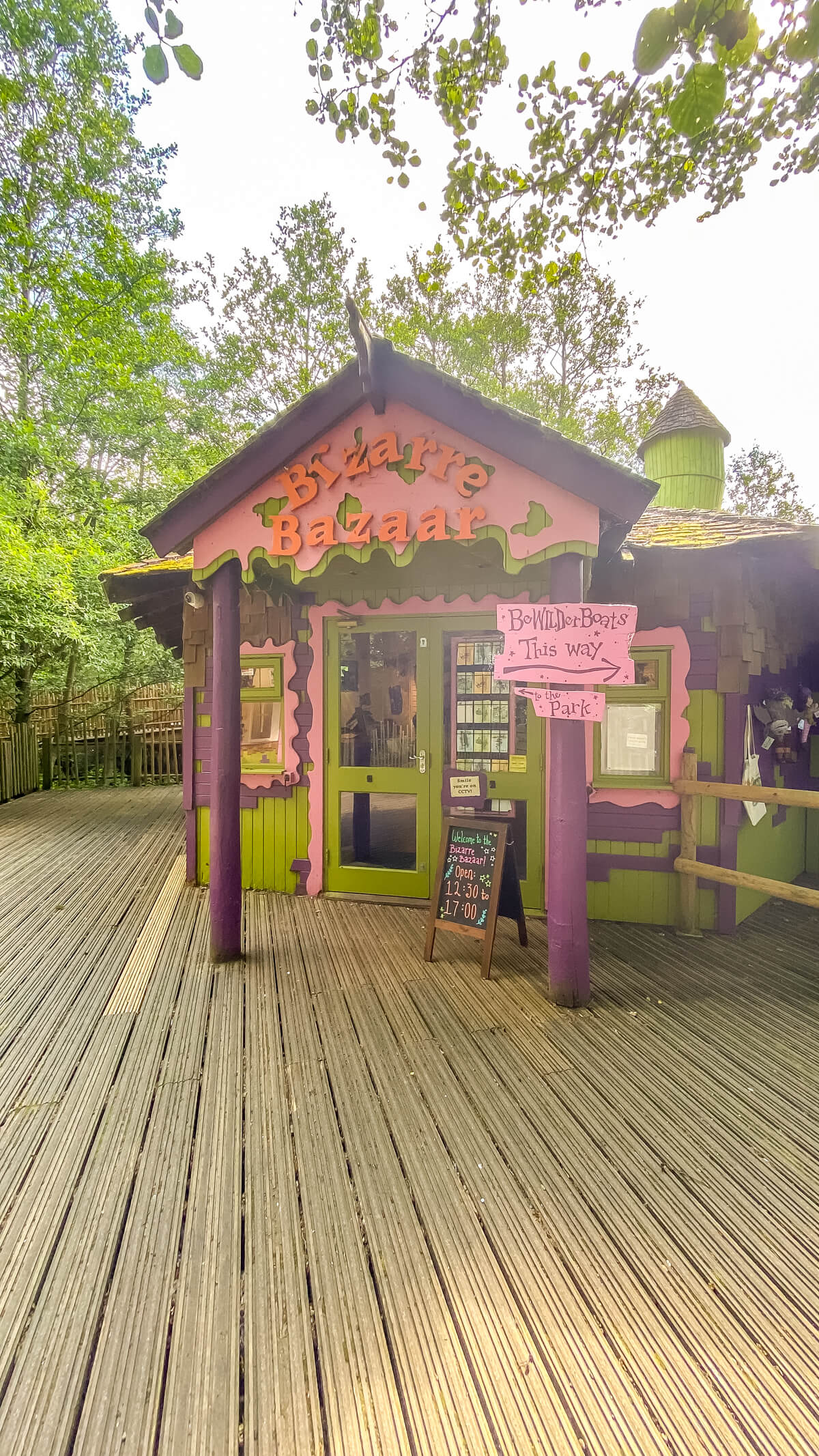 Where can you park for BeWILDerwood?
There is a large car park onsite that is free to use while you are visiting BeWILDerwood.
Can you get to BeWILDerwood by public transport?
Yes. From Norwich city centre, catch the 5B bus to Horning and get off at the BeWILDerwood stop (check the details here). If you want to take the train the Hoveton & Wroxham Station is 2 miles away.
Are there places to stay near BeWILDerwood?
If you want to stay close to BeWILDerwood, your best bet is probably a holiday home. Check out the options here.
Disclosure: This post contains affiliate links. This means we will receive a small commission for some purchases made using links in our blog with no additional cost to you.  Please be assured we would not promote any product unless we believe that our readers will also benefit.  The commission does not influence the editorial content of this site.