The 2023 Norwich Lord Mayor's Celebration, themed 'Sights of the City,' promises an experience that goes beyond mere visual delights. From the 7 – 9 July, prepare to indulge in a sensory extravaganza encompassing not only the captivating sights but also the enchanting sounds and delectable tastes of the fine city. There will be live music, food, and plenty of fun.
Let me share more about what is planned for the 2023 Lord Mayor's Celebration, one of the biggest annual festivals in Norwich. I have included events that local businesses are putting on as well.
Be sure to sign up for our weekly email newsletter here so we can tell you about more fun events in Norfolk.
Note: This post contains affiliate links.  As an Amazon Associate, we earn from qualifying purchases. Please see disclosure for more information.
Friday 7 July
Chapelfield Gardens
The festivities start on Friday afternoon and extend into the evening. Families can join in a carnival dress-up photo booth from 16:00 to 21:00.
In addition to the photo booth, there will be a funfair (16:00 – 22:00), four street food vendors (16:00 to 21:45), and music featuring the talented Leon & Gav Play Records (16:00 – 19:00) and the Marvel Records (19:00 – 21:45).
Anglia Square
Join The Common Lot as they take you on a journey through the past, revealing a century's worth of Mile Cross history in "The Great Estate: 100 Years of Mile Cross" at 19:30.
Saturday 8 July
Lord Mayor's Procession
The weekend's main attraction is the Lord Mayor's Procession, scheduled for 15:00 on Saturday. It will be a lively carnival atmosphere infused with a strong sense of community spirit.
You'll will be able to see local organizations, community groups, and businesses parade alongside acrobats, samba dancers, and tumblers. More than 750 people are expected to participate!
The procession route for this year's parade starts at the Marsh Car Park. From there, it will proceed along All Saints Green and Red Lion Street, before making its way to Castle Meadow. The final destination for the procession is the Cathedral entrance. View the map here.
Chapelfield Gardens
In addition to the Procession on Saturday, Chapelfield Gardens will be abuzz with activities. From 11:00 onwards alongside the traditional funfair, you'll find an array of street food vendors (including Indian (vegan) food, hamburgers, oysters, Thai, fried chicken, sandwiches, ice cream and much more).
Throughout the day, there will also be Family Workshops, where you can unleash your creativity, Make Your Own Instruments to craft unique musical treasures, thrilling Circus Acts to marvel at, facepainting and the chance to dress up in vibrant Carnival attire.
At noon, on the Sounds of the City Stage the Community Showcase, an exciting collaboration between The Garage and Young Norfolk Arts Trust, begins. Prepare to be enthralled by a dynamic blend of contemporary dance, captivating circus acts, choirs, and talented musicians.
Starting at 18:30, the Wild Paths Music Festival takes over the Sounds of the City stage. This line-up features Norfolk's own modern jazz artist, Oscar Jerome (21:00). Joining him on stage will be the sensational Nimbus Sextet (19:45) and the dynamic New Movement Ensemble (18:30).
Norwich Theatre Royal
You'll have the exciting opportunity to engage in friendly competition with your friends as you race against each other in Mario Kart 8 Deluxe from 12:00 to 15:00 and 17:00 to 20:00. There will be a board where you can sign up on the day. The exhilarating races will take place on the giant video screens of Norwich Theatre Royal and there will be a leader board to record the fastest lap times, adding a larger-than-life gaming experience to your weekend festivities.
City Hall
Prepare yourself for a thrilling showcase of talent at the Voices of the City Stage, situated at City Hall. The afternoon segment will captivate you with soul-stirring poetry performances, while the evening will set the stage ablaze with exciting musical acts.
The day kicks off with the Toasties Family Poetry starting at 13:00. Lewis Buxton leads the performances, taking the stage at various times throughout the afternoon, along with Poppy Stevens, Ashley Hickson-Lovence, and Arji Manuelpillai. There will be a performance break during the Lord Mayor's Parade.
Later in the day, the Toast Live Poetry segment begins at 17:00. Lewis Buxton opens the evening performances, and then it's time for the Young Emerging Artists to showcase their talent. As the evening unfolds, Daisy Henwood, Shannon Clinton-Copeland, and Mathilda Arminger take the stage one after another. The enchantment continues with Lewis Buxton's captivating return, setting the scene for Jess Morgan. At 19:00, be prepared for an engaging performance by Luke Wright, who just performed at Glastonbury.
The evening continues with a few words from the Lord Mayor. And then, just after 20:00, get ready for an unforgettable finale as the Voices of Norwich Allstars take the stage. Featuring the Beatbox Collective, Invidia Voices Choir, and the Norwich Jnr MCs, this extraordinary performance is compered by the talented Robin Evans Esq.
The Woolpack Inn
Get ready for a lively carnival-themed party starting at noon! The festivities will include face painting sessions, exciting carnival games, sizzling BBQ delights, a refreshing outdoor bar, and a tempting sweet stand.
The Garth at The Halls
If you weren't able to catch the The Common Lot at Anglia Square on 7 July, head to The Garth behind Norwich University of the Arts to see "The Great Estate: 100 Years of Mile Cross" at 18:00.
Sir Toby's Beers at Norwich Market
Don't miss out on the fun at Norwich Market! From 5:45 PM onwards, groove to the beats of a Vinyl DJ while enjoying mouth-watering street food from Cocina Mia, all at the Sir Toby's Beers stall.
Sunday 9 July
Norwich Lanes
It's the only day for the Lanes Summer Fayre on St. Benedicts Street and the surrounding areas. Expect lots of stalls with all sorts of unique products and food along with musicians and DJs playing on the streets.
Experience the vibrant atmosphere of St. Benedicts Street as it comes alive with a bustling market featuring an array of local stalls and a delightful food from local restaurants. Indulge your taste buds at Benedicts Restaurant, where you can try BBQ delights and jelly donuts. There will be poets and live music too.
Discover the creative side of Bridewell Alley, where an exciting pop-up art market awaits. See work from local illustrators, printmakers, and artists, and buy it if you see something that you fancy. You can also enjoy a DJ in the churchyard.
For a nostalgic shopping experience, make sure to visit the vintage flea market located on Pottergate. Browse through a treasure trove of retro finds, unique collectibles, and more food.
Join the Folk market organized by Jarrold on Exchange Street with lots of Norfolk products and a wine bar.
Get ready to celebrate on Upper St Giles Street, as the entire community comes together for an unforgettable street party. Revel in the festivities, dance to lively tunes, and make lasting memories. You will find food and drink offerings too.
Bedford Street will have activities for kids and market stalls. There will be face-painting, window art, and kids on the decks to DJ for you.
Music enthusiasts can head over to Norwich Arts Centre, where talented young musicians take the stage, performing captivating live music on the picturesque lawn. Lose yourself in the enchanting melodies and experience the magic of their performances.
The Marvel DJs will take over St Gregory's Green with a mix of hip-hop, funk, reggae, and soul.
Find more DJs performing at St. John Maddermarket along with food from local eateries especially for those who have a sweet tooth.
The fayre runs from 11:00 to 17:00.
Museum of Norwich at the Bridewell
The Museum of Norwich will be open 11:00 – 16:00 with free entry. You can also visit their hidden corner shop and try their Kett's Rebellion VR experience.
Strangers Hall
Enjoy an afternoon (13:00 -16:30) of free entry to one of Norwich's top museums.
Maddermarket Theatre
Take a backstage tour of this church-turned-theatre for just £5.
St. Laurence Church
Watch a full contact medieval combat school compete and even try a lesson yourself.
Chapelfield Garden
You can still enjoy the fun fair from 11:00 to 16:00.
River Wensum by the Lady Julian Bridge
At 14:00, there will be the Great Norwich Duck Race by the Lady Julian Bridge. You will want to get there early to buy your ducks and secure a spot to watch along the River Wensum.
90 Upper St. Giles Street
From 14:00 to 17:00 the Neutrinos open their studio for an afternoon of music and conversation. Only 15 people will be allowed inside at a time.
Peterson Park, Mile Cross
It's your last chance to see the The Common Lot perform "The Great Estate: 100 Years of Mile Cross" during the Lord Mayor's Weekend. The show starts at 15:00. (Note: This takes place outside the city centre.)
The Plough
Enjoy an epic all-day party in one of the city's most exquisite pub gardens! Immerse yourself in the electrifying atmosphere as 1901 Sound DJs spin captivating beats. Satisfy your taste buds with mouthwatering street food delights from Gorilla Street Kitchen, offering a delectable culinary experience that will leave you craving for more. And when it comes to refreshing libations, our bar will be serving up an abundance of Mojitos, ensuring your thirst is quenched and the party keeps going.
The Rumsey Wells
Experience the Island Terrace Party like never before as talented Island DJs take over the decks! Be enchanted by the chilled Balearic sounds in the early hours, creating a relaxing and laid-back ambiance. And as the day transitions into night, get ready to dance to uplifting dance music that will keep you moving.
Space Studios
The Official Norwich Lanes Summer Fayre After Party, presented by Soul Roots Radio, features the legendary Patrick Forge alongside three SRR regulars. The event runs from 16:00 to 23:00 and the entrance fee is only £10.
Traveling To Norwich for the Lord Mayor's Celebration
If you are coming to Norwich for the Lord Mayor's Celebration, we recommend taking public transport. While you can drive and park at one of the many city centre car parks, there will be a lot of traffic. Saturday and Sunday there will be road closures.
The festivities are within walking distance from the train station and the bus station. If you plan on taking the train, be sure to book in advance here to get the best fares.
You can also take advantage of the Park & Ride. On the night of 8 July the services for Thickthorn and the Airport will run later than normal.
Accommodations in Norwich for the Lord Mayor's Celebration
If you plan on attending the Lord Mayor's Celebration for more than one day and don't want to have to worry about travelling back and forth, you could book a place to stay in (or near) the Norwich city centre.
Here are some of our recommendations, just remember you will want to book sooner rather than later as some hotels (like the Assembly House) are already booked up.
Maids Head Hotel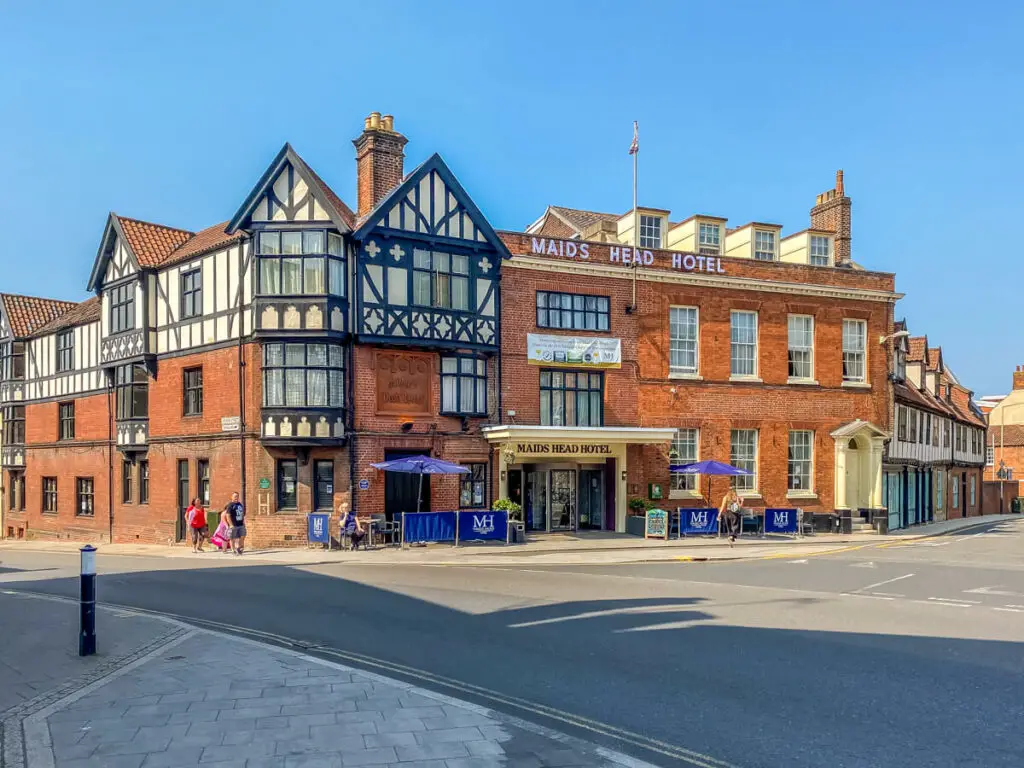 Dating back more than 800 years, the Maid's Head Hotel claims to be the oldest hotel in the UK. It's a Grade II listed building where it is believed Queen Elizabeth I attended a banquet. The hotel is also thought to be home to two harmless ghosts.
Located in Tombland, it's a convenient base to attend the Lord Mayor's Celebration. They offer free parking for their guests. The rooms all have a flat screen TV and free wifi.
Read Tripadvisor reviews here.
Check price and availability here.
Revado Hotel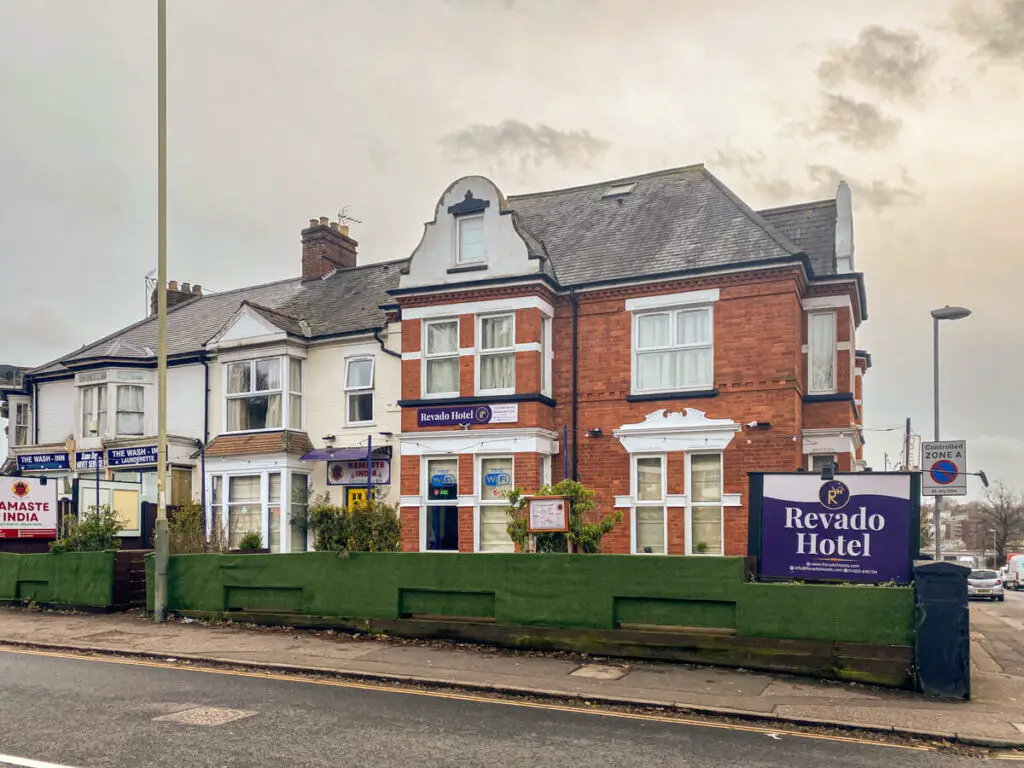 Relatively new to the Norwich hotel scene, Revado Hotel is a modern 3-star hotel a short walk from the Norwich Train Station. It offers spacious rooms with unlimited Wifi and an onsite restaurant where you can enjoy the best English, Indian, and a fusion of these cuisines along with drinks.
The hotel gets its name because the word Revado in Gujarati (an Indian language) means to enchant someone with a pleasant stay. It's a fitting choice as the hotel is known for its excellent customer service.
Read Tripadvisor reviews here.
Check price and availability here.
You can find more options on this map.
More Things to Do in Norwich
If you need more ideas for what to do in Norwich, check out these posts:
Things to Do in Norwich With Kids
Fun Things to Do in Norwich for Adults
Unusual Things to Do in Norwich
Things to Do in Norwich at Night
Things to Do in Norwich when it Rains
Romantic Things to Do in Norwich
If you are curious about what happened last year, check out our post about the 2022 Lord Mayor's weekend.
Disclosure: This post contains affiliate links. This means we will receive a small commission for some purchases made using links in our blog with no additional cost to you.  Please be assured we would not promote any product unless we believe that our readers will also benefit.  The commission does not influence the editorial content of this site.