It actually pretty easy to travel from London to Norwich. You have several different options, so something to fit all preferences and budgets. Let's take a look at the possibilities then you can choose how to get to Norwich from London.
Be sure to sign up for our email newsletter here so that we can keep you up to date with all the fun things happening in Norfolk.
Note: This post contains affiliate links.  As an Amazon Associate, we earn from qualifying purchases. Please see disclosure for more information.
How Far is it from London to Norwich?
Norwich is located in the East of England in the county of Norfolk. The cities are located about 100 miles apart. I recommend allowing at least two hours to travel between the two.
*Learn some fun facts about Norwich before you visit.
How to Get to Norwich from London
You can either take the train, bus, or drive from London to Norwich. Let's take a closer look at each of the options.
Train
Greater Anglia provides direct train service between London and Norwich. Most trains take about two hours although time will vary depending on the number of stops. The fastest option only takes 90 minutes. Check the schedule here for details.
Most people will find the standard seats comfortable, but if you want to splurge, you can choose to travel in First Class. First class is usually at located at the front or back of the train, and in addition to bigger seats, the ticket includes tea, coffee, and biscuits.
The price also varies depending on the type of ticket and the time. Always buy your ticket before getting on the train or you will have to pay a penalty fare.
Book your train ticket to Norwich here.
Estimated Cost
Starts at around £30 one way. To get a low fare like this, you need to book in advance and choose an off-peak train. Greater Anglia will have sales occasionally, but most times you will end up paying significantly more.
Pros
Fast
Comfortable
You can do other things (i.e. read, watch shows) on the ride. Some seats have tables that give you more space to work.
Most trains have a snack bar or cart.
Can splurge and get a first-class ticket
Cons
Can be expensive if you don't book in advance or want to travel on peak trains.
May be limited by schedule.
Won't have a car to explore more rural areas in Norfolk.
Bus
National Express provides bus service from the Stratford and Victoria Stations in London to Norwich City Bus Terminal. It does take longer than the train but it can save money. Check the bus schedule here.
Estimated Cost
Starts at £8.80 one-way + a £1 booking fee. While the starting price is similar to the train, you are more likely to be able to book at this price and it does not increase as much if you wait until the last minute to book.
Book your bus ticket to Norwich here.
Pros
Cheapest alternative
Comfortable (I think the seats on the bus are nicer than those on the train.)
Have the option to arrive at Stratford or Victoria Stations
Cons
Takes longer
Can be affected by traffic
Not as frequent as trains
Won't have a car to explore more rural areas in Norfolk.
Car
It's not a bad drive from London to Norwich as it's all dual carriageway. Traffic can be bad so avoid peak driving times if possible.
Even if you don't own a car this may be your best option if you want to explore some of the more remote areas in Norfolk. These areas are not well connected with public transportation so it's best to have a car.
Use Google Maps or Waze to get customized directions from your starting point in London to your destination in Norwich. Most people will:
Head to the North Circular
Go onto the M11
Take the A11
Go onto the A47
Exit onto the A146
Follow signs to the Norwich City Centre or the Thickthorn Park and Ride
Estimated Cost
Varies based if you need to hire a car, the price of petrol, and the fuel efficiency of your vehicle.
Pros
Can be flexible, not stuck to timetable
Will have the car to easily explore more rural areas of Norfolk
Cons
Someone has to drive
Parking in Norwich is limited in areas. If you don't want to use the park and ride, use Your Parking Space to find the most convenient and reasonably-priced parking.
What to Do in Norwich
Once you get to Norwich, there is plenty to do. Here are a few ideas to help you plan your time in Norwich:
Things to Do in Norwich With Kids
Fun Things to Do in Norwich For Adults
Things to Do in Norwich When it Rains
Unusual Things to Do in Norwich
Romantic Things to Do in Norwich
Things to Do in Norwich at Night
Where To Stay Once You Get to Norwich
If you want to stay longer than just a day in Norwich, there are a wide range of accommodation options in the city centre. Remember the summer months and December are the busiest times in the city, so these hotels will fill up. Book in advance if at all possible.
Assembly House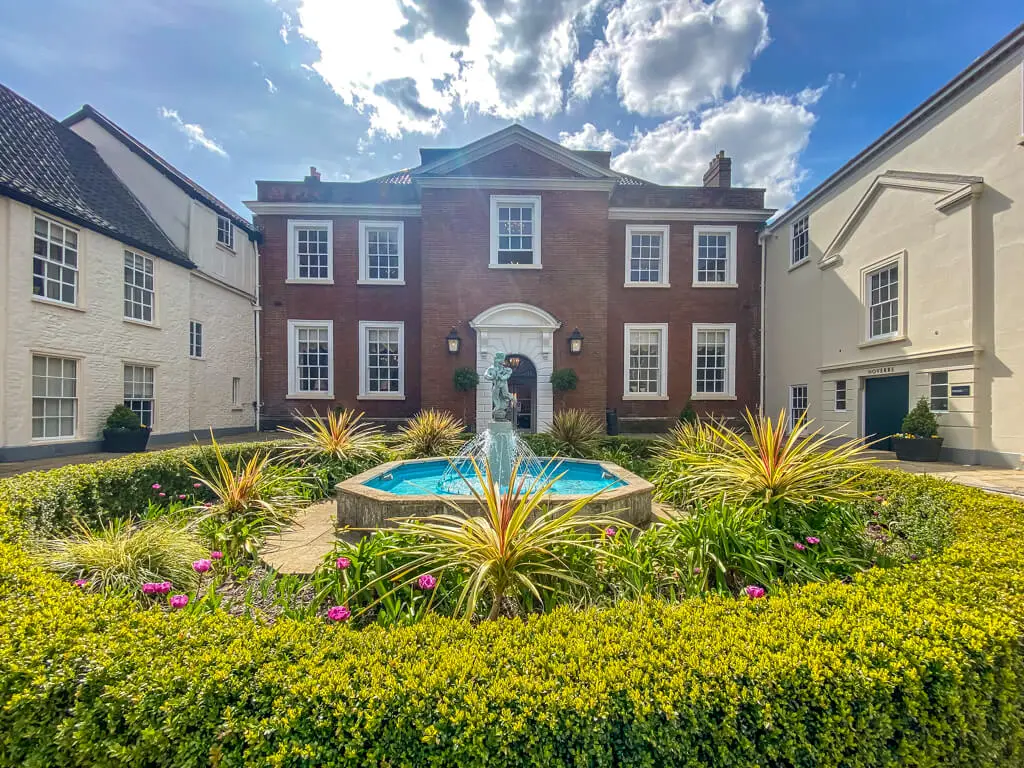 You can stay at the Grade I listed Assembly House that is beautifully decorated for Christmas. They have 15 spacious and stylish rooms, six with their own secret gardens, six with their own lounges, a bridal suite with its own garden and top-floor suites with breakfast included in the room rate.
Complimentary parking in the car park located on Chantry Road is included for overnight guests.
Read Tripadvisor reviews here.
Check price and availability for the Assembly House here.
Maids Head Hotel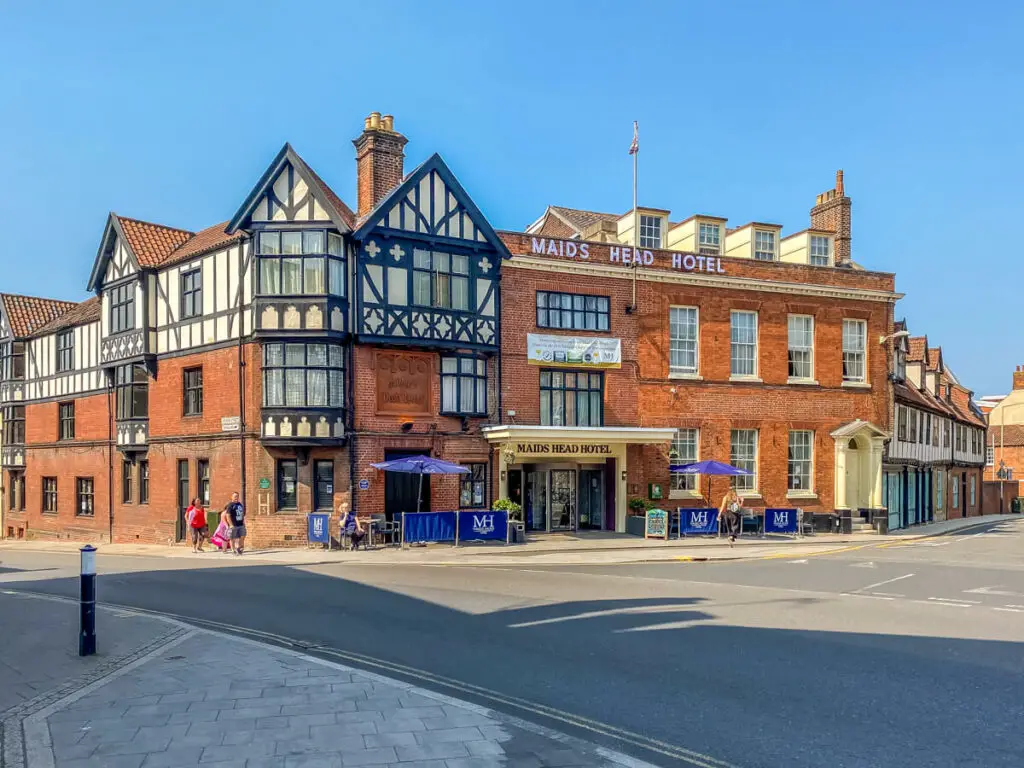 Dating back more than 800 years, the Maid's Head Hotel claims to be the oldest hotel in the UK. It's a Grade II listed building where it is believed Queen Elizabeth I attended a banquet. The hotel is also thought to be home to two harmless ghosts.
Located in Tombland, it's a convenient base to explore Norwich. They offer free parking for their guests. The rooms all have a flat screen TV and free wifi.
Read Tripadvisor reviews here.
Check price and availability here.
Revado Hotel
Relatively new to the Norwich hotel scene, Revado Hotel is a modern 3-star hotel a short walk from the Norwich Train Station. It offers spacious rooms with unlimited Wifi and an onsite restaurant where you can enjoy the best English, Indian, and a fusion of these cuisines along with drinks.
The hotel gets its name because the word Revado in Gujarati (an Indian language) means to enchant someone with a pleasant stay. It's a fitting choice as the hotel is known for its excellent customer service.
Read Tripadvisor reviews here.
Check price and availability here.
Premier Inn Norwich City Centre (Duke Street)
Another budget-friendly hotel option in the Norwich city centre is the Premier Inn on Duke Street. You get a super-comfy bed, a power shower and free Wi-Fi. They have family rooms that include a double or kingsize bed along with a sofa bed and pull-out bed depending on the number of guests staying in the room. There is also an onsite restaurant.
Read Tripadvisor reviews here.
Check price and availability here.
What is the best way to get to Norwich from London?
If you can plan ahead and get your tickets early, the train is the best option. When you have a tight budget, it might be best to take the bus. Those that plan on exploring more of Norfolk than just Norwich, may want to drive so that they have a car during their stay.
---
Disclosure: This post contains affiliate links. This means we will receive a small commission for some purchases made using links in our blog with no additional cost to you.  Please be assured we would not promote any product unless we believe that our readers will also benefit.  The commission does not influence the editorial content of this site.