The highly-anticipated 2023 Norfolk & Norwich Festival is right around the corner. It will be a huge celebration of the arts, showcasing the very best in music, theatre, dance, and visual arts. The festival attracts a diverse range of performers and audiences from all over the world, creating a vibrant and exciting atmosphere throughout the city.
With all the incredible performances, exhibitions, and events to choose from, our guide aims to help you navigate the festival and make the most of your experience. Whether you're a seasoned festival-goer or a first-time visitor, this guide will provide you with all the information you need to enjoy the Norfolk & Norwich Festival 2023.
Be sure to sign up for our email list here so we can keep you informed about other events like this and more happening around Norfolk.
Note: This post contains affiliate links.  As an Amazon Associate, we earn from qualifying purchases. Please see disclosure for more information.
About the Norfolk & Norwich Festival
The Norfolk & Norwich Festival began as a cathedral service fundraiser for the new Norfolk and Norwich Hospital in 1772 and has grown into a cultural extravaganza full of art, music, theatre, literature, and more. It is considered to be the oldest single-city arts Festival in the UK.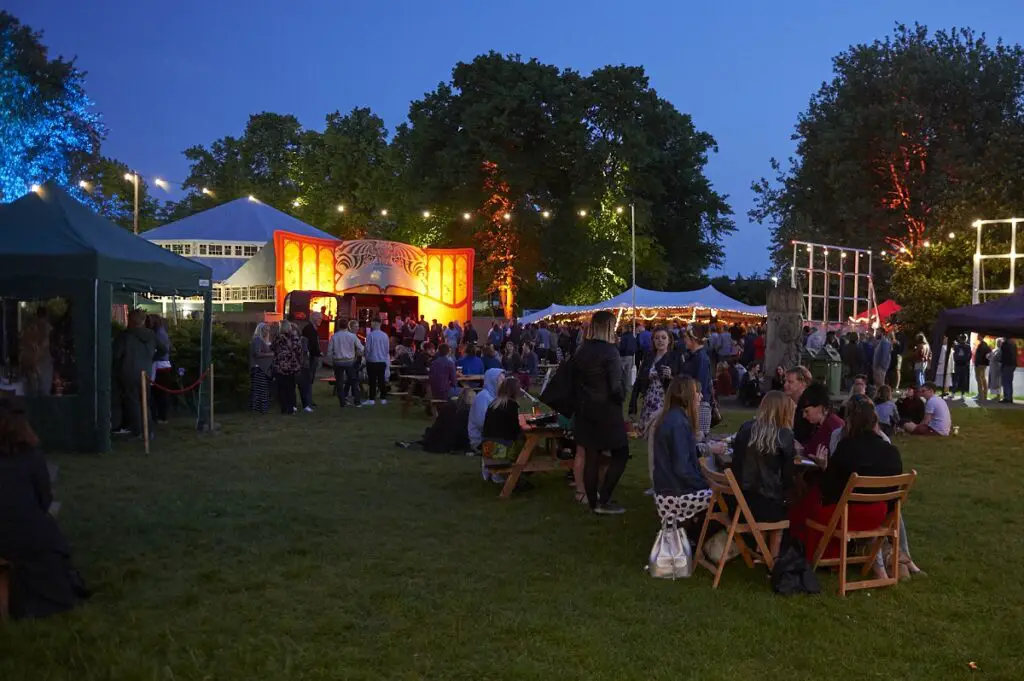 Overview of 2023 Norfolk & Norwich Festival
The diverse programme features exhibitions, cabaret, circus, talks, musical performances, and much more over 17 days in May. The events will be held at various venues around the county in places like King's Lynn, Great Yarmouth, Diss, Sheringham, and throughout Norwich.
During this time, Festival Gardens (aka Chapelfield Gardens) will be THE place to eat, drink, and gather. There will be outdoor performances as well as shows inside the Adnams Spiegeltent.
You might also like to read about the 2022 Norfolk and Norwich Festival.
Highlights of the 2023 Norfolk and Norwich Festival
With all that is part of the Norfolk and Norwich Festival in 2023, it can be a bit overwhelming. Here we will focus on our top picks from the wide-ranging programme. You can view all the events here.
Rhiannon Giddens with Francesco Turrisi
When: 12 May 20:00
The 2023 Festival opens with Grammy Award-winning country and bluegrass artist Rhiannon Giddens at St. Andrew's Hall. She has also received several other awards, including the MacArthur "Genius Grant," and has performed at the White House and Carnegie Hall.
Giddens' collaboration with Francesco Turrisi on the album They're Calling Me Home, recently won a Grammy. The album combines the music of their native and adoptive countries: America, Italy, and Ireland.
Tickets are £7.50 to £27.00. Get more information here.
RELATED: Best Music Festivals in Norfolk
Welcome Weekend
When: 13 – 14 May
Get ready for a city-wide extravaganza to kick off this year's Festival. From theatre and dance to circus and comedy, there will be a range of playful entertainment across the city centre.
Best of all, there's no need for tickets and all the performances are completely free!
Get more information on timings and location of the performances here here.
Le Coup
When: 17 – 28 May (shows at 17:30 and 19:30 most days)
Prepare to be blown away as Chelsea McGuffin & Co, the masterminds behind the mesmerizing circus productions of Scotch & Soda and Cantina, make their Norwich debut with their latest international sensation, Le Coup.
Step inside a neo-vaudeville speakeasy where a thrilling circus fight night unfolds before your eyes. Watch in awe as a motley crew of travelling misfits challenge each other with daring aerial stunts, mesmerizing acrobatics, mesmerizing tap dancing, and jaw-dropping fire breathing skills.
While Le Coup promises to be an unforgettable experience, it's important to note that like Barbu in 2022, it is not recommended for young children, and is suggested for audiences aged 12 and up.
Tickets are £7.50 to £26.00. Get more information here.
Club Origami
When: 16 & 17 May 13:00
Step into the enchanting world of Club Origami, an immersive and interactive dance show that offers families a chance to create, explore, and imagine in new and exciting ways. Witness the magic of origami come to life as dance, fashion, and live music transport you to a playful and spirited adventure in a land entirely crafted from paper.
Designed for children aged 6 and under, Club Origami combines the art of dance and the creativity of origami to create a unique and unforgettable experience.
Tickets are £5. Get more information here.
This is Not a Magic Show
When: 17 May 22:00
Vincent Gambini's This is Not a Magic Show is an critically acclaimed production that combines close-up magic, theatre, the spoken word, and a few laughs. You will question how the enchantment is created within a theatrical setting. This unique show offers a mind-blowing experience of deception that challenges our thinking of what is possible, all in the intimate setting of the Spiegeltent.
Tickets are £16.00. Get more information here.
The Chosen Haram
When: 19 & 20 May 19:30
Experience a unique and emotionally raw circus performance on two Chinese Poles, exploring themes of love, drugs, and Islam, with a banging soundtrack and moments of humour. The Chosen Haram tells the story of two gay men who meet through a dating app. You will see how they navigate the highs and lows of their relationship, while facing social, cultural, and personal barriers in their search for happiness and fulfilment.
The show is based on lead artist Sadiq Ali's personal experience and interviews with LGBTQ+ individuals who identify as (ex) Muslim. The Chosen Haram is recommended for ages 16 and up due to its mature themes.
Tickets are £7.50 – £16.00. Get more information here.
Norwich Art Path
When: 20 May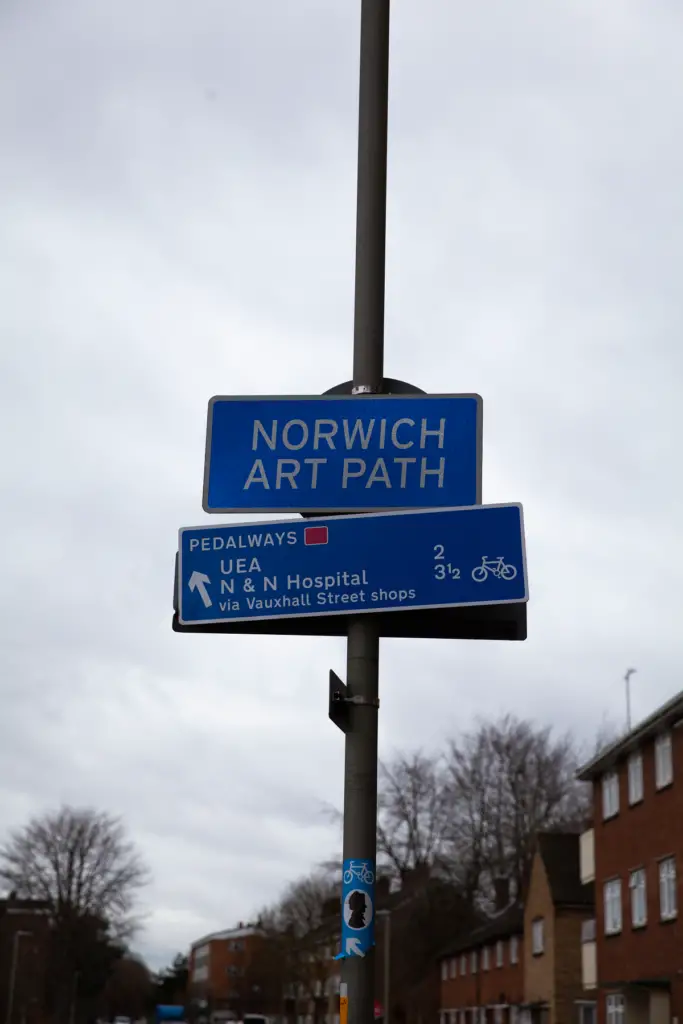 Go on a unique guided walk from Norwich Castle Museum & Art Gallery to Sainsbury Centre and explore the possibilities of a proposed art path connecting the University of East Anglia with the city centre. As you follow the path, talented artists commissioned for the occasion will surprise you with thought-provoking interventions, creating unique opportunities to engage with art in unexpected ways.
This event is free, but you must book tickets. Ticket holders also get free admission to Norwich Castle Museum & Art Gallery. Get more information here.
Le Vent du Nord
When: 21 May 20:30
Le Vent du Nord is a Québécois folk group that combines traditional and original compositions with a range of global influences. The group has won numerous awards and performed over 1,800 concerts across five continents. They have collaborated with many artists and regularly appear on television and radio. Le Vent du Nord creates innovative symphonic concerts and continues to push the boundaries of tradition with their dynamic live performances.
Tickets are £7.50 – £16.00. Get more information here.
The Hallé
When: 27 May 19:30
The Hallé, one of the UK's premier symphonic ensembles now in their 165th season, has a reputation for artistic excellence and strives to continuously take their performances to another level. For the Festival, they will be playing Dvořák's joyful Eighth Symphony, which features captivating Bohemian folk melodies, at St. Andrew's Hall with Kevin John Edusei, the former Chief Conductor of the Munich Symphony Orchestra and the Bern Opera House, as their guest conductor.
Tickets are £7.50 – £50.00 Get more information here.
Join the Din
When: 27 May 22:00
Join The Din is a London-based, international ensemble founded in 2018 that represents the dynamic and adventurous spirit of contemporary UK jazz. The band's unique sound features a blend of explosive double drums, dual saxophones, pulsing bass, and creative synths, driven by intricate rhythmic interplay and intense melodic improvisations. Their music draws from various influences, including NU Jazz, Afrobeat, EDM, Progressive Rock, and Rave.
Since the debut of their first EP, Join The Din has emerged as one of the most distinctive and diverse acts in the London music scene, captivating audiences across the capital and throughout the UK. Catch their performance in the Spiegeltent and experience their electrifying sound for yourself.
Tickets are £7.50 – £16.00. Get more information here.
Evita Too
When: 26 & 27 May 19:30
Becca and Louise, the multi award-winning performance art duo, bring their widely acclaimed musical, Evita Too, to the Maddermarket Theatre stage. Direct from a sold-out run at London's Soho Theatre, this humorous show tells the story of the first ever female president whose name is…um…
The two-time Fringe First award winners create an unforgettable experience recommended for ages 16 and up.
Tickets are £7.50 – £16.00. Get more information here.
2023 Norfolk & Norwich Festival FAQs
When is the 2023 Norfolk & Norwich Festival?
The Norfolk & Norwich Festival will take place 12 – 28 May 2023.
Is the Norfolk & Norwich Festival good for kids?
Yes, there are several events that are family-friendly. If you need more ideas to keep kids entertained, check out our list of things to do in Norfolk with kids.

Do you need tickets for Norfolk & Norwich Festival?
Some events will require tickets. They will go on sale to the general public on 1 March 2023.
Where should you stay during the Norfolk & Norwich Festival?
If you aren't lucky enough to live nearby, I think it's best to choose a hotel in the Norwich city centre. Many events take place in Norwich and other events are just a short drive (or bus or train ride) away.

Disclosure: This post contains affiliate links. This means we will receive a small commission for some purchases made using links in our blog with no additional cost to you.  Please be assured we would not promote any product unless we believe that our readers will also benefit.  The commission does not influence the editorial content of this site.