While it may be tempting to stay indoors during the cold winter nights, you are going to want to head to the Norwich city centre for Love Light Norwich. It's your chance to see some of Norwich's most iconic spots transformed into striking light installations.
We've been excited for Love Light Norwich to return ever since it ended in 2020.
Be sure to sign up for our email newsletter here to stay up to date with what's on in Norfolk.
What is Love Light Norwich?
Love Light Norwich is a free light festival organised by Norwich Business Improvement District (BID), supported by public funding from Arts Council England. It debuted in 2020 and is now back in 2022 for its second edition.
From Thursday 17 February to Saturday 19 February (17:30-22:00), this Norwich festival will bring colourful light installations, projections, special events, performances, a procession, and much more to the Norwich city centre. This year's theme is love and belonging. It will celebrate love in all its form and the communities that make the city.
Love Light Norwich was scheduled to take place again in 2024, but there were issues with funding so that has been cancelled. Norwich BID is working to secure funding so that the event can take place in 2025.
Love Light Norwich Artwork
There are 17 different art installations that are part of Love Light Norwich. You can download a map here or pick up a brochure (while they last) at the forum to locate each one.
Here I will share a little more information about all the installations which are numbered in accordance with the map. I have marked the ones that you should not miss (my favourites) with a *.
You can also check out this video to see some of the art in action.
#1 Luminous Pareidolia by Nick Azidis*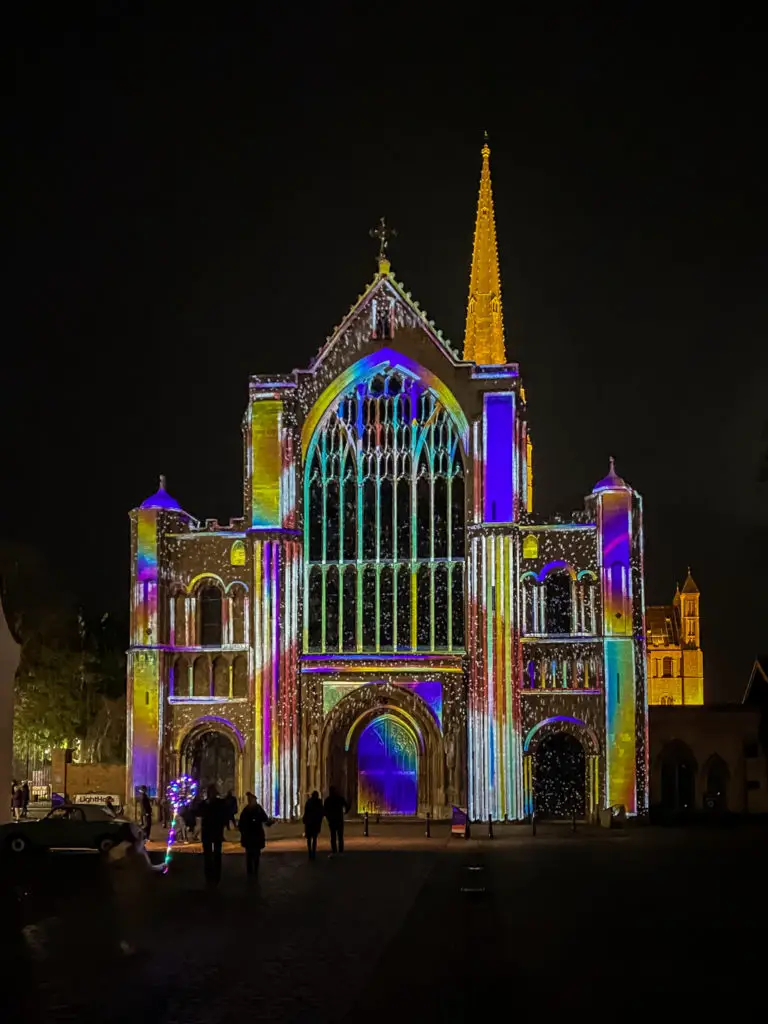 You may remember the mesmerising projections on Norwich Cathedral from Love Light Norwich 2020, well they are back! The intricate designs play and dance across the facade of Norwich Cathedral creating a oeeling of celebration and togetherness. Stay and watch for a bit there are quite a few different patterns to see.
Note that wil there were also projections inside Norwich Cathedral in 2020, this year it's only on the exterior.
#2 Marsh Ponies by Sarah Cannell, Rachael Long and Andy Jarrett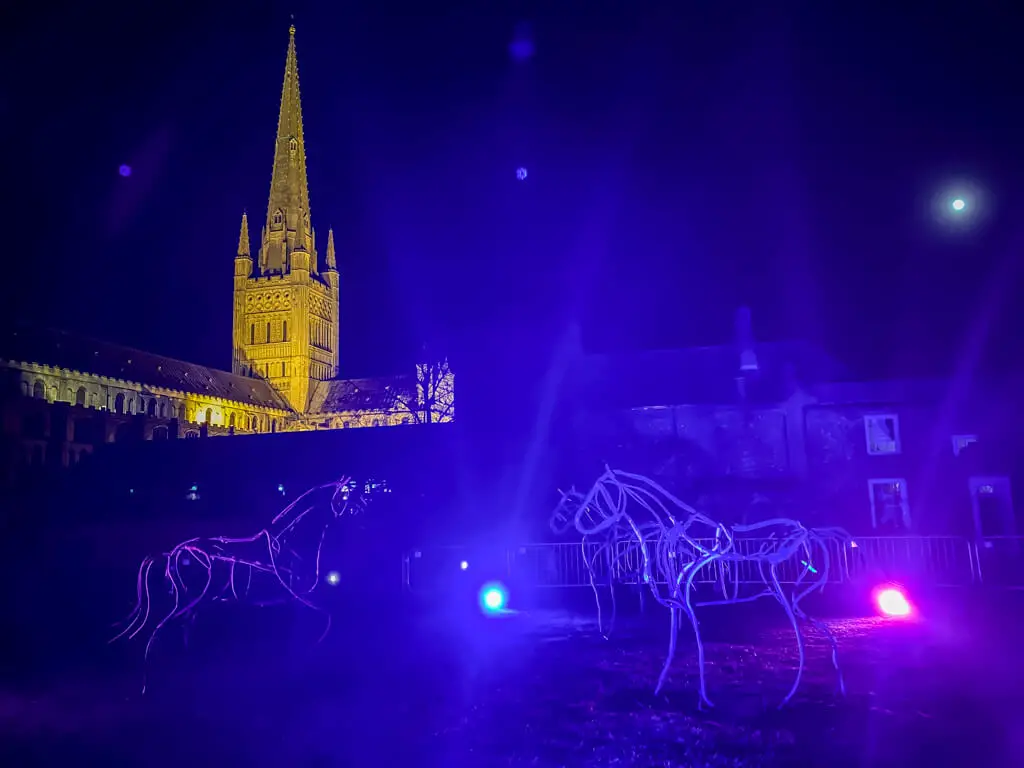 At 18:30 on 17 February and 20:30 on 19 February, you can see the Marsh Ponies transformed into fire sculptures in the Norwich Cathedral Green. It's a collaboration between Sarah Cannell, a Painter/Curator who runs the Raveningham Sculpture Trail, Rachael Long, whose Lifeboat Horse spends every summer in Wells harbour, and Andy Jarrett, who creates sculptural artworks inspired by nature and ecology.
#3 One Star Awake by Laura Cannell (Violin) AND Kate Ellis (Cello/Church Organ)
See a bewitching short film of the Marsh Ponies (#2 above) that includes a haunting new musical interpretation of 'She Moved Through The Fair' in the Crypt at St. Andrews Hall.
Please note this is a different location than what is shown on the map. One Star Awake was originally planned in Tombland Alley but has been moved to the Crypt in St. Andrews Hall.
#4 Mobile Light-Graffiti by Nikola Dicke
You're invited to chat to the artist as she does a live drawing which will be projected on the 14th century flint walls of The Halls (UPDATE: moved inside of St. Andrews Hall). As the light drawing will grow over the course of the evening, you might want to stop by several times to see how it evolves.
Note: There is a bar where you can get mulled wine and more inside St. Andrews Hall during Love Light Norwich 2022.
#5 Warm Heart by Hamilton Ice Sculptors*
In the Garth, behind the Norwich University of the Arts, you can find a frozen sculpture with vibrant flowers suspended in heart shape patterns surrounded by other ice sculptures.
#6 The Ghosts by Studio Vertigo
Soaring overhead on London Street (UPDATE: moved to the Undercroft by Norwich Market due to the weather), these ghosts use traditional origami cranes, which represent good fortune and longevity in Japanese culture, as their model. This installation was inspired by lockdown, when animals roamed through urban areas instead of existing on the periphery of our cities as a ghostly presence.
#7 Make a Wish by FSG
This installation above Intersport on Little London Street was inspired by the dandelion clock and evokes the magic of nature and memories from childhood. Pause reality for a moment and make a wish to spread a message of hope and joy to our community.
#8 Cupid's Castle by Illuminos*
Images from Norwich Market will be projected onto Norwich Castle. Objects will be searching for their counterparts, people will be coming together with other people across the city, and love is found where cupid's bow forms magnetic connections.
You can also see projections on the castle during Christmas in Norwich, when they have holiday-themed.
#9 Out of the Cocoon by Amber Lights*
Created with sustainability at its heart, this solar-powered sculpture on Gentleman's Walk sparkles with iridescent LED light, capturing the translucent beauty of a butterfly. It aims to highlight the impact of changing temperatures and the overuse of pesticides.
There is a seat here, so it's the perfect family photo spot.
#10 DeafPLUR By VJ Outlaw & Shaun Prickimage
This playful and fun audio-visual laser show on the wall of Yard on Pottergate honours Peace, Love, Unity, and Respect. It was developed in collaboration with the d/Deaf/Usher community, and hearing people alike, and pays tribute to the 90s rave culture, neon signs, and the power of togetherness.
#11 Macroscopic I by Chris Plant
This projection at St. Gregory's Church is inspired by the natural world. It began during lockdown as all the flowers, seeds, lichen, feathers, and leaves used in the projection were found during the artist's daily walks. The artwork uses 1950's slide projects with super bright LEDs that act like microscopes and transform the perspective.
While I love the concept of this work, the location didn't suit it. When I stopped by, it was hard to see the projections on the outside of the church. Someone was working on making it brighter but I didn't have a chance to return to see how that changed it.
Note: There is also Macroscopic II in Chapelfield Gardens which is #16 on this list.
#12 Our Beating Heart by Studio Vertigo*
You can admire the glittering light show by the Forum from this heart-shaped disco ball that is made up of more than 11,000 mirrored tiles. The way the disco lights lit up St. Peter Mancroft was quite spectacular.
They were playing some fun music (i.e. YMCA) and people were having fun dancing in the amphitheatre.
RELATED: Best Music Festivals in Norfolk
#13 Into the Light by Guildhall Live Events
You'll have to look up for this video and light installation projected onto the ceiling of The Forum. The geometric animations with bold colours and an upbeat specially commissioned soundtrack were inspired by themes of growth, new beginnings, and looking to the future after the challenges of lockdown.
There were a few deck chairs inside the Forum so you could sit down and watch the projections without straining your neck.
#14 Wall of Love by Norwich BID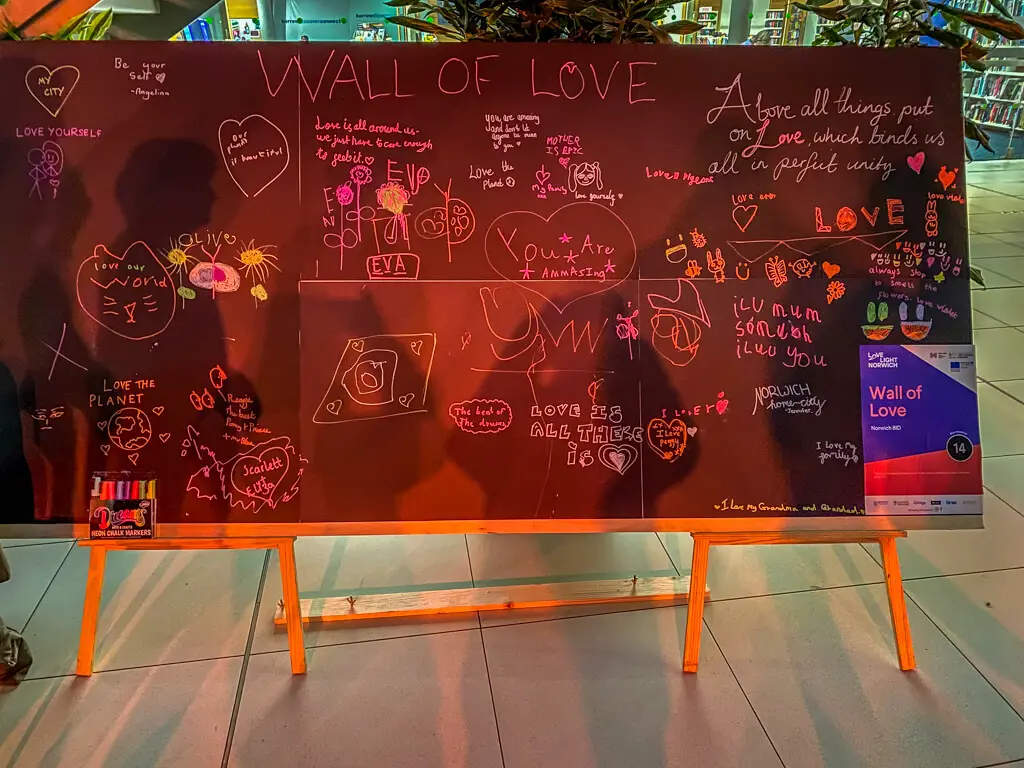 Inside the Forum, you can write personal messages of hope and love for the people that mean the most to you, and make a donation to support Norwich Street Aid, a programme designed to reduce rough sleeping in Norwich, and help those who need it most.
#15 Luminescence by Kate Munro
Theatre Royal is the largest theatre in Norwich. For Love Light Norwich, it's digital screens showed different scenes and art that was inspired by residents and staff from Norwich care homes. It gave a voice to those who may not otherwise be heard.
#16 Macroscopic II by Chris Plant
Like Macroscopic I (#11 on this list), this projection on the Bandstand at Chapelfield Gardens is inspired by the natural world. It began during lockdown as all the flowers, seeds, lichen, feathers, and leaves used in the projection were found during the artist's daily walks. The artwork uses 1950's slide projects with super bright LEDs that act like microscopes and transform the perspective.
I prefered this installation compared to Macroscopic I as it was easier to see the patterns on the white sheets put up around the bandstand.
#17 The Celestial Sound Cloud by Pif-Paf*
The Celestial Sound Cloud is an interactive sound and light sculpture in Chapelfield Gardens, inspired by galaxies far away. It is suspended above, so that you can dance underneath it. Your movement will change the light sequences and vocal harmonies.
Special Events for Love Light Norwich
In addition to the artwork that is part of Love Light Norwich, there are some special events. Most of these events are free and there are a few that need to be booked in advance.
Love Window Trail
When: 1 February – 1 March
Local businesses have designed special creative windows in celebration of Love Light Norwich. Displays feature heart shaped illustrations, poetry, artwork, and lights. Download a map here to see participating businesses.
Love City Food Trail
When: 12 February – 12 March
For one month, there will be a new city food trail based around the theme of 'love and belonging'. There will be 43 restaurants, cafes, takeaways and bars offering exclusive love-themed dishes on their menus.
You can find participating venues by looking for the neon 'love' signs in the windows or by downloading the passport with a map here. Collect stamps at six venues and you can enter the giveaway to win a special price.
My Guiding Light
When: 17 February 19:00 to 22:00
True Stories Live is a lively, moving and unpredictable event where people tell their own true stories in front of a warm, supportive audience. In this special Love Light Norwich edition at Dragon Hall, the theme is stories brimming with light.
Unfortunately, this event is now sold out.
Here is Home
When: 17 February at 19:00 and 19 February at 17:30
Here is Home is an outdoor piece of theatre (moved inside St. Andrew's Hall due to the weather) exploring Norfolk's relationship with migration, in a continuation of Sheringham Little Theatre's Rewriting Rural Racism project. Through live scenes, real stories, physical theatre and a collaboration with German light artist, Nikola Dicke, the show challenges our perception of what it means to settle somewhere and asks what we need from our home. 
It's a powerful show that incorporates light and dancing to tell the story. While it doesn't have any adult-themes, it's not designed for young children.
You don't need to book Here is Home, just head to St. Andrew's Plain a bit before showtime. The show lasts 20 minutes.
Lighthaus
When: 17 and 19 February, multiple performances between 16:30 – 20:50
LightHaus is a free, 15-minute immersive ocean-themed experience that takes you on a musical journey through saturated colour, pitch darkness, and blinding light. You will be reminded of the power of nature – our insignificance and vulnerability – with the lighthouse as the signifier of warning of danger and of hope.
It's put on by KlangHaus who also did FloodLight, which sold out during Love Light Norwich 2020. They offer special Autism Friendly/Relaxed performances at 16:30 and adult-themed shows (ages 12 and up) from 19:10 – 20:50. Shows between 17:30 and 18:50 are family-friendly and suitable for those under 12.
You should book in advance here, there will be very limited tickets on the door.
Cycles
When: 17 and 19 February, multiple performances between 17:30 – 20:00
Head to Norwich Market to see shadows and light dance in this show on 'cycles'. It's an interactive play by the Norwich Puppet Theatre created with our local migrant community where you have the power to pause the story.
There is no need to book in advance.
Glow Ride
When: New Date 19 February at 17:30
Join this family friendly bike ride that will make Norwich glow. You are encouraged to embellish your bike and helmet with illuminated decorations – there will be a prize for the best one. Everyone is welcome and there's no need to book, just head to Chapelfield Gardens a little before 17:30.
Strictly Night Cycling
When: 18 February 17:45 – 18:30 at Chapelfield Gardens and 20:15 to 21:00 across Norwich City Centre
UPDATE: THIS EVENT HAS BEEN CANCELLED DUE TO HIGH WINDS.
Catch this improvised and eye-catching cycling dance performance with epic human/bike sculptures, laughs, bicycles, and pyrotechnics. It's inspired by flash mobs, everyday cycling experiences, and the weather and aims to remind you to light up on a bike after dark and that bike rides don't have to take a direct route.
There is no need to book in advance.
The Art of Courtly Love
When: 19 February 18:30 to 21:30
Head to the area by The Museum of Norwich in the heart of the Norwich Lanes for a modern twist on the long-forgotten passions and rituals of medieval courtship. You can dance with Time Machine Disco in a twinkly courtyard, enjoy performance poetry in the shadows of St Andrew's church, and more.

The Museum of Norwich will be open late for this special event. There is no need to book.
RELATED: Romantic Things to Do in Norwich
River of Love Procession
When: 19 February at 18:00 – 19:00
The River of Love procession features drummers, a fleet of illuminated boats, a giant lobster, and jellyfish flooding the streets of Norwich. This underwater spectacle features art and performances from local artists themed around sustainability.
There will be plenty of space to spread out and watch the parade. It starts by Norwich Cathedral, travels through Tombland to Bank Plain, then flows up London St to Gaol Hill, and across St Peters Street before the finale at Millennium Plain.
Love Light Norwich FAQs
When is Love Light Norwich 2022?
17-19 February from 17:30 to 22:00
How much does Love Light Norwich cost?
Love Light Norwich is free to attend.
Do you need to book tickets for Love Light Norwich in advance?
You don't need tickets to see the art installations, but there are a few events that do require tickets.
Where does Love Light Norwich take place?
The art installations and events take place around the Norwich City Centre.
Is it possible to see all the art installations in one night?
Yes, while there are 17 installations to see it's all located in a relatively small area within the Norwich city centre. I would recommend planning to start at 17:30 so that you have the maximum amount of time. You might prefer to see everything over three nights, so you have more time to enjoy it.
What else is there to do in Norwich at night?
Norwich has a thriving nightlife with a great live music scene, bars, clubs and more. If you have extra time to spare during Love Light Norwich, check out our recommendations for the best things to do in Norwich at night.
Is Love Light Norwich suitable for kids?
Yes, the festival is family-friendly, although there are a few events specifically designed for adults. Also check out our recommendations for things to do in Norwich with kids for more ideas to keep the young ones entertained.
Where can you park for Love Light Norwich?
You can use any of the car parks in the Norwich city centre, but they may easily be full. If possible use public transport or park and ride, it will be cheaper.