If you are looking for a place that knows how to celebrate Christmas, come to Norwich. It is decorated with lots of lights and there is that festive feel in the air. Let me share some of the special things you can do in Norwich during the Christmas season.
Be sure to join our email newsletter here to stay up to date with what's happening around Norfolk all year.
Note: This post contains affiliate links.  As an Amazon Associate, we earn from qualifying purchases. Please see disclosure for more information.
Christmastime in Norwich
Norwich is bustling with activity as the big day approaches. People come to the city centre to do their Christmas shopping and see the festive decorations.
It's rare that it snows in the run up to Christmas, but it does get cold, so be sure to bundle up.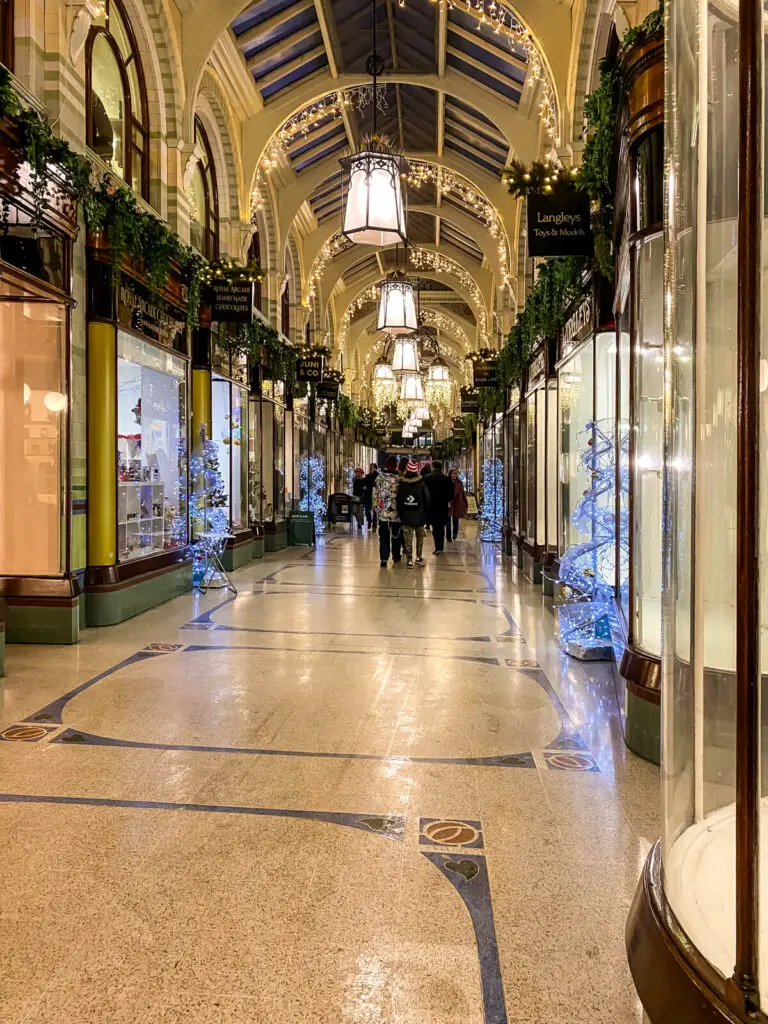 Things to Do in Norwich During Christmas
When you visit Norwich, you will want to see the most popular attractions which we covered in our post about the best things to do in Norwich. Having said that, when you visit during the holiday season, you might want to focus on some things you can only do during Christmas in Norwich.
It all kicks off with the Christmas Light Switch On which typically takes place in mid November. Also you won't want to miss the best Christmas events in Norfolk.
#1 See the Christmas Lights
While this will be the first year since 2015 without the Norwich Tunnel of Light, there will still be plenty of pretty lights around Norwich city centre. Imagine lamp posts wrapped in a cascade of lights and festive decorations adorning even more corners of our city, promising an enchanting holiday experience. Trees will glisten from Gentleman's Walk to London Street, through Davey Place and London Street to Prince of Wales Road, Tombland and Timber Hill.
The new Christmas lighting scheme will debut on Thursday, 16 November 2023. What makes this scheme more thrilling is its strong commitment to sustainability, with the entire display powered by 100% renewable energy.
#2 Admire the Castle Projections
You may remember the spectacular projections on Norwich Castle during Love Light Norwich. During the Christmas season (dates TBC), the projections are (hopefully) back with a festive theme.
A high-quality laser projector brings the Norman Castle to life in a sustainable way. You will be mesmerised by the animated Christmas scenes.
While you can see the castle projections from many places in the Norwich city centre, I think it is best to see it up close. Head to the top of the stairs where Davey Place meets Castle Meadow for the perfect view.
Read about more things to do in Norwich at night.
#3 Take the Family (or Just the Adults) to a Panto
Pantos are a must for many British families during the Christmas season and there are two traditional pantomimes to choose from in Norwich. You are pretty much guaranteed a good time and lots of laughs.
Norwich Theatre Royal has assembled an all-star cast for Sleeping Beauty with Joe Tracini, who played Tommy the Cat in 2021's Dick Whittington Panto and Jack in last year's Jack and the Beanstalk and Norwich's favourite panto dame Richard Gauntlett. 
At the Maddermarket Theatre they will have Wizard of Oz. It may not feature any big stars but it still has lots of laughs, music, and audience participation.
If you don't have any children or are just looking for an adult night out, there are a few Pantos that are made for a mature audience. In 2021, the Norwich Playhouse had Robin Good, and this year the Maddermarket Theatre has an adult panto, Sinderella.
Read about more pantos and Christmas shows in Norfolk.
#4 Enjoy a Festive Afternoon Tea
I never need an excuse to have an afternoon tea, but during the holiday season there are some special festive ones in Norwich. You can stay cosy and warm with tea and Christmassy treats.
Our top choice when it comes to afternoon tea in Norwich is the Assembly House. For the 2023 Christmas season they have a Nutcracker-themed afternoon tea. You can enjoy it inside their luxurious Georgian-style dining rooms or in one of their Instagram-worthy igloos. They are booking up fast.
*You might also like to try the festive version of Beforenoon Tea at the Assembly House.
#5 Shop at the Christmas Markets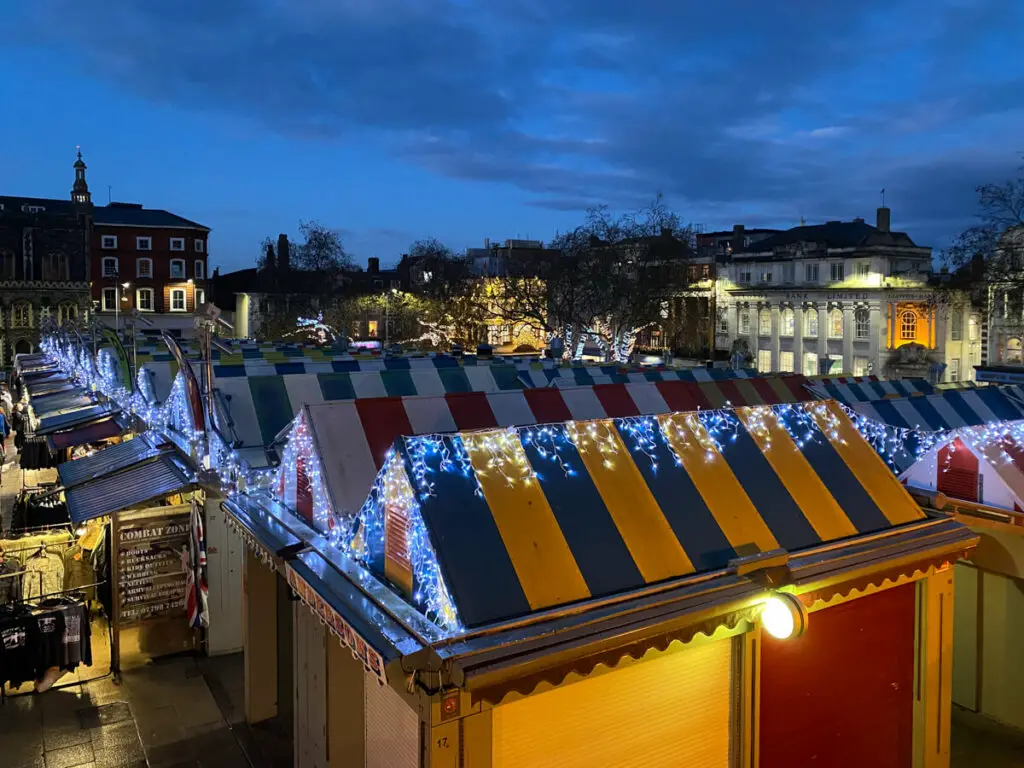 Norwich is always good for shopping because it has Norwich Market and lots of independent shops in the lanes, but during Christmas there are also a few holiday markets to check out too. It's a fun way to find those special gifts.
The biggest Christmas Market in the Norwich city centre is the Festive Fair which will be held 23 – 26 November 2023. It is a free event and there will be real donkeys!.
Other popular options include Norwich Vegan's Christmas Market at the Forum (19 November), the Fierce Babe Xmas Market at the Assembly House (26 November), and the Norwich Global Village Christmas Market at the Forum (30 November – 2 December). Read about more Christmas Markets in Norfolk.
#6 Indulge in Special Christmas Meal
Norwich is home to many esteemed restaurants. During the Christmas season, many have special festive set menus. You could try The Georgian Townhouse, The Eagle Pub, or if you want to splurge Boston House or Roger Hickman's.
#7 Take the Kids to See Father Christmas
Kids will want to see Father Christmas and tell him what they want for Christmas and you want to get that festive photo. There are a few places to where you can meet Santa in Norwich including Jarrold, the Norwich Puppet Theatre, and Carrow Road, but you will need to book in advance.
#8 Enjoy a Warm Beverage
One of the best ways to warm up on a winter day (or night) is to have a warm beverage. While tea and coffee can do the job, you might want something with a bit of kick (i.e. with alcohol).
During the holiday season, I love to drink mulled wine (gluhwein). While it is easy enough to make it at home with a spice kit (we like this one), it is more fun to drink it outside at a market.
You can enjoy mulled wine at The Junkyard Market and a festive atmosphere. Also, the Joby Beers stall at Norwich Market has mulled wine too.
Alternatively, what about checking out one of Norwich's cocktail bars like Tipsy Jar and Rooftop Gardens? Read about more fun things to do for adults in Norwich.
#9 Take a Festive Train Ride
You can enjoy a festive train ride on the Eaton Park Miniature Railway. The attraction was first launched in 2021 as alternative to the usual Santa's grotto due to Covid restrictions and was so popular it has returned.
Both the trains and the tunnel will be decorated with Christmas lights. Powered by steam, an internal combustion engine or battery, the train rides will last approximately 10 minutes. Tickets cost £1.50 for over 16s and £1 for children and you don't need to pre-book. 
Get more information including dates and times here.
#10 Ride the Free Vintage Bus
See the festive sights around Norwich during a free 30-minute ride on a restored vintage Routemaster bus courtesy of Awaydays Norfolk. Donations will be collected for the Norfolk and Waveney cancer charity, The Big C.
You don't need to book in advance. Buses run every 30 minutes dates TBC.
Unfortunately, Routemaster Vintage Buses are not wheelchair accessible.
#11 Take a Spin on the Christmas Carousel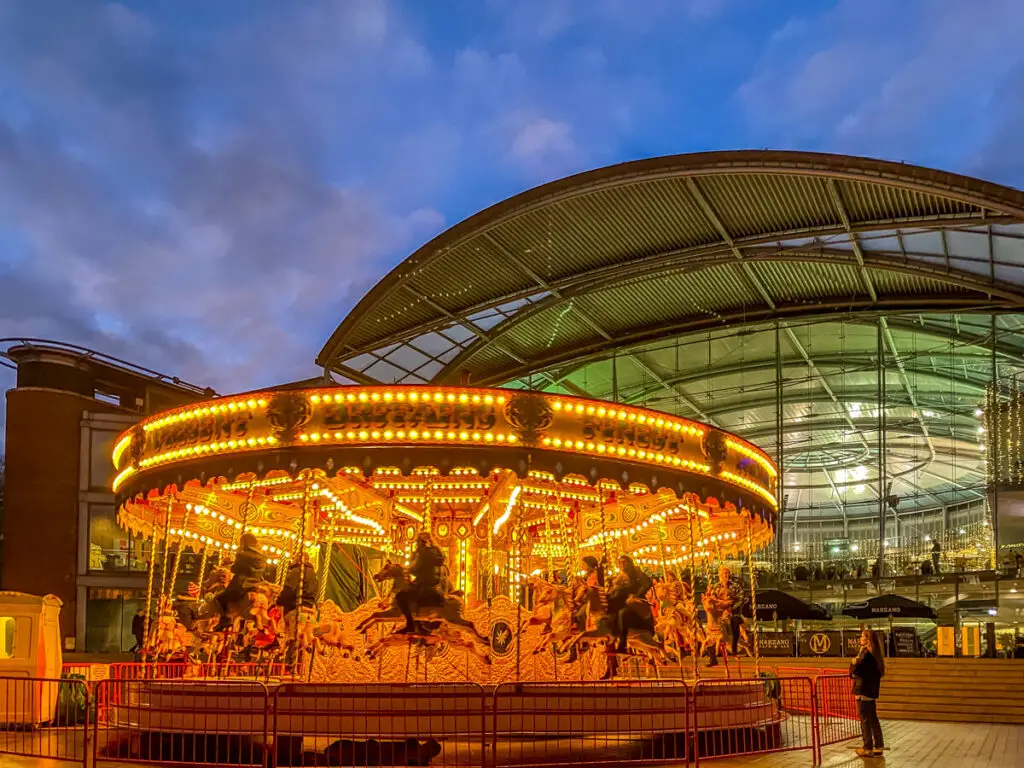 From 15 December to 1 January, you can ride on one of the oldest operating carousels still operating in the UK. Built by Frederick Savage of King's Lynn back in 1893, the Pride of the South Gallopers has hand-painted details, organ music, and cut glass mirrors.
It is opens at 10:30 and closes at 19:00 on weekdays and 20:00 on weekends. Rides are £3 per person.
Where To Stay in Norwich During the Holidays
Norwich is a fun place to visit all year round and it makes for a merry festive break. If you want to stay longer than just a day (and don't live close enough to make multiple trips), there are a wide range of accommodation options in the city centre.
December is a busy time in the city, so these hotels will fill up. Book in advance if at all possible.
Assembly House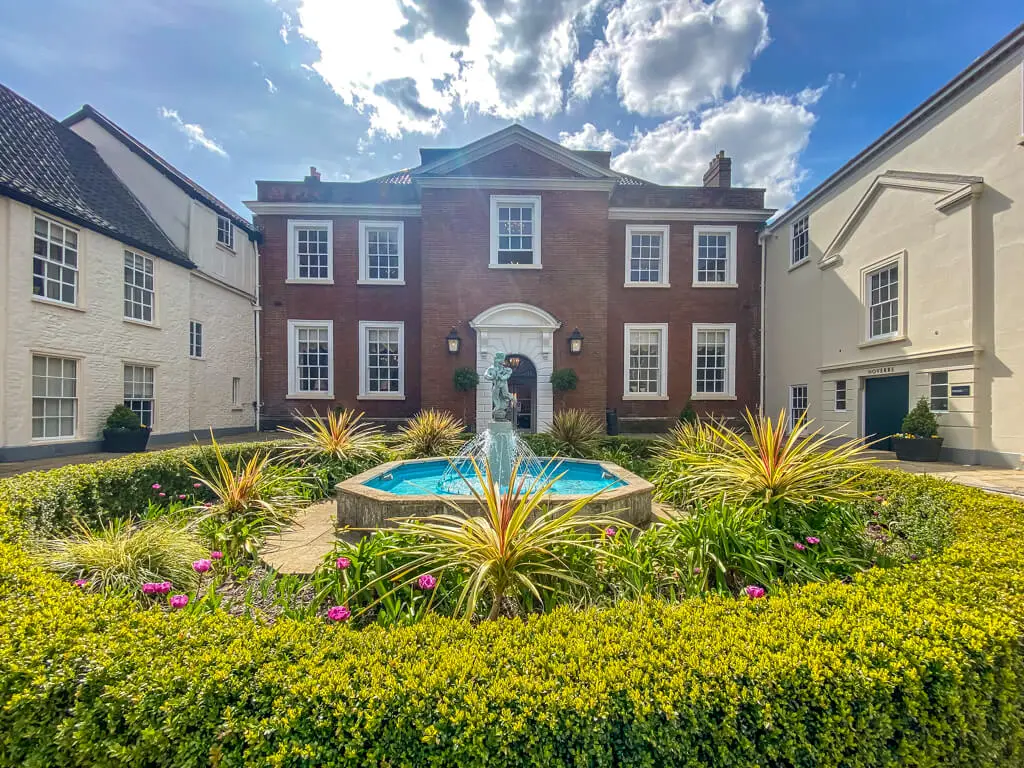 You can stay at the Grade I listed Assembly House that is beautifully decorated for Christmas. They have 15 spacious and stylish rooms, six with their own secret gardens, six with their own lounges, a bridal suite with its own garden and top-floor suites with breakfast included in the room rate.
Complimentary parking in the car park located on Chantry Road is included for overnight guests.
Read Tripadvisor reviews here.
Maids Head Hotel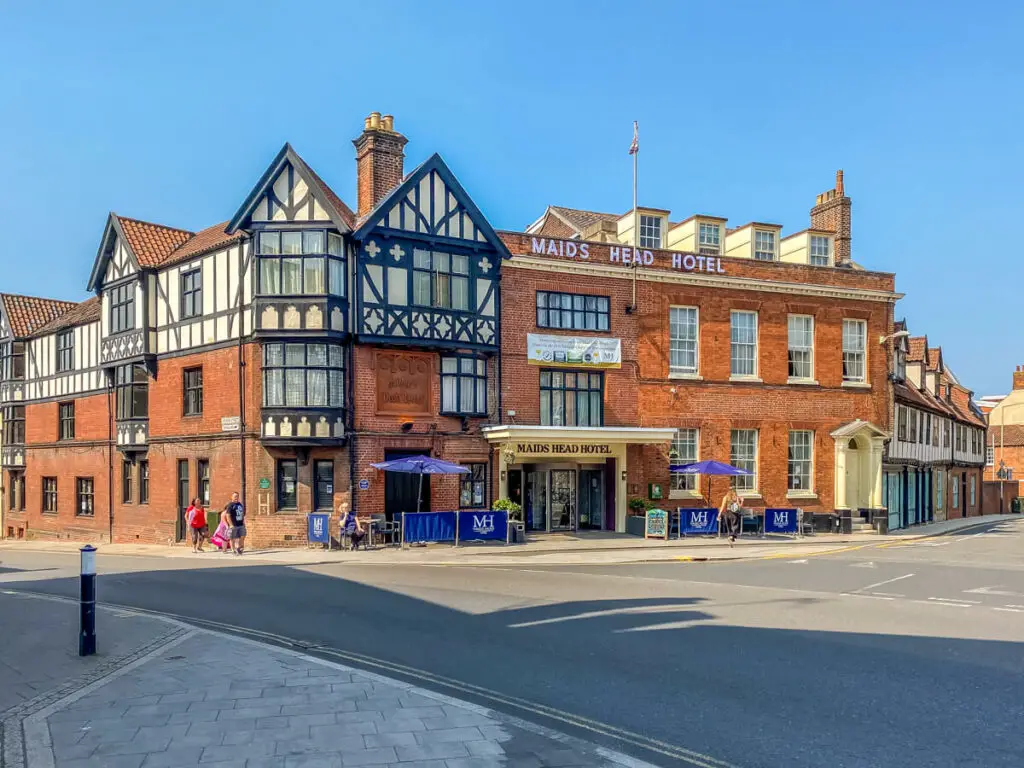 Dating back more than 800 years, the Maid's Head Hotel claims to be the oldest hotel in the UK. It's a Grade II listed building where it is believed Queen Elizabeth I attended a banquet. The hotel is also thought to be home to two harmless ghosts.
Located in Tombland, it's a convenient base to enjoy the Christmas festivities in Norwich. They offer free parking for their guests. The rooms all have a flat screen TV and free wifi.
Read Tripadvisor reviews here.
Check price and availability here.
Revado Hotel
Relatively new to the Norwich hotel scene, Revado Hotel is a modern 3-star hotel a short walk from the Norwich Train Station. It offers spacious rooms with unlimited Wifi and an onsite restaurant where you can enjoy the best English, Indian, and a fusion of these cuisines along with drinks.
The hotel gets its name because the word Revado in Gujarati (an Indian language) means to enchant someone with a pleasant stay. It's a fitting choice as the hotel is known for its excellent customer service.
Read Tripadvisor reviews here.
Check price and availability here.
Premier Inn Norwich City Centre (Duke Street)
Another budget-friendly hotel option in the Norwich city centre is the Premier Inn on Duke Street. You get a super-comfy bed, a power shower and free Wi-Fi. They have family rooms that include a double or kingsize bed along with a sofa bed and pull-out bed depending on the number of guests staying in the room. There is also an onsite restaurant.
Read Tripadvisor reviews here.
Check price and availability here.
Learn more about Norwich city centre hotel options.
More Things to Do in Norwich
If you are looking for more things to do in Norwich, be sure to check out these posts:
Things to Do in Norwich with Kids
Unusual Things to Do in Norwich
Things to Do in Norwich in the Rain
Disclosure: This post contains affiliate links. This means we will receive a small commission for some purchases made using links in our blog with no additional cost to you.  Please be assured we would not promote any product unless we believe that our readers will also benefit.  The commission does not influence the editorial content of this site.