The Norfolk Broads is probably the best area in Norfolk for peaceful walks. It's the perfect destination for those who love to explore the great outdoors by foot. With a vast network of footpaths and trails, there are plenty of opportunities to discover the hidden gems and even spot unique wildlife.
In this blog post, we'll take you through some of the best walks in the Norfolk Broads, from short circular routes to the long-distance trails, each offering a unique perspective on the landscape.
Be sure to sign up for our weekly newsletter here so that we can keep you up to date with all the fun happening in Norfolk.
Note: This post contains affiliate links.  As an Amazon Associate, we earn from qualifying purchases. Please see disclosure for more information.
Best Walks in The Norfolk Broads
Whether you're a seasoned hiker or just looking for a gentle stroll, there's a walk for everyone in the Norfolk Broads. You can even bring along your dog, but there are areas where it will need to be on a lead to protect the wildlife.
For your convenience, these hikes are listed in order of length, from shortest to longest, but don't feel obligated to tackle the whole thing – shorter sections still provide plenty of scenic beauty.
Burgh Castle Circular Walk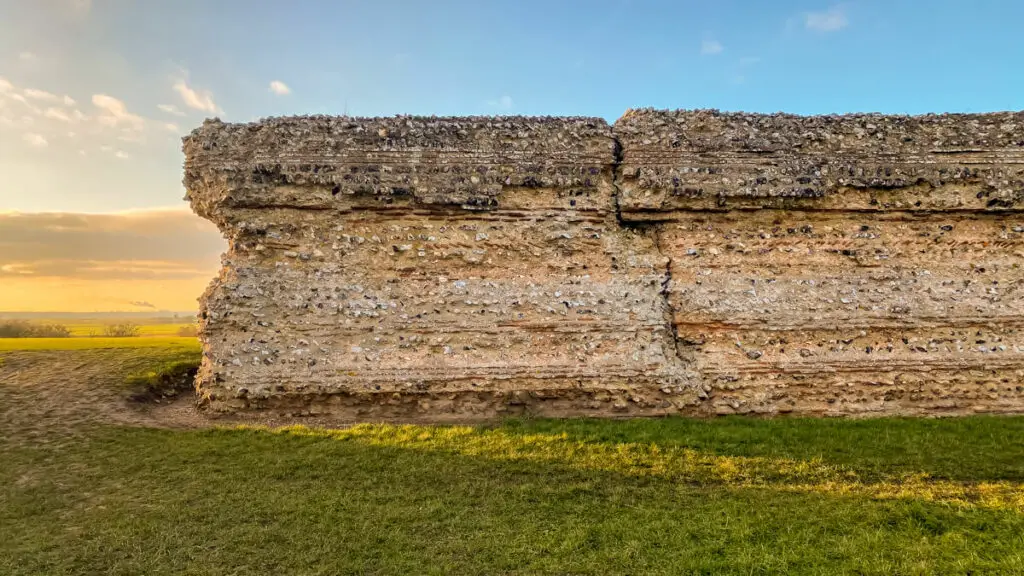 The Burgh Castle Circular Walk is an easy one-mile trail starting from the parking area of the English Heritage site. The highlight of the walk is the Burgh Castle ruins that date back to the Roman era, providing a glimpse into history.
As you stroll, you'll enjoy beautiful views of Halvergate Marshes and Breydon Water, perfect for taking memorable photos. You'll also see Berney Arms Mill, the tallest drainage mill in the country, in the distance.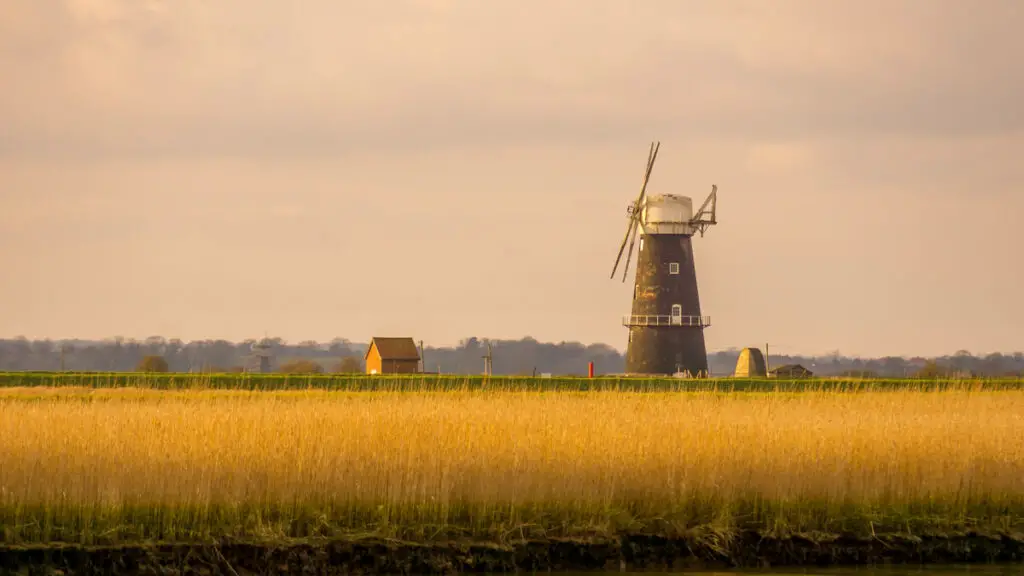 The path is mostly flat, but there are some stairs to climb. For easy navigation, use our Burgh Castle Circular Walk Guide that provides step-by-step instructions.
While you can probably complete the walk in 30 minutes, it's best to allow more time so you can explore the ruins and take in the views. There is no admission fee for Burgh Castle, but you'll have to pay for parking.
Strumpshaw Fen Trails
Strumpshaw Fen has two distinct trails to choose from, you can tailor your experience to suit your preferences and interests. The Fen trail, spanning 3.8 kms, takes you through the fenland habitat, while the Woodland trail, measuring 1.8 kms, winds its way through enchanting woodlands. For a more diverse experience, you also have the option to combine both trails.
One aspect to consider while planning your visit is the seasonal variation in trail conditions. During the winter months, the fen trail can sometimes become flooded. Therefore, if you plan to explore this trail during that time, it's advisable to check for potential closures. However, rest assured that both trails are generally flat, making them accessible for walkers of various fitness levels.
Nature enthusiasts will find Strumpshaw Fen to be a haven for birdwatching and observing various insects. The tower hide, located along the fen trail, offers an excellent vantage point to spot magnificent marsh harriers, elusive bitterns, and other fascinating reedbed birds.
If you choose to explore the woodland trail, you'll have the chance to encounter the stunning Norfolk Hawker dragonflies, known for their vibrant colours. During the springtime, the woodland trail becomes adorned with delicate bluebells, creating a captivating tapestry of colors and scents.
Strumpshaw Fen is a RSPB reserve so members can visit for free. It's also important to note that in order to protect its wildlife, only assistance dogs are allowed on the premises.
Get more information about visiting RSPB Strumpshaw Fen here.
Walk Around Whitlingham Great Broad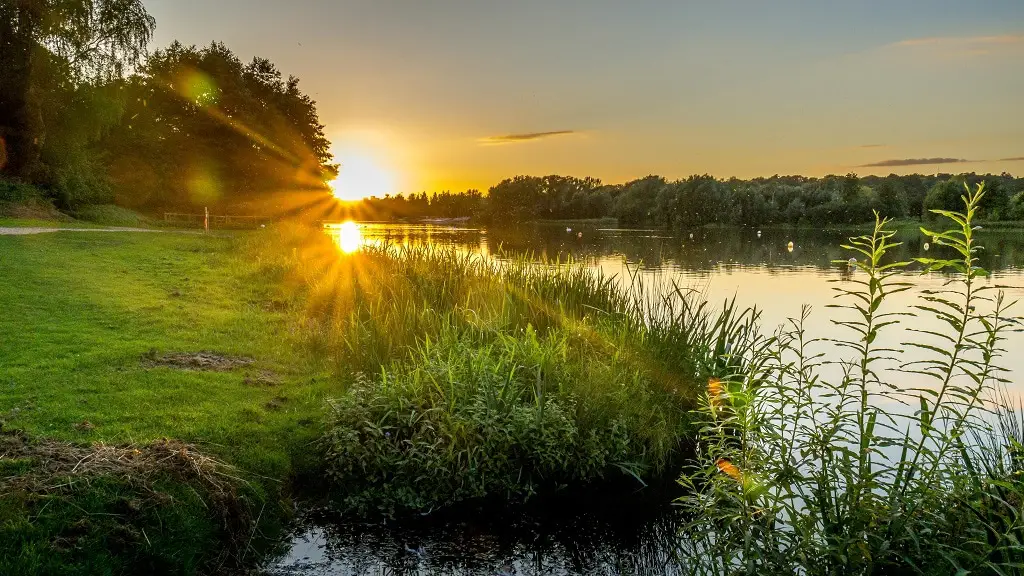 The circular walk around Whitlingham Great Broad is popular thanks to its accessibility and lovely views. The 2-mile path around the Broad is wheelchair accessible and mostly flat, making it suitable for people of all fitness levels and even kids. Runners and cyclists also frequent this trail, making it a bustling hub of activity especially when the weather is nice.
Even with all the people, it's a peaceful escape not far from Norwich city centre. If you time your visit right, you can witness the beautiful colours of either the sunset or sunrise across the water. While dogs are allowed on this walk, there is a section that goes through a nature area where they need to be kept on leads.
You can download a map of this walk here. Read about more things to do at Whitlingham Country Park.
Barton Broad Boardwalk Walk
Enjoy a ramble along the Barton Broad Circular Walk, a scenic path that leads you through the countryside and on the Barton Broad Boardwalk, offering a view of one of Norfolk's largest broads. In the past, the nature reserve was only accessible by boat, but now, thanks to the boardwalk constructed by the Broads Authority as part of the Clear Water 2000 project, you can walk there.
As you walk around the boardwalk, look out for different kinds of birds. Take a break and do more birdwatching at the Barton Broad viewpoint. After completing the boardwalk loop, head back to the car park via country lanes and fields.
The walk is about 2.5 miles long and takes around an hour and a half to finish. You can get the map by downloading it here or follow our simple guide to the Barton Broad Circular Walk.
How Hill to St. Benets Abbey Circular Walk
The circular walk from How Hill to St. Benet's Abbey is a scenic route covering around 7.25 miles (get the map here). The walk offers picturesque views along the River Ant and River Bure, making it a great choice for nature enthusiasts. How Hill is the best starting point, offering ample parking facilities, and visitors can also opt for an Electric Eel boat tour from here.
Along the way, you can make a diversion to visit Ludham, a quaint village known for its charming thatched houses, tea rooms, and the magnificent 14th St. Catherine's Church. The village served as a film location for the 1954 movie Conflict of Wings.
The highlight of the walk is St. Benet's Abbey, the only monastery that remained open when King Henry VIII dissolved the other monasteries across England. There is no charge to visit St. Benet's Abbey is free, and you can find more information about it here.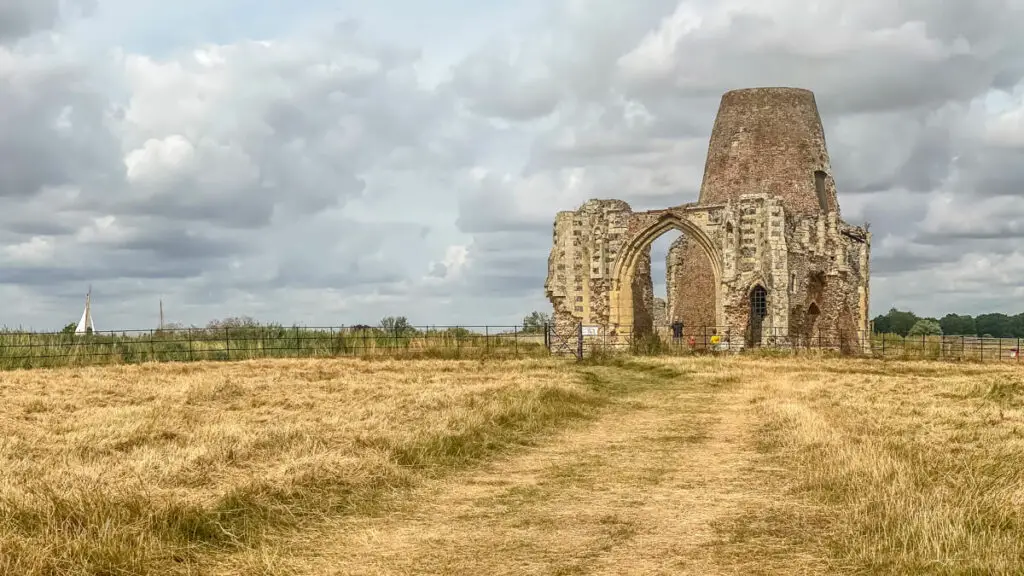 The gatehouse ruins are unique, with a mill built on them in the 1720s, and visitors can also walk to the modern wooden cross that marks the site of the altar. Although the last monks left in 1545, religious services are still held here on the first Sunday of August every year, making it a special place to visit.
After visiting St. Benet's Abbey, the return journey to How Hill mostly follows the rivers, but visitors can also take a detour and stop at The Dog at Ludham Bridge for a bite to eat and a pint.
Three Rivers Way
The Three Rivers Way is an exciting project that aims to create a 9-mile route connecting four picturesque riverside villages – Hoveton, Horning, Ludham and Potter Heigham – situated on the Bure, the Ant and the Thurne rivers in the Northern Broads.
Currently, only the first section of the route from Hoveton to Horning is complete, covering a distance of 2 ½ miles that can be easily completed in a little over an hour. You can choose to start your walk from either Hoveton or Horning, both of which offer great facilities including bike hire, cafes, shops, pubs, and more.
This stretch of the trail offers breathtaking views of the surrounding countryside, with ancient hedgerows and easy access to the River Bure at each end. Along the way, you can explore historic churches, BeWILDerwood, the RAF Radar Museum, and many other local attractions.
The route also links up with other footpaths and bridleways, so you to create your own circular walk. Learn more about the Three Rivers Way and get the map here.
Bure Valley Path
The Bure Valley Path is a nine mile long cycling and walking trail that runs between the towns Aylsham and Wroxham. It runs alongside the entire length of the narrow gauge Bure Valley Railway and you can get the map here.
You could take this steam railway back so you don't have to walk or cycle both ways. Bikes are allowed on the trains too, space permitting. Both the path and the railway are dog-friendly.
The route takes walkers and cyclists through some beautiful countryside, with links to the picturesque villages of Brampton, Buxton and Coltishall. In Coltishall, you could make a detour and check out one of our favourite Norfolk Broad pubs, The Rising Sun.
The Wherryman's Way
The Wherryman's Way is a 37.5-mile walking trail (get map here) that stretches along the picturesque Yare Valley, connecting Norwich Train Station to Great Yarmouth Train Station. The trail consists of footpaths and peaceful lanes, allowing you to enjoy the beauty and tranquillity of the area.
As you make your way along the trail follows the route of the historic Broads trading wherries between Norwich and Great Yarmouth stations, you'll pass through numerous nature reserves and Sites of Special Scientific Interest. Keep your eyes open as you may see some of diverse wildlife of the Yare Valley.
Please be mindful that traditional grazing of cows and sheep still occurs on the marshes so keep dogs on a lead and close gates behind you. Also, remember to dress appropriately for the season, as you may encounter nettles and muddy conditions.
If you plan to complete the entire trail, you might want to get this guidebook. You should consider breaking up the walk into two days or more. In that case, you should book accommodations. The Reedham Ferry campsite is popular option for walkers about half-way, and there are many other small, independent B&Bs along the route.
Those that are not interested in the full long distance walk, can do one or more of 12 shorter circular walks along the Wherryman's Way. You can find information about these shorter walks here.
The Weavers Way
Weavers' Way is a 61-mile-long walking trail (get map here) that runs between Cromer and Great Yarmouth. The trail takes its name from the once-thriving weaving industry that flourished in the Middle Ages. Along the way, the trail offers a diverse range of landscapes, from woodlands and farmlands to grazing marshes and tidal mud flats, providing a rich contrast of scenery.
The trail passes by several market towns (North Walsham and Stalham), stately homes, and medieval flint churches, as well as wind pumps and historic railway infrastructure such as station buildings, bridges, and crossing cottages. Notable highlights include National Trust sites (Blickling Estate and Felbrigg Hall), Berney Arms Windmill, Hickling Broad, and Heigham Bridge.
You don't have to walk the whole Weaver's Trail, you could do a shorter linear or circular walk (see options here). Some sections of the trail are also suitable for cyclists and horse riders.
Additionally, Weavers' Way is connected to other popular long-distance walking trails including as the Norfolk Coast Path, Paston Way, Marriott's Way, Angles Way, and Wherryman's Way, providing a gateway to even more walking opportunities.
The Angles Way
Angles Way is a scenic 93-mile walking trail (get map here) that goes along the border of Norfolk and Suffolk, stretching from Great Yarmouth to Thetford. The route winds through open countryside, broad river valleys, and pretty villages, passing through ancient market towns such as Beccles, Bungay, Harleston, and Diss.
As the route follows the Waveney Valley after Breydon Water, walkers will have the opportunity to take in the stunning scenery, wildlife sites, and places of interest. The route meets with the Little Ouse at Knettishall Heath, where walkers will experience a striking change in scenery as they traverse through the heathland and woodland of the Suffolk Brecks before finishing in Thetford.
Angles Way was voted the best waterside walk in Britain by waterscape.com in 2003. Walkers will encounter famous landmarks such as Burgh Castle, Fritton Lake, Somerlyton Hall, Oulton Broad (where you can see a Banksy), Flixton Hall, and Billingford Windmill. The trail is typically done in stages.
The Angles Way offers a range of circular, short, and long walks, catering to all levels of fitness and interests. Whether you want to take your dog for a walk or enjoy a leisurely stroll through the Norfolk and Suffolk countryside before retiring to a pub for a drink and a hearty meal, the Angles Way has something for everyone. See the options here.
The Angles Way also links up with other walking trails, such as Peddars Way, Bouddica Way, Wherryman's Way, and Weaver's Way, making it a great starting point for those who want to explore the stunning East Anglian countryside on foot.
More Norfolk Walks
If you enjoy this post, be sure to also check out:
Best Circular Walks in Norfolk
Best Woodland Walks in Norfolk
Disclosure: This post contains affiliate links. This means we will receive a small commission for some purchases made using links in our blog with no additional cost to you.  Please be assured we would not promote any product unless we believe that our readers will also benefit.  The commission does not influence the editorial content of this site.