While there are plenty of things to see in Norwich, sometimes you want to get out of the city and enjoy a bit of a change in scenery. I have a few suggestions for things to do near Norwich.
Be sure to sign up for our email newsletter here to find out about the best events happening around Norfolk.
Note: This post contains affiliate links.  As an Amazon Associate, we earn from qualifying purchases. Please see disclosure for more information.
Things to do Near Norwich
If you want to get out of the city but don't want to travel too far, you still have some attractive options. Let me share my recommendations for places to go that are around a 30 minute drive (or train ride) from Norwich.
Blickling Hall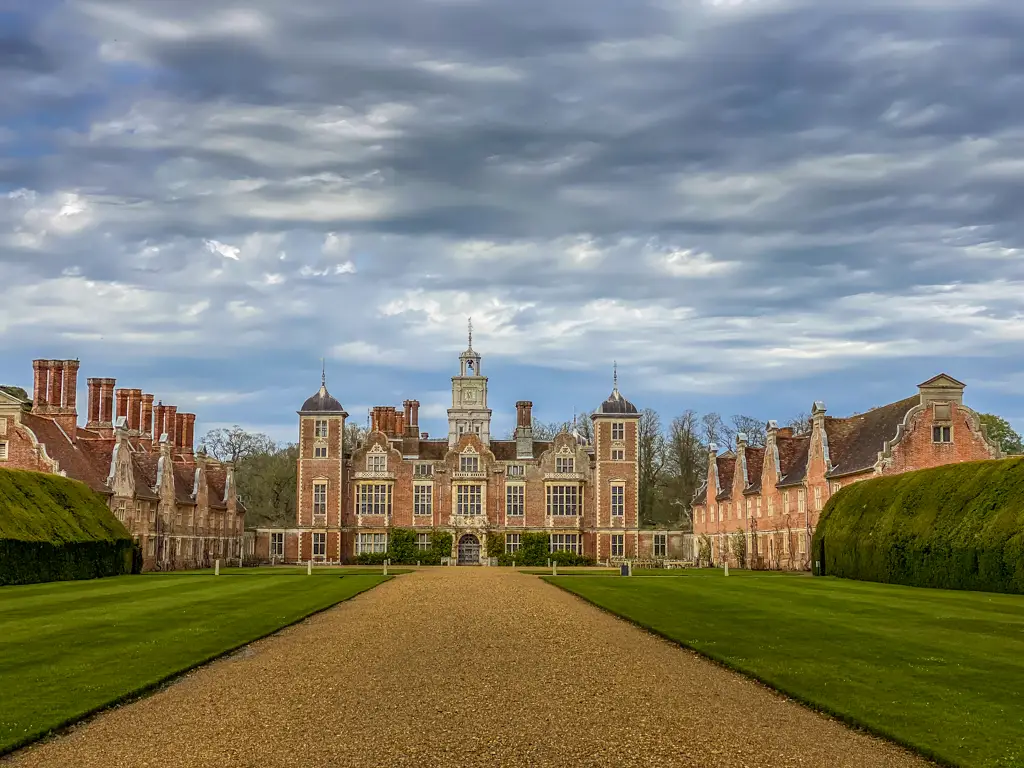 Best known for being the birthplace of Anne Boyeln, Blickling Estate, just outside of Aylsham, is one of the top attractions in Norfolk. While the Hall was built after Anne's time, there have been sightings of her ghost (and the ghost of her father) on May 19th, the anniversary of her execution.
The best time to go to Blickling is May when the bluebells are out or during the holiday season as they do an amazing job with the Christmas decorations. When you visit, you must go inside the Hall, appreciate the gardens, and go for a walk around the estate.
The library is the most memorable room inside Blickling Hall as it contains one of the most historically significant collections of manuscripts and books in England. In the formal gardens, you don't want to miss the Parterre, Orangery, Temple, and Walled Garden.
If you want to see some of the other highlights around the estate (like the Mausoleum and Tower), you could do this walk. Keep in mind that during bluebell season you will need to modify this walk to include more of the Great Wood.
Blickling is a National Trust site so it's free for members to visit. For non-members, the admission charge is £14 for adults and £7 for children, and they will also have to pay £5 (coin only) for parking. Note that during peak times the car park can fill up.
There are also some historic buildings on the estate (like the Blickling Tower) that have been converted to holiday homes by the National Trust. During your stay at one of these properties, you can visit any National Trust sites for free. Check out the options here.
Read more about visiting Blickling Estate here.
Venta Icenorum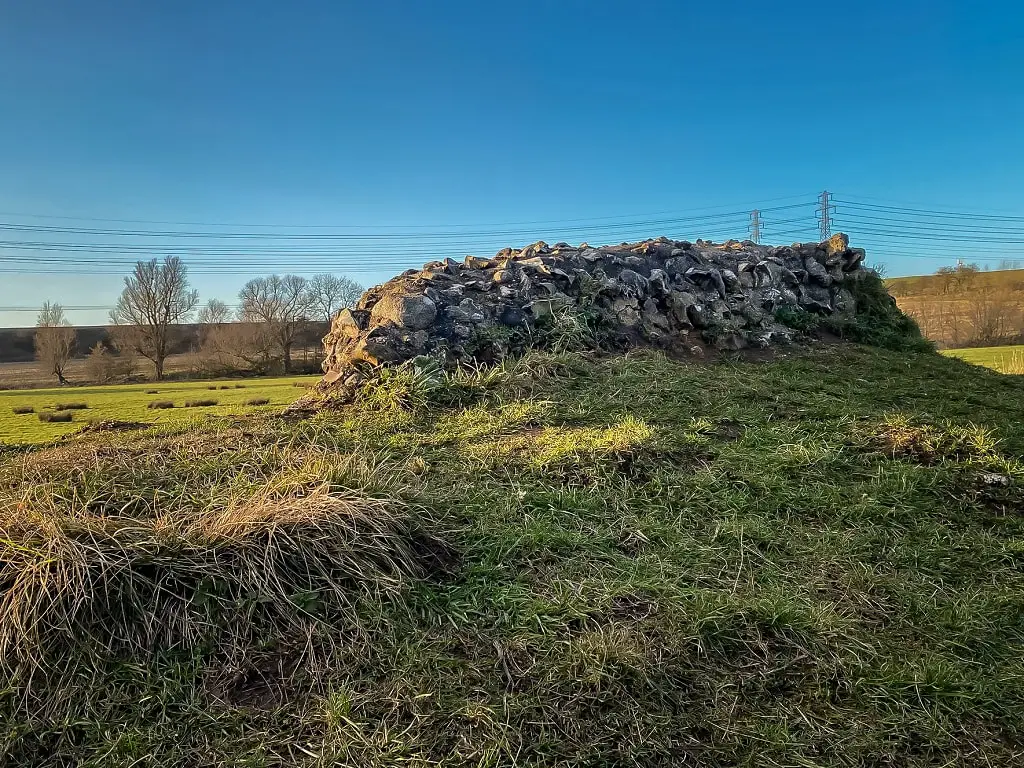 Venta Icenorum (also referred to as Caistor Roman Town) was abandoned in the 8th century and never built over. You can still visit the site and see the remains.
There is a route around Venta Icenorum with signs along the way to explain more about the history. While most of the town has long since disappeared, there are some parts of the wall still standing. You can download the Caistor AR app to give you more insight into what the settlement would have looked like with augmented reality.
While you are in the area, you can also check out High Ash Farm and St. Edmund's Church. Read more about visiting Venta Icenorum here.
RSPB Strumpshaw Fen
Enjoy almost five miles of nature trails through reedbeds, meadows, and woodlands in the Yare Valley. You can watch kingfishers, bitterns, marsh harriers and more from three viewing hides. They have hot drinks and snacks for sale at reception and there are plenty of picnic tables.
Admission is free for RSPB members. For non-members, the charge is £4.50 for adults, £2.50 for children ages 5-17, and free for those under 5. Note that your first child is free. Get more information here.
Fairhaven Woodland & Water Garden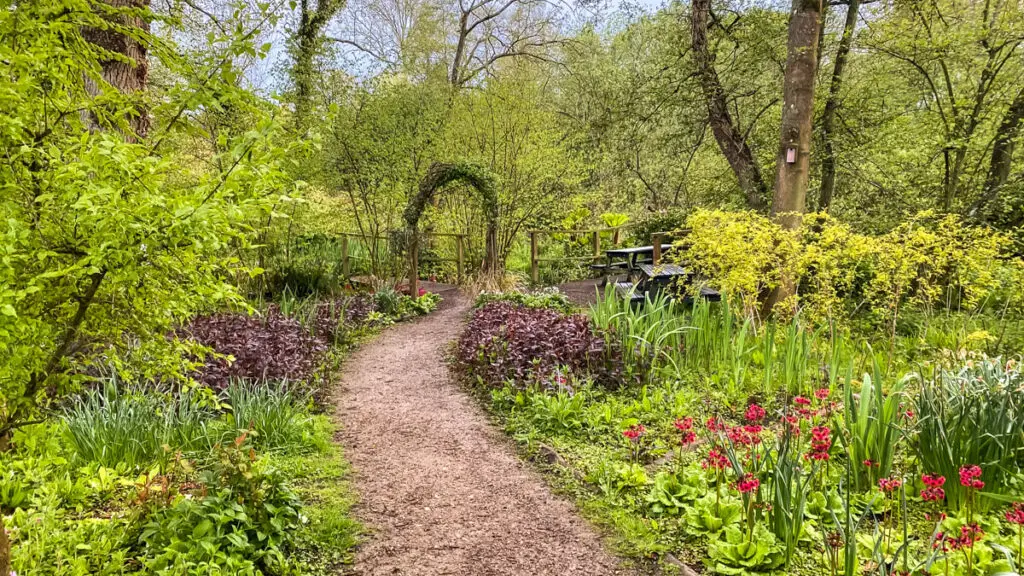 Fairhaven in South Walsham is 130 acres of cultivated, wild and natural plantings in the Norfolk Broads. They have almost 4 miles of woodland pathways and their own private broad. It's a lovely place to walk any time of year.
Also keep an eye out for their special events. In past years, we have enjoyed their Christmas Light Trail and Christmas Bauble Trail.
For best ticket prices, book your visit online in advance. Admission is £7.22 for adults, £3.77 for children ages 4-16, and free for those under 4.
Read our guide to visiting Fairhaven Water Gardens for more information.
Hoveton Hall Gardens
The 15-acre Hoveton Hall Gardens are part of the Hoveton Hall Estate, home to the Buxton family since 1946. It is open to the public from April to September each year (but always closed on Saturdays).
Try to visit the gardens in May or June when it's in full bloom. There are also two lakes, woodland, formal walled gardens, parkland, and an onsite cafe for visitors to enjoy.
Bird-watchers will want to bring binoculars as there are a couple of bird hides too. Please keep in mind dogs are not allowed in the gardens.
Admission is £8 for adults and £4 for children aged 4-16 (under 4 are free). Historic Houses members can visit for free.
Winbirri Vineyard
Winbirri makes award-winning wines and is located just outside Norwich. From May to August you can book a "Vineyard Tour and Tasting Experience Days" or just visit the wine garden to enjoy the wine.
The tours are led by head winemaker Lee Dyer and last between 2.5 and 3 hours. He will show you the vineyards and explain the history of the Winbirri Vineyard, the methods used in the vineyards to care for the vines and the reasons for the grapes grown here.
After your visit to the vineyard, you will go on to the winery to learn about the processes involved in turning the grapes into the Winbirri wines including the differences in production methods of white, red, and English sparkling wines. Then you will taste a selection of their wines.
You are also welcome to visit the Wine Garden (with or without purchasing a tour), no booking is required. It's a relaxed place where you can enjoy the wines (or do your own self-guided tasting) whilst sitting within touching distance from the very vines that produce them. 
Get more information about Winbirri here.
*If you are a wine lover, also check out our posts about Norfolk Wine School and The Wallow Wine Bar.
Bewilderwood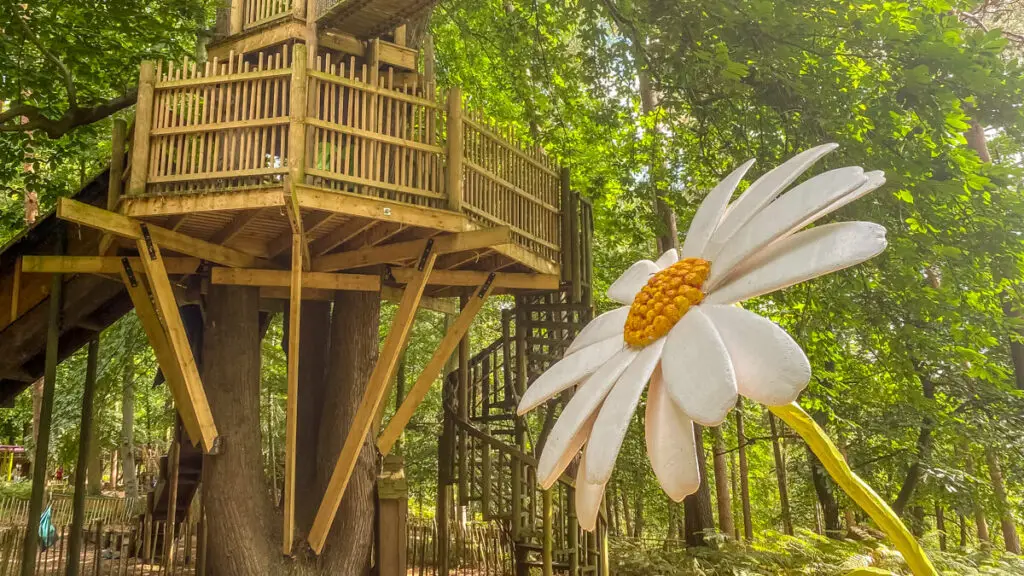 When you visit Bewilderwood, you are stepping inside the magical and enchanting children's books by Tom Blofeld. Kids can go on a boat ride across Scaaaary Lake, play dress up, get their faces painted, cross Jungle Bridges, visit Treehouses, whiz down Wobbly Wires (ziplines), solve the marvelous Muddle Maze, brave the slides, build dens, and more.
Bewilderwood is not cheap, but kids ages 2-12 will love it. Plan on spending a full day here.
Read my BeWILDerwood review here. You can get a discount for booking online in advance here.
Wroxham & Hoveton
Wroxham is affectionately known as the 'Capital of the Norfolk Broads' and Hoveton sits just on the other side of the River Bure. Together they make for a fun family day out where you can take a walk along the river, watch the boats go by (or hire your own), and check out popular attractions like Miniature Worlds and the Bure Valley Railway, Norfolk's longest narrow gauge steam railway
If you don't want to drive, it's easy to take the train from Norwich to Hoveton. Read more about things to do in Wroxham and Hoveton here.
Great Yarmouth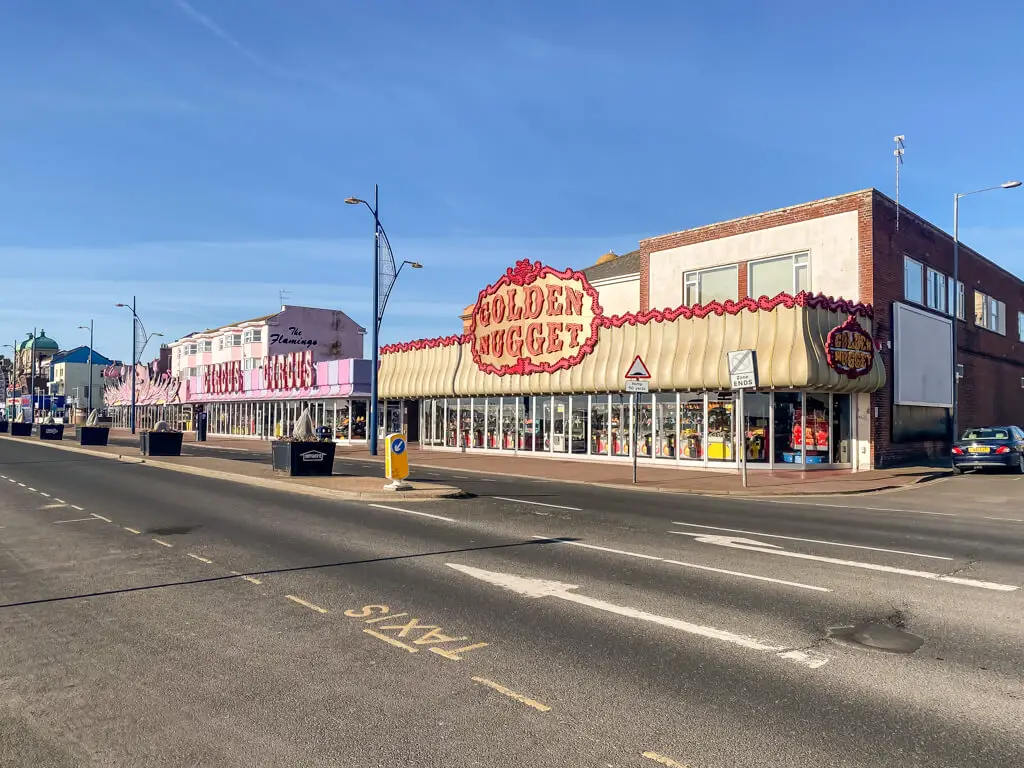 The town of Great Yarmouth is one of the most popular places for families to visit in Norfolk. Not only do they have a large beach, but there is the amusement park (Pleasure Beach), circus, ferris wheel (high season only), museums, and more.
If you don't want to drive from Great Yarmouth to Norwich (traffic can be an issue), there is the option to take the train. Learn more about all the best things to do in Great Yarmouth here.
RELATED: Beaches Near Norwich
Broadland Country Park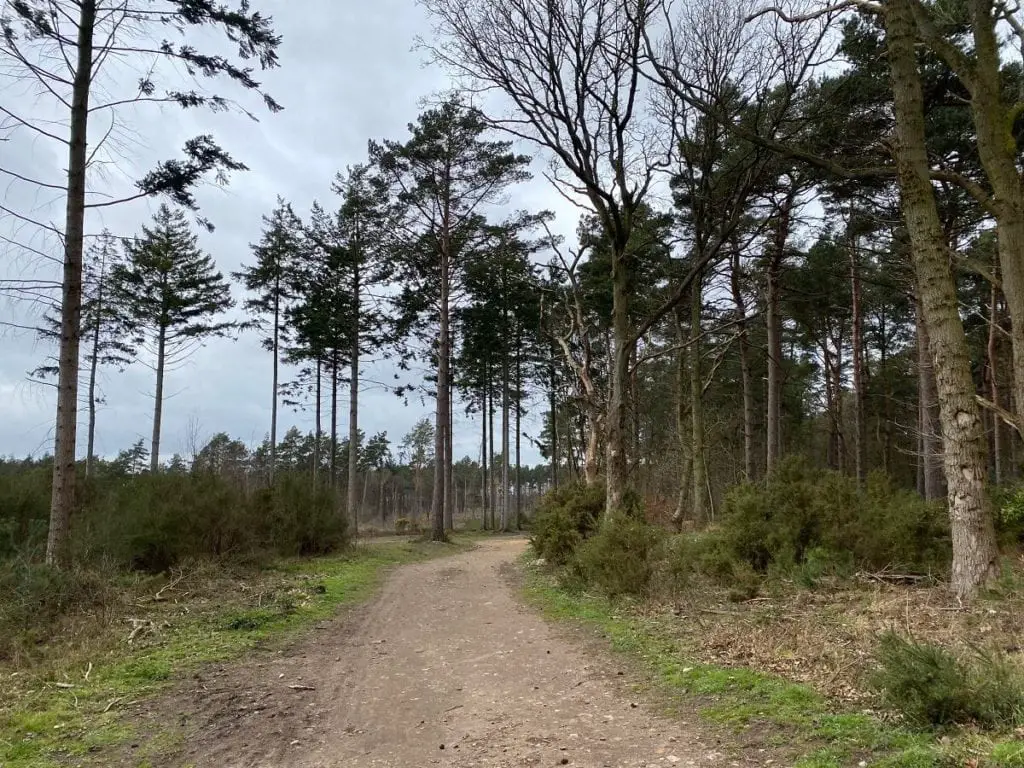 Opened in 2021, this new park is a great place for the family to go for a walk or cycle. It has circular trails that are easy and not too long. You might be able to spot some wildlife too.
It is free to visit. Read more about Broadland Country Park.
Disclosure: This post contains affiliate links. This means we will receive a small commission for some purchases made using links in our blog with no additional cost to you.  Please be assured we would not promote any product unless we believe that our readers will also benefit.  The commission does not influence the editorial content of this site.